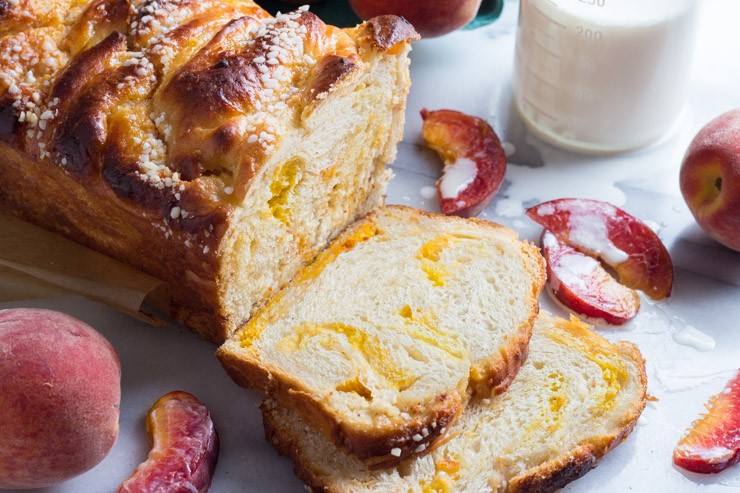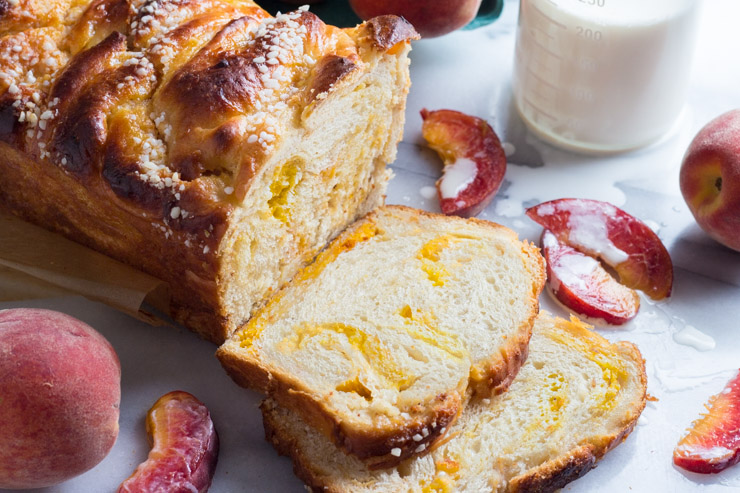 I feel like I should start this with some sort of Seinfeld reference or something… Alas, I don't know any. So, alternatively, I'll just start by saying–
Don't kvetsh! This nosh is sure to impress even the most dedicated baleboste in the kitchen. (I hope I did all of that right….)
Sweetened, yeast-risen bread with ribbons of fresh, local peaches and thickened cream. — Peaches & Cream Sweet Babka Bread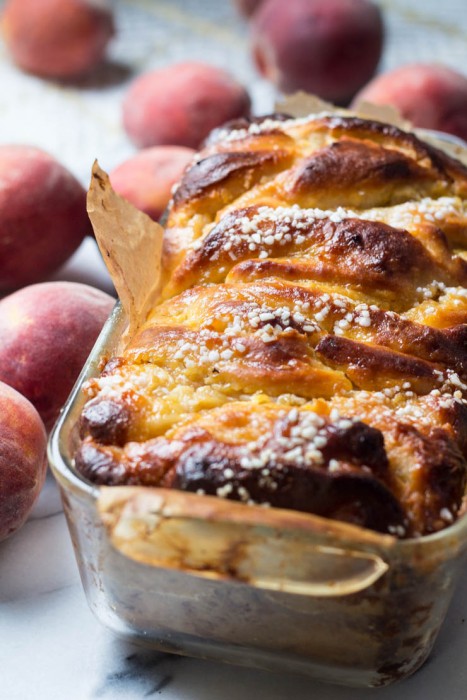 Sooo… That's pretty much all of the Yiddish I could possibly think of to include.
When I decide what I am going to experiment with in the kitchen for possible blog recipe posts, I generally have some sort of good idea about the process and/or history of the base of the recipe itself. Almond processing for macarons, childhood memories for cornflake cookies, basics of Southern BBQ for pulled pork. This time, though, I had no clue.
You can check out this nice little article for some babka history. The more you know! *ding*
I've seen babka before. I've tasted the infamous chocolate babka in the past (ehhh). I've just never thought about making it myself. I was browsing my list-o-lists-o-bloggin-ideas and came across a few braided bread ideas that I stored away for a rainy day. Directly above one was a list of some peach-inspired recipes. Y'all already know the love affair that I have with peaches by now…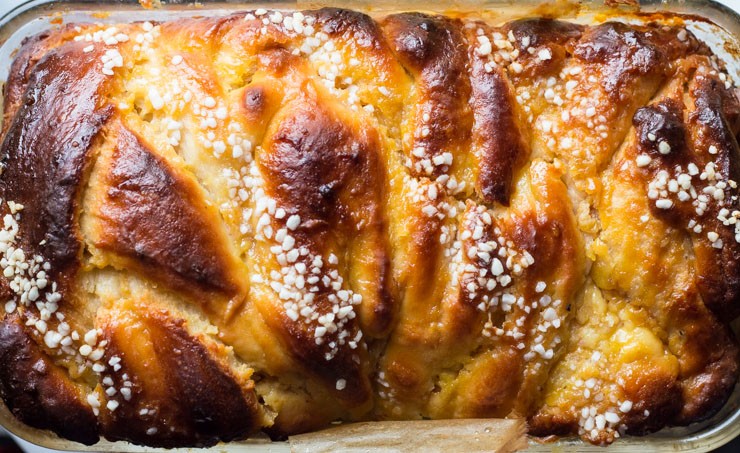 You can see where we are going with this. An equation, to help:
Sweet braided bread + peaches & cream = HEAVENLY.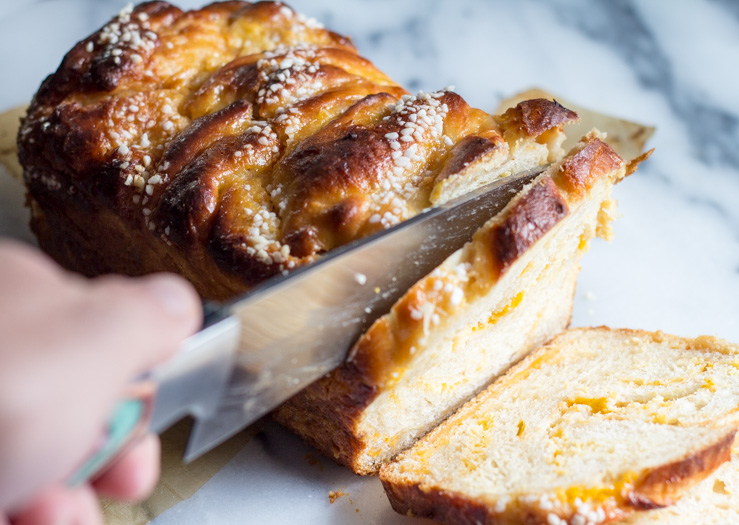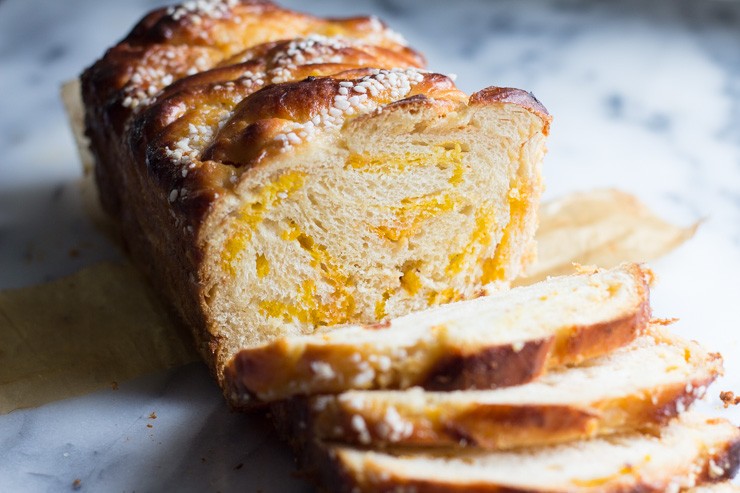 DO YOU SEE those swirls? Y'all. This is some beyond swiss roll swirl quality amazingness right here. Those swirls are basically bliss wrapped in a bread. A sweet bread, because those are happier.
Pulsed perky (local!) peaches nestled next to a layer of sweet, sweet whipped vanilla cream cheese. Holy shit, guys. I just can't handle it. Getchya some of this. Immediately.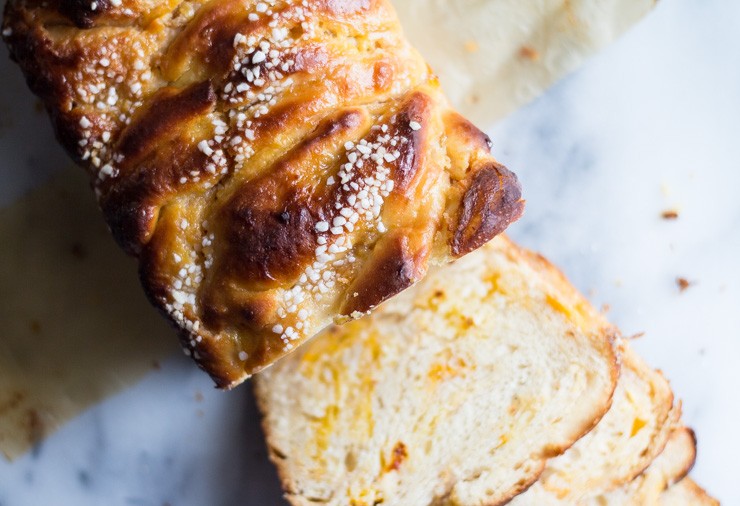 Obviously, I'm also still obsessed with pearl sugar topping for everything. Lots of babka recipes utilize a streusel topping (just like in our recent berry crumble bars recipe). Also a great decision, but this time I decided to ease back and just stick with the crunchy sweet pearl of wisdom for this round. (That counts as dieting, right?) The soft, sweet crunch is exactly what a soft dessert bread like this needs.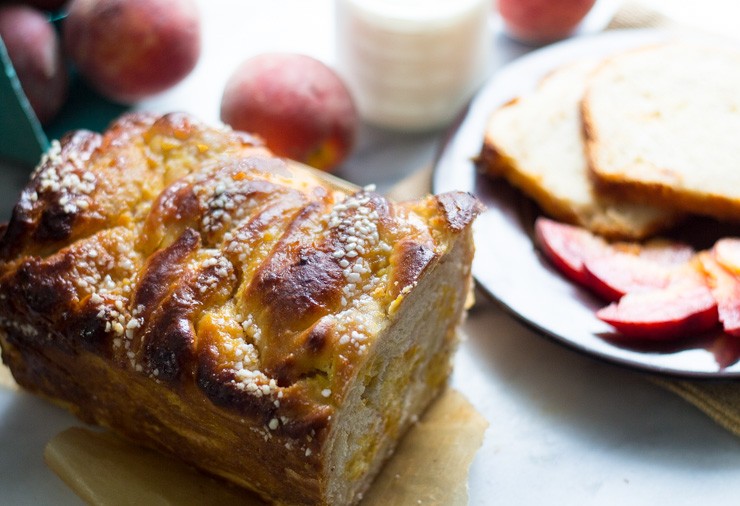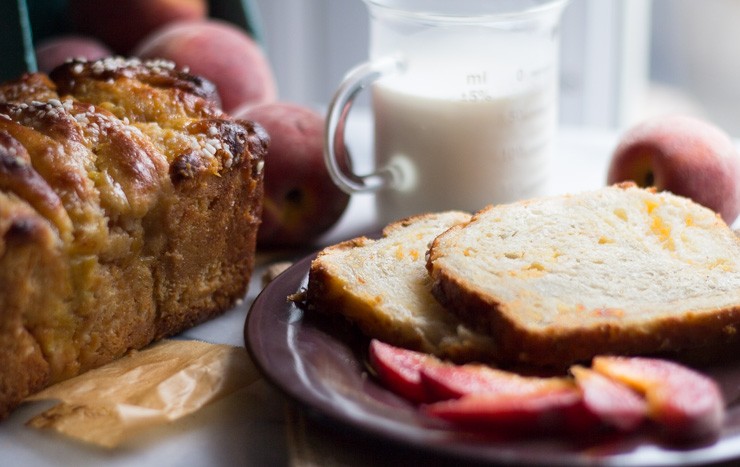 Throw some fresh peaches on the plate for good measure. It is summer, after all. Go crazy.
Mazel tov , y'all.
Peaches & Cream Sweet Babka
Sweet babka bread with fresh peaches and vanilla bean cream cheese filling topped with peach glaze and crunchy pear sugar by SouthernFATTY.com.
Ingredients
Starter
⅓ cup evaporated milk, slightly warmed
1 teaspoon yeast, active dry
1 teaspoon sugar
Dough
2 cups flour, AP
2 tablespoons sugar
pinch salt
1 egg
½ teaspoon vanilla bean paste or extract
3 tablespoons butter, softened
Peach Filling
1 plus ½ cup fresh peaches, diced
2 tablespoons orange sugar (orange zest in sugar left for a week +), optional - add reg sugar to replace if not using
2 tablespoons sugar, white granulated
1 teaspoon orange zest
½ teaspoon lemon juice
Cream Filling
8 oz cream cheese, softened
1 and ½ tablespoons powdered sugar
1 egg, yolk only
1 teaspoon vanilla bean paste or extract
pinch salt
Topping
Instructions
Mix starter ingredients in small bowl and allow yeast to bloom until foamed, about 10 minutes. Milk should be warm, but not hot (~100F goal).
In mixer bowl with dough hook, add yeast starter with remaining ingredients for dough.
Combine and knead on medium speed until smooth, about 5 minutes.
Cover bowl with wrap and allow to rest to rise for 1 - 1 & ½ hours to double in volume.
While waiting, add peach filling ingredients in pan over medium heat and cook until peaches have softened completely and syrup thickens. Mash peaches lightly as it cooks.
Remove and cool slightly. Transfer to blender/food processor and pulse until smoothness desired. Set aside to cool completely.
Combine cream filling in bowl and whisk well until very smooth. Set aside.
After dough has double in volume, transfer to a lightly floured surface to roll.
Preheat oven to 350 F.
Roll out dough to a wide rectangle, about 10"x20". The dough about be fairly thin.
Carefully spread peach filling on dough, leaving a slight border around.
Do the same with the cream filling on top of the peach.
Roll as tightly as possible, leaving a 20" long roll. Brush the border with water to help seal completely.
Slice the roll immediately down the center, creating two half sphere rolls parallel to each other.
Pinch the far left sides of the two now cut rolls together.
Braid roll with alternating rolls. (If you need help visualizing this, search for braiding challah bread instructions.)
Press roll together if needed to fit into pan.
Carefully transfer to a greased and parchment strip lined loaf pan.
Brush entire top well with beaten egg for wash.
Sprinkle pearl sugar on top.
Bake at 350 F until top is dark golden brown, about 60-75 minutes.
Remove and cool to handle.
Slice and enjoy!
More on SouthernFATTY.com
Notes
2015 - SouthernFATTY.com