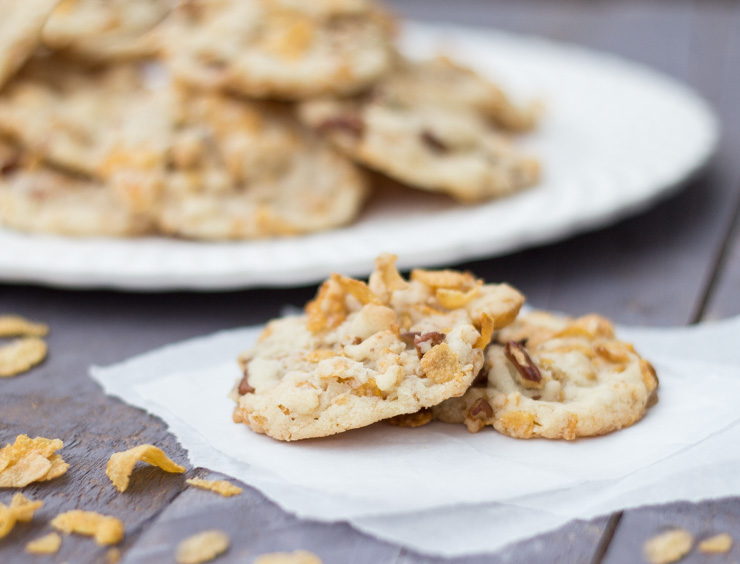 Get out the butta and pecans. It's that time of year, y'all! Bake, bake, bake. Without a doubt, this is when everyone pulls out their favorite sweet treats to make for their friends and family. These cookies are a favorite of mine, having grown up eating them like it was my job.
Cornflake Cookies — Buttery, shortbread-like cookies finished with pecans and crunchy cornflakes.
Note: I have TWO versions of this recipe. One with butter/margarine and shortening (this recipe, the original), and another with all butter.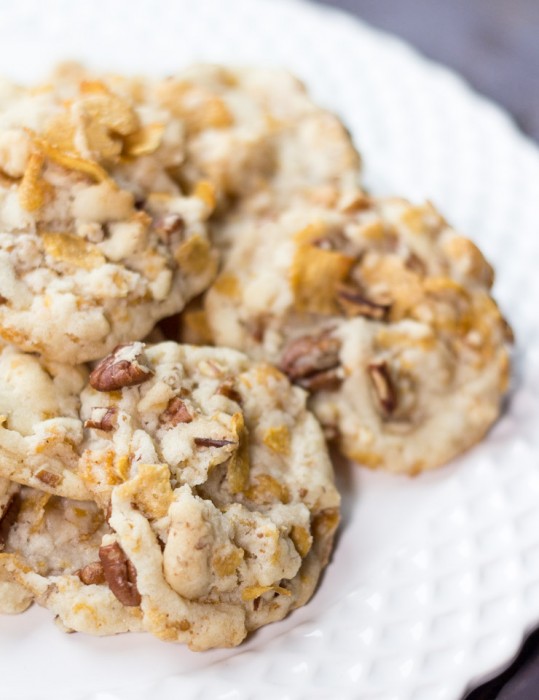 I can remember traveling for houuuurs and hours from Kentucky to visit family in Georgia. It seemed like an eternity, really. My parents tried everything to keep my sister and I from going crazy (read: fighting). We had games, Walkmans (ya… you remember), rolls of quarters that would slowly diminish away for each poke or yell at each other. Nothing really worked, but I guess it helped to pass the time.
That entire 10+ hour journey seemed totally worth it when we would pull down the pine tree lined driveway and run into the house to find the cornflake cookies. These things are legendary. Seriously. They couldn't be any easier, but just have this comforting, sweet taste.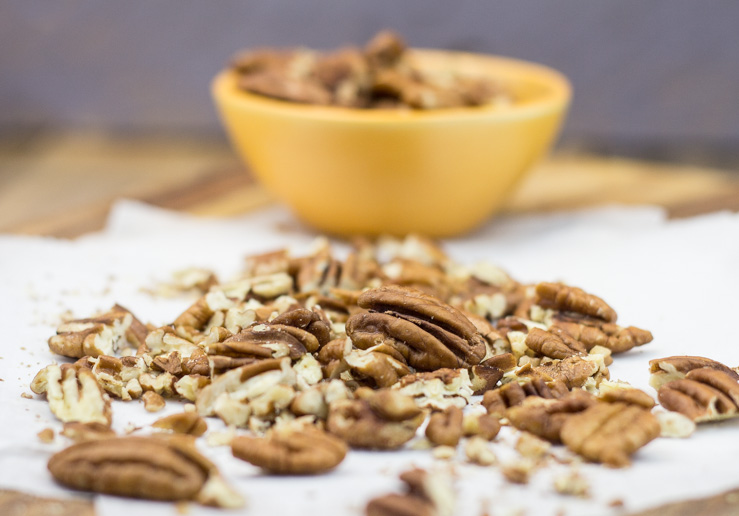 Maybe it's the unique addition of cornflakes. Maybe the rich pecans. It could be that the pecans were usually shelled by yours truly. That was the deal. When you visited, you shelled pecans. If you were old enough to eat 'em, you could prep 'em. We would sit and watch Jeopardy and the National news. I would get yelled at for eating more than I was putting into the bags. I'm pretty sure they had me working the pecan line before I was old enough to walk.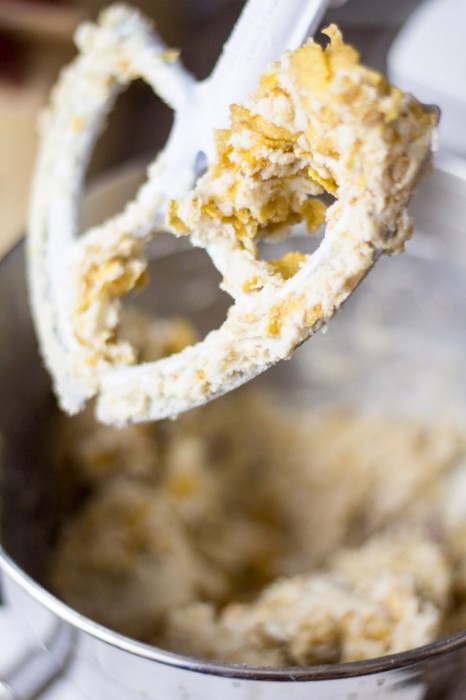 I never latched onto cornflakes like I did pecans. With that said, somehow the addition of butter and sugar and more butter really seems to make them delicious. Why isn't that a cereal?! The crunch from this unusual mix-in provides a one-of-a-kind texture for the cookies.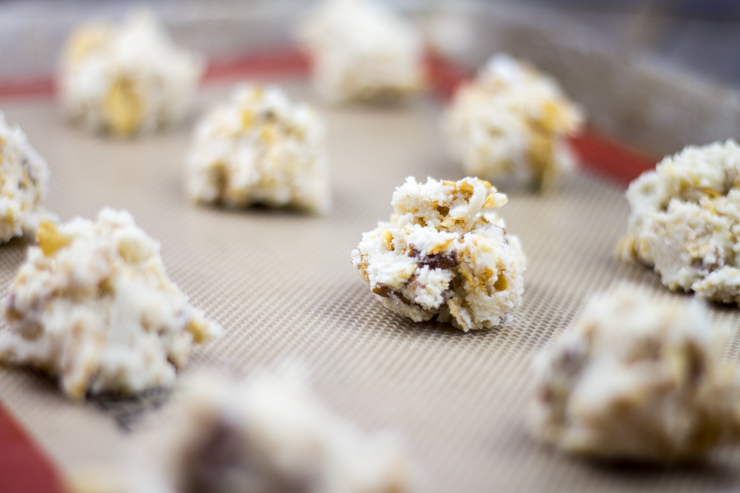 These are the cookies that I ask for every time I visit my parents. I would get boxes sent to my room in College. They're just that good. They hit home with this comforting, crunchy, buttery deliciousness that you wouldn't believe.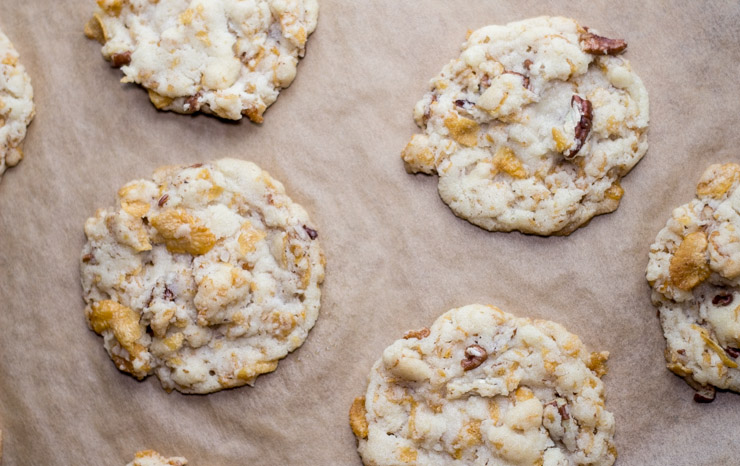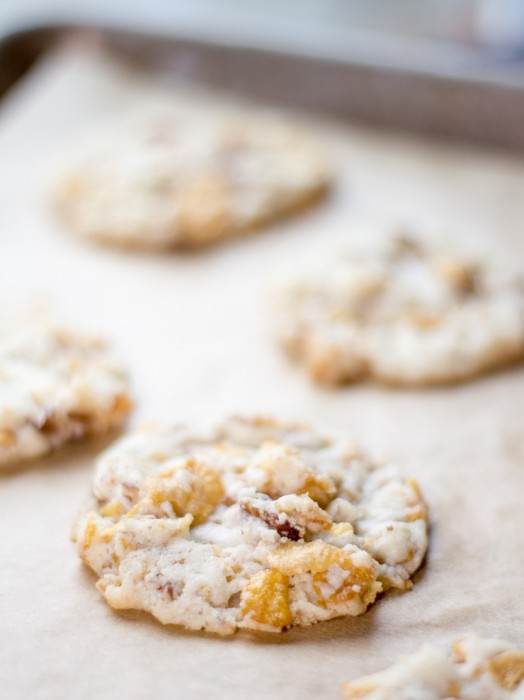 I've learned from a ton of failed ice cream topping cookies that these can be a bit finicky at times. Once you cream the butter and sugar, lightly stir in the flour and then it's best to go old school and carefully mix in the rest by hand. The cornflakes need to stay mostly uncrushed and crunchy. This is hard to achieve with a mixer involved.
Ta daaa! I hope y'all enjoy these as much as I have for the past couple decades.
From my family to yours–  Happy Holidays!
What's you favorite baked memory? Share below!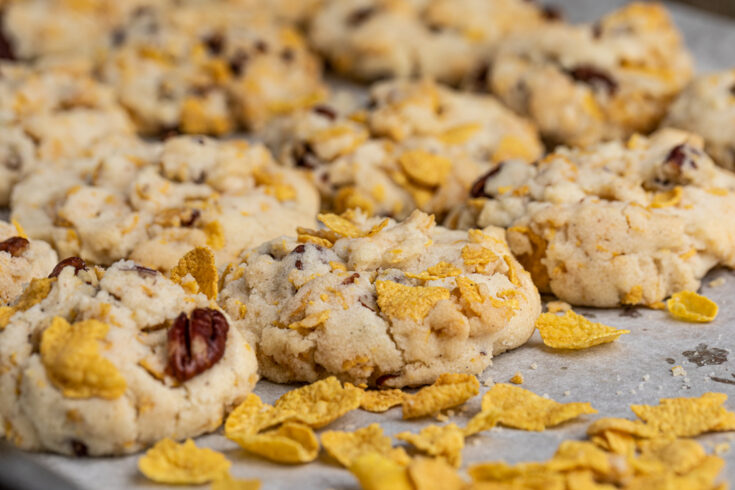 Yield:

3 dozen
Cornflake Cookies (Original w shortening)
Unique, sweet cornflake cookies. Southern sweets at their best-- Buttery cookies with crunchy cornflakes and nutty pecans. Recipe from SouthernFATTY.com. This is the original recipe using butter and shortening.
Ingredients
2 cups sugar
1 cup butter or margarine
1 cup shortening
2 teaspoons vanilla
3 cups all-purpose flour
2 teaspoons baking soda
2 teaspoons cream of tartar
½ teaspoon salt
4 cups cornflake cereal
1 cup pecans, chopped
Instructions
Pre-heat oven to 350˚F.
Note: My Grandmother's original recipe uses margarine ("the cheapest kind you can get.", according to her). I often use butter instead. If you would like an ALL-BUTTER version visit THIS recipe.
Cream butter or margarine, sugar, vanilla, and shortening just until well-combined.
Sift together flour, baking soda, cream of tartar: Add to the butter mixture and combine just until mixed.
By hand, mix in cornflakes and pecans very carefully. Don't overmix!
Bake by spoonful on lined baking sheet for ~ 12 minutes until just barely golden around bottoms.
Cool and enjoy! Find more recipes on SouthernFatty.com.