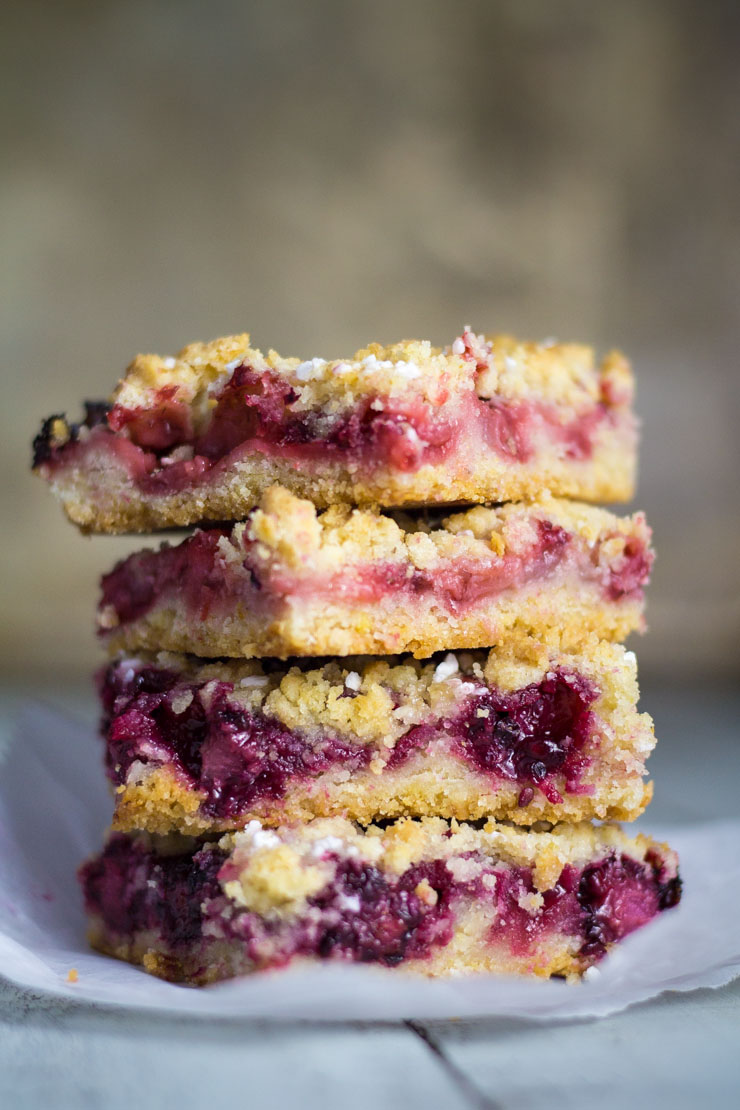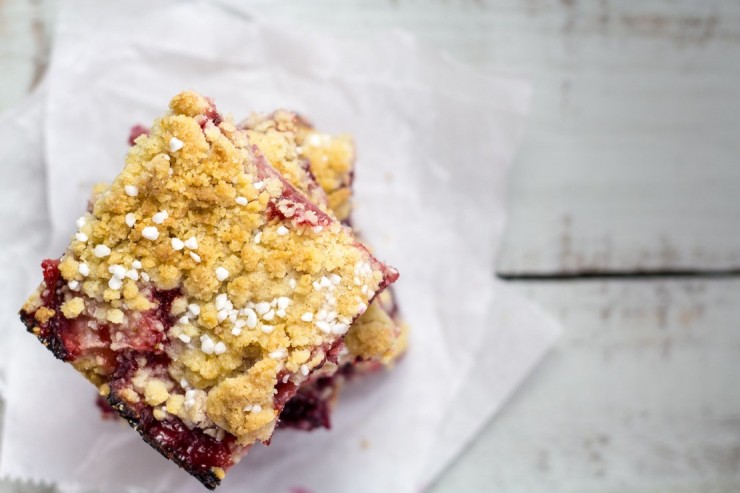 Diets are totally overrated, y'all. It's summer. Time for me to get that bikini body back, ya know? Well…. about that. I'm a strong believer that balance is what makes success. Have some spinach (on a pizza). Whole grain brown rice (fried, obv). Steamed broccoli… covered in cheese sauce. See– balanced.
During my balancing act, a bake-off competition was announced at my work with the required 'secret' ingredient of…. [À LA CUISINE!] — Berries.
Berry Crumble Bars were the result.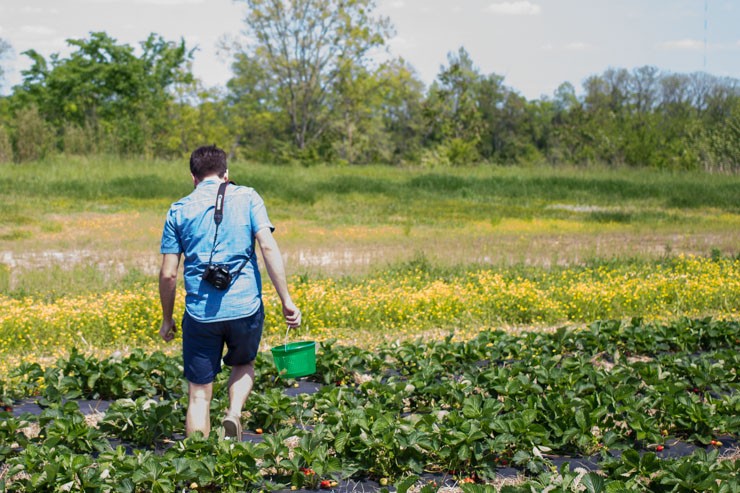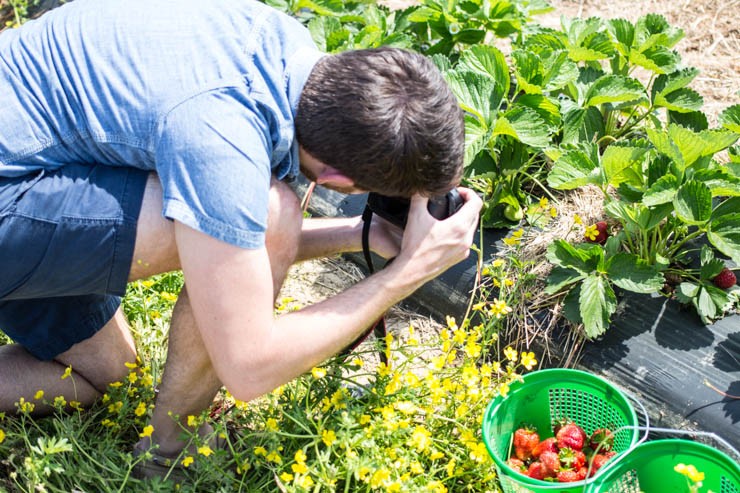 This all really came up with perfect timing. I had just spent the weekend running around in some fields right here in Nashville to pick the cream of the very first crop of fresh strawberries. It's always a delicious start to the busier produce season when the strawberries pop up. So much more to come soon!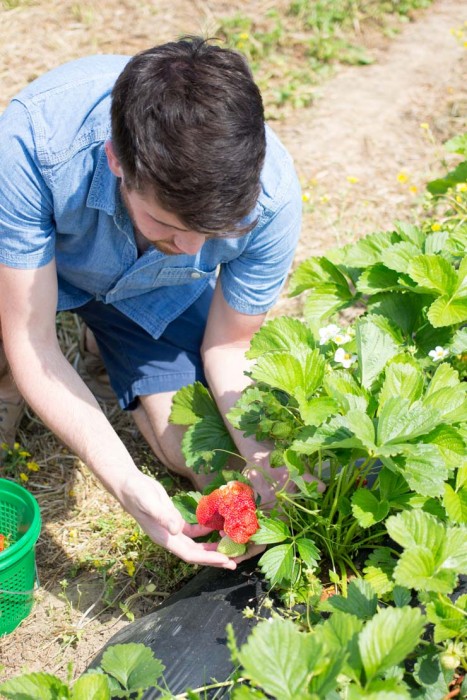 The ugly ones are my favorite. Everyone leaves those alone and they just juuuuuicy and perfect. It just takes a tender mother's (read: hungry blogger's) eye to snatch them up in their prime and appreciate them for all they're worth.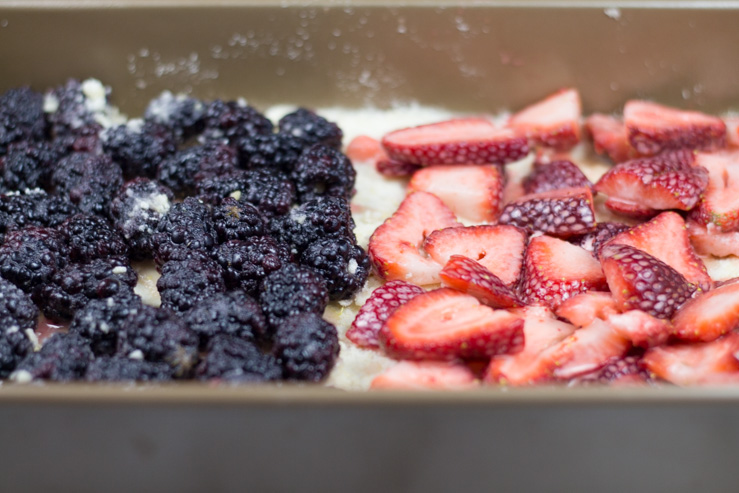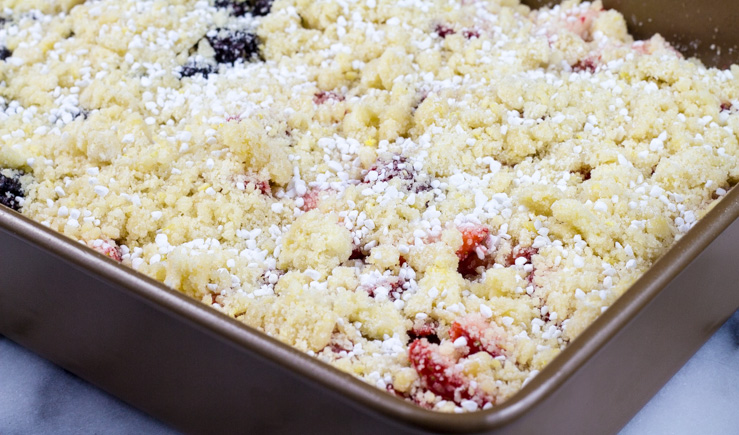 Everyone's done a crumble before, right? I had to think of something that would maybe divert the judge's attention at the competition away from the rhubarb raspberry glazed sweet cornbread whatever that some fancy pants was going to bring (or so the rumors around the break room were telling me…).
I pulled out my secret crumble weapon for this one– pearl sugar. See it? Those little white bead thingys on top. Streusel topping is always a winner in my book, but the addition of these large, but super soft, sugar pellets will have to take the cake.. err crumble.
(I'm pretty sure that 'sugar plum fairies dancing in their heads' is actually a reference to pearl sugar from my crumble bars dancing in your mouth….)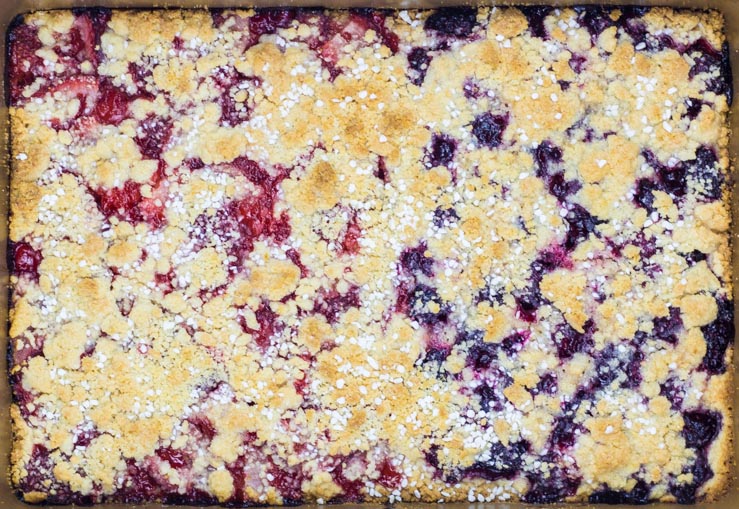 Ta daaaaa! Just like a magician with a hacksaw, I sliced this pretty baby directly in half. I used two different berries for myyyy bars, ma'am (obv to impress). The possibilities for berry bliss in this is just endless. I sorta wanna try kiwi next (any brave taste testers??).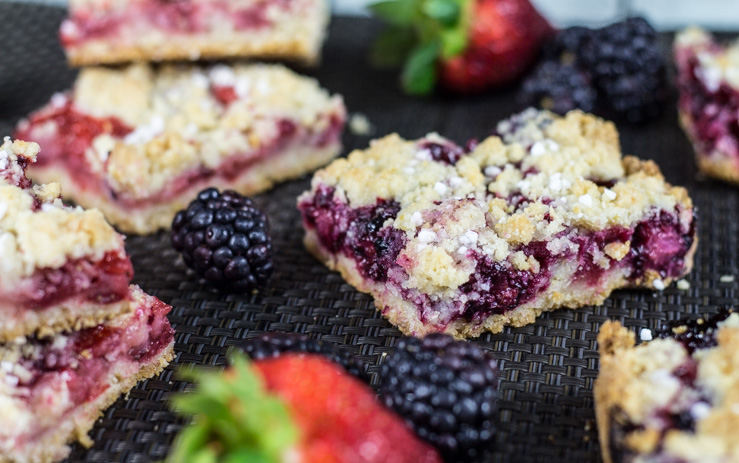 Berry. Bliss. (Wouldn't that be a great summer ice cream flavor name?! Hmmm…. *scribbles into kitchen lab notebook*)
The crunchy pie crust-like base with the fresh, simple fruit filling blanketed by the crumbly streusel topping WITH the pearl sugar addition. *faints* It's just too good. I've got this one in the bag. Take that cornbread girl. I have a title to keep over here.
Please direct all autograph inquiries to my agent after my win, thanks.
Berry Crumble Bars
Super-simple berry-packed handheld treats. Flaky crust, fresh fruit filling, streusel crumble top. -- Berry Crumble Bars from SouthernFATTY.com
Ingredients
3 cups flour, AP
1 cup sugar, white granulated
2 tablespoons orange sugar (orange zest in in sugar for a week or so)
1 teaspoon baking powder
pinch salt
8 ounces (1 cup) butter, unsalted, very cold
½ cup brown sugar, light
1 large egg
4 cups berries (any)
½ cup sugar
¼ cup cornstarch
citrus zest and juice (lemon for blackberry and orange for strawberries worked great for me)
1 cup pearl sugar
Instructions
Pre-heat oven to 360 F.
Grease 9x13 baking pan.
Combine flour, 1 cup sugar, orange sugar, baking powder, pinch of salt, egg and cubes of the very cold butter in large bowl.
Using pastry cutter or fingers/fork, combine roughly until butter is incorporated slightly. The final texture should be like pebbles.
Split mixture in half into separate bowls. Add brows sugar to one bowl and toss to mix. Set this bowl aside.
Press the mixture (without brown sugar) into the pan and press down to form bottom crust.
In a new bowl, combine berries with sugar, cornstarch, zest and juice of citrus fruit and toss well. Let sit for a few minutes to incorporate the starches well.
Add berries into pan on top of bottom crust.
Roughly cover berries with the brown sugar flour mix.
Top with pearl sugar.
Bake until top is golden, about 45-60 minutes.
Allow to cool and cut into squares.
Enjoy! -- More on SouthernFATTY.com
Notes
2015 - SouthernFATTY.com
--
Recipe adapted from
All Recipes
Check out our other berry good (har har) posts on the blog HERE.