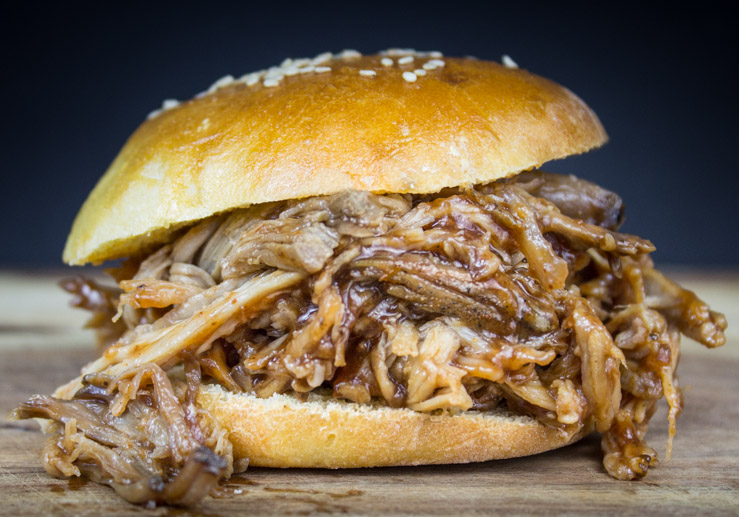 Welcome to the South– Where BBQ is rejoiced and (b)raised with the same (maybe even more…) care and tenderness that a first born child would receive. I mean, people here really love their pork.
I'm going to share my favorite, super-simple, crockpot Pulled Pork recipe so you can all feel like true Southerners for a day. This stuff is legit!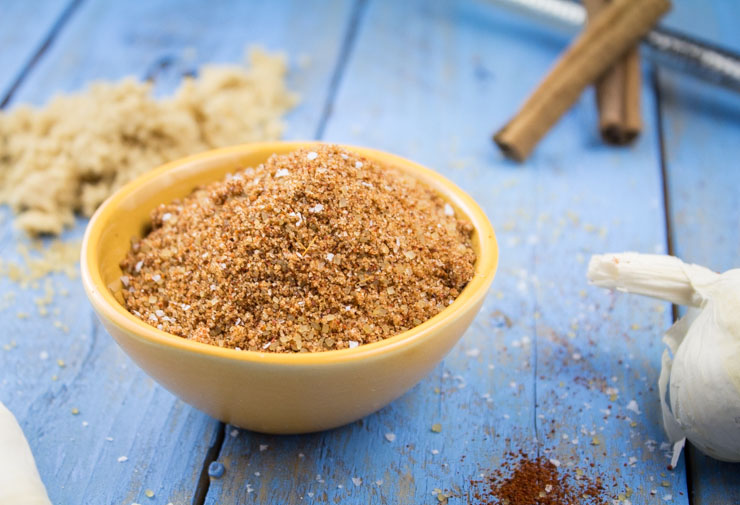 When some people say BBQ, they may think it means shredded pork (And only pork, people. This isn't Texas.) drowned in some BBQ sauce. Around here, it usually refers to pulled pork in its most traditional form. I'm talking dry-rubbed, slow-cooked, sometimes smoked, often imitated (but this time duplicated), truly tender, pulled pork. Just like you see it in the picture below. Not covered in sauce (no shame, though… you'll see me do exactly that later on). This is the way to really get that delicious meat flavor.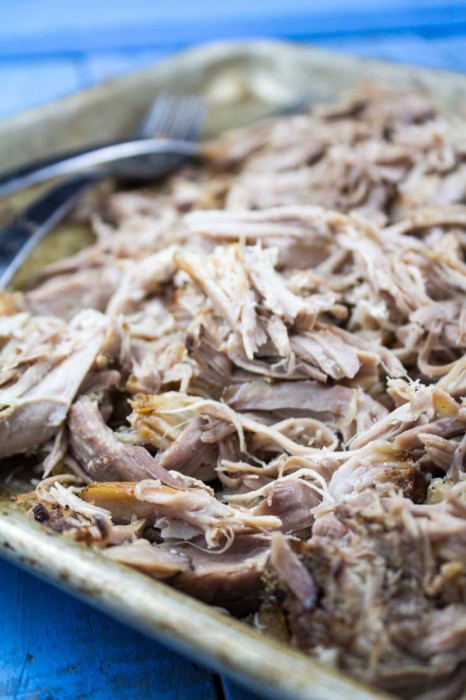 You could argue for hours in a Nashville bar about the best way to cook a butt. A pork butt, of course. Boston butt, pork shoulder. You may be pleasantly surprised to find out that this isn't actually the derrière of a pig, but actually comes from the shoulder and area above and between the shoulders. If you look at a pig, you'll see that they don't really have much in the shoulder department. It's just the top portion of the front legs. This cut has a higher fat content than some other cuts, making it perfect for our slow-cooking process. That fat will dissolve away, somewhat basting the pork while also leaving you with delicious, tender meat.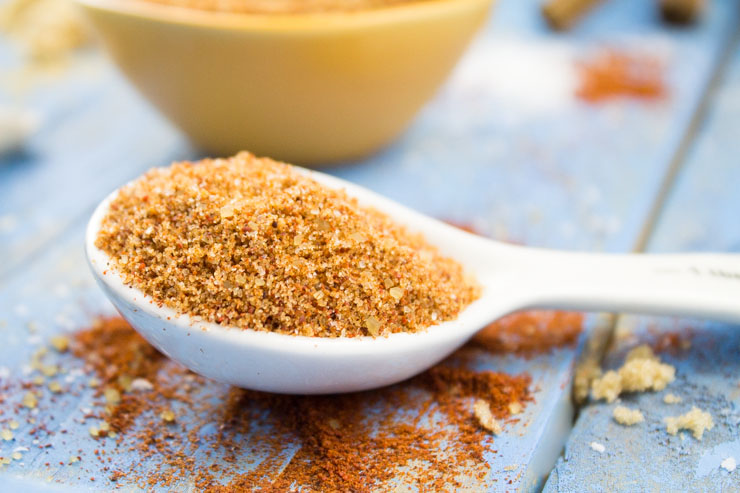 Rub-a-dub-dub. You're gonna love this grub! Now, we really get down to business. While a great cut of meat is important to delicious pulled pork, the rub is what really makes it stand out. Take the time to make your own. This is a great way to customize it to your own tastes. Nothing will beat a homemade rub spice blend. Make a bunch and keep it in the cabinet.
My favorite blend uses a combination of savory spices such as cumin, cinnamon, chili powder along with sweeter additions for a perfect balance. You have to have that bit of sweetness. Brown sugar and a bit of raw, turbinado sugar is what I have found to be the best combo. White sugar doesn't have that complexity and deep, caramel-like flavor that the raw sugar does. Plus, once you are finished making your spice rub, you can use a bit of the leftover sugar to finish some delicious Strawberry Cinnamon Chip Scones for breakfast the next morning!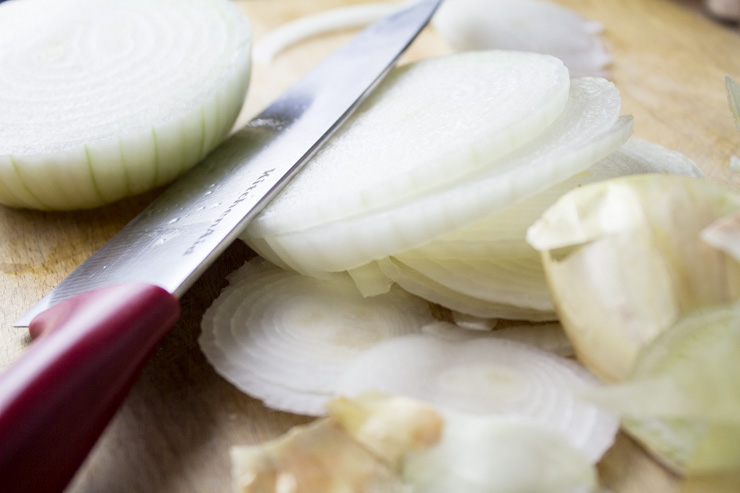 It's really best, even with crockpot cooking, to elevate the cut of meat a bit to provide more even cooking. Think about it… If you place the pork directly on the base of the pot, that side will certainly heat up more than the ones not touching.
To solve this profound pork puzzle, we will just toss some onions and garlic on the base to hold the meat up. Not only will this flavor the meat beautifully, but your entire house will smell of Southern BBQ with back notes of sweet onion and garlic. If any of you work for Yankee Candles, you're welcome. Hit me up.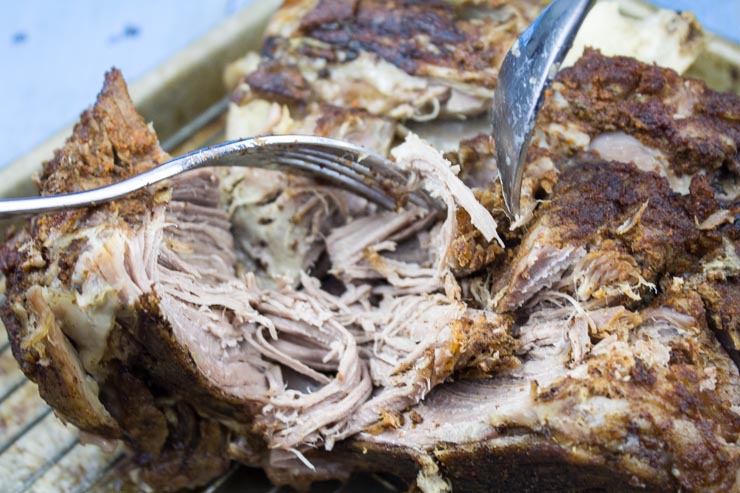 You know the next part… Set it, and forget it! — This has to be the best part. Once you've loaded the pan full of the aromatics and have rubbed that butt like it's your job, you'll just put it in the good ol' handy crockpot, set it to low and run off to work. If you are paranoid like myself, you could even setup a remote webcam to monitor it's progress! #geek [Seriously… You should really be following my Instagram to see things like this.]
Come home and grab your forks. It's hammer shreddin' time. By the time you manage to conivnce your boss to let you leave work a few minutes early because you are so anxious about this pork situation, it should be perfectly tender and ready to just jump right off of the bone (bone-in meat is always better to cook with, btw). Pull it out carefully and let it cook on a rack-topped baking sheet.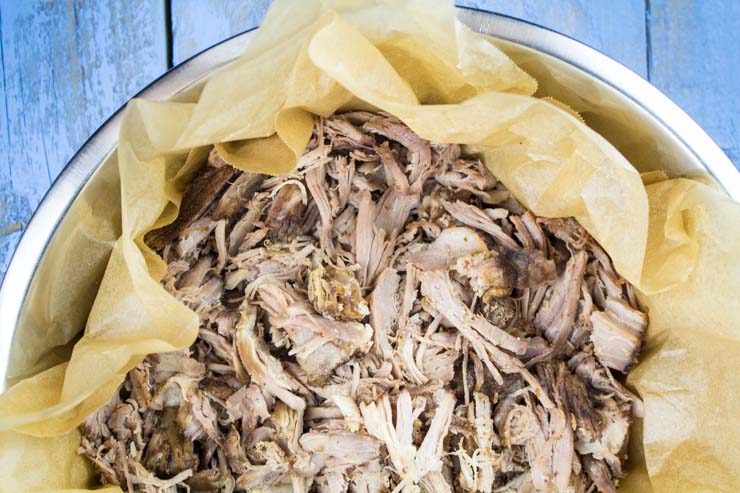 Are you ready? I SAID, ARE YOU READY? Start calling your friends. Neighbors. Random people roaming the streets. This s*!t is about to get real. Real goooood. Shred away to your little BBQ beating hearts content. A bit of the fat that didn't make it's way under the rack is fine. It will just melt away. I tend to try to get as much away from the meat after it is cooked as I can. I prefer that unbiased pork taste.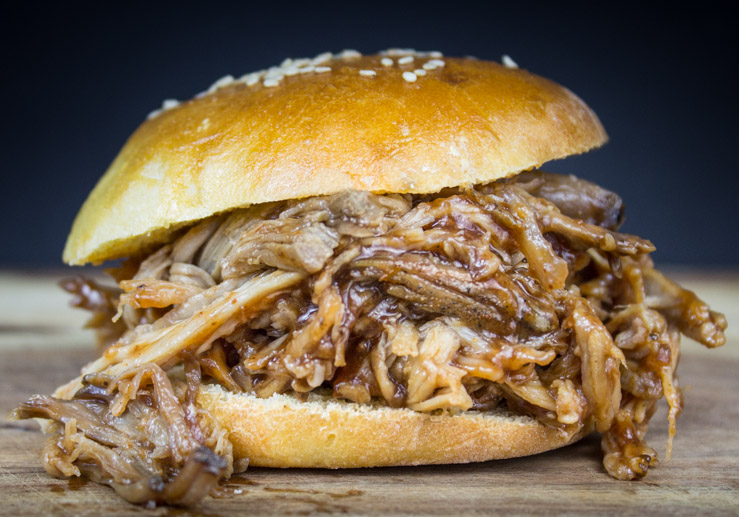 Like I said earlier on, this pulled pork is absolutely delicious just as it is from the cooker. You don't need to cover it in sauce. BUT… I can't deny that it is absolutely delicious with it covered in a good BBQ sauce. Toast some of those golden, fluffy Brioche Buns that I know you just made and you are set!
Perfect Pulled Pork
Simple Southern Pulled Pork - Crockpot, Simple Recipe
Ingredients
1 pork shoulder (aka Boston/pork butt) - I prefer 4-5 lbs
1-2 onions (I prefer sweet or Vidalia)
3-4 cloves garlic
¾ cup chicken stock
Rub Spice Blend
1 tablespoons brown sugar, dark
1 tablespoon raw/turbinado sugar
1 tablespoon chili powder
1 tablespoon salt
½ tablespoon paprika
1 teaspoon black pepper
¾ teaspoon cumin
½ teaspoon garlic powder
¼ teaspoon cayenne pepper
¼ teaspoon cinnamon
¼ teaspoon celery seed
¼ teaspoon ground mustard
Instructions
Combine ingredients for spice rub blend in mall bowl.
Very roughly chop onion and place to cover bottom of crockpot.
Slightly crush garlic cloves and place with onions.
Pour in chicken stock.
Place a few large slices in the top (opposite of fat pad side) of the shoulder.
Rub entire shoulder with spice blend.
Cook on low setting for 8-10 hours. [If you have less time, you can cook on high for approx. 6 hours.]
Remove to a rack to rest for at least 20 minutes.
Shred and mix with BBQ sauce to serve, if desired.
Enjoy more recipes on SouthernFATTY.com!
Notes
2014 - SouthernFATTY.com
Sauce or no sauce?  Leave us some love below!