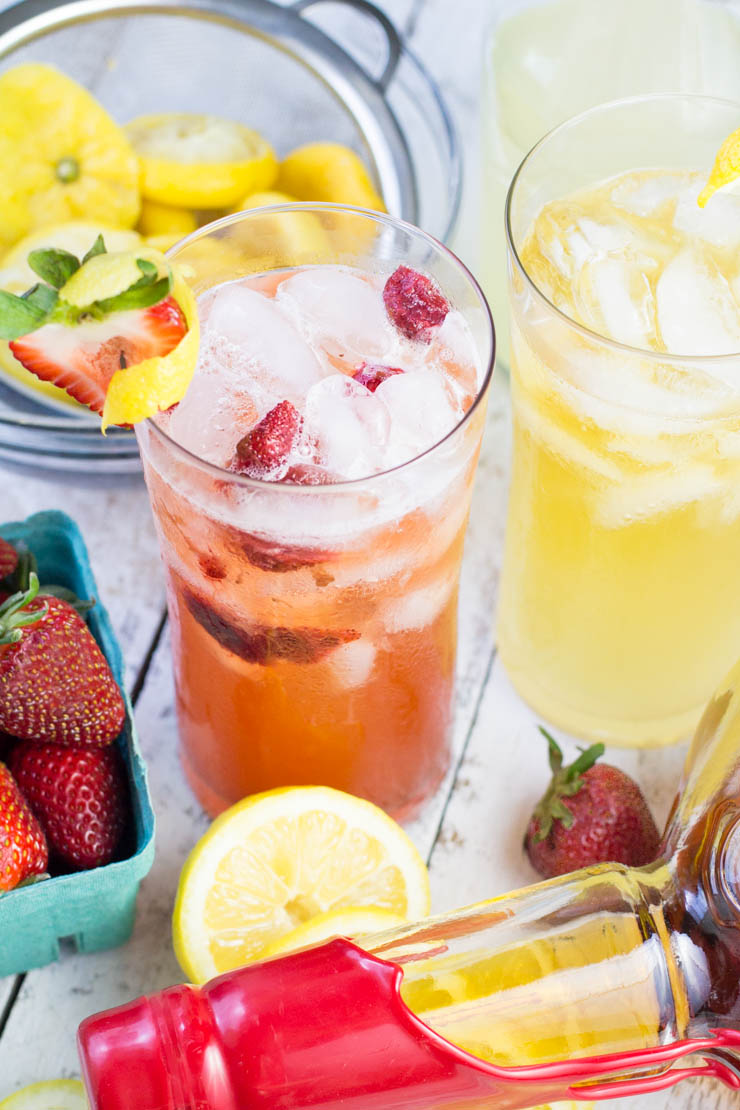 As you all know– bourbon is to Southerners, as coffee is to everyone else. People drink this stuff like it's ice cold lemonade on a hot summer day. With that said, why not just combined the two to make things a bit easier? Done.
Homemade, Fresh Strawberry Bourbon Lemonade — (I promise it will make the yard work easier.)
I realize that I've been on a major berry crush lately. Even the ugly berries are starting to look pretty to me… That might be the bourbon talking, though. Y'all know how that goes.
Uglies included, this stuff is just perfect for summer. I guess, though, winter sure would be nice to warm up to with a sweet memory of summer around the fire. Bourbon all year long! *dancing emoji*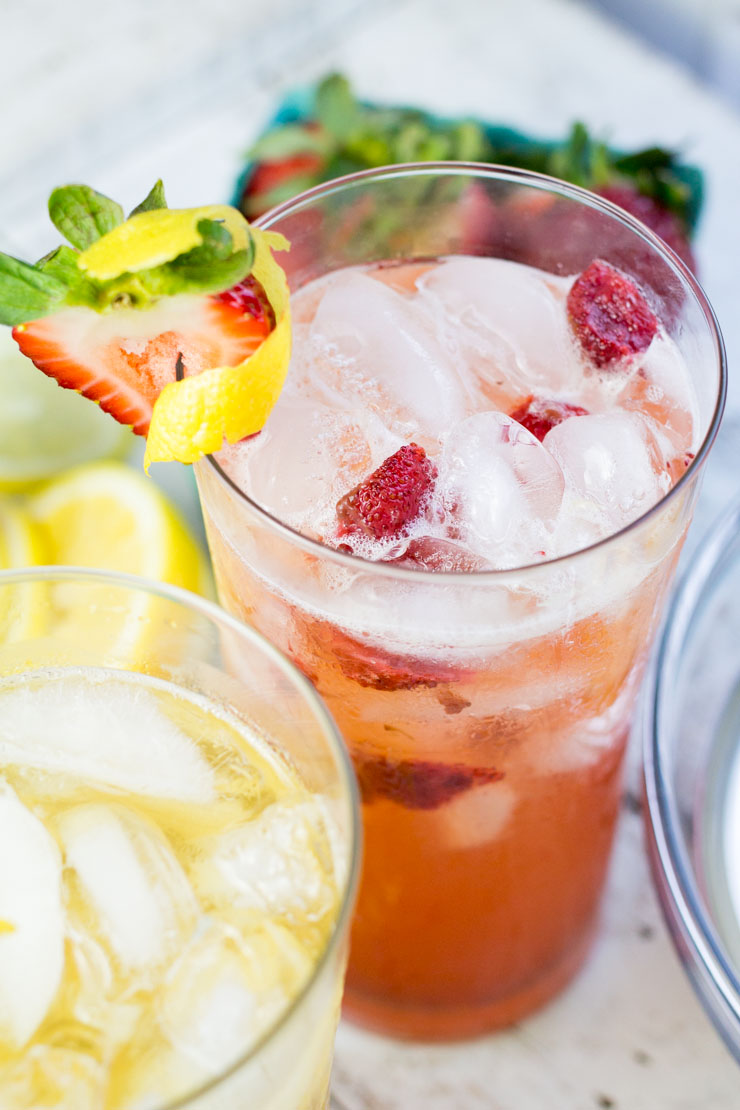 The secret to what I think is a perfect lemonade is… MORE BOURBON! Kidding… sorta. It's to make a good simple syrup first. Same stuff you would make to keep on the bar to sweeten cocktails.
Check out our Peach Simple Syrup recipe & read about how I blew up my kitchen.
A super quick warm-up on the stovetop with the water and sugar will give you the best little velvety smooth sweetness that you could ever ask for in a lively libation. I use this same method to make my world famous sweet tea (because y'all do know that's what babies are raised on around here). Works like a charm every time.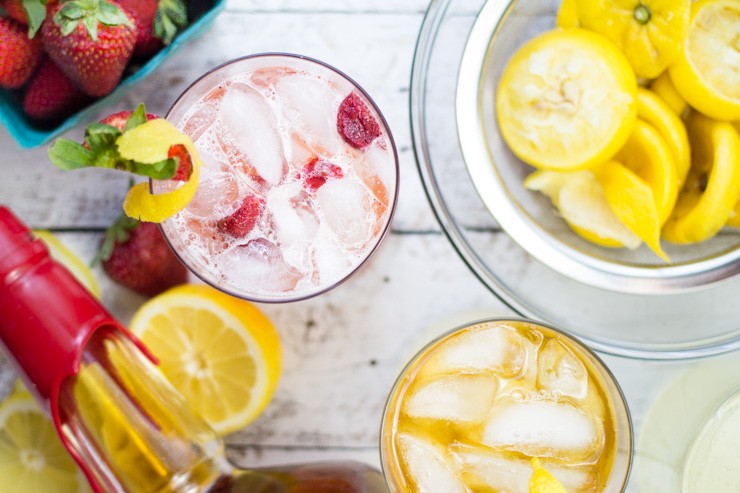 Some fresh lemons, local strawberries, super-duper incredibly easy simple syrup, and a splash or ten of your favorite bourbon (I'm partial to a lil' Maker's for this. It is made in my back yard, after all. Like.. nearby. Not in a still in the woods. Yet.) is seriously all you need to take a miserably hot day in the garden or cooking at the grill and turn it into the best party for 1 you've ever had.
I suppose you could share a sip or two if you are feeling generous. Or just keep it hidden in your own cup and it'll be our little secret.
Cheers, y'all–
Strawberry BOURBON Lemonade
Fresh, home-squeezed lemonade sweetened with a quick, smooth strawberry simple syrup and a kick of bourbon. -- From SouthernFATTY.com
Ingredients
Strawberry Simple Syrup
1 cup sugar
¾ cup water
1 cup roughly chopped fresh strawberries
Lemonade
1 plus ¼ cup lemon juice, freshly squeezed (about 6-7 lemons)
~ 4 cups cold water
1 shot bourbon (more or less per taste), for each glass of lemonade
Ice, to serve
Instructions
Strawberry Simple Syrup
In a saucepan over medium heat, add sugar, ¾ cup water, strawberries.
Stirring often, bring to a slow boil until sugar is dissolved.
Remove from heat and cool completely.
(Check out our Peach Simple Syrup recipe for a peach lemonade version.)
Lemonade
Add remaining ingredients (lemon juice, cold water) to syrup and stir well to combine.
Optionally, add each serving into a Mason jar and shake vigorously to break up strawberries for a stronger fruit flavor incorporation.
Pour into glasses over ice.
Add bourbon and swirl together.
Enjoy with friends! -- SouthernFATTY.com for more.
Notes
2015 - SouthernFATTY.com
What's your favorite summer cocktail?
Say hello in the comments below!