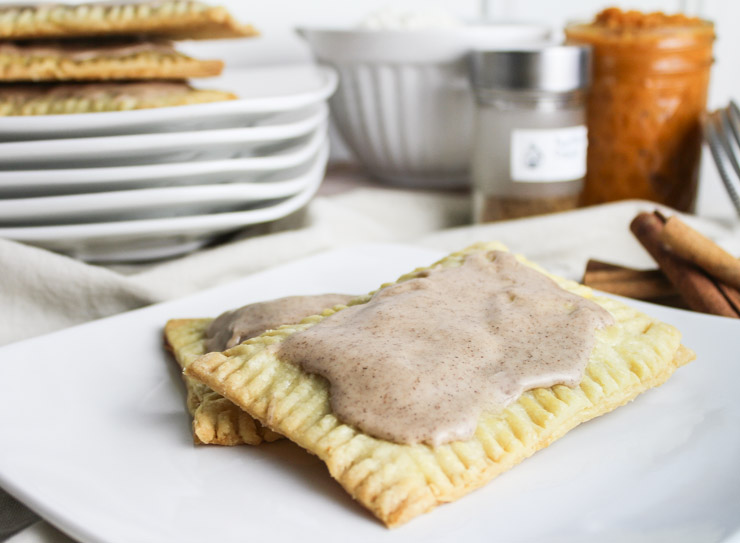 After finally venturing into the pumpkin spice world with our recent Homemade Pumpkin Spice mix, I decided that I would try to include it into another favorite flashback recipe of mine– Pop Tarts. Everyone that is anyone has delicious dreams of getting their favorite Pop Tart handed to them on their way out of the door when they were off to school when they were younger. Homemade Pumpkin Spice Pop Tarts with Brown Sugar Cinnamon Frosting are going to be your favorite fall flashback treat that you can recreate in your very own kitchen.
[Giveaway has ended].
I am notorious for making a massively huge mess in the kitchen when I cook. That means that I am going to love anything that makes cleaning up a lot easier. I have become addicted to silicone mats since I certainly enjoy baking more than anything else in the kitchen. Cookies, pastries (like these Pumpkin Spice Pop Tarts), and even boiling hot melted sugar like we had in our Lemon Drop Candies. No scraping anything off of a pan. A simple wipe on the cookie sheet and it's clean.
My favorite baking mat use is when it comes to cooking in batches. You know what I mean… When you make a bowl of cookie dough and have to dirty several pans to get all of the batches in. No. No, no. I just cook one batch, remove and carefully take off the mat, put a new mat on and repeat. So simple. Now that I am rambling, back to the recipe! (Non)Stick with us to enter to win one!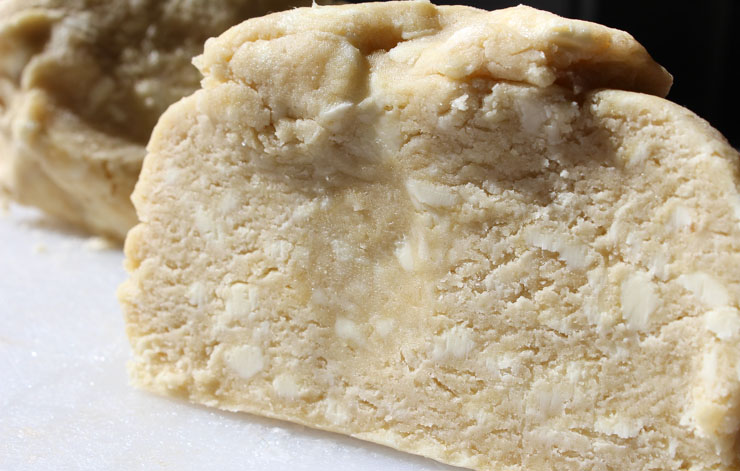 The most important part of making a good, homemade pop tart has to be mastering the flaky, somewhat dense pastry dough. If you remember our post on homemade Puff Pastry Dough, you'll know that the butter is where its at. You have to keep things cool enough and mixed in a way that lets the butter just stick around in tiny little crumbles. Those butter balls will keep layers of dough from binding together and leave you with the flaky, delicious pocket that you are craving.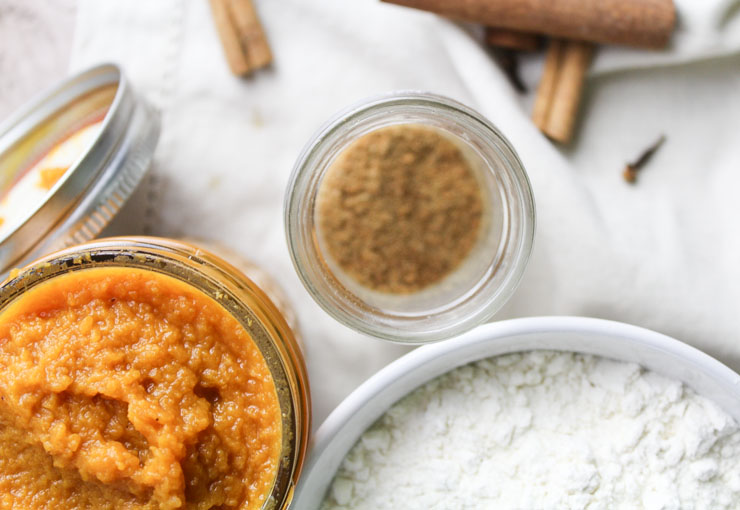 The fall-flavor packed pumpkin filling couldn't be any easier. Pumpkin and a bit of our Homemade Pumpkin Spice Mix. Annnnnd, done. If you're feeling adventurous, why not save some of the innards from your first pumpkin carving extravaganza and make your own pumpkin puree. Otherwise, canned raw pumpkin works great.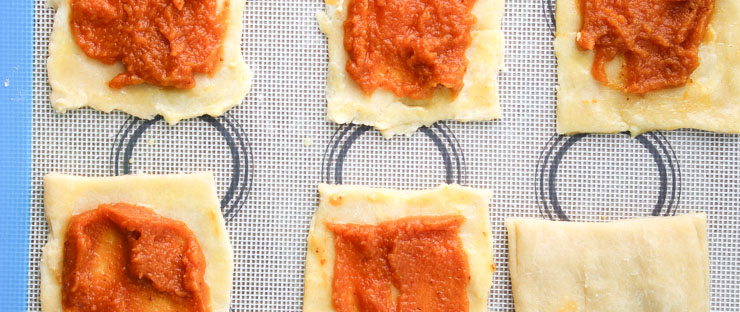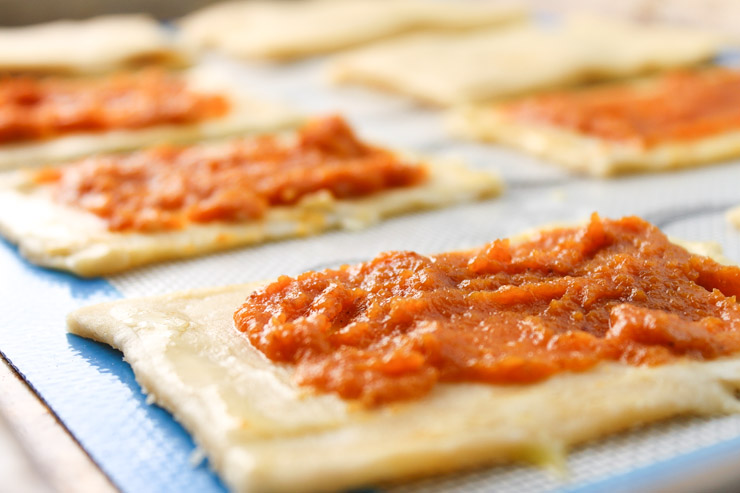 Now that I am getting (slowly) into the pumpkin everything madness, I am going to have to try to recreate some of my favorite recipes with a bit of the spice blend. Y'all are going to have to give me some ideas! I've been out of this pumpkin game for years while everyone else has been going crazy on it. Pumpkin carving excluded, of course. I've got that game down.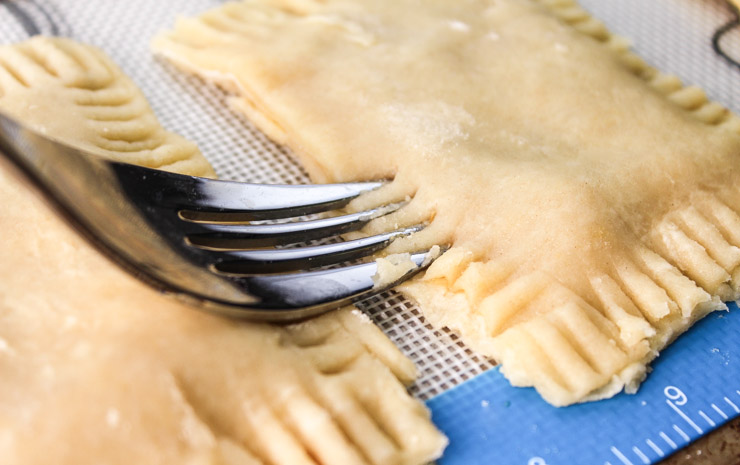 The most terrible thing about baking is when you create these beautifully composed pastries, bake them, and they just fall apart when you try to move them to cool. I can't tell you how many blog post ideas I have had and was certain they would be perfect, just to find out that my own poor planning in not using a baking mat in the beginning resulted in a ruined result. Those almost always end up in a bag in the freezer for ice cream mix-ins. Not a total loss, but still frustrating.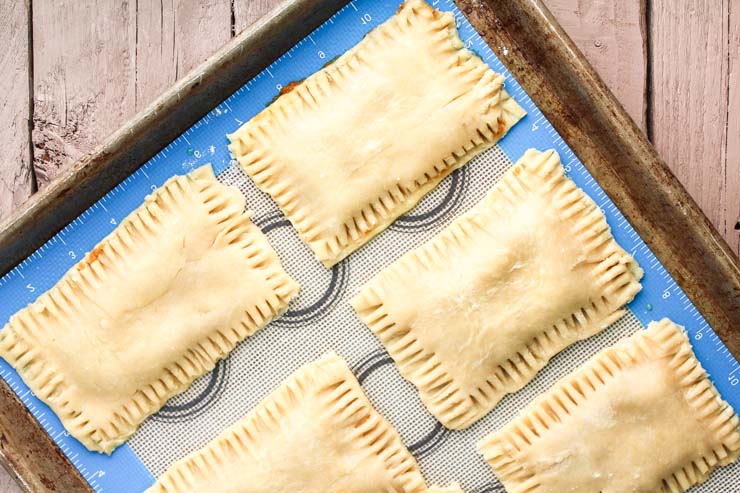 After I cut the pastry rectangles, I assembled them completely on the mats. I was easily about to move them around if I needed to, could easily crimp the edges without worrying about the pastries moving around or any paper underneath tearing, etc. Crimping the pastries is critical to keeping all of that warm pumpkin inside. It doesn't hurt that it gives it a cute little border, either.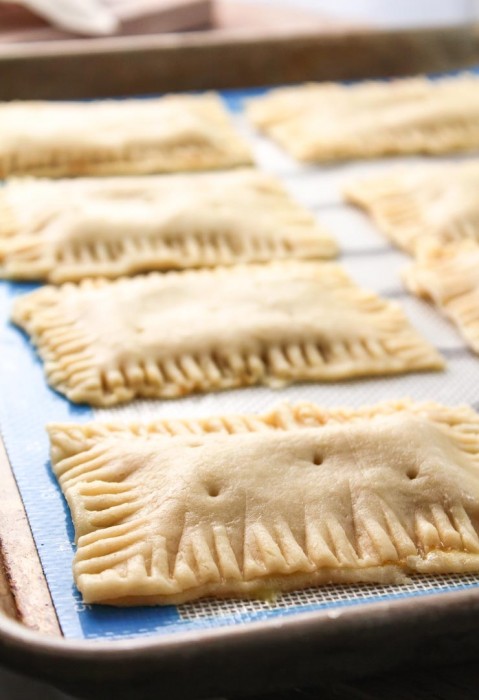 If you've ever eaten the unfrosted (gasp!) variety of Pop Tarts, although I'm not even sure why anyone would, then you will have noticed the little holes all over the top of the pastries. These are critical to letting the ghosts (or steam, if you may) escape so the tarts stay mostly unpopped. I guess that's sorta odd… They are called Pop Tarts, but are strictly kept unpopped. Hmmm. The more you know, eh?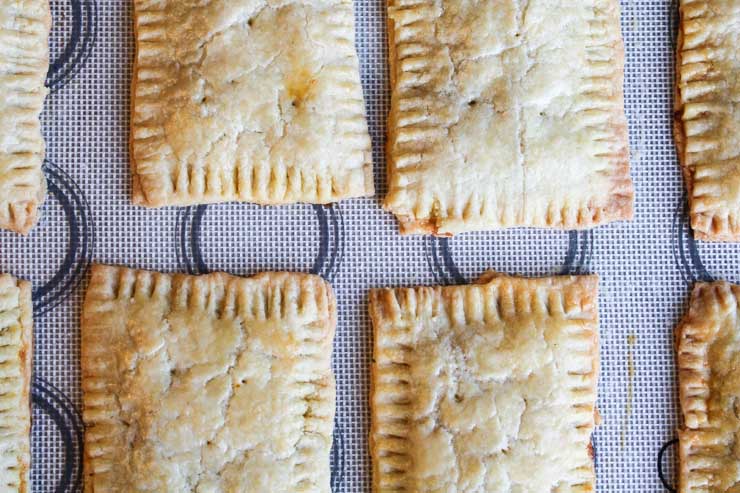 Look. At. Those. Beauties! How delicious do those look? I prefer to bake these to just a very slight golden color. I don't go for the typical all golden that I usually would prefer with a pastry. It just wouldn't seem as authentic unless the pouch had a bit of a dense texture. Baking them to a darker golden state seems to just not match up that same pastry texture that you would get out of the box.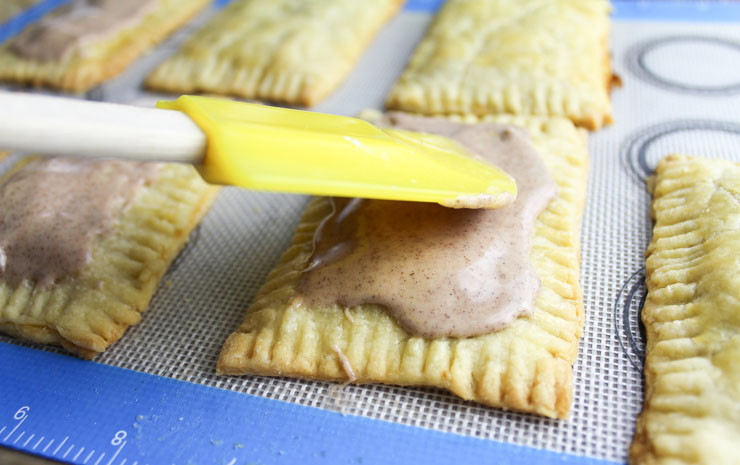 Cooled directly on the baking mats, I was ready to add the best part. Brown sugar cinnamon frosting glaze. Without a frosting glaze, I just don't see these as Homemade Pop Tarts. You wouldn't catch me alive eating my favorite strawberry pop tarts without frosting. Never.  Especially with these pumpkin spice filled gouls, the bit of sweetness is really needed. Then again, I don't think you'll ever find me saying that a bit more sugar is a bad thing…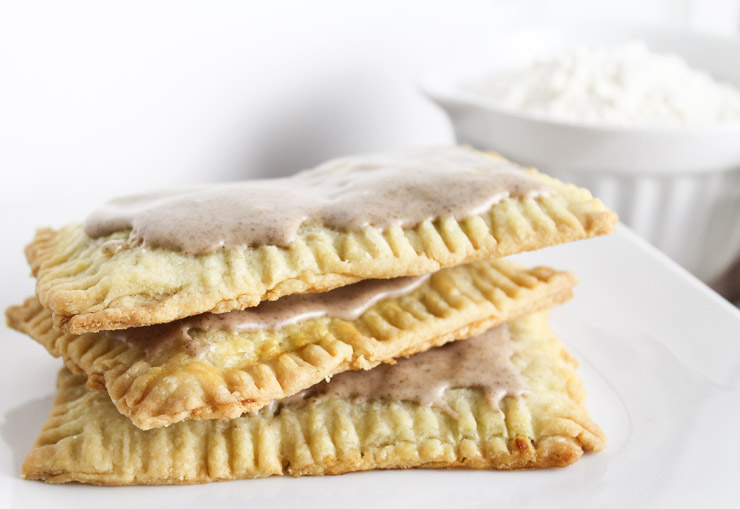 I was never one of those kids (or adults) that preferred my Pop Tarts warm. Sometimes a quick zap in the microwave, but I can't ever remember a time that I put them in an actual toaster. With that said, I prefer these at room temperature. Sadly, I actually only got to try one of them myself. The rest were nabbed too quickly from outside of my office. Amazing how quickly your food disappears once you start feeding the work animals…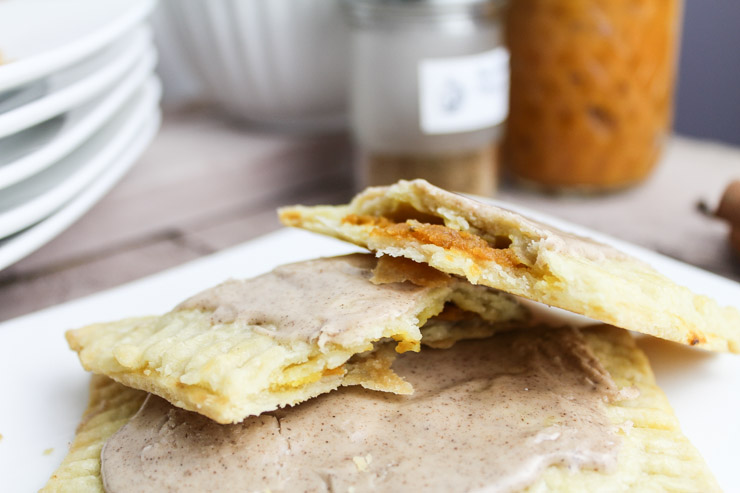 This will certainly be one of my new fall favorites on the must-bake list. Along with the obvious perfect grab-n-go breakfast, these would make for perfect Halloween party treats. Enjoy, y'all!
Read past the recipe to enter our giveaway to win a free baking mat!
Pop Tarts® are a Registered Trademark of Kellogg Company. Visit their official site here.
Pumpkin Spice Pop Tarts
Homemade Pumpkin Spice Pop Tarts with Brown Sugar Cinnamon Frosting from SouthernFATTY.com
Ingredients
Pastry Dough
2 cups (250 g) flour, AP
1 and ½ tablespoons (15 g) white sugar
½ tablespoon (6 g) brown sugar
¼ teaspoon cinnamon
1 teaspoon salt
8 tablespoons butter, unsalted, very cold
2 tablespoons milk
1 egg
(plus 1 egg, whites only)
Pumpkin Spice Filling
Brown Sugar Cinnamon Frosting
1 cup confectioners sugar
1 tablespoon milk
½ tablespoon brown sugar
¾ teaspoon cinnamon
½ teaspoon vanilla paste or extract
Instructions
Pastry Dough
Sift together flour, sugars, salt, cinnamon into food processor.
Add cold butter cut into tablespoon slabs into food processor.
Pulse 10 times. The mixture should then be crumbly.
Add the egg and milk and pulse a few times to just incorporate well.
Remove dough, split in half, mold to disc shapes. Wrap in plastic wrap and refrigerate for 30 minutes.
Filling
While chilling, mix pumpkin with the Homemade Pumpkin Spice and set aside.
Back to pastry dough...
Remove from refrigerator and let sit for a few minutes.
On a lightly floured surface, roll out to a 9"x12" rectangle. Use a ruler! Trim as needed to obtain shape.
Pastry dough should be about ⅛" in thickness.
Cut into 3"x4" rectangles.
Repeat with other piece of dough.
You should now have tops and bottoms for 8 pastries.
Brush off excess flour with pastry brush.
Place 8 rectangles on baking mat.
Place one tablespoon or so of filling in the center of each of the 8 pastries.
Brush edges with egg white.
Place rectangles on top, pressing lightly on the edges to seal.
Use fork to create tight seal around pastries.
Punch holes in top to release steam while baking.
Place pastries on sheet pan in refrigerator for 30 minutes.
Preheat oven to 350 F.
Bake until just slightly golden, about 25 minutes.
Remove and allow to cool completely.
Frosting
Wisk ingredients well.
Finishing
When pastries are cooled, add frosting and allow to harden for about 45 minutes.
Store in container and enjoy!
Visit SouthernFATTY.com for more recipes and let us know how they turned out!
Notes
2014 - SouthernFATTY.com

[Contest Ended]