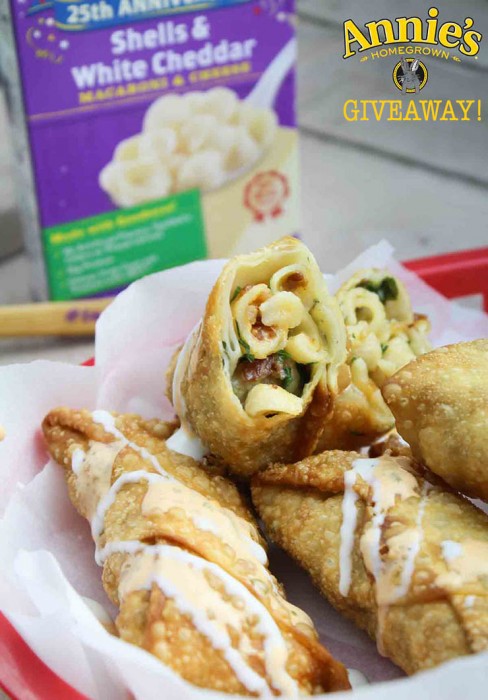 When you think that mac 'n cheese just can't get any better… and then you fry it. With bacon. And blue cheese. And BUFFALO. To beat it all, we are going to use the most time convenient, simple recipe for mac and cheese– the kind you don't even have to make yourself!
Check out how we transform an already tasty boxed white cheddar mac and cheese into a deliciously crispy, Bacon Buffalo Blue Mac 'n Cheese Rolls in just minutes.
[Read through to the end to enter to win
a box full of Annie's Homegrown goodies!]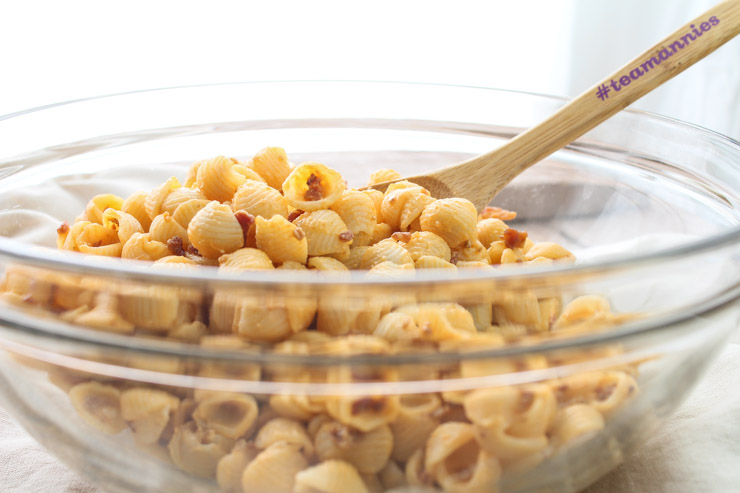 Partnering with Annie's Homegrown gave me the opportunity to really have some fun in the kitchen. I don't normally take what most would consider to be already completed meals from a grocery into something totally different. I have to say that after playing around, you will find me incorporating this idea into a lot more meals around my place in the future. Adding your own mix-ins really does turn a simple box of pasta into a great full meal.
I have to admit that being a corn-fed Southern boy, I am always somewhat leery of what most would consider to be health foods. <insert creepy Halloween music> At the same time, as one of those crazy biology people, I am extremely supportive of initiatives that promote sustainability and responsibility in producing a healthier, environmentally friendly product. This attracted me to the Annie's brand, since they fall into all of those categories with great success, utilizing natural and non-synthetic ingredients that allow us to keep producing food for our planet in the safest ways possible. Seriously, y'all. This ideology is IMPORTANT.
Visit Annie's Homegrown to read more about this delicious company.
Be sure to come join Team Annie's  to share your own mix-in ideas!
Tag your posts with #teamannies!
The final straw in the showdown is always the taste of the product though, right? All of those aspects are excellent to include, but if the taste isn't there, it just doesn't work out. Luckily, the taste of every Annie's product that I have had (which is the majority of them now) has been fantastic. I would hate to admit how addictive I am to their little delicious gummy berry bunnies…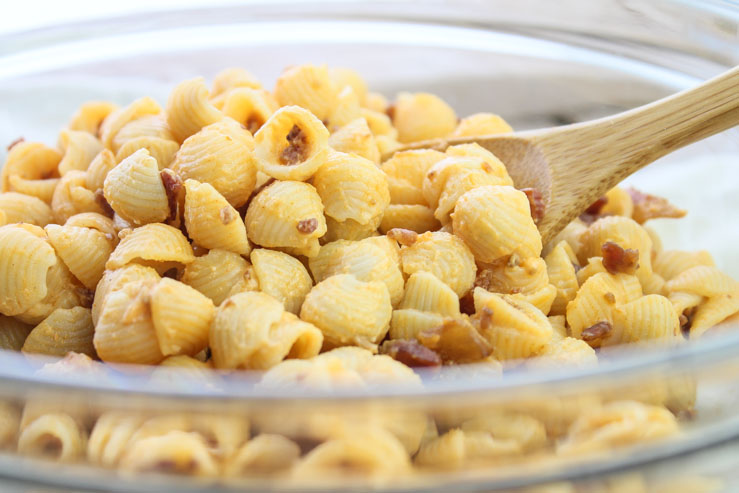 Back to the mac– I altered the box directions slightly, since I planned on tossing these into wraps and frying them. I wanted a bit thicker product to put inside to keep it all together. Eliminating some of the milk and adding a touch of starch worked perfectly. The optional butter (but not so optional — because, well, butter!) makes for the perfect companion to create our buffalo sauce. Buffalo is just hot sauce and butter, after all. Did I mention bacon? That's right. Everyone's favorite food group! I mixed in a bit (read: a ton) and let it all cool.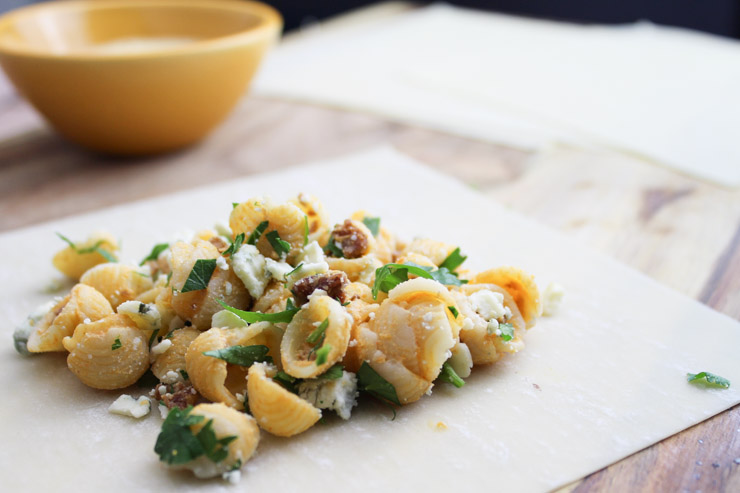 It just wouldn't be true buffalo mac 'n cheese without something to counteract off of the spicy hot sauce. Blue cheese is the most common sidekick for good reason. The slight tanginess combined with the crumbled creaminess is a win, win situation. I felt like the mix needed a tiiiiny bit of green to it. Since we started with something wholesome and healthy, I thought I'd give it a go and toss a bit of the fresh parsley that I managed to keep alive in my patio garden. Turns out, it actually tastes pretty good!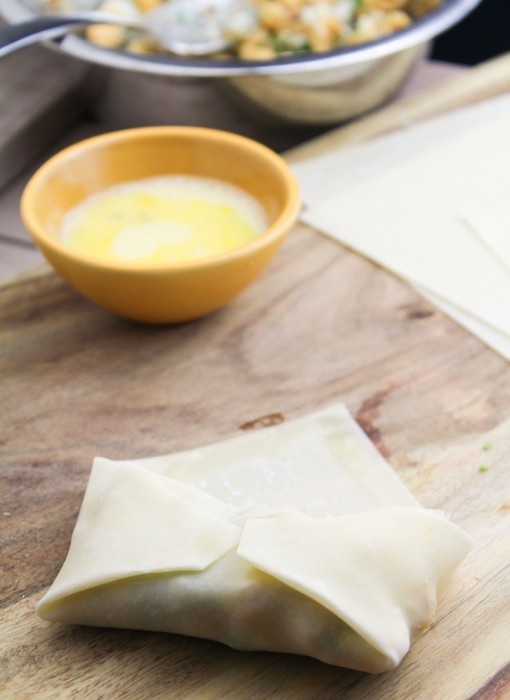 Wrap a blob of the mix up in an egg roll wrapper and practice your rolling and folding skills. I tried these with wonton wrappers in hopes that a mini roll would be cute. Everyone knows that things are cuter when they are smaller, right? True, but my lack of patience isn't so cute and I ended up giving into the larger wrappers out of simplicity. Turns out I'm not the most skilled (w)rapper.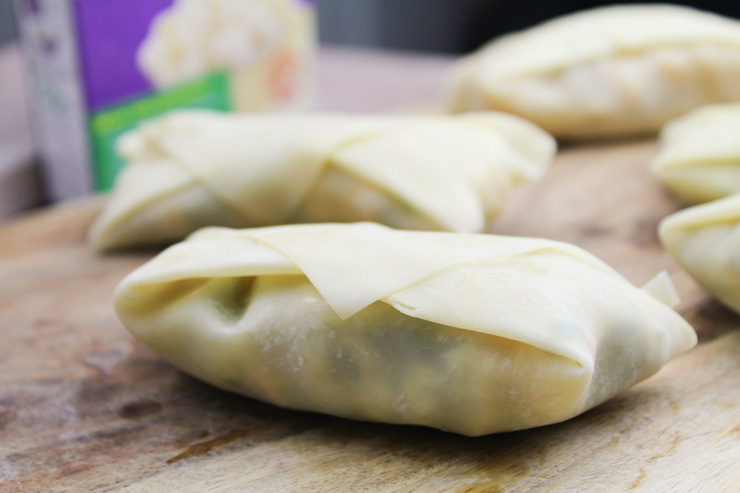 Once these puppies are signed, (egg) sealed and delivered to the fryer, you'll be pulling out the pickles and planning your next fry party. (Don't y'all have fry parties?)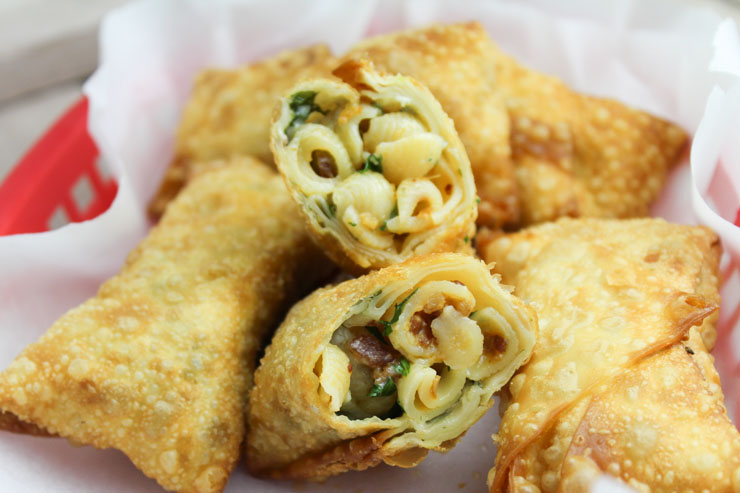 The Annie's White Cheddar Mac 'n Cheese goes better with the buffalo mix-ins than I ever thought it would. Turns out that white cheddar and spicy is pretty much the best party combo secret out there. The small shells of the pasta holds the sauce, cheese and bacon inside the perfectly packaged crispy envelopes like you wouldn't believe.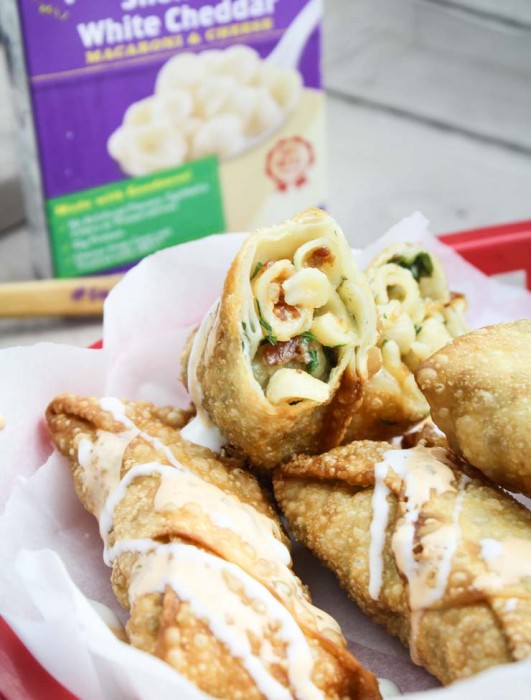 Topped with a bit of blue cheese dressing and a second (because two sauces is always better than one!) simple buffalo sour cream mix and we have a winner!
Speaking of winner… I had so much fun with the last giveaway, that I've decided to throw out another one! Who says you can't host two giveaways in a row? Pfft. I do what I want!
[ Use the giveaway app below the recipe to
enter to win some Annie's swag! ]
DISCLOSURE:  This recipe was developed with product(s) given to me to review by Annie's Homegrown. The relationship between Annie's and Southern FATTY may be supported through compensation in the form of monetary means and/or product(s). All opinions written are that of my own, unbiased review and are not influenced by any given compensation.
#spon: I'm required to disclose a relationship between my blog and Annie's Homegrown. This could include Annie's providing me w/ content, product, access or other forms of payment.
Bacon Buffalo Blue Mac 'n Cheese Rolls
Buffalo Blue Cheese White Cheddar Mac 'n Cheese Rolls from SouthernFATTY.com
Ingredients
Mac 'n Cheese Rolls
1 box Annie's Homegrown Shells & White Cheddar Mac 'n Cheese
3 tablespoons Frank's Red Hot sauce
2 tablespoon butter, unsalted
1 tablespoon milk
¼ cup bacon, crumbled
2 teaspoons cornstarch
¼ cup blue cheese, crumbled
1-2 tablespoons fresh parsley, chopped
1 package egg roll wrappers
1 egg, scrambled
oil, to fry
Sauces
blue cheese dressing
½ cup sour cream
2 tablespoons Frank's Red Hot
1 lime
Instructions
Mac 'n Cheese Rolls
Make boxed Annie's Shells & White Cheddar per instructions (boil water, cook pasta, drain).
Instead of box instructions for adding milk and butter, add the milk, butter, Frank's and bacon listed in this recipe.
Add cornstarch and mix well.
Allow mixture to cool completely. I placed in refrigerator for about 20-30 minutes.
Heat oil to 350 F.
When pasta mix has cooled, mix in blue cheese crumbles and parsley.
Add a heaping tablespoon of mixture in center of egg roll wrapper and fold. (See egg roll wrap instructions)
Seal the last fold with egg wash and close roll well.
Fry until golden. Remove to drain and cool to handle.
Sauces
Mix Frank's with sour cream and a simple squeeze of the lime well.
Finish Rolls
Top fried rolls with blue cheese dressing and buffalo sauce.
Enjoy!
Visit SouthernFATTY.com for more recipes and to let us know how it went!
Notes
2014 - SouthernFATTY.com
TO ENTER THE GIVEAWAY, USE THE APP BELOW.
BE SURE TO CLICK "+3" AFTER YOUR COMMENT TO ENTER.