Pumpkin Spice Pop Tarts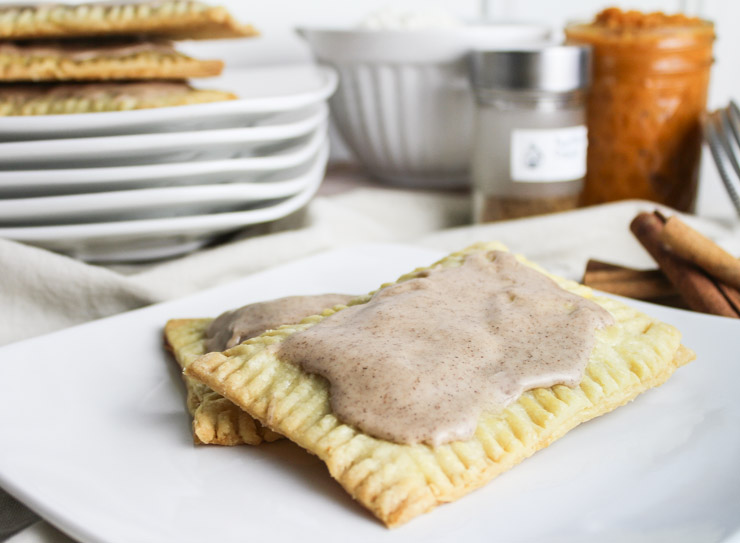 2 cups (250 g) flour, AP
1 and ½ tablespoons (15 g) white sugar
½ tablespoon (6 g) brown sugar
¼ teaspoon cinnamon
1 teaspoon salt
8 tablespoons butter, unsalted, very cold
2 tablespoons milk
1 egg
(plus 1 egg, whites only)
1 cup confectioners sugar
1 tablespoon milk
½ tablespoon brown sugar
¾ teaspoon cinnamon
½ teaspoon vanilla paste or extract
Sift together flour, sugars, salt, cinnamon into food processor.
Add cold butter cut into tablespoon slabs into food processor.
Pulse 10 times. The mixture should then be crumbly.
Add the egg and milk and pulse a few times to just incorporate well.
Remove dough, split in half, mold to disc shapes. Wrap in plastic wrap and refrigerate for 30 minutes.
While chilling, mix pumpkin with the Homemade Pumpkin Spice and set aside.
Remove from refrigerator and let sit for a few minutes.
On a lightly floured surface, roll out to a 9"x12" rectangle. Use a ruler! Trim as needed to obtain shape.
Pastry dough should be about ⅛" in thickness.
Cut into 3"x4" rectangles.
Repeat with other piece of dough.
You should now have tops and bottoms for 8 pastries.
Brush off excess flour with pastry brush.
Place 8 rectangles on baking mat.
Place one tablespoon or so of filling in the center of each of the 8 pastries.
Brush edges with egg white.
Place rectangles on top, pressing lightly on the edges to seal.
Use fork to create tight seal around pastries.
Punch holes in top to release steam while baking.
Place pastries on sheet pan in refrigerator for 30 minutes.
Preheat oven to 350 F.
Bake until just slightly golden, about 25 minutes.
Remove and allow to cool completely.
Wisk ingredients well.
When pastries are cooled, add frosting and allow to harden for about 45 minutes.
Store in container and enjoy!
Visit SouthernFATTY.com for more recipes and let us know how they turned out!