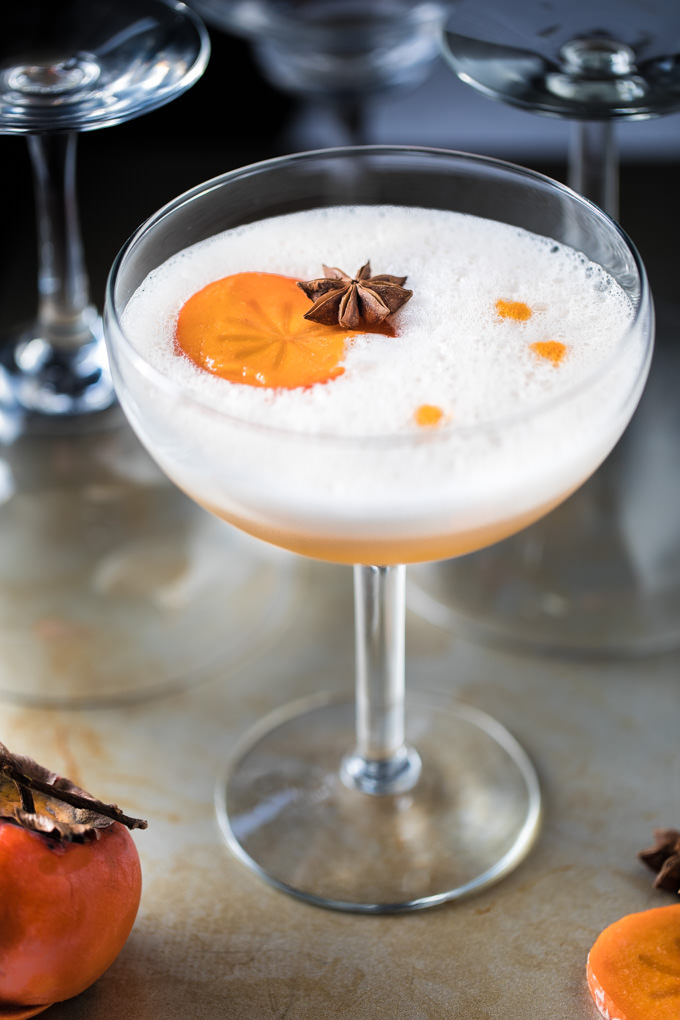 Happy New Year, y'all! *fireworks, drinks, cheers, etc.*
Now that we've got that out of the way, I'm sharing a total kitchen experiment turned amazingness with you. I was given a few persimmons that a friend is lucky enough to have grow in their back yard here in Nashville. What else would I do with some fruit than add some sugar and booze and call it a day, right? Right.
I'm mixing up these peculiar tree candies with my favorite spirit and a bit o' fizz.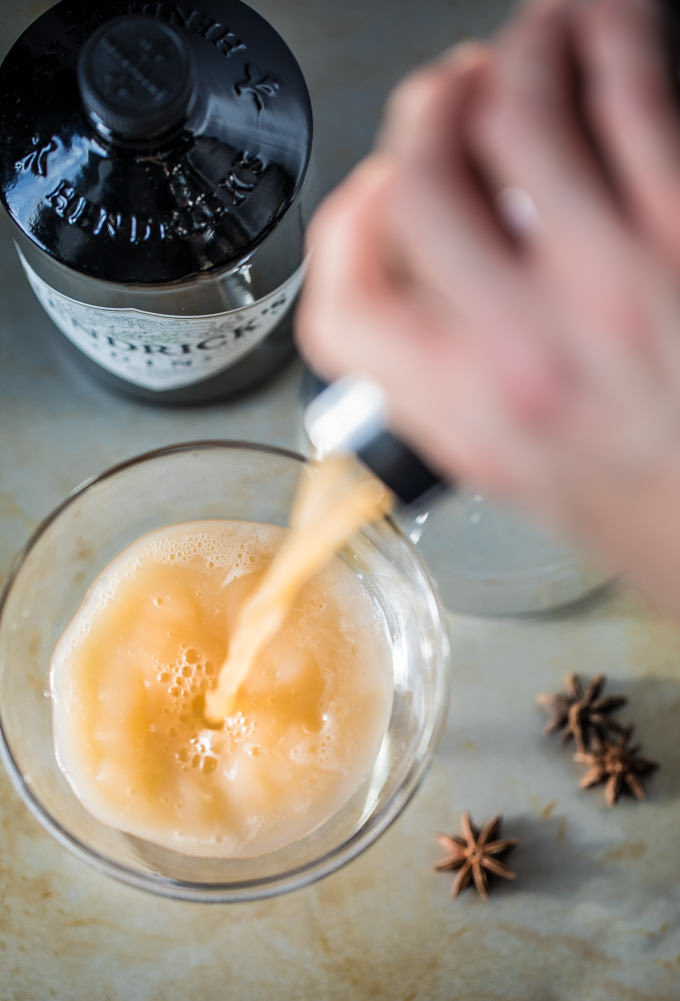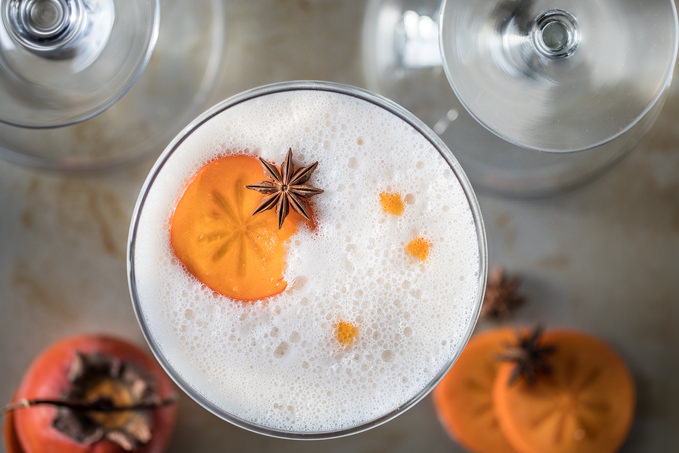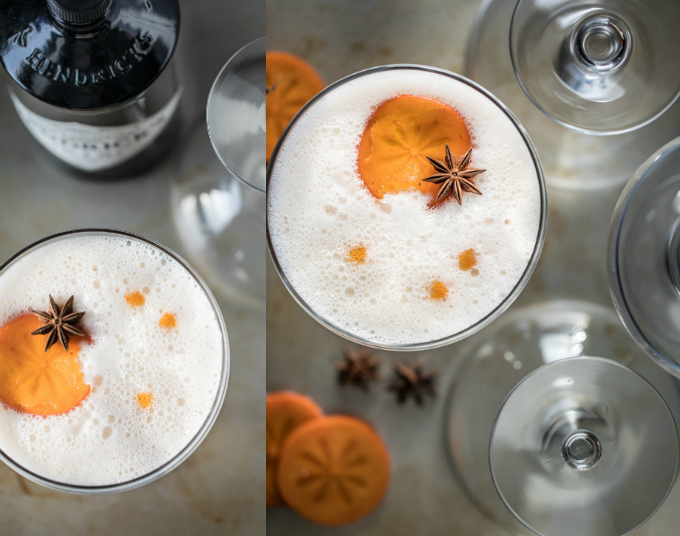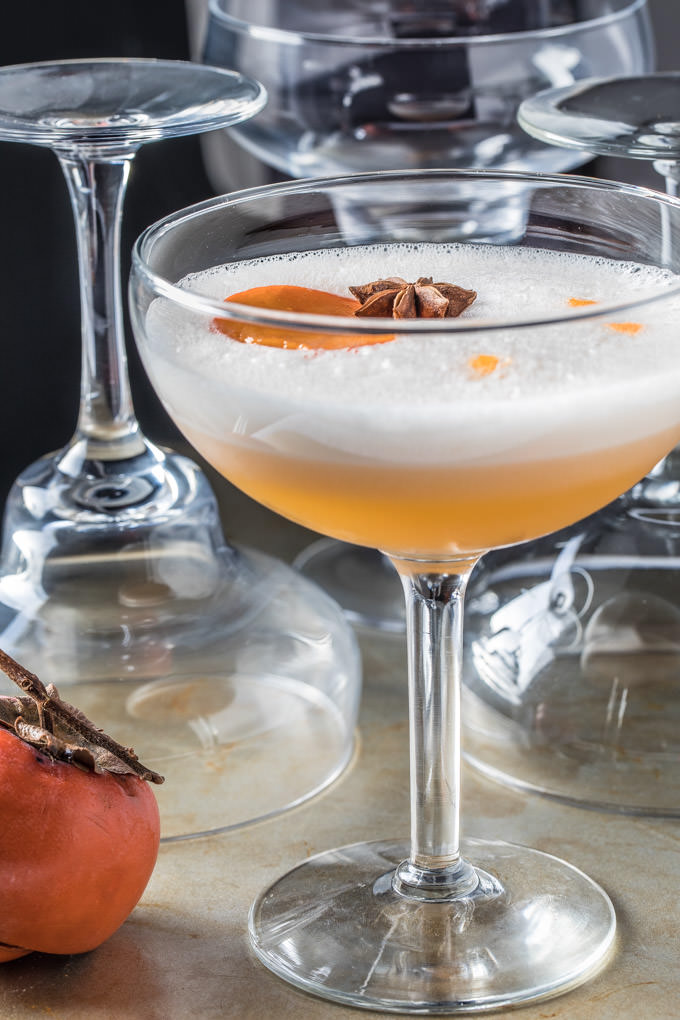 This recipe uses a favorite bartender technique, the dry shake, to get that smooth, velvety foam on top. Egg white sounds a bit odd in a cocktail for some. But it ends up working beautifully. Like Martha Stewart and Snoop Dog together on a Roast. Our Amaretto Southern used the same trick.
The sweet, honey-like flavor profile of the cute little persimmons balances the floral bite of the gin. This is a great drink, even for the non gin-crazed person on your friends list. It's smooth, sweet, has a bit of a kick and holds the secret winter weapon of the persimmon syrup on the highest winner's podium. Good stuff, y'all!

Persimmon Ginger Gin Fizz
Gin fizz cocktail with a sweet persimmon simple sugar kick and ginger bubble bite from SouthernFATTY.com.
Author:
Phillip Fryman | SouthernFATTY.com
Ingredients
3 ounces gin (I used Hendrick's Gin - great floral taste)
¾ ounce persimmon simple syrup (recipe below)
1 egg white (may use pasteurized, if desired)
½ teaspoon lemon juice, fresh
ice, to shake
ginger beer, to top (I prefer Bundaberg)
orange bitters, to finish
persimmon and star anise, to finish
Persimmon Simple Syrup
1 cup sugar
1 cup water
1 persimmon, sliced
Instructions
Persimmon Syrup
Boil all ingredients for 4-5 minutes
Remove to cool and strain completely.
Cocktail
Combine gin, simple syrup, egg white, lemon juice in a cocktail shaker.
Shake, shake, shake for 30 seconds. Shake it hard.
Add ice to fill half of shaker and shake for an additional minute vigorously.
Pour to a glass with star anise and sliced persimmon.
Finish with a splash of ginger beer (or ginger ale) and a few shakes of bitters.
Enjoy! - Find more on SouthernFATTTY.com.
Notes
SouthernFATTY.com - 2017
What cocktails are keeping you warm this winter?
Share in the comments below.