Ho.. Ho.. dHonuts, y'all! There is a favorite panadería, or Mexican bakery, in Nashville that I discovered this past year. It's hidden in a little corner of the city, and holds some of the best sweet pastries and breads in town. It's my little secret, and I'm never going to tell any of ya where it is. Ever.
Since I've decided to keep that secret as a gift to myself (Sorry 'bout it, but you can get like 12 donuts for $3.50. THREE FIFTY!), I opted to try and recreate one of my favorite sweet bread donut treats for you all with a bit of a Christmas flare — Santa Claus Conchas Donuts. A sweet yeast bread with a sugar crust beard, all baked and finished with a Rudolph style nose and marzipan hat.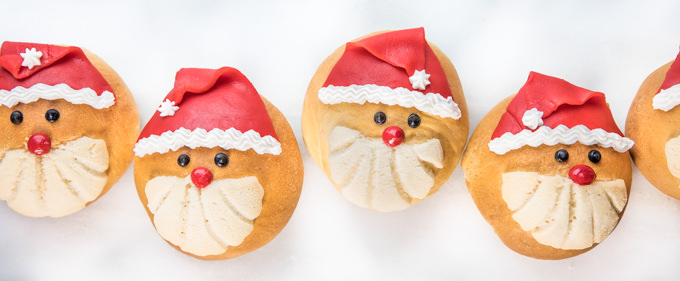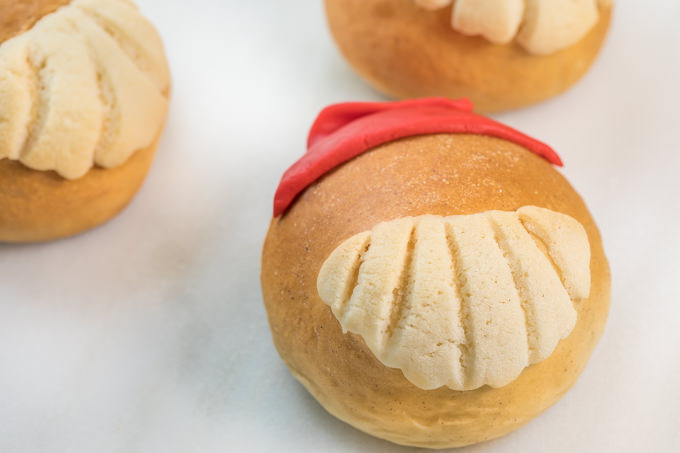 A traditional concha (click for history) is a variant of a pan dulce, or sweet bread, that is shell shaped. The bread base is made with yeast and given a couple opportunities to rise and develop an amazing flavor.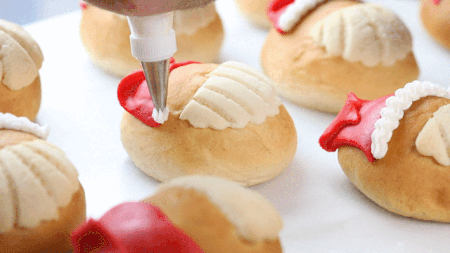 The shell on top is made by creating a flour and sugar paste that is docked (pressed or cut) before the final rise. After baked, it turns into a crisp, sweet shell that perfectly balances the rich donut. With a bit of an adjustment, the shell becomes a bushy beard for Santa.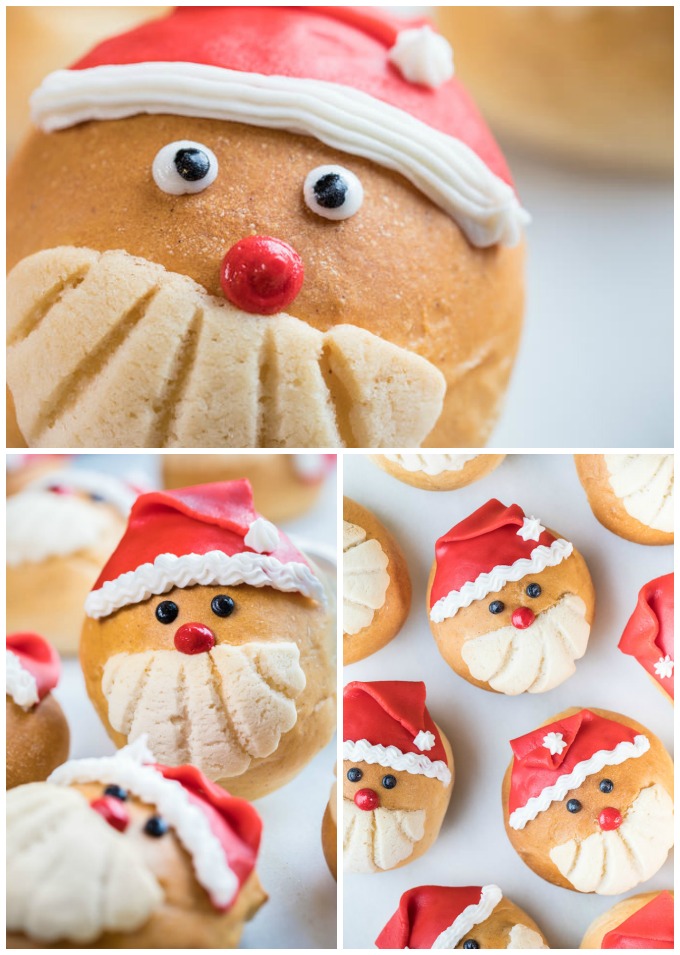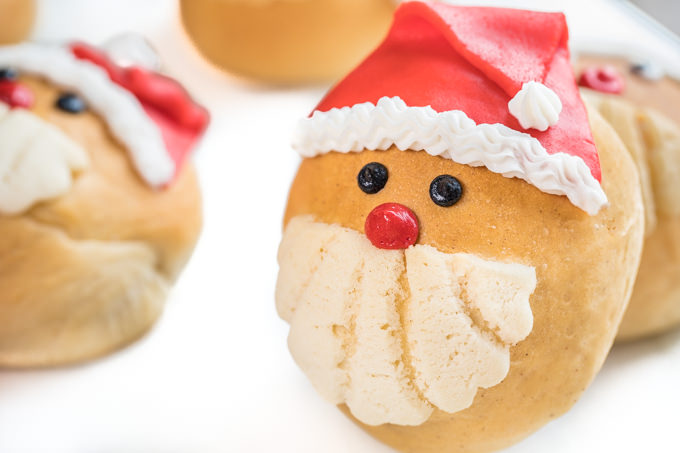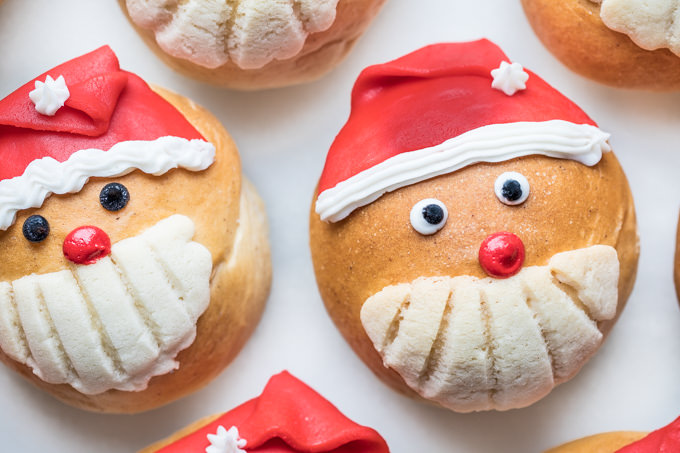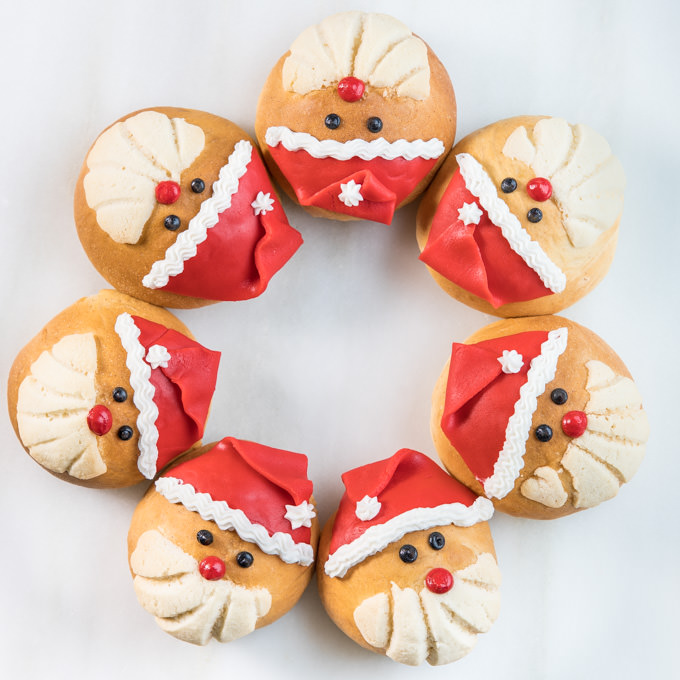 This treat definitely takes a bit of time and preparation. BUT, I mean, look at it! You can't get much cuter than a Santa donut. The rolls can be made well in advance, leaving you with just a bit of decorating work. Put those kiddos to work or something. That's what you had them for, right?
From my ho ho house to yours, I hope you all have the happiest of holidays!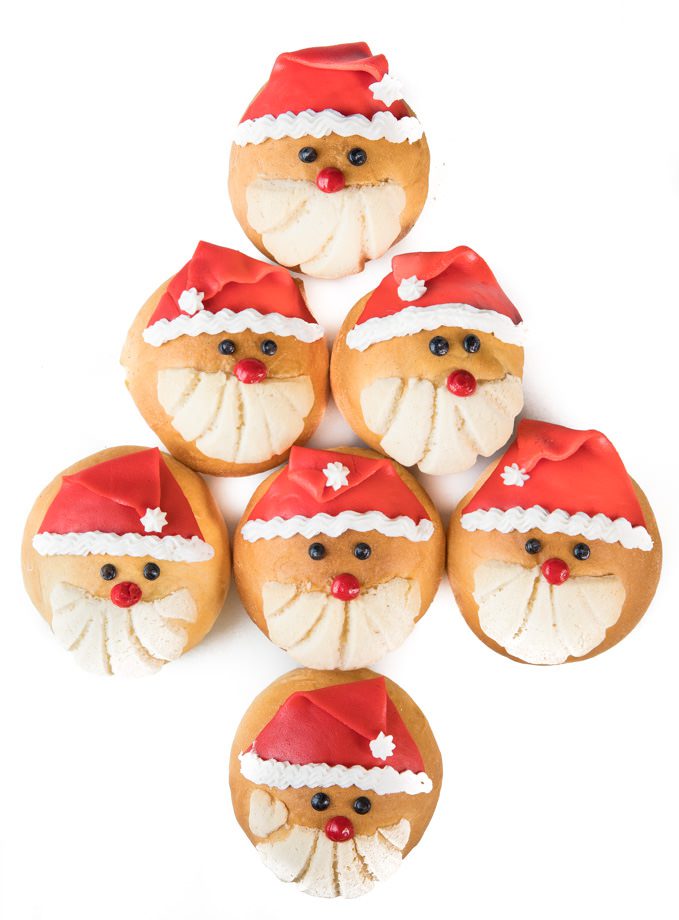 Santa Claus Conchas Donuts
Traditional Mexican sweet bread conchas recipe with a Christmas twist. Donuts topped with marzipan hat, vanilla frosting finishes, and a sweet sugar paste beard. From SouthernFATTY.com.
Author:
Phillip Fryman | SouthernFATTY.com
Ingredients
Conchas Sweet Bread Donuts
½ cup warm water (110 F)
2½ teaspoons active dry yeast
6 tablespoons whole milk
2 tablespoons heavy cream
½ cup sugar
1 teaspoon salt
½ cup butter, melted
1 egg, large
4 cups flour, all purpose (AP)
1 teaspoon cinnamon, ground
Sugar Paste
Marzipan for Hats
4 ounces almond paste
1 cup powdered sugar
2 tablespoons corn syrup
Decorating Frosting
2 cups powdered sugar
2 tablespoons butter
2 tablespoons shortening
2-3 tablespoons heavy cream
½ teaspoon clear vanilla extract
Instructions
Conchas
In mixer bowl, combine warm water and yeast. Stir lightly and allow to sit for 10 minutes until foamy.
Add milk, cream, sugar, salt, butter, egg, cinnamon.
Mix well.
Add flour in a few batches and mix with dough hook on medium speed for about 6 minutes until elastic and smooth.
Grease clean bowl and transfer bread dough. Cover with plastic wrap and allow to rest in warm place to rise until doubled, about 45 minutes to an hour.
Sugar Paste
Make the sugar paste while the bread is in its first rise.
Combine butter and sugar and beat with mixer until light and fluffy.
Add flour and vanilla and beat until thick.
Roll to about ¼" thickness on lightly floured surface.
Cut out circles of about 3 inches in diameter. Split each circle in half. This will create the beard.
Conchas (cont.)
Remove dough and divide into 12 equal pieces. I highly recommend weighing the dough with a quality kitchen scale for precision. Cover dough while dividing and rolling with a damp kitchen towel to prevent drying it out.
With each ball, roll completely until very smooth and even. Place balls on a paper lined or silicone mat covered baking sheet. Keep the balls several inches apart. I used two baking sheets for the total recipe.
Place a half circle on half of each dough ball. Score them with a kitchen knife lightly.
Place greased plastic wrap over the rolls and allow to rise in a warm place for 45 minutes.
Pre-heat oven to 350 F.
Bake until the rolls are golden, about 20-25 minutes.
Remove and cool completely.
Marzipan Hats
Combine almond paste and powdered sugar in food processor. Pulse until fine crumbles.
Mix coloring with syrup and then add to the almond mix. Blitz until well combined.
Remove and knead until smooth and color completely distributed.
Roll to ⅛-1/4" thickness on a silicone baking mat (for easy removal) and cut out triangles to fit the cooked roll diameter.
Finishing
Finish by placing marzipan hat, piping decorating frosting (sift and combine ingredients and mix well), and enjoy!
Happy holidays, y'all. Find more recipes on SouthernFATTY.com.
Notes
Conchas recipe adapted from AllRecipes.
Whatchya want for Christmas??
Let me know in the comments below!