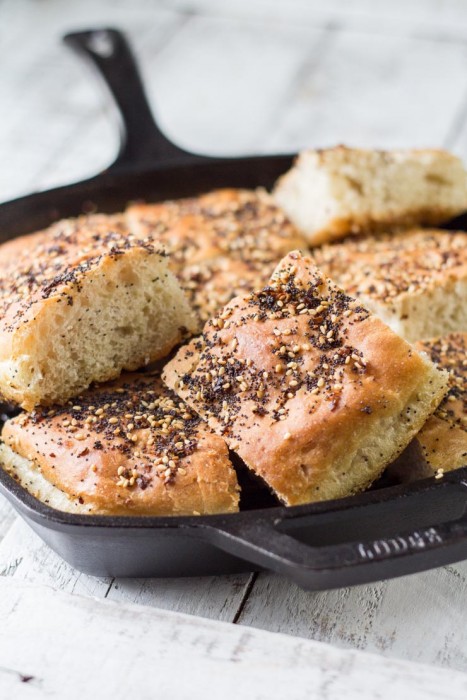 If you've been following my Instagram, you'll know how insanely obsessed with the classic favorite Everything Bagel [ahhhhh *angels sing*] that I currently am. Something about that garlic, onion, poppy, sesame, salt blend that just hits the spot.
I decided to bump things up a bit and see what else would taste amazing with this magical blend on top–  Everything Bagel Focaccia Bread was the result. And it. was. perfect.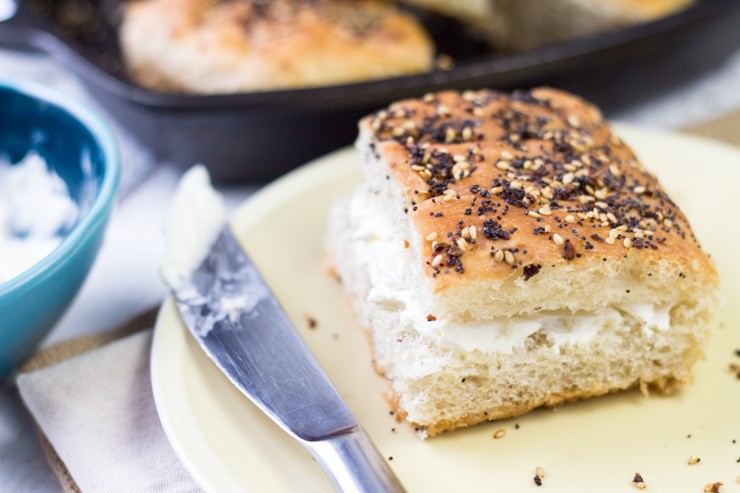 I really struggled with what exactly I would do for this topping mix. As many bakeries do, I considered blending my own unique "everything" mix together to make the post that much more unique. I threw in some common spice cabinet additions– celery seed, various salts, and even some odd additions. All of the varieties were just fine.
Fine? Fine, I said. Fine isn't good enough. I kept trying to compare the twists with the classic blend. While jalapeño everything bagel topping may come another day, as I'm convinced it would be badass on a pizza, today isn't that day. Back to the basics– classic everything bagel topping it is.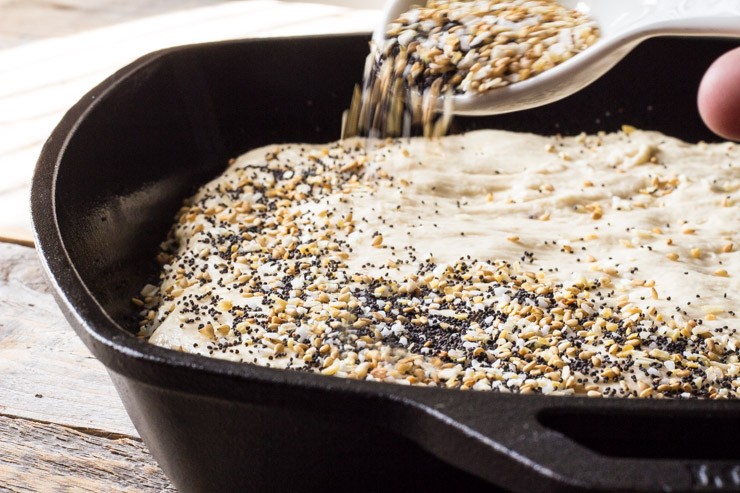 Focaccia is one of those recipes that I have taken for granted. It's something I've eaten plenty of, made a few plain ones in the past, but haven't really experimented with in the kitchen (until now). I guess I got distracted by all of the sugar and butter… Imagine that.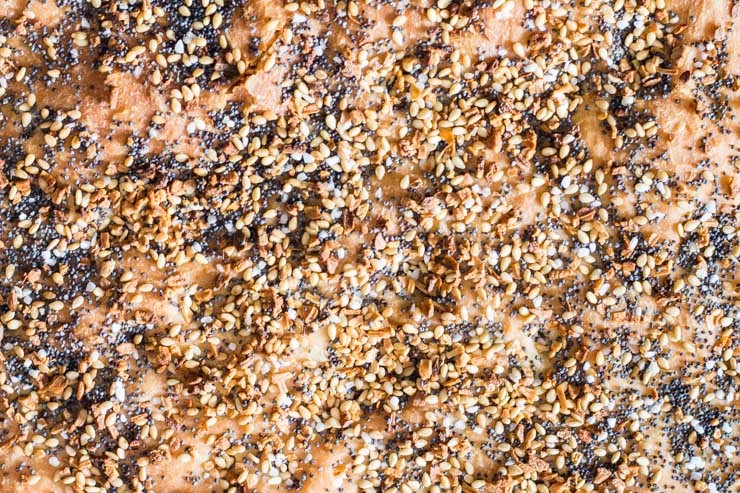 If you look closely enough, you'll find Waldo in there. Waldo eating every single bit of the perfectly blended garlic, onion, poppy, sesame and salt, I mean.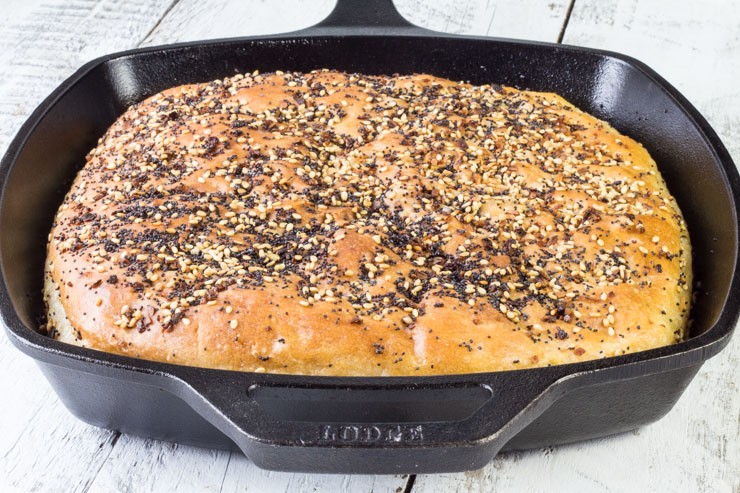 Look at that. Puffy like a classy pillow, tan like a retired Floridian snowbird, heavily coated with seasoning. This focaccia knows what it's got going on. I would say that it would make for the absolute best office take-in treat evahhh, except you aren't going to want to share this with anyone. Close the windows. Don't let the neighbors smell this one at all. They probably didn't cut their grass on time anyway. They don't deserve it. It's juuuust fine.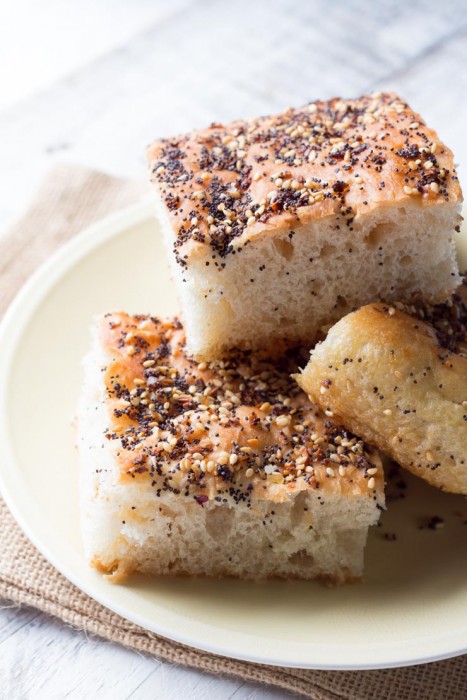 Those tiny little pockets! This super-light bread base is just the perfect canvas for just about everything. Everything! (get it? good.)
I baked this in a cast iron grill skillet. It gave the focaccia that much more texture by leaving it with nice ridges on the bottom side. Plus, the pan was $20. Seriously. Getchya one. Y'all know my feelings on cast iron.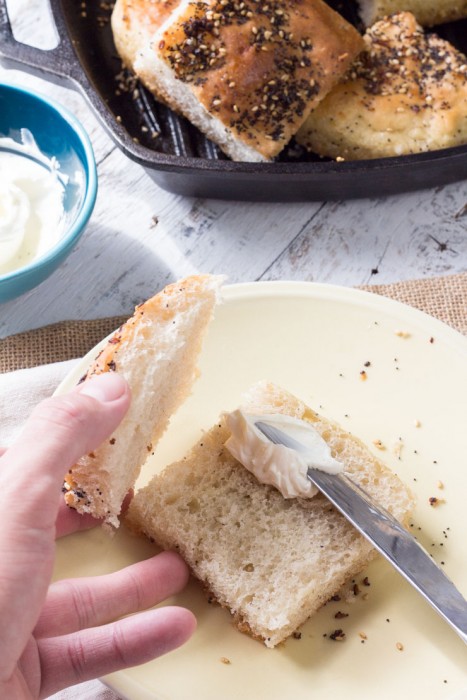 Now… I have to confess that I literally ate 2 pieces of this stuff straight out of the oven. With my mitts still on because it was too hot to handle otherwise. I couldn't help it. At that point, my house smelled like a busy bakery and I just had a natural instinct to call dibs on whatever I could get my hands on before it ran out. Once I realized that my doors were indeed locked and nobody was in a line behind me waiting (yet), I slowed my roll a bit and went for the obvious– cream cheese (basically a food group in my place).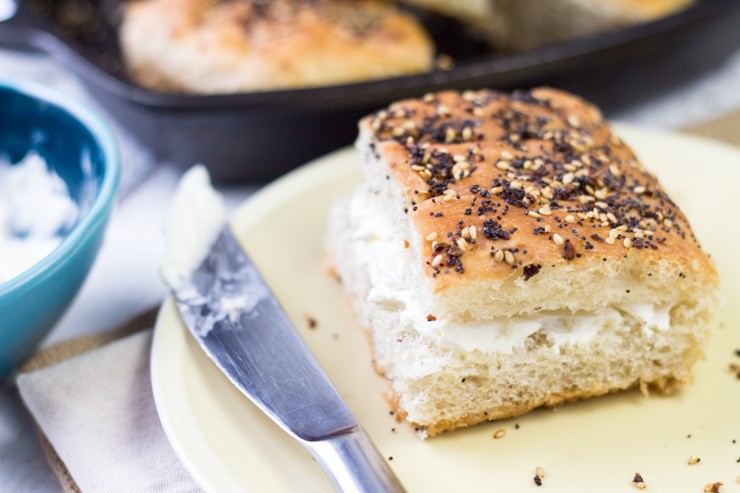 Just FYI… This was absolutely the best choice. Warm, light focaccia with the whipped cream cheese. It's like everything that you ever wanted in an everything bagel-esque everything foccaccia. A nice variation from the norm (although, I promise to never abandon the classic favorite bagel), this insanely easy bread is sure to rise to the top of your go-to bakes list.
Everything Bagel Focaccia Bread
Everything that you want from an Everything Bagel in an Everything Bagel Focaccia Bread recipe. Garlic, salt, poppy seed, onion, sesame on light focaccia. From SouthernFATTY.com.
Ingredients
Overnight Starter
½ cup water
⅛ teaspoon yeast, active dry
1 cup flour
Focaccia
⅔ cup water, warm/hot
1 teaspoons yeast, active dry
½ cup olive oil
2 tablespoons almond flour
1 plus ½ cups bread flour
1 tablespoons honey
½ tablespoon salt
⅛ teaspoon granulated garlic
⅛ teaspoon onion powder
Everything Topping
1 tablespoon poppy seeds
1 tablespoon sesame seeds
½ tablespoon dried minced onion
½ tablespoon dried minced garlic
½ teaspoon sea salt
Instructions
Overnight Starter
The day before you want to bake-- Combine ingredients. Cover bowl with wrap. Leave at room temperature overnight. (I did mine and left it until the next evening.)
Dough
The day after you created the starter, add water and yeast to a mixing bowl. Let sit for 10 minutes until foamy.
Add the entire starter, olive oil, almond flour, bread flour, honey, salt, garlic, onion powder and mix slowly until combined.
Mix on medium speed with dough hook for 6 minutes.
Place dough ball in greased bowl. Cover with plastic wrap of a damp kitchen towel.
Let rise for an hour and a half.
Turn out onto lightly floured surface.
Fold dough in on all four sides.
Return to greased bowl.
Let rise again for another hour.
Lightly grease pan or skillet. (I prefer to use a Grill Skillet. Great ridges!)
Turn out dough into pan and lightly press into size.
Brush top with olive oil. Cover with plastic wrap or damp kitchen towel and let rise for another hour.
Pre-heat oven to 425 F.
Press small dimples around the dough randomly. Be light. You don't want it to deflate.
Combine all topping ingredients in small bowl.
Sprinkle heavily on top.
Bake until golden, about 30 minutes. Watch closely, as you may need to place a foil tent over to prevent the topping from burning.
Remove to cool and enjoy.
Goes well with cream cheese!
--More on SouthernFATTY.com--
Notes
2015 - SouthernFATTY.com
(Recipe based on LA Times/La Brea/King Arthur Flour recipes)
Favorite bagel? Let us know below!