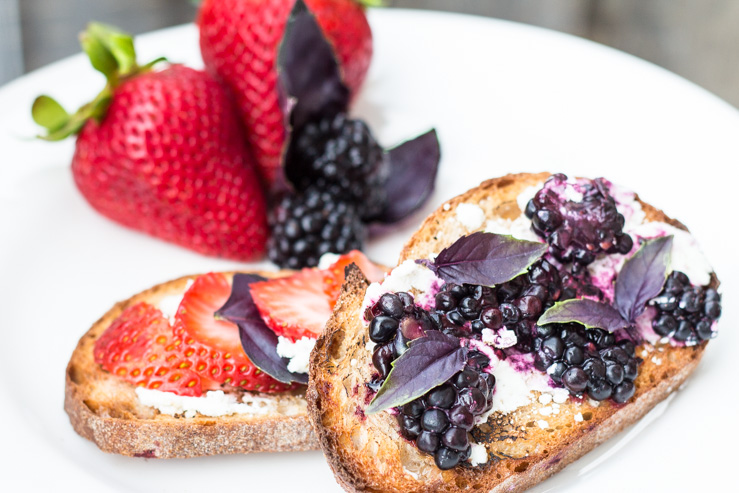 I've been addicted to everything goat cheese lately. From the way it looks right now, I don't see any slowing down. I've put it on everything from tacos to pizza. For a super quick snack, here is a recent favorite that can be thrown together in minutes–
Goat Cheese Berry Basil Toast.
I guess I sorta already gave away the entire recipe in the title… Oh well. Goat cheese is such a super soft, flavorful cheese that you can find unique variations of just about everywhere. I've had a great time exploring the different local flavors from various farms around the Nashville area. It is getting to be the busier farmer's market time of year, after all. Pick some up on your next visit!
If I had any sort of clue how to keep a goat in my back yard, and subsequently how to magically squeeze the cheese out of it's udders, I would have done it by now. This stuff is just that good. You can cook with it and it will melt while keeping its shape (I've basically just discovered a new non-newtonian fluid, y'all), put it on anything and it makes it taste better, or can just take a spoon at it and feel zero guilt. This is sustainable, healthy eating. Have another.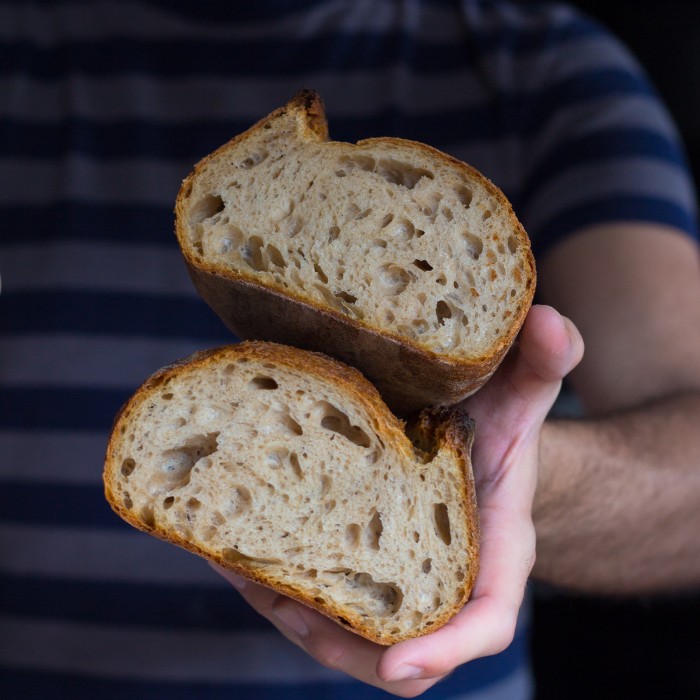 For this 30 second meal, just spread some of your favorite local goat cheese on some toasted points from yesterday's bread (I used sourdough here. A-Mazing. Follow our Instagram for more pictures of that.), add a few berries, some fresh garden basil and enjoy. Alone. You aren't going to want to share these. You'll see.
Speaking of basil— I decided to grow a million and a half different varieties of herbs and veggies on (yes, on) my back patio. Since I live in a city and lack much of a yard, I built a little planter box for herbs and grew vegetables in some food-grade buckets. Again, follow along on our social media outlets to see how all of that is going! The purple basil that I used here was a perfect choice. It has a very slight licorice taste that balance the tartness of the citrus extremely well. Plus, as a bonus, it's absolutely gorgeous in the garden. (Even if it is on a concrete patio…)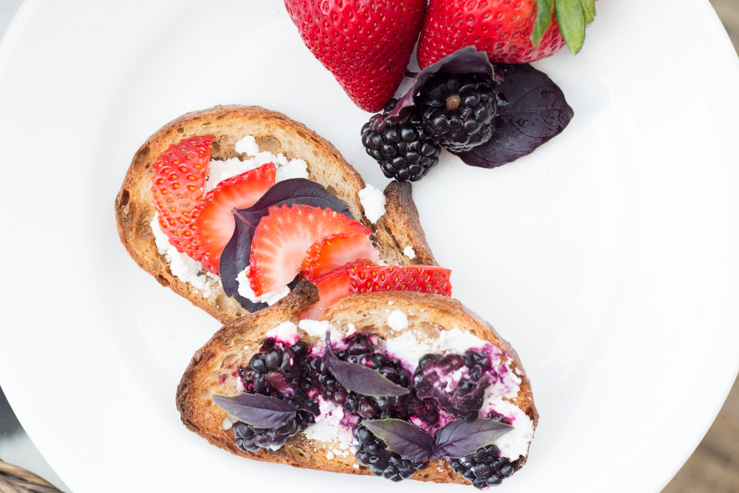 Nothing better than a crazy simple but crazy delicious recipe. — Cheers!
Goat Cheese Berry Basil Toast
Super-simple, quick snack. Toast points with goat cheese, fresh fruit and garden basil. From SouthernFATTYcom
Ingredients
Toast Points, I prefer sourdough but any bread works fine
Goat Cheese
Fruit, of choice
Basil, any variety (I prefer purple basil) - fresh
salt, optional
Instructions
Spread goat cheese on toast points.
Top with fresh fruit and garden basil.
Sprinkle lightly with salt, if desired.
Enjoy!
--More on SouthernFATTY.com--
Notes
2015 - SouthernFATTY.com
 Favorite simple snack? Comment below!