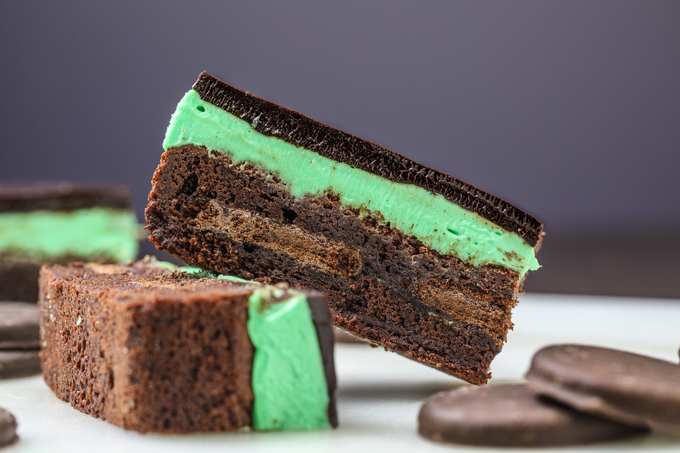 St. Patrick's Day is almost here! You know… that day that you probably don't know the meaning of, but still use it as an excuse to drink an unnatural amount of green beer, corned beef, and everything minty. But mostly the beer, right? Whether or not you know why you are honoring Saint Patrick, I'm all for any reason to mixing up some festive bright green treats.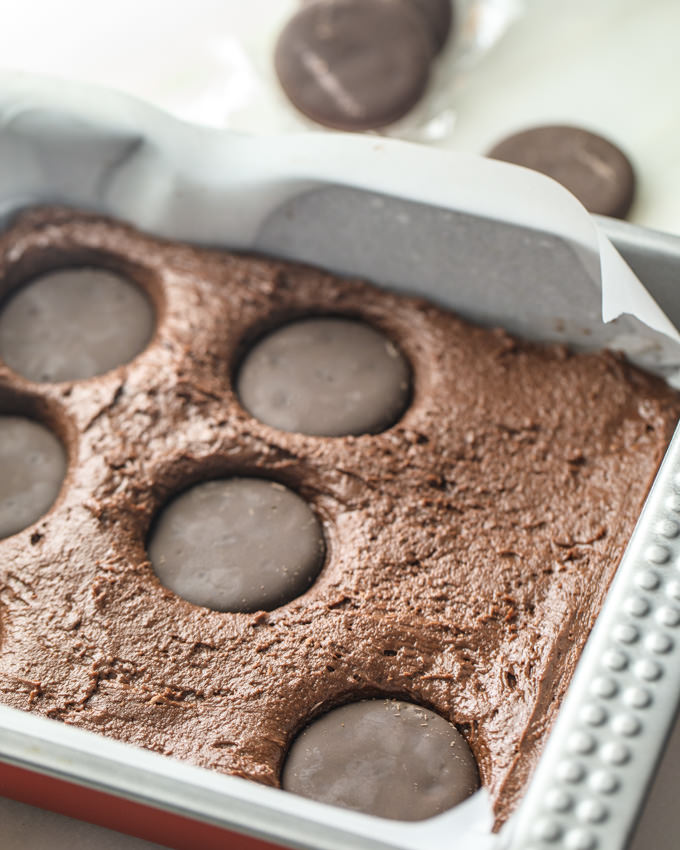 I'd like to think of myself as a connoisseur of all things mint. Luckily for y'all, Girl Scout cookie season just hit town. Maybe I should more appropriately say cookie hurricane season hit, because I am now the proud owner of an entire overflowing case of cookies.
Shortbread, Samoa, Thin Mints. I don't discriminate. I'll eat 'em all. The idea was that I would get a couple of each, make some new recipes with them (because then it's a business expense, amiright???), and eat a few leftovers. Turns out that it kinda tends to work itself out the other way. I ate all of the shortbread cookies before even beginning to think of what I might make with them. Luckily, as one does, I have a fantastic cookie dealer that got me the hookup on replacement boxes for the ones that I destroyed during ummm… recipe testing, we'll say.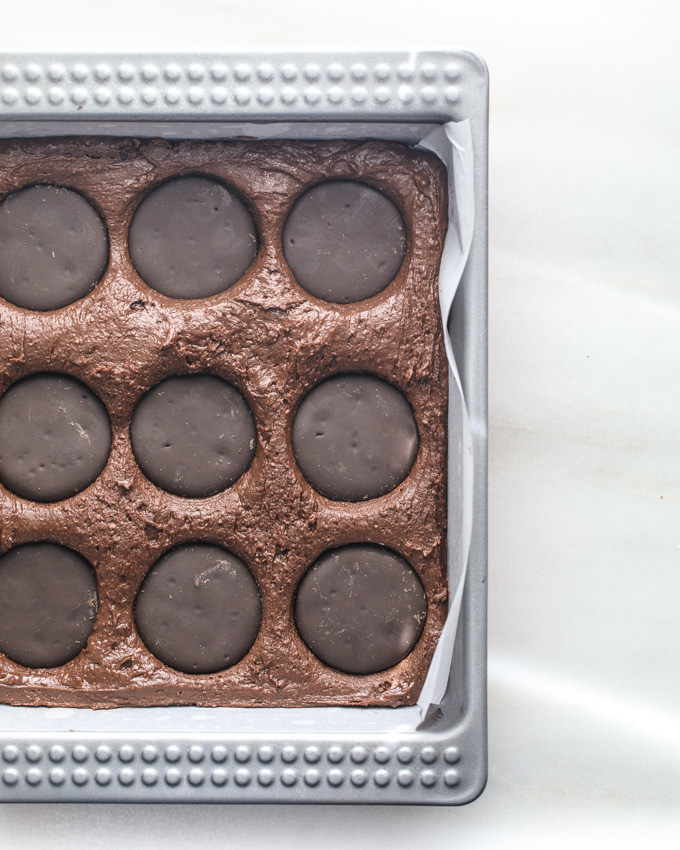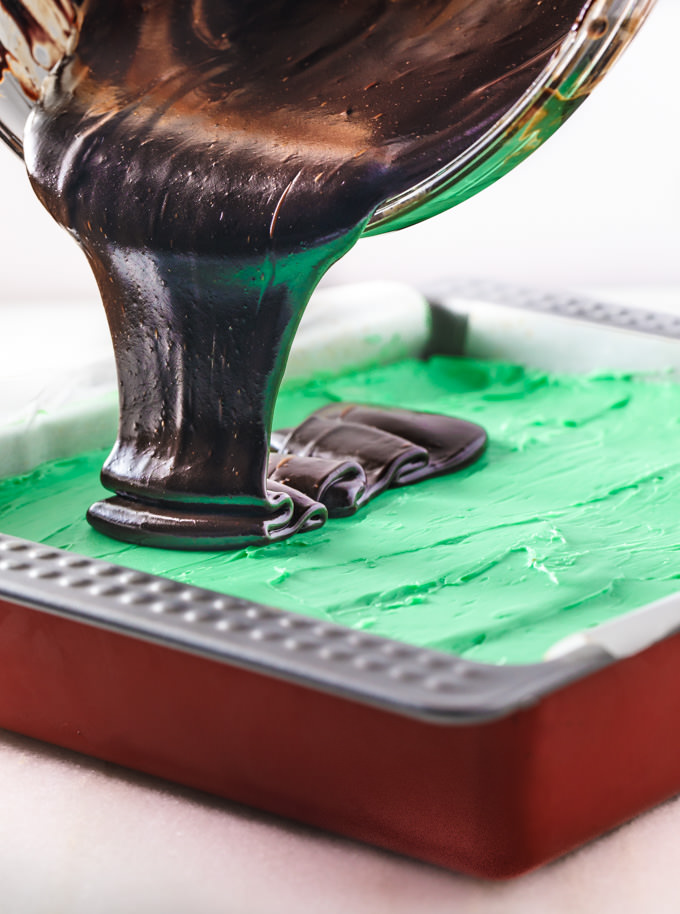 I did think ahead a bit on one of the cookies — the Thin Mints. I keep a box or three of these hidden in the back of the freezer. So while I'm not the world's biggest chocolate fan (no more hate mail, please), I do love a solid brownie. The fudge type with that weird paper-like top that develops once baked. Why not toss some Thin Mints into that mix? Done!
PS — Did you all know that Saint Patrick isn't technically a Saint? That his name was actually Maewyn Succat? That the shamrock was a tool used by Saint Patrick to illustrate the Holy Trinity to convert the Irish pagans? All of the festivities around the Irish celebrations became popular in the 19th and 20th centuries when many Irish relocated around the world.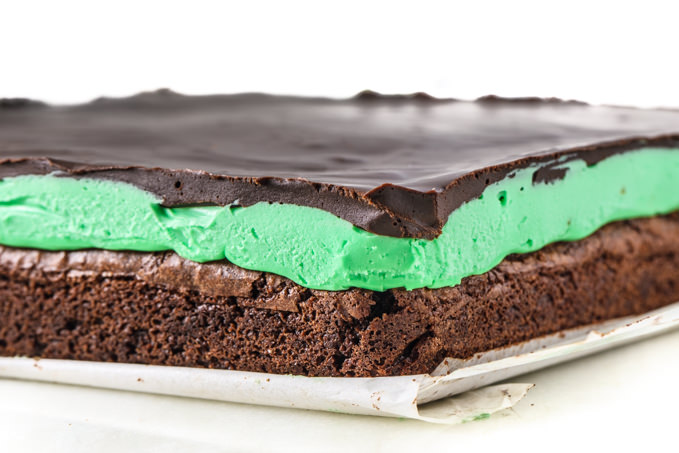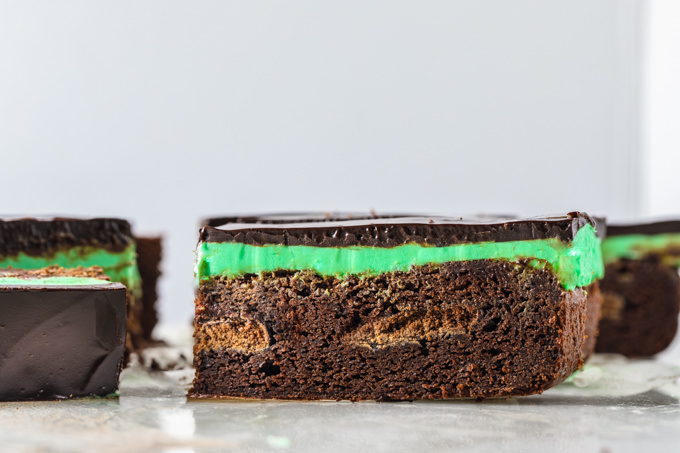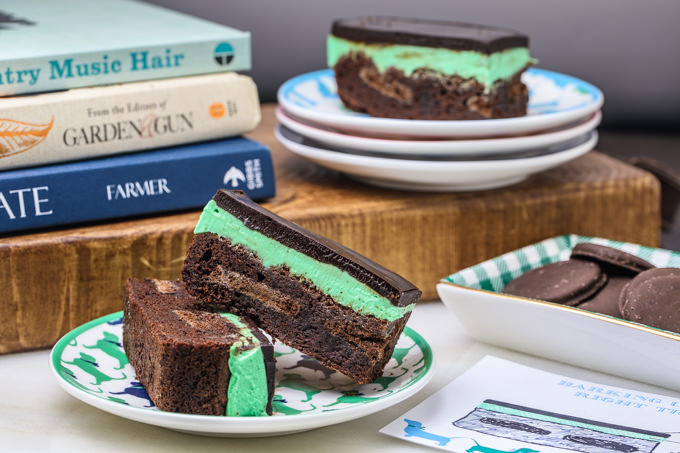 We can't have a Patty's Day recipe without something obnoxiously green. Mint buttercream, anyone? I think so. It's butter, sugar, and mint extract. I don't hate anything about that. Since I am a bit obsessive about symmetry, I topped the top with more chocolate. I've been playing with ganache a lot lately (check out that Chocolate Ganache Tart that I posted recently. SO good!, so why not use that on the top? Ganache is incredibly simple, but one of the best finishing touches you can use on a dessert.
Grab your green beer and a brownie and do a jig! Cheers, y'all.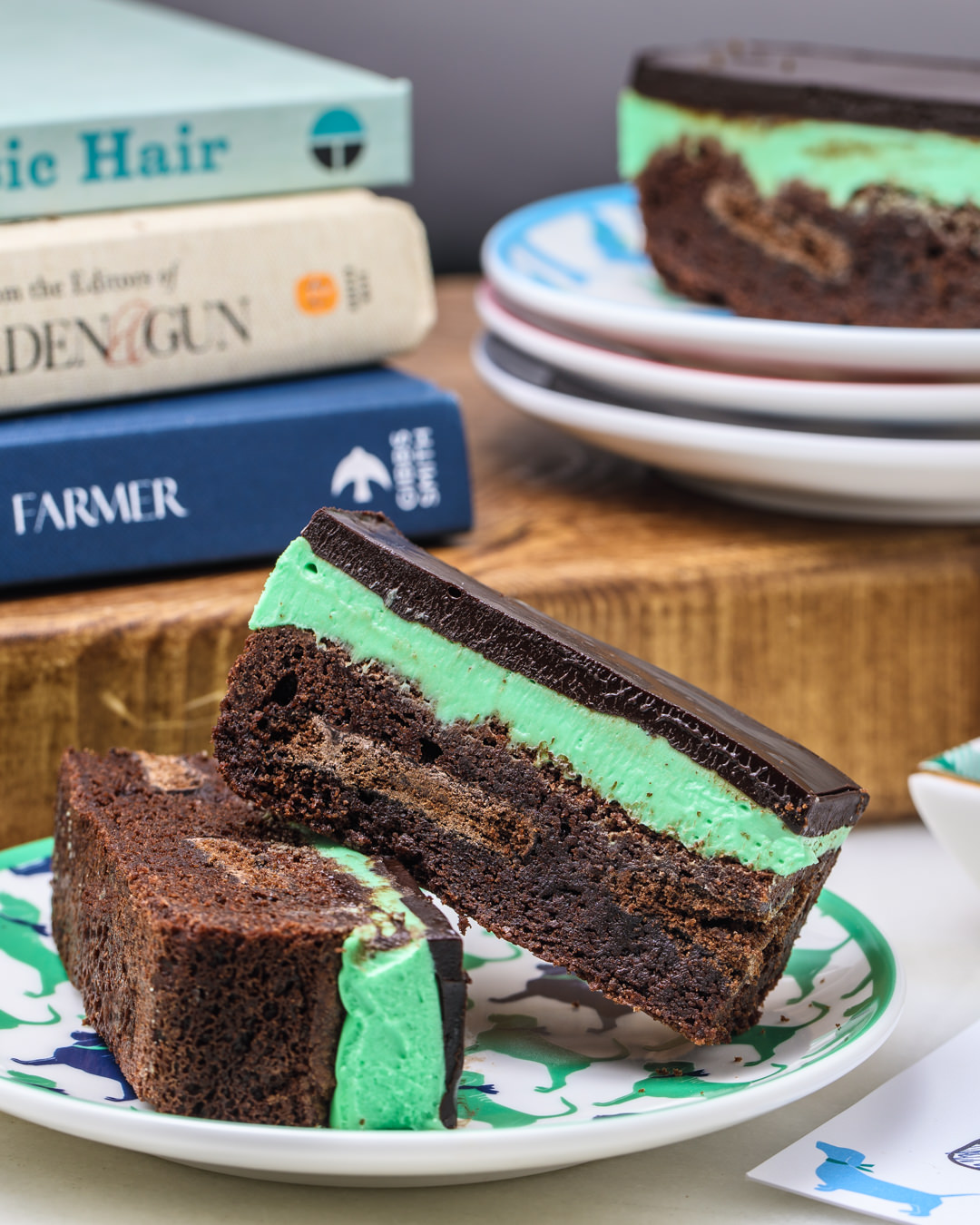 Thin Mint Ganache Brownies
Brownies baked with Thin Mint cookies inside, topped with mint buttercream frosting and rich chocolate ganache. From Southern Fatty.
Author:
Phillip Fryman | SouthernFATTY.com
Ingredients
Brownies
½ cup unsalted butter, melted
1 tablespoon vegetable oil
1 cup superfine sugar
2 large eggs
2 teaspoons pure vanilla extract
¾ cup all purpose flour
½ cup unsweetened cocoa powder
¼ teaspoon salt
mint cookies, I used Thin Mints
Mint Buttercream
1 stick butter, unsalted, softened
⅛ teaspoon peppermint extract
2 cups powdered sugar, sifted
1 tablespoon heavy cream, as needed
Chocolate Ganache
10 ounces chocolate, I prefer dark, chopped
1 cup heavy cream
pinch salt
Instructions
Brownies
Pre-heat oven to 350 F.
Grease 8-inch square pan.
Add butter, oil, sugar, eggs, vanilla to mixer bowl. Mix for a minute or so.
Add flour, cocoa, salt and mix until just combined. Do not over-mix.
Pour to prepared baking pan.
Press in cookies, covering completely with the batter.
Bake for 25-30 minutes until set.
Remove to cool completely.
Chill in refrigerator while preparing buttercream.
Mint Buttercream
Cream butter and sugar in mixer until light and fluffy, about 1-2 minutes.
Add sugar and peppermint.
Mix until well combined on low speed and increase speed to medium high until smooth.
Add cream as needed to get smooth finished buttercream.
Layer Brownies and Buttercream
Take cool brownies and frost top with buttercream.
Chill completely before adding ganache.
Ganache
Warm heavy cream in saucepan over medium heat until just starting to lightly bubble.
Remove from heat and pour warm cream over chopped chocolate.
Allow to sit for 2-3 minutes to soften.
Lightly fold, taking care to not stir too quickly to prevent air from incorporating.
When ganache is very smooth, pour over chilled buttercream and return to refrigerator to set for at least an hour.
Enjoy!
Find more recipes on SouthernFATTY.com.
The super cute green ceramic plates and books were provided by Draper James.
Check out a little interview with me on their blog HERE.