Thin Mint Ganache Brownies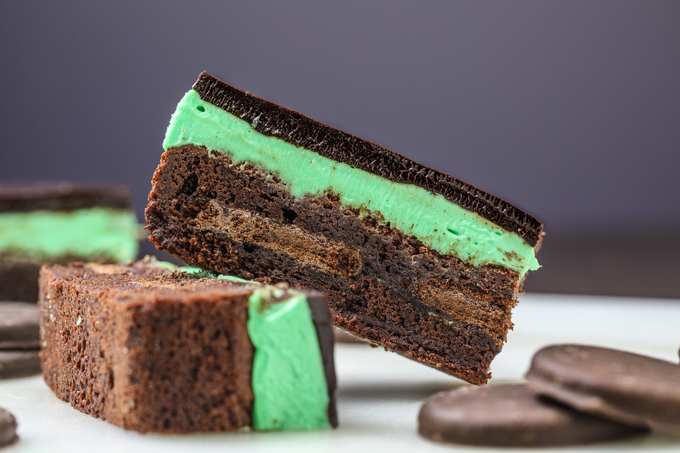 Author:
Phillip Fryman | SouthernFATTY.com
½ cup unsalted butter, melted
1 tablespoon vegetable oil
1 cup superfine sugar
2 large eggs
2 teaspoons pure vanilla extract
¾ cup all purpose flour
½ cup unsweetened cocoa powder
¼ teaspoon salt
mint cookies, I used Thin Mints
1 stick butter, unsalted, softened
⅛ teaspoon peppermint extract
2 cups powdered sugar, sifted
1 tablespoon heavy cream, as needed
10 ounces chocolate, I prefer dark, chopped
1 cup heavy cream
pinch salt
Pre-heat oven to 350 F.
Grease 8-inch square pan.
Add butter, oil, sugar, eggs, vanilla to mixer bowl. Mix for a minute or so.
Add flour, cocoa, salt and mix until just combined. Do not over-mix.
Pour to prepared baking pan.
Press in cookies, covering completely with the batter.
Bake for 25-30 minutes until set.
Remove to cool completely.
Chill in refrigerator while preparing buttercream.
Cream butter and sugar in mixer until light and fluffy, about 1-2 minutes.
Add sugar and peppermint.
Mix until well combined on low speed and increase speed to medium high until smooth.
Add cream as needed to get smooth finished buttercream.
Take cool brownies and frost top with buttercream.
Chill completely before adding ganache.
Warm heavy cream in saucepan over medium heat until just starting to lightly bubble.
Remove from heat and pour warm cream over chopped chocolate.
Allow to sit for 2-3 minutes to soften.
Lightly fold, taking care to not stir too quickly to prevent air from incorporating.
When ganache is very smooth, pour over chilled buttercream and return to refrigerator to set for at least an hour.
Enjoy!
Find more recipes on SouthernFATTY.com.
Recipe by
Southern FATTY
at https://www.southernfatty.com/thin-mint-ganache-brownies/