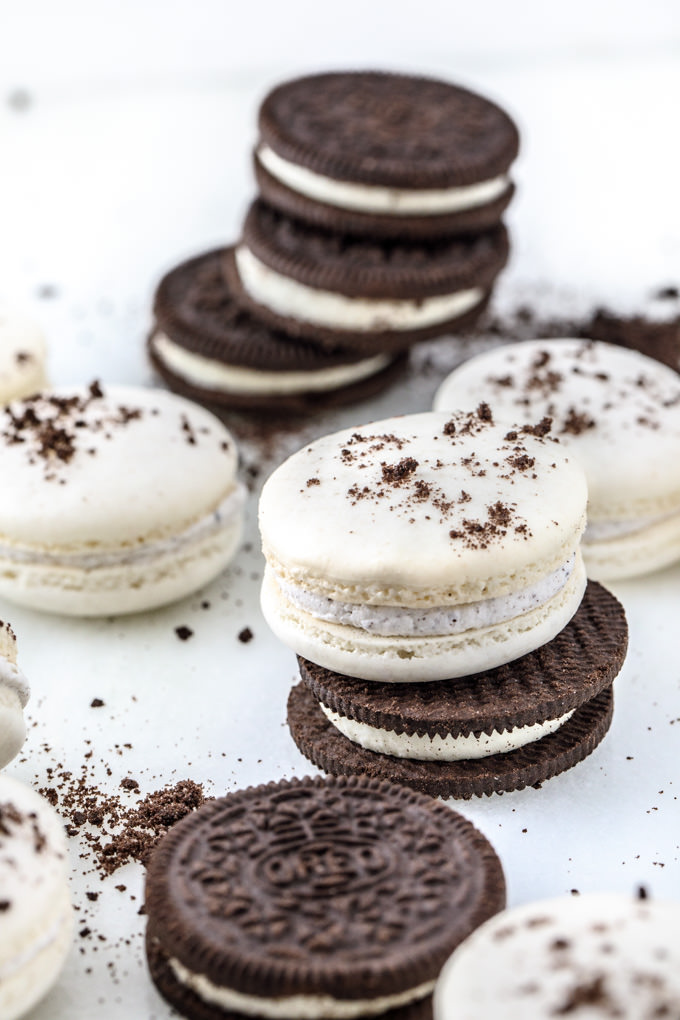 C is for coooooookies and cream macarons! — I'm back with another mac attack. Right when you thought that macarons were soooo 2016, I'm here to fight and say that they are here to stay.
My Macarons 101 guide is now the most viewed post on the blog. I get tons of questions emailed and posted in the comments there, so I decided to make a few new tasty options using the same golden methods.
Classic white macs with Oreo buttercream are here. They taste exactly like the cookies. It's almost scary how similiar they are. It's that buttercream, y'all. You can never go wrong with an Oreo buttercream.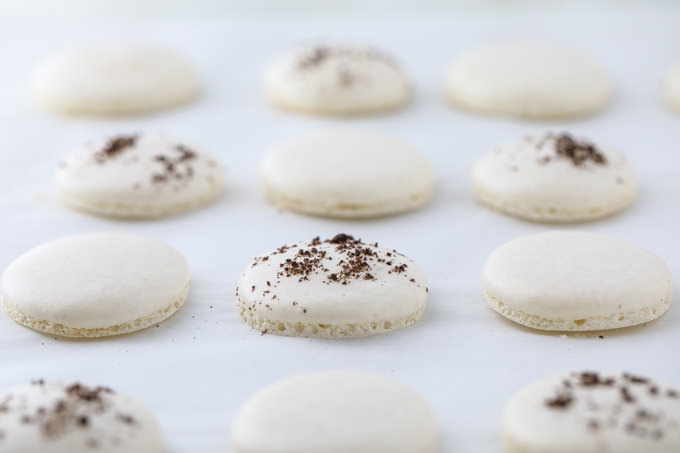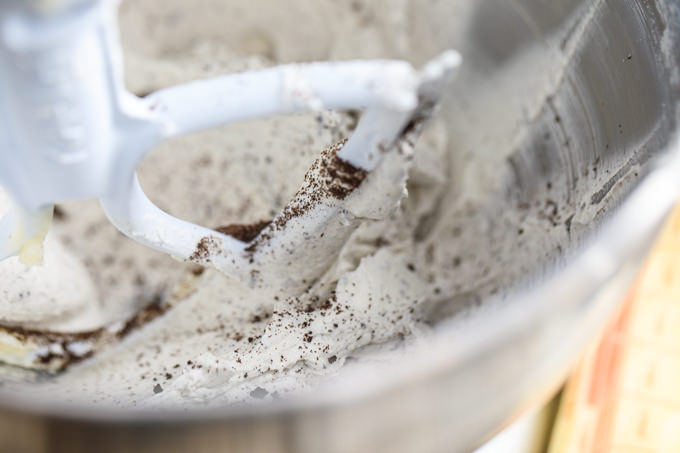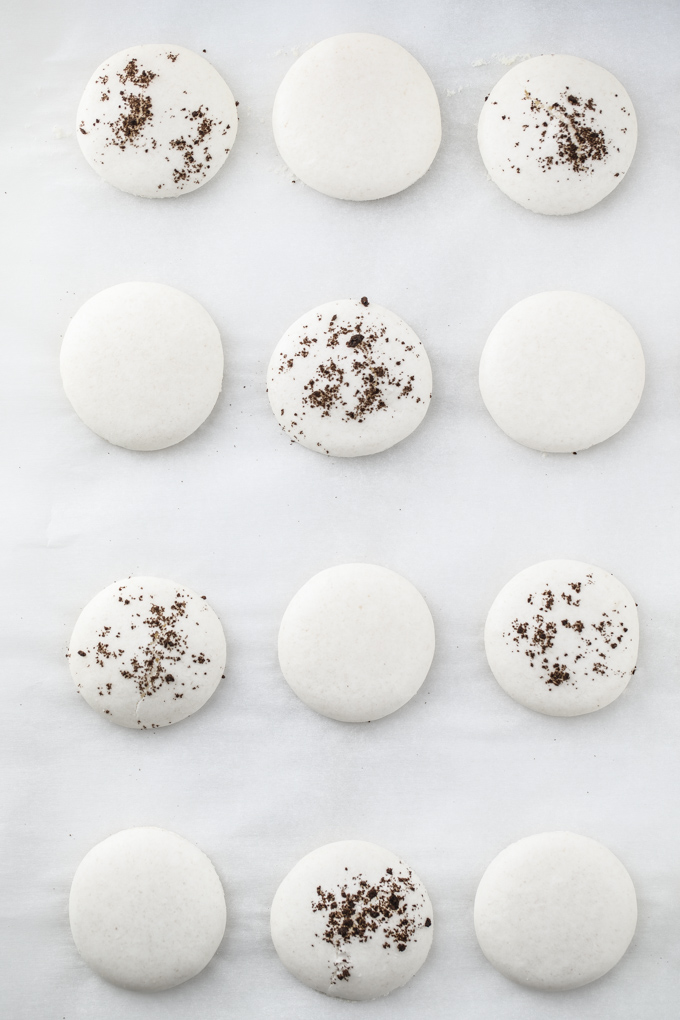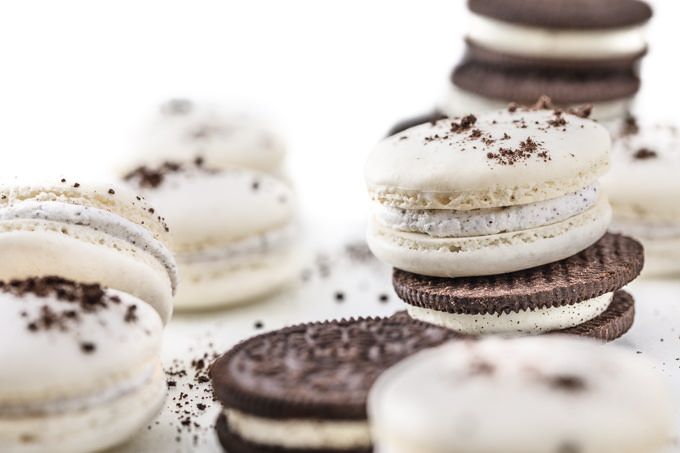 This buttercream. I can't even begin to explain how amazing it really is. Incredibly fluffy, light, rich. Pretty much anything you can think of to say that describes classic nostalgia in a handheld treat. Plus, it gives you an excuse to destroy an entire pack of double-stuffed Oreos. It's called recipe testing, which means it is healthy and stuff(ed).
PS – Do you see that one Oreo that is flipped upside down? I found that in the pack that way. Weird. I just assumed it meant that I'll have good luck, so I ate another couple cookies in celebration.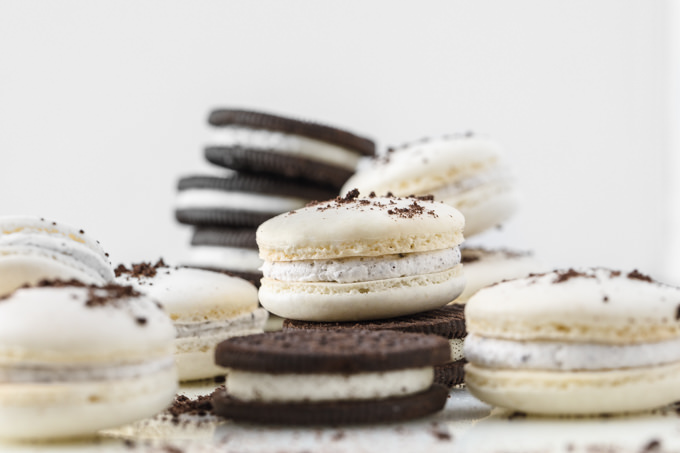 If you need to brush up on your mac-makin' skills, be sure to read over
our Macarons 101: A Beginner's Guide post before you get started.
Cookies and Cream Oreo Macarons
Cookies and cream macaron cookies recipe with the best Oreo cookie buttercream ever! From Southern Fatty.
Author:
Phillip Fryman | SouthernFATTY.com
Ingredients
Macaron Cookies
90 grams egg whites (3 large egg whites), room temperature
55 grams (~ ¼ cup) powdered sugar
110 grams (~ 1 cup) almond flour
200 grams (~ 1 and ⅔ cup) confectioner's sugar
¼ teaspoon cream of tartar
¼ teaspoon white powder food color, optional but helps create a white finish
Oreo shells from making the buttercream below, blitzed in food processor until fine, to top
Oreo Cookie Buttercream
20 Oreos (double stuffed), filling and shells separated, shells finely processed
12 tablespoons butter, unsalted, room temp.
3 cups powdered sugar
½ teaspoon vanilla extract (clear if you want it to stay white)
pinch salt
Instructions
Macaron Shells
Split Oreo cookies from filling (see buttercream section) into two bowls.
Place room temperature egg whites in mixer bowl.
With whisk attachment, whisk at medium speed until foamy, about a minute.
Add 55g powdered sugar and cream of tartar. Mix until just stiff peaks form.
Add food coloring here if desired. Add a bit more than you think you need, as it will fade slightly when baking.
In different bowl, sift together almond flour and 200g of confectioner's sugar. Repeat and sift a couple times, removing any large pieces left behind after each sift.
Add almond flour mix to stiffened egg whites.
Using proper folding technique (see THIS blog post for explanation of this), fold until you can ribbon an "8" that holds into the batter. THIS is the most important step in proper macarons.
Visit the blog post for full instructions.
Pipe macaron circles onto paper-lined baking sheets using the macaron template and instructions available HERE.
Sprinkle lightly with fine Oreo shells. too much will cause issues with baking.
Let the shells rest for an hour to form hardened tops.
Bake at 290 F for about 15-18 minutes. Be sure your oven temperature is exact.
Remove and let cool completely before removing from baking sheets.
Oreo Buttercream
Cream butter and sugar in mixer.
Add Oreo filling, vanilla, salt.
Mix until smooth.
Add some of the blitzed cookie shells.
Load to piping bag.
Pipe between cookies and carefully assemble.
Enjoy!
Find more on SouthernFATTY.com
Check out our other macaron recipes HERE.
Are there any macaron flavors you would like to see on Southern Fatty?
Let us know in the comments below!