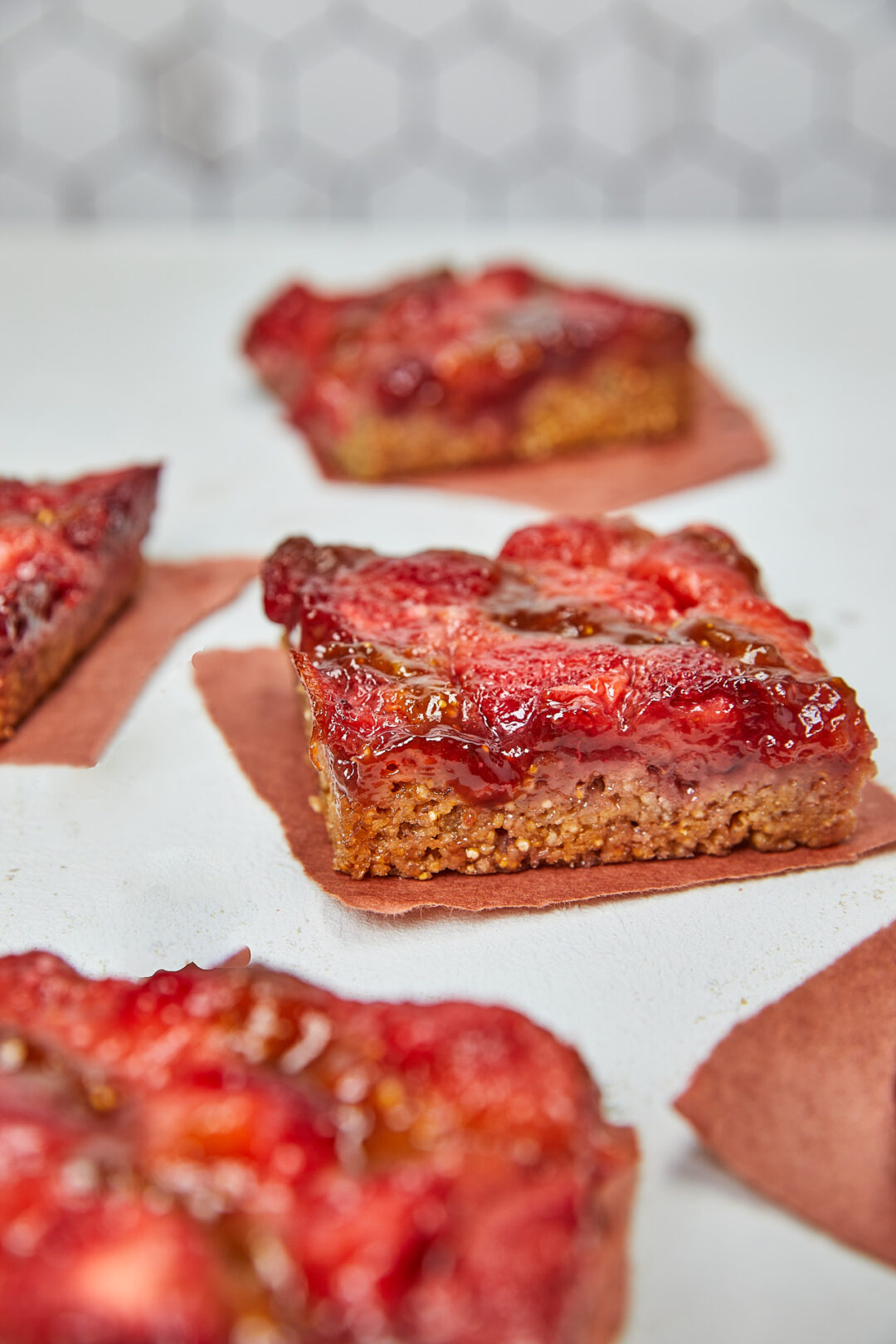 Strawberry fig bars, featuring a nutty, toasted white quinoa and almond flour crust? Absolutely! It might sound unique to toss quinoa in a sweet dish, but y'all just wait! These bars are a perfect blend of fruity goodness and crunchy perfection, delivering a burst of flavors in every bite. So, let's dive right in and discover how to create this delectable dessert.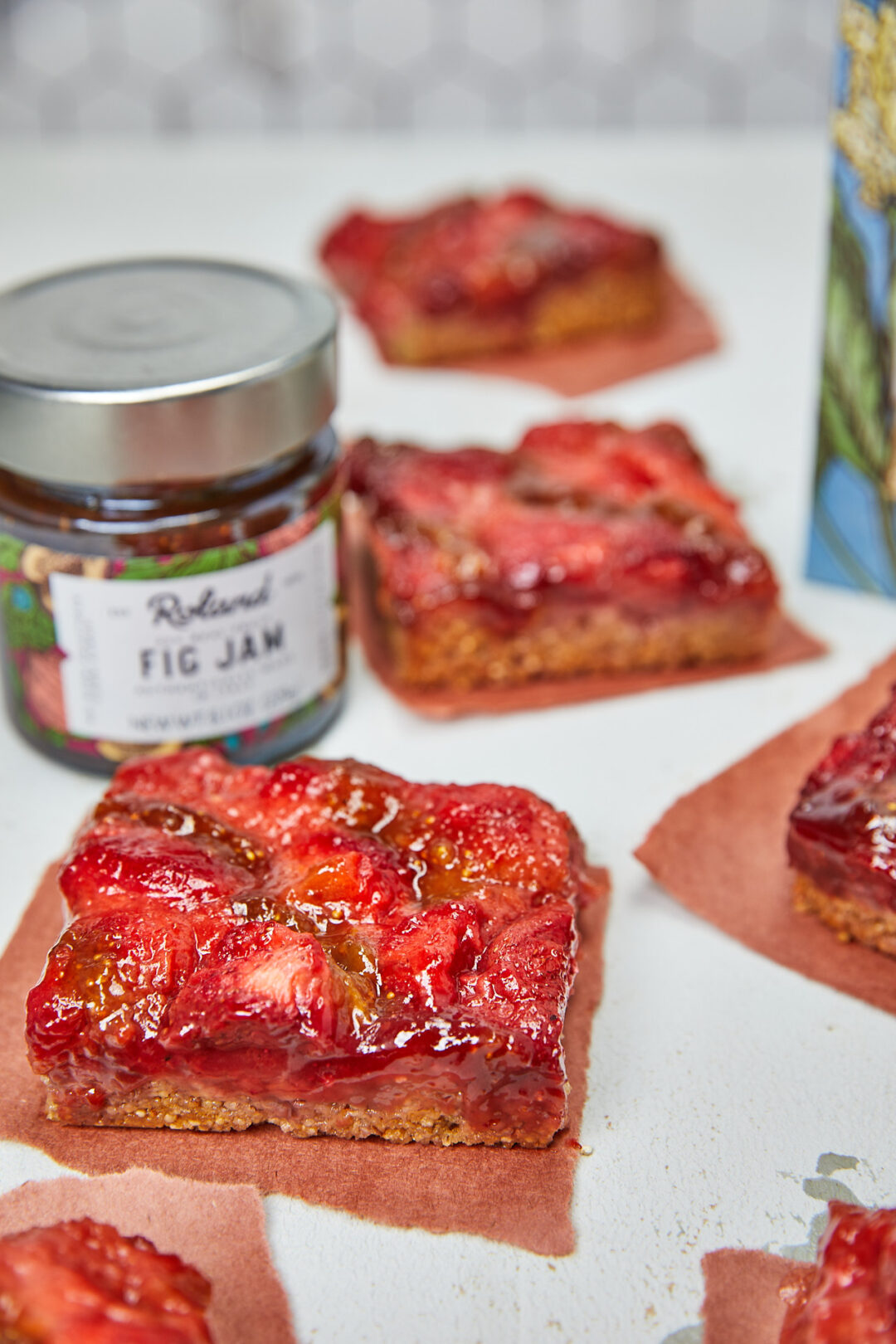 The Perfect Crust: Toasted Quinoa
Now, I know what you might be thinking: quinoa in a dessert? Trust me, it works like magic! This is a unique crust, made with toasted white quinoa and almond flour, but provides a delightful nuttiness that complements the fruity filling to perfection. It adds a layer of complexity and richness that will leave you wanting more. Plus, it's gluten-free, so if that's your thing then bonus points for the recipe.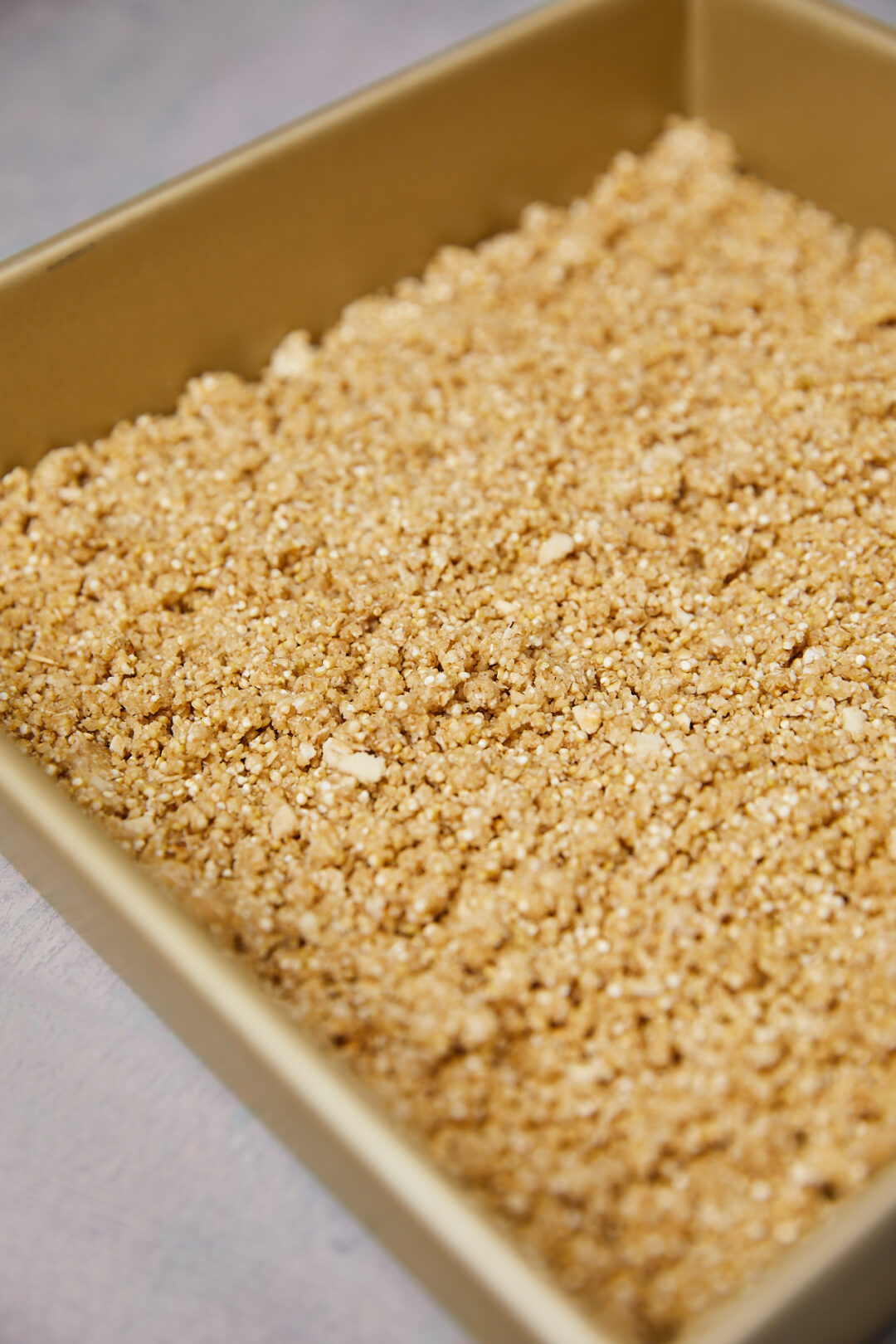 Burst of Flavor: Strawberry Fig Bars
When it comes to the filling, we're going for a dynamic duo of two fruit powerhouses: strawberries and figs. Picture perfectly in-season sweetness of ripe strawberries with the subtle honey-like flavors of juicy figs. It's a match made in dessert heaven. These vibrant fruits bring a delightful balance of tanginess and natural sweetness to our bars, creating a symphony of flavors that will make your taste buds sing.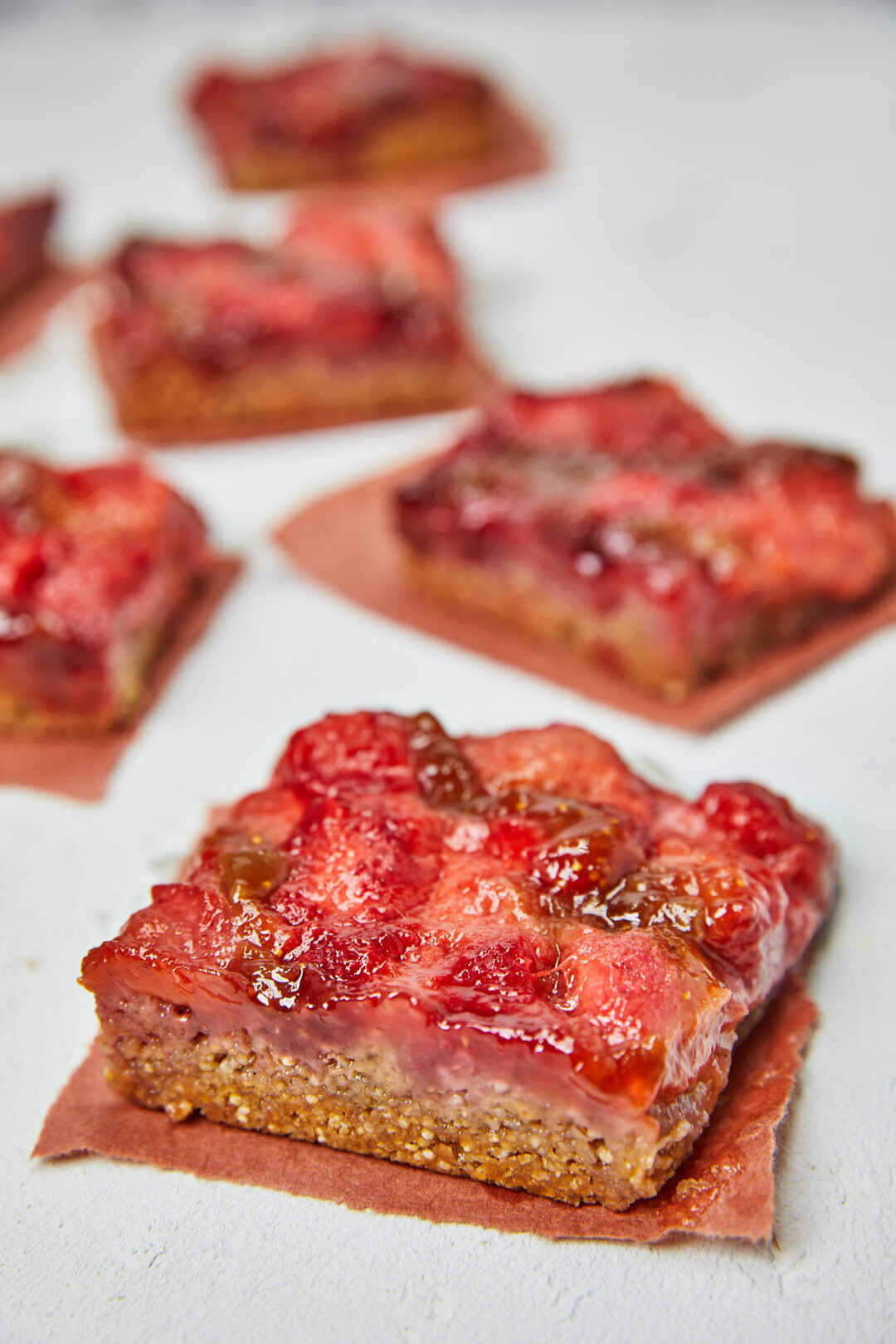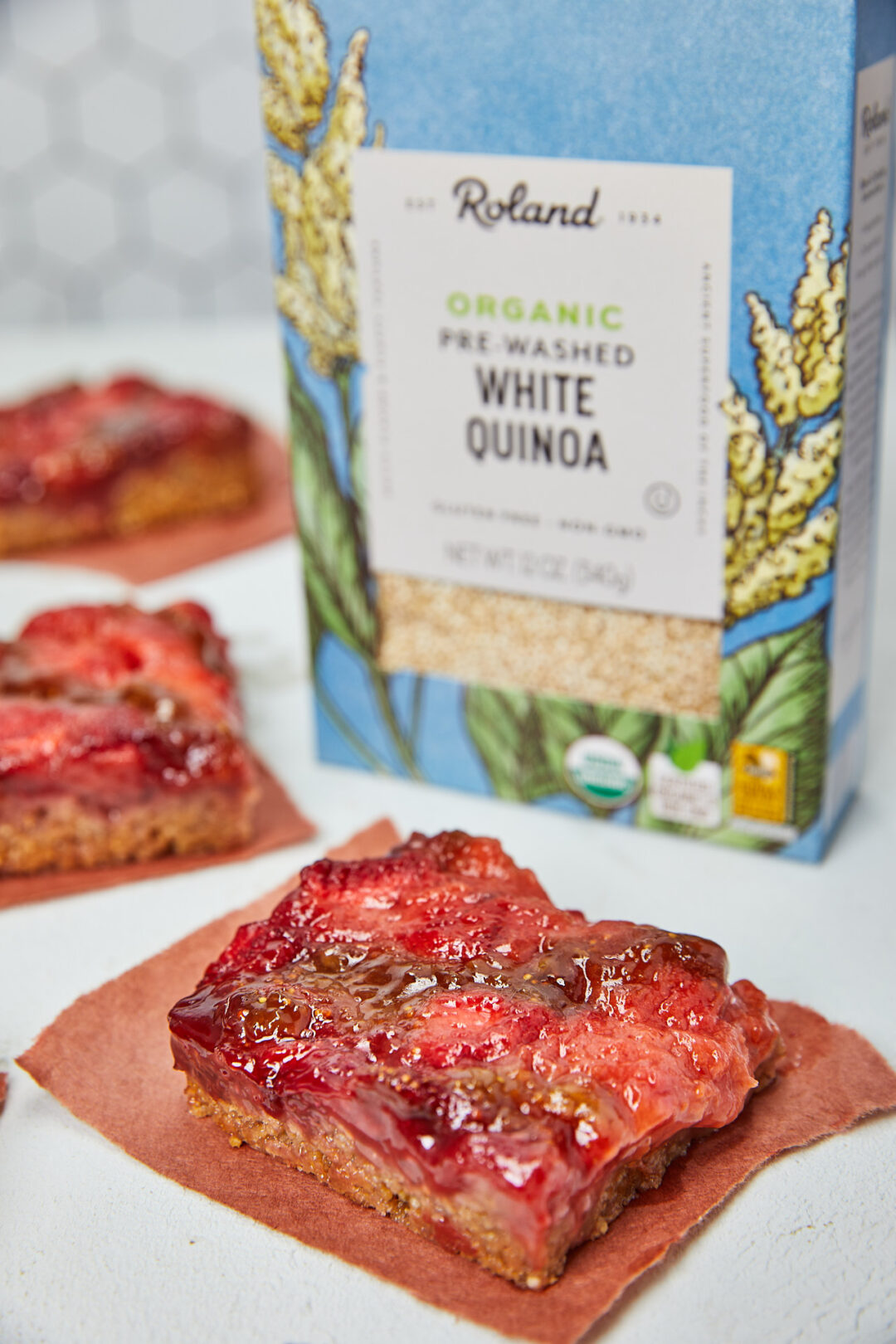 What sets these Strawberry and Fig Bars apart is their contrast, not just in flavor but also in texture. Every bite is a delightful surprise, with a mix of soft, juicy, tart fruit filling, and a satisfying crunch from our toasted white quinoa-almond crust. The contrasting textures create a dynamic experience, keeping your taste buds engaged and your palate entertained.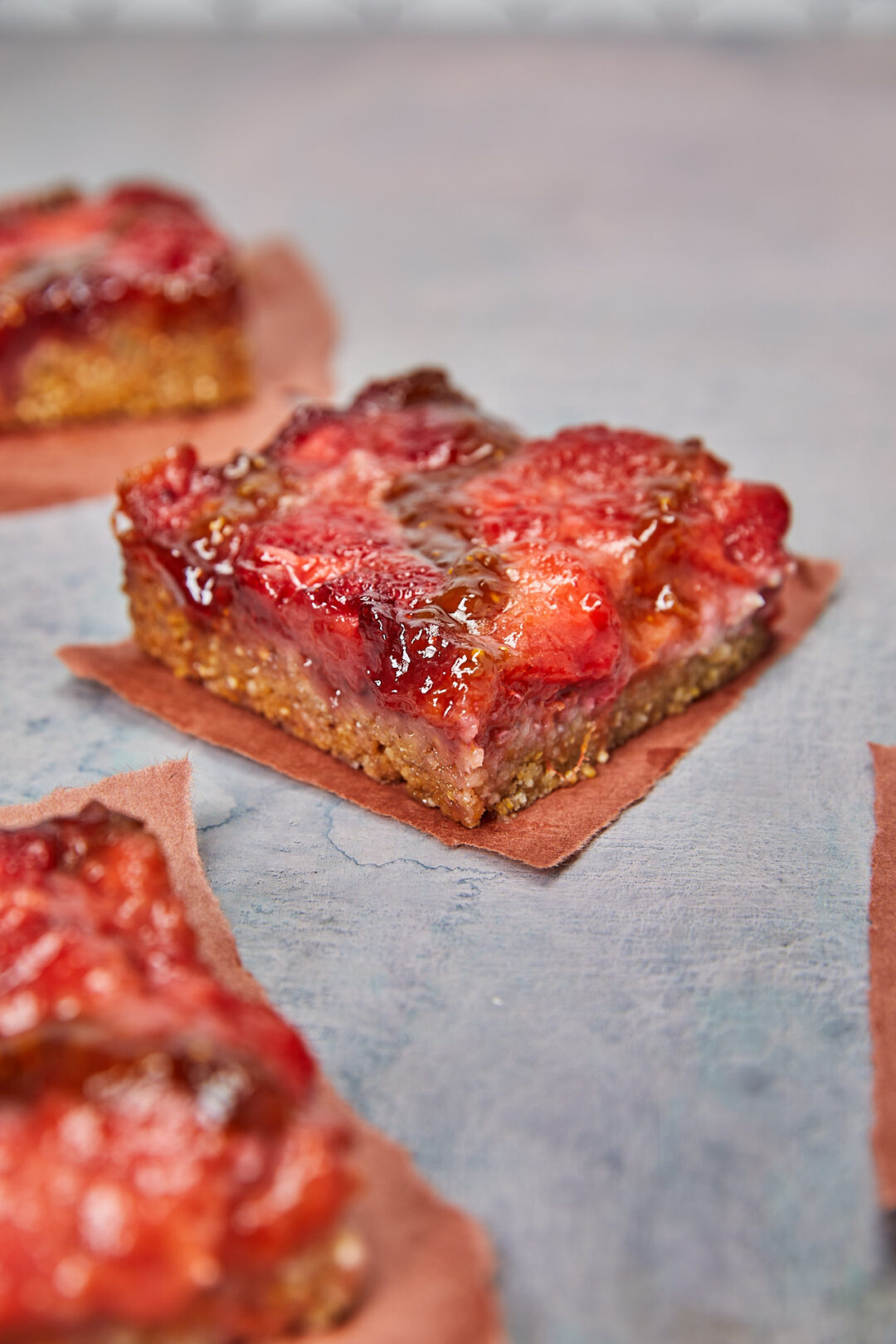 Get ready to wow your taste buds and impress your friends and family with these Strawberry and Fig Bars. The nutty, toasted white quinoa and almond flour crust provides a unique twist, while the sweet and tangy filling creates a burst of flavors in every bite.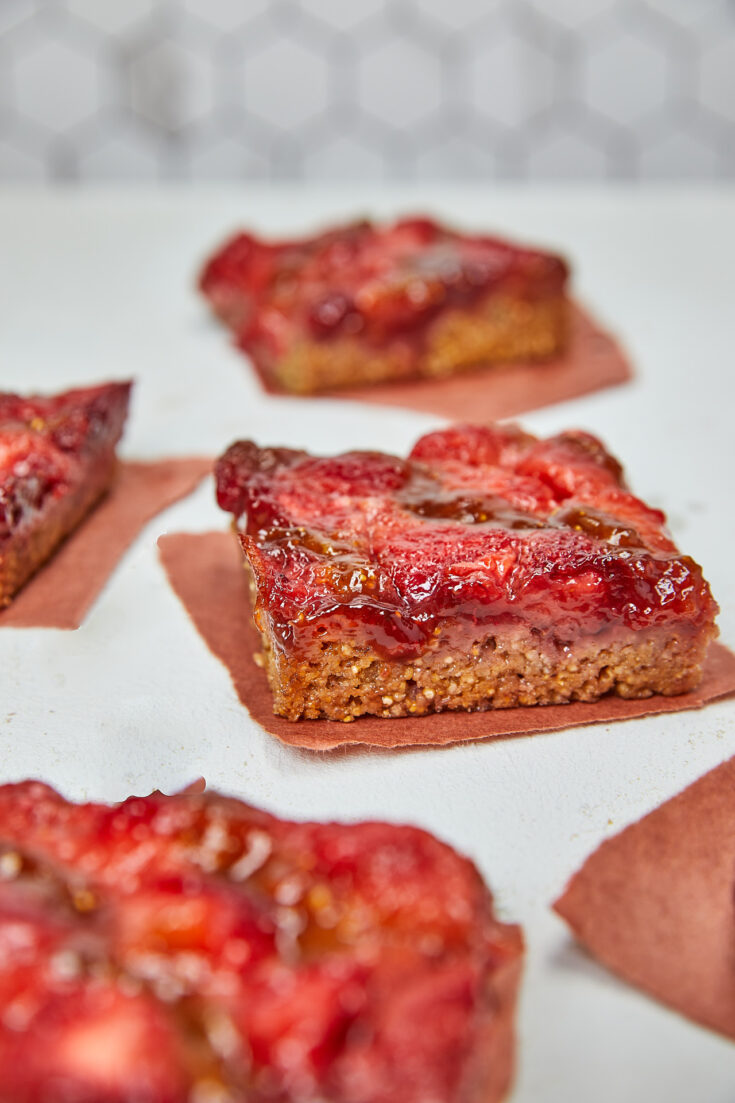 Yield:

12 bars
Strawberry Fig Bars with Toasted Quinoa Almond Crust
Strawberry and Fig Bars, featuring a nutty, toasted white quinoa and almond flour crust. Sweet, tart, crispy, delicious recipe for these fruit bars. From SouthernFatty.com.
Ingredients
For the crust:
1 cup white quinoa
1 cup rolled oats
1/2 cup almond flour
3 tablespoons powdered sugar
2 tablespoons maple syrup
1/4 cup butter, melted
1/2 teaspoon vanilla extract
1/4 teaspoon salt
Strawberry Fig Jam Topping
2 cups strawberries, roughly chopped
2 tablespoons honey
1 tablespoon lemon juice
1/4 cup sugar
1 tablespoon cornstarch
Finishing Fig Jam
Instructions
Pre-heat oven to 350 F. Grease an 8x8 pan and set aside.
Combine the crust white quinoa, almond flour, 1/2 of the oats into a food processor.
Process for about 1 minute, until the quinoa is well-ground.
Add the remaining oats, sugar, syrup, butter, vanilla, and pinch of salt.
Pulse for 30 seconds or so until it comes together.
Press into greased pan.
Bake at 350 F for 20-25 minutes.
Remove and cool.
Add all of the topping ingredients (note -- NOT the fig jam) to a bowl and mix well.
Transfer on top of the crust.
Add dollops or pipe fig jam on top of the strawberry topping.
Return to oven and bake at 350 F for 30 minutes, turning halfway through.
Cool completely, cut into squares, and enjoy!
Find more recipes on SouthernFatty.com.
Recommended Products
As an Amazon Associate and member of other affiliate programs, I earn from qualifying purchases.
Nutrition Information:
Yield:
12
Serving Size:
1
Amount Per Serving:
Calories:

197
Total Fat:

7g
Saturated Fat:

3g
Trans Fat:

0g
Unsaturated Fat:

4g
Cholesterol:

10mg
Sodium:

82mg
Carbohydrates:

32g
Fiber:

2g
Sugar:

19g
Protein:

3g