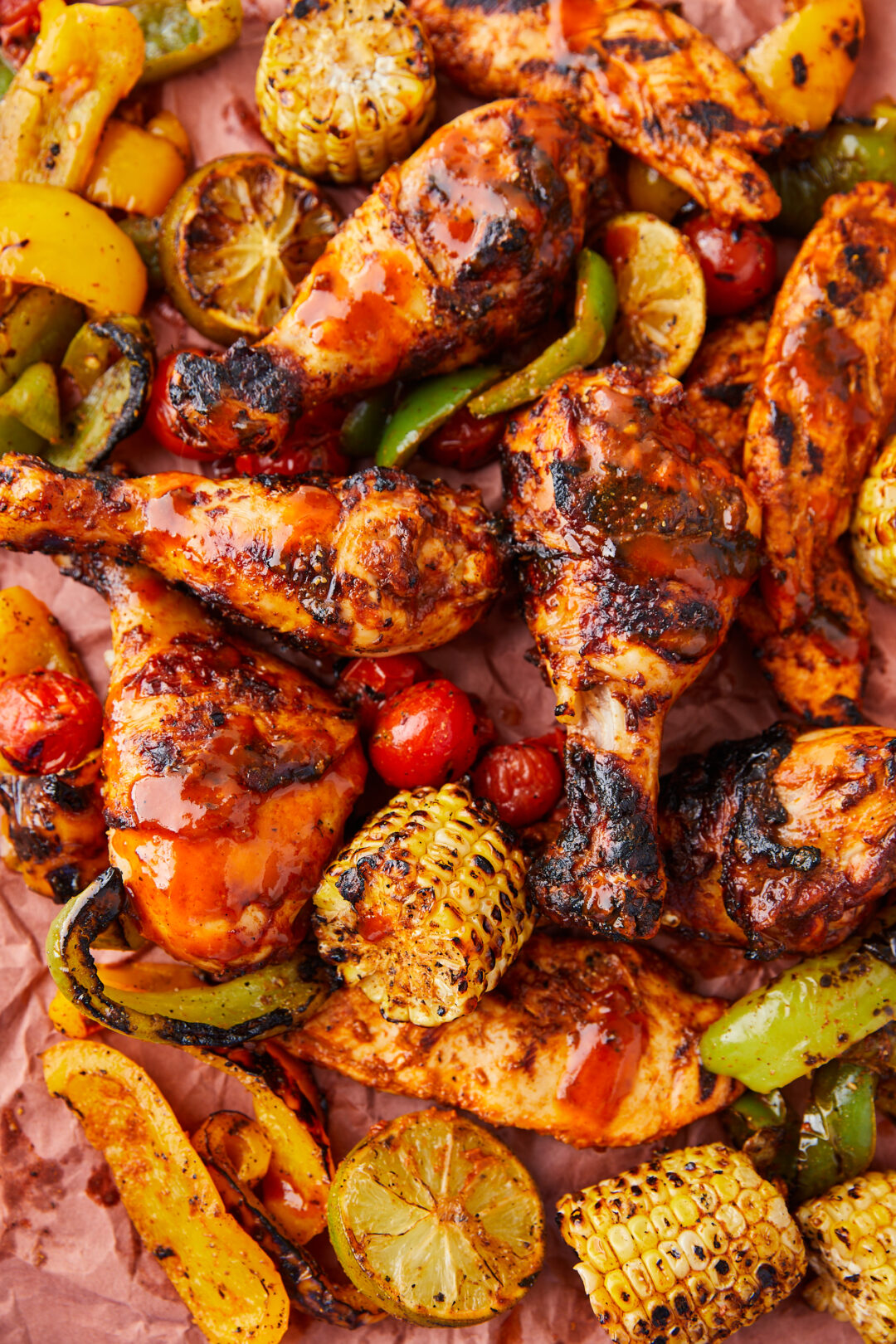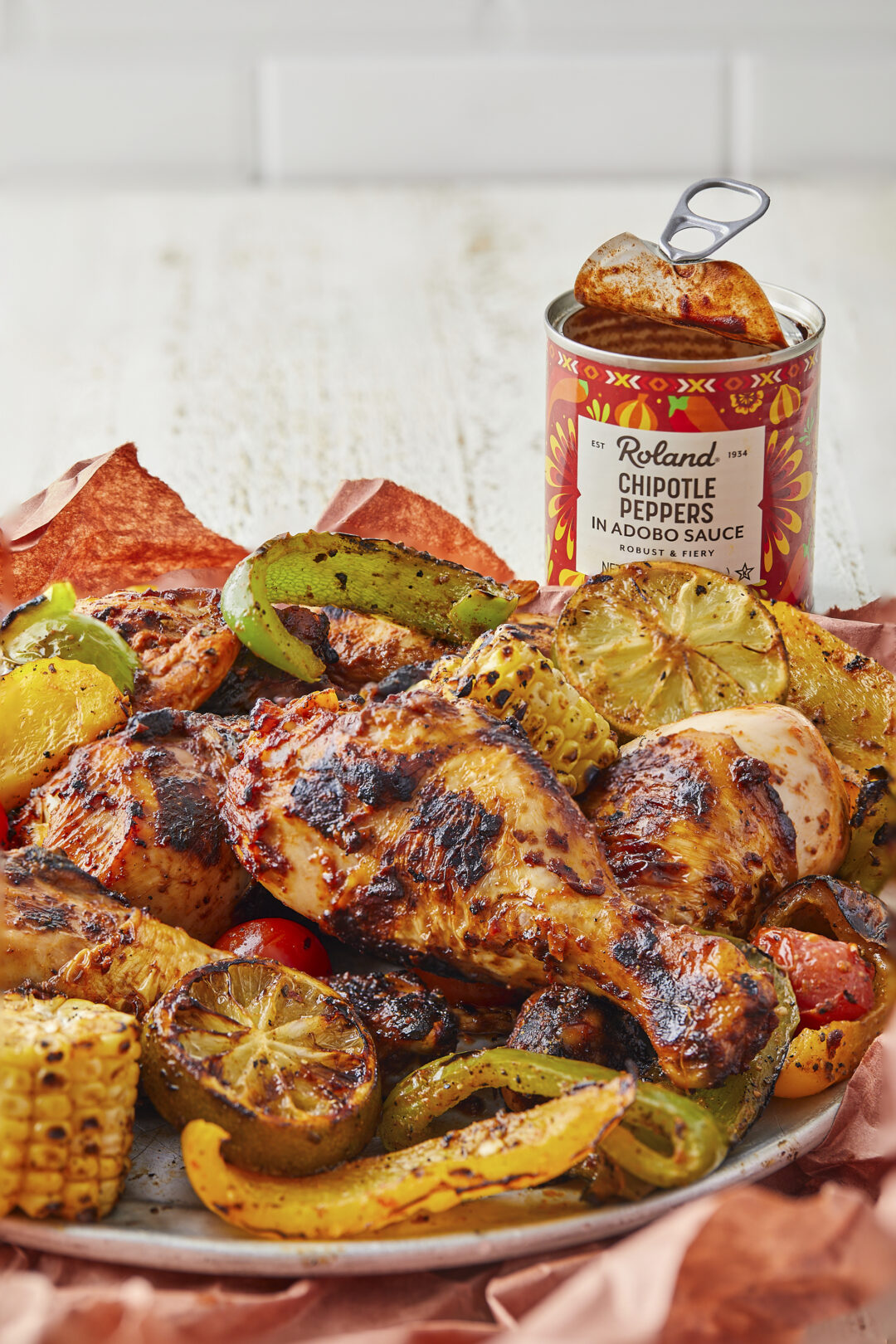 Marinade Magic – Spicy Showtime
This chipotle marinade is about to steal the flavor spotlight. With a delicious blend of my favorite smoky chipotle peppers in adobo sauce from Roland Foods, zingy garlic, zesty lime juice, and a hint of honey sweetness, this marinade is beyond bold and lively flavors that make your chicken sing and dance with delight. Tossing everything for the marinade into a blender and onto the chicken make the preparation for this recipe super simple. I like to do that the night before I plan on lighting up the grill for the best flavor infusion.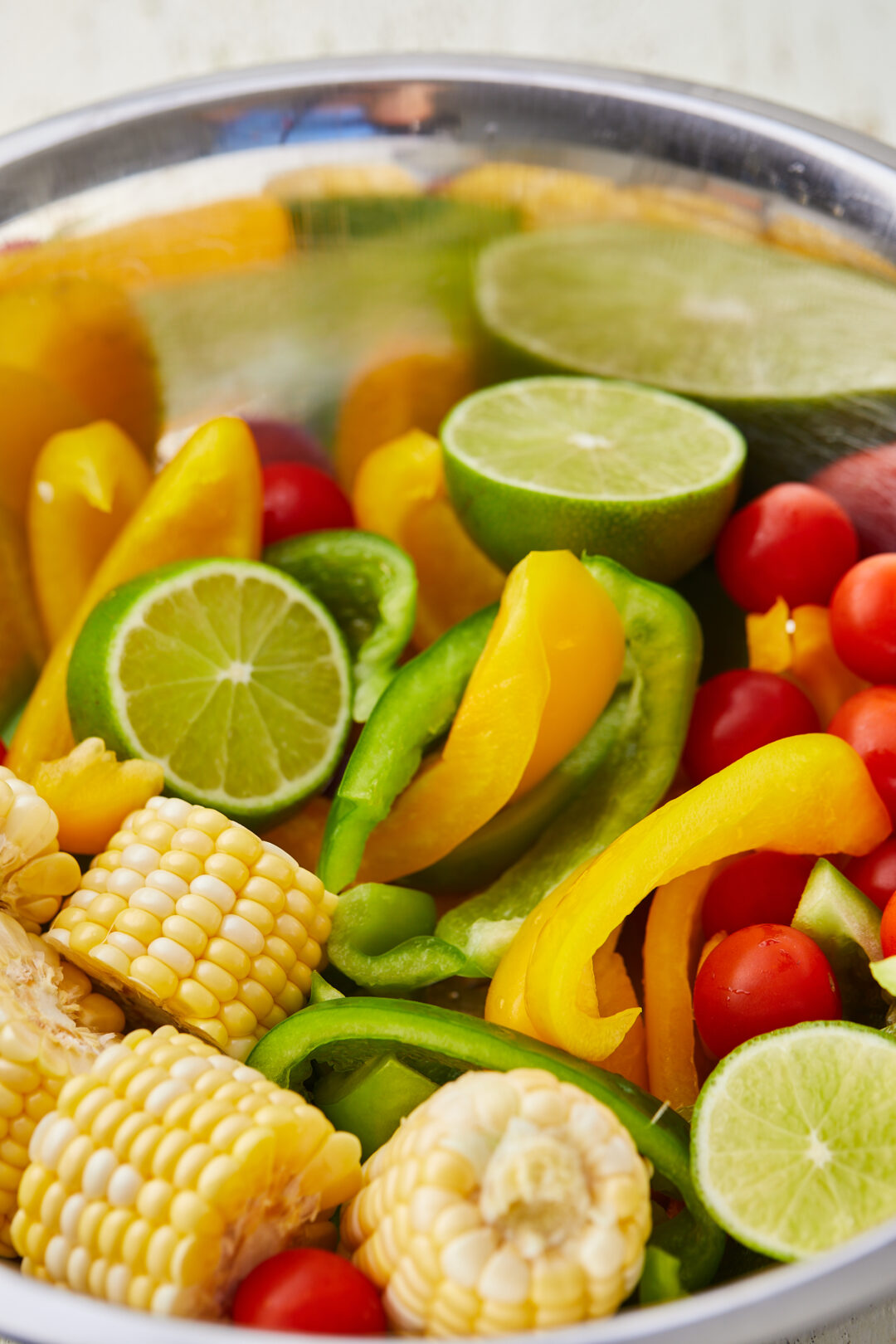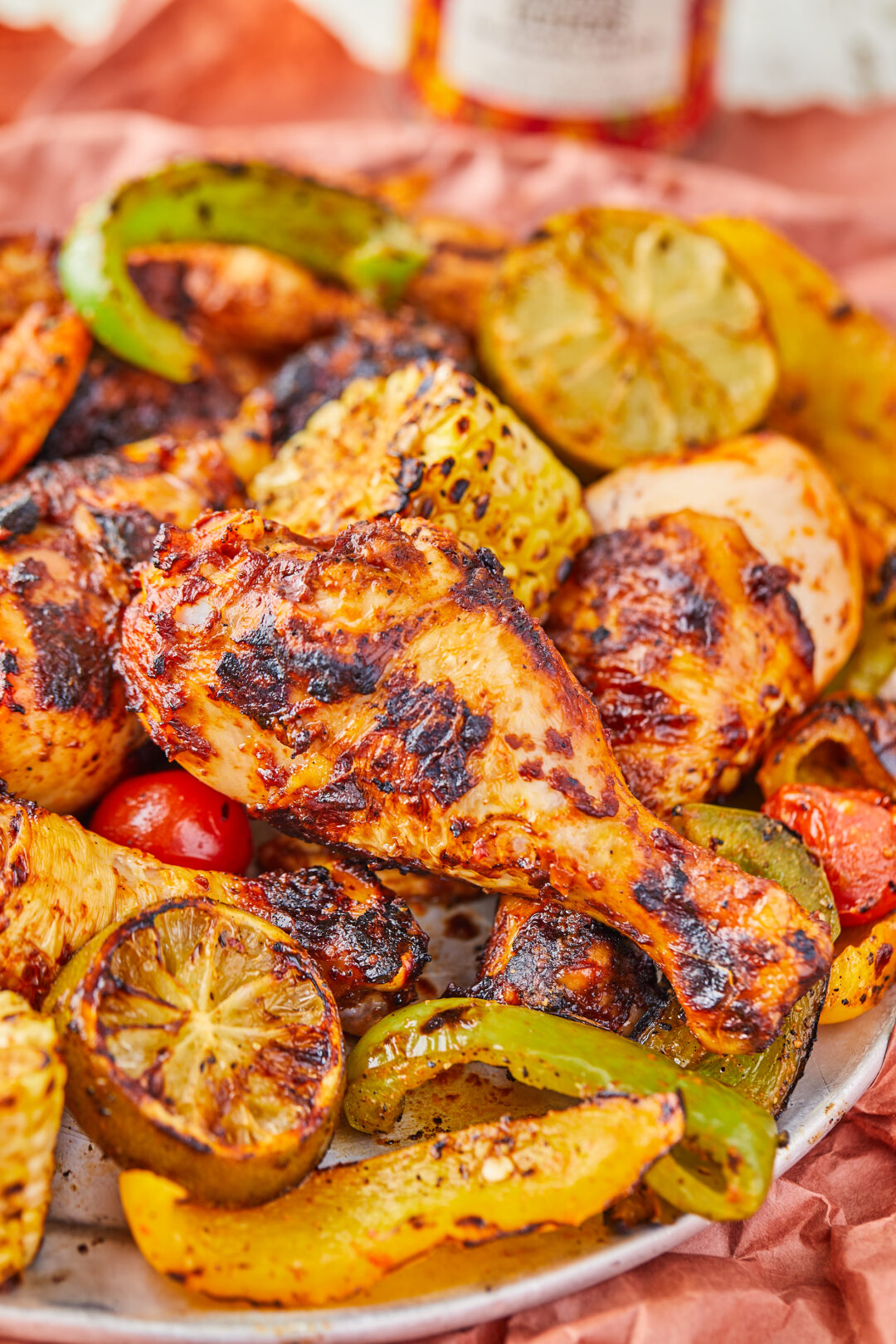 Grilling Perfection – Charring with Charm
Time to heat things up on the grill. The sizzle and smoky sweetness will make your neighbors turn green with grill-envy. As the chicken chars, the marinade transforms into a mouthwatering caramelized crust and will infuse the chicken with a subtle smokiness and a delightful medley of tangy, savory, and sweet notes.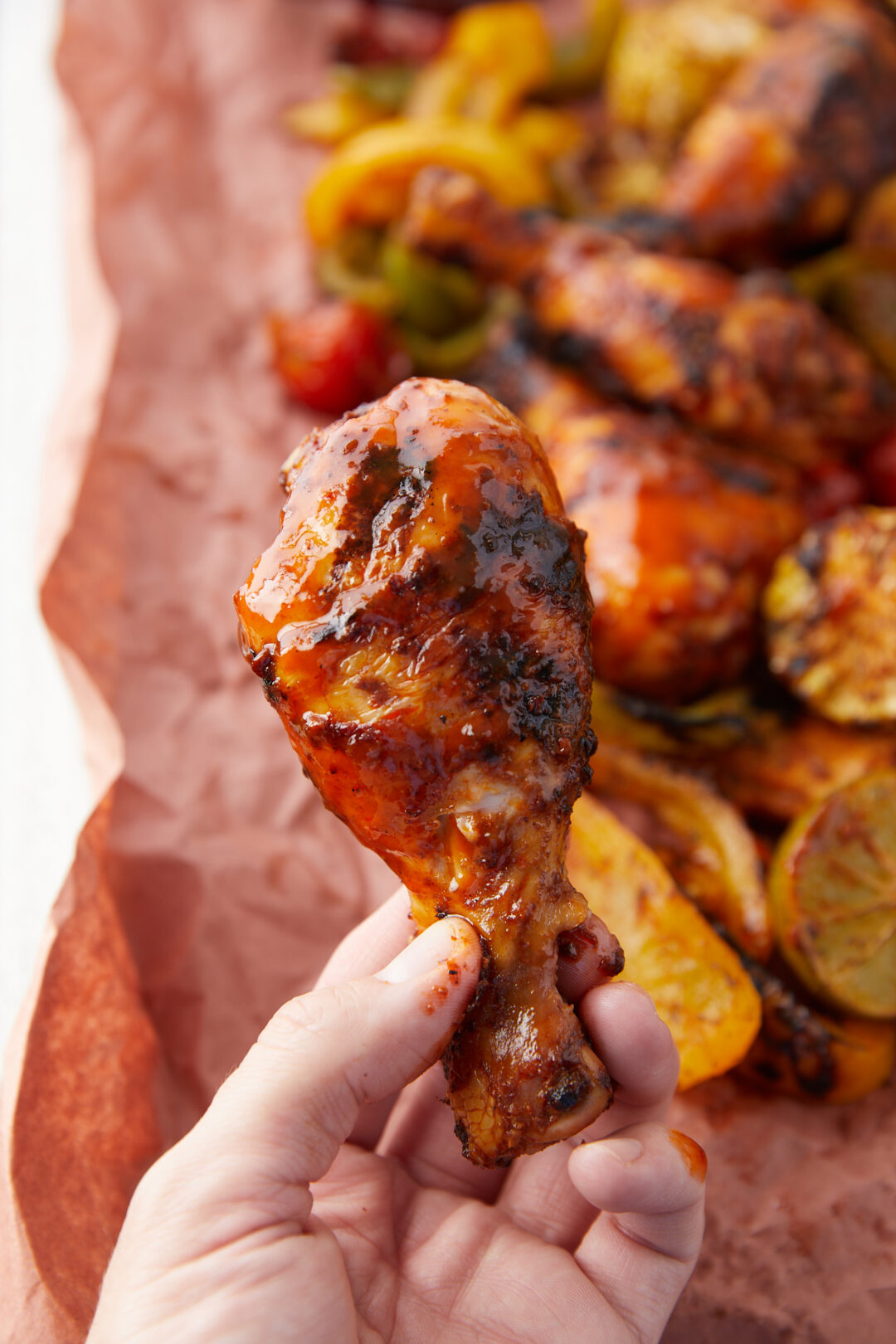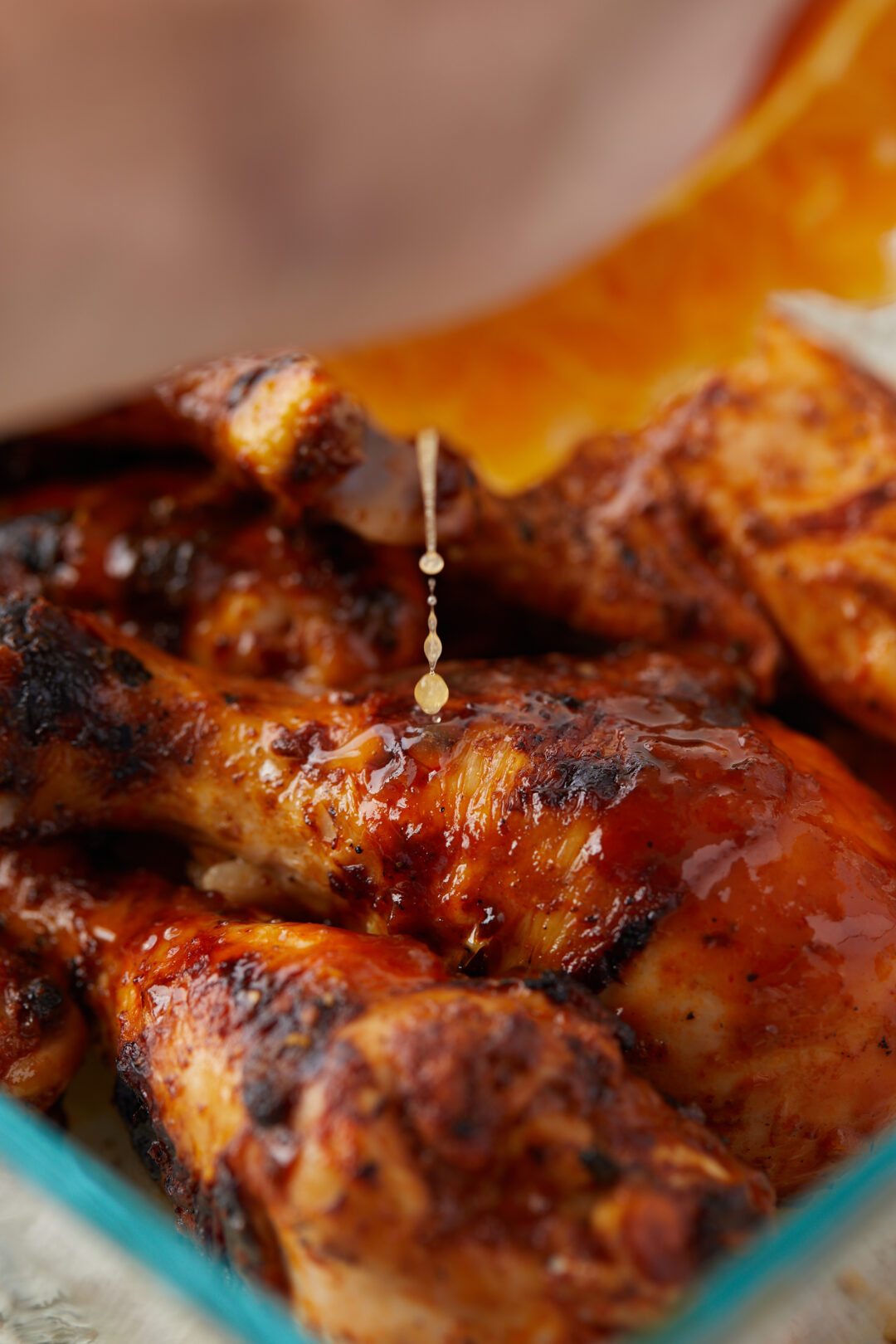 Orange Glaze, Honey!
To take this bite to the next level, a zesty citrus symphony, combining fresh orange juice, a splash of cider vinegar, honey, and a bit of the marinade mix that we made earlier . This glaze adds a wonderful contrast to the smoky chicken.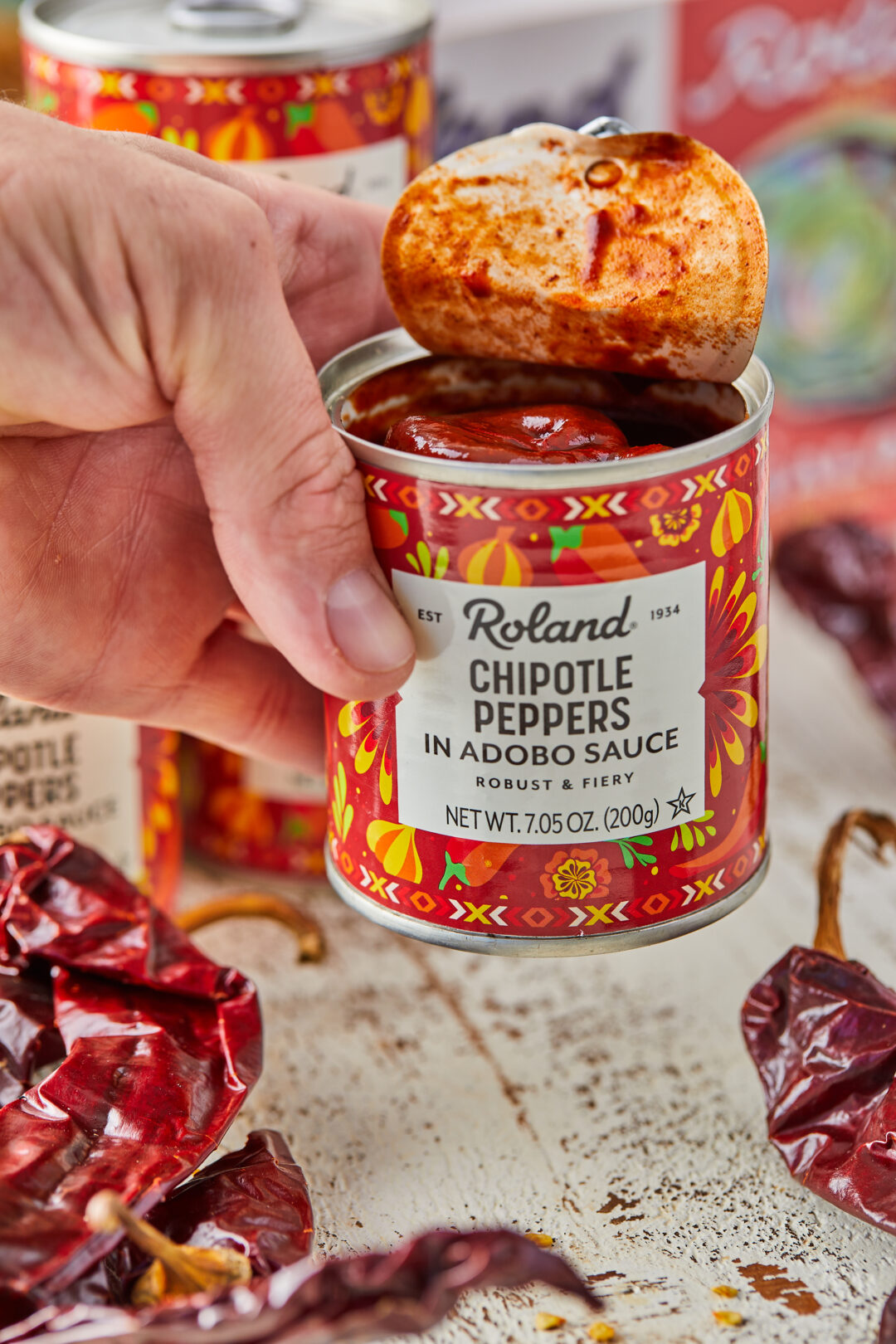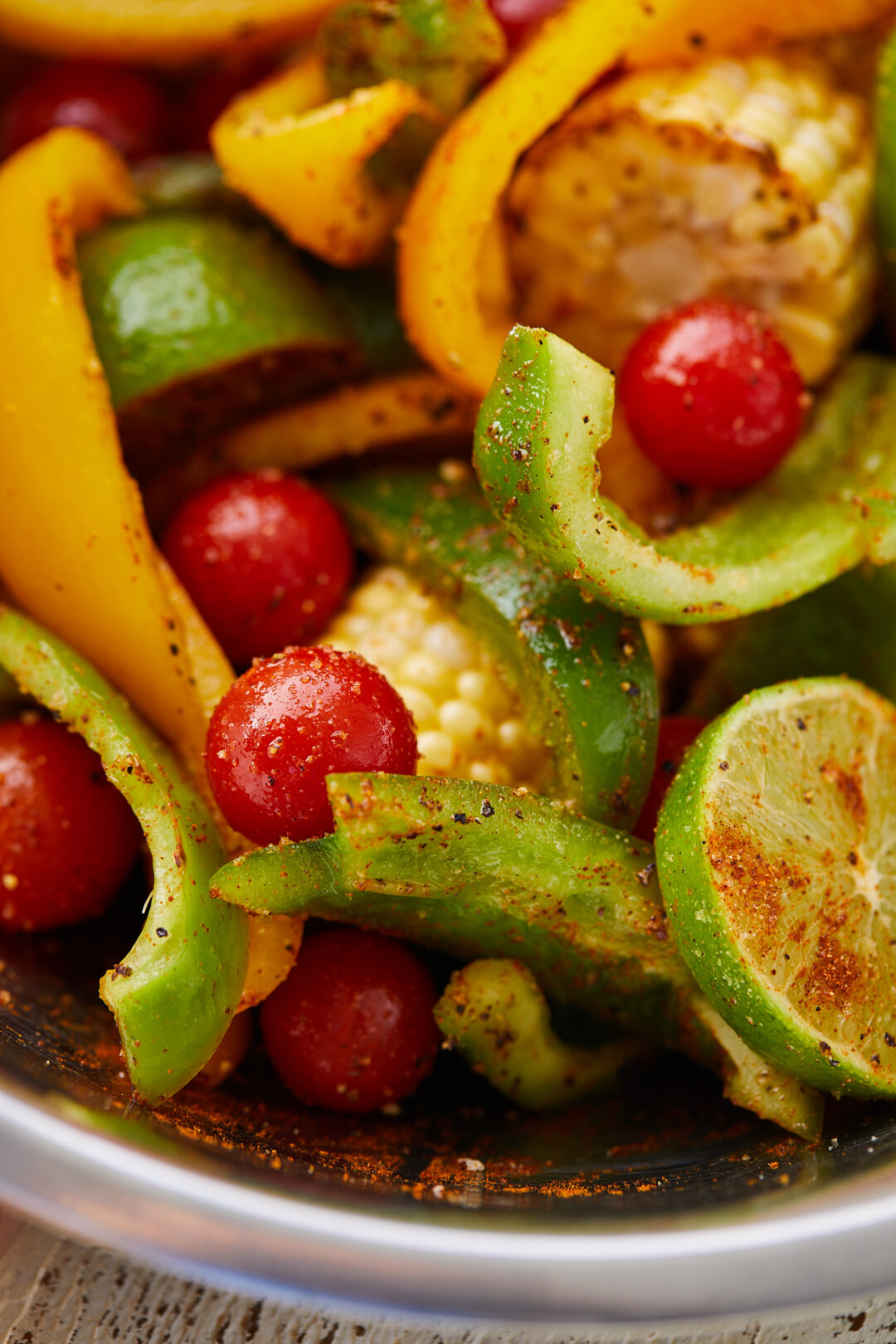 Chipotle Grilled Chicken – Pairings & Sides
Now that our chipotle-marinated grilled chicken with orange glaze is ready to fiesta on your plate, let's explore some festive serving suggestions:
Citrus Salad Salsa: Whip up a vivacious citrus salad by tossing together juicy orange segments, tangy grapefruits, and crisp greens. Drizzle with a lively vinaigrette.
Smokey Veggie Fiesta: Grill a rainbow of vibrant vegetables such as bell peppers, zucchini, and corn. Let the smoky char infuse them with fiesta-worthy flavors, adding a spicy twist to your plate. This is a favorite of mine, as you'll see in the photos.
Cilantro-Lime Rice: Accompany your chicken with a fluffy cilantro-lime rice. The fragrant herbs and zesty lime will create a flavor frenzy that pairs perfectly with the spicy chicken.
Taco Tuesday: Take the spicy shredded leftovers through the weekend to your Taco Tuesday table.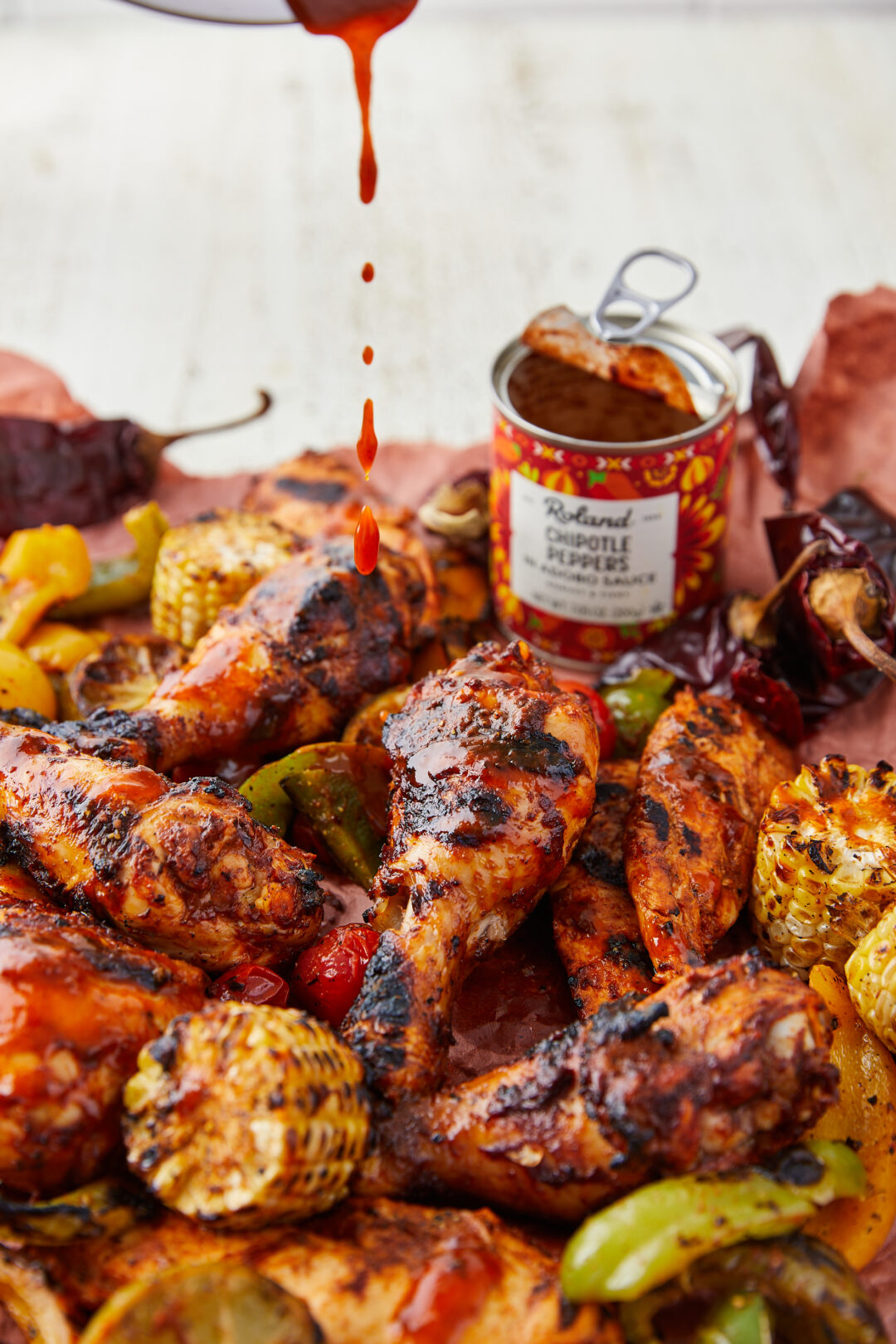 Spice Up Your Life
Get ready to spice up your grill with this smokin' hot chipotle-marinated grilled chicken, glazed with orange deliciousness. This recipe is all about bold flavors, fiery fun, and creating unforgettable culinary memories. It's time to turn up the heat and let your taste buds dance a bit. Enjoy!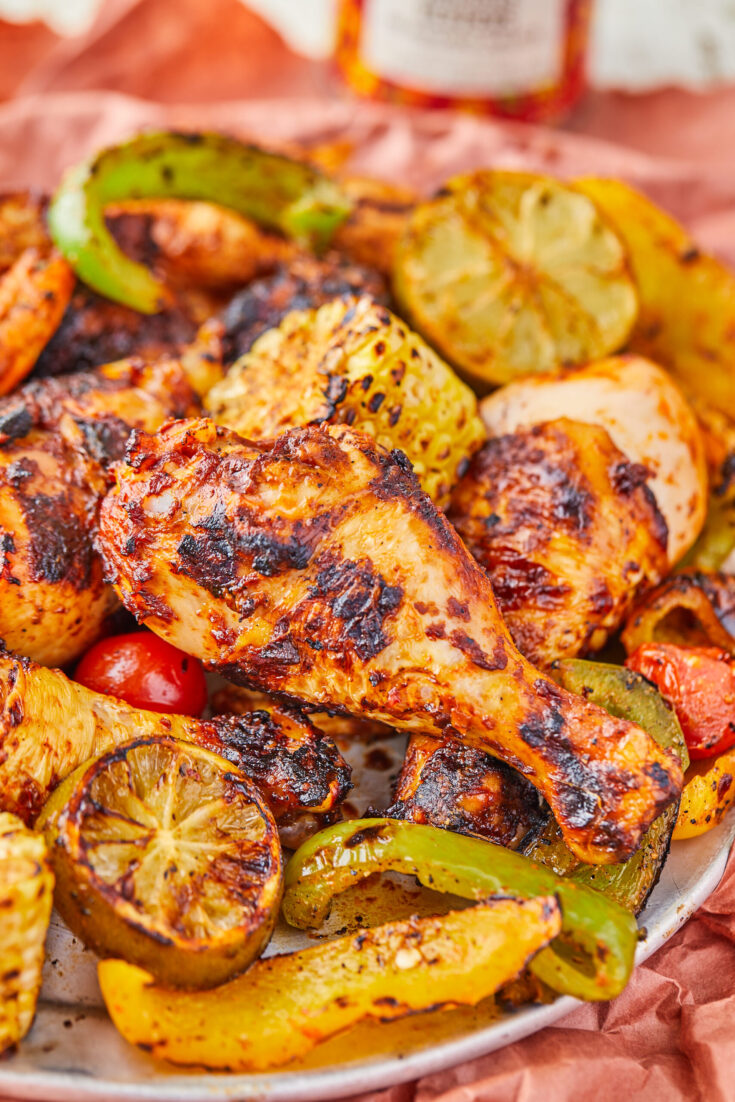 Yield:

6
Grilled Chipotle Chicken with Orange Glaze
Additional Time:
30 minutes
Fiery chipotle marinated chicken char-grilled and finished with a honey orange glaze. Recipe from SouthernFatty.com.
Ingredients
Marinade
7 oz chipotle peppers in adobo sauce
4 tablespoons vegetable oil
2 tablespoons honey
3 garlic cloves
1 teaspoon salt
1/2 teaspoon black pepper
1/2 teaspoon paprika
1 tablespoon lime juice
1 to 2 lb chicken, selections as desired (legs, thighs, breast)
Orange Honey Glaze
1/2 cup orange juice, fresh (about 2 oranges)
3 tablespoons marinade, reserved from above
2 tablespoons olive oil
1 tablespoon honey
1 tablespoon apple cider vinegar
pinch salt
Instructions
Marinade
Combine marinade ingredients in blender.
Blend until well-mixed. Remove 3 tablespoons of this marinade and set aside.
Place chicken into a container and cover with marinade mixture.
Ideally, marinate overnight in refridgerator. Alternatively, rest at least 30 minutes.
Grilling
Heat grill to medium-high heat.
Remove chicken from marinade and grill until charred and cooked to desired doneness, about 15 minutes.
Keep warm while preparing glaze (or prepare glaze ahead of time).
Orange Honey Glaze
Combine ingredients for glaze in a saucepan over medium heat.
Stir constantly and bring to boil for at least 3-4 minutes. Reduce heat to simmer.
Continue to stir until it coats a spoon, about 5-6 minutes in total.
Glaze char-grilled chicken and enjoy!
Find more recipes on SouthernFatty.com. Tag @southernfatty ons ocial with your photos!
Notes
Social content for this recipe was made with Roland Foods. This post is not part of that partnership and is being posted because it is simply a great recipe!
Recommended Products
As an Amazon Associate and member of other affiliate programs, I earn from qualifying purchases.