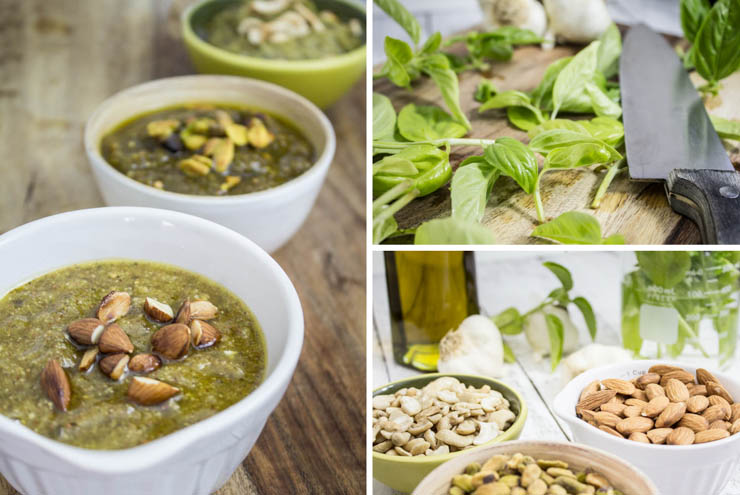 One of the most simple, delicious sauces is a classic pesto. Traditionally, pesto genovese, which is named after it's originating home in Genoa, Italy, is a simple sauce made from nuts, cheese, garlic, basil, olive oil and salt. While pine nuts are usually the culprit of choice, many other nuts can be used to give a different flavor profile to this Italian staple.
In this post, I will show you how we transform the traditional pesto into three different options, each with their very own independent flavor but same simple technique or preparation.
Pesto Three Ways: Cashew, Pistachio and Almond.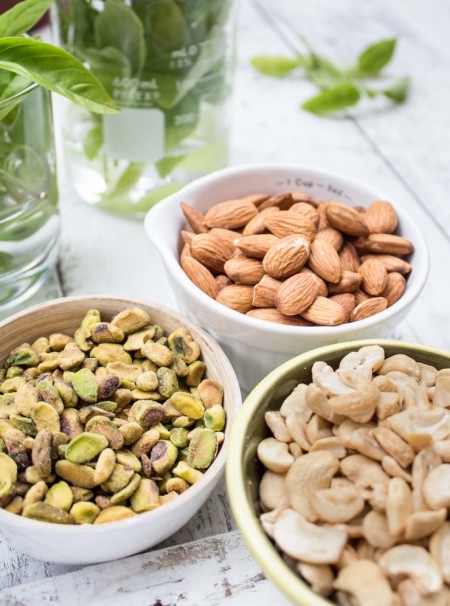 The quality of the ingredients in a sauce that contains only a few, organic elements is critical. This isn't a time that you would pull out those leftover canned peanuts from your weekend at the lake and throw them in a blender with a cheap olive oil. It doesn't take much to make pesto, but it most certainly does require quality. Grab some of the basil tat you have been growing (or a friend's!), good unsalted raw nuts and most importantly– an excellent quality olive oil.
You'd be surprised how affordable some of the options for good olive oil really are. Costco's brand is actually rated as one of the best qualities that is widely available. Do a bit of research and you will find tons of excellent options to take the place of that bland bottle. A good EVOO should have a slight peppery taste. That means it should not taste like the splattered french fry oil at a fast food joint.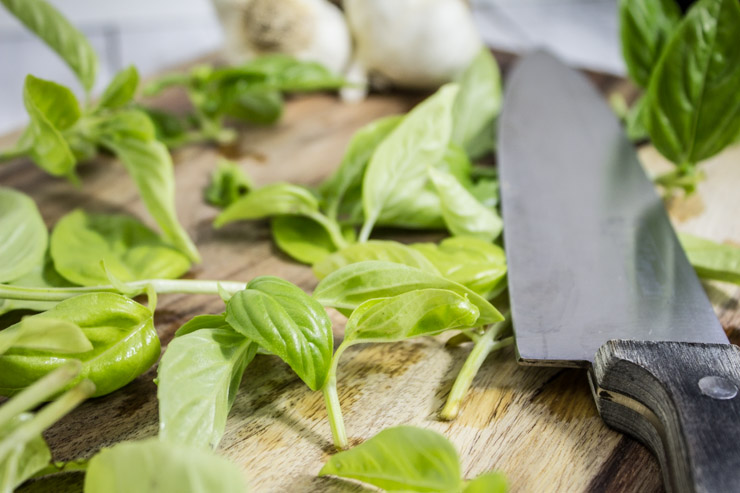 If you are anything like I am, you grew wayyyyy too much basil in the back yard. This is what actually brought me to deciding to experiment with so many different types of pesto. I needed to prune and use basil from about 6-7 plants. Ya. I dunno why I would think I would ever have needed that much either.
[If you need another use for your leftover basil, check out the Freezing Fresh Herbs post from a bit back!]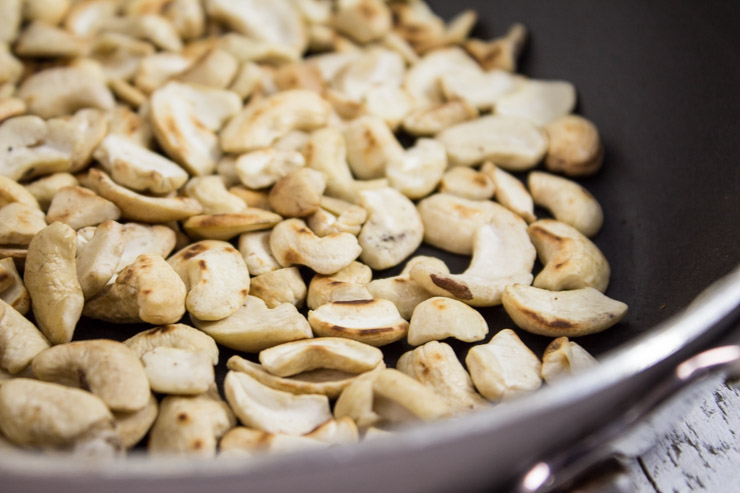 I prefer to buy raw, unsalted nuts for pesto. It is insanely easy to toast your own in a hot pan. Toasting (dry roasting) the nuts before you make the sauce adds a great caramelized depth of flavor that you really can't go without. As a bonus, toasted cashews have the most amazing, sweet taste. I ended up eating about a fourth of the ones I toasted like a pregnant lady at an ice cream shop. That good. Toasted cashew ice cream in my future, perhaps…?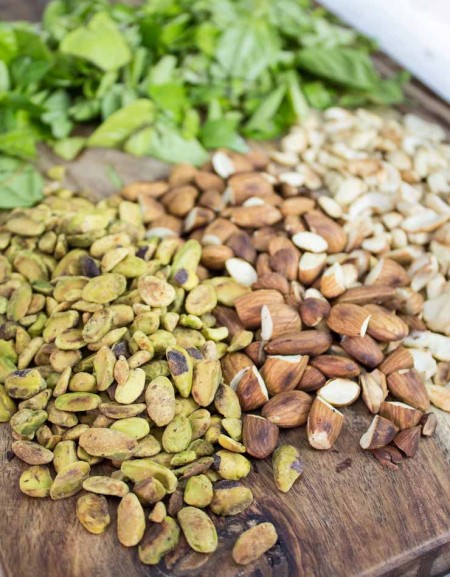 As for the finished products: ALL. AMAZING.
Each of the three pesto varieties had it's own unique flavor. The cashew base was a bit more sweet, where the pistachio variety had a slightly sweet, more nutty taste. The almond– a deep, rich flavor. All three of the varieties were winners.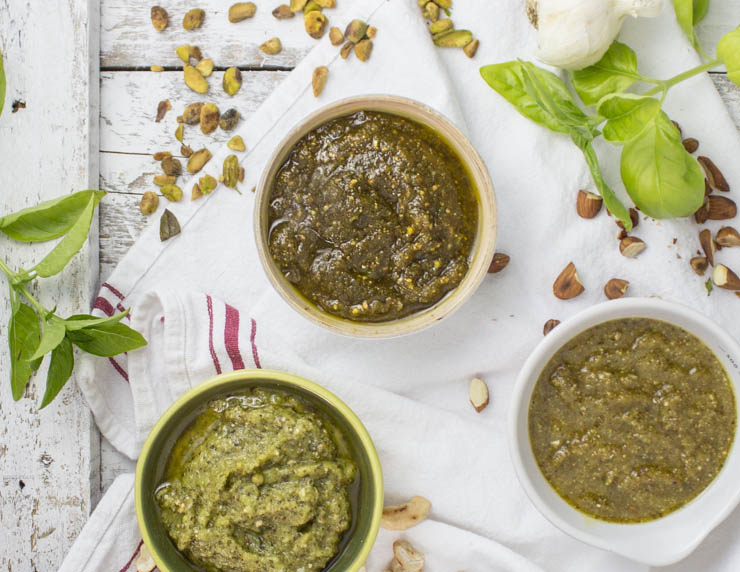 One perk to trying out different varieties of nuts for your homemade pesto sauce is that almost any nut you will find is much cheaper than pine nuts right now. Experiment and explore with whatever you have around. There isn't any excuse for not trying homemade pesto with how simple it is to whip up. I can promise you that you'll never buy pesto from the store again.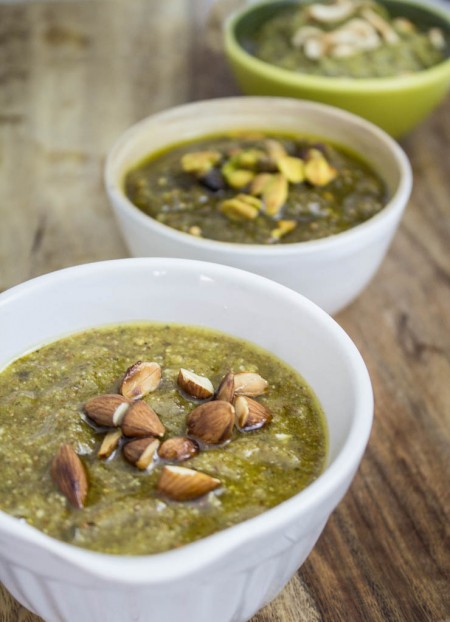 Pesto Three Ways
Pesto made with almonds/pistachios/cashews for a great twist on a classic italian favorite!
Ingredients
¼ cup nuts (pistachios, cashews, almonds, etc.)
1 and ¾ cups basil, fresh
1-2 cloves garlic, try one first - add 2nd if needed
½ cup good extra virgin olive oil
½ cup parmesan or Pecorino cheese, freshly grated
squeeze lemon juice, fresh
½ teaspoon salt
¼ teaspoon pepper
Instructions
Dry toast the nuts of choice in a pan until aromatic and slightly golden.
Remove and cool completely.
Combine all ingredients into food processor and blend until smooth.
Alternatively, add cheese after processing.
Enjoy on pasta, bread, etc.
To freeze - place in container and top with a layer of olive oil and freeze.
Visit SouthernFATTY.com and let us know what you think about this recipe!
Notes
2014 - SouthernFATTY.com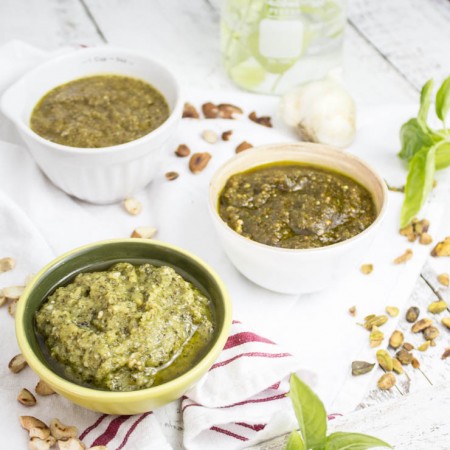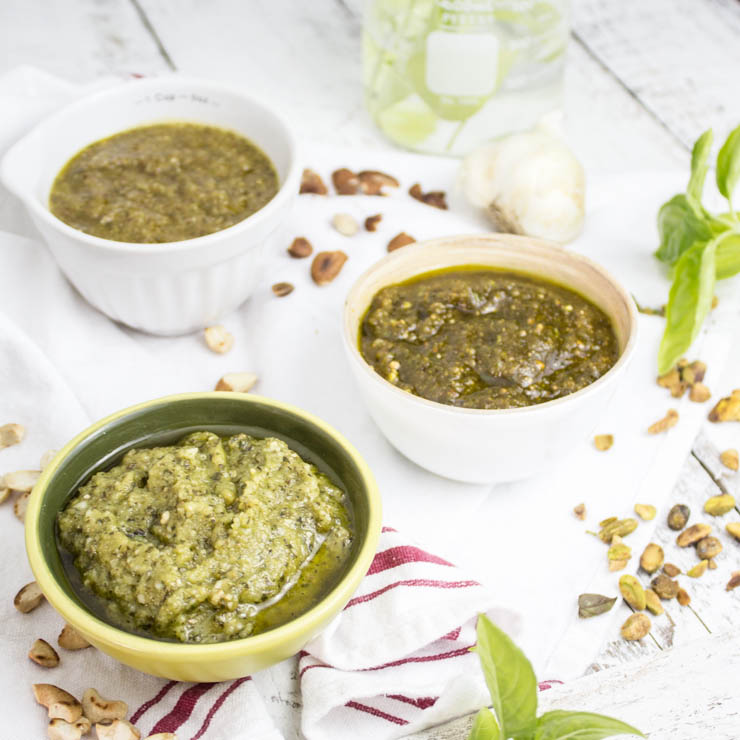 What's your favorite pesto pick for dinner?  Traditional pasta or something else? Let us know in the comments below!