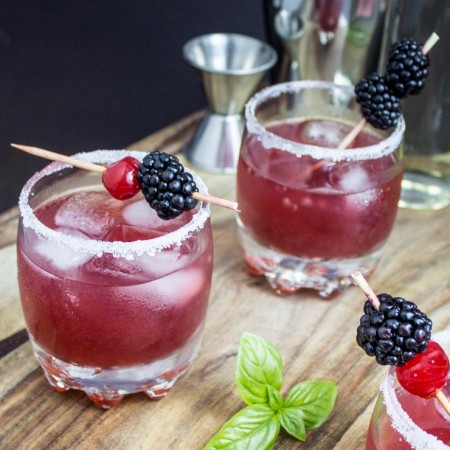 By now, y'all know that I have a slight addiction to anything blackberry, having posted Berry Cool Ice Cream during our 4th of July roundup, Baked Blackberry Brie for a quick party treat, and then the most famous post on the blog to date– Blackberry Bourbon Cupcakes.
Muddling some fresh basil, blackberries and of course, gin, with a bit of lemonade will give you the most refreshing summertime libation that you've ever had. Add a bit of cherry juice, sugar. There you have it. A Southern FATTY exclusive– Blackberry Gin Punch.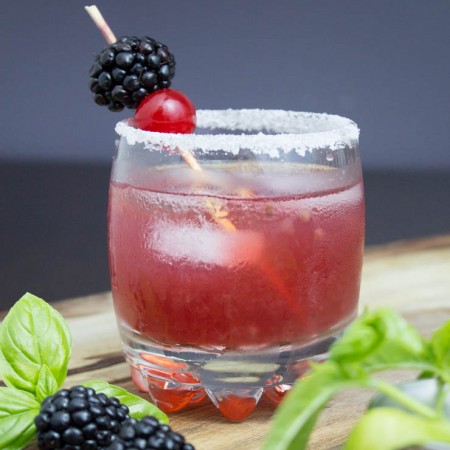 I found myself, again, trying to figure out what to do with the insane amount of basil that I had on hand, refusing to just clip and trash it. I had already frozen it in olive oil & made 3 different types of pesto. The only logical thing left that I hadn't made with it was a great drink, right? Fresh herbs make for absolutely amazing drinks, after all.
The essential oils of the herbs really help to give a drink that special pizzaz that it may need to send it over the top. This is exactly why you'll see bartenders smashing, or muddling, certain ingredients in the bottom of a glass instead of just chopping them up and throwing them in.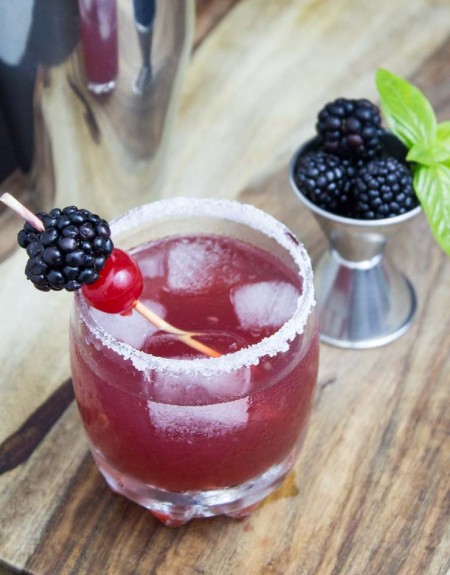 Gin took root in a society that was absolutely mad for self-service litres of boozy punch drinks. Having just returned from London (keep an eye out for a recap on that!), I was able to see a few reminders of what used to be popular spots for the returning British soldiers from India, the London Punch Houses. These bars became famous for not only their fruity bowls of booze, but also for their felonious, well, let's call them 'working ladies'. But, back to the… punch. <joke style drum cymbal crash>
There is something fresh about gin in the summer (or winter, for that matter). It's botanical roots pair perfectly with fresh herbs in a cocktail. Lemon peel, cucumber, juniper, grains of paradise. Although different gins have different ingredients for their specific flavor profiles, all contain multiple fresh elements that are reminiscent of a perfect summer spent with family and friends.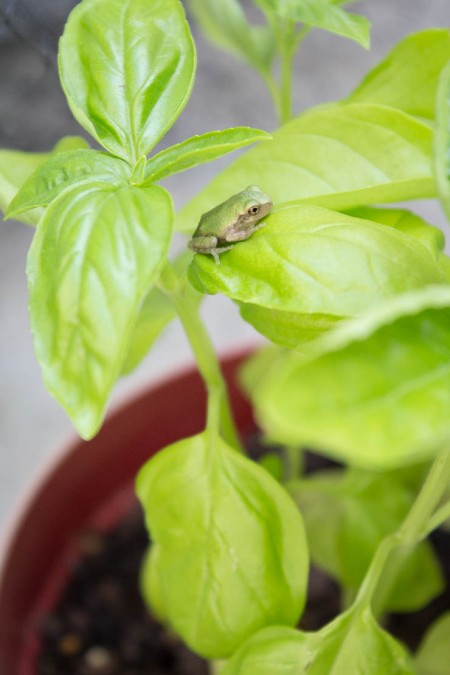 Before I toss this incredibly delicious, simple recipe at you, I want to introduce you all to the newest member of my little family, Pesto. I must have been so enthralled with fatherhood that I completely forgot to include Pesto in the last Pesto Three Ways post.
This tiny, over-excitable guy lived on my basil plants for almost an entire week. I think when you convert frog years to people years, that's like… well, a week or something. Pesto is since off to bigger and better things. A lavender plant, perhaps. Here's to you, Pesto. Be sure to come back around town for the holidays. (Bring dessert.)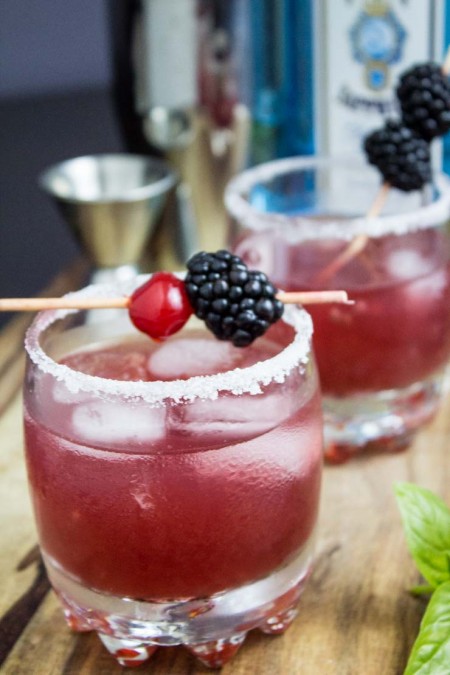 Pesto and I hope you are all having an amazing summer. Make a bowl of this punch, invite some friends over and have a great time.
NOTE: No frogs were harmed in the making of this delicious cocktail.
Blackberry Gin Punch
Perfect, refreshing summer cocktail. Blackberries, gin, cherry juice, lemonade and some fresh basil make a delicious Blackberry Gin Punch.
Ingredients
1 oz gin
5 blackberries
3 basil leaves
2 ounces lemonade
½ ounce rich simple syrup (2:1 sugar:water heated to dissolve and cooled)
½ ounce maraschino cherry juice
Instructions
In a cocktail shaker, muddle gin, blackberries and basil leaves well.
Add simple syrup, cherry juice and lemonade to shaker.
Fill with ice.
Shake well and serve strained into cocktail glass.
Serve cold and enjoy!
Visit SouthernFATTY.com for more delicious libations.
NOTE: This makes one drink. Multiple accordingly to serve more.
Notes
2014 - SouthernFATTY.com
What are some of your favorite summer cocktails? Let us know by commenting below!