Classic almond macarons with a delicious honey-roasted fig Swiss buttercream filling. This recipe uses fresh figs that are roasted with honey, reduced, and folded into a perfectly smooth buttercream.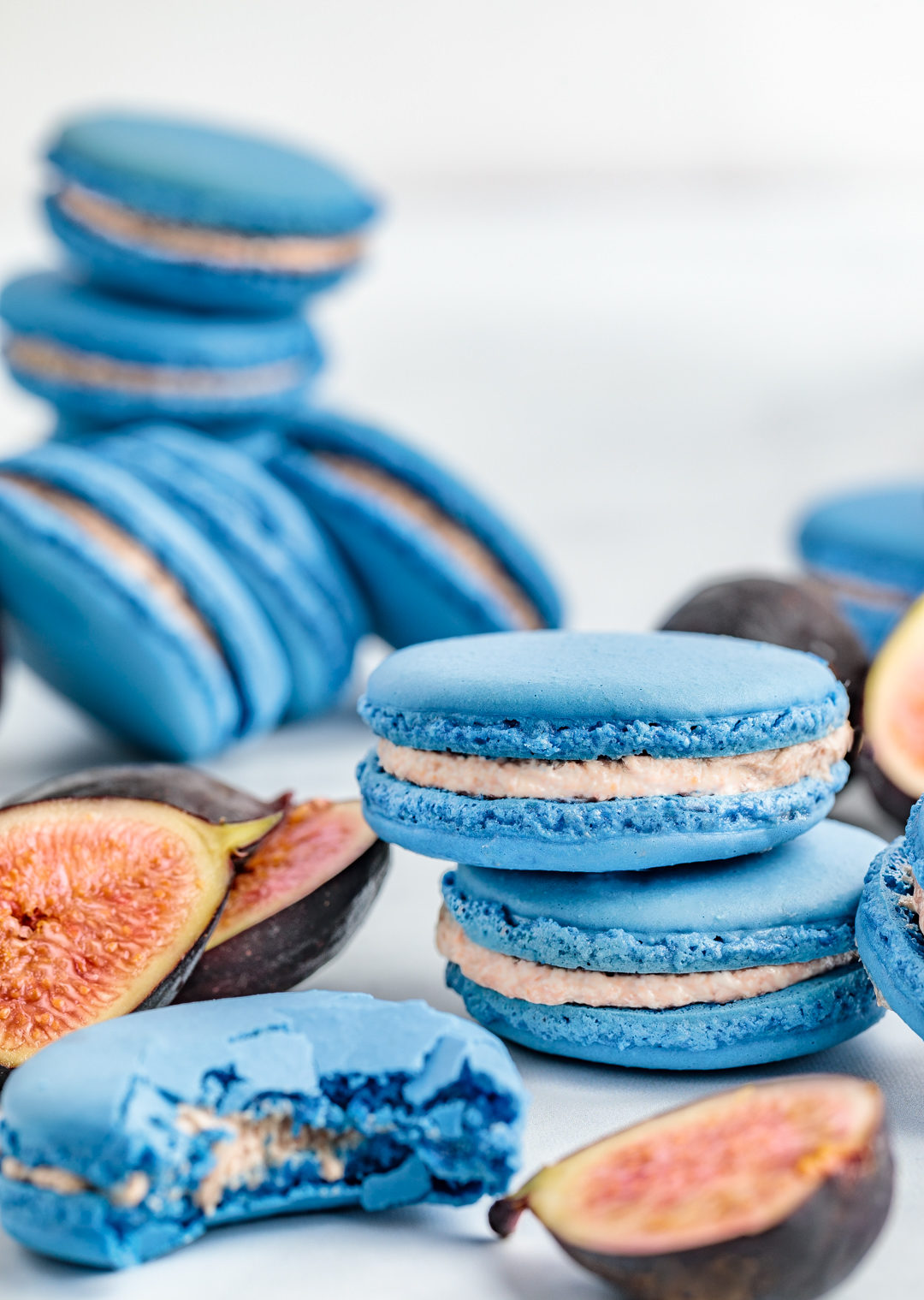 Gettin' figgy with it over at Southern Fatty today. By now, y'all know that I haven't stopped making macarons even as the fad fades a bit. For this summer sweet, fresh figs are roasted with honey, reduced stovetop, and the unique flavor syrup is folded into the ultimate smooth Swiss buttercream for a perfect handheld bite.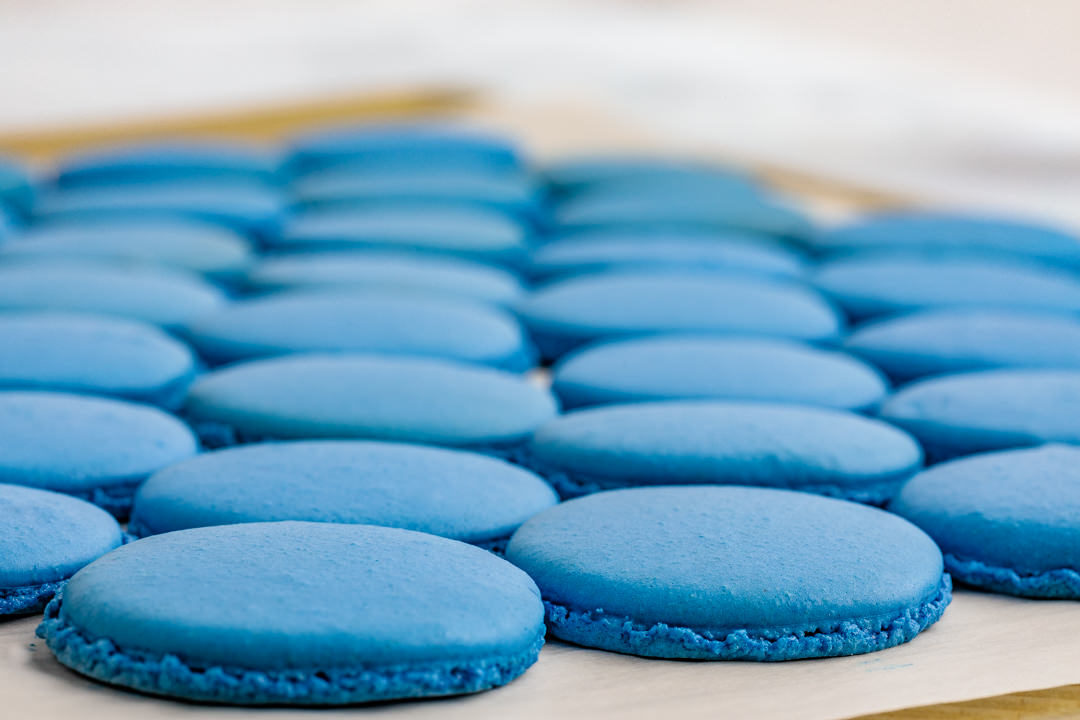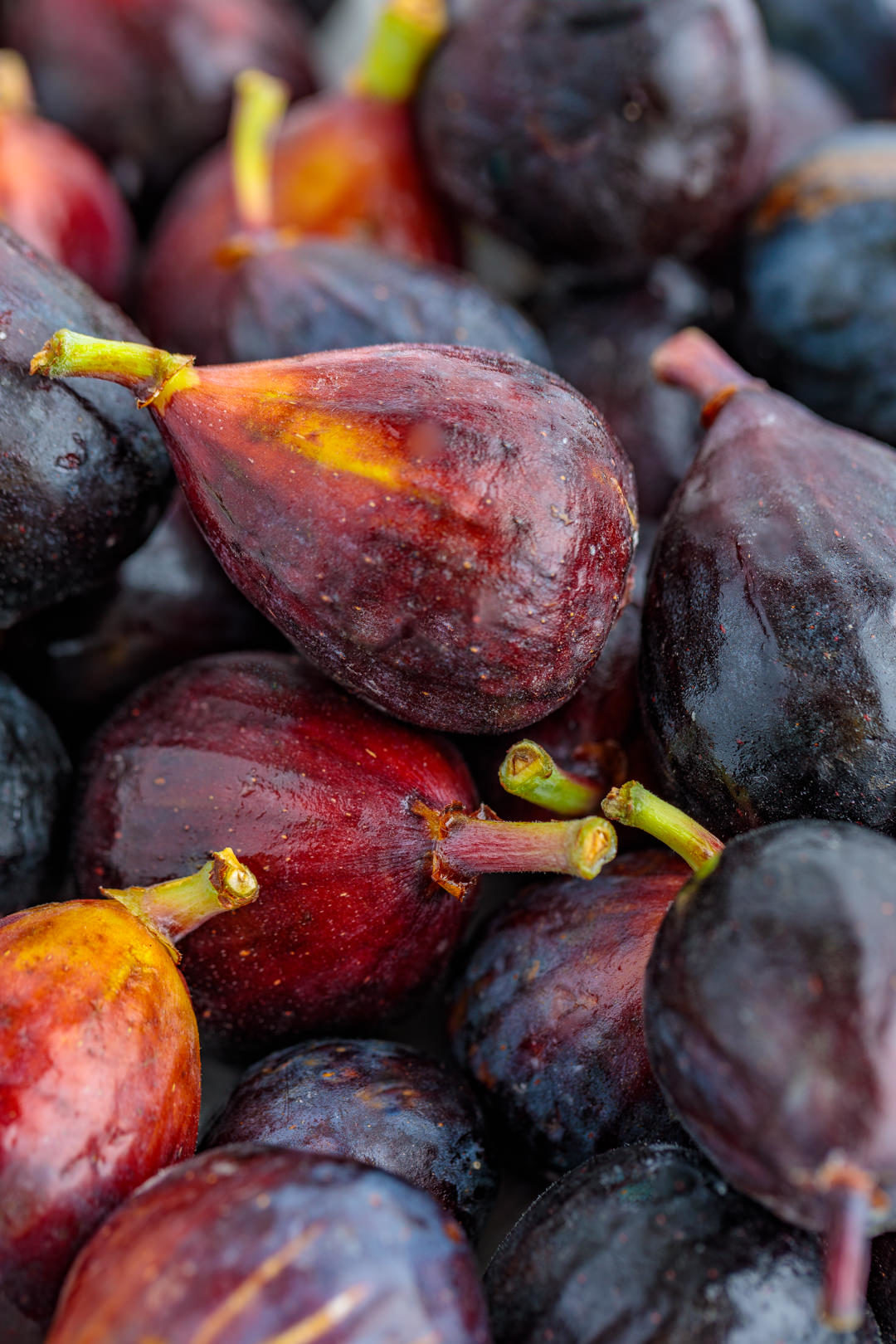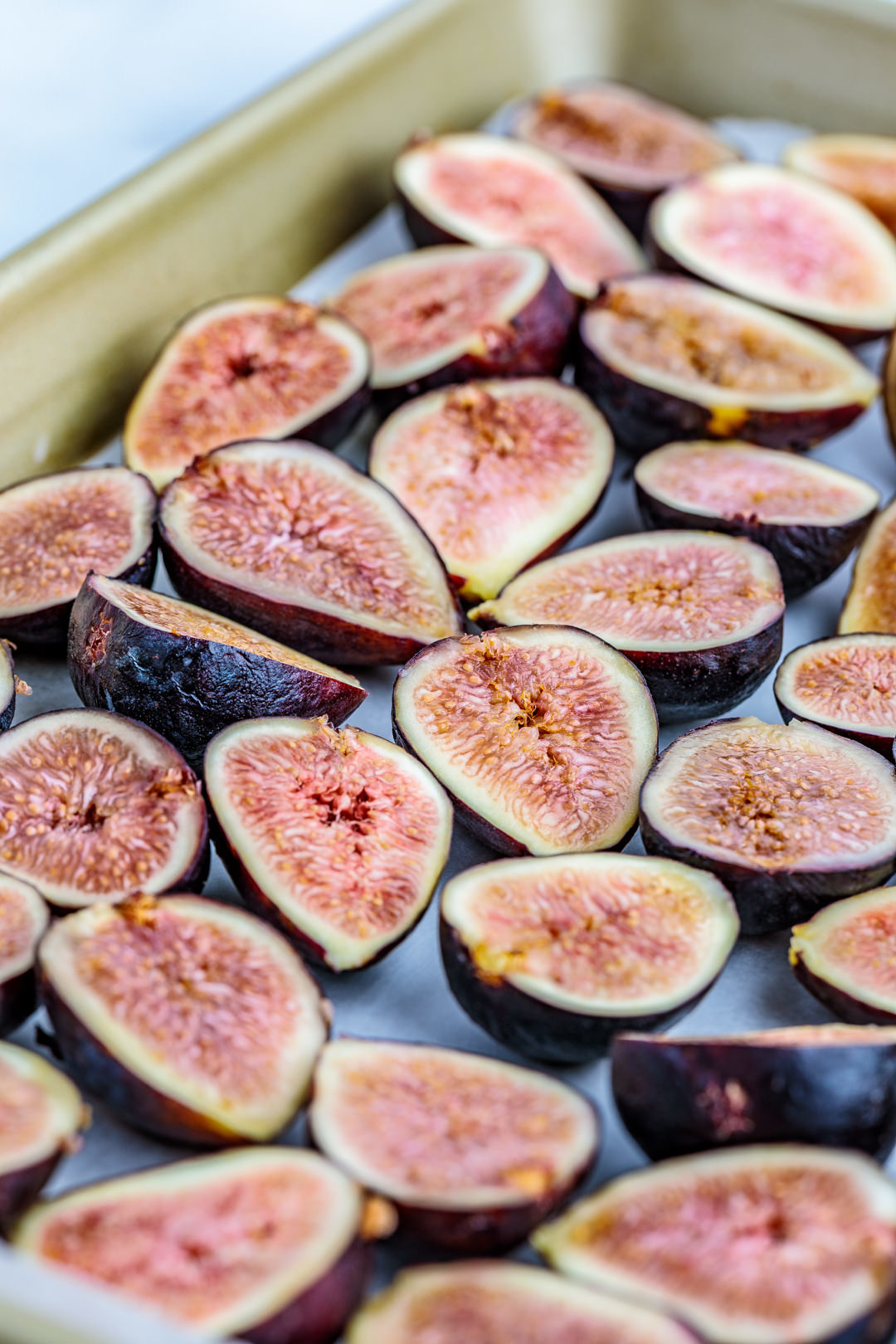 Figs have always been kinda odd to me. Like most people, I really could only think back to having figs in the form of cookies. I'm not sure if those things have any real fig in them or not, but they taste quite a bit different than a fresh fig.
Not gonna hate on a Fig Newton, but fresh figs are just so uniquely delicious. The textures of the tiny seeds with the soft skins; mild sweetness that almost has a savory reflection. Each one almost having its own personality, they are just so different than most fruit.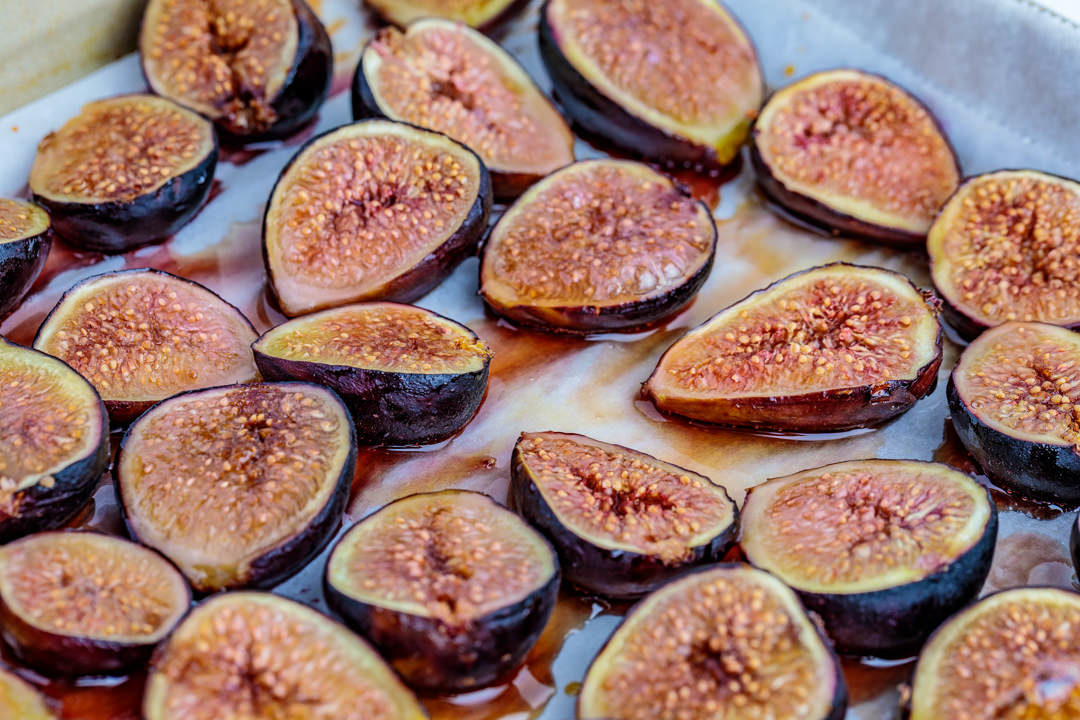 For whatever reason, I decided that I wanted to make the shells to these macarons bright blue. No story or flavor behind it. I just thought that it would look pretty. Sometimes you just need to bake things that look nice, right?
If you've checked out my Macarons 101 Guide (with Printable Piping Template), you'll know that I am a fan of the French macarons. Italian methods introduce a cooked sugar syrup. It is very stable, but I think slightly more dull and flat when compared to the classic French recipes. Either will work for these, but if you want to give the Italian method a try, this is a good recipe to start with.
Don't be scared by the boiling sugar syrup combined with moving mixer parts. It sounds scary, but is quite simple when you get a try or two under your belt.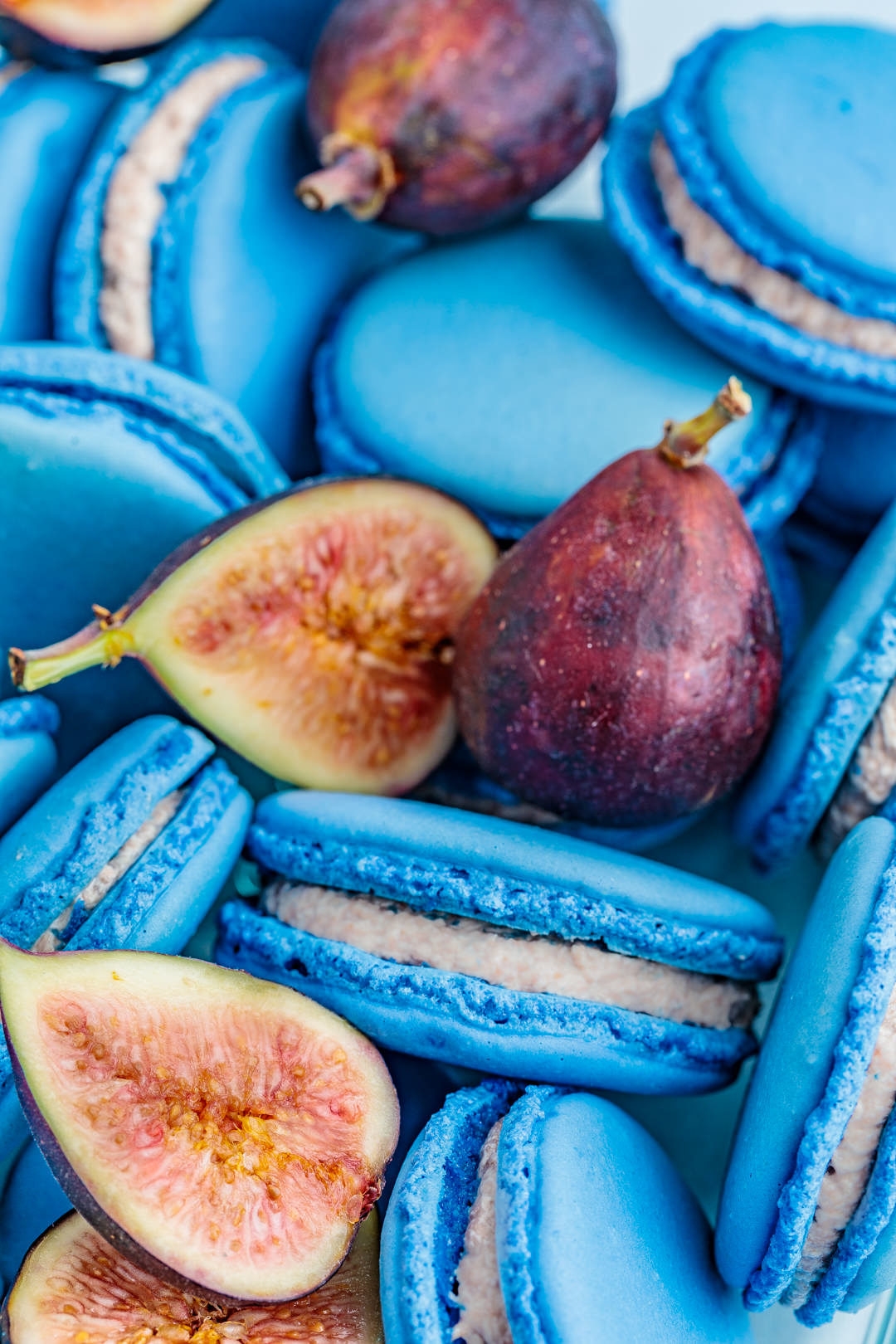 Swiss meringue (we are jumping all over the globe here, eh?) buttercream uses the same cooked sugar technique to give a meringue that is incredibly smooth. It is very similar to marshmallow cream. A simple Swiss buttercream is something I think every home baker should whip up.
PS – It freezes well. Thaw in the fridge for a few hours and give it a quick whip to revive it. Done!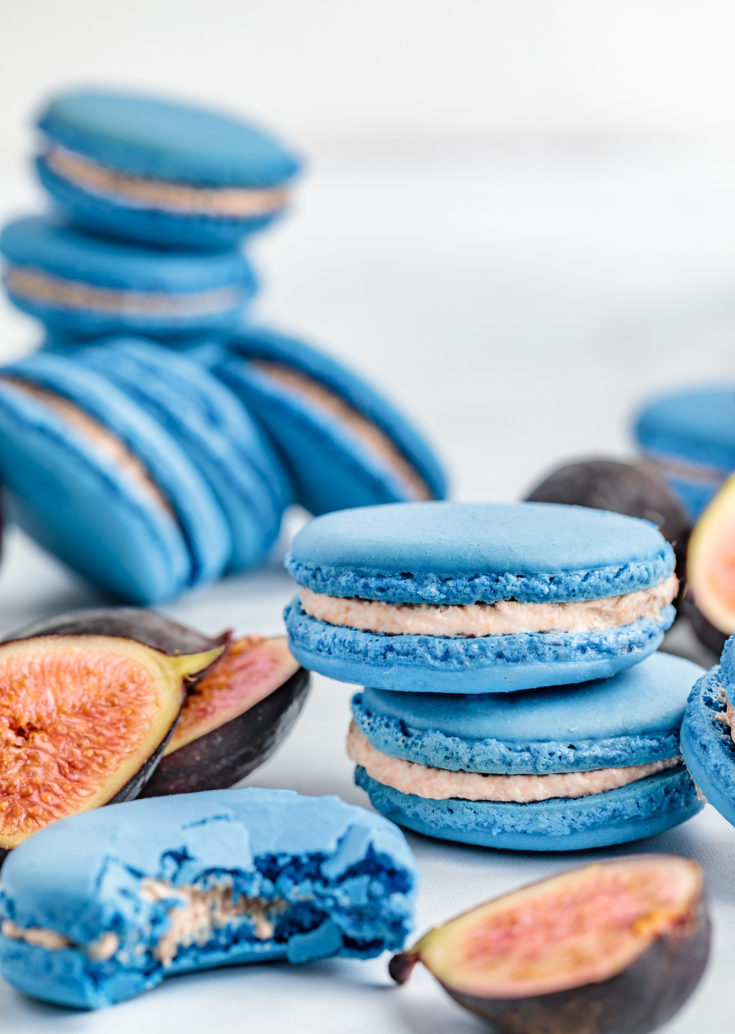 Yield:

30 Cookies
Honey Roasted Fig Macarons
Classic almond macarons with a delicious honey-roasted fig Swiss buttercream filling. Fresh figs are roasted with honey, reduced and folded into a perfectly smooth buttercream for a sweet taste of summer recipe. From SouthernFatty.com.
Ingredients
Macaron Shells - Italian Method
210 grams (1 3/4 cups) almond flour
210 grams (1 3/4 cups) confectioner's sugar
170 grams (1/2 cup) egg whites, DIVIDED
1 teaspoon vanilla bean paste or extract
235 grams (1 1/4 cup) sugar, granulated
150 grams (1 cup) water
Honey Roasted Fig Buttercream
12 ounces figs, fresh
30 grams (3 tablespoons) honey
75 grams (1/4 cup) egg whites
150 grams (3/4 cup) sugar, granulated
226 grams (16 tablespoons / 2 sticks) butter, unsalted, room-temperature
1/2 teaspoon vanilla bean paste or extract
1/4 teaspoon salt
Instructions
Fig Swiss Buttercream
Preheat oven to 400 F.
Slice each in half and toss figs in the honey and move to a baking sheet.
Rost figs, turning every 10 minutes, about 30 minutes in total until reduced and syrupy.
Remove to a saucepan and cook for an additional 20 minutes, stirring often. Remove from the heat when thickened, similiar to corn syrup viscosity.
Cool completely. You can place this in the refridgerator while making the shells.
Place the 75 grams of egg whites into a heat-safe bowl that can easily fit on top of a small saucepan. Add 150 grams sugar and whisk well to combine.
Add an inch of water to the small saucepan and place on low heat to simmer.
Add the bowl of whites and sugar on top of the pan to gently warm. Whisk often.
The mixture will thicken but thin out, becoming more white. Cook for about 4-5 minutes. Ideally, check the mixture temperature. It should reach 160 F / 71 C.
Transfer to the bowl of a mixer with whisk attached.
Whisk at medium-high speed (about 6 on a KitchenAid) for 15-20 minutes. 15 is usually how long it takes me, but it may take 20 depending on the temperature, mixing speed, etc. Mix until glossy, stiff, and thick.
At this point, the meringue should be room temperature. If it is not, let it rest until it is.
When meringue is room temperature, start to mix with a paddle and add room-temperature butter 1-2 tablespoons at a time while mixing. When all butter is added and mixed well, add salt, vanilla, and cooled fig reduction.
Transfer to piping bag. This can be chilled and allowed to return to room temperature before piping on shells.
Macaron Shells (Italian Method)
Review my Macarons 101 post prior to starting. Although this tutorial discuses French method and this recipe is for Italian, many of the tips will still apply. You will also find a FREE printable piping template to put under your parchment paper for consistent shape piping!
Combine water and granulated sugar in a saucepan.
In a large bowl, combine almond flour and powdered sugar. Sift well a couple times.
Add 70 grams of the egg whites to the almond flour mixture and mix well. It will be a thicker paste-like texture. This is fine.
Put the remaining 100 grams of egg white in a very clean mixer bowl with a whisk attachment. Add the cream of tartar. Do not mix yet.
Heat the saucepan of sugar and water over medium to medium high heat WITH a thermometer placed. Please don't skip the thermometer. My reommendation is shown in the products below.
When the sugar syrup reaches about 212 F / 100 C turn on your mixer to medium low speed (3 on KitchenAid) to start breaking the whites to a foam. You don't want the whites to peak yet. Stop mixer if they near this stage before syrup is ready.
When the syrup reached 245 F / 118 C, remove from heat and while mixer is mixing at low speed (2-3 on KitchenAid) pour the hot syrup into the mixer bowl just at the edge of the whites. You don't want the whisk to splatter the hot syrup, but also don't want it to all stick to the bowl side.
Increase the speed to medium-high (~7) and mix for about 12-15 minutes. The sides of the bowl should be room temperature to touch. At tthe end, add desired coloring in final mixing.
Take a small amount (about a quarter) of the merinuge and add it to the almond mixture. Mix well.
Transfer the remaining meringue to the almond and fold until you can stream a figure 8 with the spatual and it slowly fades away. See my Macarons 101 post for details, as this is a very important step to master.
Transfer to piping bag.
Using the printable template that I have available here, pipe macaron shells ~1.5 inches to parchment or silicone mat.
Bang tray to release air bubbles.
You do not need to rest these shells if you have prepared the batter properly.
Cook at 320 F for 12-15 minutes. Do not allow to brown.
Remove and cool completely before removing.
Fill with buttercream and enjoy!
Find more recipes on SouthernFatty.com. Be sure to tag @southernfatty when you post your creations.
Recommended Products
As an Amazon Associate and member of other affiliate programs, I earn from qualifying purchases.
Nutrition Information:
Yield:
30
Serving Size:
1
Amount Per Serving:
Calories:

66
Total Fat:

0g
Saturated Fat:

0g
Trans Fat:

0g
Unsaturated Fat:

0g
Cholesterol:

0mg
Sodium:

1mg
Carbohydrates:

14g
Fiber:

0g
Sugar:

1g
Protein:

2g