Enjoy the end of summer with this vibrant grilled chipotle cherry chicken. Char-grilled chicken breast and legs are cooked to perfection alongside grilled red cherries. Finished with chipotle cherry honey BBQ sauce.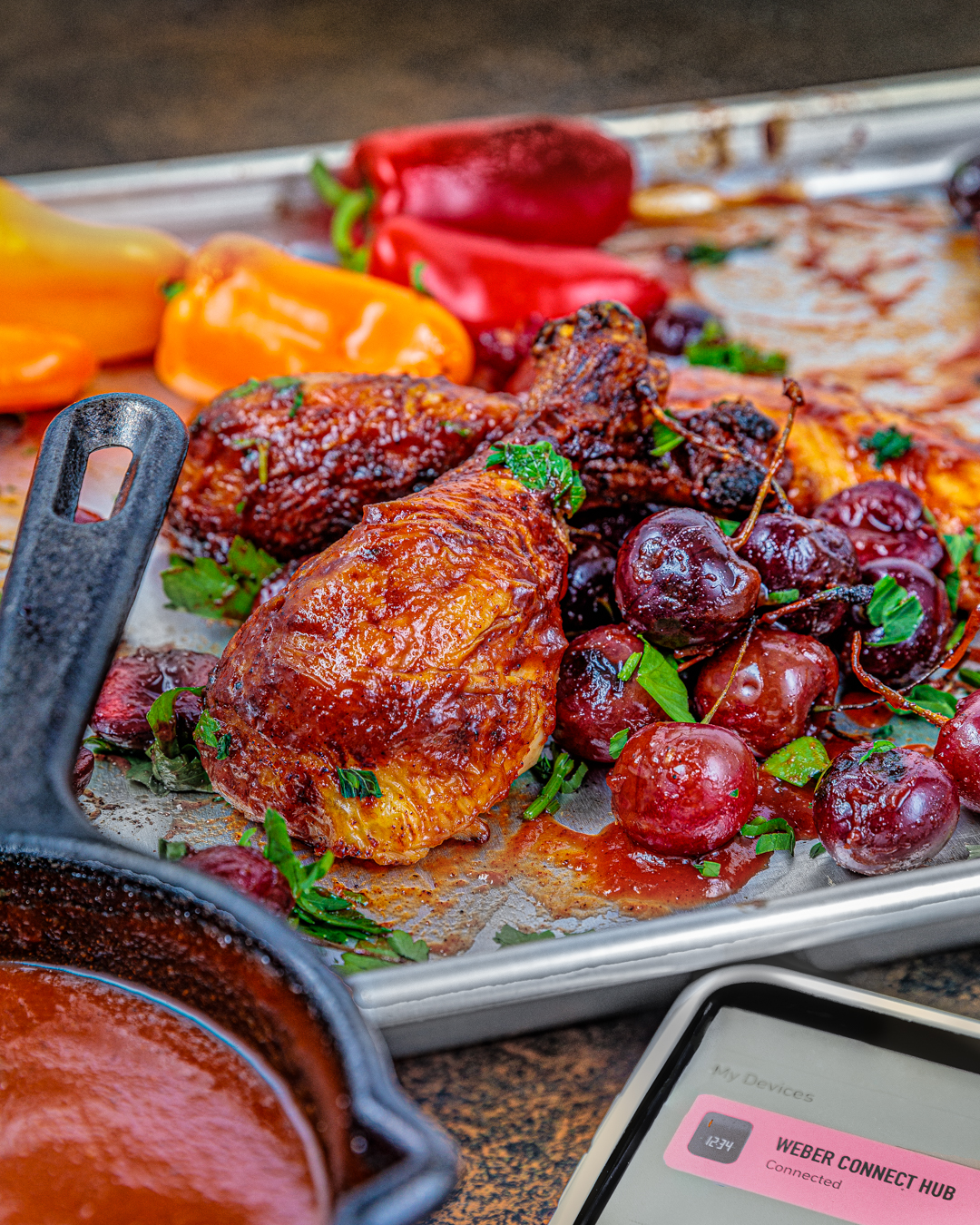 I can't believe that I am starting to think about the end of summer. This year, y'all. It's been a wild one. While celebrations for the long holiday weekend may look a bit different this year, your best bet is still to fire up the Weber Grill and make something delicious for family and friends. Char-grilled chicken takes a bit of a summer sweet and spicy twist with this chipotle cherry grilled chicken recipe.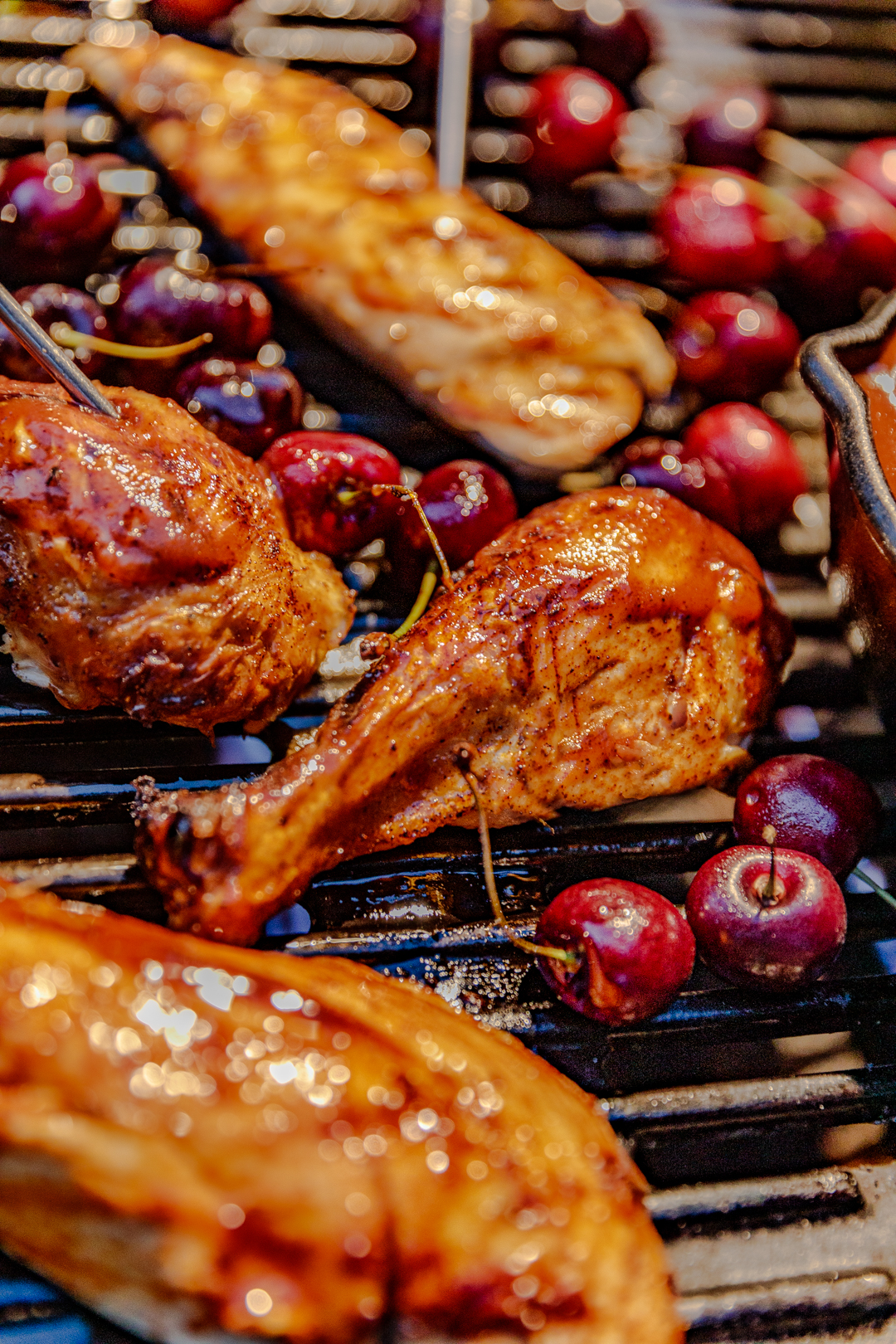 Even though I don't stop firing up my Weber Grill when it starts getting cool out, what I do grill seems to change a bit. For Labor Day weekend, I wanted to celebrate with a favorite summer bite. Grilled chicken is a pretty solid choice for the start of a seriously good grilled dish, but I like to try different flavor combinations to kick things up a bit. Grilled fruit is a favorite of mine that I feel isn't featured enough in recipes.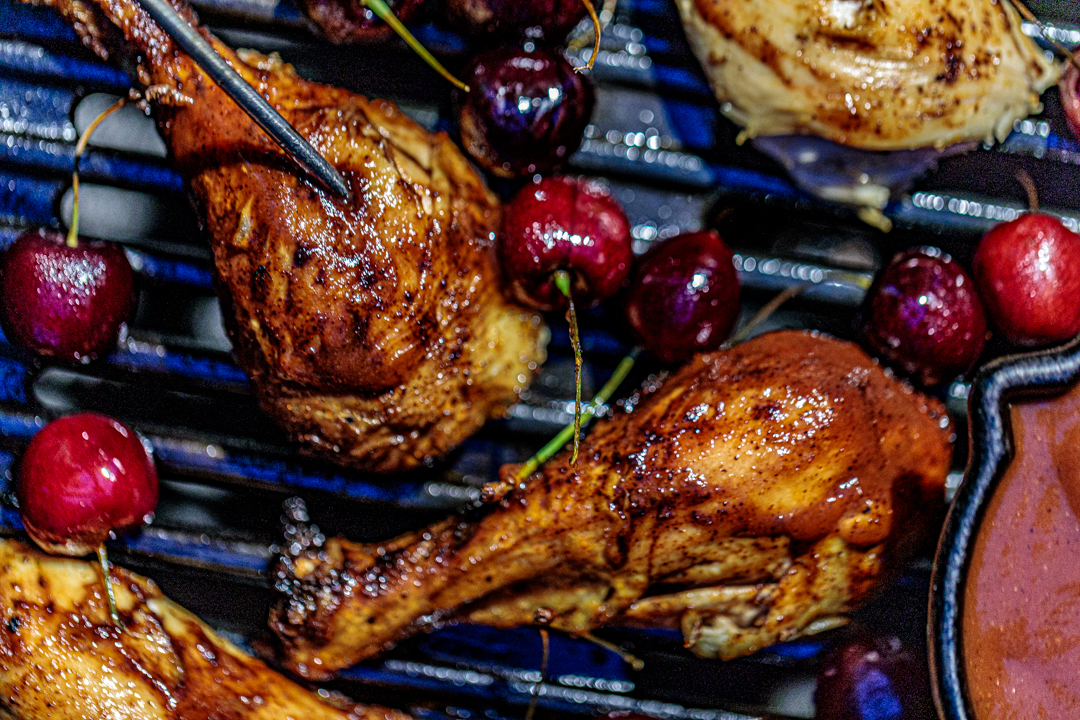 Grilled peaches make for a delicious dessert, pineapple from the grill is one of my favorite ways to take homemade salsa to a whole new level. When I was browsing my fridge to plan my Labor Day bites, I kept passing over the pounds of and pounds of cherries that I had grabbed as a monthly grocery store visit impulse buy. Finally, I decided to give the cherries a go on the grill.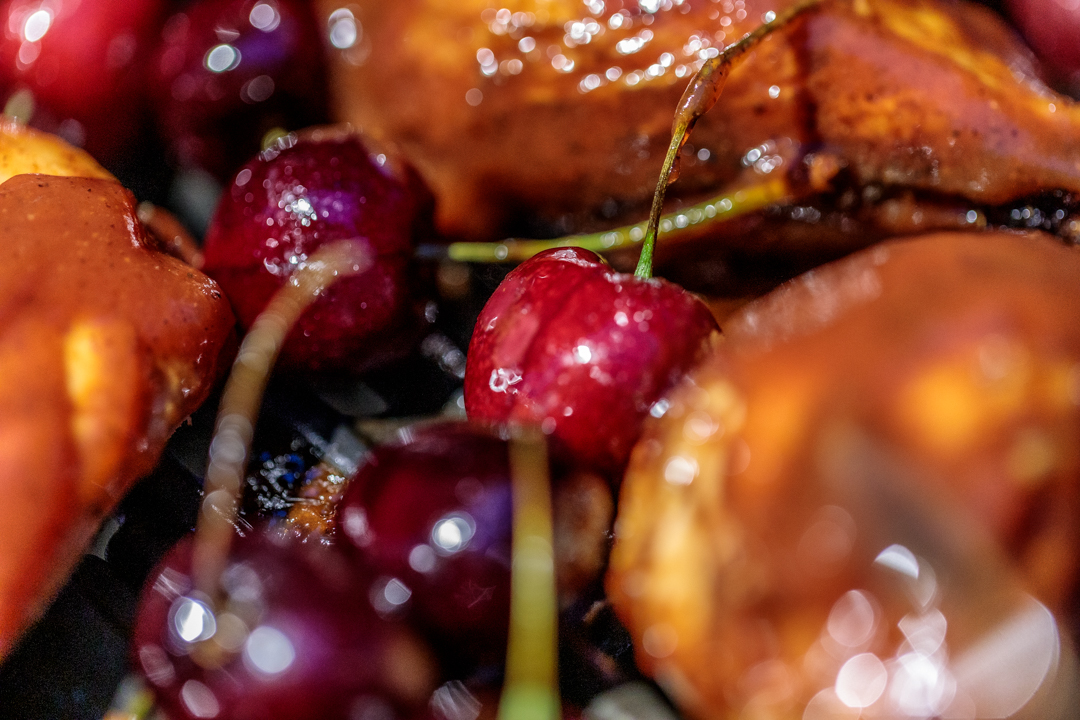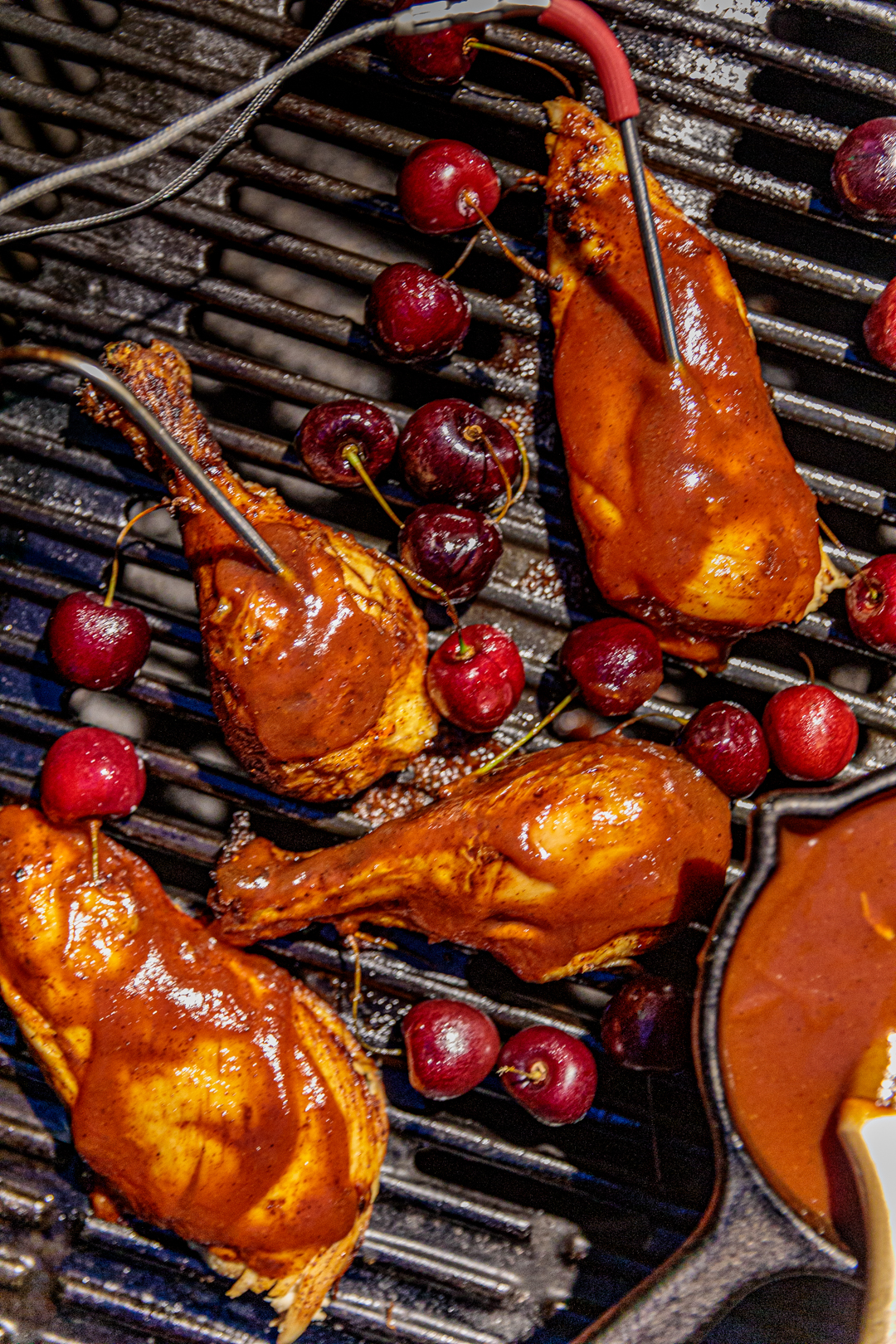 It turns out that cherries compliment savory flavor pretty well. I wanted to make a simple sauce, because, well…. everything is better with a side of sauce. Not gonna lie… the first thing that came to my mind was chipotle. If you haven't noticed, I love a good alliterative recipe title. Chipotle Cherry Chicken not only rolls off of the tongue well, it tastes absolutely delicious as well.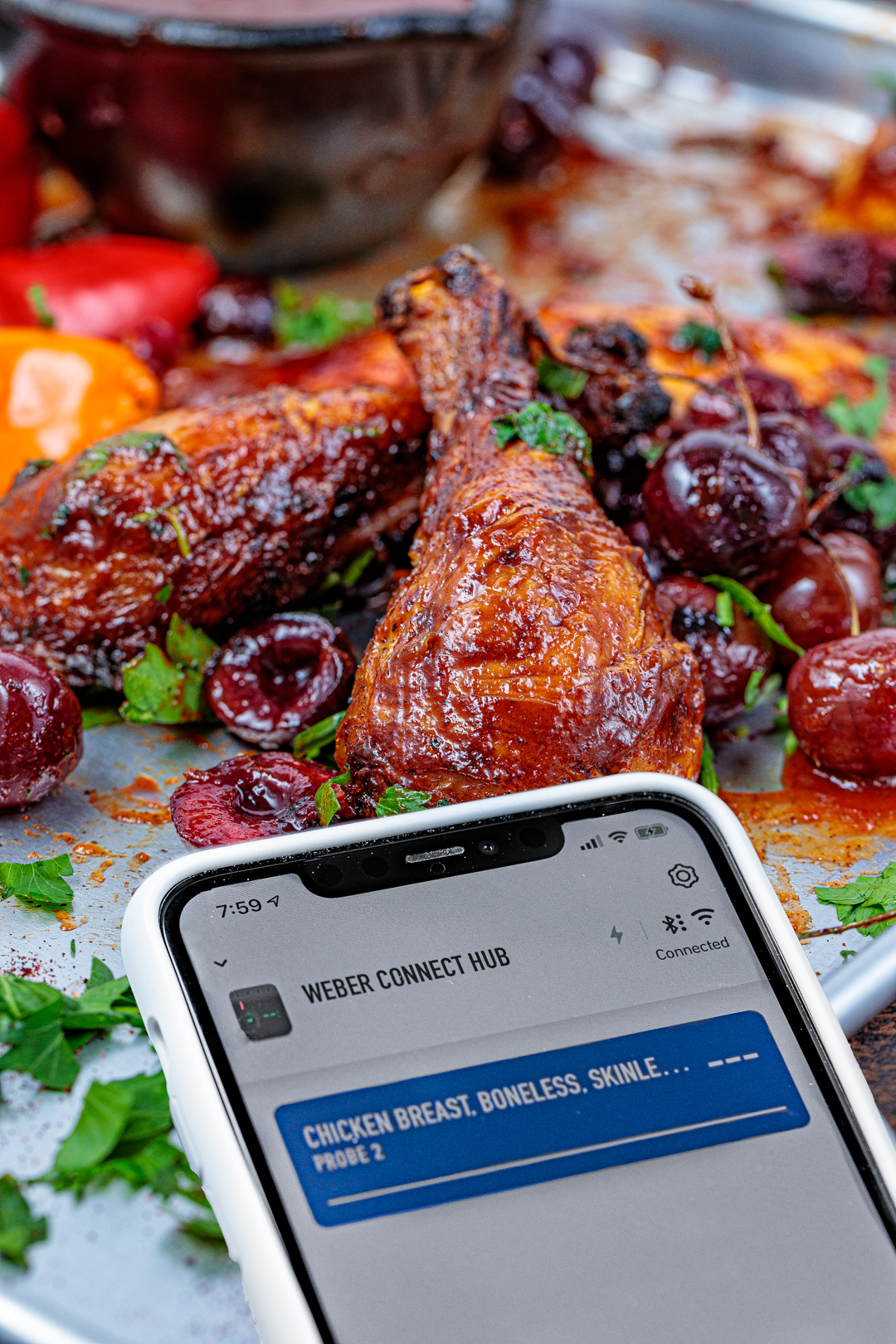 Using the Weber Connect Smart Grilling Hub (my new favorite kitchen gadget), I was able to toss the chicken on the grill and following the built-in live prompts to end up with perfectly grilled chicken to top with the cherries that I tossed around them over the flames. With the ability to connect 4 probes, I easily used one probe to monitor the internal grill temperature, while plugging in two additional probes to check the internal temperature of both chicken breast and legs. No more overcooked pieces here!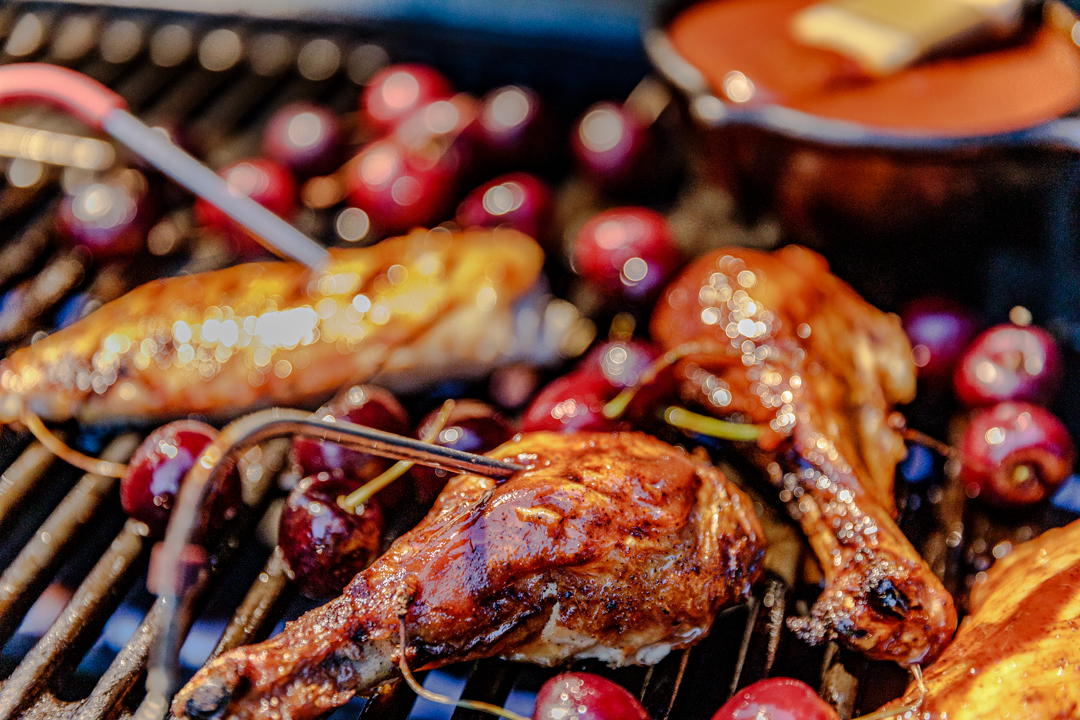 The guided cooking programs on the Weber Connect Smart Grilling Hub are just awesome. Yes, I cook a lot. Yes, I almost always burn or overcook things the first (and second) time. It's just how I roll. You can select the protein you are cooking, along with the desired doneness, and hit go. It prompts you, on your phone, to flip it and remove from the grill. Labor Day weekend grilling made absolutely, flawlessly simple, y'all.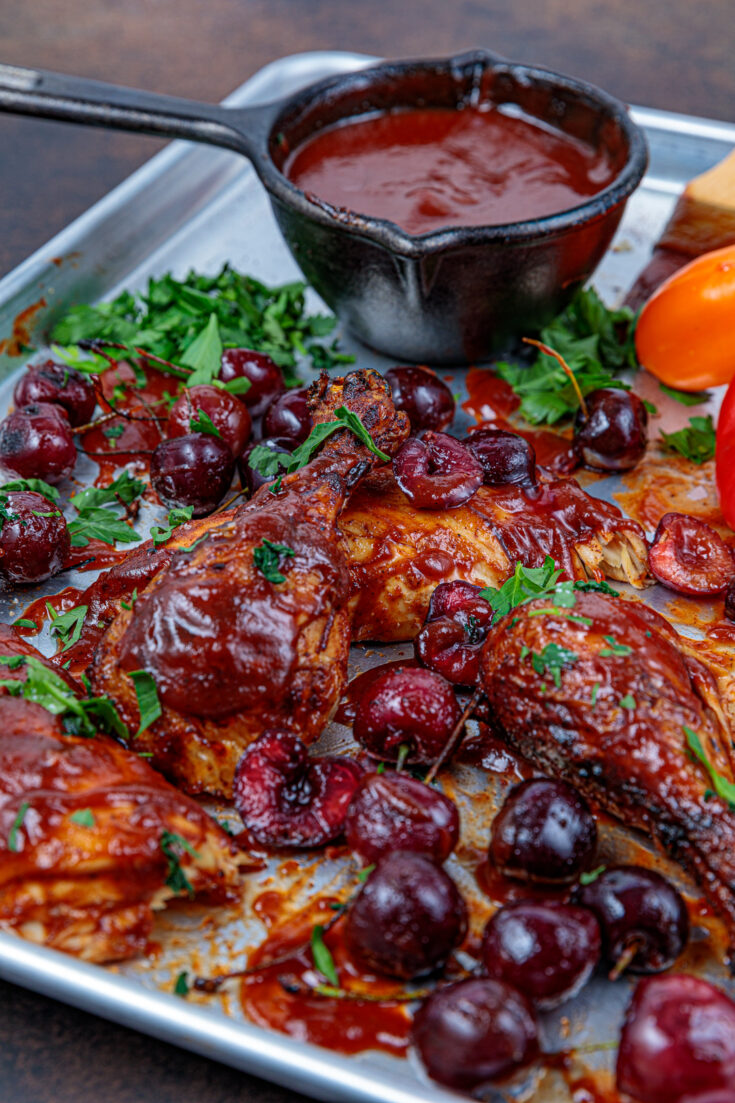 Yield:

4 servings
Chipotle Cherry Grilled chicken
Enjoy the end of summer with this vibrant grilled chipotle cherry chicken. Char-grilled chicken breast and legs are cooked to perfection alongside grilled red cherries. Finished with chipotle cherry honey BBQ sauce. From SouthernFatty.com.
Ingredients
4 chicken breasts, or other pieces as desired
1 cup cherries, fresh
Chipotle BBQ Sauce
1/2 cup ketchup
1/3 cup yellow mustard
1/4 cup red wine vinegar
2 tablespoons brown sugar
1 tablespoon ground chipotle powder
1 tablespoon honey or agave nectar
1/2 teaspoon garlic powder
1/4 teaspoon salt
1/8 teaspoon ground black pepper
1/4 teaspoon cayenne pepper, optional
Finishing
4 tablespoons parsley, fresh, chopped
Instructions
Pre-heat grill to medium heat.
I highly recommend the Weber Connect Smart Grilling Hub to monitor grill and chicken temperature on at your grll and on your phone.
Prepare the chipotle sauce by combining all sauce ingredients and whisking well.
I like to put this sauce in a heat-safe small pot (like in the pictures), and place it in the corer of my Weber grill to warm. You don't have to do this, but it is convienient.
Grill chicken to desired doneness. Toss fresh cherries onto the grill around the chicken.
Brush chicken and cherries with the sauce as it grills.
Remove chicken and cherries from the grill when cooked to desired doneness (using the Weber Connect Smart Grilling Hub helps a ton!).
Remove pits if needed and slice cherries.
Top chicken with a bit more sauce and cherries.
Enjoy with friends and family!
Find more recipes on SouthernFatty.com. Be sure to tag us @southernfatty on social if you make it and post anything.
Notes
Recipe made in collaboration with Weber.
Recommended Products
As an Amazon Associate and member of other affiliate programs, I earn from qualifying purchases.