Insanely delicious brown sugar swirl coffee cake recipe packed full of bourbon vanilla dried figs, topped with honey glaze. Just enough sweet, swirl, and sticky for the perfect dessert.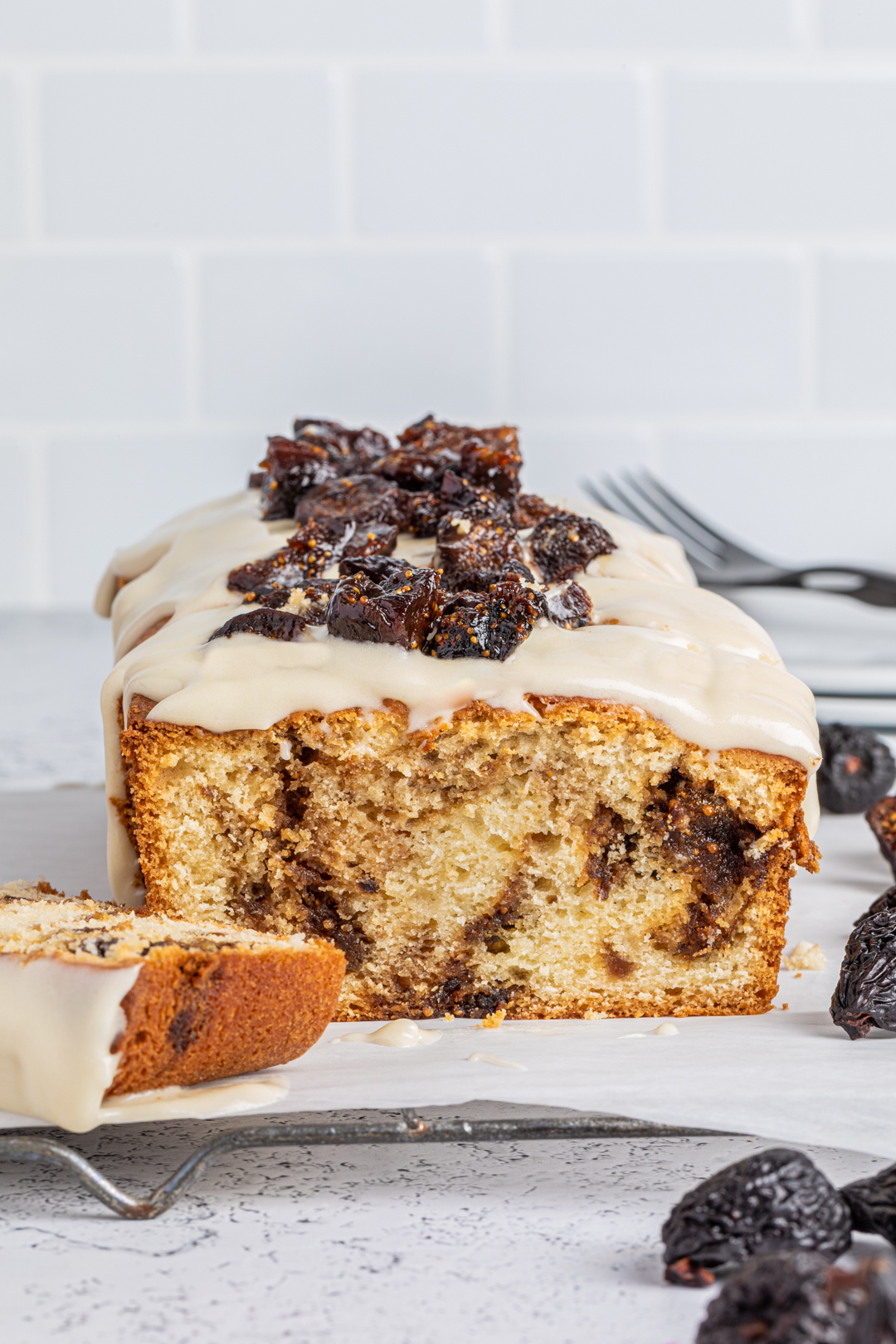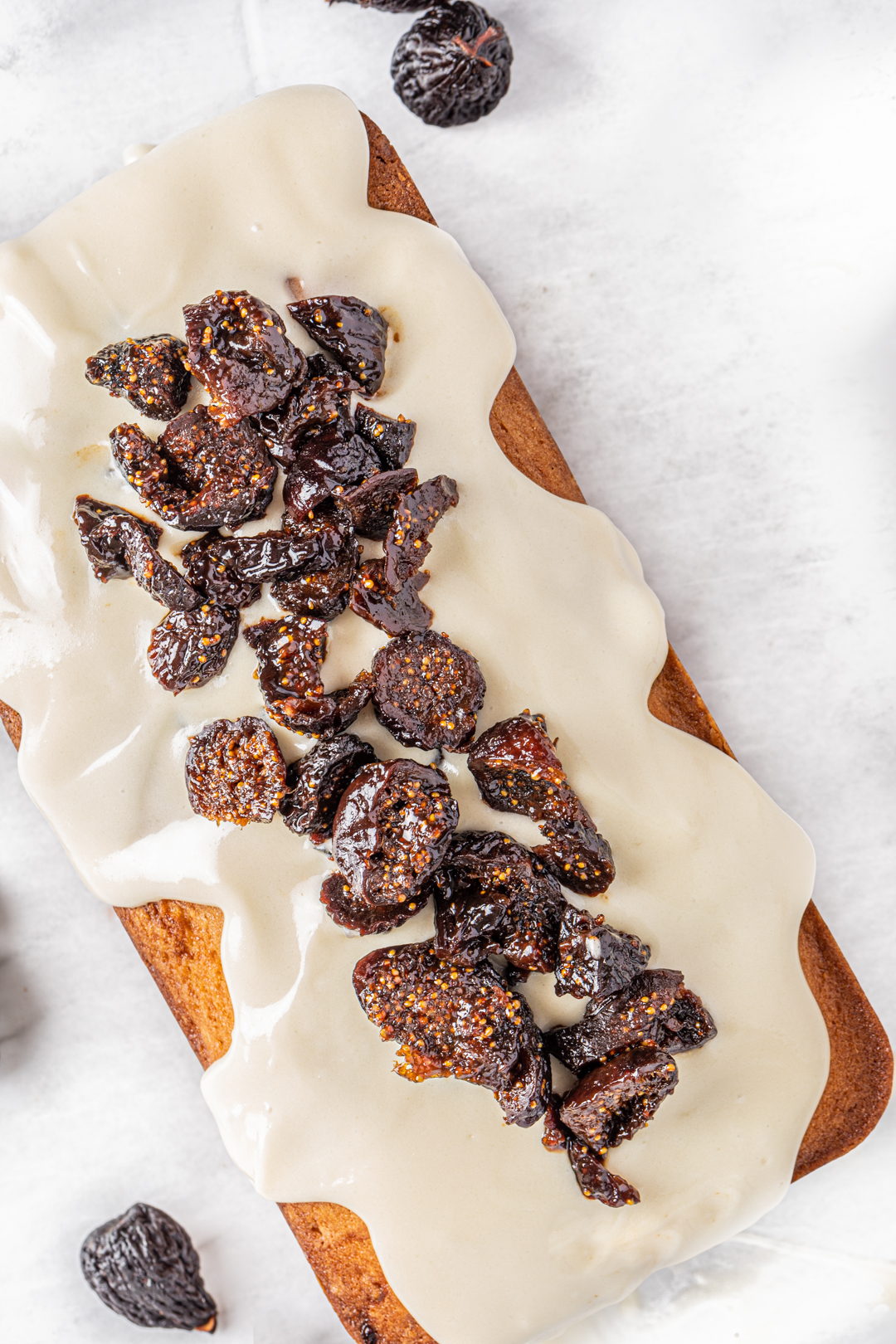 I know, y'all. That name is a bit long, right? I tried to cut it down but honestly, every single one of those words is needed for this seriously good dessert recipe. Swirled cakes always taste better to me, and this one… can I still say takes the cake? I'm gonna. — Dried figs (which you can grab all year long just about anywhere) are chopped with a splash or three of bourbon and vanilla, swirled into a super simple but delicious coffee cake batter with brown sugar and some good old fashion butter and fall-ish spices. Baked to golden and topped with a honey frosting glaze, this cake is the perfect welcome bite for fall.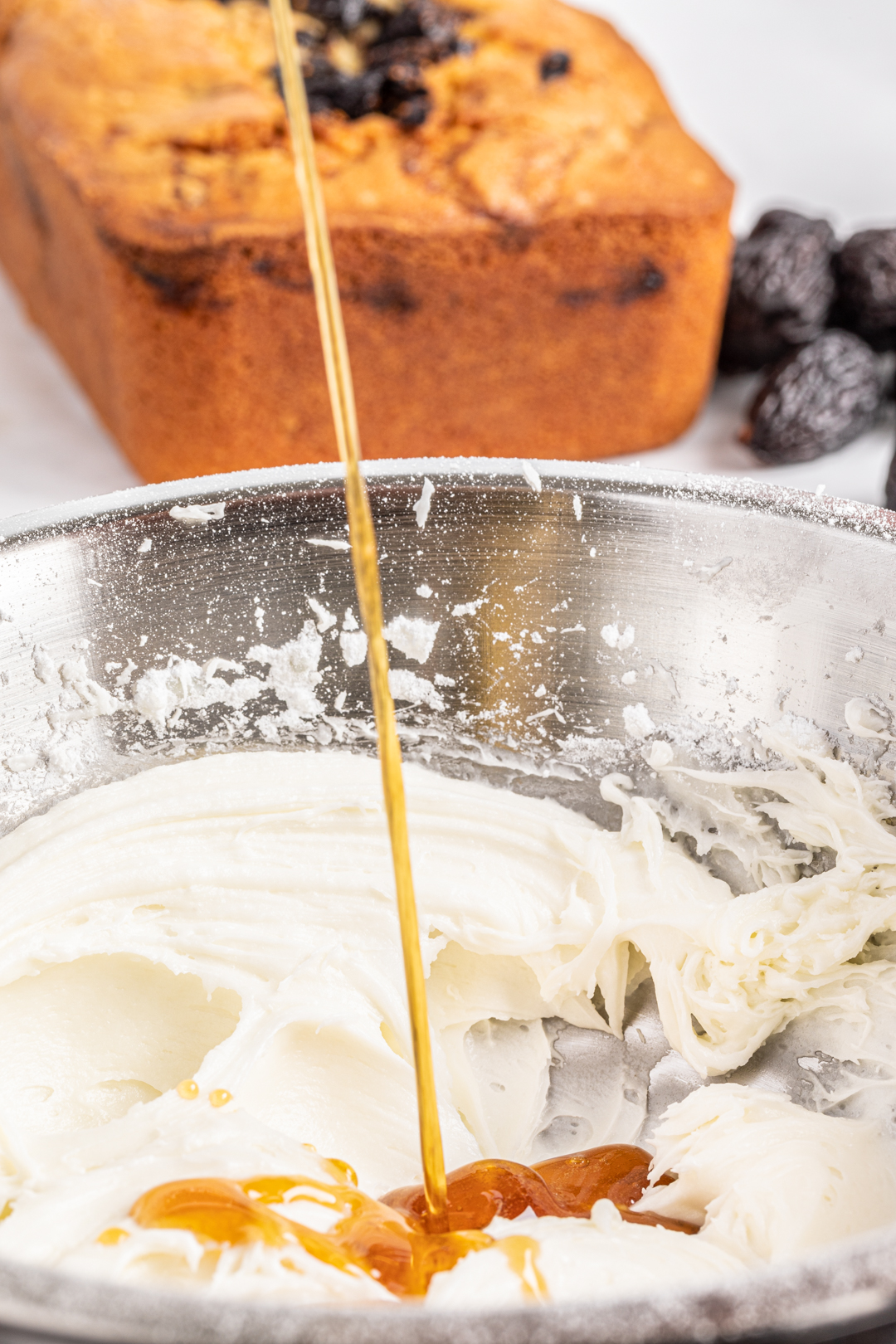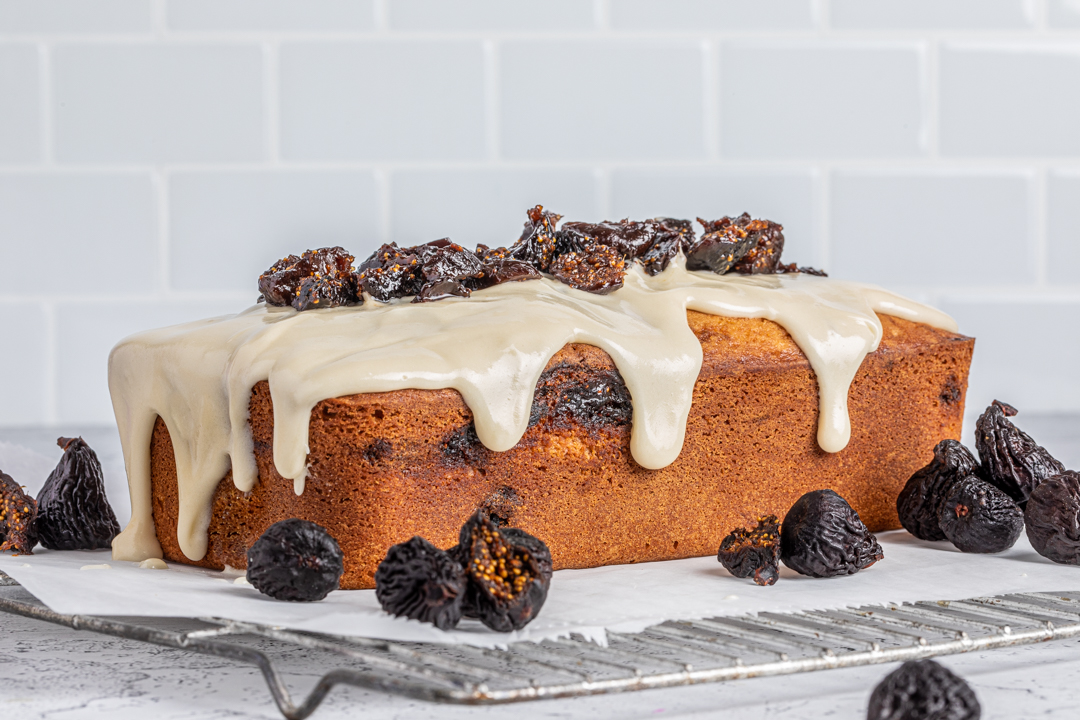 Coffee cake has always been one of my favorite cake sub-categories. Ya… these are the things I think about on a Friday night. I think it all started with those boxed snack "coffee cake" things. You know the ones. Dense as hell, glazed, kinda dry from the snack box. Not sure what it was about those, but I was hooked on coffee cake before I knew what coffee actually was.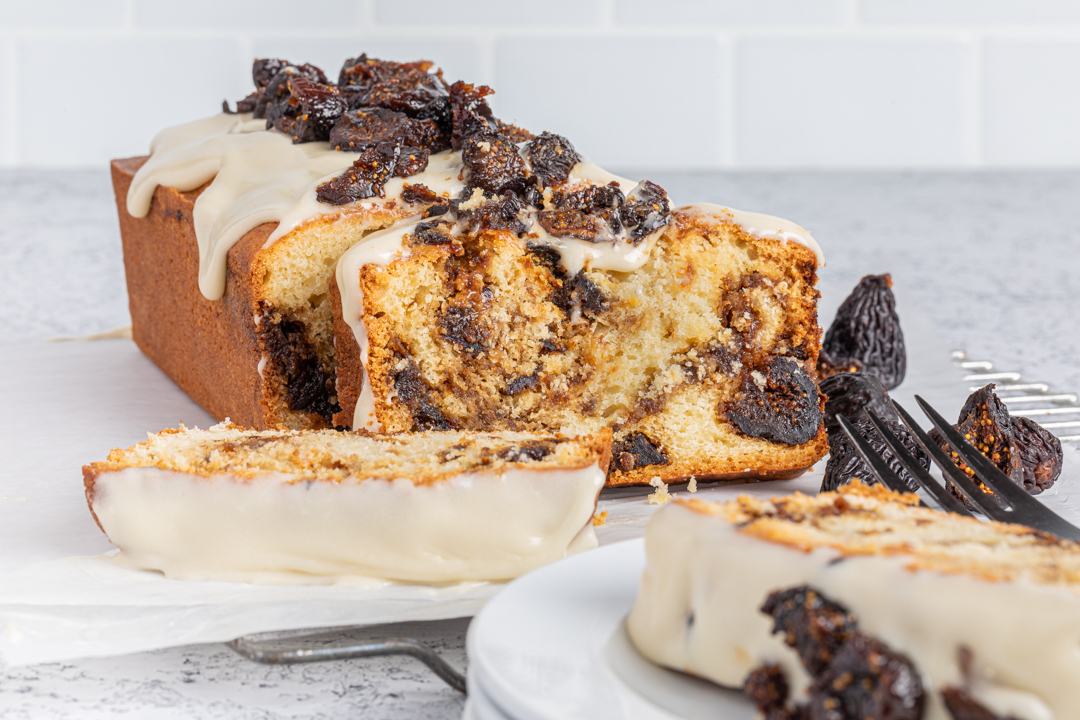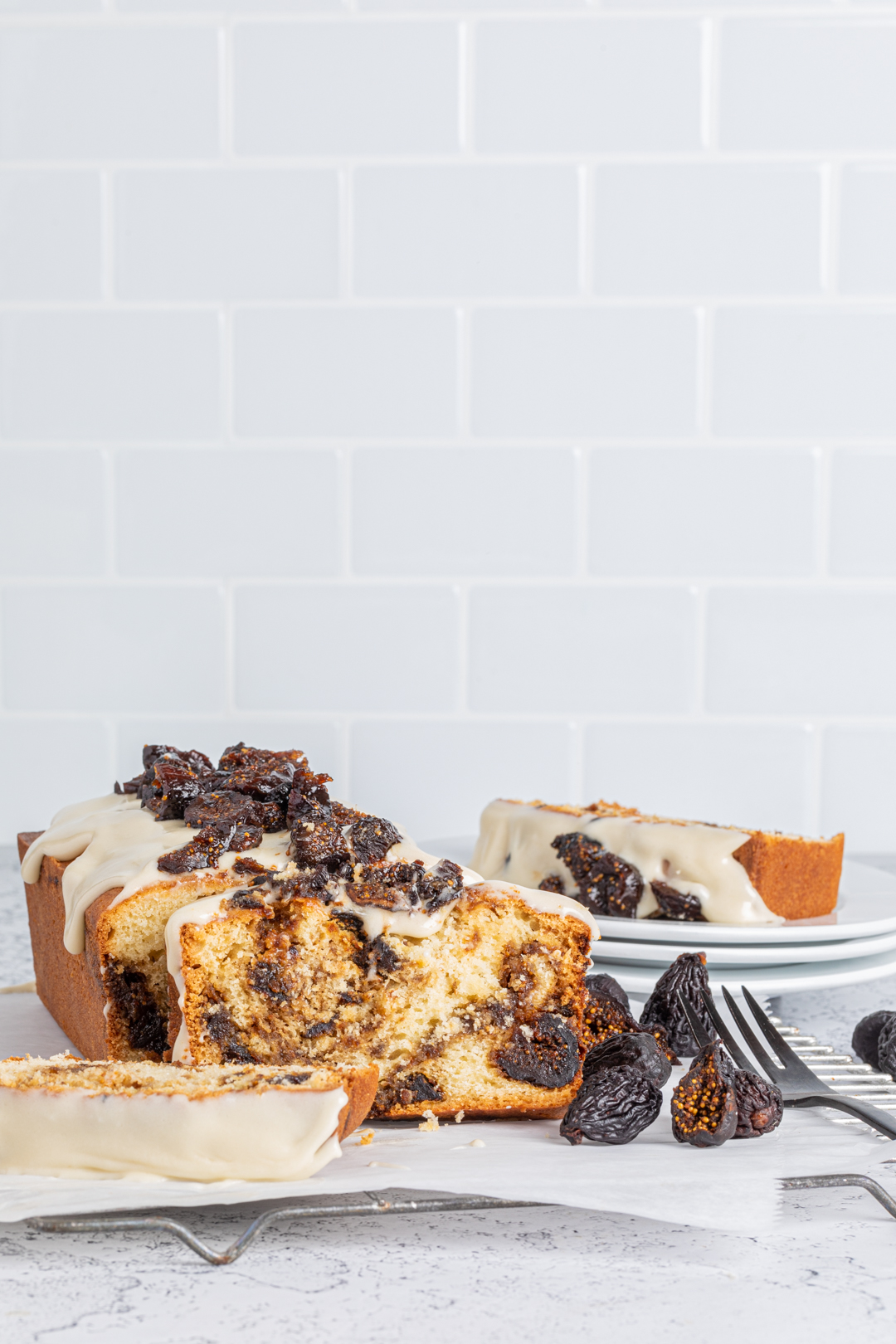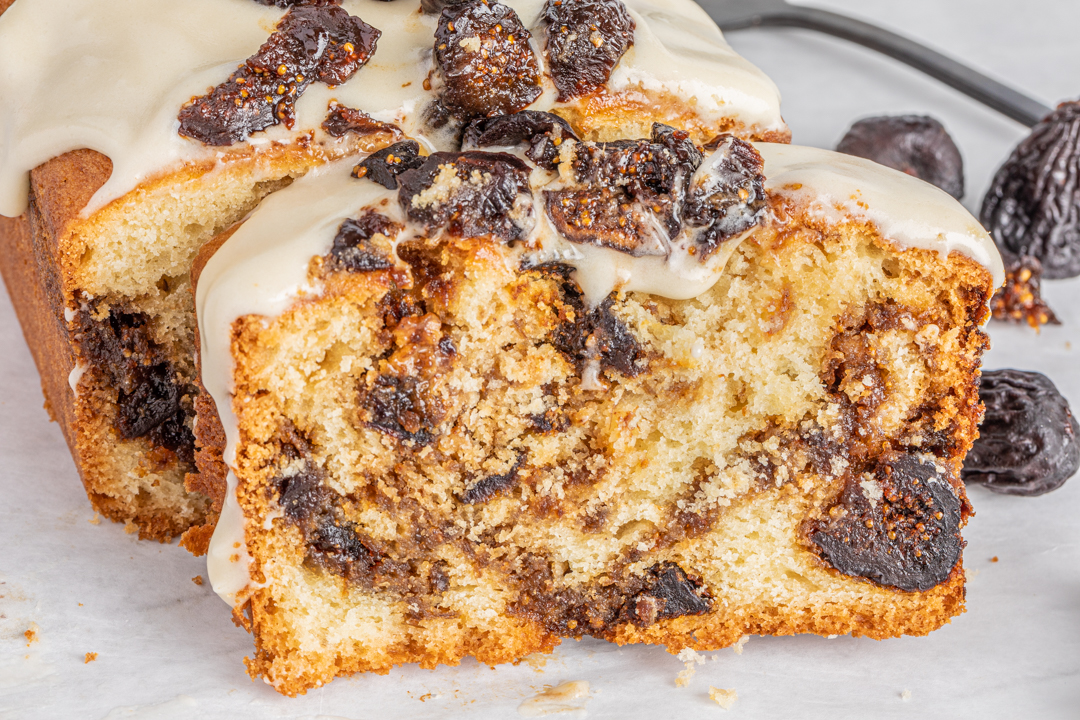 The buttery crumble of a solid coffee cake goes soooo sooo well with figs. I've posted some figgy recipes before, with both fresh and fried figs on the ingredients list. Recipes inspired by Fig Newtons (which are still sorta odd to me), gelato with figs, pastry with figs. Basically everything tastes good with figs, I think. I totally didn't plan to post two fig recipes back to back (last was a fig honey macaron recipe), but I'm not mad about it, to be honest. Let's get figgy with it.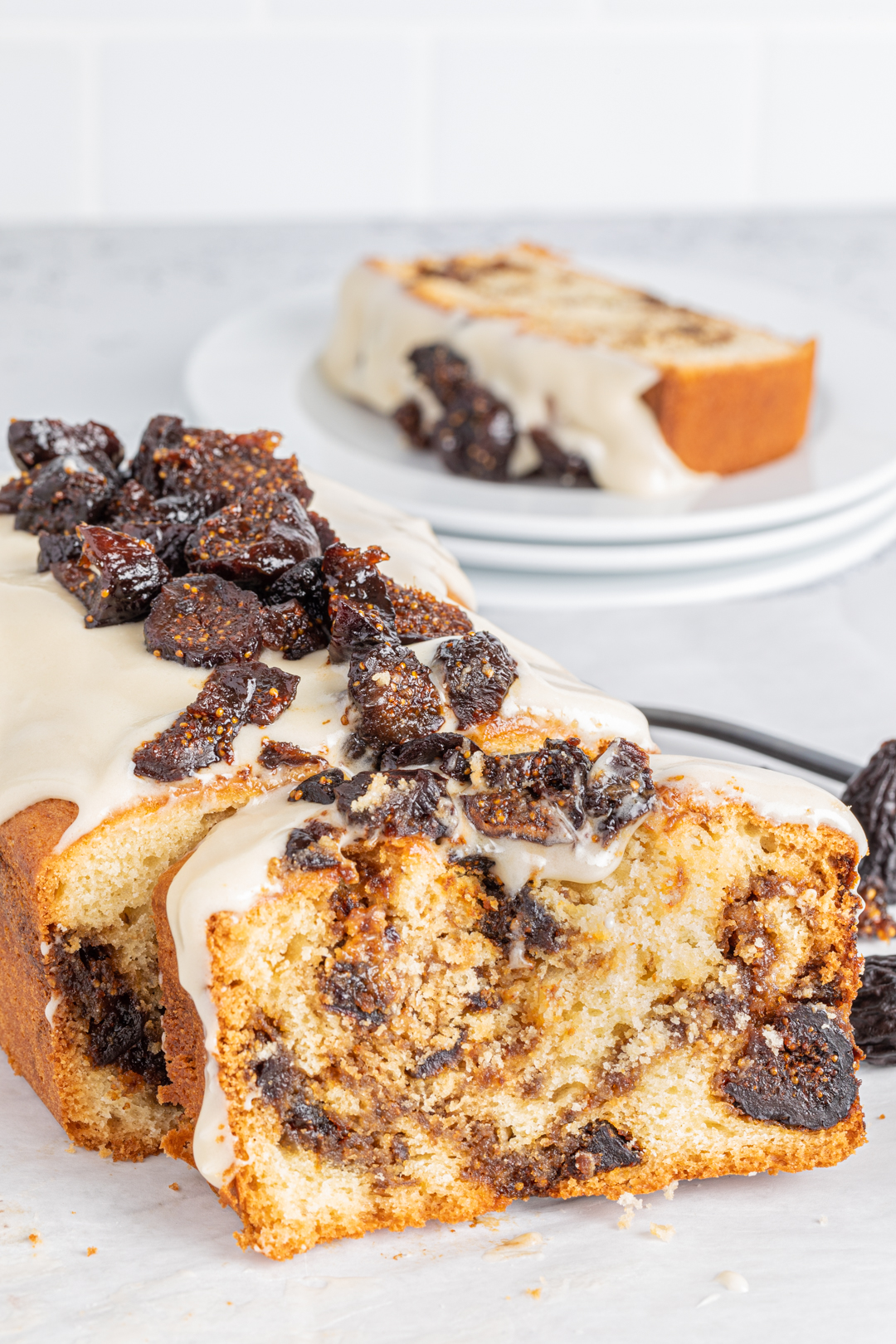 That texture of the tiny seeds along with the super sticky sweet with a touch of savory flavor from the fruit can be featured with simplicity. This cake is unique but such a welcome bake to feature those delicious rich, warm fall flavors.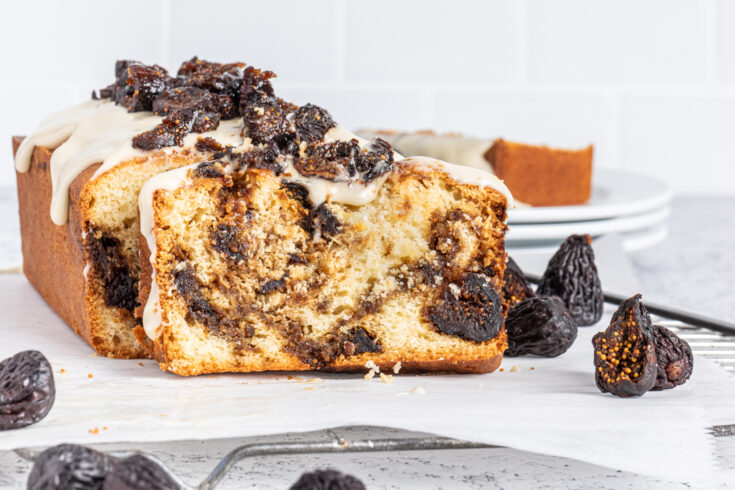 Yield:

9 pieces from (1) 9x5 loaf cake
Honey Glazed Brown Sugar Fig Swirl Cake
Ingredients
Coffee Cake Batter
170 g (1 and 1/3 cup) cake flour
1 teaspoon baking powder
1/2 teaspoon baking soda
1/2 teaspoon salt
90 g (6 tablespoons) unsalted butter
170 g (3/4 cup) granulated sugar
2 eggs, whole
125 g (1/2 cup) sour cream
1 teaspoon vanilla bean paste or extract
Cinnamon Fig Swirl
100 g (1/2 cup) brown sugar
30 g (2 tablespoons) unsalted butter
1/4 teaspoon salt
200 g (1 and 1/2 cup) dried figs, stems removed and chopped
2 tablespoons bourbon (optional)
1 teaspoon vanilla bean paste or extract
1/4 teaspoon nutmeg, ground
1/2 teaspoon cinnamon, ground
Honey Glaze
60 g (1/2 cup) powdered sugar
2 tablespoons honey
1 tablespoon heavy cream
1/2 teaspoon salt
Instructions
Cake
Pre-heat oven to 350 F. Grease a 9x5" loaf pan with butter and set aside.
Whisk together the dry batter ingredients (flour, baking soda and powder, salt) in a bowl. Move aside.
In mixer with paddle attached, cream butter and sugar for batter for 5 minutes at medium speed.
Add each egg and mix well between the two.
When fully creamed, add sour cream and vanilla. Beat to fully mix.
Add the dry bowl of batter ingredients and mix until just combined, wiping bowl down as needed. Do not overmix.
Prepare swirl filling and set batter aside.
Cinnamon Fig Swirl
Place choipped figs with bourbon and vanilla.
With a mixer, cream butter and brown sugar for 5 minutes until light and mostly smooth.
Add salt, nutmeg, and cinnamon.
The dried figs should soak up the liquid after a few minutes. I rested mine for about 5-10.
Add figs, reserving a few tablespoons to finish cake, to the swirl mixture.
Bake and Glaze
Pour half of the batter into the prepared pan.
Top with the brown sugar fig swirl.
Using a knife, swirl the sugar around the batter lightly.
Top with remaining cake batter.
Bake until golden, about 35-45 minutes. Do not over-bake.
Cool completely.
Whisk together glaze ingredients and top cake with glaze and reserved figs.
Enjoy! Can be stored at room temperature for 2-3 days in container.
Tag your bakes @southernfatty. Find more recipes on SouthernFatty.com.
Recommended Products
As an Amazon Associate and member of other affiliate programs, I earn from qualifying purchases.
Nutrition Information:
Yield:
9
Serving Size:
1
Amount Per Serving:
Calories:

228