Grilling isn't just for summer. Some of my favorite flamed dishes are made in the cooler seasons. This ginger soy glazed halibut fillet brings that perfect char-grilled flavor to your table to warm things up. I'll also share some winter grilling tips and tricks to keep the coals perfectly toasty.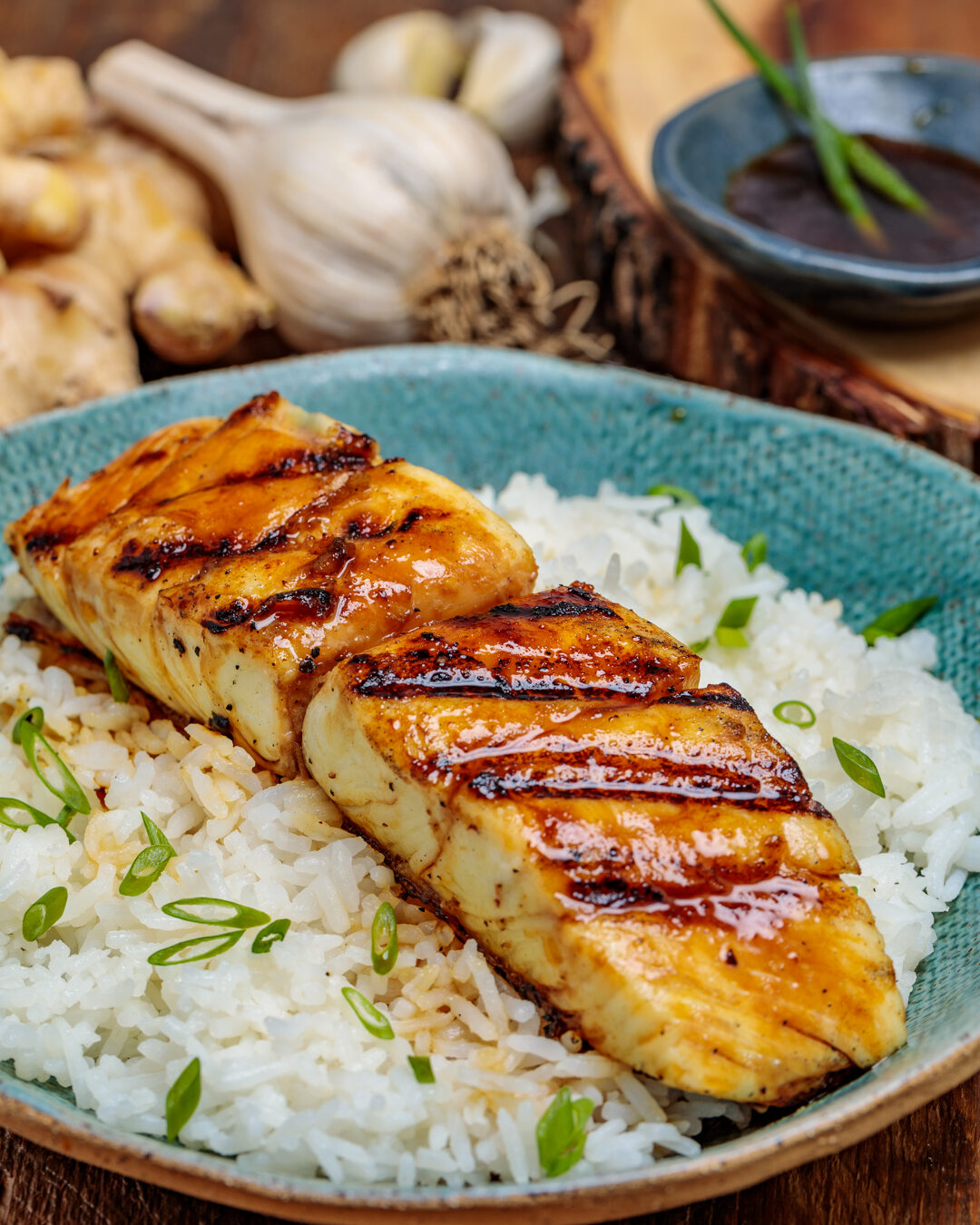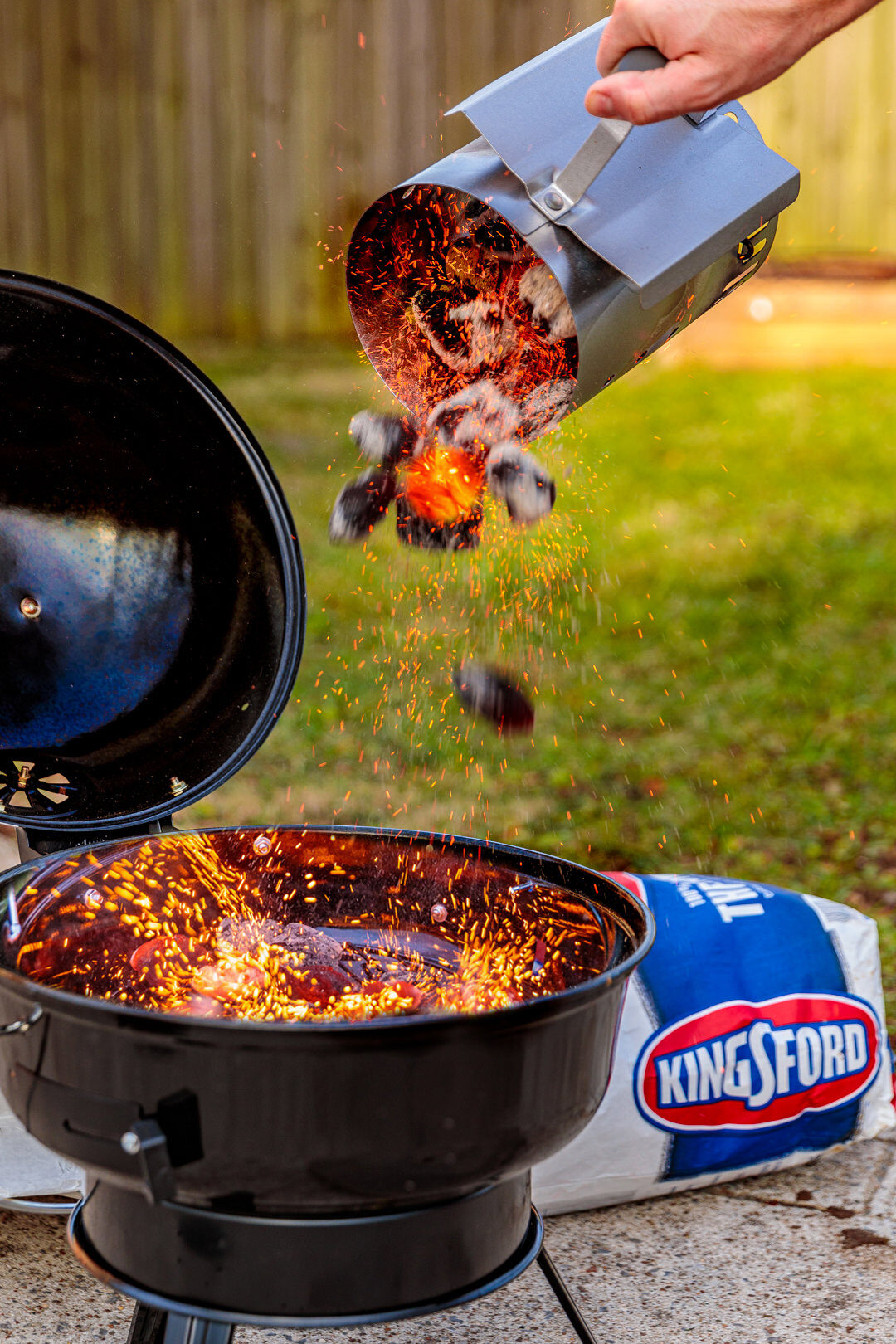 I've always been that guy that bundles up to go outside to grill during late fall and winter. There is really no comparison to that wood-fired flavor and finish that you get from a fiery-hot kettle of Kingsford charcoal. Honestly, I think the flavors of the grill are the best companion to the shivers and snows.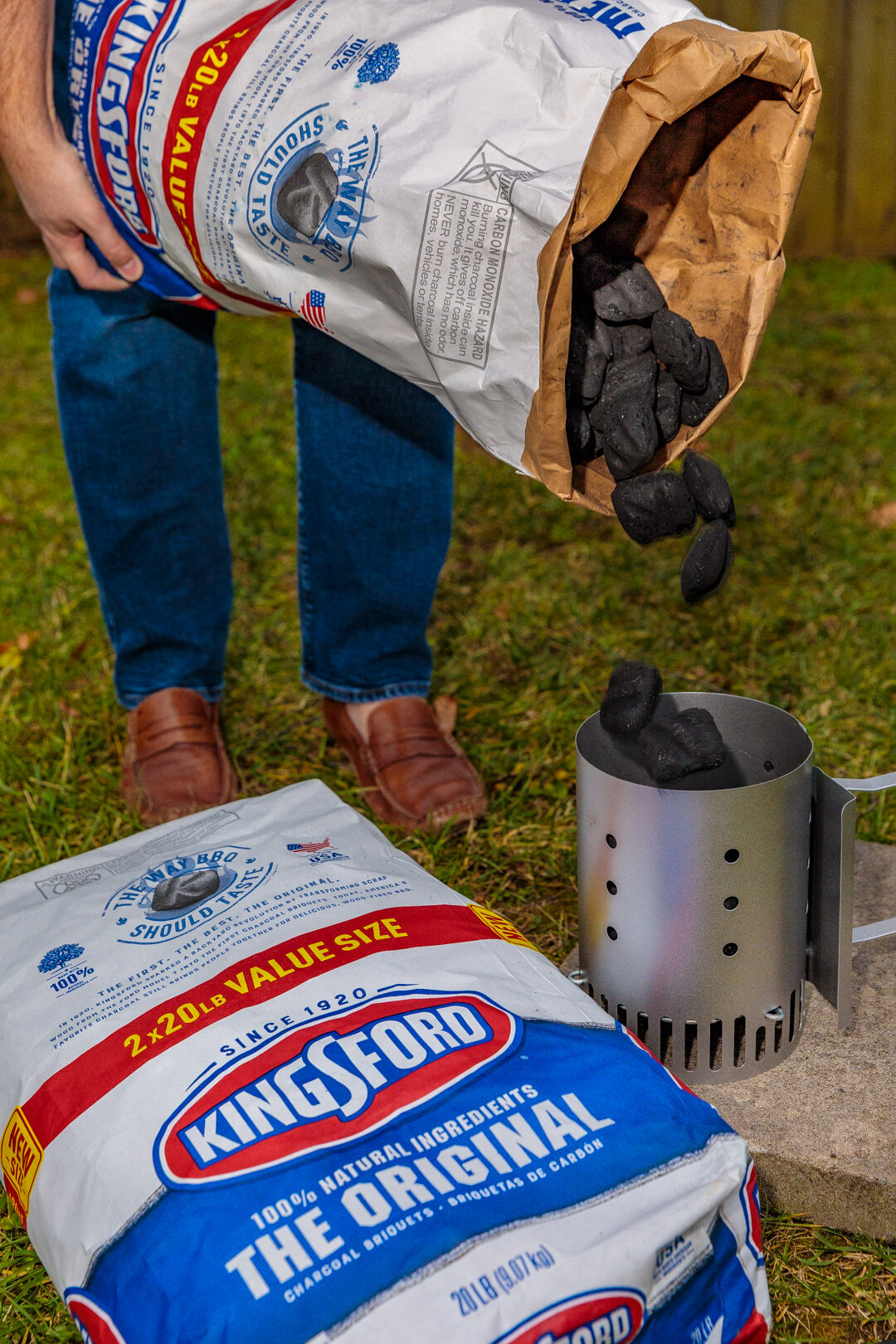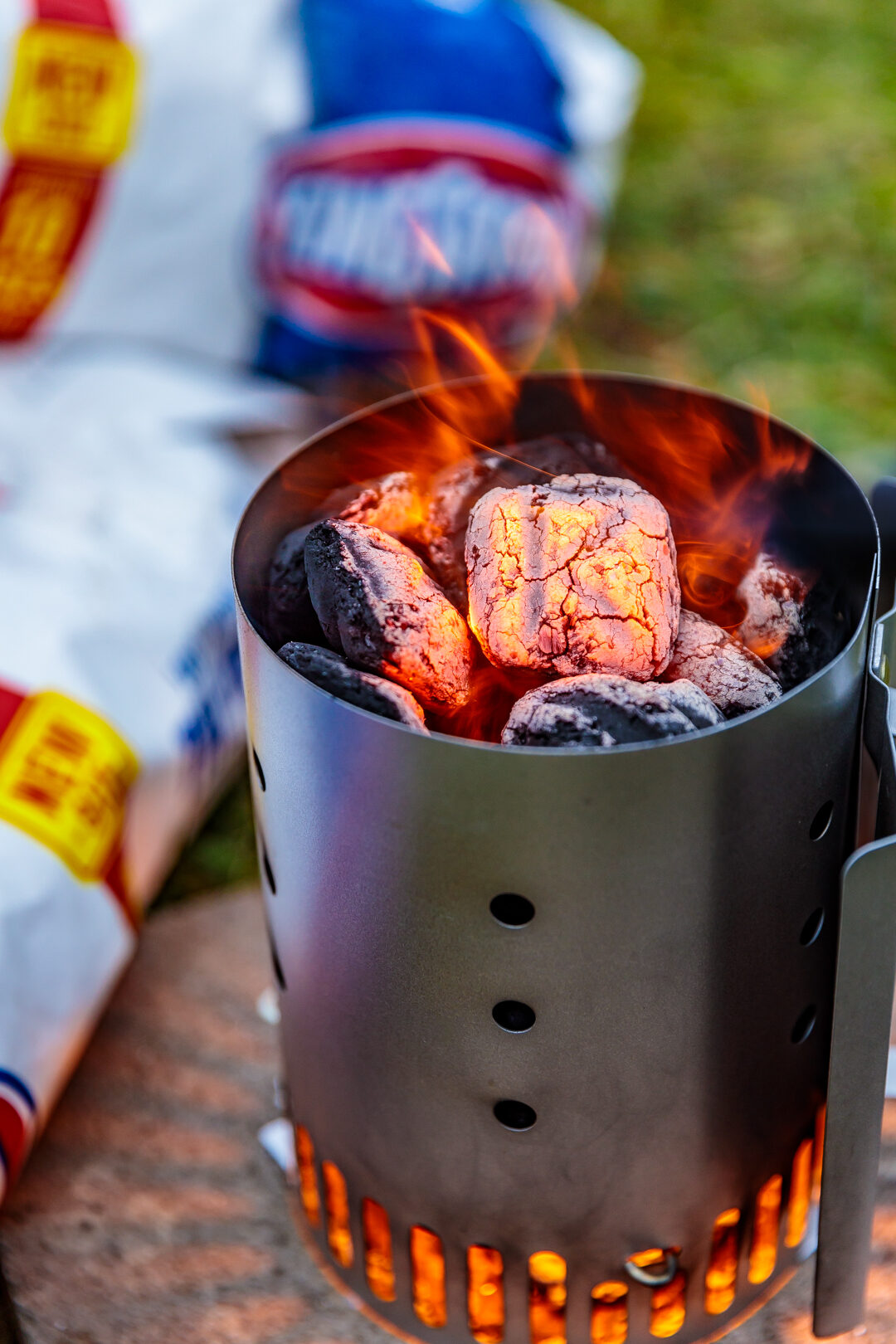 Fall & Winter Grilling
With that said, there are definitely some winter grilling tips that I've learned along the way. When you prepare your grill (I like to use a simple kettle – easy to move around and store away when you aren't using it), a charcoal chimney is the way to go. Gone are the days of working for an hour to try to get coals burning. You end up with a perfectly glowing stack of coals in just 10-15 minutes. For the heat I stick to old faithful, Kingsford. Y'all know the one — the iconic blue and red bag that has been a grilling staple for decades.
It wasn't until I was a bit older and started grilling for myself when I realized why this charcoal was so loved in America's back yards. The coals are 100% natural charcoal, leaving you with that perfect wood-fired flavor with just the right amount of smoke. Charcoal is an ingredient when you are grilling. You know what they say about ingredients — always use the best.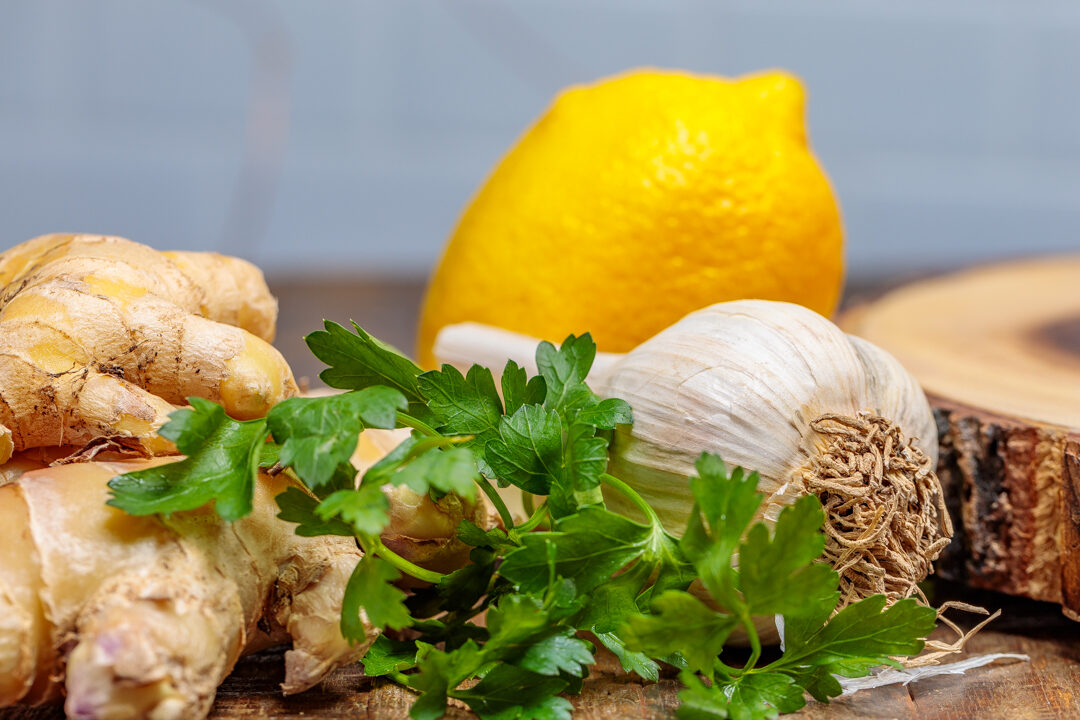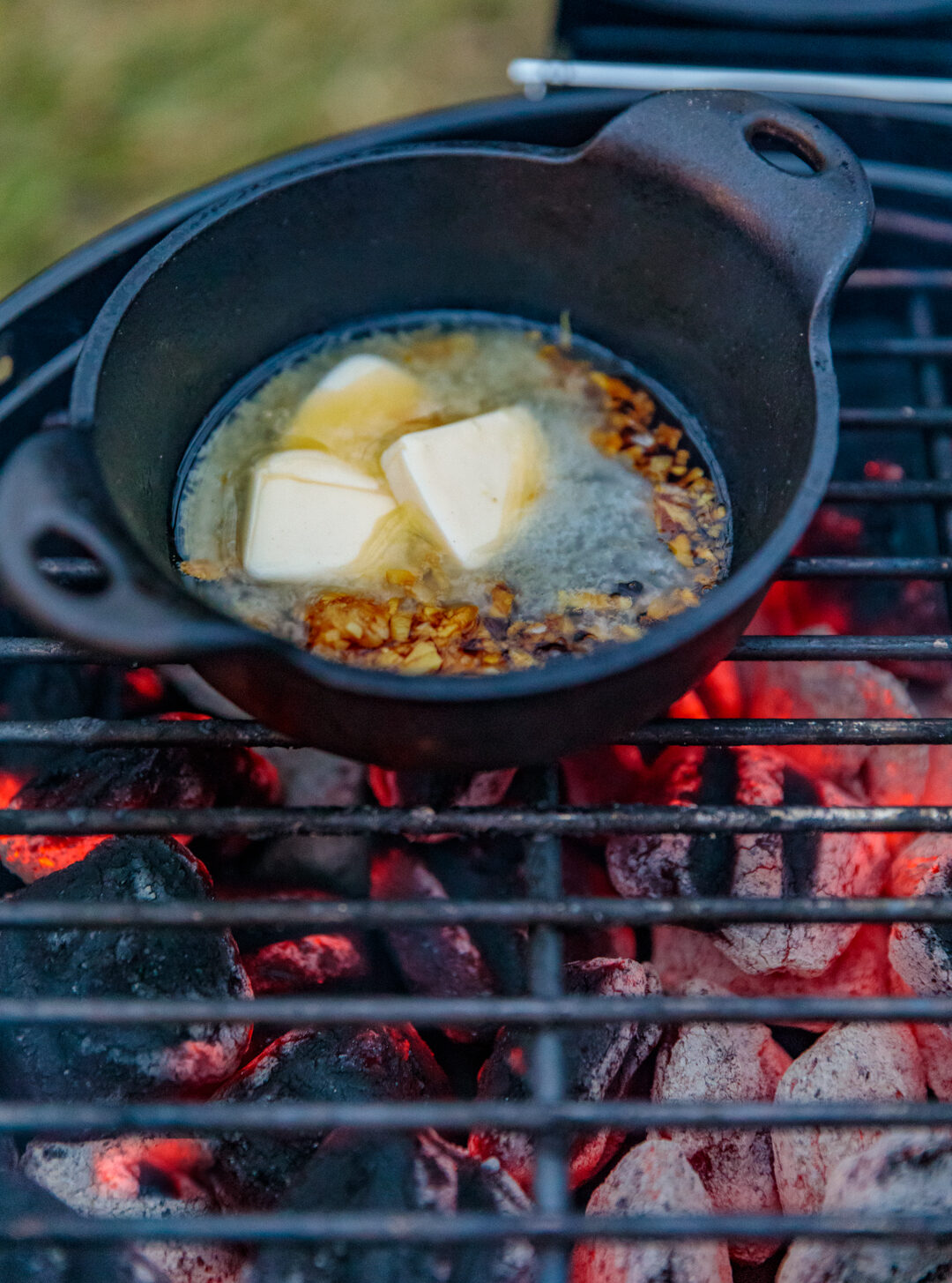 Once you have your chimney full of coal, it's as simple as letting it heat up. Like I said, 10 minutes is my usual time that I will allow it to evenly heat. In the winter, I might push that to 15 minutes before pouring the coals carefully into the kettle. Open the vents and close the lid.
This is the hard part for me… I've always been horrible at opening the oven to check (and ruin) puff pastry. When the outside temperature is cooler, the grill will keep very warm. That is, if you allow it to keep holding onto its own heat. Don't look in there unless you have to. I'm a big fan of leave in grill thermometers, but you will do just fine by just leaving it alone. Another 10-15 minutes or so after you pour in your stack, you should be hot and ready to go.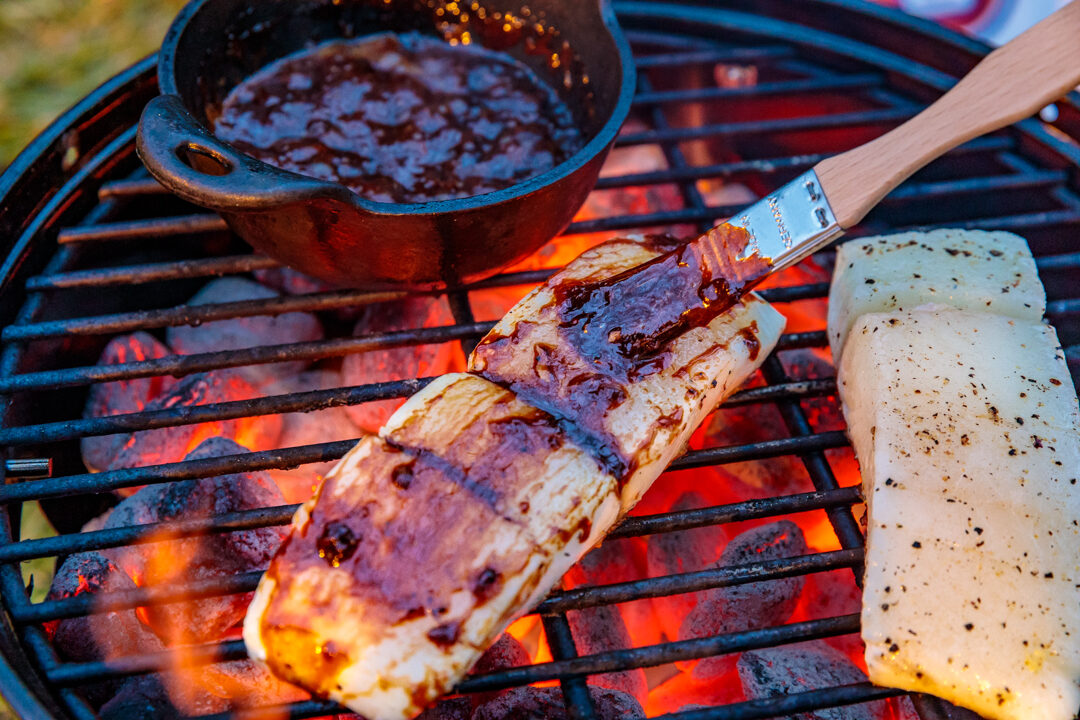 Forget the dishes!
For this recipe, I decided that I wanted a glaze on the fish. Grilling and glazes has always been a favorite of mine. Instead of reducing the glaze in the kitchen, I just toss it on the grill. Hello there, less to clean up. A little cast iron dish pushed into the back corner, toss all of your ingredients in, and watch the magic. I do this when I put the fish on and the timing seems to be perfectly aligned.
After your skin side has crisped a bit, you can flip and brush the glaze onto the crispy skin (or remove the skin and then glaze if that more of your jam). One final flip to finish the other side with glaze, and obviously a splash or three on top to serve, and you are good to go.
Other than salt and pepper and some oil on the fish to keep it from sticking, thats the only seasoning for this recipe that you really need. Halibut is one of my favorite fish to grill because of its ability to hold up well while preparing it, but still remaining super flaky when you enjoy.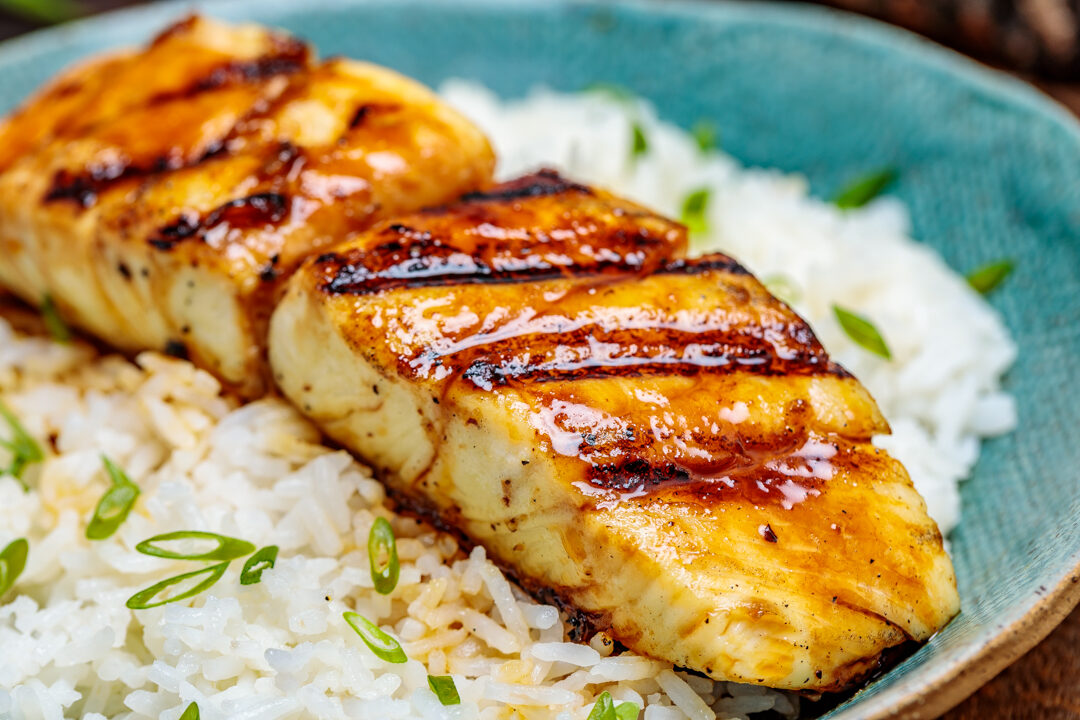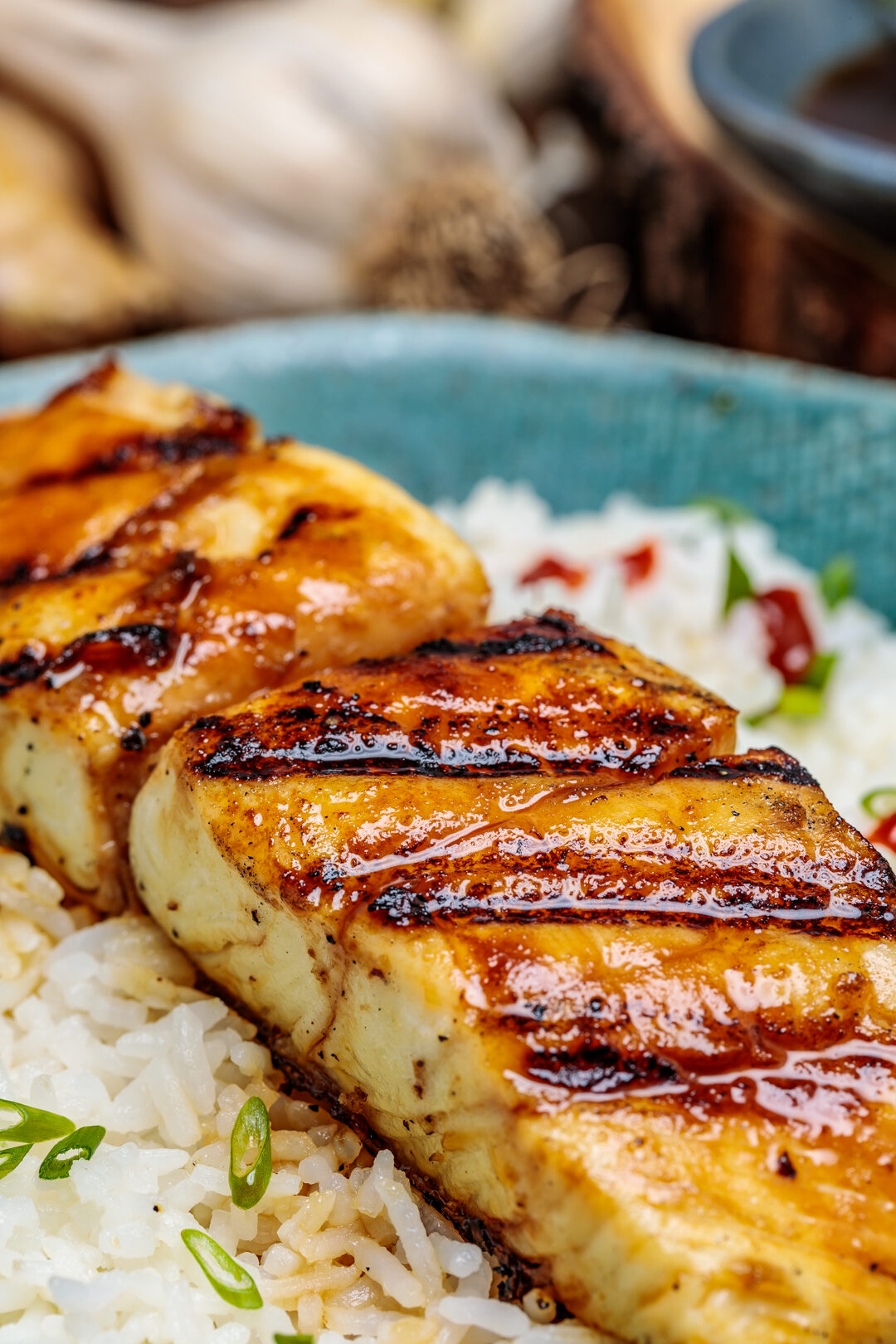 The natural heat of the grill will do two things — 1) It will keep you nice and toasty while you are glazing, and 2) It will cook that fish to absolute perfection. With the little bit of prep time that you put in preparing the grill with the Kingsford charcoal, the fish will cook quite quickly. Since the temperature varies from grill to grill, I just cook the skin side until I see a nice golden crisp on the edges. Don't be afraid to lean the fish up a bit with a spatula and glance. Once that side is finished (it was about 5-6 minutes for me), the other side wont need as long, just about 4-5.
You are left with those coveted grill marks, wood-fired flavor, and perfectly tender soy-ginger glazed tender halibut that I like to serve over some seasoned rice. I grilled an extra fillet and can personally attest that gently warmed, these leftovers are just as incredible as the premiere dinner.
The grill is such a great way to add an extra layer of flavor to your meals. Nearly anything that you can prepare in your kitchen will benefit from the coals. — Dust off those grills and keep them out for winter, y'all.
PS – Grilled pound cake for dessert is incredible. You're welcome.
Find Kingsford Charcoal and check out the many different available options on their website.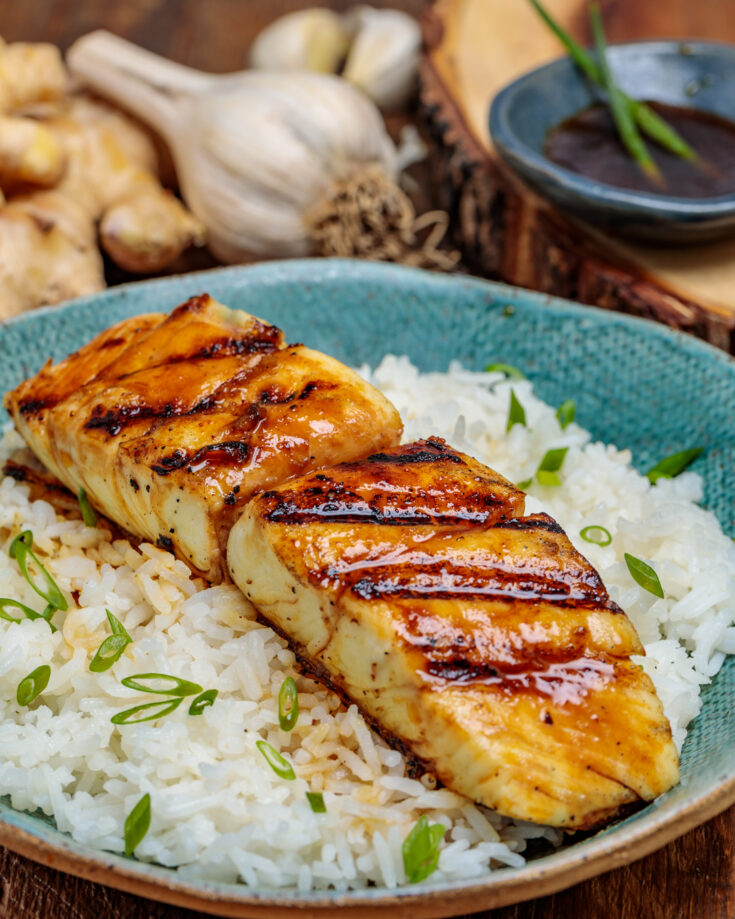 Yield:

4 servings
Chargrilled Ginger Glazed Halibut
Perfectly grilled halibut fish fillet glazed with soy, ginger, lemon, honey glaze. All prepared right on the grill and ready in minutes. From SouthernFatty.com.
Ingredients
1 bag Kingsford charcoal
4 halibut fillets (skin on, if desired)
1 teaspoon salt
1/2 teaspoon pepper
1/4 cup soy sauce
3 tablespoons butter, unsalted
1 teaspoon garlic, minced
1 teaspoon ginger, minced
1 teaspoon lemon juice, fresh
1 tablespoon parsley, fresh, chopped
2 tablespoons honey
1 cup rice, cooked
2 tablespoons seasoned sushi rice vinegar
1 green onion, to finish
Instructions
Prepare grill with Kingsford charcoal. Using a charcoal chimney is a great way to start your grill.
Transfer heated coals to your grill per grill instructions. Keep grill closed to heat.
While the grill is warming, prepare all ingredients.
Dry the halibut fillets well. Season with salt and pepper on both sides.
When grill is heated and ready, coat both sides of fish with oil to prevent sticking.
In a heat-safe small pot, add butter, soy sauce, garlic, ginger, lemon juice, parsley and place on the back of the grill.
If skin-on, grill skin side first until crispy, about 5 minutes or until golden with char marks.
Flip the fish and brush the glaze onto the now-grilled side facing up.
Grill for an additional ~4 minutes until both sides are golden.
Remove fish and glaze from grill, brushing additional glaze to coat both sides.
Add the honey to the remaining warm glaze,stirring well.
Serve over rice, seasoned with the rice vinegar, and green onions.
Pour additional glaze with added honey over fish. Enjoy warm.
Share your creation by tagging @southernfatty / #southernfatty on social media or by uploading a comment to this post.
Find more recipes on SouthernFatty.com.
Recommended Products
As an Amazon Associate and member of other affiliate programs, I earn from qualifying purchases.
Nutrition Information:
Yield:
4
Serving Size:
1
Amount Per Serving:
Calories:

426
Total Fat:

8g
Saturated Fat:

3g
Trans Fat:

0g
Unsaturated Fat:

2g
Cholesterol:

60mg
Sodium:

20mg
Carbohydrates:

9g
Fiber:

1g
Sugar:

3g
Protein:

60g