What's better than brownies and a splash of whiskey glazed on top? Brownie cookies with a brown sugar cinnamon whiskey glaze, that's what! This recipe for perfectly fudgy, crinkle-topped, rich chocolate brownie cookies is the best of both worlds.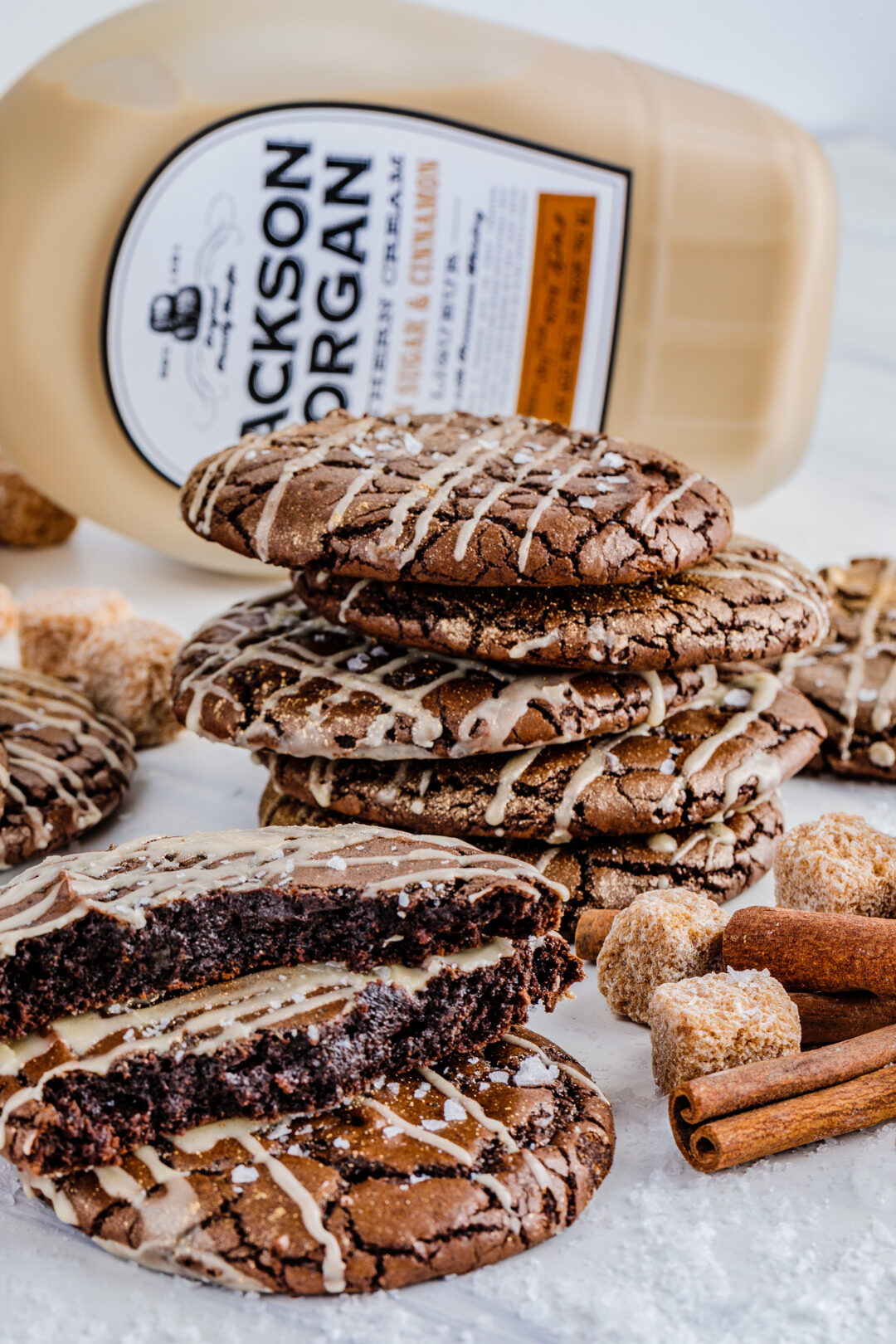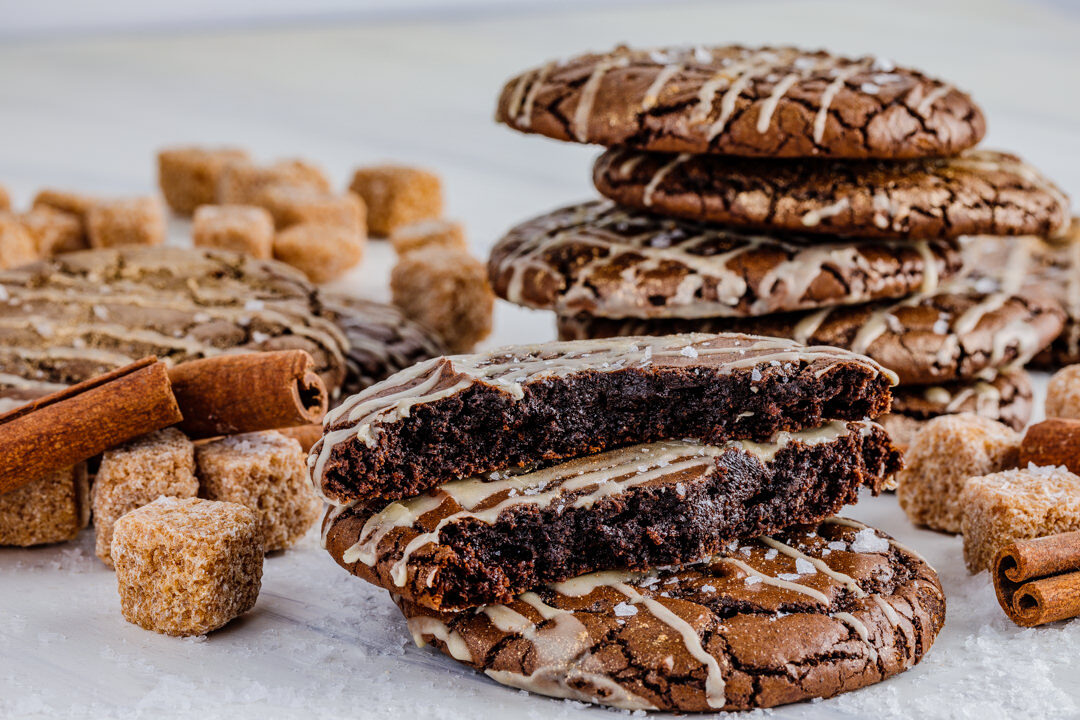 What's better to celebrate the holiday season than with a ton of chocolate and whiskey?! I'll tell you what is… putting it all together in cookie form. BROWNIE COOKIES. That classic brownie crinkled top, chewy chocolatey center, and for this one, because you know I love it, a brown sugar cinnamon whiskey glaze (and a splash or three in the cookies for good measure) using none other than my favorite Jackson Morgan Southern Cream blend.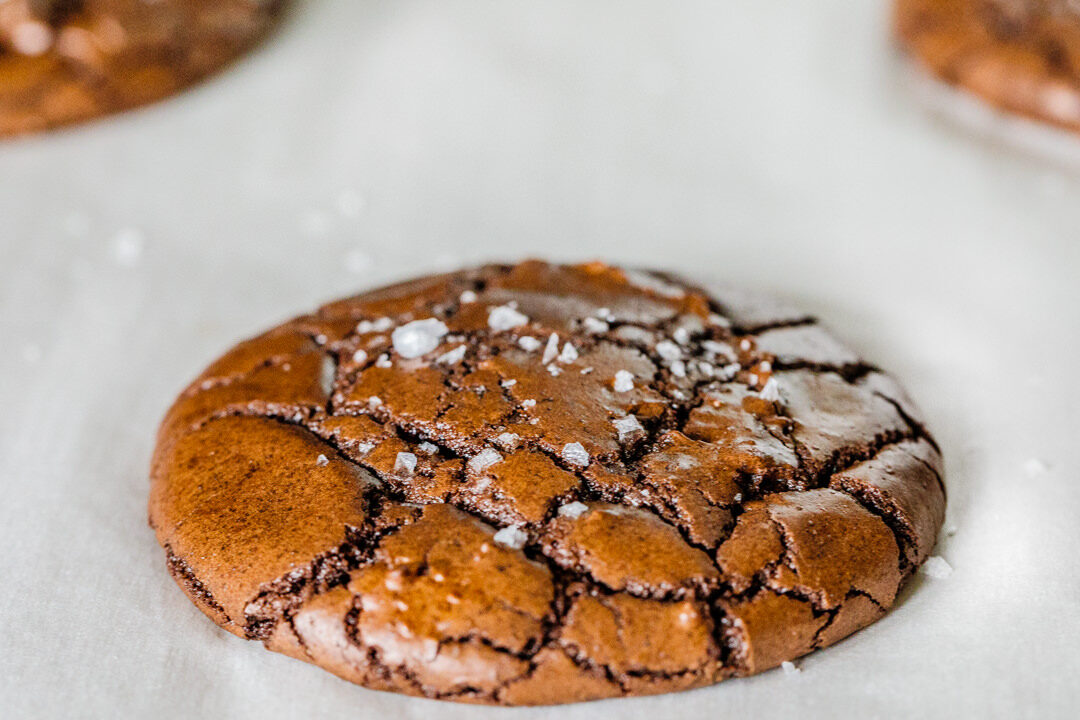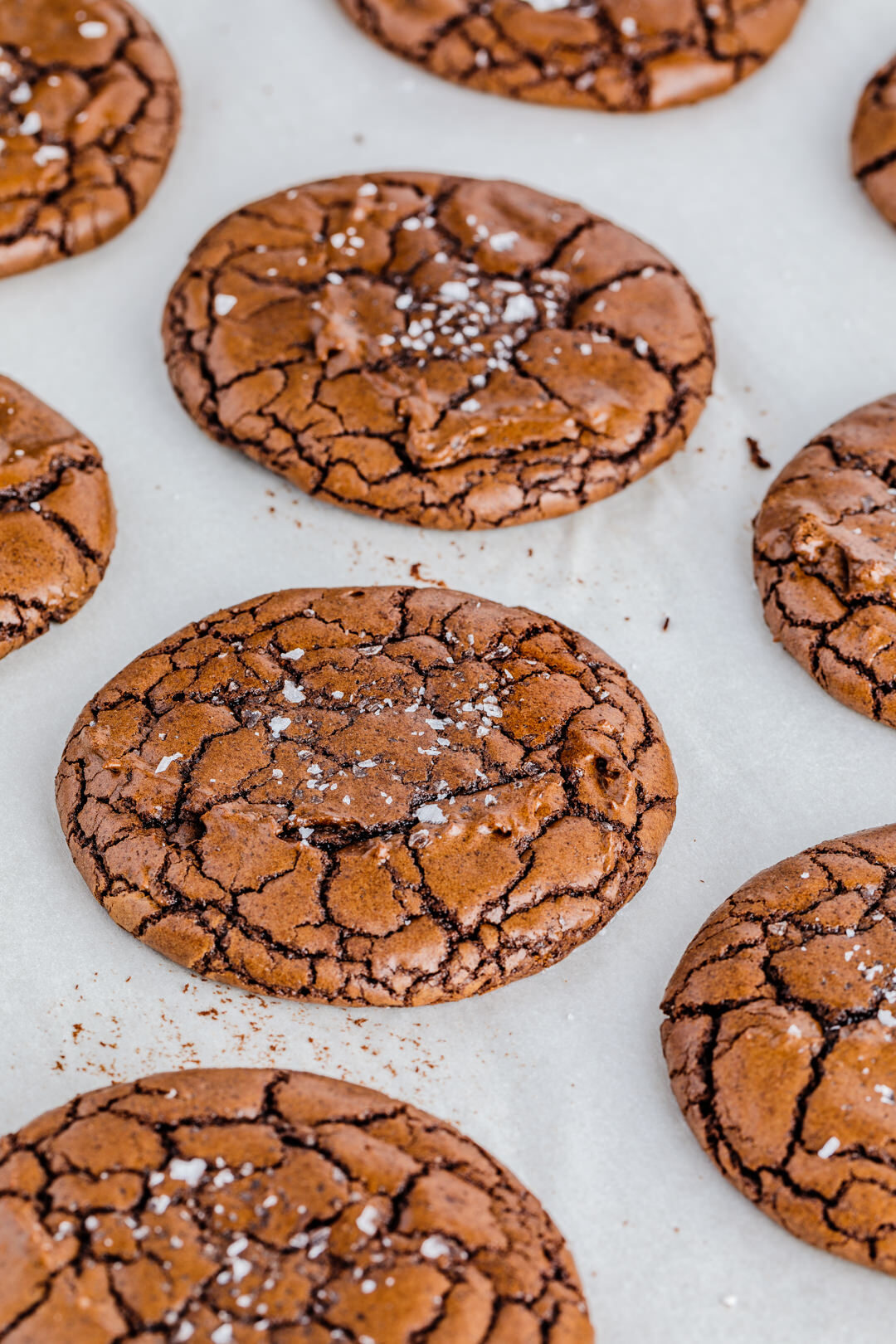 Brownies are one of those bites that come in cravings. Y'all know the ones. Sitting on the couch after dinner and would give anything for something sweet. Brownies always hit the spot. With how fast these cookies are to whip up, and the whiskey cream glazed on top, you might as well just call these cookies a chocolate baked nightcap.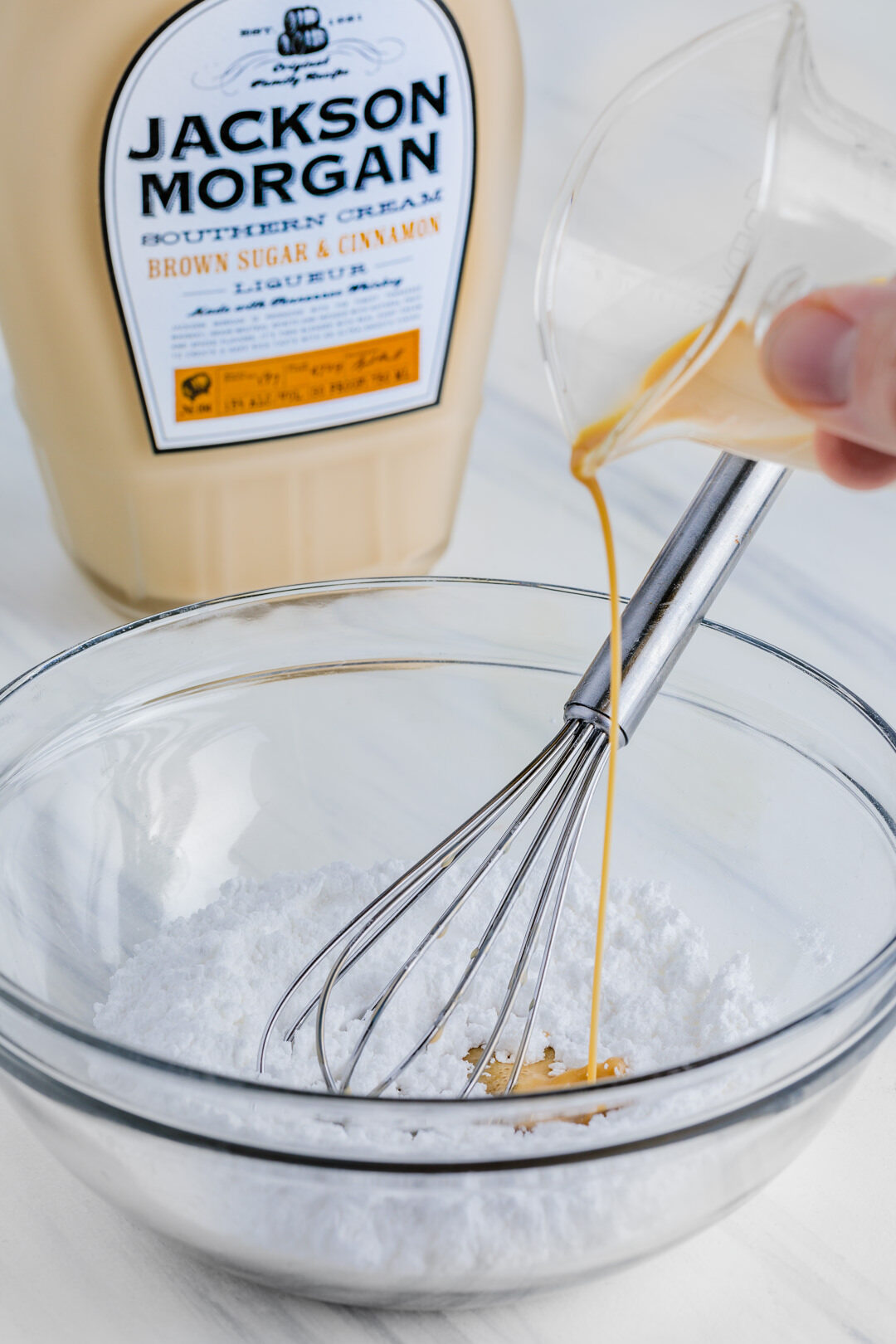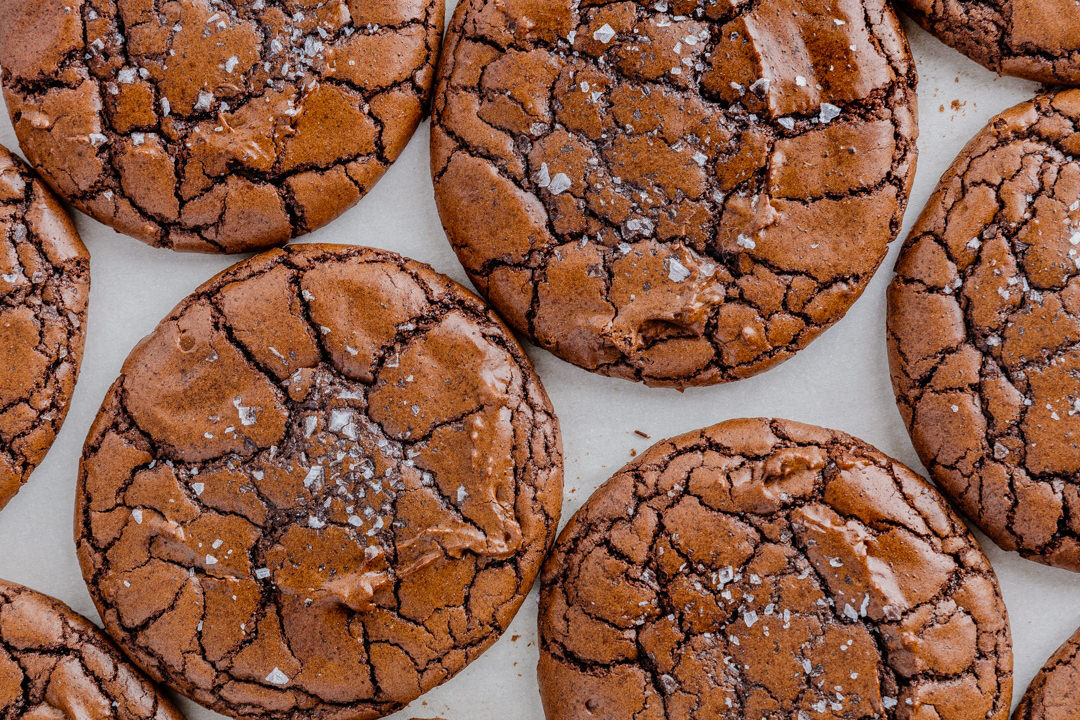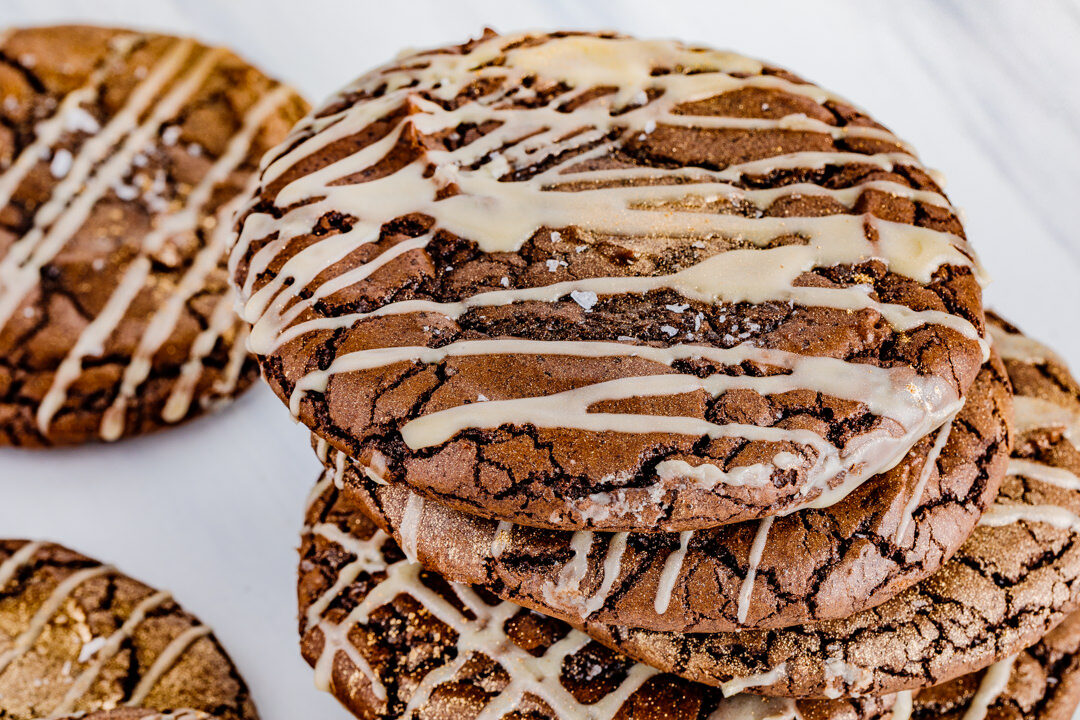 Jackson Morgan is a local Tennessee family spirit brand that I've enjoyed for years. It's my go-to for a coffee with a kick, swaps perfectly for milk in any baked recipe (check out all of the ones I've made below), and is great on the rocks. I love supporting great brands run by great people in my neighborhood.
Luckily for you all, it is available all across the states and online.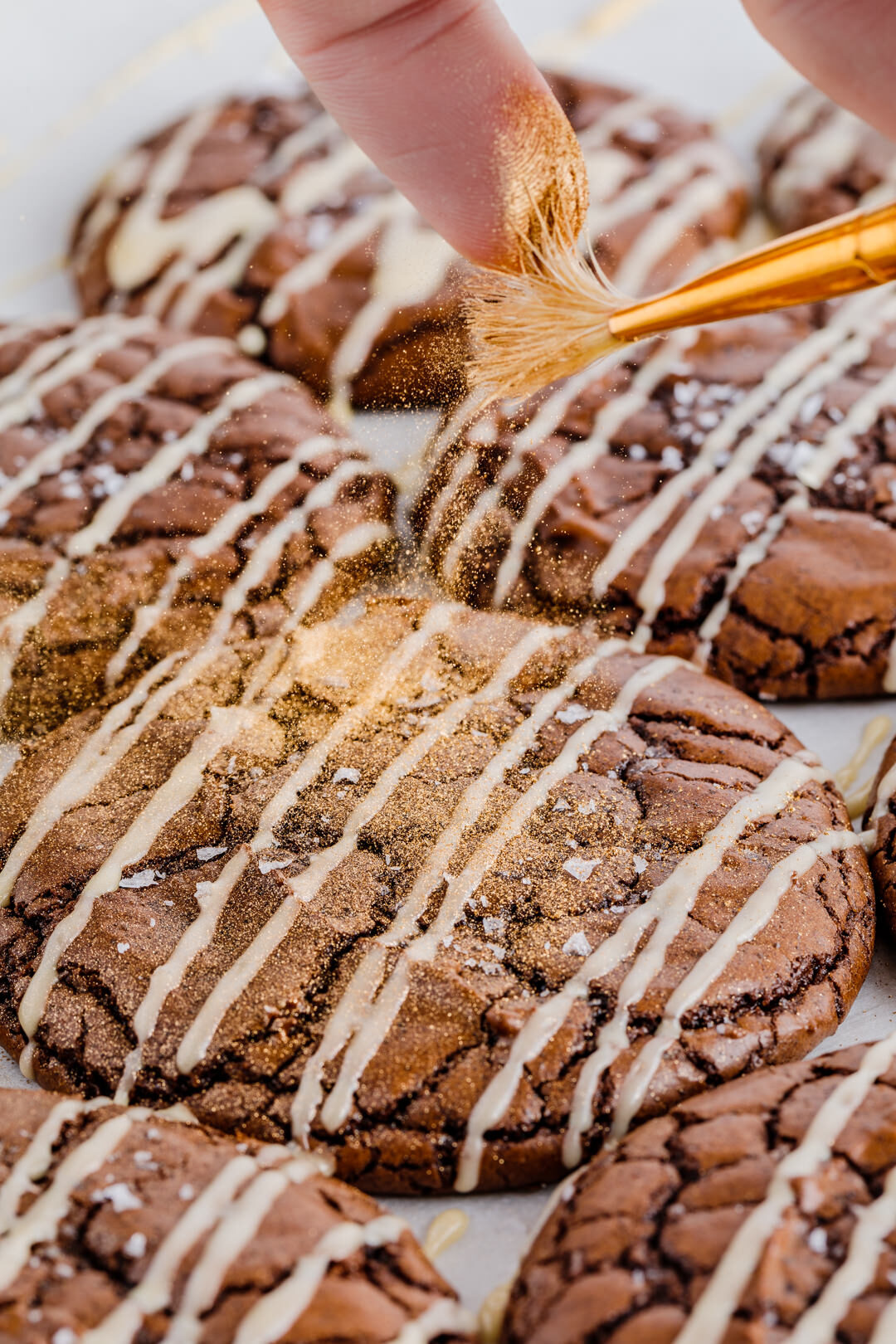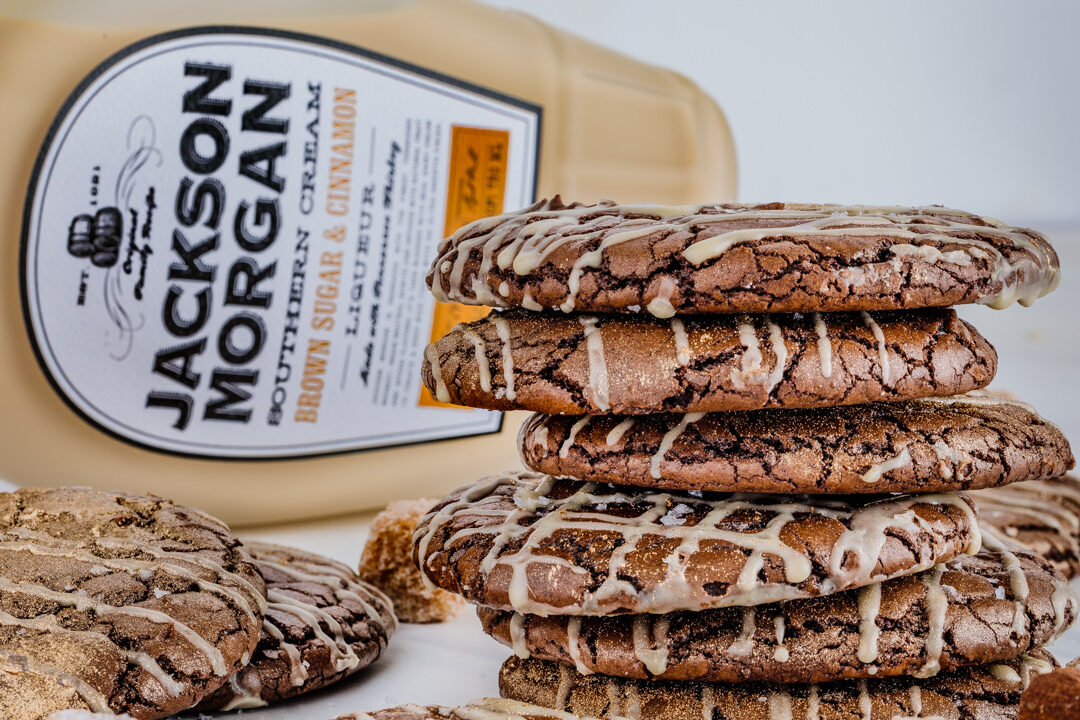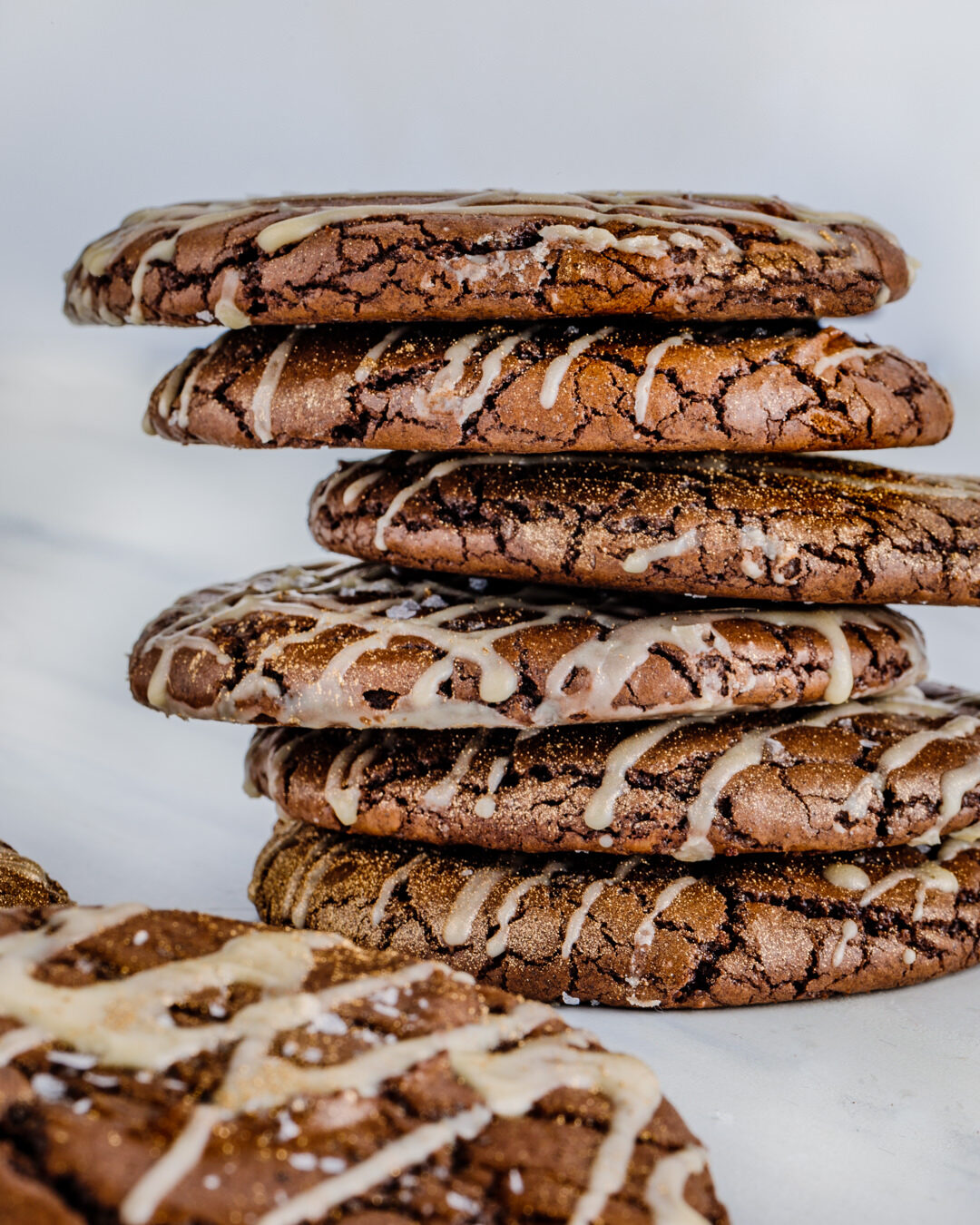 Honestly, I think I would take these brownie cookies over a pan of old school brownies. You get more of that paper-thin crinkled top that somehow magically appears, and all of the just barely crisp edges. No fighting over the corners or centers or the pan because every single cookie will be perfect.
The little bit of brown sugar whiskey cream in the cookies adds the perfect sweetness to balance the rich dark chocolates (yes… plural — two types of chocolate!). The glaze is as easy to make as you could want. It's whiskey cream and powdered sugar. That's it. Since it is the holiday season, I went ahead and puffed a bit of golden edible glitter on top for a bit of a Midas touch. Cheers, y'all!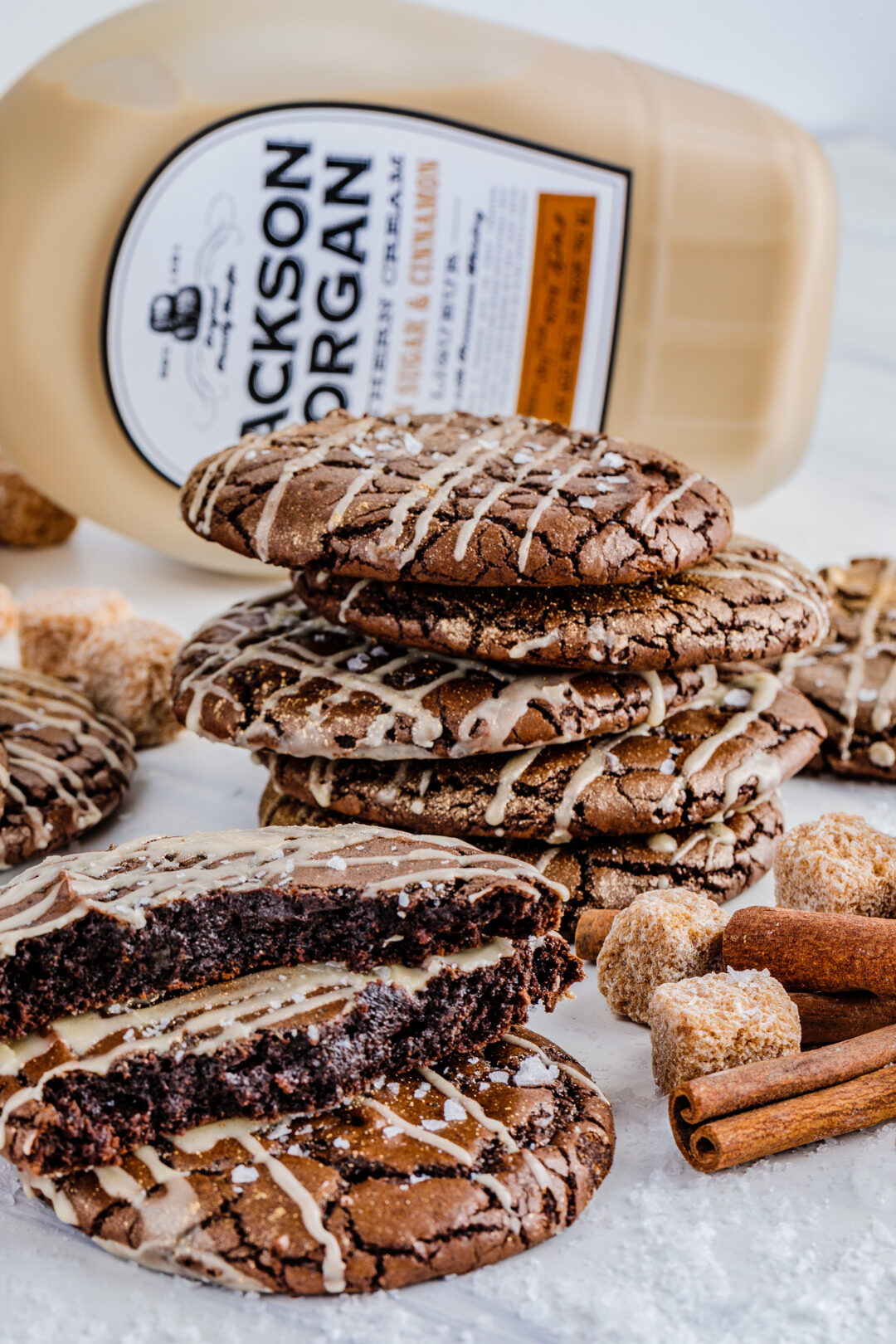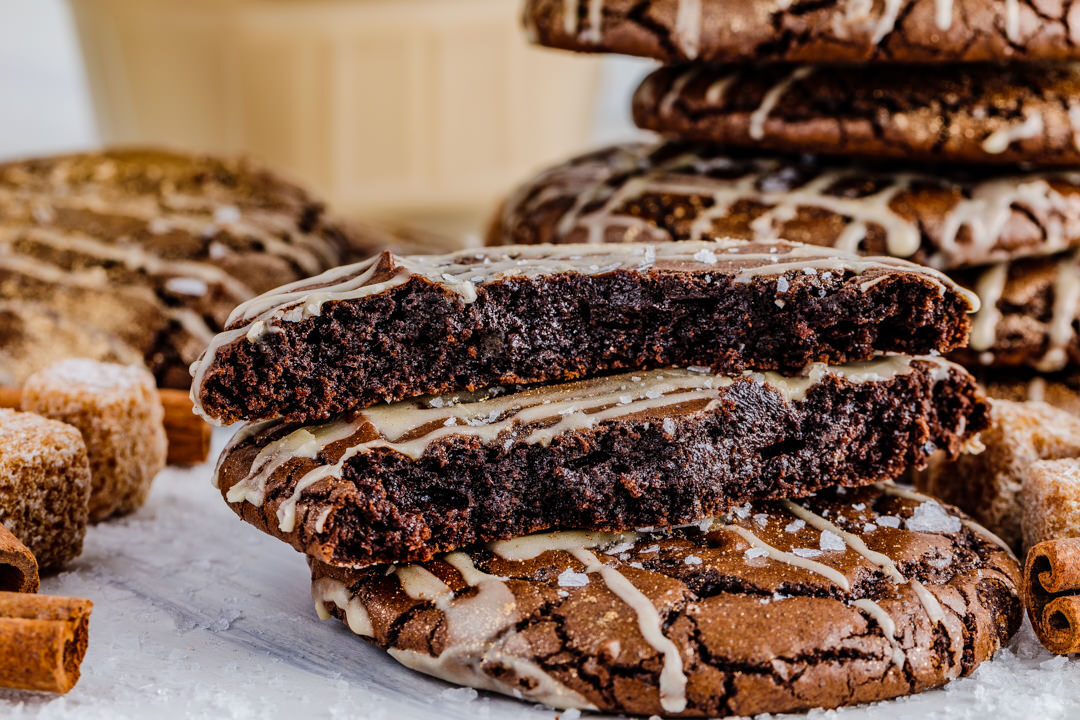 Sip and be social!
Find Jackson Morgan spirits and where to grab them on their website. Enjoy responsibly.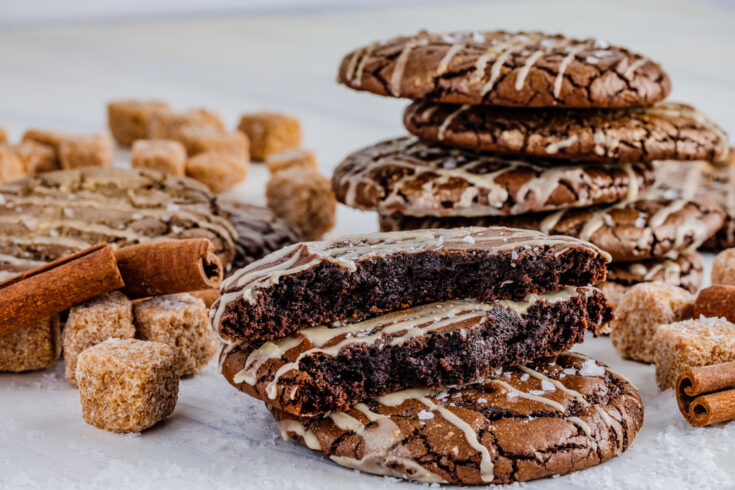 Yield:

12
Whiskey Glazed Brownie Cookies
Brownies meet cookies with these crinkled, fudgy, chocolate-packed brownie cookies with a brown sugar cinnamon whiskey cream glaze. From SouthernFatty.com.
Ingredients
Whiskey Brownie Cookies
8 oz / 225 g dark chocolate, good quality, chopped
8 tablespoons / 113 g unsalted butter
1/4 cup Jackson Morgan Brown Sugar Cinnamon Southern Whiskey Cream
3/4 cup / 150 g sugar, granulated
1/2 cup / 100 g brown sugar
2 eggs, whole large
1 cup plus 3 tablespoons / 150 g flour, all-purpose
3 tbsp / 25 g cocoa powder (preferably Dutch processed)
1 tsp baking powder
1/4 tsp salt
Whiskey Glaze
1/2 cup powdered sugar, sifted
2 tablespoons Jackson Morgan Brown Sugar Cinnamon Southern Whiskey Cream
Instructions
Whiskey Brownie Cookies
Preheat oven to 350 F. Line two baking sheets with parchment paper. Set aside.
In a large heat safe bowl, combine chocolate and butter.
Place bowl over a saucepan with an inch or two of water over medium-low heat.
Slowly melt and stir the chocolate and butter.
Once melted, remove from heat and set aside.
In a mixer bowl, combine eggs and all of the sugar (white and brown).
Mix at medium speed to cream for 5 minutes.
Mix in the whiskey cream to the melted chocolate.
Add the melted chocolate to the creamed sugar and mix until combined.
Whisk together the remaining dry ingredients and add to the chocolate/butter. Mix until just combined. Take care to not overmix.
Immediately portion cookies onto prepared pans, leaving plenty of room for the cookies to spread a bit when baked.
Bake for 13 minutes (if using the recommended 3 1/2 tablespoon scoop).
The cookies will appear undercooked. Move them to a cooling tray until completely cooled.
Whiskey Glaze
Whisk together sugar and cream until smooth.
Drizzle glaze over cooled brownie cookies.
Enjoy! Find more recipes on SouthernFatty.com.
Recommended Products
As an Amazon Associate and member of other affiliate programs, I earn from qualifying purchases.
Nutrition Information:
Yield:
12
Serving Size:
1
Amount Per Serving:
Calories:

353
Total Fat:

5g
Saturated Fat:

3g
Trans Fat:

0g
Unsaturated Fat:

5g
Cholesterol:

15mg
Sodium:

12mg
Carbohydrates:

11g
Fiber:

2g
Sugar:

10g
Protein:

3g