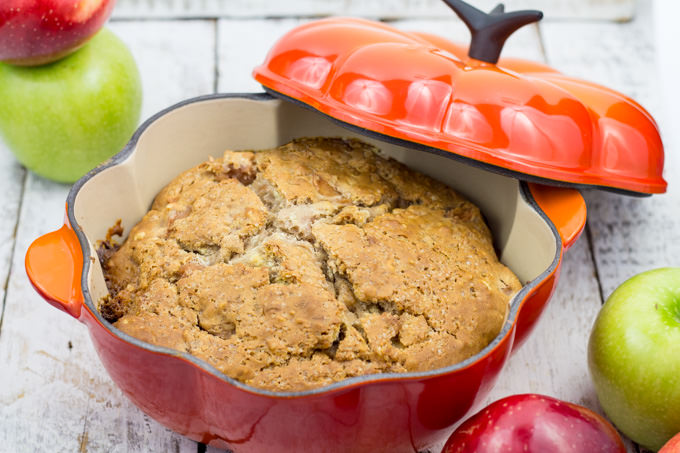 That's right, kiddos. Another caramel apple post. This time, we'll toss it into a super-simple take on traditional soda bread.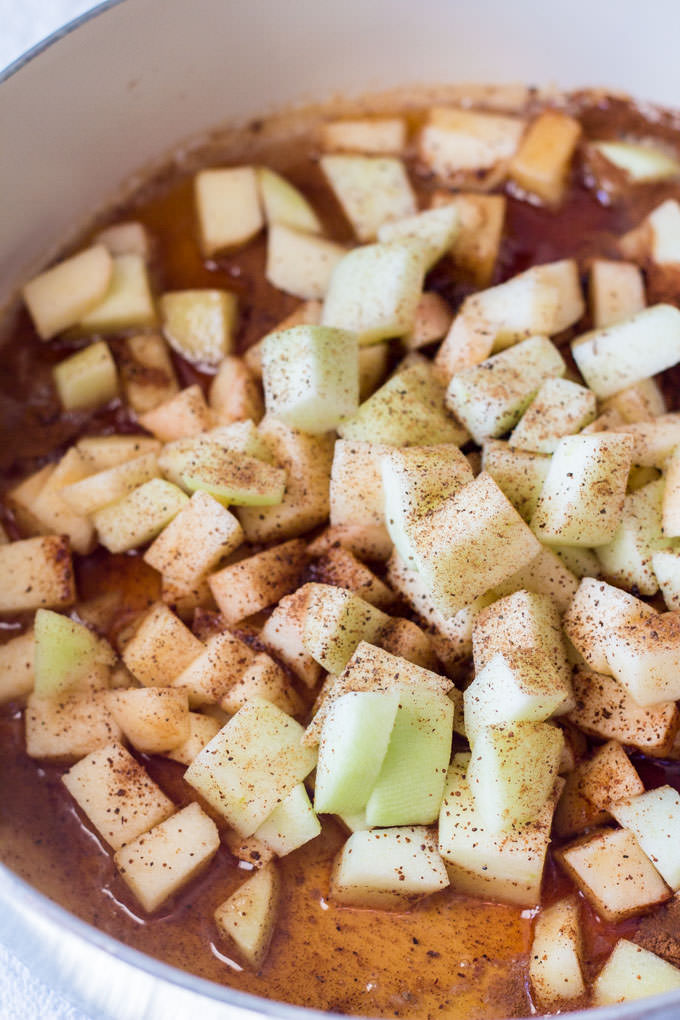 Apples and caramel go together like salt and pepper, bacon and eggs, Nashville and hot chicken. Sure, I just posted another apple and caramel recipe with our pops. Sure, I may post a third one after this. Who knows. What I do know, is that fall is the best and I will keep making things with creamy caramel for as long as the leaves keep falling. *huur flip*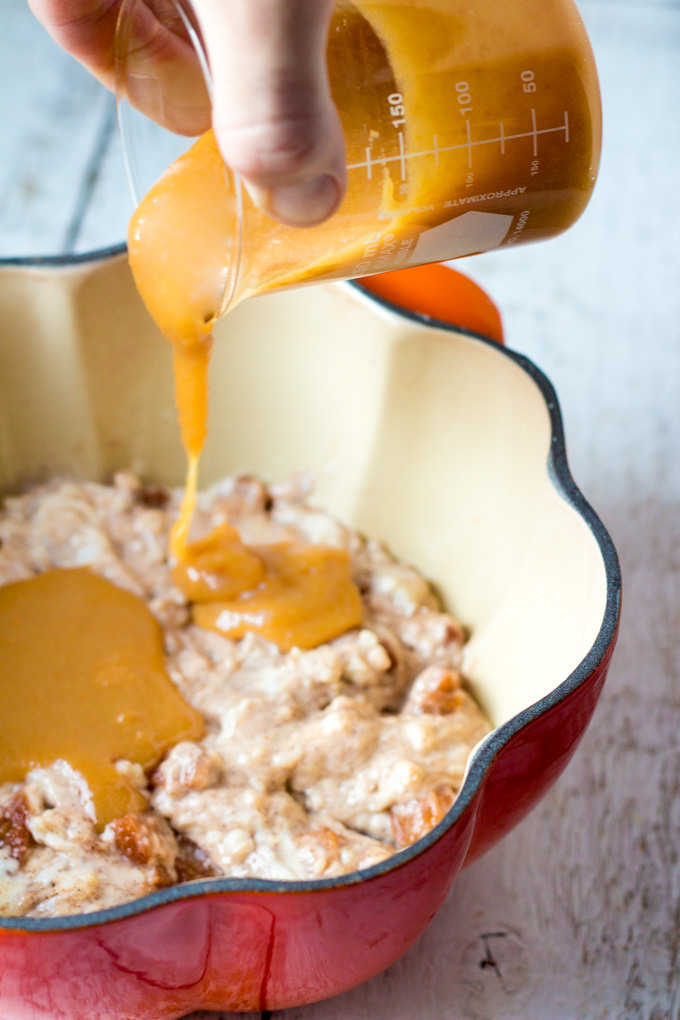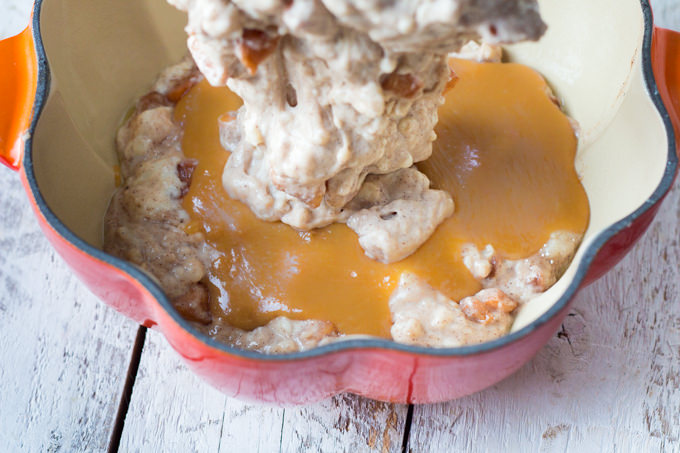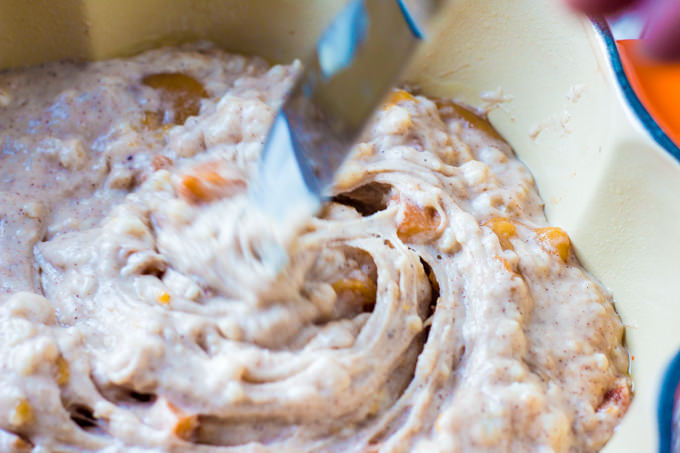 The combination of caramel, cinnamon, a bit of nutmeg and a dose of simple baking soda is what makes up the base of the bread. The perk to soda is that there isn't going to be an awful rising time like with yeast. The Irish don't have time for all that!
When it's all chilly out, and you just need a bit of warmth, bourbon is what you need. What? You thought I'd say this bread? Second to bourbon is going to be this warm caramel-swirled, spiced bread. Straight out of the oven with the warm, savory spices, this just simply hits the spot. It doesn't hurt that it's going to be shaped like a little punkin'. D'awwww. How cute, right?
Thanks for the pumpkin Le Creuset dish to my friend Lindsey of Love and Olive Oil!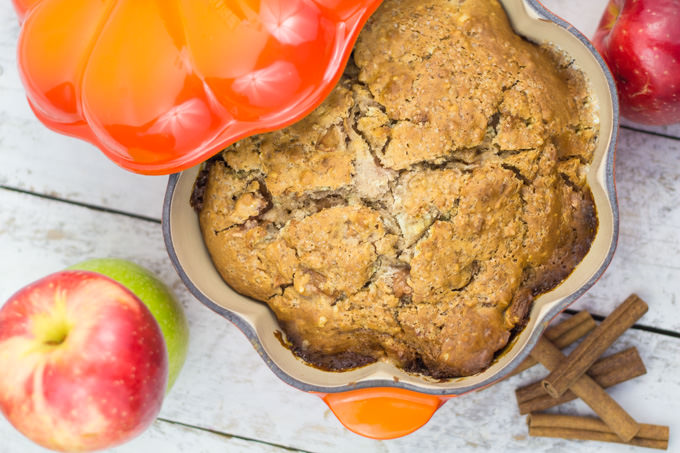 Funny story about soda bread. Not surprisingly, it was developed in the mid-1840's in Ireland when food supply wasn't at it's best. Yeast was replaced by the much cheaper and easier to obtain soda. Purists… Don't hate on me. I know traditional soda bread has four ingredients, and four ingredients alone. So I added some stuff. It tastes great. 'Nough said.
The recognizable "X" on top isn't just a treasure marker, like I would assume. It's actually a marking that was carried over from the original inception of the bread. The Irish would mark the top of the bread in a classic cross shape to ward off the evil spirits in the house. If you're increasingly worried about your particular household, make the cut extra large.
Everyone in the house will be happy and ghost-free when this comes out of the oven. Either that, or they won't care if the ghosts are there because it's just that good.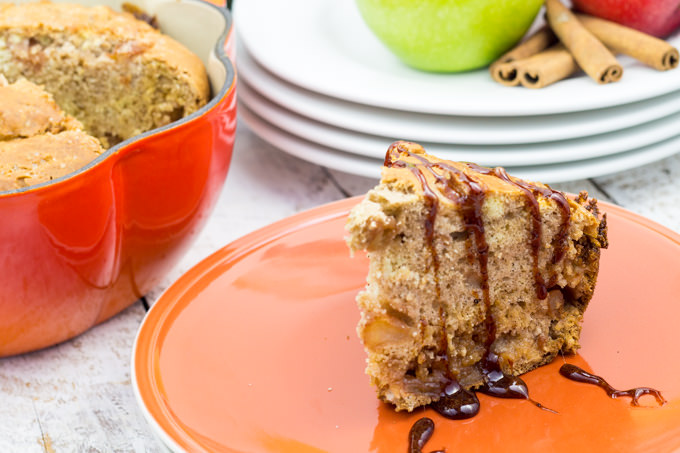 Topped with a bit of leftover apple cinnamon spice drizzle (you should just go ahead and double that for ice cream, etc.), and your ghost-free house is sure to be happy with this warm, spiced take on a traditional favorite.
A bit of (Irish, of course) butter, and you are on your way to the end of that Irish rainbow.
Enjoy, y'all!
Caramel Apple Soda Bread
A twist on a classic soda bread -- Caramel Apple Soda Bread from SouthernFATTY.com
Ingredients
Cinnamon Apple Caramel
2 apples, peeled and chopped (I used honey crisp and granny smith)
¼ cup brown sugar
¼ cup white sugar
2 tablespoons cider
1 tablespoon cinnamon
¼ teaspoon ground nutmeg
¼ teaspoon ground clove
¾ cup caramel
Soda Bread
2 plus ½ cups flour, AP
4 tablespoons sugar
2 teaspoons baking powder
1 teaspoon baking soda
¾ teaspoon salt
½ cup butter, cold and diced
1 plus ¼ cup buttermilk
Instructions
Pre-heat oven to 350 F.
In a sauna or skillet, heat all ingredients for caramel apple mix EXCEPT for the apples and caramel.
Heat over medium heat until thickened slightly and darkened. Add apples and cook for an additional minute.
Set aside to cool slightly. Warm the caramel.
Whisk together flour, sugar, baking powder and soda, salt in large bowl.
Add cold, diced butter to dry mix and work/cut in until a large meal texture.
Add buttermilk and roughly stir to mix. Add apple mixture and stir.
In prepared pan, add half of bread batter/dough and top with caramel.
Add remaining dough/batter and swirl with knife roughly.
Bake until knife in center comes out clean and top is golden, about 35-45 minutes.
Enjoy more recipe on SouthernFATTY.com
Notes
2015 - SouthernFATTY.com