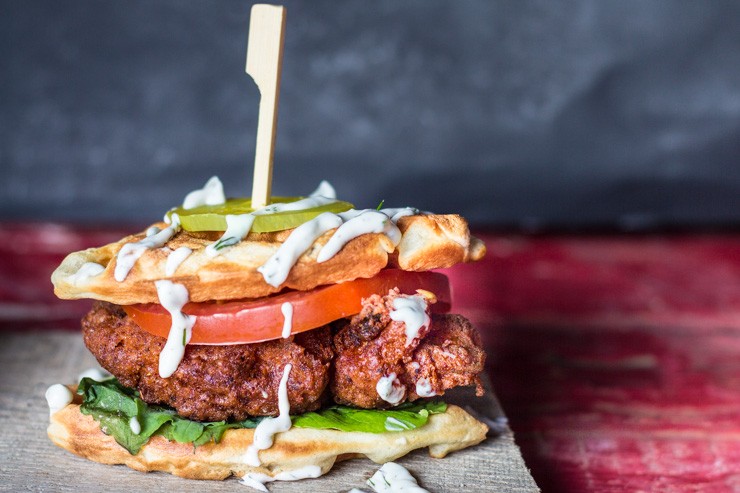 Nashville. Nashvegas. Music City. Hot Chicken Heaven.  Nashville is one of the best cuisine spots in the nation. Along with the city's great innovative fusion cuisine, this ditty dreamer's Mecca is home to some insanely good classic Southern soul food.
A unique twist on a southern staple, Nashville hot chicken has become the official food of the city. My homemade take on the blazing bite– Hot Chicken Waffle Sliders.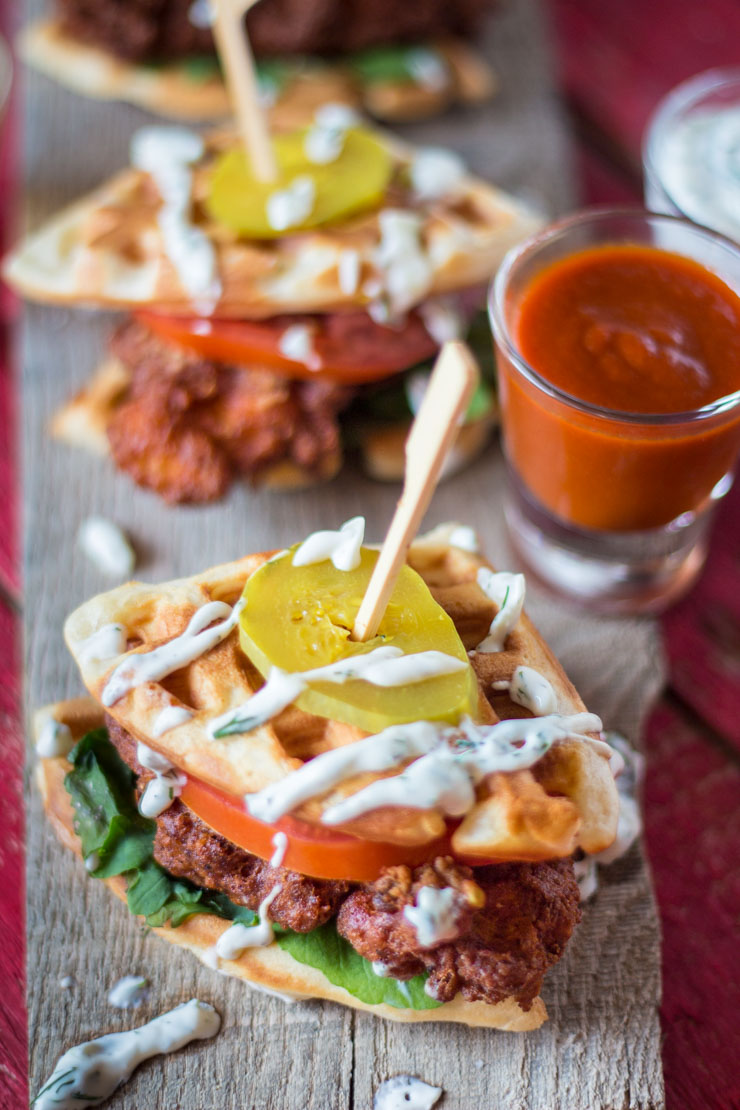 Now… I feel like I need a disclosure. When we say hot chicken around these parts, we mean HAWT. The famous chickenries (?) around here are known to have different levels. The ones for the tourists that wander over from the riverfront Broadway area, and the local. By local levels, I mean the ones reserved for people that have a home in the city to run back to so they have access to an outdoor hose to cool off with. This stuff doesn't play. Probably some of the spiciest food I've ever had.
Luckily, by making this at home, you can go for tourist status or jump straight into the blazing fires of hell for a bit of local taste.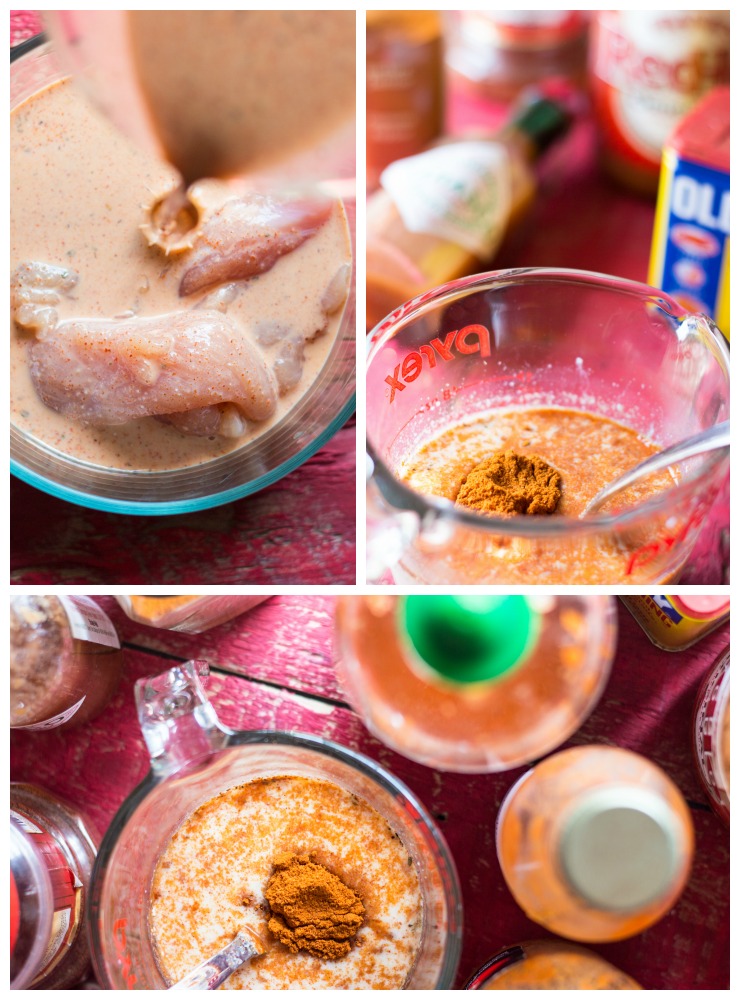 To get this nice kick in the seat of your pants, I am using a few bunch of our favorite friends– Sriracha, chili powder, paprika, cayenne, and even a shake or two of Old Bay. It sounds like a big jumble of flavors, but they all balance on the same spiced base and work together to create a delicious blended bite.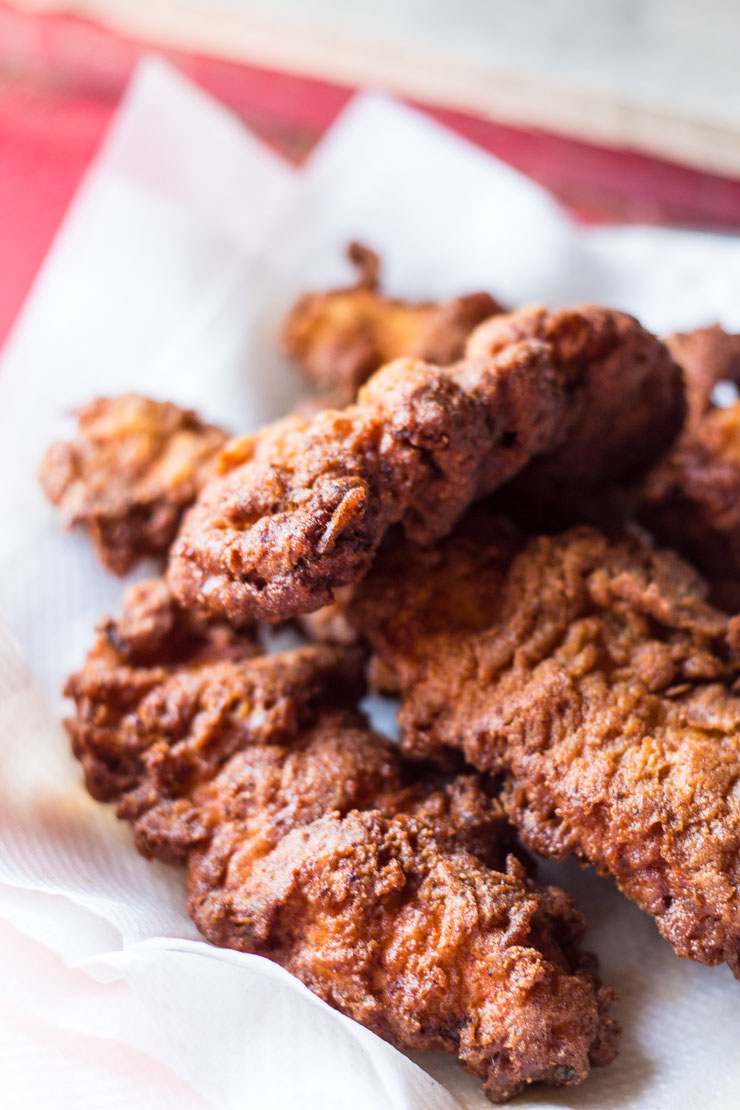 That red glare pouring out from the heavenly strips isn't from a poorly placed lighting setup.That's 100% from the seized, slightly sweetened, spirited heat of the chicken. Being a total pansy with spicy, I still absolutely love this crispy bite. The heat comes from flavorful additions, not just unbearable burn.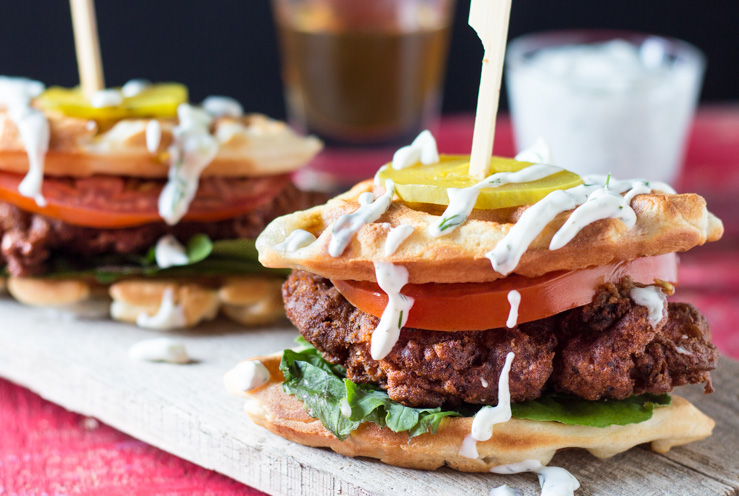 You've got to have a vehicle to deliver hell's chicken. That's where the waffles come in. Because, well, WAFFLES! Not much explanation required here. They're just delicious. That's all.
Toss whatever extras you want on top. I opted to use my verrrrrry first batch of garden tomatoes and lettuce. The tomato helps calm the burn a bit. The sauce is a simple garlic dill yogurt sauce that I stirred up last minute. A poor man's tzatziki, if you will. I highly recommend a dairy-based sauce to cool things down a bit. It's probably illegal or something to serve this still without it.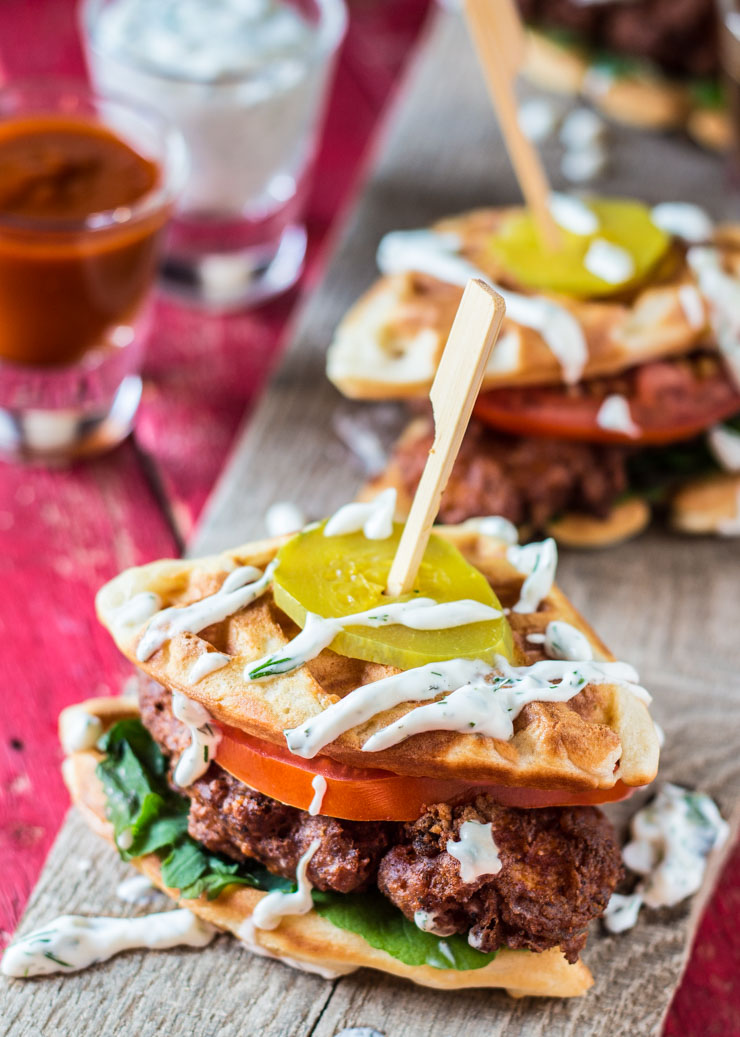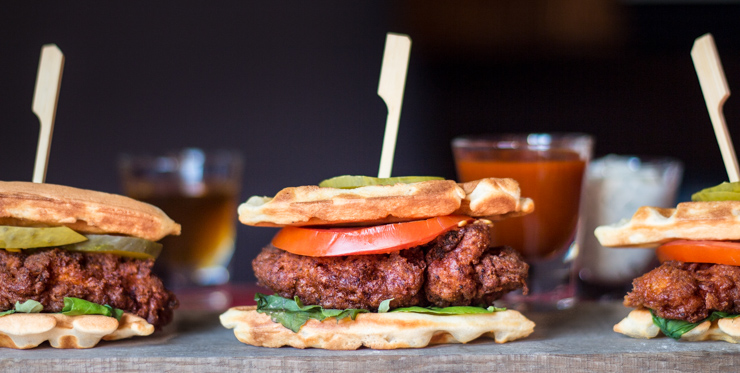 A taste of the spicy south from my Nashville kitchen to yours. Once you've burned through this iconic eat, you're official.
Enjoy, y'all! —
Hot Chicken Waffle Sliders
Nashville style spicy hot fried chicken in a waffle slider for a spicy taste of the south. Topped with a simple dill yogurt sauce to ease the burn. -- Recipe from SouthernFATTY.com.
Ingredients
Chicken & Dry Brine
4 chicken breasts, halved (or tenderloins)
1 tablespoon salt
½ tablespoon pepper
½ tablespoon paprika
Breading Mix
1 cup flour
½ tablespoon garlic powder
1 plus ½ teaspoon salt
½ teaspoon pepper, ground
½ teaspoon oregano, dried
½ teaspoon chili powder
¼ teaspoon Old Bay seasoning
Wet Wash
1 egg
1 cup buttermilk
1 tablespoons water
1 tablespoon Sriracha
Final Glaze (Add more or less cayenne for taste. This is what we would consider medium here.)
2-3 tablespoons cayenne, ground (Yes, 2-3 TABLESPOONS.)
1 tablespoon brown sugar
½ tablespoon paprika, ground
1 teaspoon garlic powder
1 teaspoon pepper, ground
1 teaspoon salt
Finishing
Waffles (use your fav recipe)
Condiments (tomato, lettuce, pickle)
Plain yogurt + salt, garlic, dill
Instructions
Combine salt, pepper, paprika of dry brine and sprinkle over chicken.
Cover and refrigerate sprinkled chicken for 1-2 hours.
Combine dry breading ingredients in bowl.
Whisk egg, milk, water and Frank's in separate bowl.
In a heat-proof bowl, add glaze ingredients, whisk, and set aside.
Coat chicken in flour mix. Transfer to egg/milk wash. Return to flour mix and press flour into chicken for a thick coating.
Set chicken to rest for 15 minutes to ensure crispier coating.
Heat oil to 325 F while waiting.
Fry chicken until crispy, about 10-15 minutes. (160 F temp check doneness)
Remove ½ cup of the HOT frying oil CAREFULLY and mix with the glaze seasoning to combine.
Toss chicken in the glaze mix to cover completely. Remove to rest on paper towel covered pan until cool enough to enjoy.
Place hot chicken between two waffle quarters.
Top with condiments, sauce, etc. as desired.
Enjoy! -- More on SouthernFATTY.com.
Notes
2015 - SouthernFATTY.com
Have you visited Nashville? Tell me about it below!