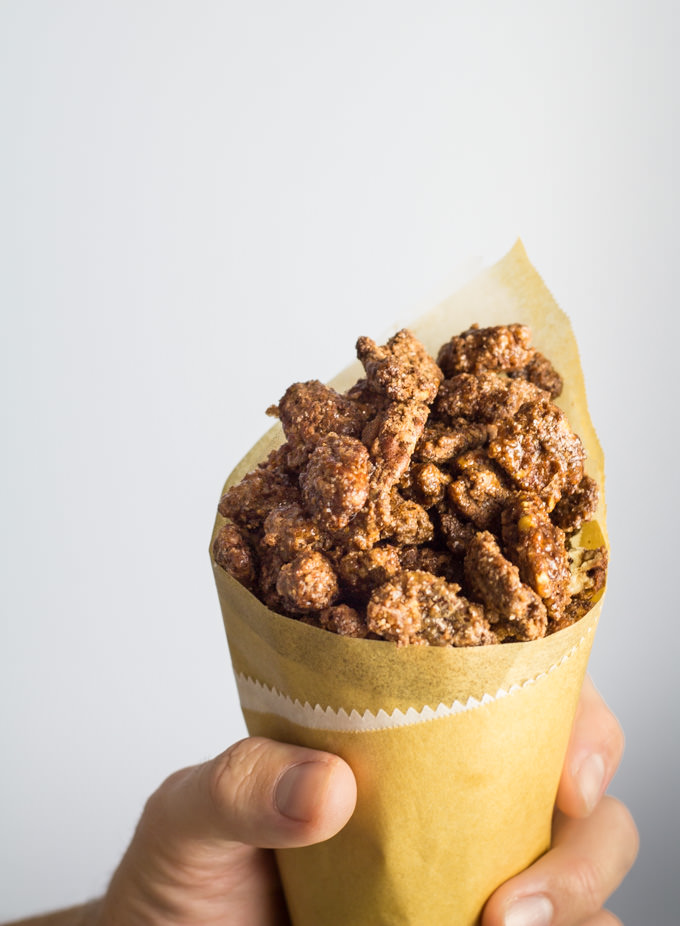 Merry Christmas! Happy Holidays! Chag Sameach! FROHE WEIHNACHTEN! [I feel like German should always be screamed, ja?] — Also, keep reading for my pre-Thanksgiving Christmas content disclosure.
Hopefully y'all know what these beauties are just by seeing that cone. I was walking around the touristy Opry mall this past weekend here in Nashville, and hit the wall-o-roasted-German-nuts smell head on. After a few rounds on the various booth sides (to be sure I had different employees that hadn't seen me come by yet, obviously) for samples, I pulled myself away from the $10 cones of joy. Mostly because I'm cheap as hell and don't want to pay for something that I know I can make at home for an eighth of the price.
A bit of jolly kitchen experimentation later, and I think I've pretty much nailed the nose on the reindeer.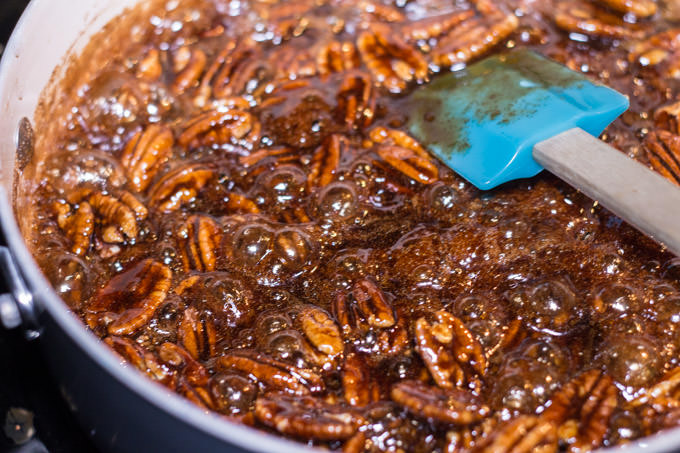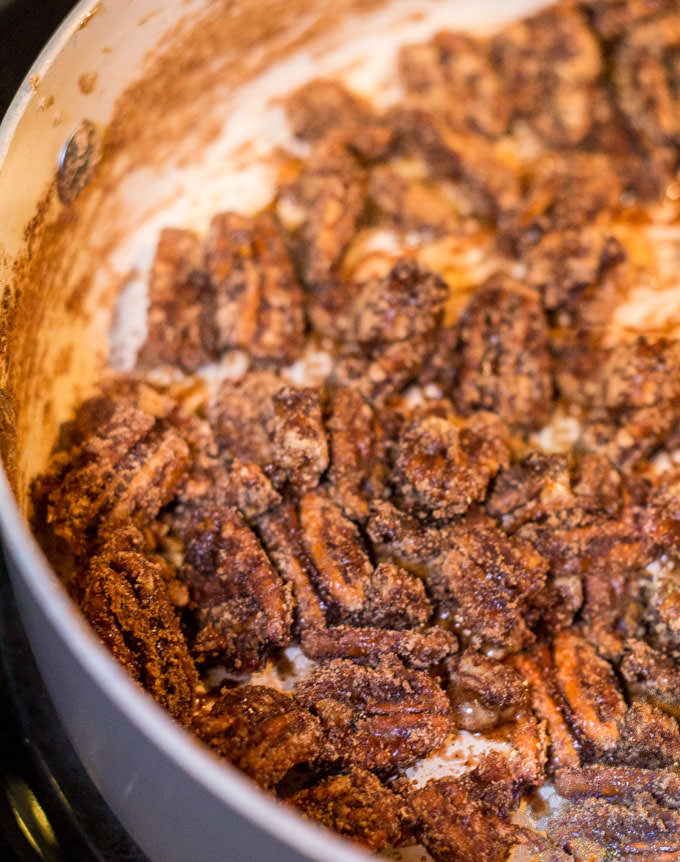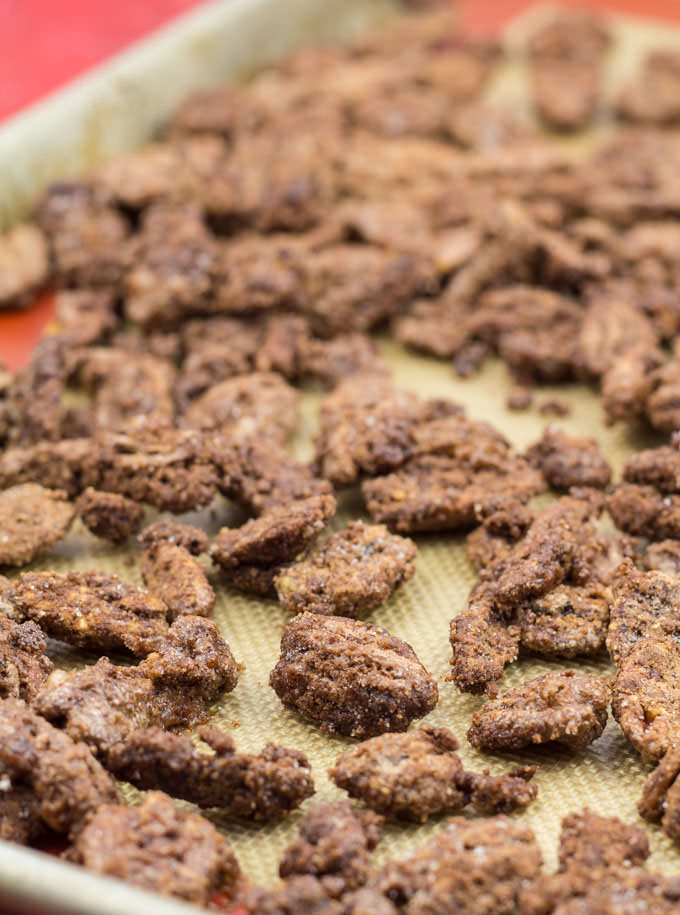 Before y'all start yelling at me about Thanksgiving being first and all that stuff… I knoooow. I'm usually on board with ya (excluding Christmas music, because I listen to that all year long #SorryNotSorry).
I've convinced myself that these get a free pass because you obviously need to test them out for yourself and then use them to top your Thanksgiving sweet potato casserole! Don't steal that, fellow blogger. It's mine, mine, mine. The reality is that I am all for keeping the Christmas tree locked in a box until after the turkey naps have been had, but the baking totally starts in November. It's also my birthday month. 22 this year (we'll say). I can do whatever I want just because of that. *twirl*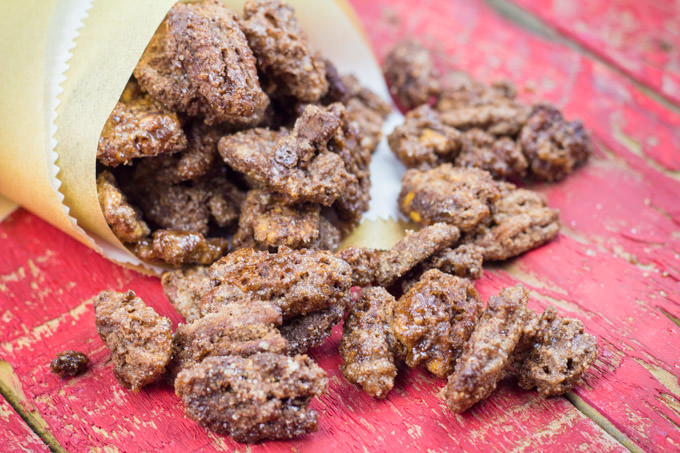 After a ton of research about these treats, I discovered that people are pretty emotional about how they should be prepared. No eggs (we used egg whites in a previous baked candied pecan recipe that is excellent – especially on a cheese danish), use water in the dilution of sugar, use a massively huge (because, German) copper kettle. Wait. Hold up.
Since most of us don't have a huge copper kettle heated by a jet plane engine, we're going to bend the rules. Ideally, you roast the nuts (traditionally almonds) with just water, and then add in the blazing hot sugar and cinnamon to let it glaze.
Sounds lovely, right? We can just about duplicate that exact process on our stovetop. Copper is great if you have it, anything else works fine if you don't. Some water, sugar, a splash of vanilla and an entire boatload of cinnamon, and you've got it.
Most recipes will have you stop once the liquid has all evaporated, and the nuts have this odd, faded look. That's pretty much the result of the baked candied pecans recipe we mentioned earlier. These are delicious! But… I wanted a bit more of a crisp bite to the coating. I thought about what had happened to the sugar already… Really the liquid had just all evaporated, leaving the coating on the pecans. Sugar takes a while to really heat up, so I was banking on the hope that it hadn't actually started to change phases yet. I decided to continue cooking them in the pan (stirring like I was trying to keep the titanic afloat). Voila! …I mean, Da! (or something… I took French, y'all)
The sugar started to change back to liquid. Science, yo. Enough stirring with an eagle's eye to prevent burning, and you have that semi-glossy, perfectly crunchy coating that you pay so much for at the mall.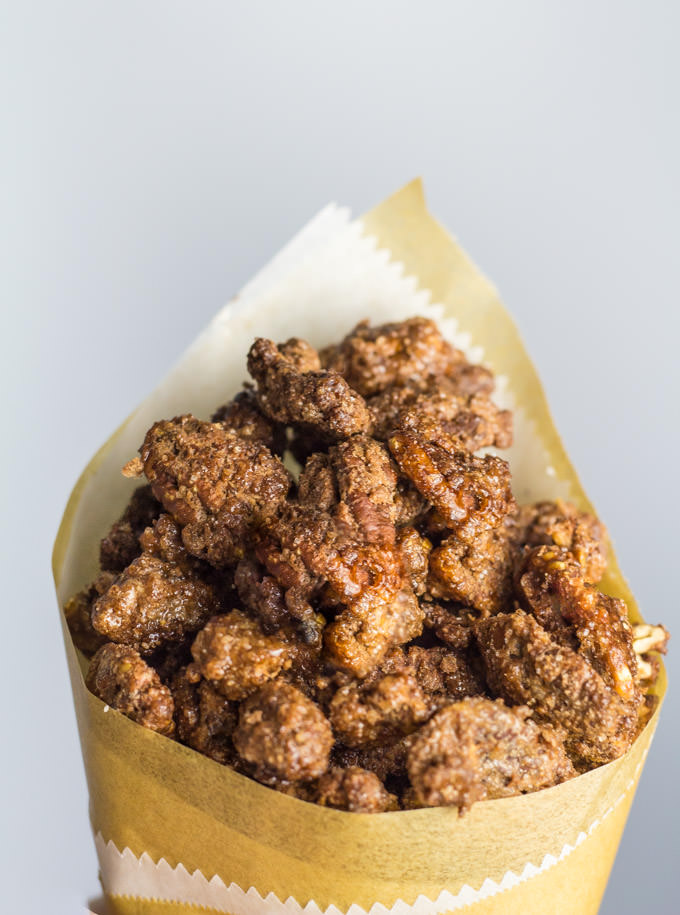 You can now sit at home, baking holiday cookies (or snack cakes, if you really love your family and friends) and watch the Macy's Parade while snacking on these sweet, candied German Roasted Pecans instead of trekking through the sea of sweatpants-wearing mall walkers, Nashville tourists (did I say that?), and super-sale go-getters.
Enjoy! Happiest of holidays, y'all.
German Roasted Candied Pecans
Homemade German Roasted Candied Pecans - Perfect holiday-inspired treats with a crisp, cinnamon infused, sugary coating, just like you find in stores for Christmas. Simple recipe without any egg whites.
Ingredients
3 cups pecans, raw, halved
1 cup brown sugar
½ cup sugar, white granulated
⅓ cup water
1 tablespoon cinnamon, ground
⅛ teaspoon salt
½ teaspoon vanilla bean paste or extract
Final glaze
¼ cup sugar, white granulated
1 tablespoon corn syrup
Instructions
Pre-heat oven to 350 F.
Prepare a baking sheet with a silicone baking mat (preferred) or parchment paper.
In a large sauté pan (with taller, straight sides), combine sugars, water, cinnamon, salt.
Heat over medium heat until it boils.
Add pecans and vanilla.
Stir vigorously and continuously. Don't stop stirring!
Keep stirring (good arm workout) until you see the liquid all evaporates and the pecans are left with a dry-looking coating (see blog pictures for an example).
Reduce heat slightly.
Continue stirring (constantly) until you see the sugar coating start to melt. This may take a few minutes.
Add the final glaze ingredients (sugar and syrup) once the sugar coating has started to melt on the nuts.
Stir in well until glossy and coated.
Turn out pecans onto prepared pan in a single layer.
Bake for 10 minutes to roast the nuts. This step is critical to preventing softened pecans.
Remove and cool completely.
Enjoy! - More recipes on SouthernFATTY.com
Notes
2015 - SouthernFATTY.com
Nutrition Information
Serving size:
As much as you can fit into your mouth
What's your favorite holiday sweet that you wait all year to get your hands on? Let us know below!