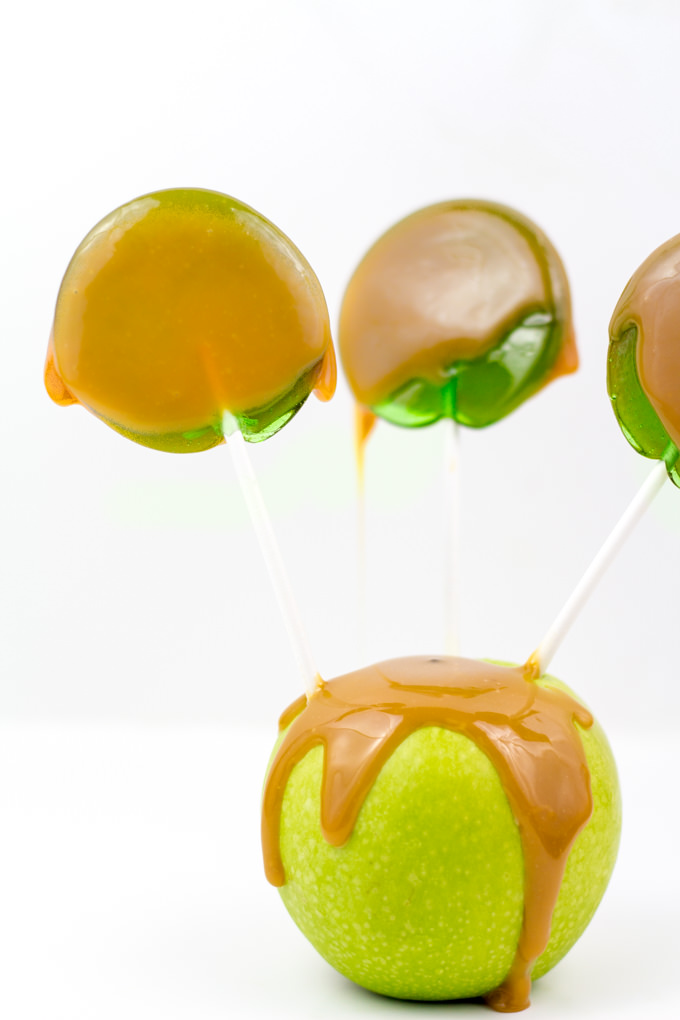 I can remember being in middle school (just a few years ago, ya know…), back when they used to allow kids to buy Pop Tarts as lunch items, have assemblies to show a yo-yo performer that wanted to sell you the world's best yo-yo (Yes, I bought two.), and candy was sold for a quarter for some random fundraiser. I'm not sure that they still do any of these things, but can reassure the Kentucky Department of Education that some of my most vivid memories are of exactly those very beneficial lessons.
Since it -is- my favorite holiday of the year and all, I thought I would bring back a little bit of retro charm to the blogosphere– Homemade Caramel Apple Pops. If you don't remember these, you've obviously suppressed the memories of your childhood sugar shock.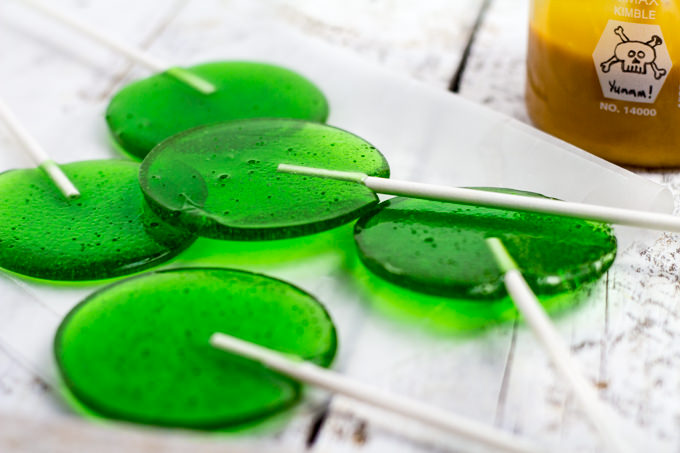 These suckers had everything a sucker would want to have. Tart, fruit hard candy pop base with a creamy, rich caramel coating. They would slide out of the wrappers (magically, really, considering how much sticky everything was inside), leaving you holding this sucker with flat sides of caramel determined to ruin any $5k braces venture. Pretty sure I personally went through a few sets of retainers for this exact reason. Sorry, mom!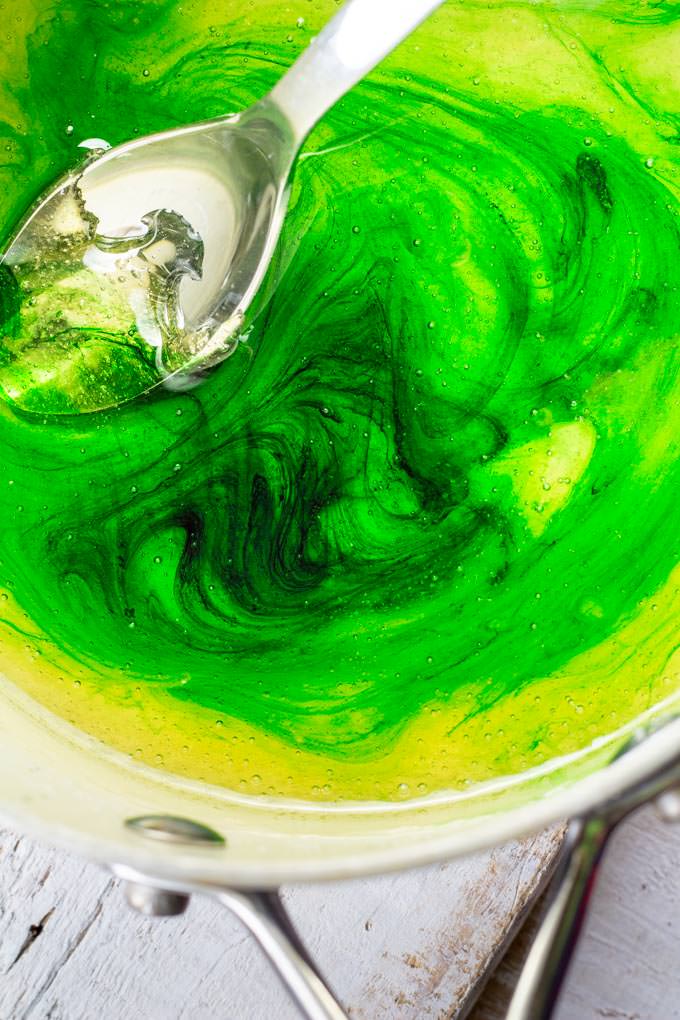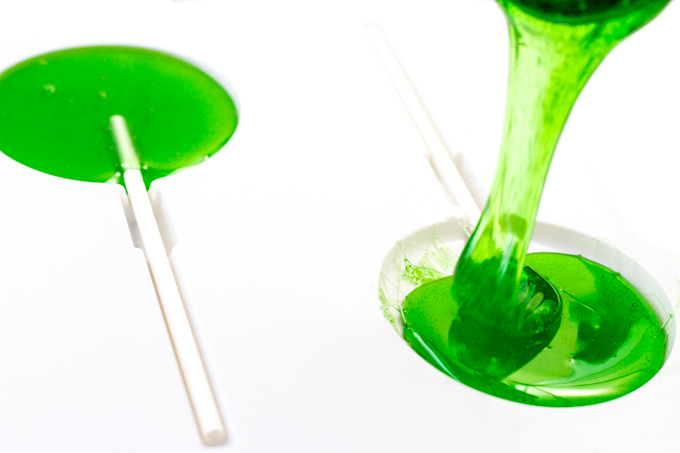 Suckers/pops/lollipops (what do y'all call them?) are extremely easy to make. You basically heat up some sugar until it gets to a certain temperature and you're done. We'll have a tiny extra step added here to get the tartness in the candy without destroying it, but it just involves waiting. Waiting is the simplest ingredient, anyway.
A splash of green color, some citric acid (Yup! Same ol' stuff used in canning.), apple extract/oil and you are ready to pop it.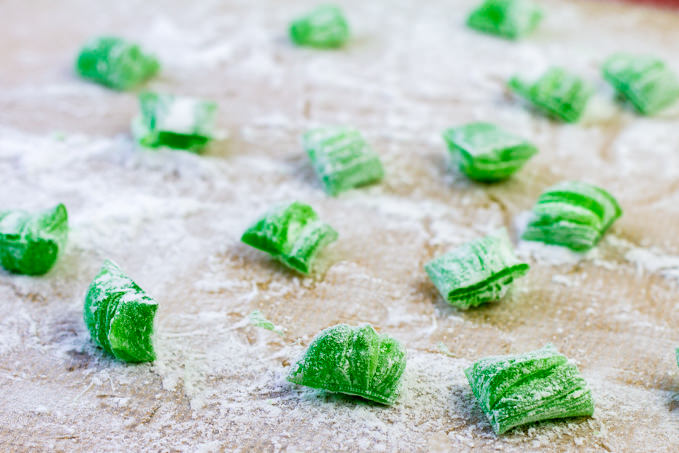 PS- The extra sugar you have left from pouring the pop molds can be dumped onto a silicone mat and snipped up. Just like we did in our Lemon Drop Candies. Since we are already jumping back a bit with memories, why not make some of this old lady dish candy? It's delicious.
Speaking of molds… I just grabbed these from a local candy shop in Nashville. You can order them straight from Amazon, too. Just be sure you don't use chocolate molds, as they can't handle the heat. Silicone molds of any type work great.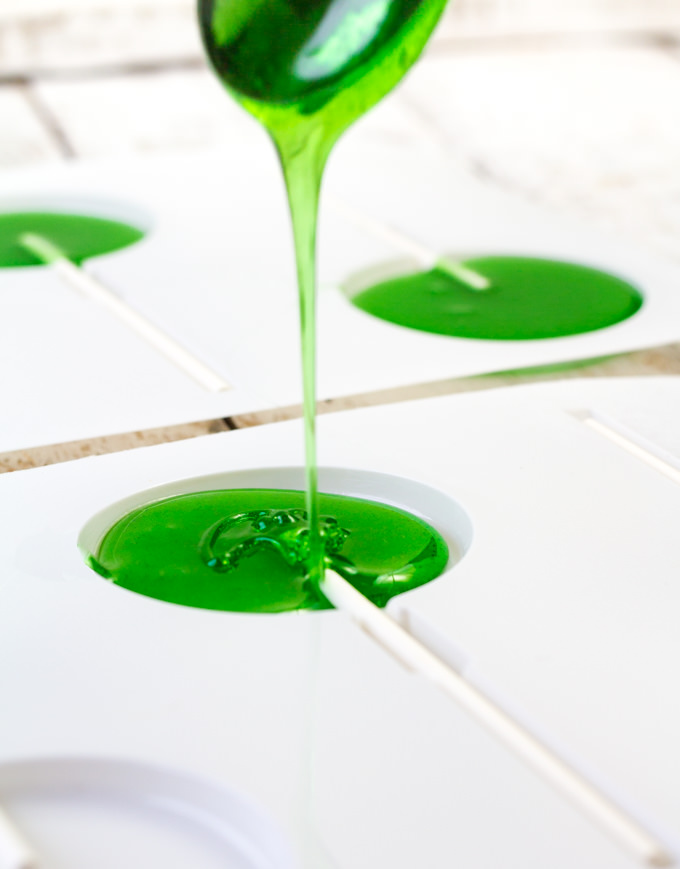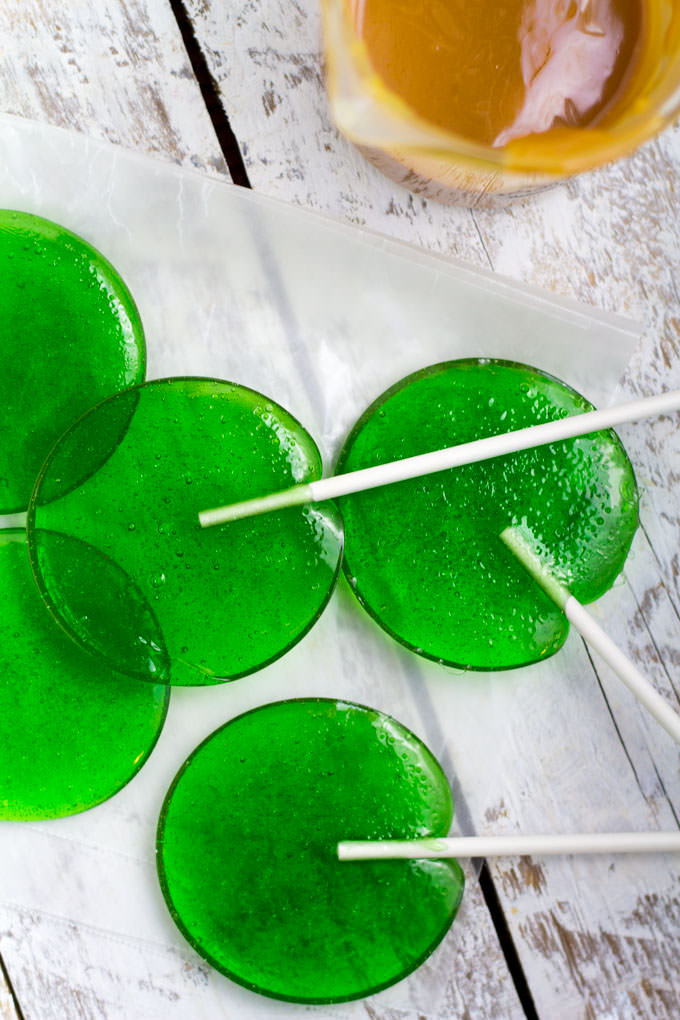 Pops poured and cooled, there is only one last step left. CARAMEL! You can totally buy some pre-made caramels (those little square ones, even) and melt them down, or make your own. I would suggest the later, as it's a great skill to have under your elastic expanding kitchen belt. You'll never stop making it after finding out how easy it really is.
A tiny bit 'o cream when heating helps if you are using store-bought caramel. I'm pretty sure that sentence fits with everything in life, though.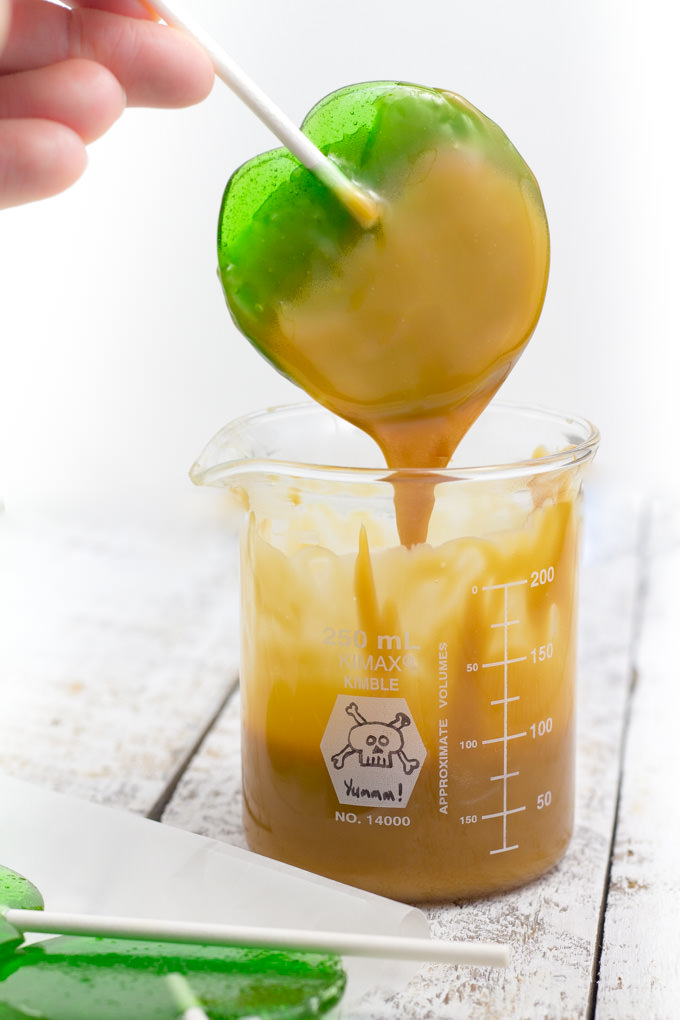 A dip in the caramel goo finishes this with a bang. Adding an excessive amount of caramel to anything makes it an immediate success. What's also a success is your upcoming Halloween party when you have a homemade version of everyone's (at least the fun ones) favorite fall candy on hand. You can mail party invitation via the contact page, kthanks.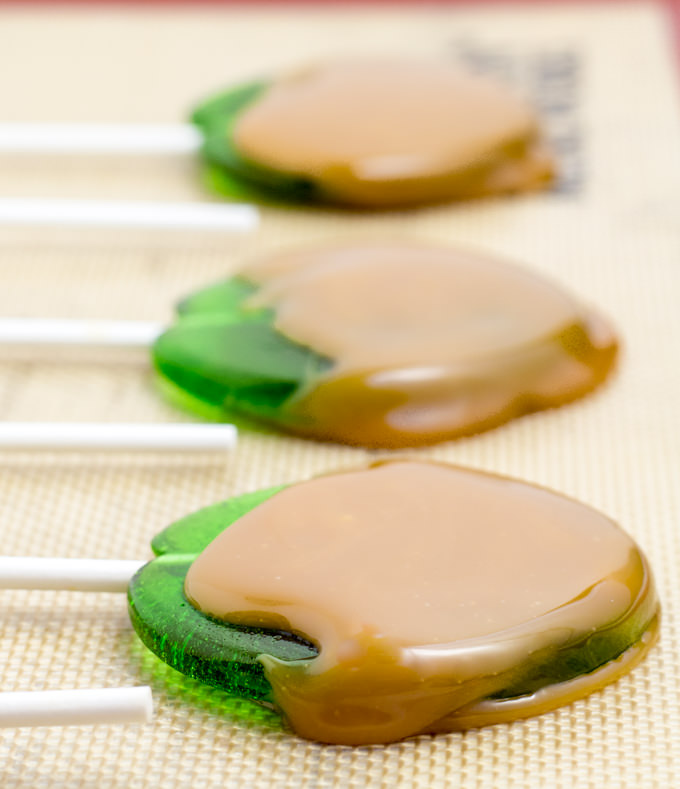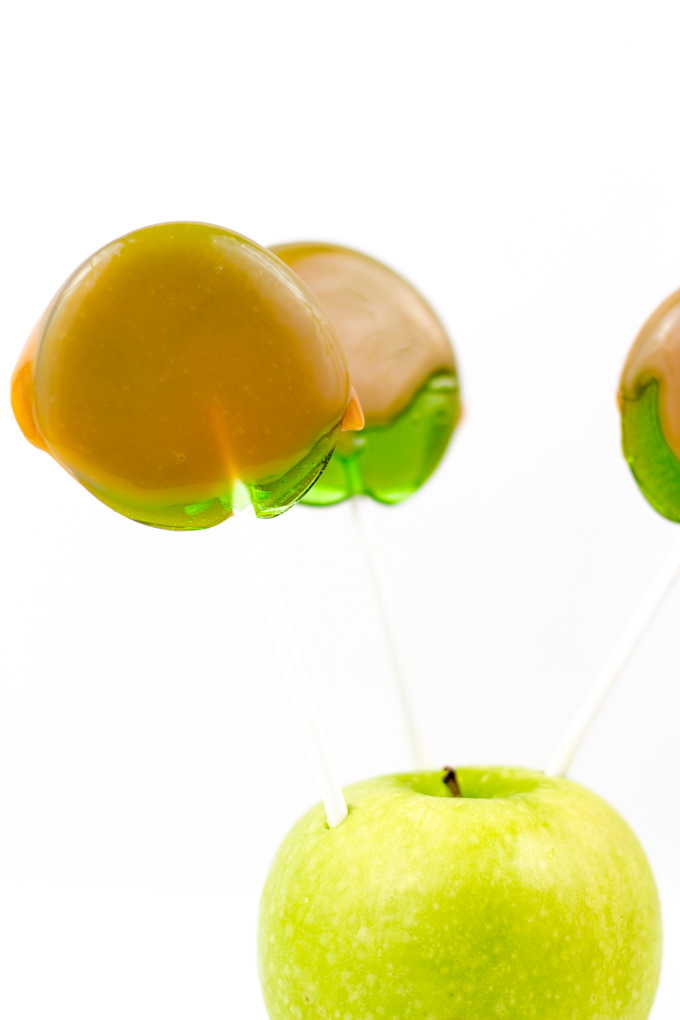 Depending on how much cream you add, and how stiff your caramel is, these may be best kept chilled until you re ready to enjoy them. The first batch I made were a bit soft and ended up slooooowly running down the pops. Just means you would have to take care of that yourself. Not really an issue in my boooooooook (Hocus Pocus voice, obviously).
Cool these on some well-sprayed wax paper or preferably on a silicone mat.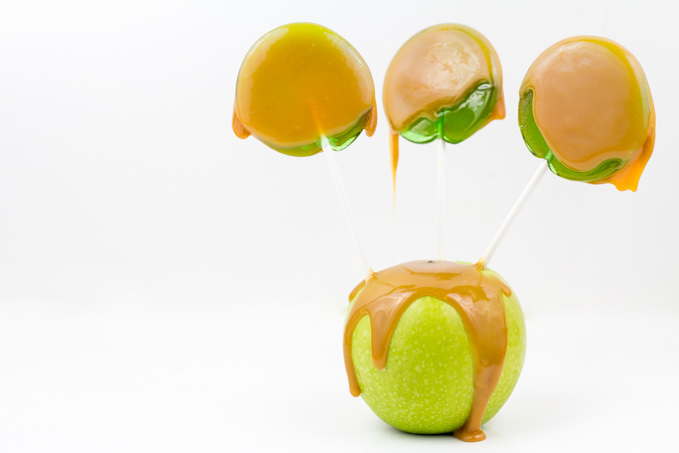 Tart, apple, fall-flavor packed pops with a creamy, rich caramel coating. You'll never be without these fall-favs again!
Caramel Apple Pops
Tart, apple suckers with a creamy, rich caramel coating. Just like your childhood favorite candy! -- From SouthernFATTY.com
Serves:
Depends on mold size
Ingredients
1 cup sugar, white granulated
⅓ cup water
⅛ teaspoon cream of tarter (to prevent crystallization, alternatively use a bit of lemon juice)
1 teaspoon citric acid (alternatively, sour mix for baking)
½ teaspoon apple oil/flavoring (I prefer LorAnn Apple Oil for this)
caramel, see notes below
Instructions
Pre-heat oven to 250 F.
In a medium heavy-bottomed saucepan, combine sugar, water and cream of tartar.
Stir well to dissolve as best possible.
Heat over medium to slightly medium high heat with a working candy thermometer attached.
Heat sugar to EXACTLY 300-310 F. If crystals form on pan sides during heating, use a pastry brush with water to brush down.
Remove immediately at temperature and transfer to 250 F oven. The reason for this is that powdered citric acid will burn at 300 F.
While waiting, line up pop molds with sticks. Have everything ready!
Leave the pan in oven for 5-10 minutes. Remove from oven and mix in oils and acid, stirring well to incorporate.
Be extremely careful, as this hot sugar will severely burn.
Carefully pour or spoon sugar into pop molds with sticks.
Allow to cool completely.
Carefully melt caramel (homemade or bought). If melting caramel that is already hardened, you may need to add a tiny bit of cream to reheat.
Dip pops in caramel and cool on silicone mat or well-greased wax paper/marble.
If caramel is soft, keep cool until serving.
Enjoy! -- More on SouthernFATTY.com
Notes
2015 - SouthernFATTY.com
Happy Halloween, y'all!