This Dutch baby fluffy pancake is topped with banana slices, powdered sugar, Georgia pecans, and rich bourbon caramel sauce. Perfect brunch recipe!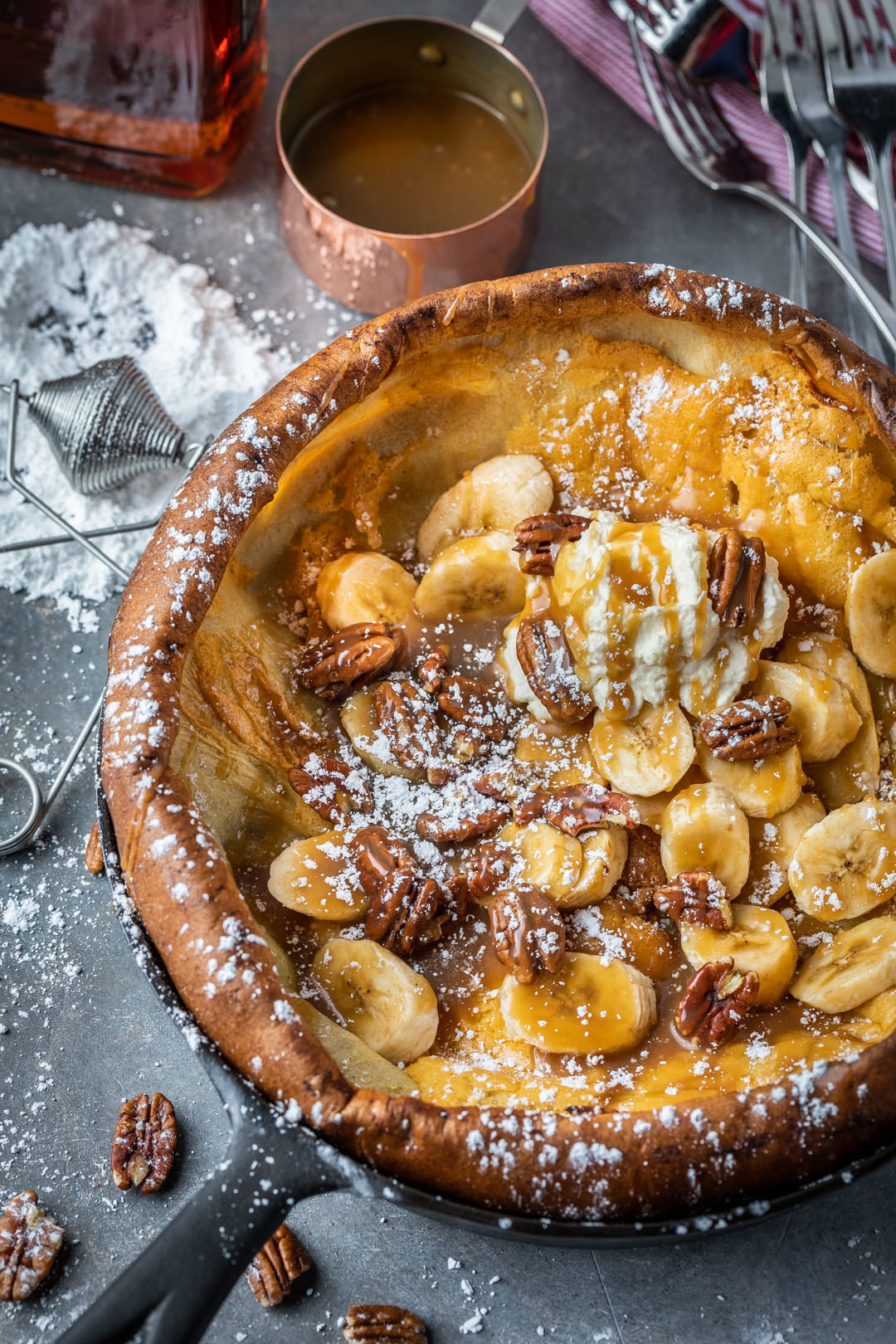 Nightly gathering of all of the kids in the living room. National news, followed by Jeopardy, was always on the TV. The kids were sequestered to the rug and the adults on the couch and chairs. Everyone had a job to do. We were shelling Georgia pecans. Bags and bags and bags of 'em. For as long as I can remember, this has been the normal routine for holiday visits to my grandmother's home in Milledgeville, Georgia, a little less than two-hours southeast of Atlanta.

Kentucky was home for me, but my family made the trek back to Georgia several times throughout the year. I vividly remember the miserable twelve-hour drive, complete with license plate games and a roll of quarters that my mom would slowly whittle down in an attempt to bribe my sister and me to get along until we could escape the car. Once we rolled down the long driveway of tall pine trees, we were finally there. There were two things that were certain about the visits — Cornflake cookies (find the recipe here) in the kitchen and shelling pecans at night. Don't feel too badly for me. I managed to sneak plenty for myself that never made it to the bag.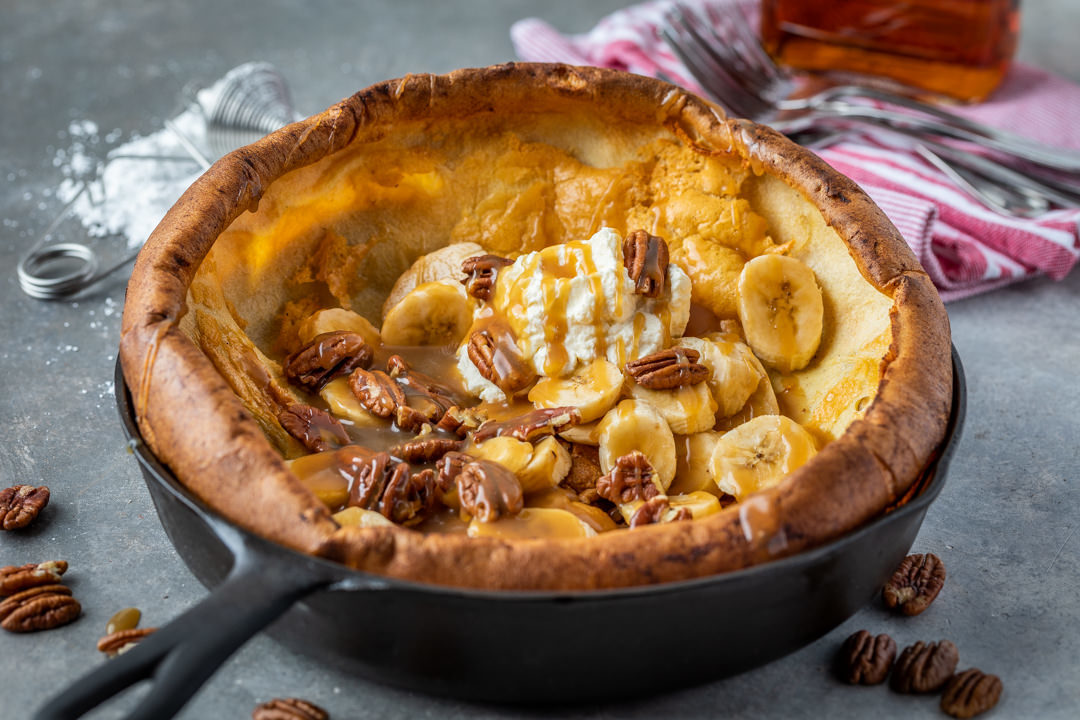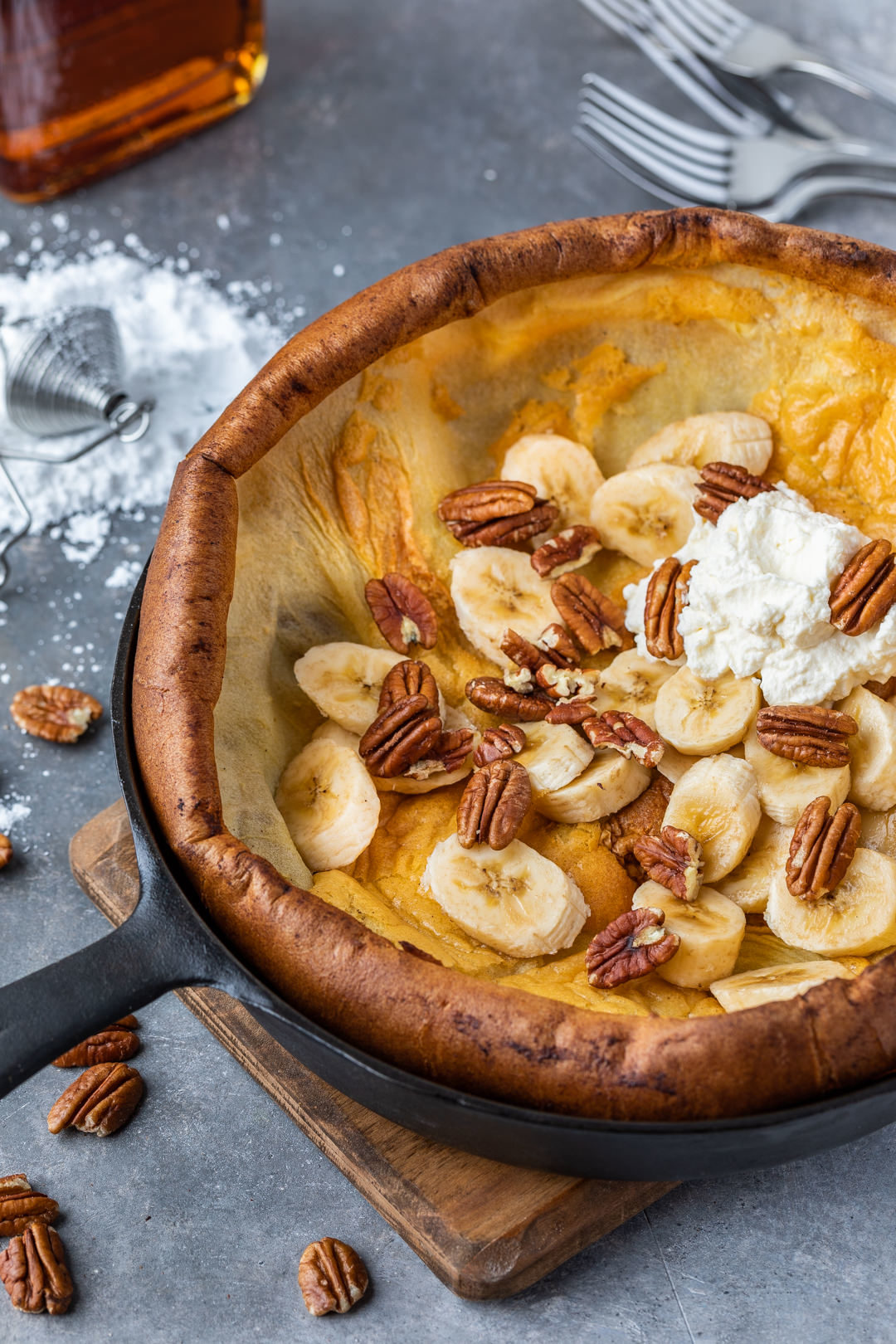 Dutch babies, which are actually German pancakes, are gloriously-puffed pancakes cooked in a hot skillet, much like a Yorkshire pudding or popover. The wow factor of the mile-high sides is always something fun to bring to the table. What's better than a pancake that you can fill with anything you'd like? Like many of my recipes, I worked my way backwards to decide on the fillings. Pecans to me are the star, with bourbon caramel and bananas (because my mom always said to eat my fruit) as the backup singers.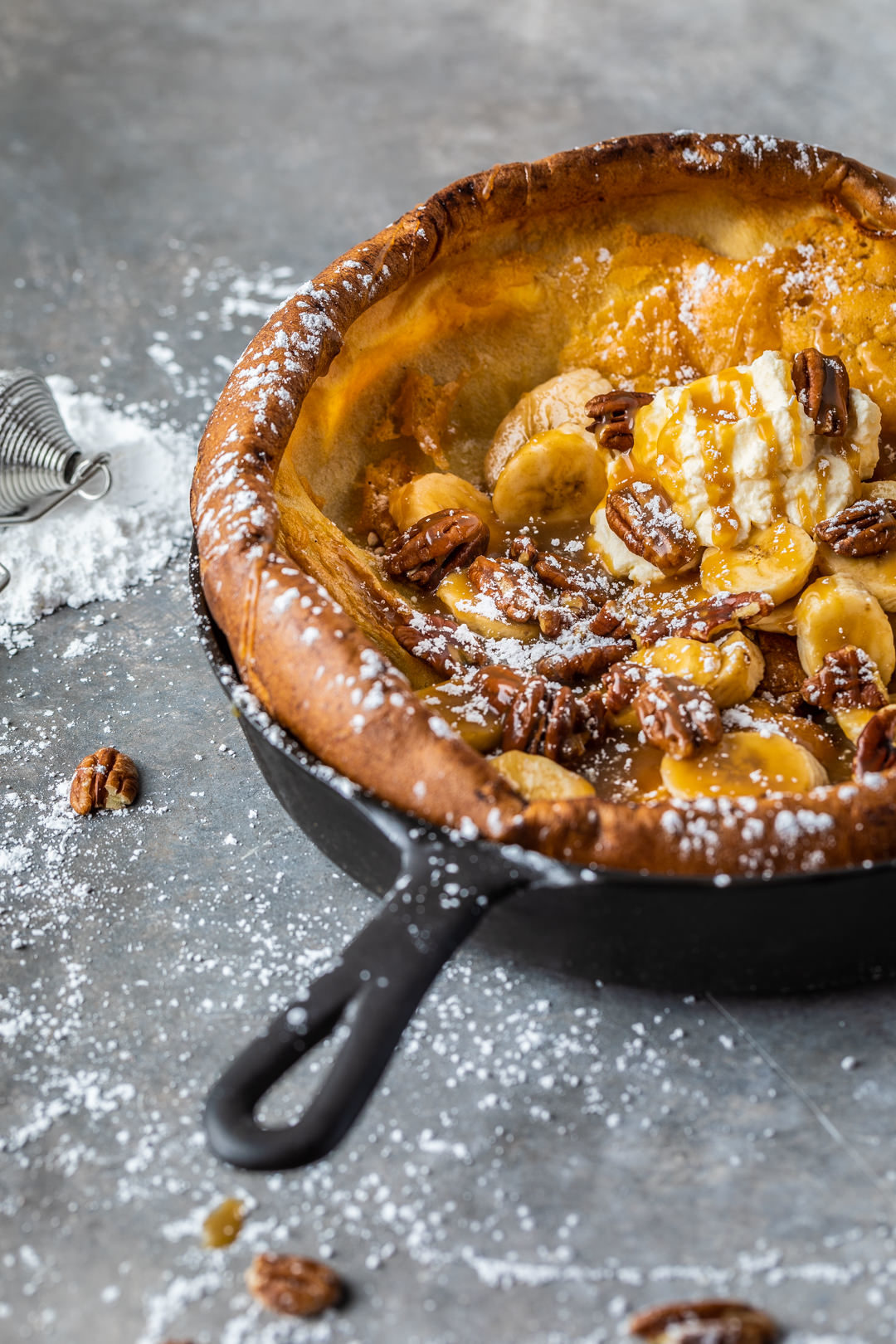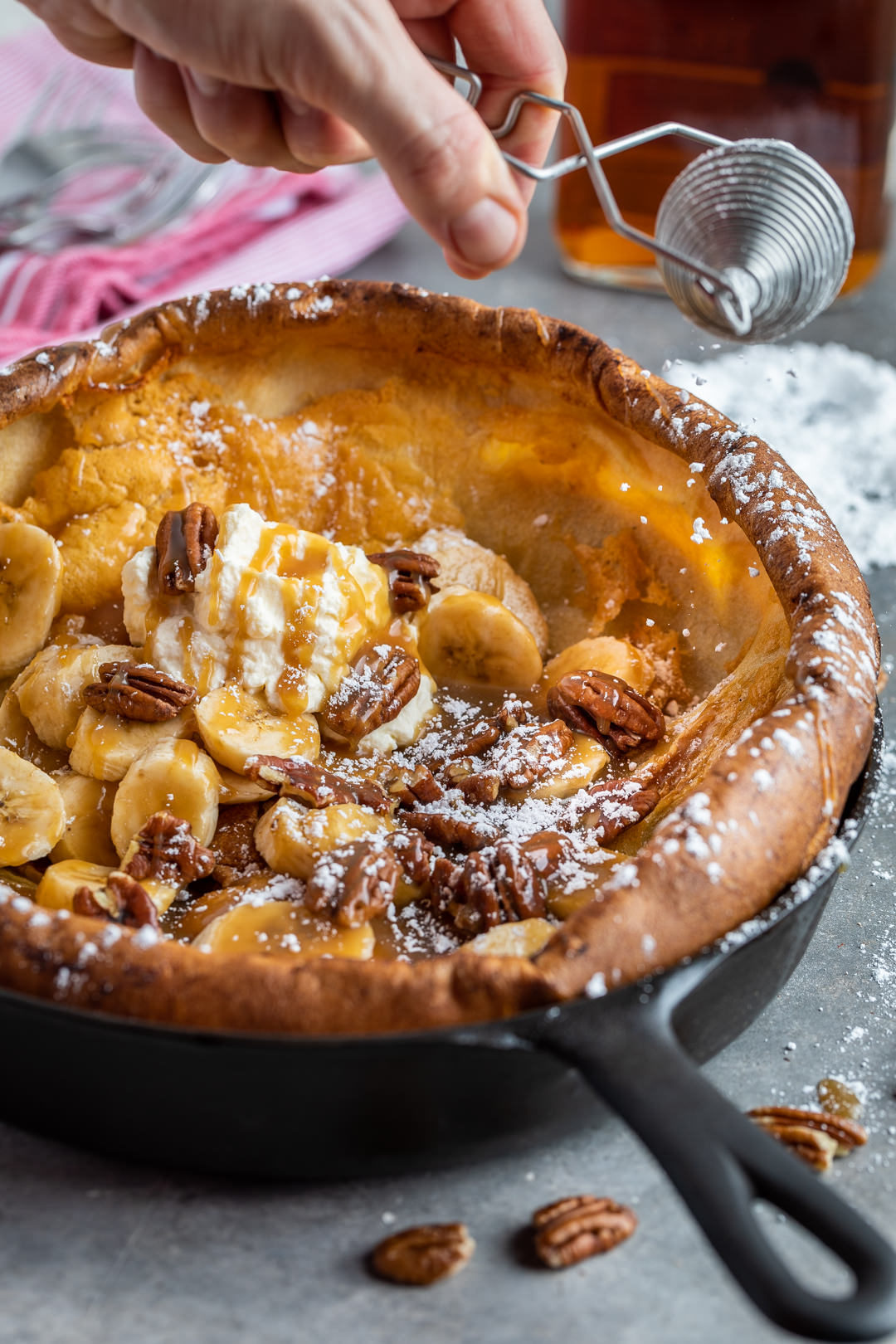 This recipe is my way of sharing a pecan piece of my childhood along with the experience of creating something new that I take so much joy in. — Nostalgia, after all, is by far the best ingredient that you have in your kitchen.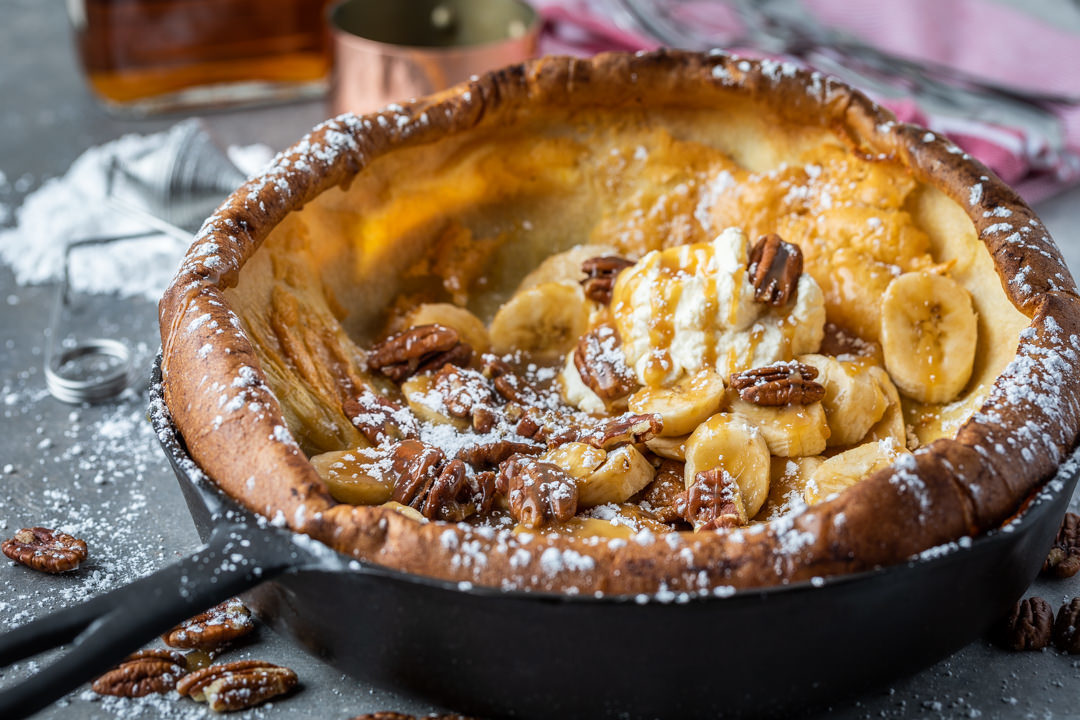 Find this recipe and story in the latest (July/Aug) edition of Southern Cast Iron Magazine. The print edition is here. Digital edition here.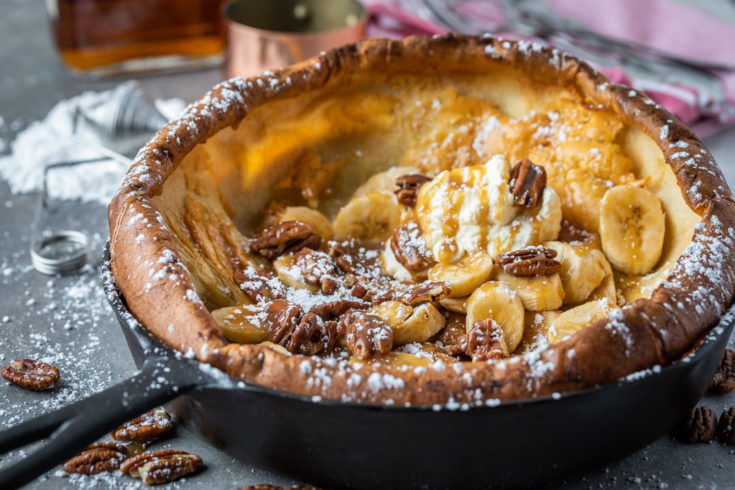 Yield:

4 servings
Banana Pecan Bourbon Dutch Baby
This puffy Dutch baby pancake recipe is topped with banans, pecans, bourbon caramel sauce and is ready in just minutes. From SouthernFatty.com.
Ingredients
Dutch Baby Pancake
3⁄4 cup all-purpose flour
3 large eggs
1 tablespoon sugar
1 teaspoon vanilla extract
1⁄4 teaspoon salt
3⁄4 cup milk, whole
3 tablespoons unsalted butter
Bourbon Caramel
1 cup light brown sugar, packed
1⁄2 cup heavy cream
1⁄4 cup butter, unsalted
1 tablespoon corn syrup, light
1⁄4 teaspoon salt
3 tablespoons bourbon
Finishing
2 bananas, sliced
1/2 cup pecans, chopped
1/4 cup powdered sugar
Instructions
Dutch Baby Pancake
Pre-heat an 8-10" cast iron or steep-sided skillet in oven at 450 F.
In a blender, combine flour, eggs, sugar, vanilla, and salt.
Blend for 30-45 seconds, scraping sides as needed.
Warm milk (simmer or microwave gently).
Add warm milk to blender and blend for an additional 30-45 seconds.
When the oven and skillet are both at temperature, very carefully remove the hot skillet from the oven.
Add the 3 tablespoons of butter to hot skillet and swirl to coat the bottom and all sides.
Immediately pour batter into skillet and return to hot oven.
Without opening the door, cook for 10 minutes at 450 F.
Reduce the temperature of the oven to 400 F and continue to bake until golden, an additional 10 minutes.
Serve warm with banans, pecans, powdered sugar, and bourbon caramel.
Enjoy! -- Find more recipes on SouthernFatty.com.
Bourbon Caramel Sauce
Combine brown sugar, cream, corn syrup, butter and salt.
Cook over medium heat in saucepan, about 8 minutes. Stir frequently.
Add bourbon and stir until thickened and smooth.
Remove from heat and cool.
This can be prepared well ahead of time and stored sealed in the refrigerator.
Recommended Products
As an Amazon Associate and member of other affiliate programs, I earn from qualifying purchases.
Nutrition Information:
Yield:
1
Serving Size:
1
Amount Per Serving:
Calories:

419
Total Fat:

13g
Saturated Fat:

6g
Trans Fat:

0g
Unsaturated Fat:

3g
Cholesterol:

16mg
Sodium:

18mg
Carbohydrates:

28g
Fiber:

2g
Sugar:

24g
Protein:

6g