Those insta-famous crinkle brownie cookies take a brown sugar and white chocolate bacon-topped twist with the recipe for these bacon blondie cookies. Finished with an espresso glaze & crunchy bacon.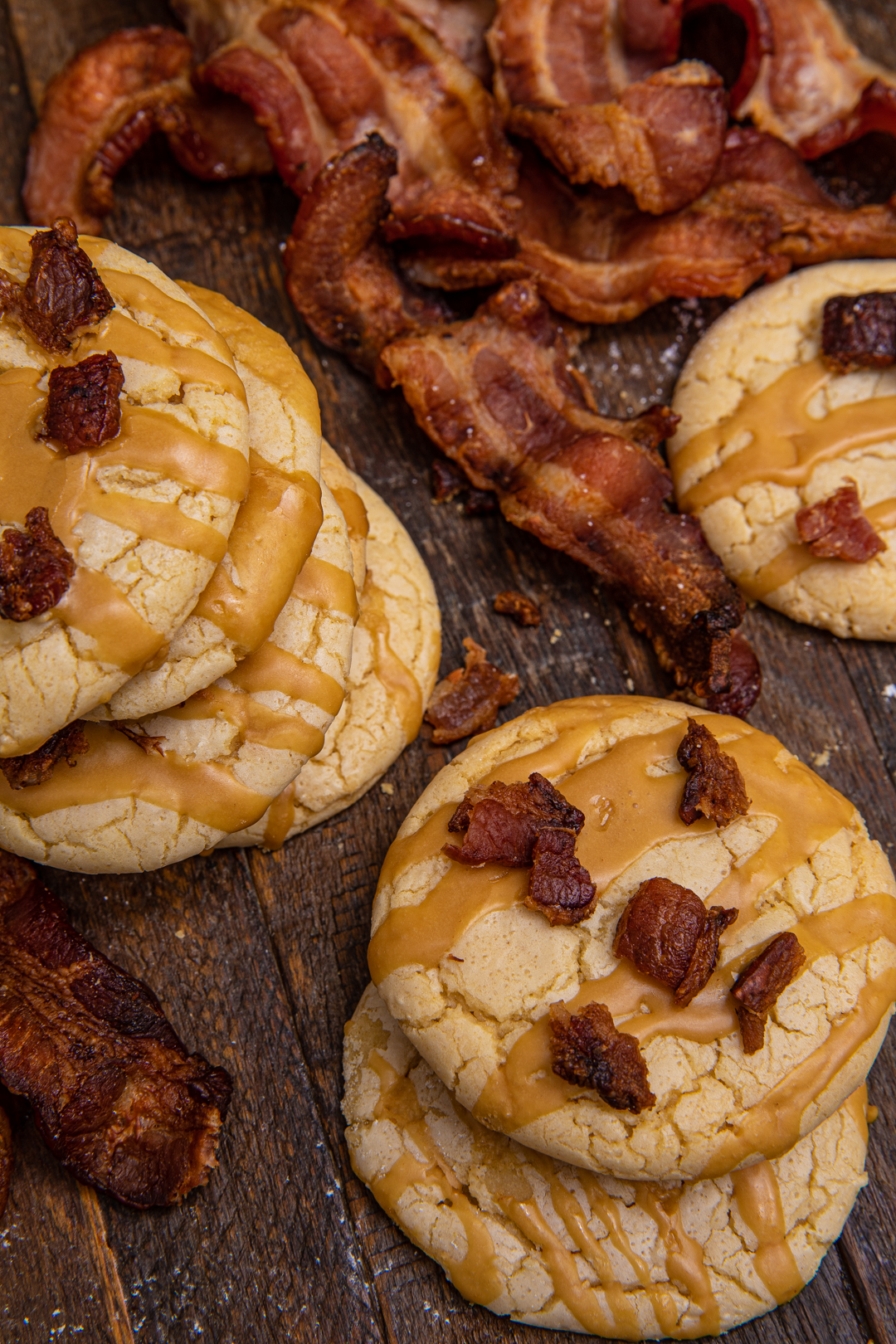 I almost hate to admit this on my blog out of pure fear of outrage from my readers, but I think I might actually enjoy blondies more than brownies. The exception being a warm brownie with ice cream, because few things can top that. Blondies always seem to have the best texture. A bit chewy and packed with glorious butter + brown sugar and melted white chocolate…. Gimme! After recently creating a recipe for whiskey glazed brownie cookies, I knew I had to create a blondie version. This bacon blondie recipe has that great crinkled, crisp top that is a fundamental prerequisite to a seriously good brownie/blondie, plus a delicious espresso glaze and what might be the best blondie topping I've ever tasted — crispy bacon.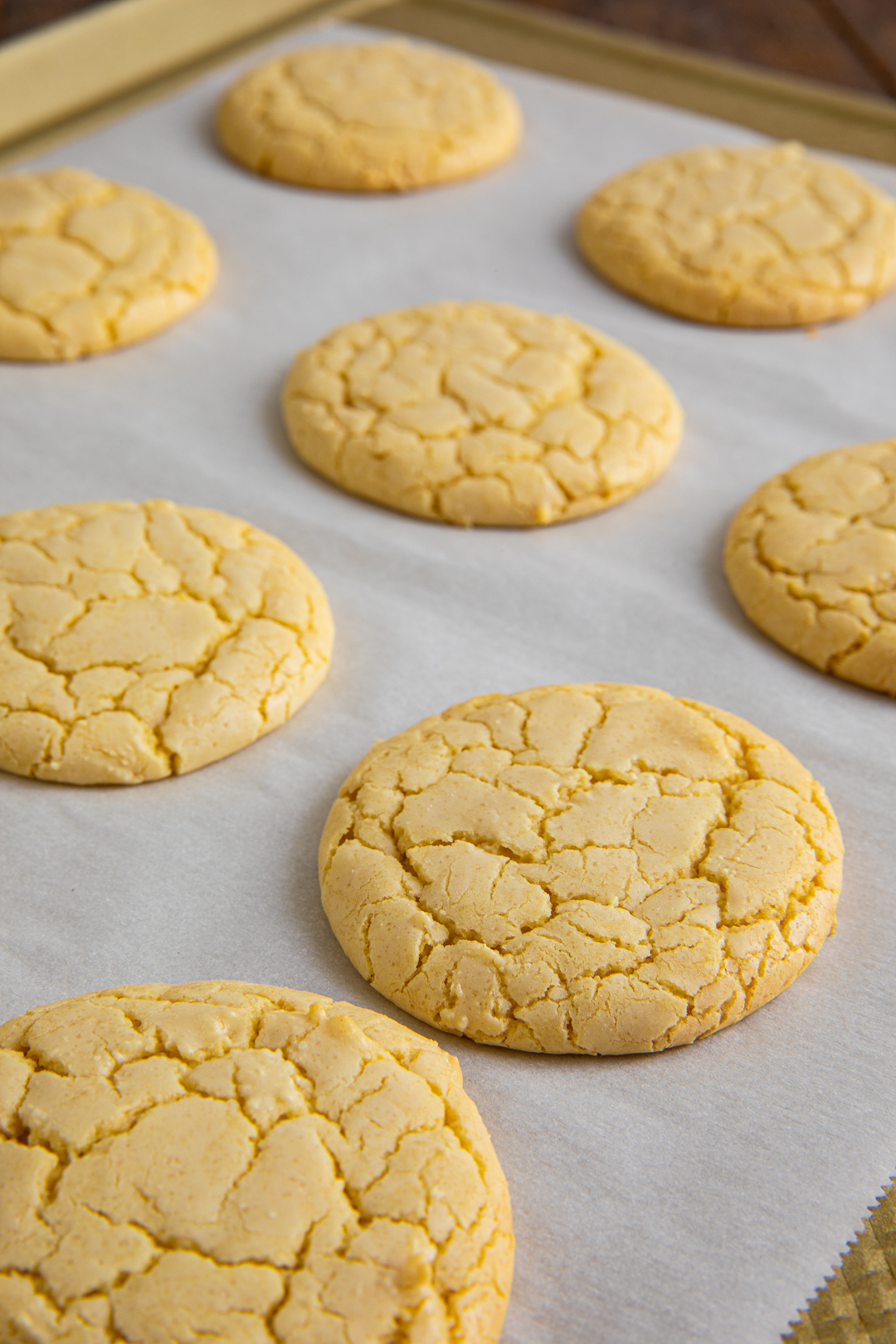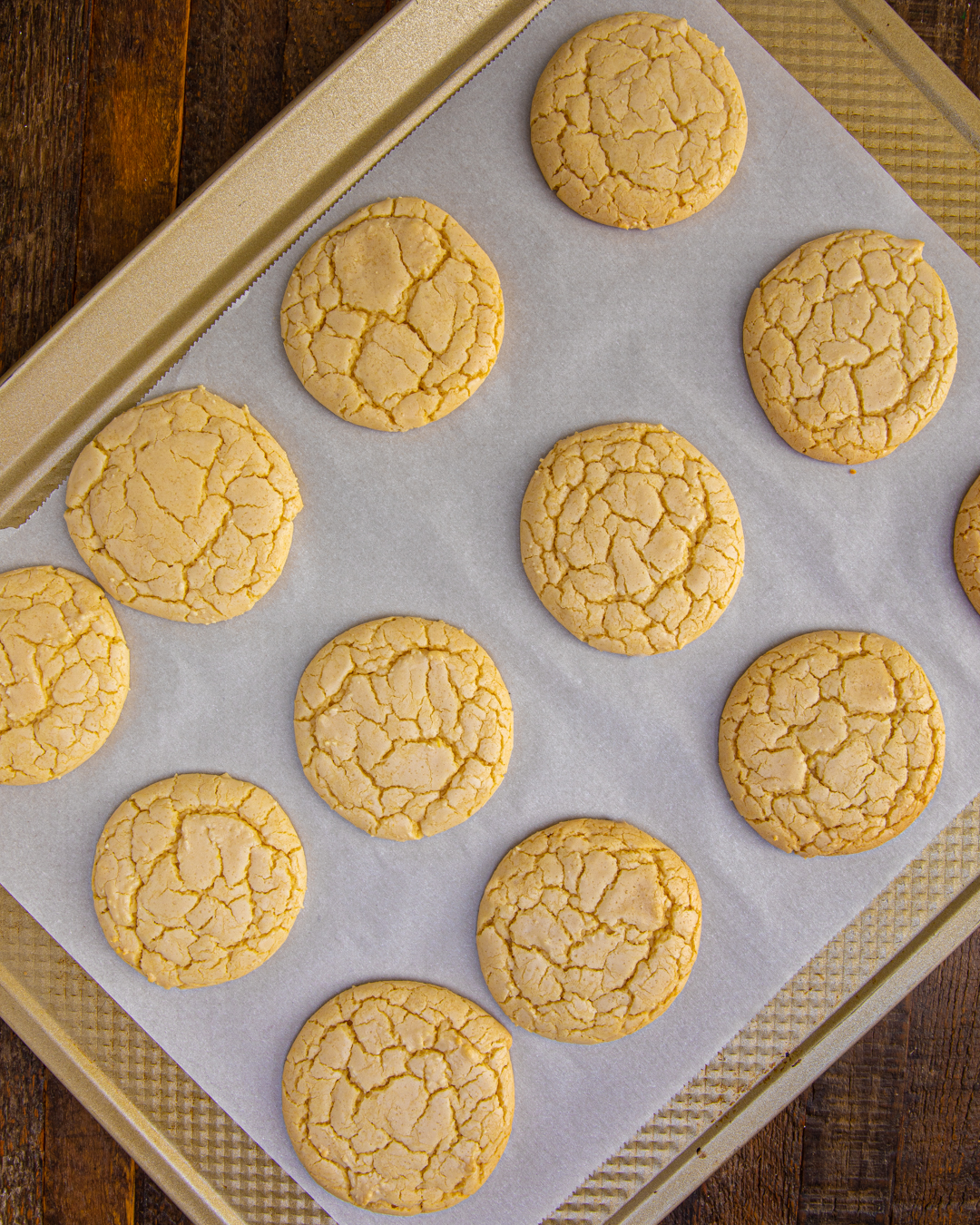 When I started to brainstorm recipe ideas for a first place blondie cookie, I was shocked to only find a bunch of blondie bar recipes. You'll never catch me hating on a blondie bar, but there is just something mythical about brownies and blondies in cookie form.
The crinkle top that surrounds the entire top of the cookie with the charmingly chewy center just takes it all to a whole new level. It turns out, maybe there weren't any blondie cookie recipe out there for a reason.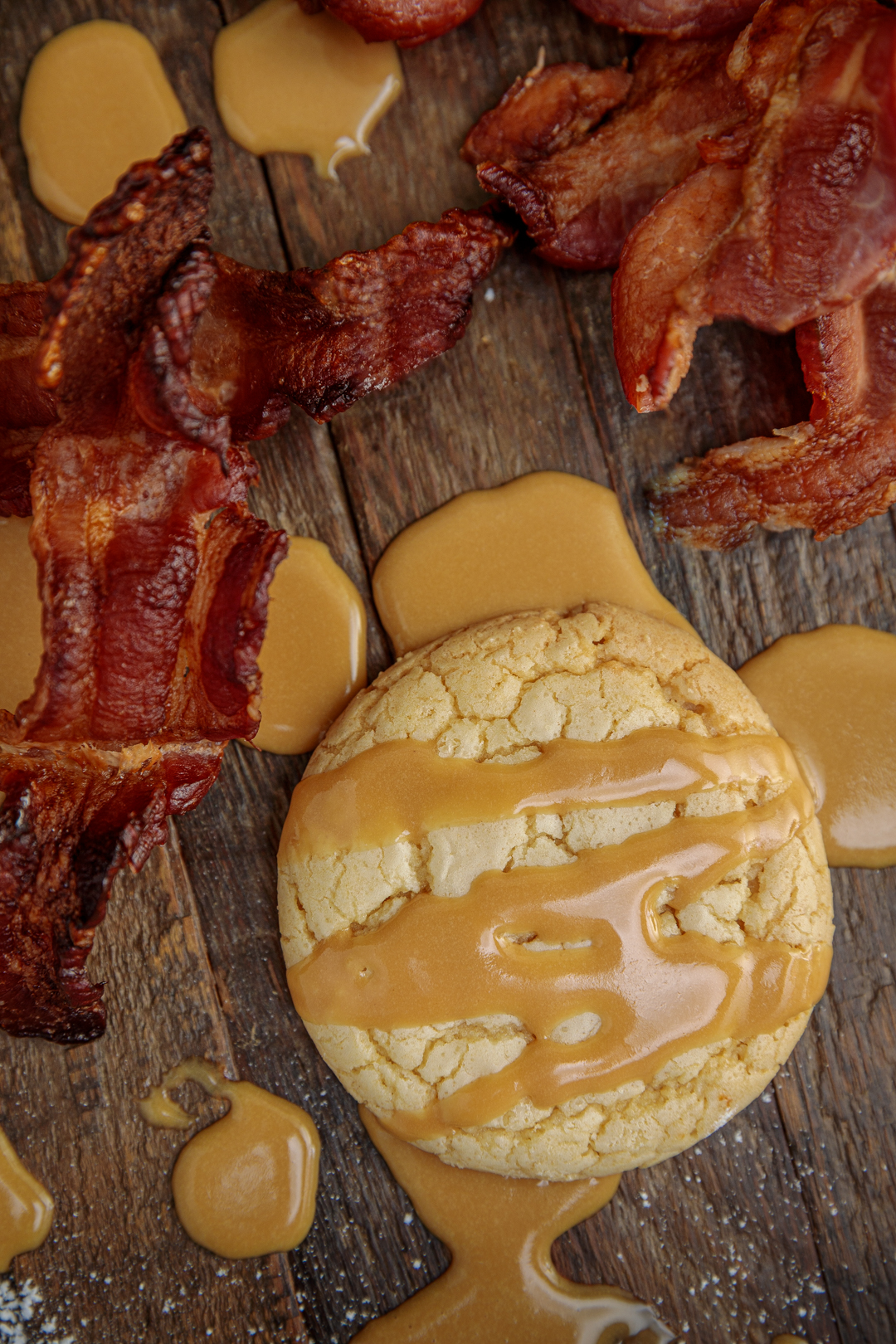 Brownie cookies are notorious for being a bit finicky. They have to be baked immediately after mixing to get that crinkled top. If not, they'll taste great but most likely be missing that texture element.
I got a bit curious about why that crinkled top happens and it seems like the consensus from the American Chemical Society's Brownie Chronicles (Yes. It's real and is what I read for fun.) is that this is formed due to the addition of eggs, complimented by beating to add air, and the sugar in the batter. If it sounds awfully similar to a meringue, that's because it is exactly that. A thin layer of meringue.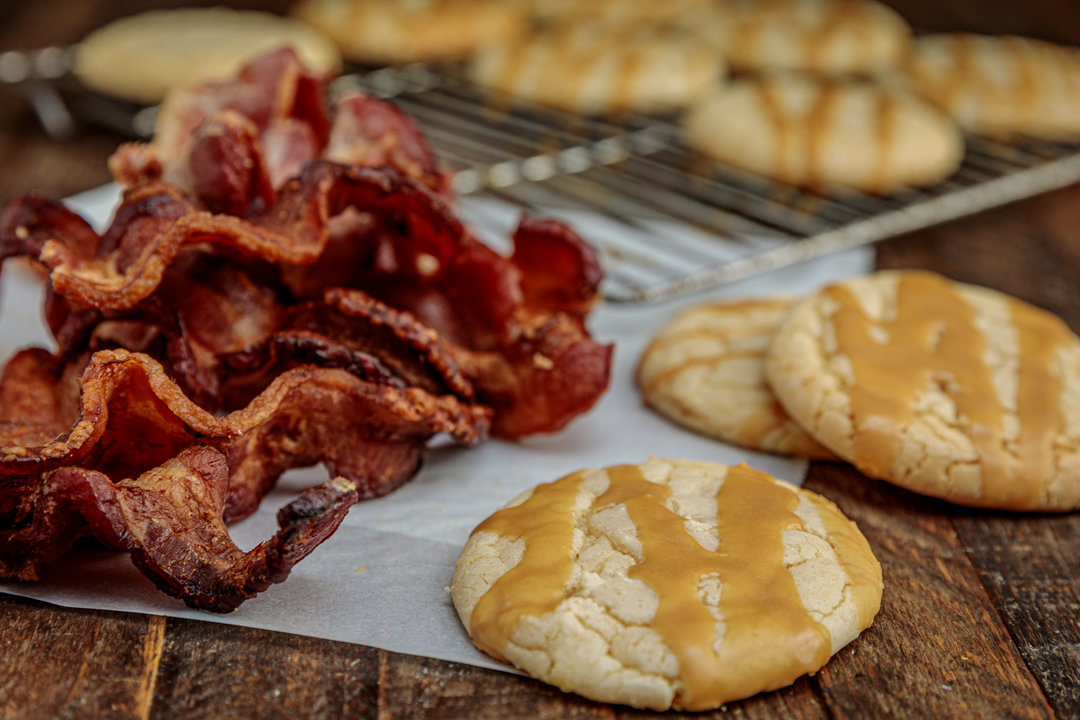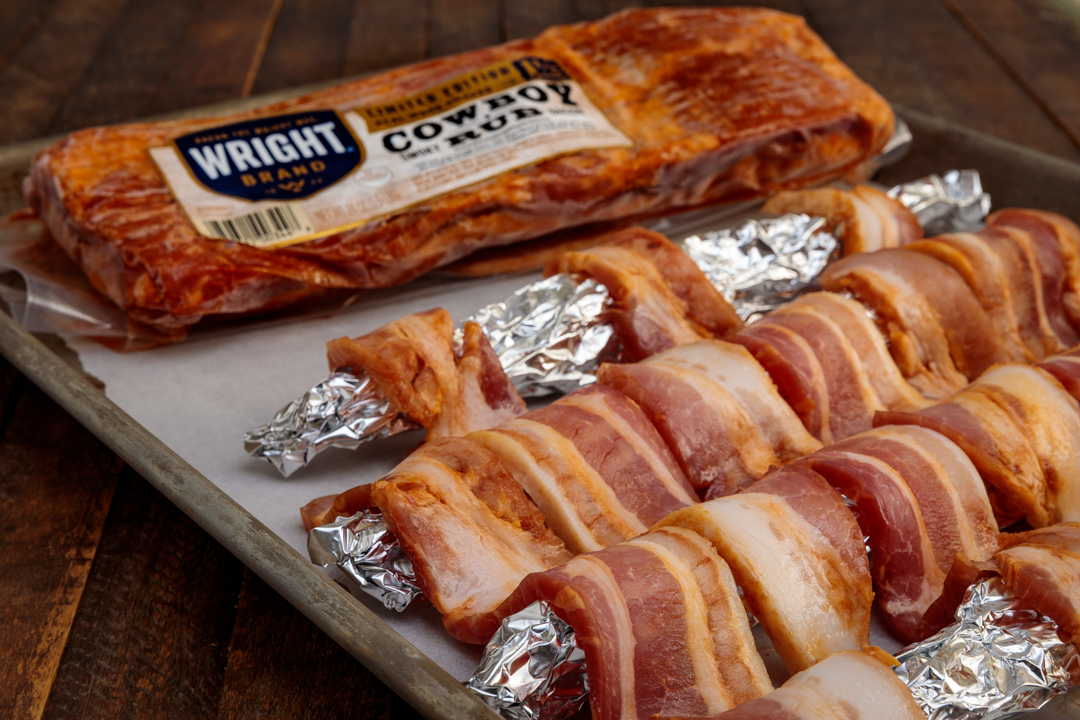 Knowing how moody the brownie cookie recipe can be, I assumed I wouldn't be able to simply swap out the chocolate in that recipe with white chocolate. For good measure, I tried. It was a terrible failure, as expected. About 10 batches and a handful of kitchen profanity, I managed to pull it off.
These cookies require quite a bit more flour than the traditional brownie cookies. Since white chocolate is cocoa butter and milk proteins, it is more fluid. I was a bit worried that adding extra flour would result in a cake-y texture instead of that chewy blondie bite that I was aiming for. As long as you don't over mix and you bake them off immediately, it seems to be just right.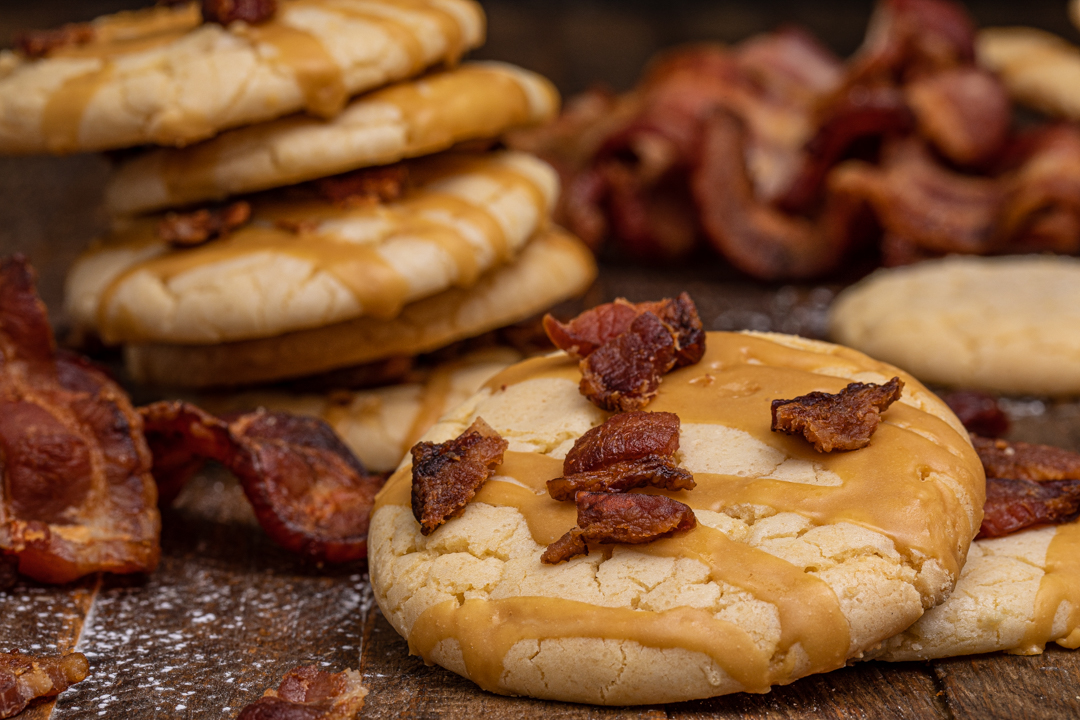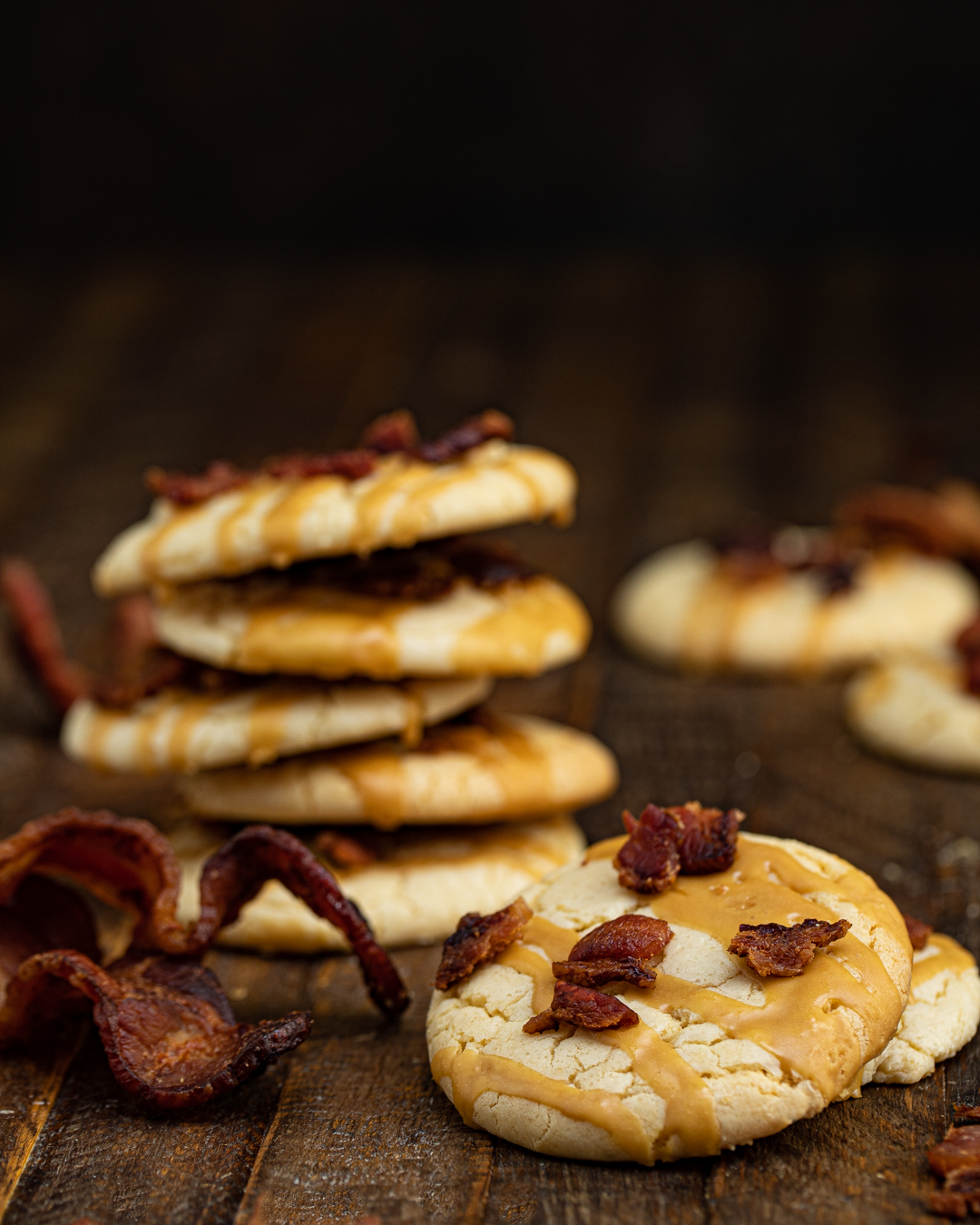 We all know that I can't just leave a recipe alone with it's base, so I decided to include most everyone's favorite main course — bacon. I picked a bacon that has quickly become one of my absolute favorites because it is seasoned with a sweet with a small kick of seasoning. It's a bit smoky, which matches with the brown sugar sweetness of the blondie. Since this bacon has some background flavors of coffee to me, an espresso glaze (which is SO simple to make) adds just a bit of warmth to tie it all together.
Give this one a try when you are craving midnight brownie. Most likely you won't want to share, but your friends sure will thank you if you do.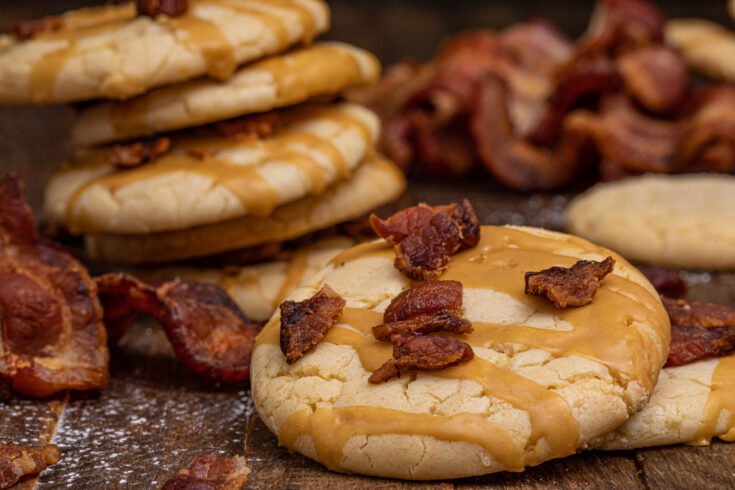 Yield:

12
Bacon Blondie Cookies
A brown sugar and white chocolate bacon-topped twist on the famous brownie cookies in the recipe for these bacon blondie cookies. Finished with an espresso glaze & crunchy bacon. From SouthernFatty.com.
Ingredients
Blondie Cookies
7 oz / 200 g white chocolate, good quality, chopped
8 tablespoons / 113 g unsalted butter
3/4 cup / 150 g sugar, granulated
1/2 cup / 100 g brown sugar
2 eggs, whole, large
2 and 1/2 cups / 330 g flour, all-purpose
1 tsp baking powder
1/4 tsp salt
6 pieces / bacon, crispy and room temperature
Espresso Glaze
1 cup / 120 g powdered sugar
1/4 cup / 60 ml espresso or strong coffee, cold
Instructions
Blondie Cookies
Preheat oven to 350 F. Line two baking sheets with parchment paper. Set aside.
In a large heat safe bowl, combine chocolate and butter.
Place bowl over a saucepan with an inch or two of water over medium-low heat.
Slowly melt and stir the chocolate and butter.
Once melted, remove from heat and set aside.
In a mixer bowl, combine eggs and all of the sugar (white and brown).
Mix at medium speed to cream for 5 minutes.
Add the melted chocolate to the creamed sugar and mix until combined.
Whisk together the remaining dry ingredients and add to the chocolate/butter. Mix until just combined. Take care to not overmix.
Immediately portion cookies onto prepared pans, leaving plenty of room for the cookies to spread a bit when baked.
Bake for 14 minutes (if using the recommended 3 1/2 tablespoon scoop).
The cookies may appear undercooked. Move them to a cooling tray until completely cooled.
Espresso Glaze
Whisk together powdered sugar and cooled espresso.
Finishing
Drizzle espresso glaze over cooled cookies.
Top with chopped crispy bacon and enjoy!
Find more recipes on SouthernFatty.com.
Share your creations with us on social media by tagging @southernfatty & #southernfatty
Nutrition Information:
Yield:
12
Serving Size:
1
Amount Per Serving:
Calories:

140