Classic cream puffs recipe with a Kentucky kick. Homemade cream puffs are topped with a crunchy brown sugar blanket, filled with bourbon whipped cream, and finished with a rich caramel drizzle.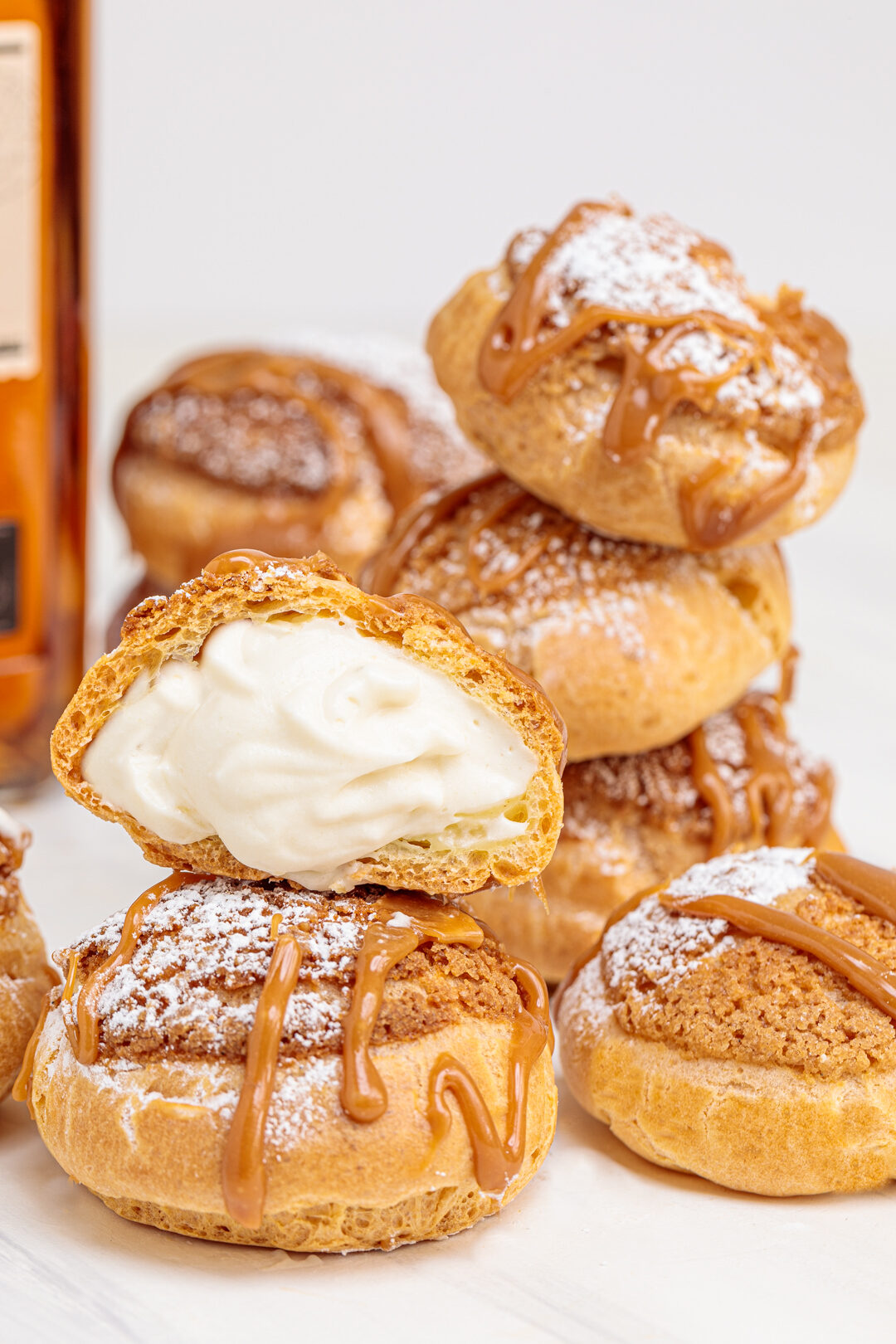 It should be of no surprise to y'all that one of my first recipes of 2020 is stuffed with bourbon. It's my favorite ingredient to bake with, often replacing vanilla. With a cabinet stocked full of Kentucky gold, I decided to kick things off with a simple, sweet, silky smooth bourbon whipped cream filled cream puff.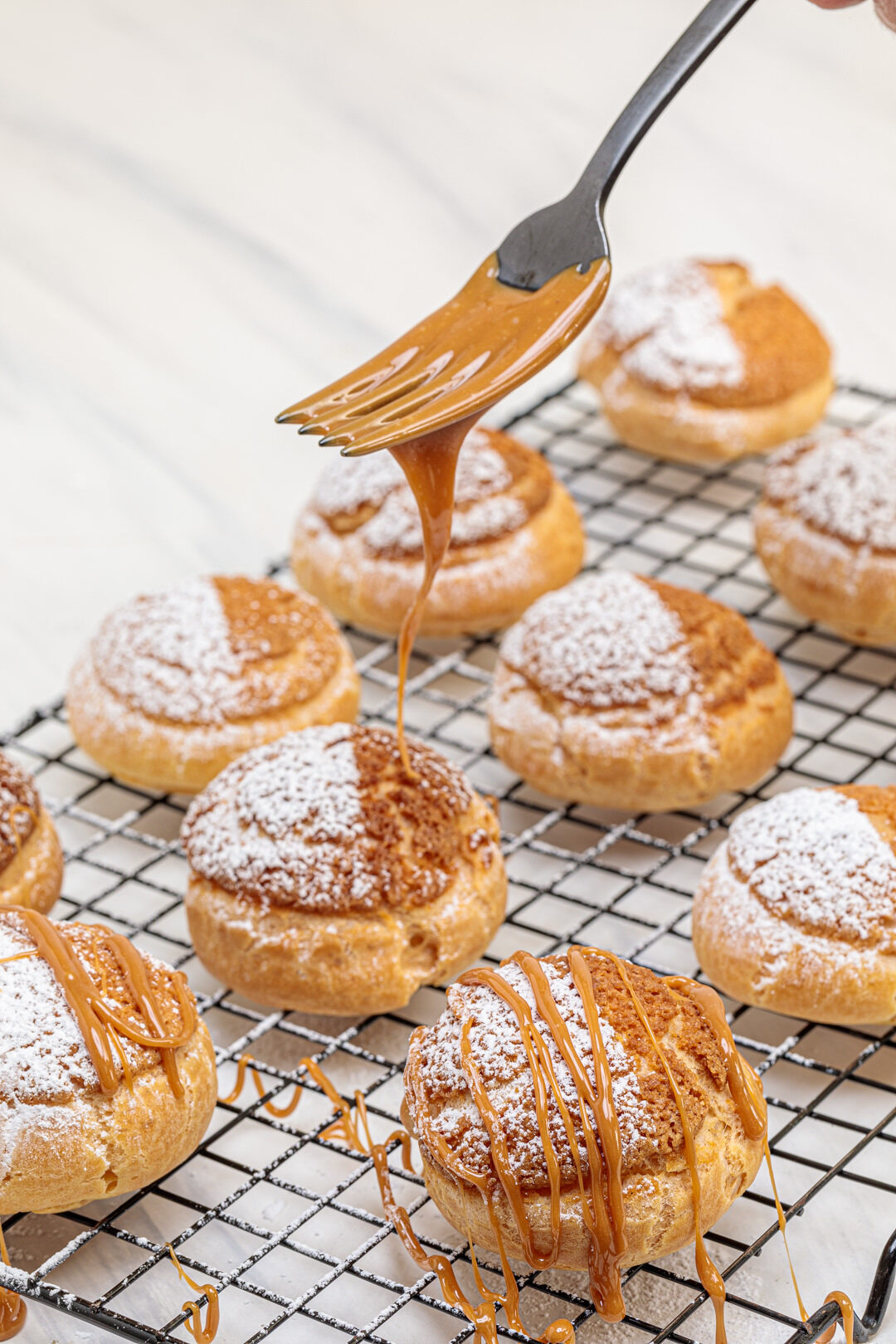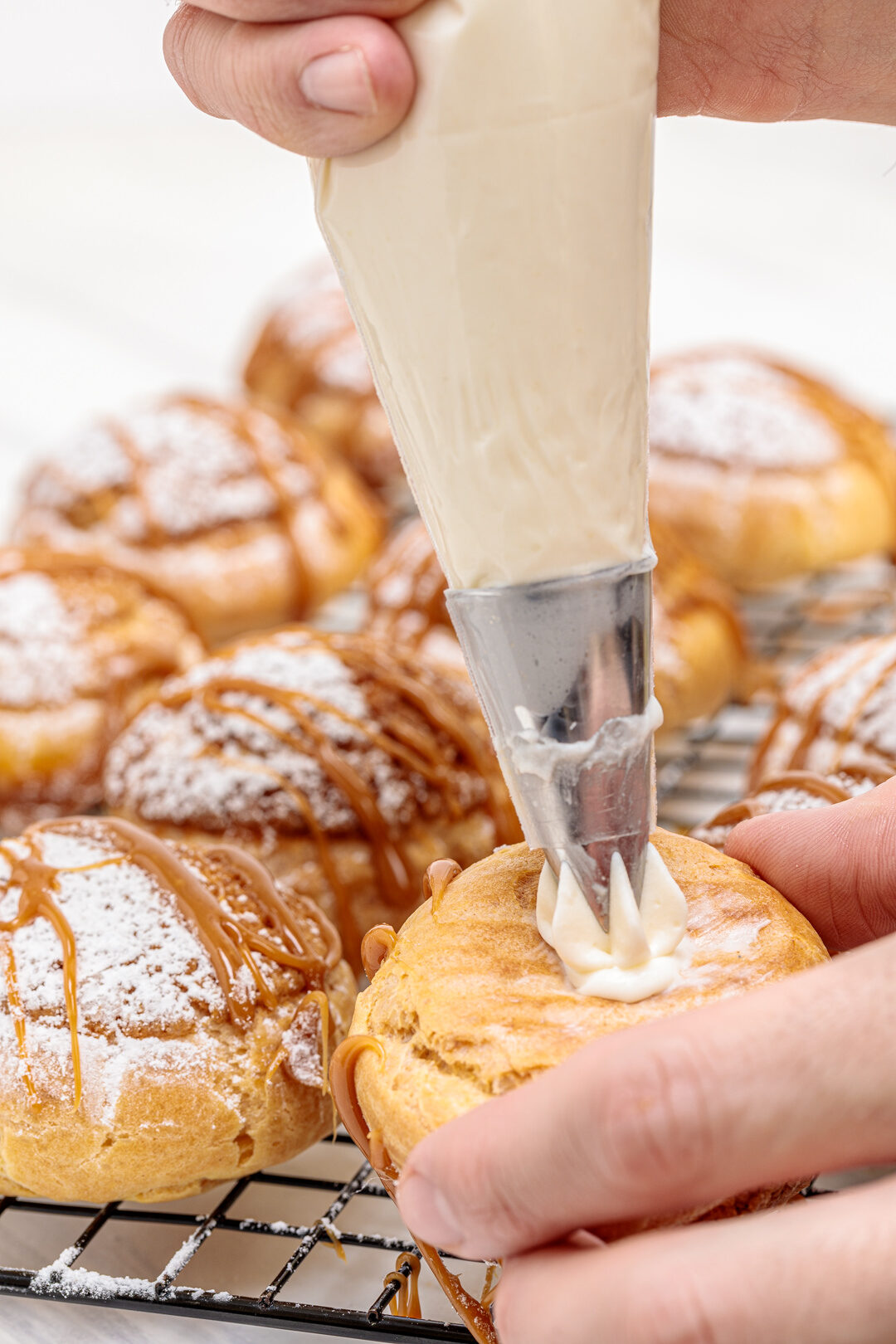 Cream puffs, or choux pastry in general (pronounced shoe pastry), happens to be one of the most versatile of all of the pastry dough standards. You can make them both savory and sweet, topping them with cheese for beautiful gougères (savory cheese puffs), or lean towards the sweeter side of things with a tower of puffs to create a show-stopping croquembouche centerpiece.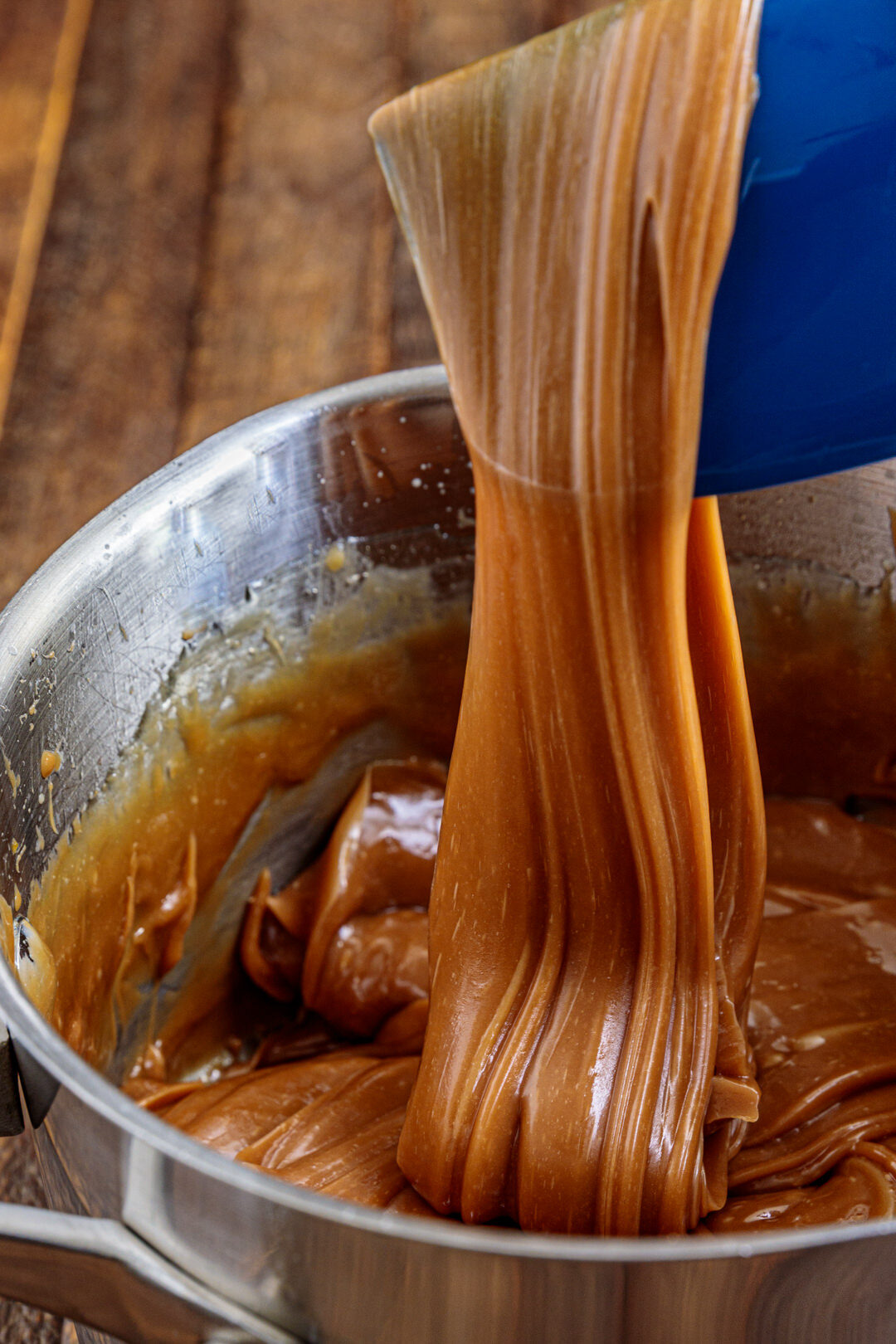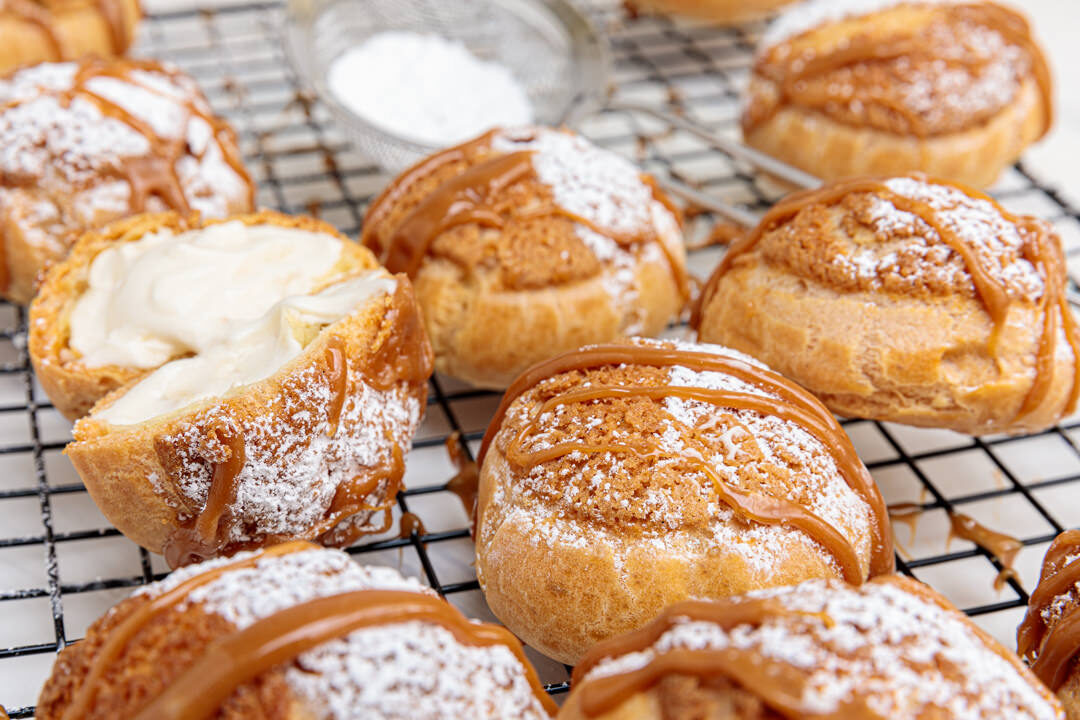 If you've checked out my pâte à choux recipe post, you'll also realize that it is an incredibly simple recipe to recall by memory. It's a simple 1:1:1 ratio.
Instead of your usual pastry cream filling, I decided to make a bourbon whipped cream instead. It's much lighter and to be totally honest, I just wanted something that was a bit faster to whip up. It's as easy as it sounds, with a simple homemade whipped cream plus a healthy splash of a favorite Kentucky bourbon (I used Knob Creek Ⓡ). If you want to make the whipped cream ahead of time, you can stabilize it by adding a bit of gelatin. That's a great tip that I use quite often.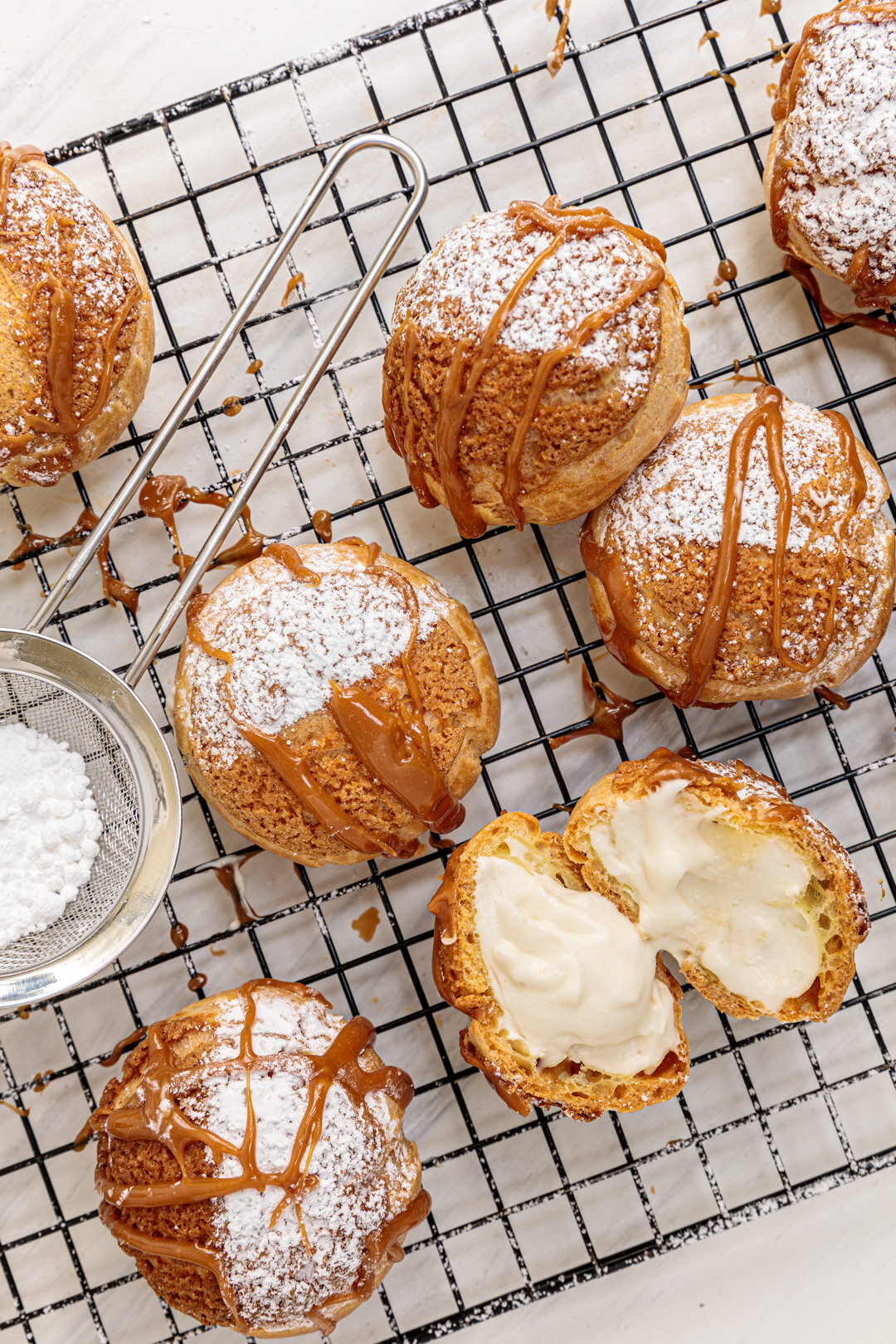 Cream puffs are sometimes topped with craquelin. A very simple dough is rolled out and punched into circles that you press right on top of the choux pastry just before baking. The sugary dough will melt and then as the puffs expand from the steam, creating that wonderful hollow pastry to be filled, it will crackle as it bakes.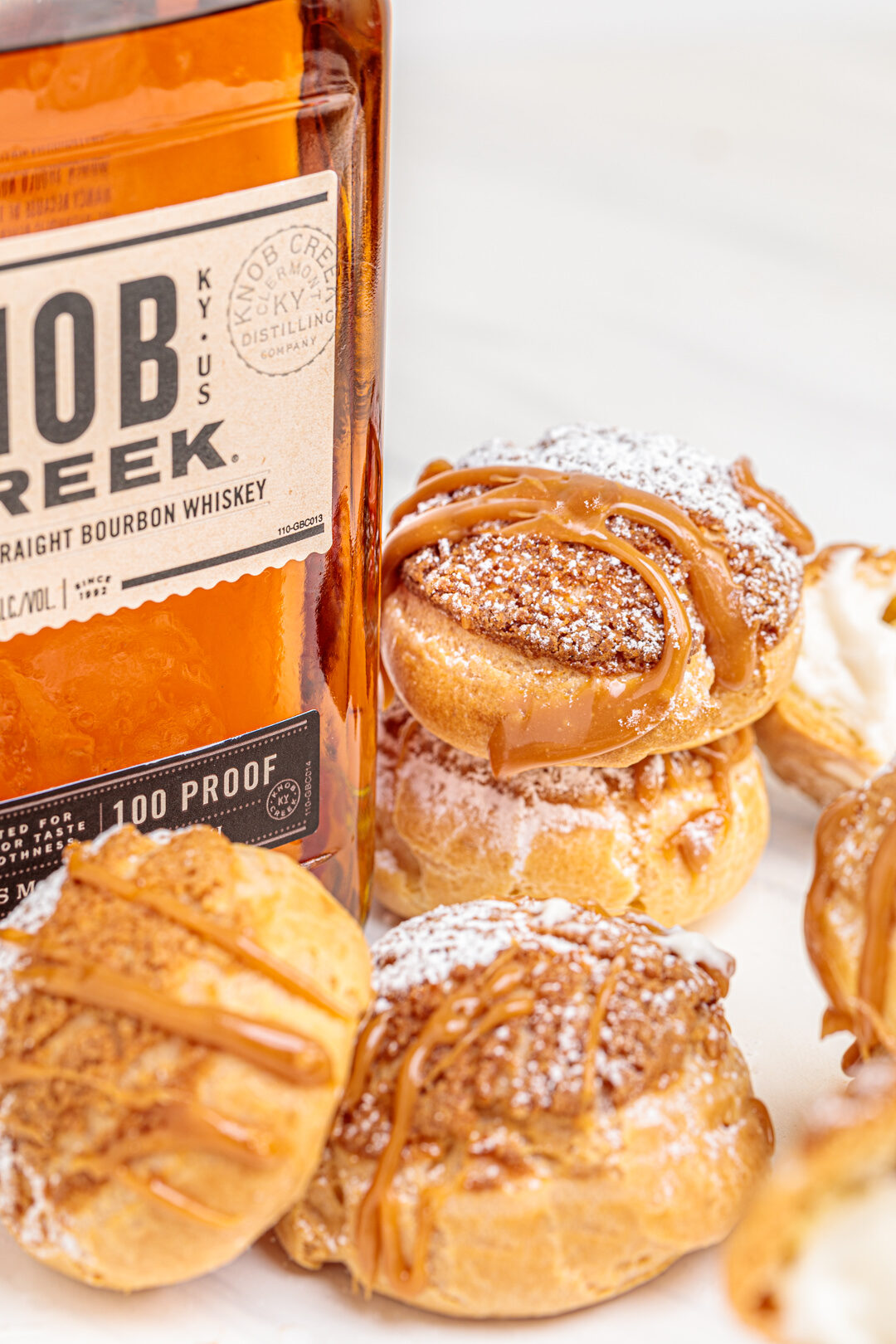 Combine the sweet crunch of the craquelin, the unique kick of the bourbon whipped cream, the golden caramel drizzle, and you'll be breaking in the new year with the best bourbon bake you've ever had.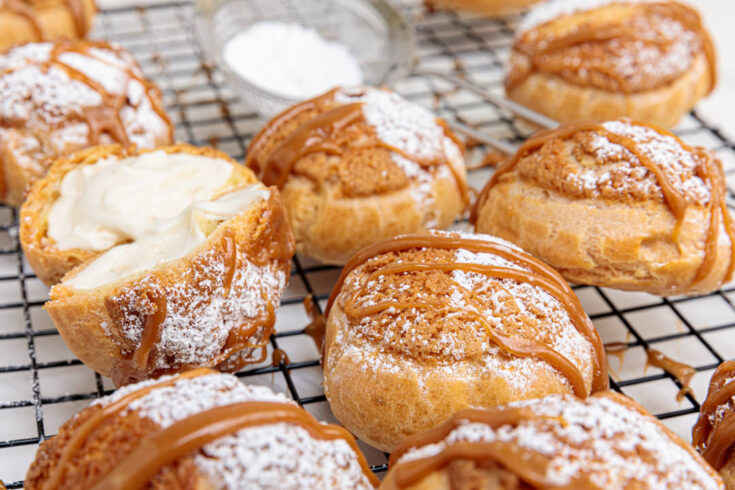 Yield:

24
Bourbon Caramel Cream Puffs
Classic cream puffs recipe with a Kentucky kick topped with a crunchy brown sugar craquelin, filled with bourbon whipped cream & caramel drizzle. From SouthernFatty.com.
Ingredients
Pâte à Choux / Pastry Dough
1 cup water
1 stick (113 g ; 8 tablespoons) butter, unsalted
salt, pinch
1 cup flour, all-purpose
1 cup eggs (~4 large)
Craquelin (crunchy top)
1/4 cup flour
1/4 cup brown sugar
1/4 cup butter, unsalted, room temperature
Bourbon Whipped Cream
1 cup heavy cream
3 tablespoons powdered sugar
1 tablespoon Knob Creek Kentucky Bourbon
Finish
caramel, to finish
powdered sugar, to finish
Instructions
Craquelin
Cream butter and sugar for 2-3 minutes with mixer.
Add flour and mix until a dough is formed.
Roll between two sheets of parchment paper until very thin, about 1/8 inch.
Using a round cutter, punch out 1-inch circles of the dough.
(PRO TIP: I use the larger side of the 1/2 piping tip linked below)
Chill until ready for use below. This can be made ahead of time and kept cold.
Puffs
Preheat oven to 425 F.
Line baking sheet with silicone mat or parchment paper. Measure out all ingredients before you start.
In a medium saucepan, combine butter, water, and salt. Bring to a simmer on low / medium-low heat. Do not boil or you may lose too much water.
Dump in all flour at once.
Over medium heat, stir vigorously with wooden spoon until flour comes together in ball, 3 minutes.
Transfer dough to mixer with paddle attachment.
Mixing on medium speed, let mix to cool for 3-4 minutes.
Mix in eggs one at a time while continuing to blend.
Transfer mix to piping bag with 1/2-inch tip (linked below).
Pipe desired shape onto silicone mat or paper, giving 2-3 inches between each for it to expand. I piped about 1-inch rounds.
Place craquelini circles directly on top of puffs and press lightly to stick to top.
Bake immediately at 425 F for 10 minutes.
Lower heat to 350 F. Do not open the oven door at any time.
Bake until golden, another 20 minutes.
Let cool completely before filling.
Bourbon Whipped Cream
Place cold heavy cream and sugar into mixing bowl.
With a wisk attachment (or a strong hand), beat until just stiff.
Add bourbon and mix very briefly to incoprorate. Do not overmix or the whipped cream may deflate.
Transfer to piping bag with open tip for filling.
Finishing
Pipe whipped cream into the cream puffs.
Finish with powdered sugar and a drizzle of caramel.
Enjoy immediately.
You can store unfilled cream puffs in an airtight container for 2-3 days. You may freeze for a month.
Re-crisp unfilled puffs at 325 for 5-6 minutes before cooling and filling.
Find more recipes on SouthernFatty.com.
Recommended Products
As an Amazon Associate and member of other affiliate programs, I earn from qualifying purchases.
Nutrition Information:
Yield:
24
Serving Size:
1
Amount Per Serving:
Calories:

128
Total Fat:

7g
Saturated Fat:

4g
Trans Fat:

0g
Unsaturated Fat:

2g
Cholesterol:

54mg
Sodium:

30mg
Carbohydrates:

14g
Fiber:

0g
Sugar:

9g
Protein:

2g