This is a sponsored post written by me on behalf of Altos Tequila. All opinions are 100% mine.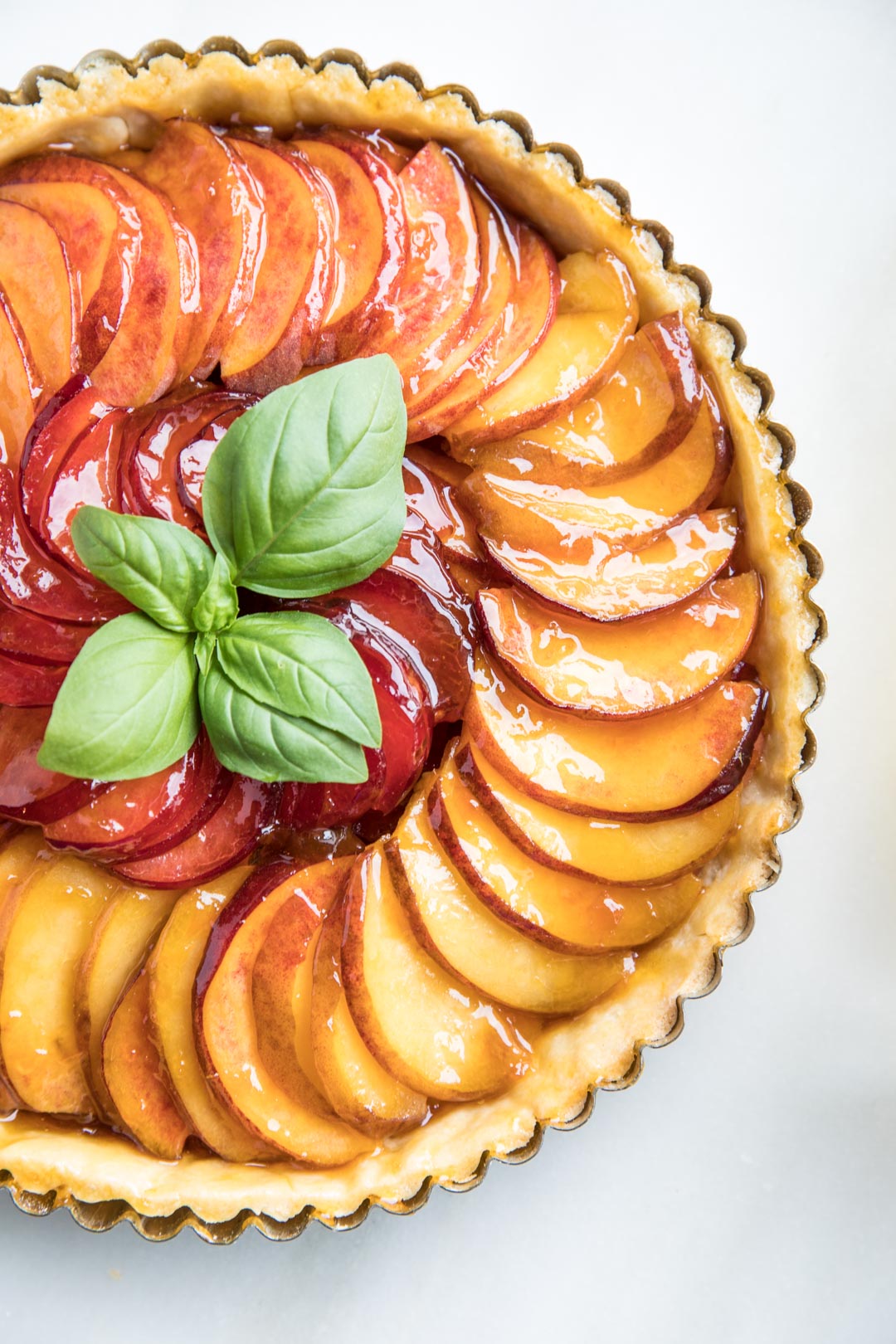 BBQ season! There's really nothing like grilling out, cooking dinner and having drinks with friends after a long day or to kick off the weekend. Something that I've noticed from the countless backyard invites has been the absence of great desserts. I'm totally one of the sweet tooth types, so I went on a mission to figure out a fresh new bite that is sure to keep the party alive after the grill is cooling down.
You say peaches, I say tequila. It's honestly a match made in boozy heaven. Rich, bold tequila goes so incredibly well with the tart, sweet peaches of summer. Here in the south, if you're baking in summer, there's a good chance that it will have some of whatever fruit is in season. This fresh tart, made simply from fresh fruit and a two ingredient glaze in a pastry butter crust) is the best BBQ dessert to top things off (after topping my tequila off, of course).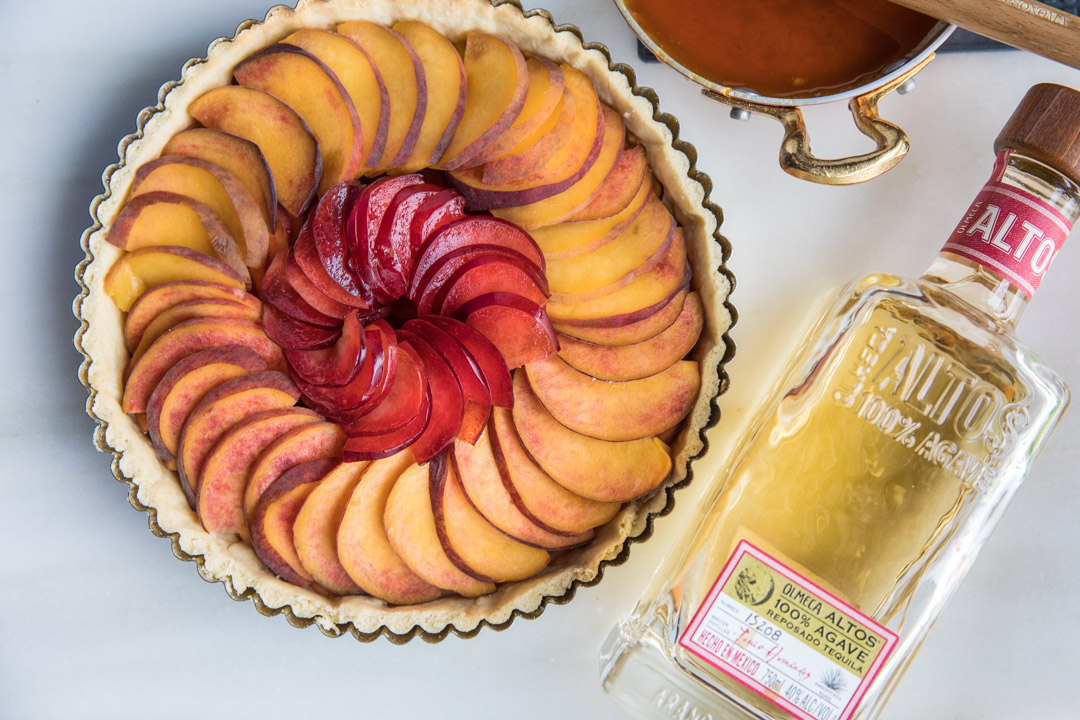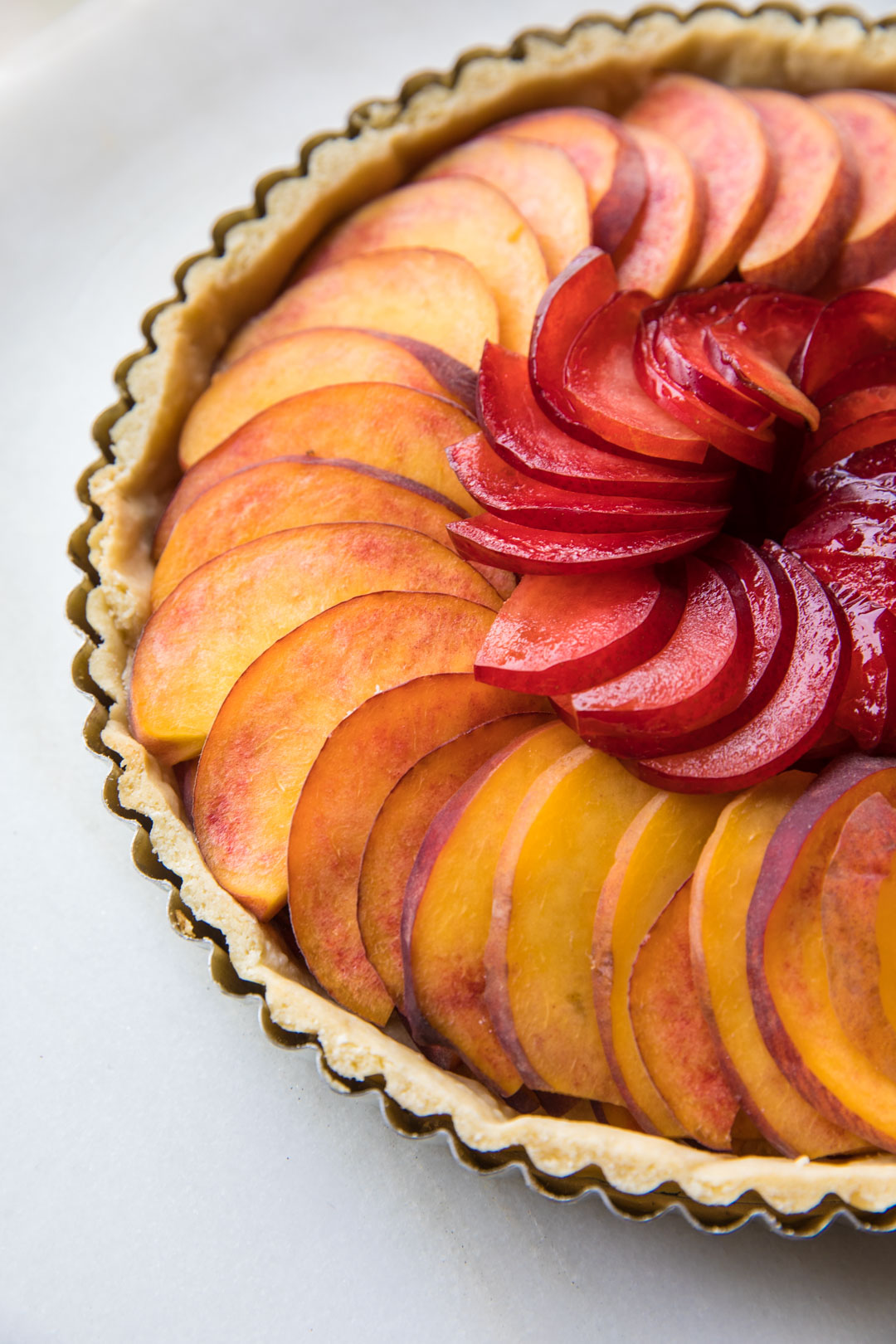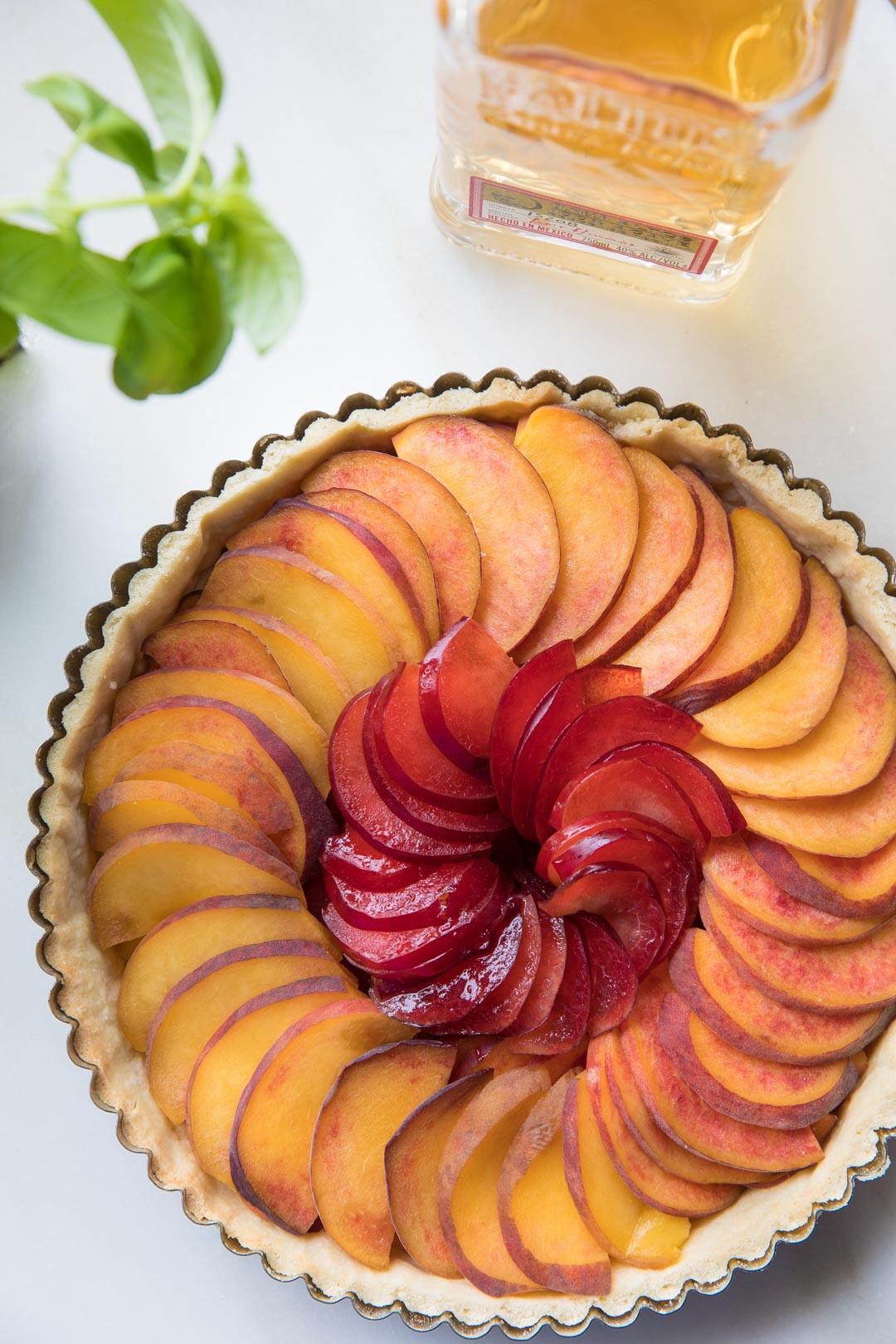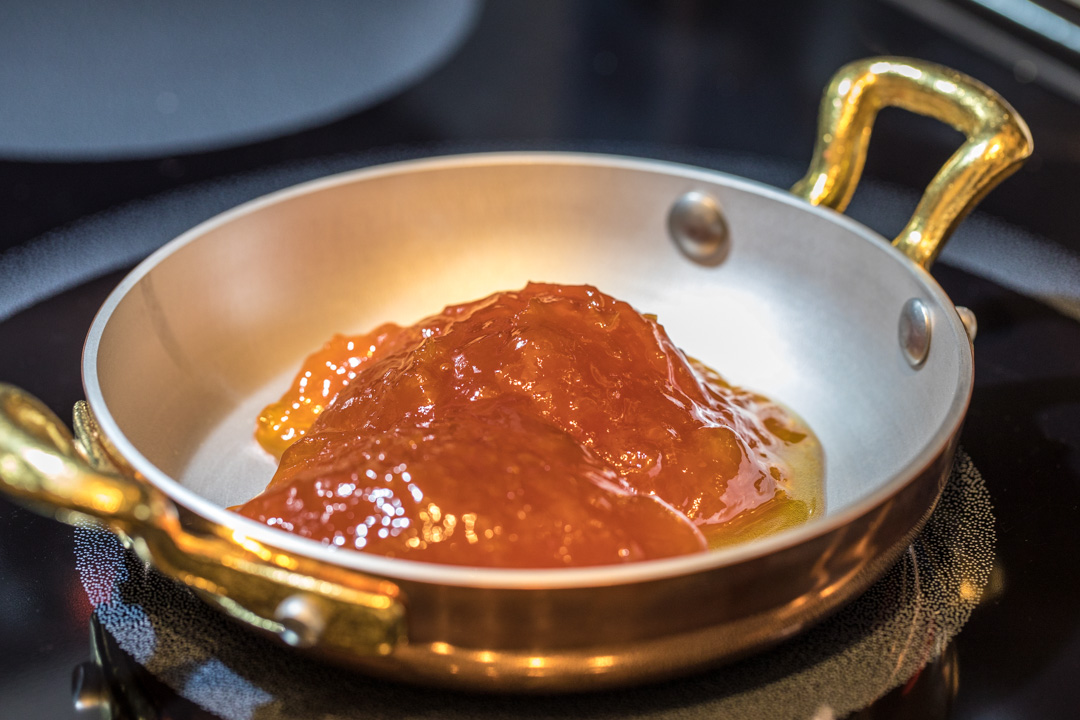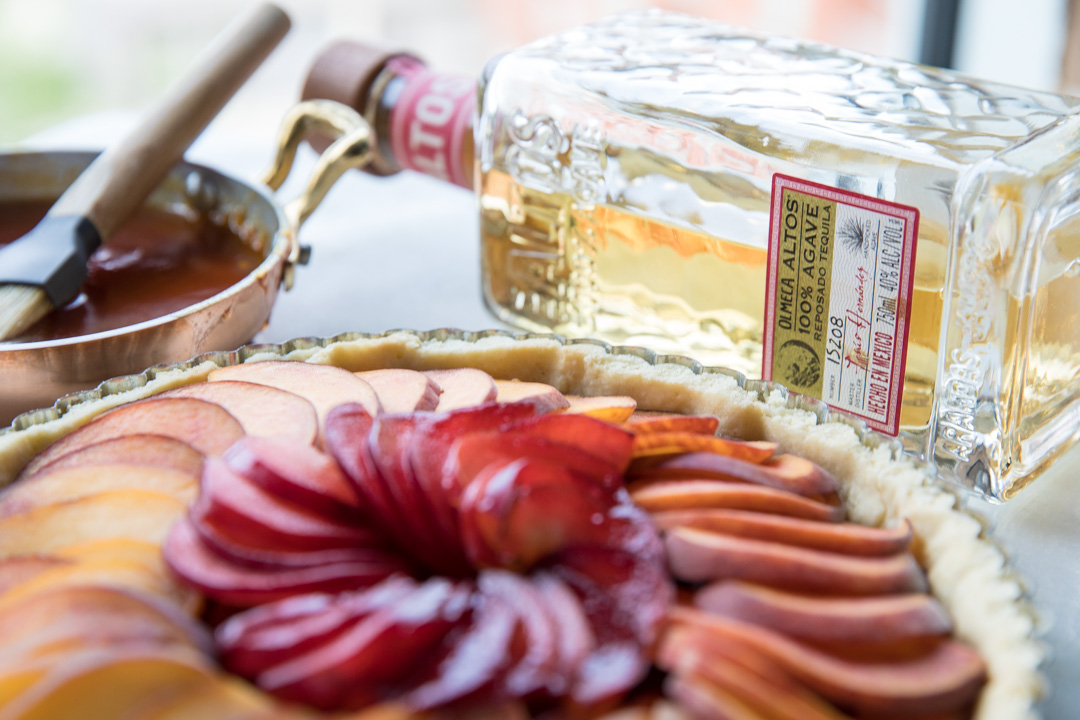 Bright and vibrant, I love to skip the baking step for fruit desserts that you often seen in pies and cobblers. Leaving the fruit simply sliced and layered gives such great texture and taste. All of this inside a buttery baked golden sugar crust give just the right amount of sweetness. The only thing left if a bit of a punch. Did I mention tequila?! TEQUILA!
Baking and mixing with tequila is such a great use of the spirit. The 100% Blue Agave Altos Tequila that I have used several times in the past (hello popsicles, frozen cocktails, and drinks) is a home run in the flavor department. Altos Tequila is my go-to on the shelf.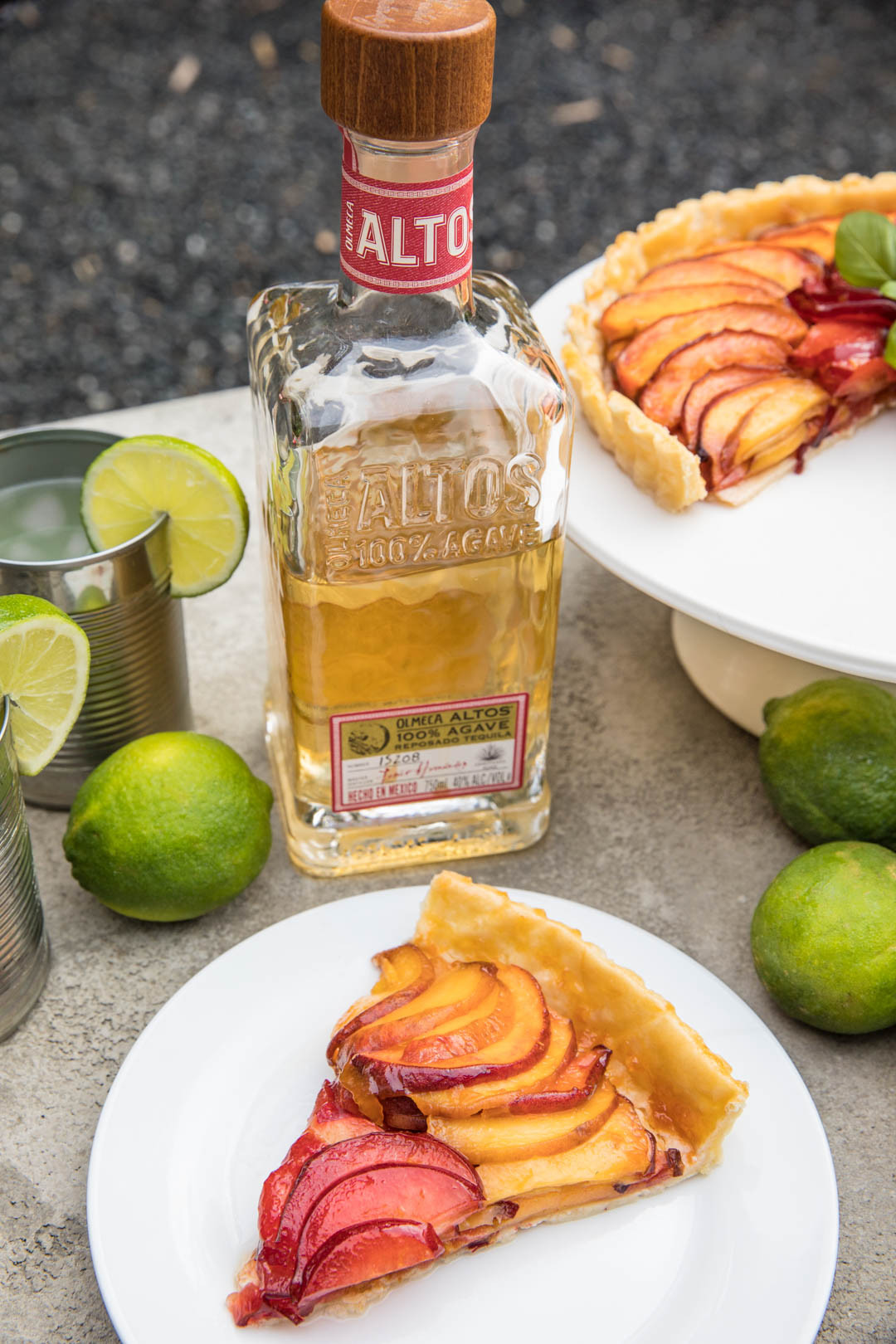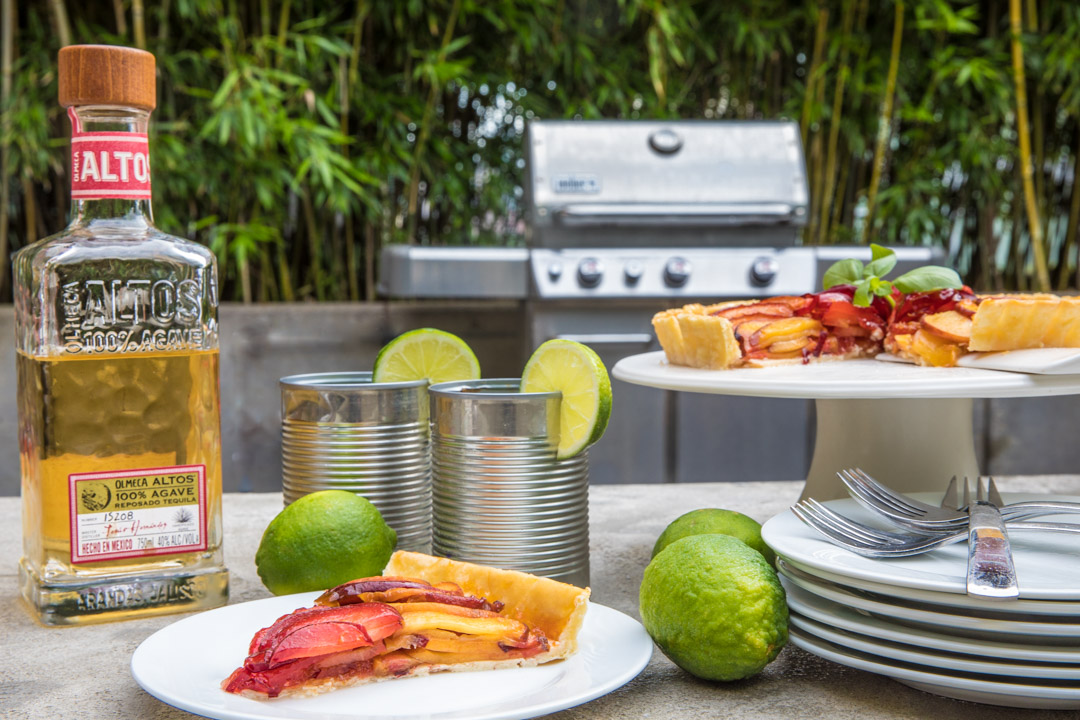 The golden Olmeca Altos Reposado Tequila blend is my favorite for pairing with bakes and food, aged in former whiskey barrels for 6 to 8 months for good measure. You can take the boy out of the south, but he's always going to find the kiss of whiskey and rich vanilla notes. The Plata Tequila is perfect for cocktails. I used this to make a few classic Altos margaritas for the BBQ.
Great homemade desserts are a fantastic addition to the good ol' standard BBQ setlist. Homemade desserts with a splash of tequila is an even better addition. Cheers, y'all!

Tequila Glazed Peach Tart
Tequila glazed peach tart that is perfect for a summer party. Recipe from SouthernFatty.com.
Author:
Phillip Fryman | SouthernFATTY.com
Ingredients
2 tablespoons tequila
1 each pie crust, homemade or pre-made
4-6 peaches, cleaned and sliced thinly
2-3 plums, cleaned and sliced thinly
¼ cup apricot preserves
2 tablespoons basil, fresh, to garnish
Instructions
Bake crust and cool completely. Set aside.
Slice peaches and plums thinly. Keep cold.
Prepare the glaze by placing preserves and tequila in a small saucepan over medium heat.
Cook for 3-5 minutes until combined and thinned out.
Remove from heat to cool slightly.
Brush a thin layer of the jam on the bottom of the crust. This helps it to stay crisp.
Once everything is sliced, layer as desired. I prefer about twice as many peach slices as plum.
Brush remaining glaze over fruit. Chill and serve.
Find more recipes on SouthernFatty.com!