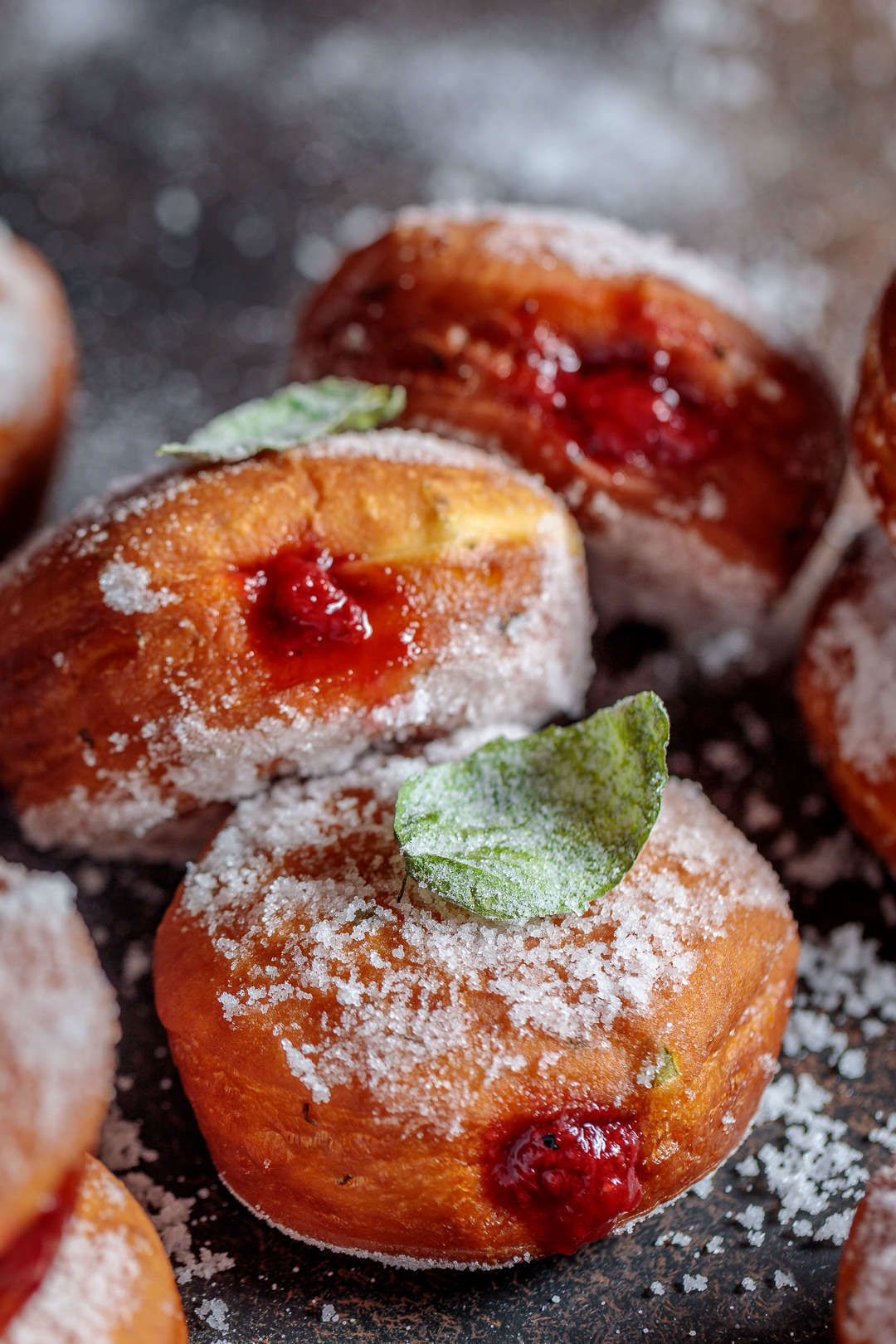 Do y'all ever find yourselves just kinda zoned out, thinking about donuts during a layover in a stuffy airport? I thought so. — I found myself doing exact that when I was on my way back home from a quick trip to Seattle a couple weeks ago. I think I ended up with a list of nearly 10 comibinations that I was dead set on trying out when I arrived back home in cozy Nashville. Strawberry and basil are one of those flavor combinations that I can't get enough of. Put them both into a fluffy, yeast-raised donut and it is basically heaven in your hand. These strawberry basil donuts had to be the first from the list that made it out of my kitchen.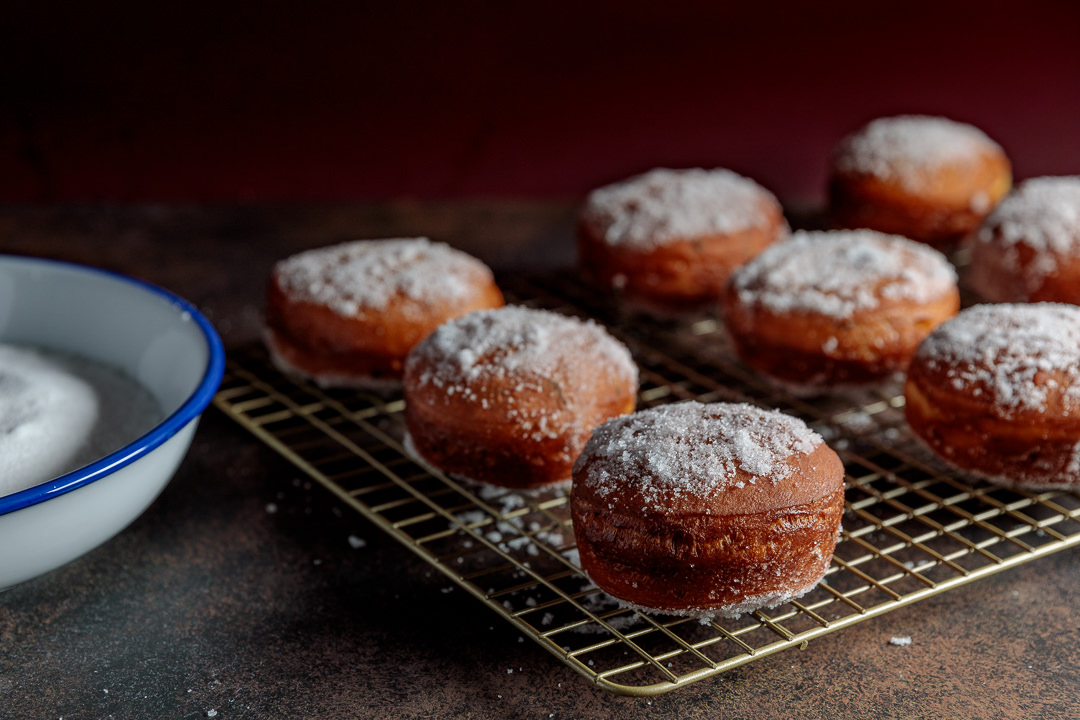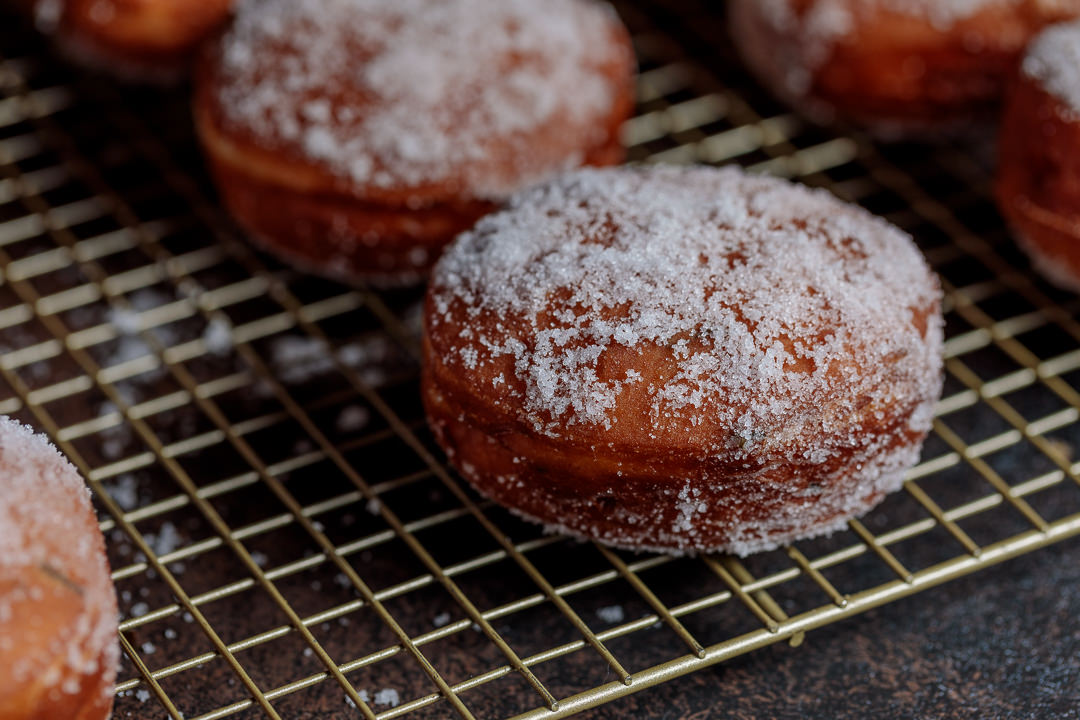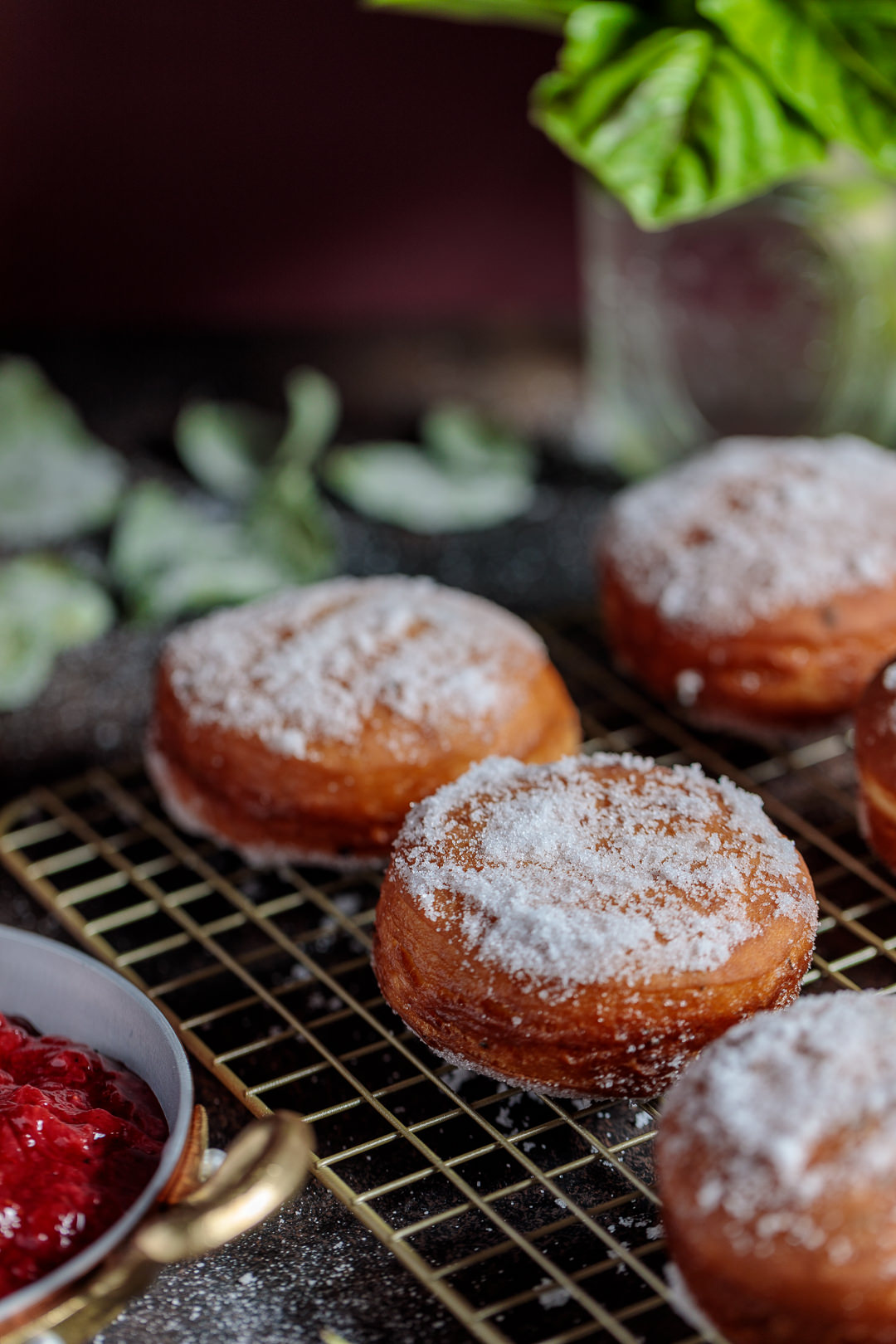 Strawberry season in Tennessee is always the first realization of true summer for me, I think. Growing up, I can remember getting to go pick strawberries with my mom. You'd get a green little bucket and get set free into the field. I'm not sure how effective I was at picking usable berries. Those farms really should probably have paid ME for all of the quality control that I completed. I was always fascinated by how different the strawberries could be. Those little white ones that were on their way up the ladder to success, the light green ones, the red but not quite red enough. Yes. I realize that this is the totally normal cycle of a plant, but for some reason it seemed so much more interesting with berry season.
Now that I am a grown-ass adult and all that jazz, I still find time to try and get my hands on as much of the local berries for the blazing hot minute that they are around as possible. There are some beautiful places to pick the berries around here, and luckily the farmer's markets are usually packed full of them to fill in the gaps. Since it is an absolute guarentee that I will buy way too many berries for the recipe ideas that I don't actually follow through with, jam usually is the end game for a lot of the bounty. Pretty much true for every fruit that I grab and forget or have too much of to use up, this is such a wonderful way to make sure you aren't wasting a single one. What better use for a ton-o-jam than to stuff a million donuts with?! — Yaaaa.. That's what I thought.
If you're going to stuff a good donut with jam, you need a GOOD donut. Also… Do y'all use doughnut or donut? I get so anxious over this one. My body seems to want to type donut, but then I'm like… it should be DOUGHnut because we are civilized and stuff. I made my decision by Googling each. Not for an actual explanation, but to just see which one was used more. This is how you solve deep questions about the english language, right?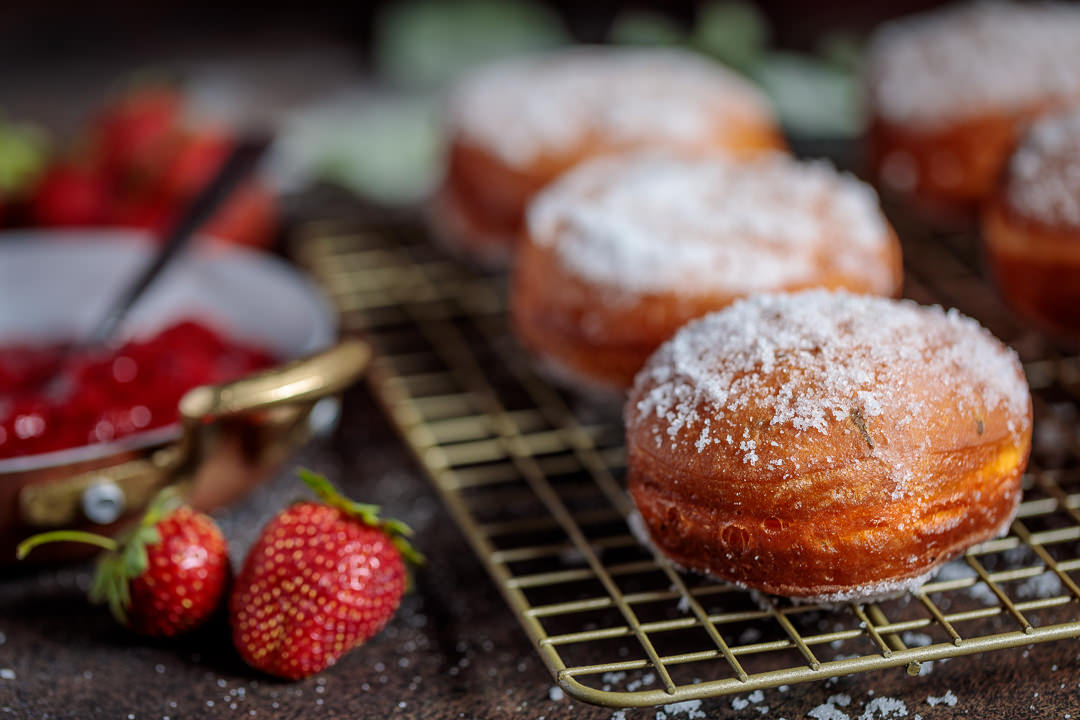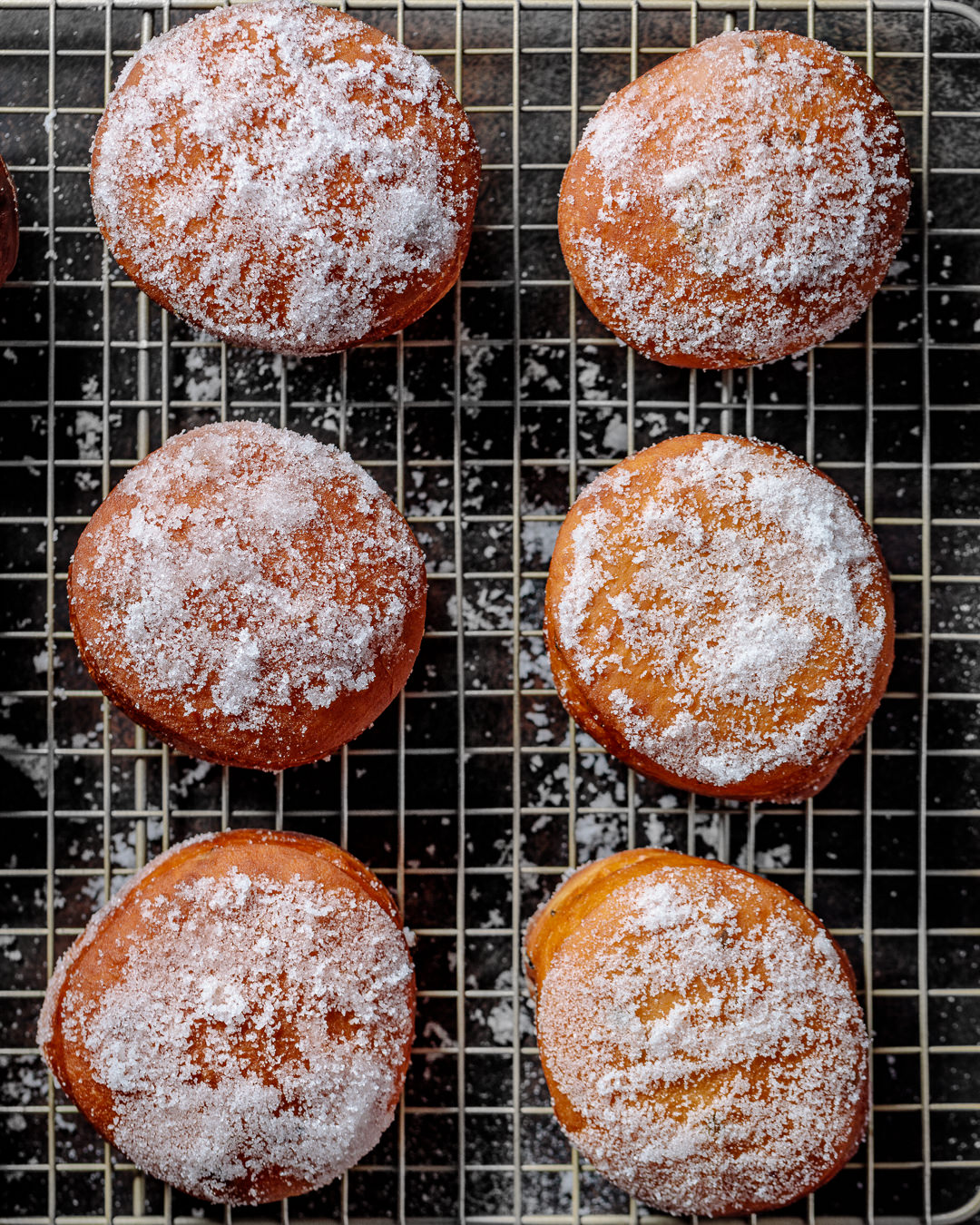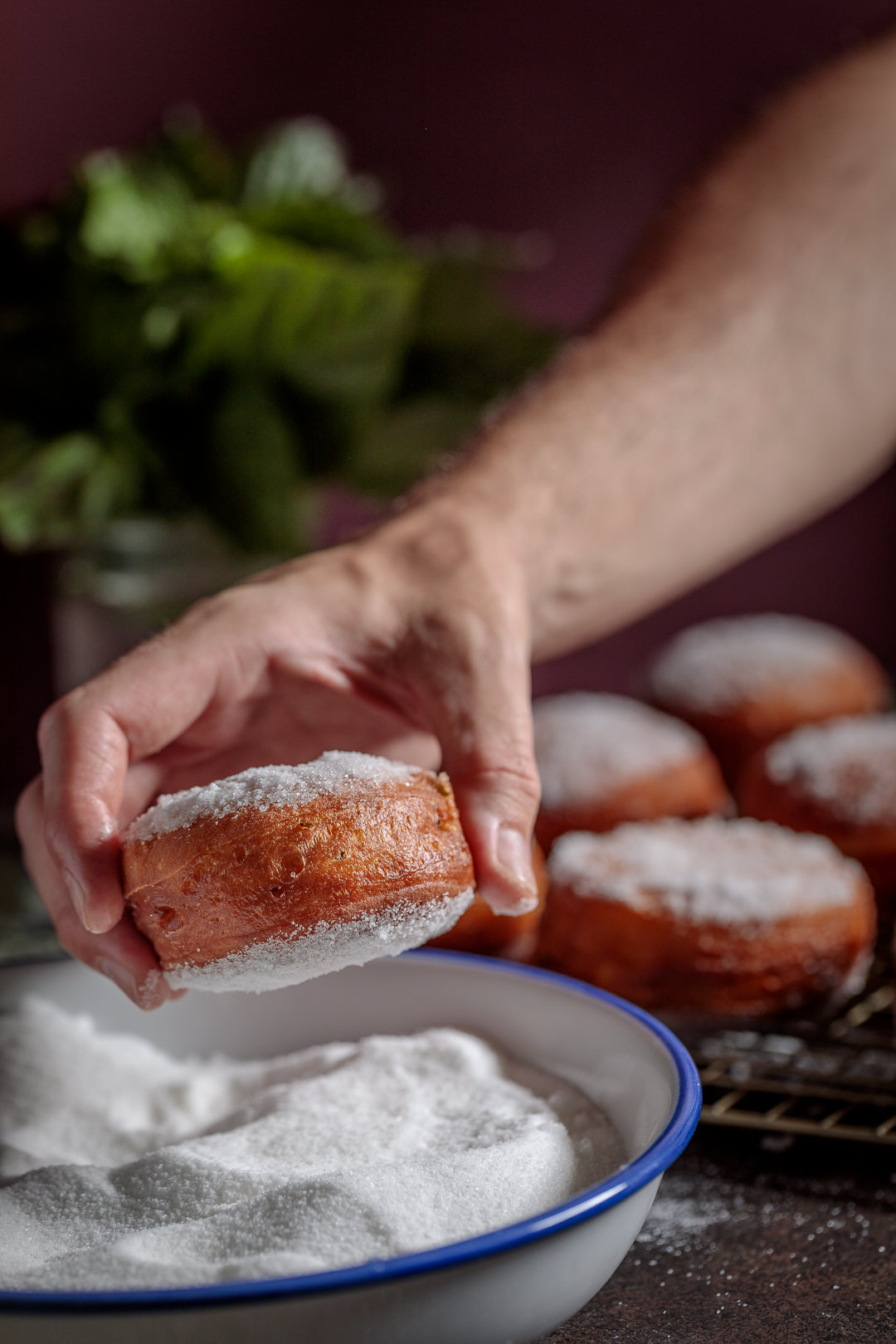 Donuts! That's what we were talking about, I think. I'm not going to lie to y'all. I went into this weekend with the game plan that I would be making 4 different donuts in one day. This is how you start to think as a food blogger, guys. You figure out all of these wonderful flavor and recipe ideas and decide that it is totally doable to just busy them all out.
I was going to make one big ol' donut base and then divide it up into the individual batches to finish with flavors and make each one. Totally a manageable day, right? UGH. Real life hit, donuts didn't rise, and I decided was forced to slow my roll(ing pin) a bit. Someone tell me that I am not alone. I'd say that we should form a support group for bakers with dough issues, but then I'd feel obligated to bring food, since that's what you do for meetups, and well… that seems like it is just another setup for additional failures in the cycle. I'll just keep my whining to the blog for now.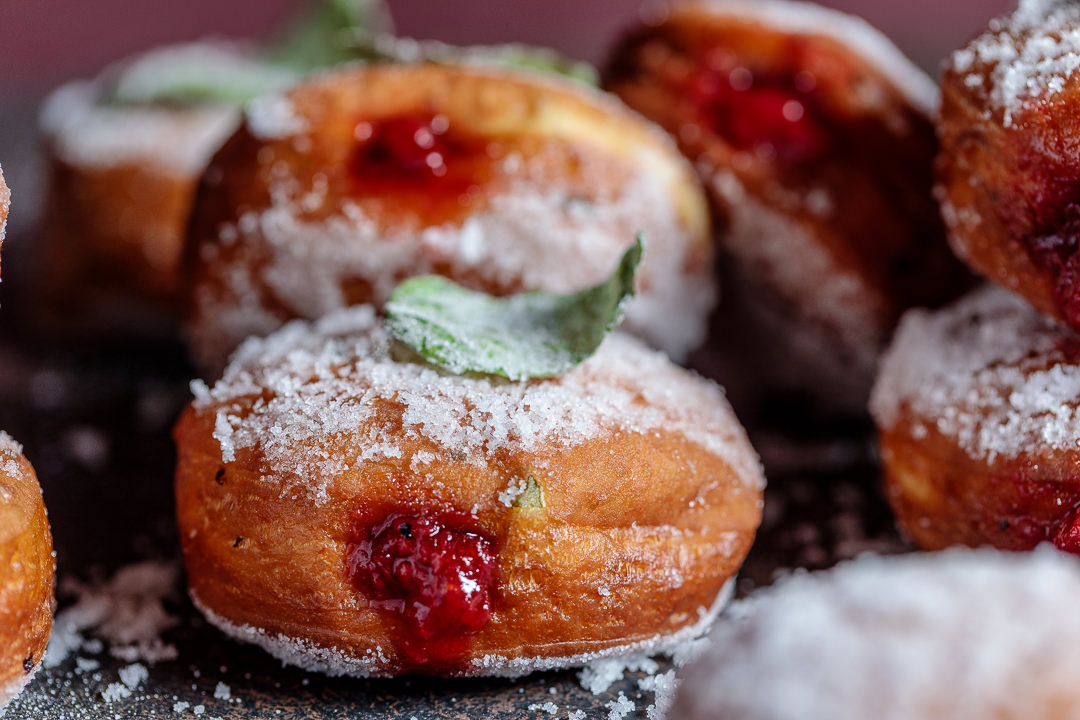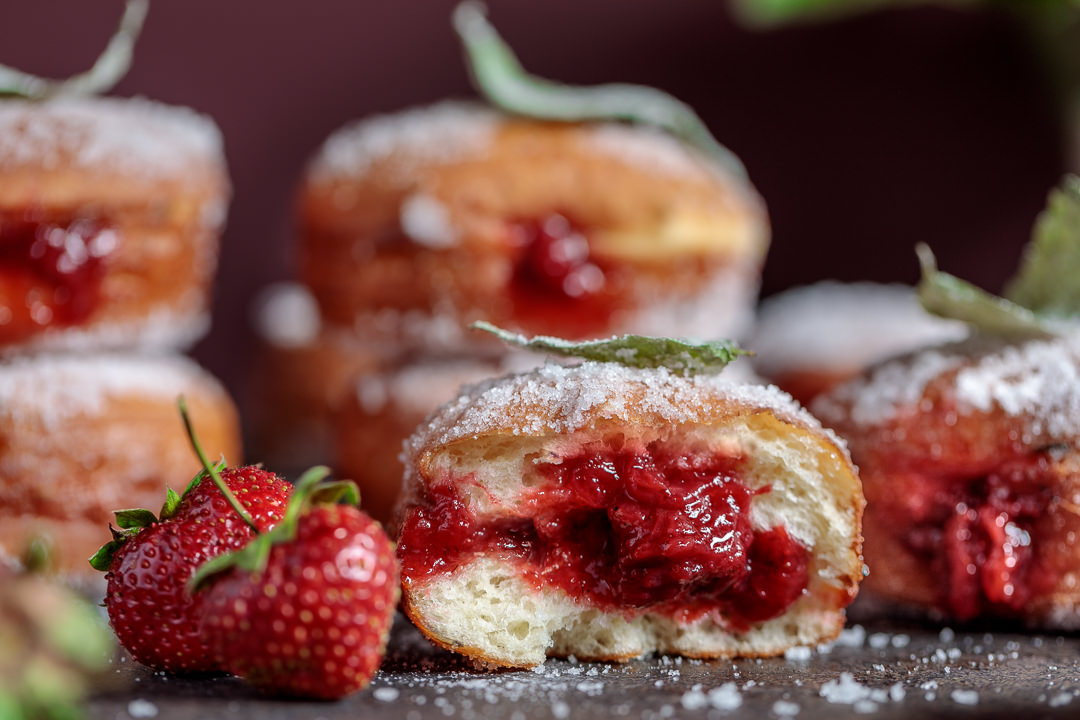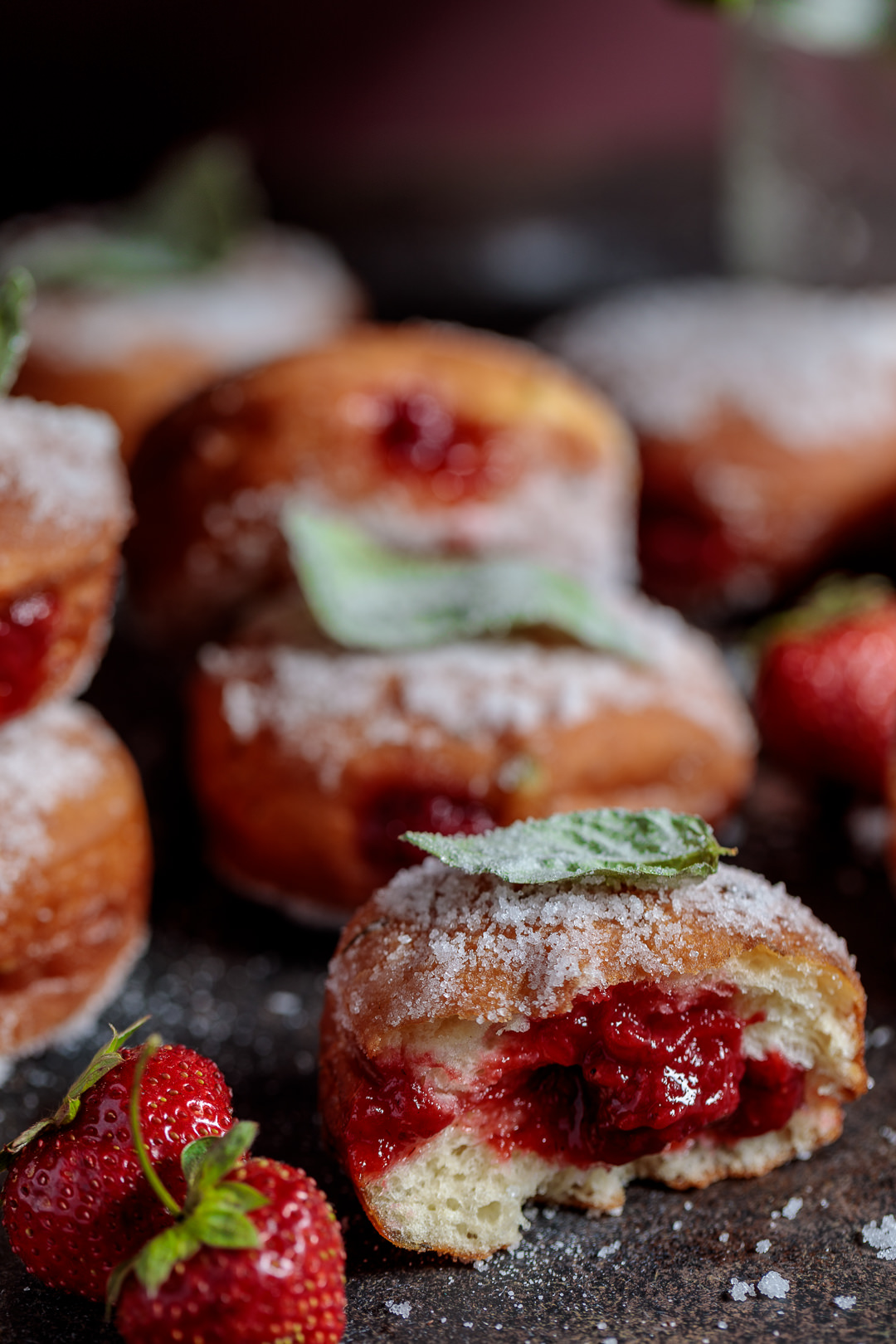 I made this dough 5 times…. FIVE… before it turned out how I wanted. This wasn't anything crazy new. It's a yeast dough. Something I've done hundreds of times. I think it must have been the excitement of what I thought were four killer combos for donuts. One dough at a time. Lesson learned. A week later now, and I've canned the other 3 for a later time and now have a dozen absolutely perfect strawberry basil donuts to stuff my face with.
On a good note, while I was sitting around for what was probably 3 solid days of proofing the dough in total, I figured out how to make candied basil for what may be my all-time favorite pastry garnish evaaaaaah. If you let them sit out for a day or two, they dry out to this crispy, candy-like finish that is just wonderful. They stay super green since you've covered them in sugar (a preservative). The flavor is phenominal. It's concentrated and packs a punch. You'll definitely see these on some cocktails in the near future.
Donut cheers to berry season! — Find more strawberry recipes on the blog here.

Strawberry Basil Donuts
Yeast donuts with basil infused dough, filled with homemade straberry jam. Garnished with simple candied basil. Recipe from SouthernFatty.com.
Author:
Phillip Fryman | SouthernFATTY.com
Ingredients
Strawberry Jam Filling
1 quart strawberries, hulled
½ cup sugar
1 tablespoon lemon juice
pinch salt
Basil Donuts
1 cup (245 g) whole milk
½ cup (100 g) sugar, granulated
2¼ teaspoons (one pack) yeast, active dry
¾ cup (170 g) butter, melted and cooled
2 eggs (140 g), whole, whisked, at room temperature
½ tablespoon vanilla bean paste or extract
4 cups (510 g) bread flour
1 teaspoon salt
¼ cup basil, small chopped
1 cup sugar, granulated, to finish
Candied Basil (garnish)
1 bunch basil leaves
1 egg white
¼ cup sugar
Instructions
If you want to garnish with candied basil, I recommend making these a day or two before the donuts. Tjhey will dry out and leave you with crisp basil that is perfect. Alternatively, you can make it an hour or two before the donuts and still enjoy.
Candied Basil (garnish)
Clean and dry basil leaves.
Whisk egg whites in small bowl.
Using a small pastry brush, apply a VERY thin layer of egg white to basil leaves (both sides).
Immediately sprinkle sugar on both sides of leaves. Cover completely.
Place coated basil leaves on a drying rack and set aside for a couple hours to a couple days. The sugar will preserve the leaves well for several days.
Strawberry Jam Filling
Roughly chop hulled strawberries.
Place in medium saucepan with lemon juice and sugar.
Cook over medium heat, stirring and breaking up strawberries.
Cook over medium heat until berries have broken down well, about 12-15 minutes.
Remove to cool completely.
Can be made in advance and kept cold until use.
Basil Donuts
Warm milk to 105 F. This is ideally done with a good kitchen thermometer.
Add yeast, stir lightly and let sit for 10 minutes. Yeast should foam well.
While waiting, whisk flour and salt together in a mixer bowl with dough hook attachment.
Whisk eggs in a bowl with the cooled butter and vanilla.
Pour yeast into flour mix. Mix on low speed until roughly combined.
Add the egg mix and mix fully. Scrape down sides with spatula.
Increase the speed to medium/medium high (6-7 on KitchenAid mixer).
Add the basil to the dough.
Mix for about 15 minutes. Scrape the sides in the early stages when needed.
The dough should be formed on the hook and slapping the bowl sides. You should be able to stretch it quite a bit without it ripping. This is critical to it being able to proof correctly.
Once mixed, transfer dough to a lightly oiled bowl. Roll the ball around to coat.
Cover with plastic wrap of a lightly damp kitchen towel.
Let sit until doubled in size, about an hour for most room common tempertures.
Move to lightly floured surface.
Roll dough to ½" thickness.
Punch out rounds (I used 2½" rounds with this great cutter set).
Transfer rounds to a parchment lined baking sheet.
Spray tops very lightly with cooking spray and drape plastic wrap over top of the pan of donuts. Be careful that the pastic isnt sealed down to prevent the donuts from rising well.
Proof until puffy, almost doubled in size.
This is where I think most go wrong. You want the donuts to be puffed. In my home at around 70-72 degrees, I gave these almost 2 full hours. You don't want to over-proof, but certainly underproofing is why most donuts fail.
Heat oil in deep heavy-bottom pan (I prefer peanut oil for donuts) to 360 F.
If you can pick up the donuts from the tray to transfer them to the oil, that's great. If not, simply cut the parchment that the donuts are on. You can carefullly place the donut ON the paper into the oil and slide the paper right out from under it. This is how I prefer to do it, as it makes sure you don't deflate any of the pastry.
Flip after about 30 seconds and cook until golden. This should take a couple minutes at the correct temperature.
Take great care to keep the oil temperature at 360 F. Do not let it get hotter and allow for time to recover between batches if needed. Dutch ovenswork beautifully for frying.
Remove cooked donuts directly to a shallow dish with the finishing sugar. Flip and coat both sides.
Move donuts to a paper towel-lined rack to cool completely.
Finishing
Fill donuts with straberry jam. I use a pastry bag and large piping tip since the jam can be thick and still have strawberry pieces.
Garnish with candied basil and enjoy!
Find more recipes on SouthernFatty.com.