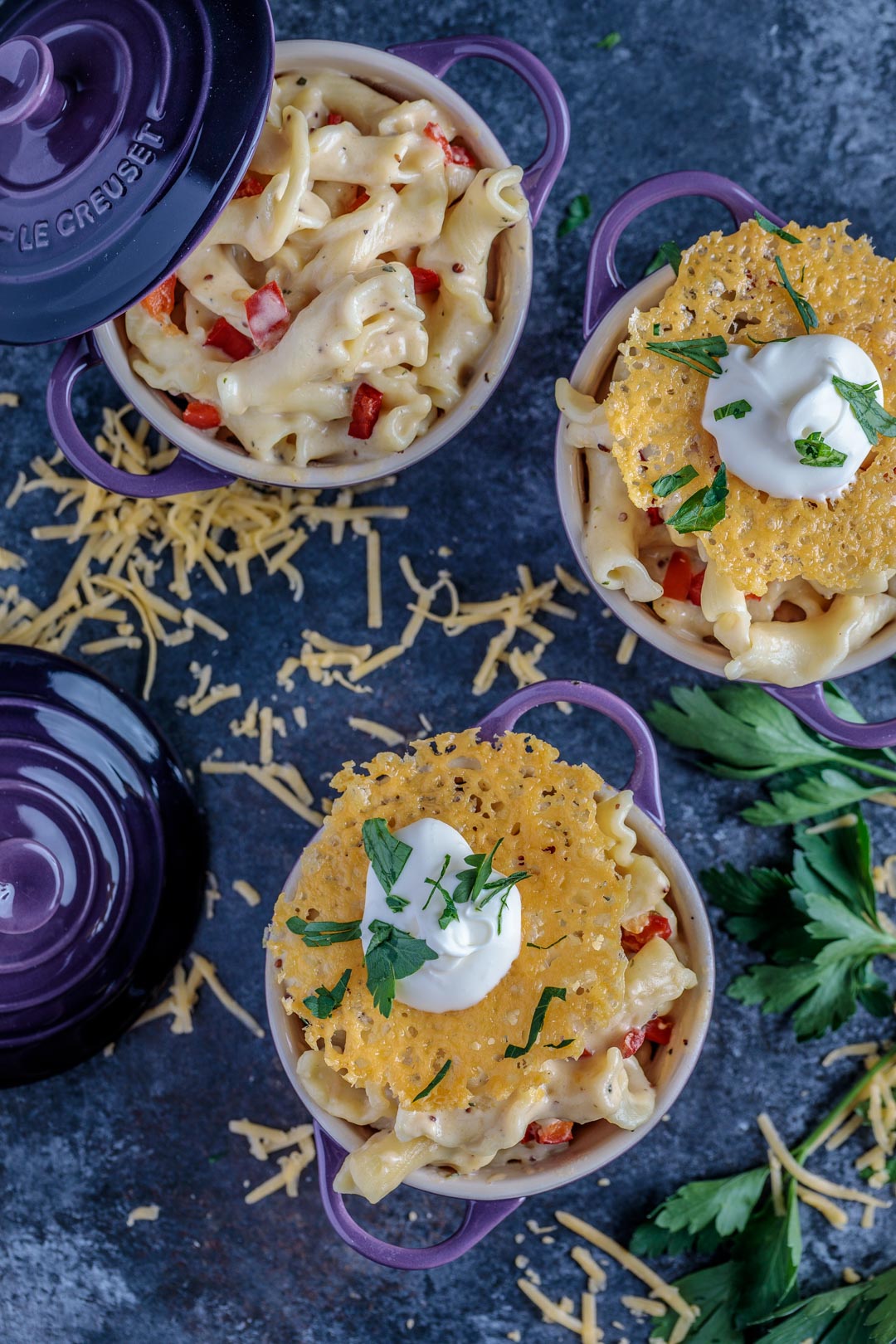 Can we just take a minute to talk about my love for mac 'n cheese? Creamy, warm, simple to make. It's one of my most common go-to's for a cozy night in (which is pretty much every night, right?). To celebrate my partners over at Tillamook expanding nationwide and into the East Coast (yessssss!), I made a double-cheese mac attack with creamy cheddar, sweet peppers, a few savory herbs, all topped with an extra crispy, extra sharp cheddar brûléed finish. The cozy mac and cheese with the crunchy top is just perfect to twist the classic comfort fav up a notch.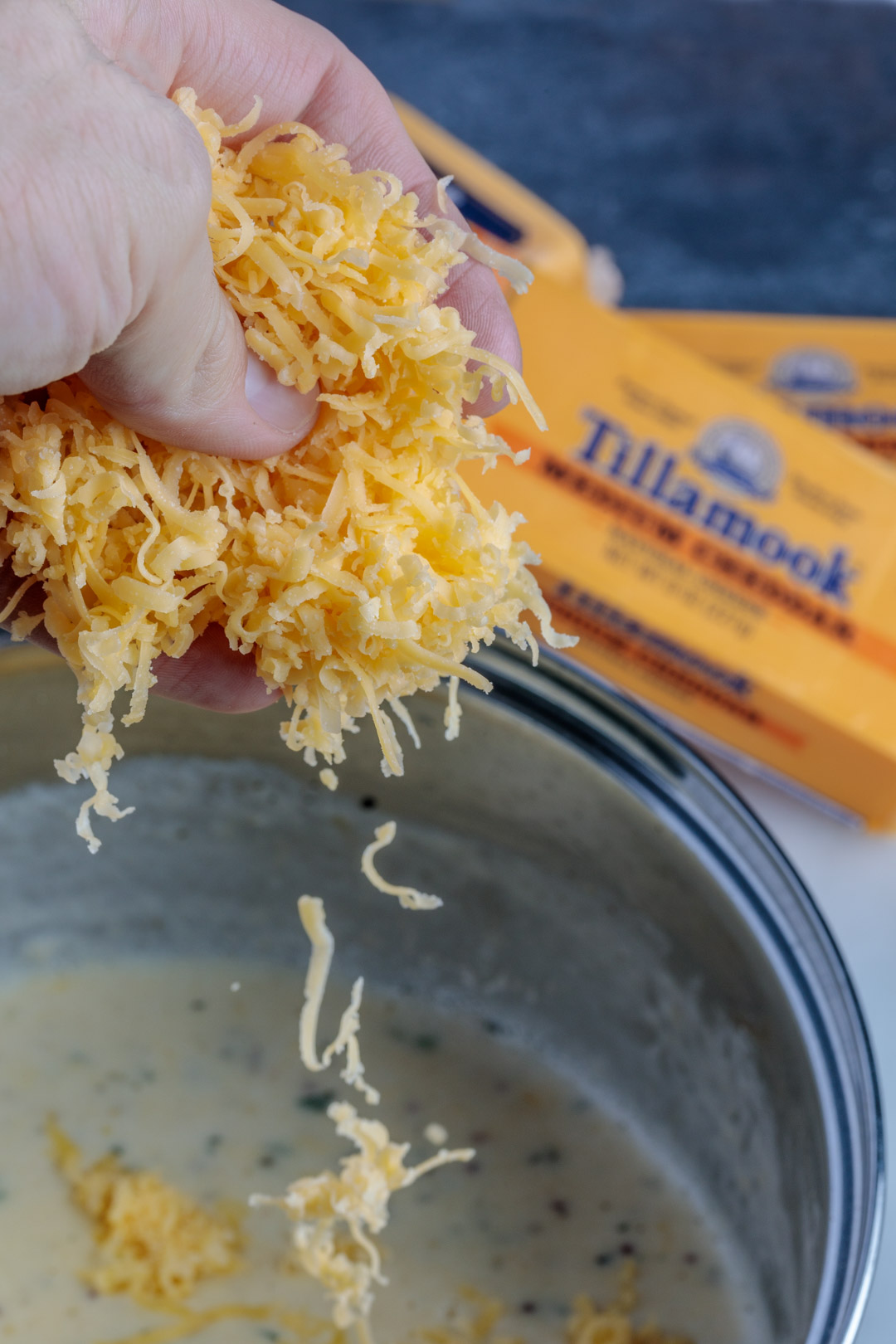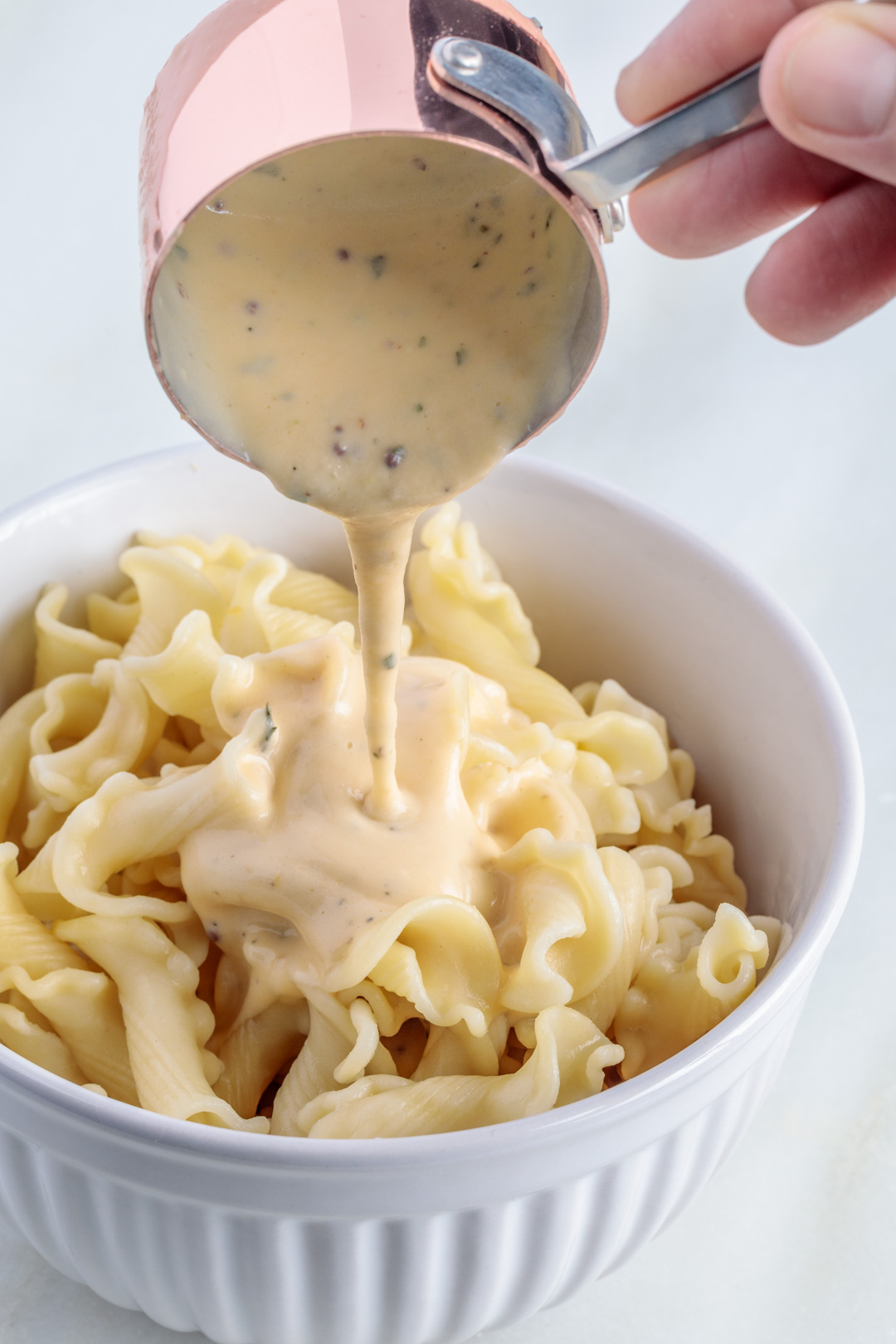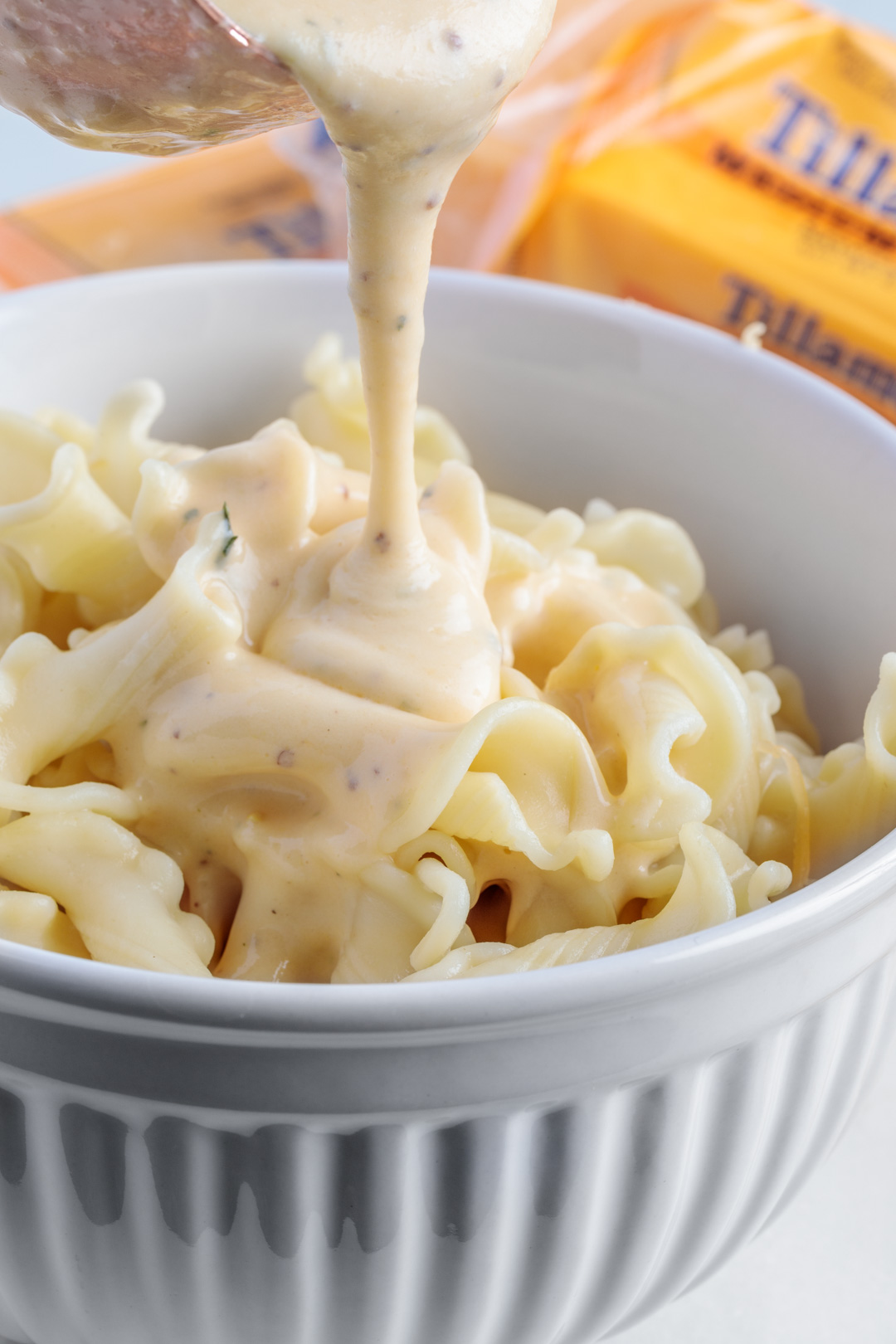 The idea behind this recipe came from a few placed in my weird little mind. First on the list is that cheese is basically the best food group ever. Everyone knows that. Nothing new here. Also… I was eating crème brûlée on the same night that I had brought home pounds and pounds of Tillamook cheese from my local grocery. I'm sure it is totally normal to think about the next meal before you've even finished eating the current meal, so matching the two together just seemed natural. Brûléed mac and cheese sounded all kinds of fancy and complicated, but turned out to be incredibly simple and easy to execute.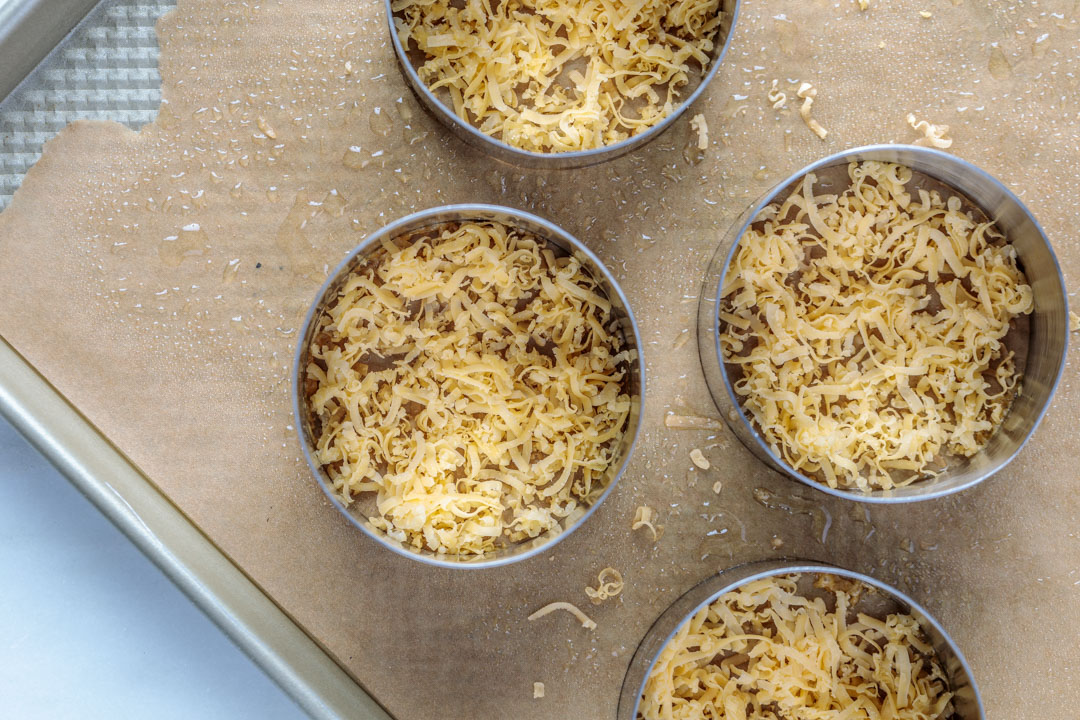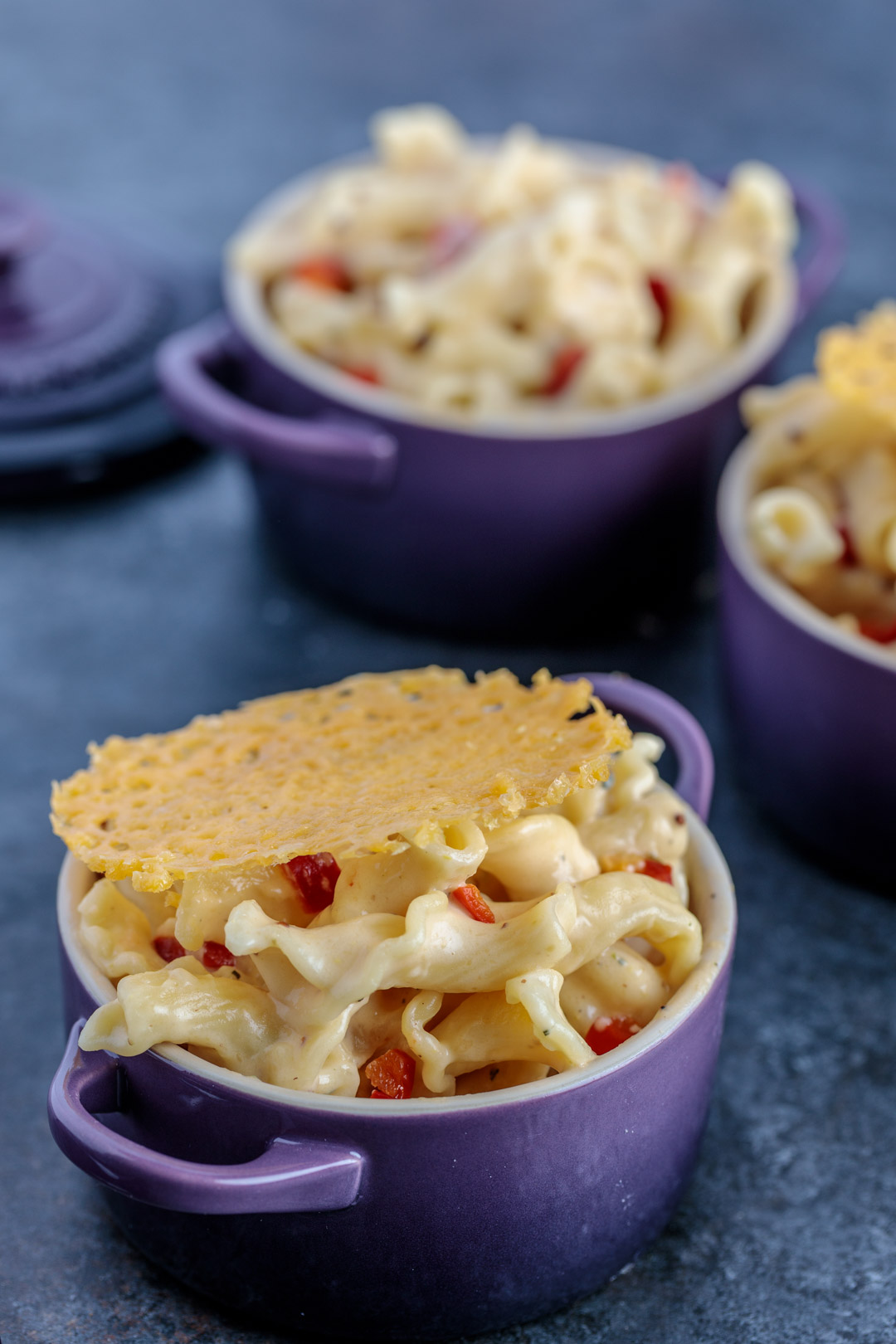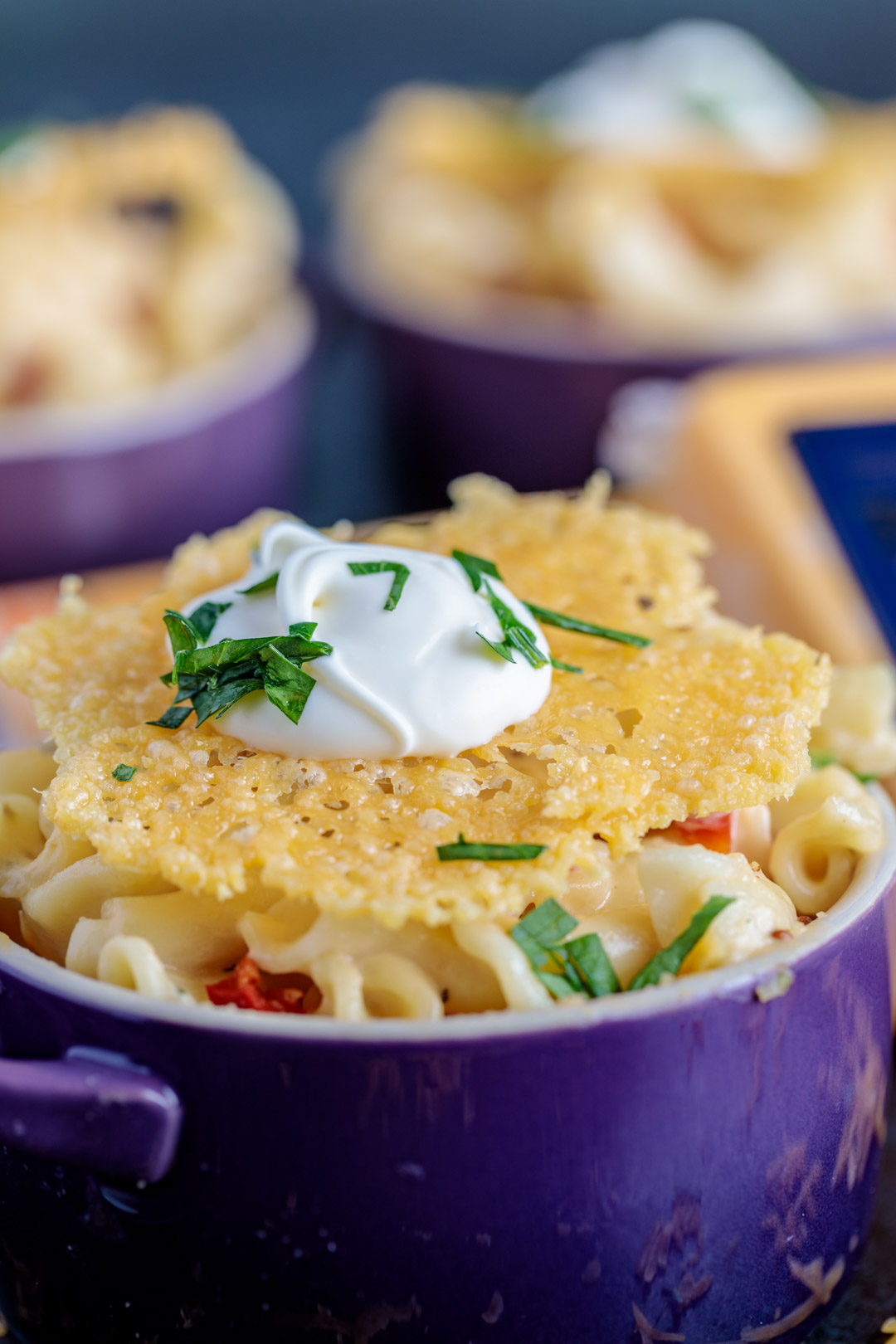 I'm a huge fan of elevating classic favorites, and this checks all of the boxes. The smooth cheese sauce has great flavor with added thyme and oregano, and a bit of a kick with some chopped sweet peppers mixed in. The star of this cheese castle has to be the brûléed crown. I was fully prepared for a long haul of testing to get this right, but found out that since I was working with great quality ingredients, it was soooo simple!
The crispy showpiece is made with nothing more than Tillamook Special Reserve Extra Sharp Cheddar grated and baked in circles. This was the first thing that I tried and immediately knew that this cheese didn't need a single additional element to shine. It's made by the dedicated farmer-owners of Tillamook and aged for more than 15 months. Seriously, y'all. I don't know why it wasn't named Super Special Amazing Reserve Extra Sharp Cheddar. I guess maybe the labels would have been too long. — The cheese has a beautiful nutty, complex flavor that gives you that punch that a great mac and cheese is thrilled to host.
You can't have a killer mac and cheese without an amazing base. I am a massive fan of a good béchamel. I know… I know. It can sound kinda scary when workds with accent start getting thrown out there in a recipe. Don't worry! It's easy cheesy. Flour and butter just get the addition of milk and good ol' cheese. The Tillamook Medium Cheddar  that I used has been made with the same recipe of only four ingredients for over a hundred years. When I am laying down to sleep at night, I like to imagine how many bowls of mac and cheese that has probably been part of. I can't say enough about the quality of this cheese.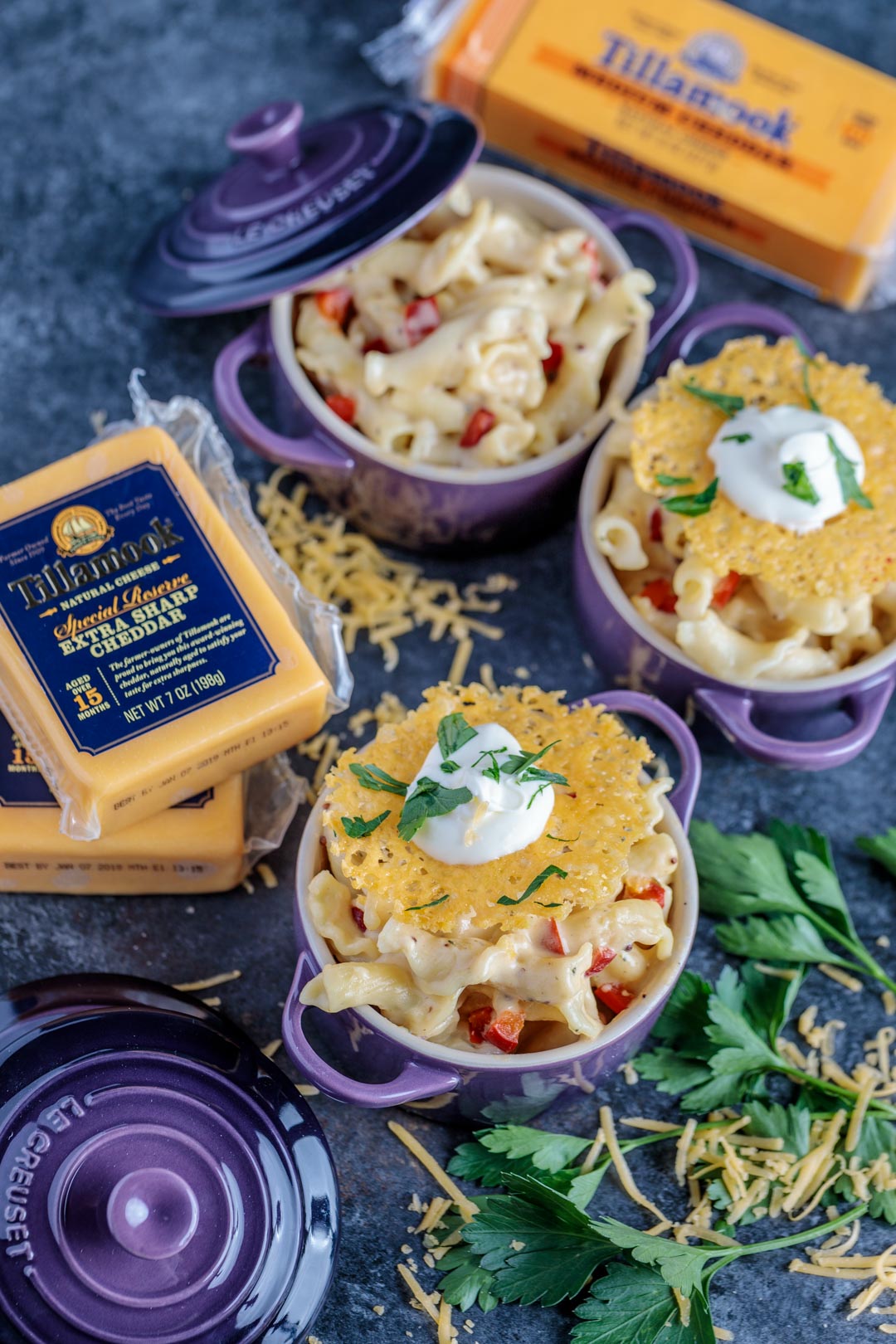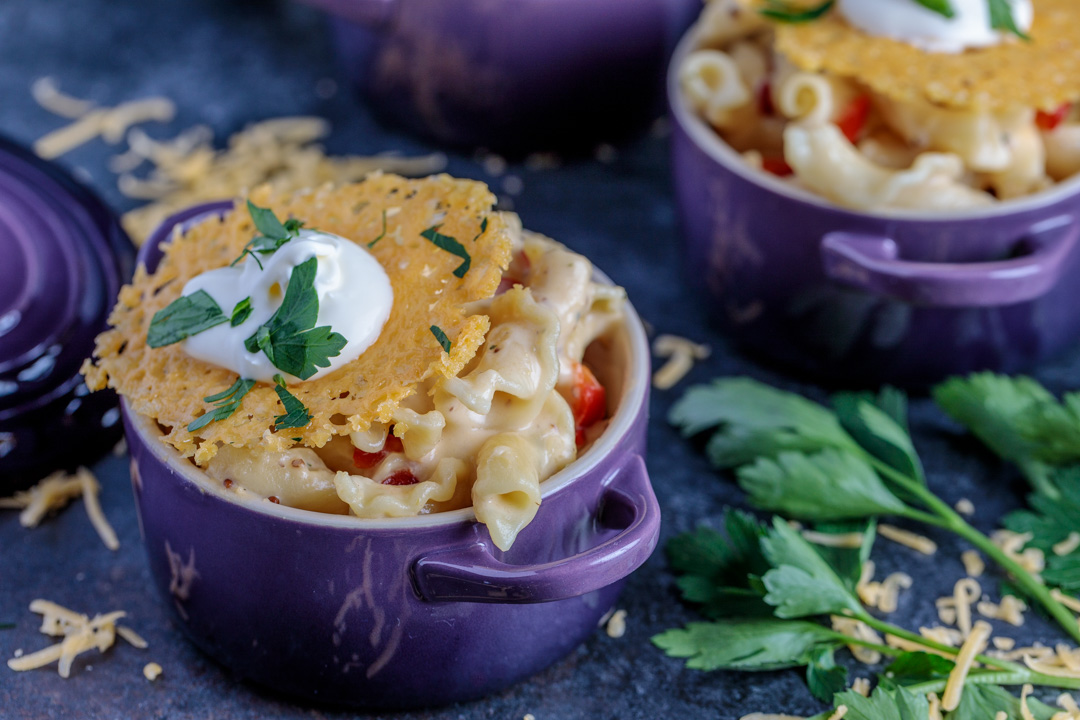 Food is only as good as it's ingredients, and Tillamook has absolutely given the most detailed care from the fields of the farms all the way to the co-op factory. It's dairy done right, and I'm thrilled that they are available nationwide now.
PS – They make ice cream too, y'all! I'm obsessed.
Find where to grab Tillamook products using the locator HERE.
Brûléed Cheddar Mac and Cheese
Classic creamy mac and cheese with a crispy twist. Bruleed crispy cheddar topped mac and cheese recipe from SouthernFatty.com.
Author:
Phillip Fryman | SouthernFATTY.com
Ingredients
Crispy Bruleed Cheese Topper
Mac and Cheese
8 ounces macaroni pasta
3 tablespoons butter
3 tablespoons flour, all-purpose
2 cups milk, whole
1 tablespoon heavy cream, (optional)
8 ounces Tillamook Medium Cheddar cheese, grated
½ teaspoon salt and pepper, to taste
¼ teaspoon nutmeg, ground
¼ teaspoon paprika, ground
Finishing
¼ cup creme fraiche, to top
¼ cup fresh parsley, chopped, to top
3 tablespoons chili peppers, diced, (optional)
Instructions
Crispy Bruleed Cheese Topper
Pre-heat oven to 425 F.
Prepare a baking sheet with parchment. Spray the parchment with non-stick spray or brush lightly with oil where the cheese will be placed.
If you want perfect circles, you can use metal ring molds (like THESE).
Sprinkle Tillamook Special Research Extra Sharp Cheddar cheese in a thin layer to match the size of the mac and cheese ramekins.
Bake until fully melted but not browned, about 8 minutes.
Remove to cool completely. Set crispy cooled wheels aside.
Mac and Cheese
In a medium saucepan over medium heat, melt butter.
When bubbling, add flour and cook, stirring constantly, for about 2-3 minutes until lightly golden and nutty.
In a steady stream, add milk while constantly whisking to keep smooth.
Mix in cream is using.
Bring milk to boil and then reduce to low heat simmer.
Stir in nutmeg and paprika, along with the diced chilis.
Add Tillamook Medium Cheddar and stir until fully melted.
Be sure sauce stays on low heat so it does not separate.
Cook pasta according to package directions.
Combine pasta with sauce in warmed ramekins.
Finishing
Top mac and cheese with crispy cheese wheel, creme fraiche, and fresh parsley.
Enjoy!
Find more recipes on SouthernFatty.com.
Notes
Partnership with Tillamook.
Have you tried Tillamook for yourself?
Let me know in the coments below!
This post was made in partnership with my friends at Tillamook. I partnered with them because I truly love their products and am thrilled to support their mission through collaboration. Thank you for supporting the brands that make this blog possible through partnership.