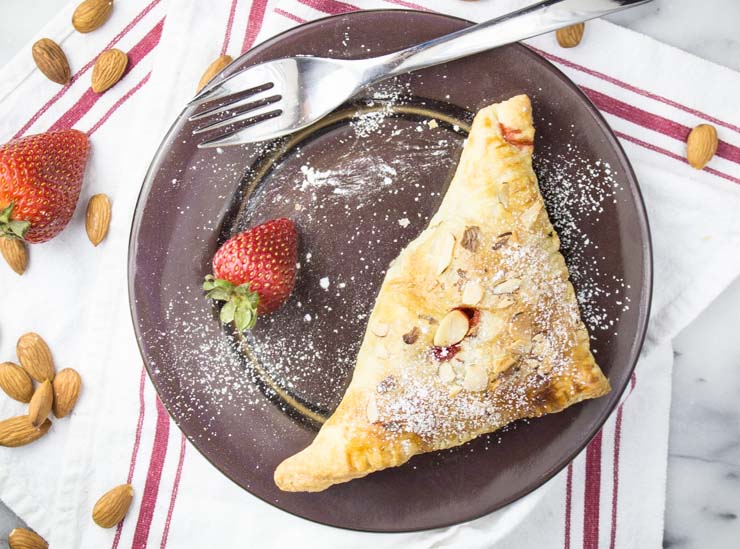 Since I knooow you subscribe to the blog updates, you will remember my obsession with fresh, local strawberries that I had at the beginning of this summer. I would have thrown a tent up and picked every last one if I had been given the opportunity [noted for next year].
Having a ton of these little red babies around in the freezer, I decided now would be as good as ever to pull them back out to make a few Strawberry Almond Turnovers.
I originally used up some of these strawberries for the Strawberry Cinnamon Chip Scones and for the more recent 4th of Wine Sangria that I made. Both were delicious! While I can't possibly think of any reason to not make another carafe of sangria, I decided that instead of the scones, which are a bit heavier by nature, I wanted something a bit more flaky and light this time. Obviously puff pastry filled with almond cream and strawberries, brushed with butter is a light choice, right? I thought so too.
Speaking of puff pastry– We went through the pain-staking process of making that devil's dough once. If you enjoy putting yourself through a nice kitchen challenge, give it a go. Otherwise, go buy it. It's like bungee jumping.. or owning a guinea pig. Something you want to try once, but never really want to do again.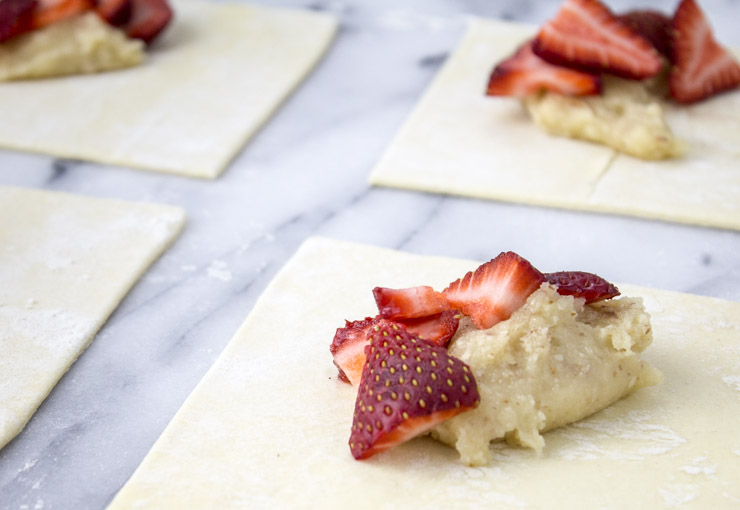 Once you get the almond cream/paste filling made, it's pretty simple. Cut out some nice squares, fill 'em and bake. I was surprised when everyone around me that I told that I was making these turnovers was like, "Strawberry and what?". To me it didn't sound all that gross. Apparently, for almost everyone else it did. Forget them– Give it a try! I found that the nutty almond flavor really boasted well with the then roasted strawberry sweetness.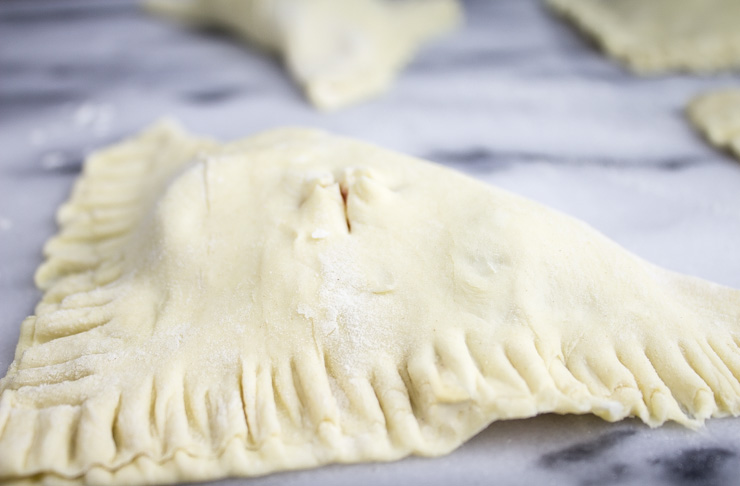 Unless you want a pan full of strawberry almond glaze (which sounds delicious anyway….), be sure you seal these puppies up well. Use a fork, a clamp, super-glue. Whatever it takes to really be sure they aren't going to leak out of the sides like an ice cream sandwich. Cut a little "X" into the cut. Like a treasure map. You'll see what I mean in 20 minutes when you find out how amazing they really are.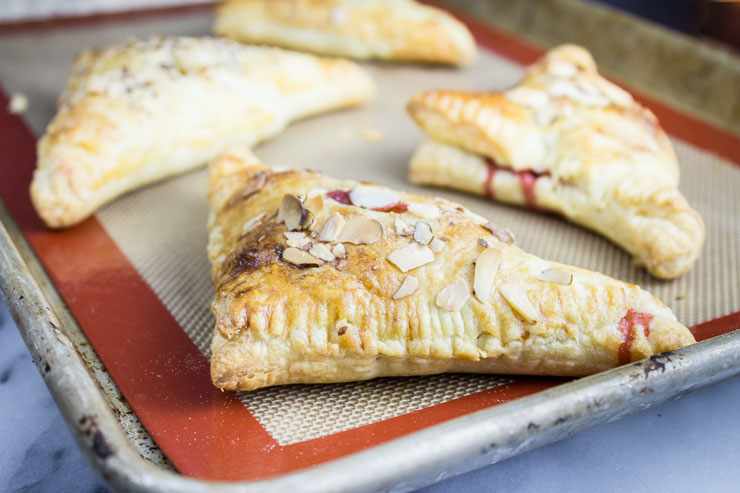 I've started to note some trends with what I enjoy baking (read: eating) by writing this blog. I have a ridiculous amount of recipes for blackberry, strawberry and almond flavor confections. Amaretto counts as an almond, right? I think so. You end up learning a lot more about yourself when you start writing things down. I guess all of those teacher's in school were right about that, eh?
From the Almond Amaretto Tarts, to the Pesto Three Ways (one with almonds) recipes, I can't deny that this profile is a staple in my cooking. Now– To figure out an almond cocktail…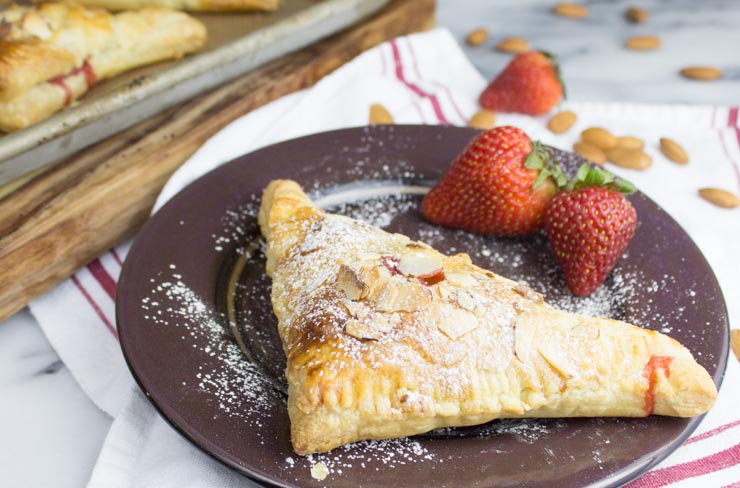 Back to the puffs! These turnovers were a huge hit around these parts. I'm talking like better than a frosted strawberry Pop-Tart kinda hit. The flaky, buttery texture and taste of the puff pastry just seems to fit perfectly with the almond filling. The roasted strawberries inside slightly ooze out of the treasure marking that was added to the top. Add a bit of powdered sugar, because everything is better with more sugar, and your breakfast and dessert is ready to carry out the front door!
Strawberry Almond Turnovers
Strawberry Almond Turnovers from SouthernFATTY.com
Ingredients
225 g (about 8 oz) almond paste
3 tablespoons heavy cream
2 tablespoons butter, unsalted (room temp)
¼ cup sugar
⅛ teaspoon cinnamon
2 egg yolks
1 cup strawberries, sliced
1 box (2 sheets) puff pastry
1 egg, beaten
finishing sugar (regular or turbinado sugar)
almonds, slivered for finishing
Instructions
Preheat oven to 400 F.
Thaw the frozen puff pastry overnight in the refrigerator or per instructions on the box.
Meanwhile, make the filling:
Combine almond paste (cut into pieces), ¼ cup sugar, cinnamon in food processor.
Process until well combined.
Add cream, egg yolks and butter. Process until smooth.
Roll pastry sheets each into a 10x10 square. Cut into 4 squares each, leaving you with 8 squares total.
Fill each square with a bit of the almond filling and add some sliced strawberries on top.
Fold into triangles, sealing the sides with a fork.
Cut an "X" into the top with kitchen shears. This will vent the pastry and prevent it from exploding.
Brush pastry tops with beaten egg, sprinkle with almonds and finishing sugar.
Bake at 400 for 20-25 minutes until golden.
Remove and cool to enjoy.
See more on SouthernFATTY.com!
Notes
2014 - SouthernFATTY.com