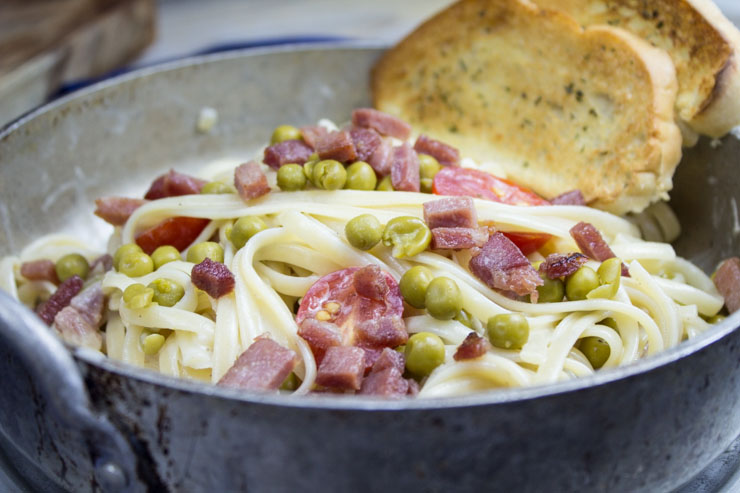 A while back, I was suckered into a special at my local grocery stop. 5 pounds of country ham from a well-known local hamery (…Is that a word?  Is now.). Who would pass up 5 pounds of slow-cured, delicious country ham?! Nobody. That's who.
I found myself slightly burned out of country ham and biscuits for breakfast, so I started wondering what else I could use it for. The result was a creamy Country Carbonara.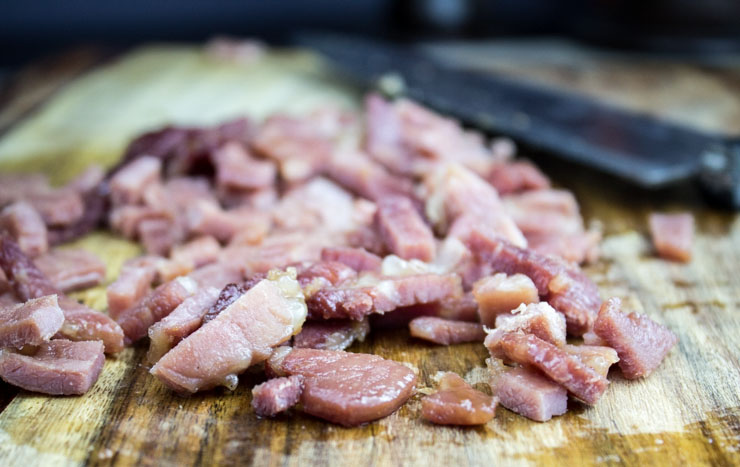 Here I was, staring at this glacial-sized stack of country ham. Biscuits and, well, pretty much everything are the base of just about every breakfast here in the South. Biscuits and jam, biscuits and gravy, biscuits and ham. All good options, but being one of those odd people who doesn't normally eat breakfast, I tired out quickly of the duos.
I needed something else to use all of this ham on. Being that there are only two in my house (not counting the cats, who are much too diva-like to want any of this), this was destined to be around for a while.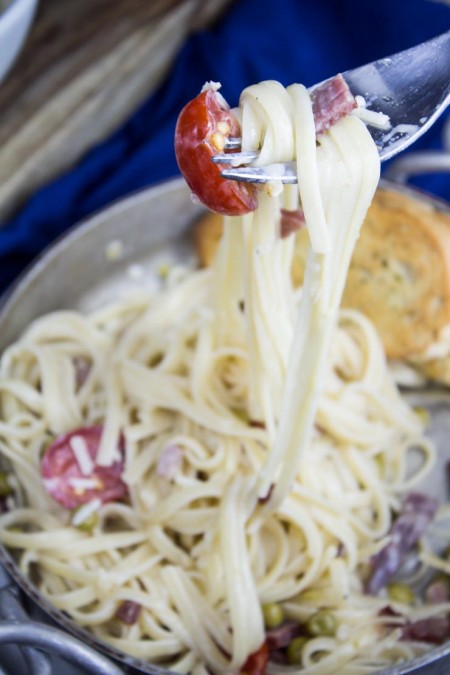 It seemed only natural to include pasta in whatever dinner creation that I decided upon. Pasta is basically one of our main food groups, after all. A carbonara came to mind, having made it a million times before with pancetta. Pancetta and country ham are basically brothers, so it seemed logical to swap them out.
Carbonara is traditionally made with eggs, cheese, guanciale (cured meat) and pepper. This country carbonara will have a slightly different perspective, with the addition of cream and swapping the pancetta with the country ham that had overrun my kitchen.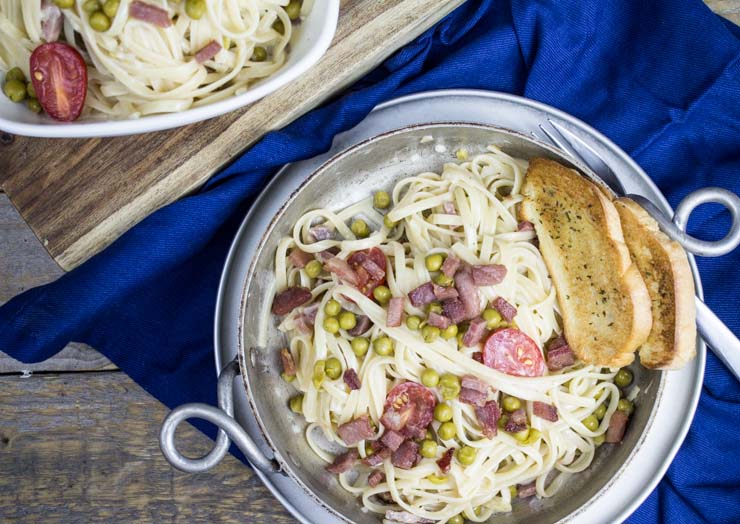 A few of the [ridiculously small…ugh!] tomatoes that I attempted to grow in my back yard were added alongside some peas. All together, this ended up being one of our favorite pasta dishes. Even with the bit of cream, it ends up not being too heavy.
I love pasta recipes that allow the taste of the actual pasta to shine through a bit. This main certainly accomplishes that. Find a great local pasta shop if that is an option. If not… consider venturing into the DIY pasta game. More on that later…
This super quick, delectable meal has become one of my favorite go-to dinner options. Hope y'all enjoy!
Country Carbonara
Country Carbonara - Country ham, egg and cream sauce, cheese, peas, garlic and onion.
Ingredients
4-8 ounces country ham
¼ cup water
2 tablespoons brown sugar
3 cloves garlic, minced
½ cup onion, chopped
2 tablespoons butter
3 eggs
1 cup Pecorino Romano cheese (or Parm), grated
1 cup heavy cream
½ cup tomatoes, chopped
½ cup peas
12-16 ounces pasta
salt, to taste
pepper, to taste
Instructions
Put water and brown sugar in large pan.
When heated, add country ham and cook until liquid cooked completely down and ham is slightly darkened.
Remove and chop.
Boil salted water and cook pasta per given instructions.
While pasta is cooking, heat butter in pan used for cooking ham.
Sauté onion for a couple minutes until softened.
Add garlic and sauté until aromatic and golden. Be cautious to not burn the garlic.
Add peas and tomatoes, cooking momentarily until heated throughout.
Remove from heat.
In a bowl, combine the eggs, cheese, salt, pepper, cream.
Whisk until smooth.
Drain pasta and return it to the pot.
Immediately pour (SLOWLY) cream mixture into pasta while continuously stirring.
If you do not stir enough or pour too quickly, you risk the eggs cooking in pieces instead of becoming a creamy sauce.
Stir in country ham and onion/garlic/tomato/pea mixture.
Serve hot and enjoy!
Visit SouthernFATTY.com for more recipes.
Notes
2014 - SouthernFATTY.com
What's your favorite twist on an Italian classic?