Strawberry Almond Turnovers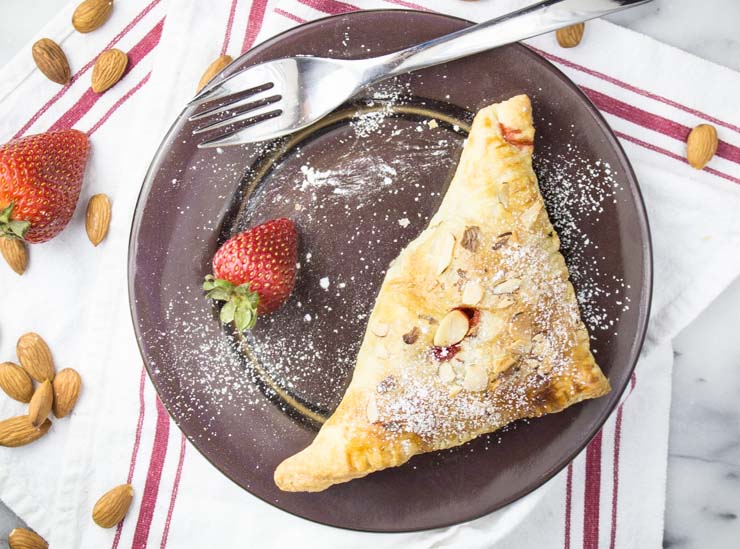 225 g (about 8 oz) almond paste
3 tablespoons heavy cream
2 tablespoons butter, unsalted (room temp)
¼ cup sugar
⅛ teaspoon cinnamon
2 egg yolks
1 cup strawberries, sliced
1 box (2 sheets) puff pastry
1 egg, beaten
finishing sugar (regular or turbinado sugar)
almonds, slivered for finishing
Preheat oven to 400 F.
Thaw the frozen puff pastry overnight in the refrigerator or per instructions on the box.
Meanwhile, make the filling:
Combine almond paste (cut into pieces), ¼ cup sugar, cinnamon in food processor.
Process until well combined.
Add cream, egg yolks and butter. Process until smooth.
Roll pastry sheets each into a 10x10 square. Cut into 4 squares each, leaving you with 8 squares total.
Fill each square with a bit of the almond filling and add some sliced strawberries on top.
Fold into triangles, sealing the sides with a fork.
Cut an "X" into the top with kitchen shears. This will vent the pastry and prevent it from exploding.
Brush pastry tops with beaten egg, sprinkle with almonds and finishing sugar.
Bake at 400 for 20-25 minutes until golden.
Remove and cool to enjoy.
See more on SouthernFATTY.com!
Recipe by
Southern FATTY
at https://www.southernfatty.com/strawberry-almond-turnovers/