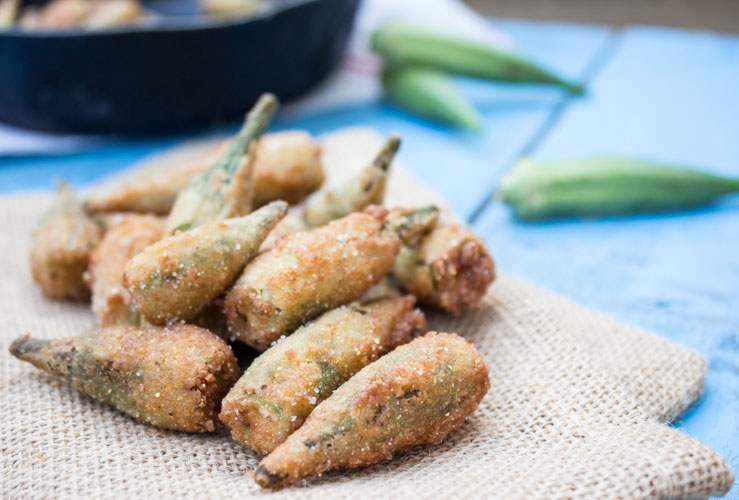 A prerequisite to being branded as a true Southerner is learning to properly fry. Not just anything counts. It has to be something that is on the official list of true Southern staples. The top of this list, next to fried catfish and the best chicken you will ever have, is Southern Fried Okra.
If you can't make good okra, well, you might as well move to Michigan… or Florida for that matter (since everyone knows it's not really a southern state, anyway). I'll show you exactly how to impress the in-laws of that Southerner that you recently nabbed at the Derby with this recipe. Promise.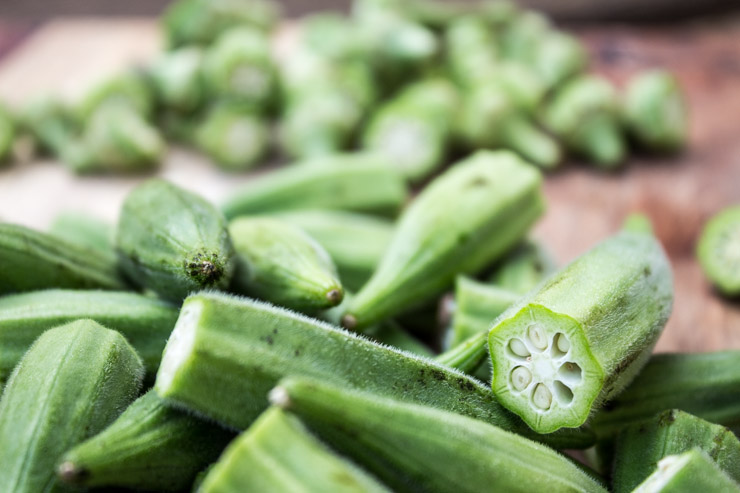 I can remember eating fried okra as a child like it was a plate of french fries. Not much has changed since then…
Before you can walk around telling your friends that you are fixin' to fry some okra, you need to learn a few basic principles about the way of life that is frying down here in the South. You have to use fresh, local produce. Don't even think of grabbing that frozen okra and expect it to taste like anything better than cardboard. It just doesn't work. I found the okra for this batch at the local Farmer's Market for $2.00 a pound. Naturally, I ended up with 5 pounds of it.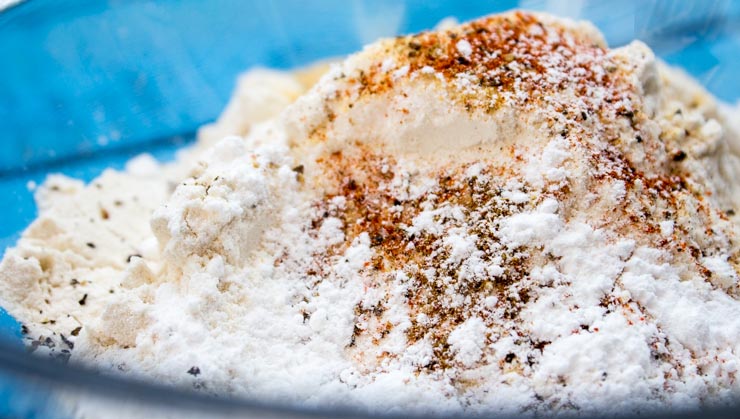 You have to season your flour! Too many recipes tell you to dip in egg or milk and then toss it in flour with a bit of salt and pepper. Fry. While that may sometimes be ok, I really find that adding some (read: a lot) of spices and extra kick to your flour will make all of the difference in the world for your finished product. I use a blend of cornmeal, flour and spices/seasonings to make these puppies juuuuust right.
There are lots of options for how to apply the flour to your vegetables. You can go with flour – wet – flour. Wet – Flour. Wet batter. As many options as there are vegetables to fry, really. It really depends on what you want the end result to be with which method will work best. For these, I wanted a thinner, crispy exterior. For this, I used a simple buttermilk straight to flour and then to fryer combo.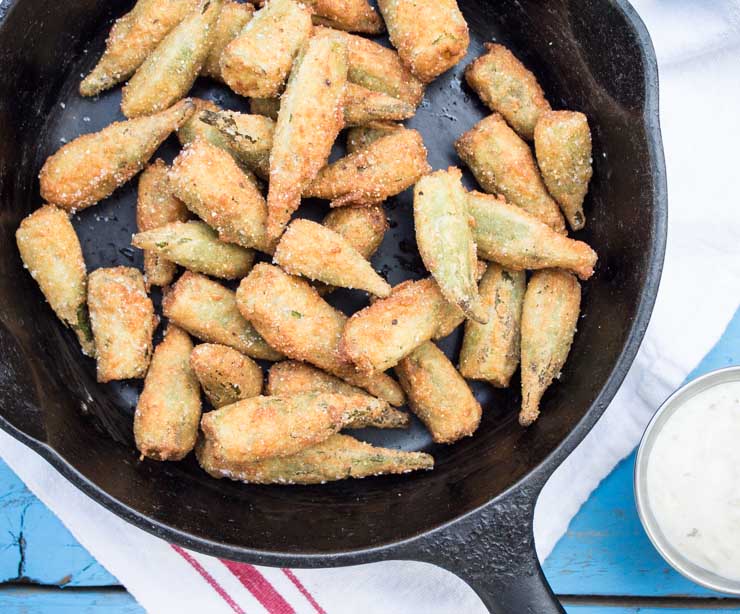 If you have kept up with some of my older posts, you'll know that I swear by a solid, quality cast iron skillet as the most important hardware of any Southern kitchen worth eating in. I'll keep my cast-iron sermon put away this time, but have to re-emphasize that they really do make all the difference in the world when it comes to frying.
You might notice that I don't cut the okra into the tiny pieces that you'll generally find in the frozen variety. I just trip the tops off after I give the okra a good rinse and pat dry. The pointed ends taste just as great as the rest. It also conveniently gives you a little handle to dip these in your favorite sidekick. Win, win.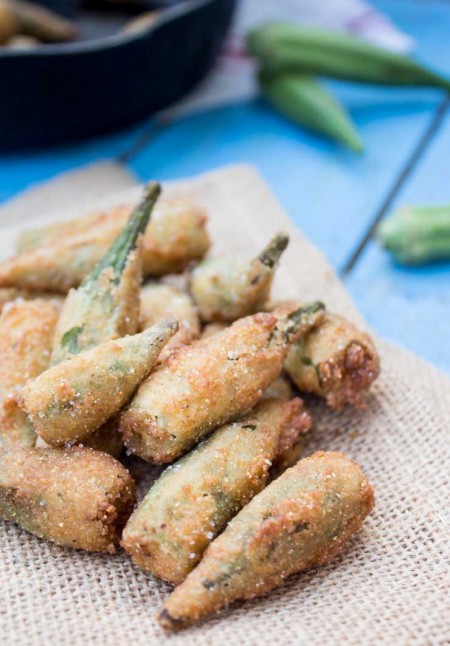 Once you try these out, you'll probably just want to pack up your things and head straight to Nashville yourself. Give this recipe a go and let me know how it went. I'll issue your true Southerner certificate in the mail immediately after. Enjoy, y'all!
Southern Fried Okra
Crispy, Quick Southern Fried Okra.
Ingredients
1 lb okra (fresh, whole, local)
⅓ cup cornmeal
⅓ plus ⅓ cup flour, divided
1 teaspoon salt
½ tablespoon powdered sugar
½ teaspoon granulated garlic (or garlic pwd)
½ teaspoon fresh ground pepper
¼ teaspoon cayenne pepper, ground
pinch cumin
½ cup buttermilk
oil, for frying
salt and pepper, to finish
Instructions
Rinse okra in cold water well. Drain and pat dry completely.
Trim tops of vegetables off.
Heat about ½ inch oil in deep skillet to 350 F.
First bowl, add ⅓ cup flour with a bit of salt and pepper.
In another bowl, place buttermilk.
In a third bowl, combine all remaining dry ingredients well.
Toss okra in first simple flour bowl and toss well.
In small batches, place a handful of okra in buttermilk. Cover well.
Transfer to bowl of dry mix and dredge well. Press this seasoned flour/cornmeal mix into okra.
Remove to rest on a pan for 5-10 minutes. This will help form that beautiful crust.
Fry until golden brown.
Remove to drain on paper towels.
Sprinkle with salt and pepper.
Serve warm and enjoy!
Visit SouthernFATTY.com for more.
Notes
2014 - SouthernFATTY.com
What is your favorite Southern fried favorite? Comment below and let us know!