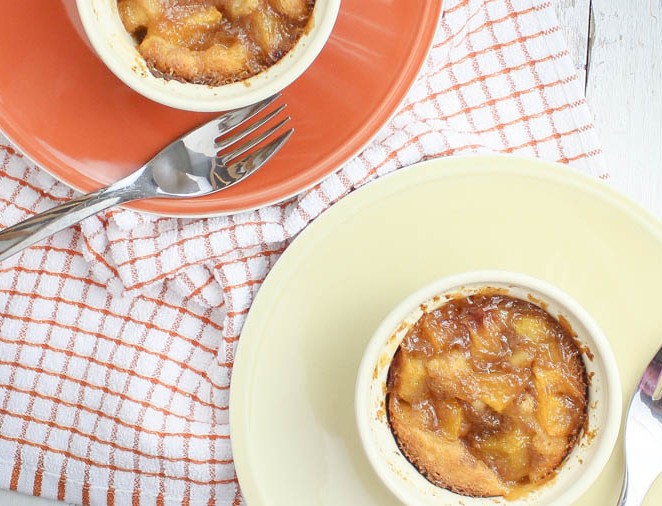 Cobbler is one of those soul foods that is always a home run. (Baby) It's getting sooo cold outside. What better to fight the frost than a homemade cobbler?
(Individual) Salted Caramel Peach Cobbler — We pull out those frozen, fresh peaches for a quick, individual serving cobbler recipe topped with caramel.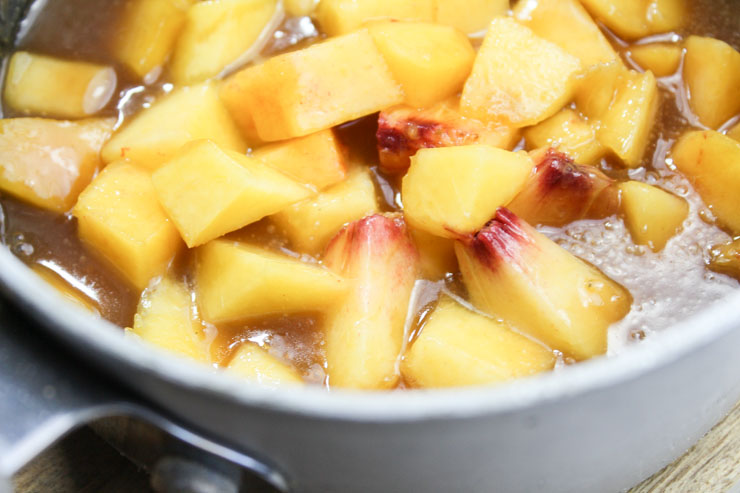 Peaches in my recipes seem to be a bit of a trend for the past little bit. I'm totally ok with that. Sweet and savory recipes alike will benefit from this citrus focus. Maybe I am a bit biased, being a Southern guy and all, but they just seem so versatile and balanced. It doesn't hurt that I still have pounds and pounds in my freezer from picking this year.
Peaches seem to keep their deep flavor amazingly well if frozen in their prime. Since they were already sliced into small pieces, it was incredibly simple to just throw them into a pan and start to warm them in the rich caramel sauce that will blanket the cobbler.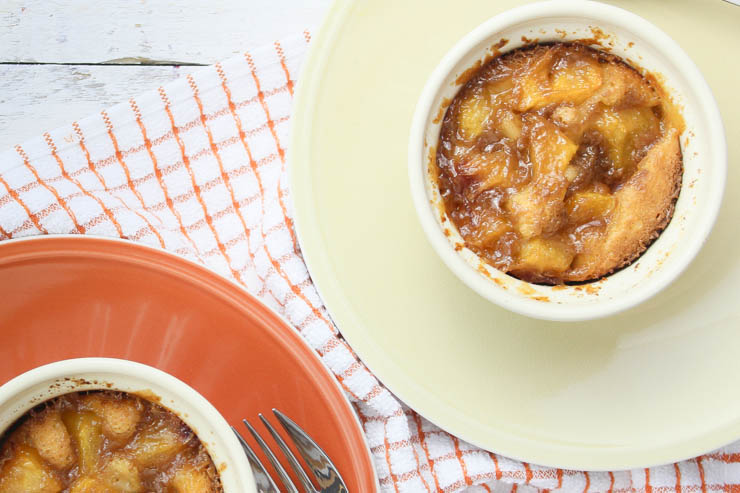 Let's get real for a moment. The crust variable of any cobbler is really why people crave it. Sure, fruit is great and delicious and all, but that fluffy inside, crispy outside crust that soaks up a bit of that sweet fruit juice and caramelized sugar from the filling is where it's at. I'm convinced that this is truly where the comfort is housed in this sweet treat.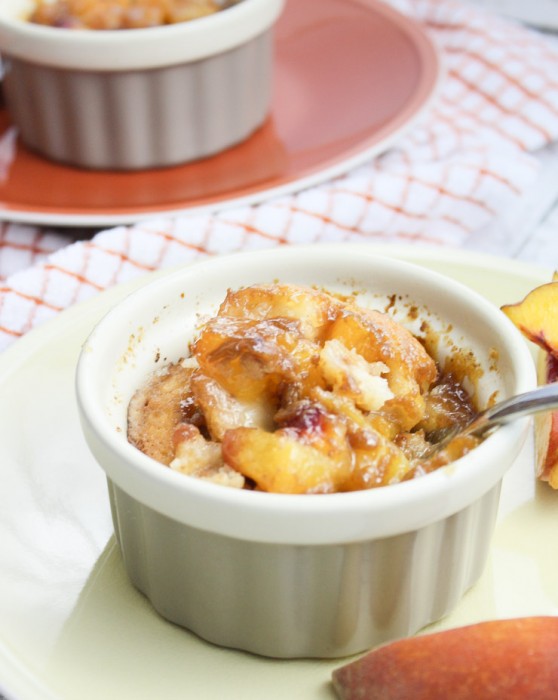 I originally had planned on making this cobbler in a typical larger casserole-type dish, but then it hit me. Everyone loves a cupcake because it is individual and in one little portion. People go crazy for mug cakes because they are simple and can be enjoyed by one. I decided to apply the same idea to this cobbler recipe. Pull out a few ramekins; It's about to go down.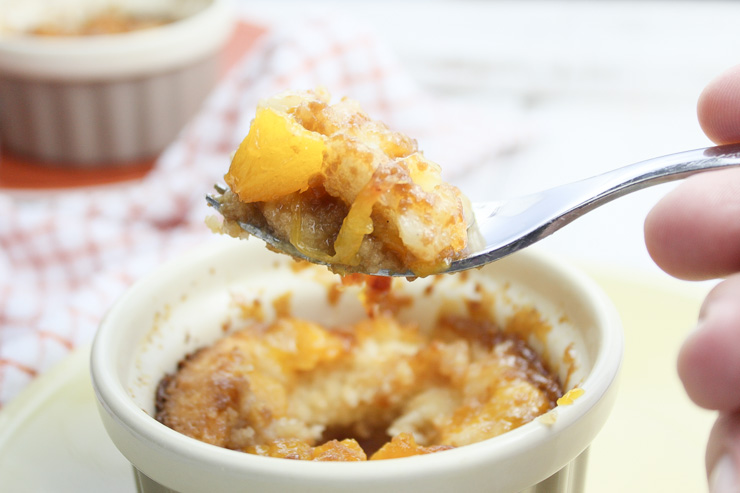 See that?! Soft, fluffy cake-like layers with the bright flavor of peaches on top of the rich, creamy caramel. A touch of salt flaked to accentuate.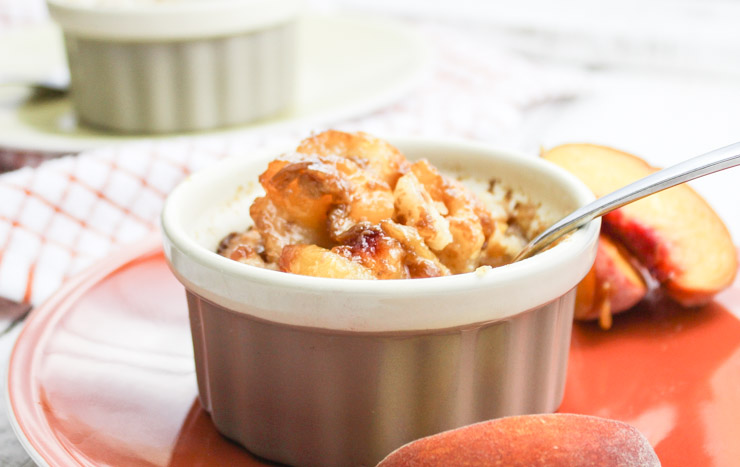 What's that? Oh. You don't want to share? I didn't want to share with you either! Luckily, you won't have to. Selfish singles, anyone? Yup!
This recipe is perfect for a great make-ahead idea. Have everything ready to go and throw it into the oven while you are enjoying dinner. By the time you are finished, these will be ready to pop out.
PS- These are amazing for midnight cravings! (Possibly, maybe, sorta where they started off in my house.)
(Individual) Salted Caramel Peach Cobbler
Homemade Individual Salted Caramel Peach Cobbler from SouthernFATTY.com
Serves:
4 individual cobblers
Ingredients
Caramel Peach Filling
1-2 peaches (or frozen about 2 cups sliced), diced
¼ cup sugar
¼ cup water
2 tablespoons butter
¼ cup cream
¼ teaspoon salt, flaked
Crust
4 tablespoons butter, cold, diced or grated (frozen)
½ cup flour, AP
¾ teaspoon baking powder
¼ teaspoon salt
¼ cup sugar
¼ cup milk
½ teaspoon vanilla bean paste (or extract)
Instructions
Caramel Sauce & Peach Filling
Cook caramel sauce sugar and ¼ cup water until golden and thick.
Immediately remove from heat and add butter and cream. Stir well.
Add peach pieces and fold in.
Sprinkle finishing salt over caramel mixture. Set mixture aside. to cool while making the dough.
Crust
Combine crust ingredients to form a dough/batter mixture. Don't over-mix.
Finishing
Heat oven to 350 F.
Split dough/batter among ramekins in bottom.
Split the peach caramel sauce among 4 ramekins.
Top with remaining dough/batter mixture.
Optionally, brush tops with a bit of extra cream for a more golden finish.
Bake until golden, about 40 minutes.
Enjoy! -- SouthernFATTY.com for more recipes and photos.
Notes
2014 - SouthernFATTY.com
What dessert do you refuse to share?! Let us know below!