(Individual) Salted Caramel Peach Cobbler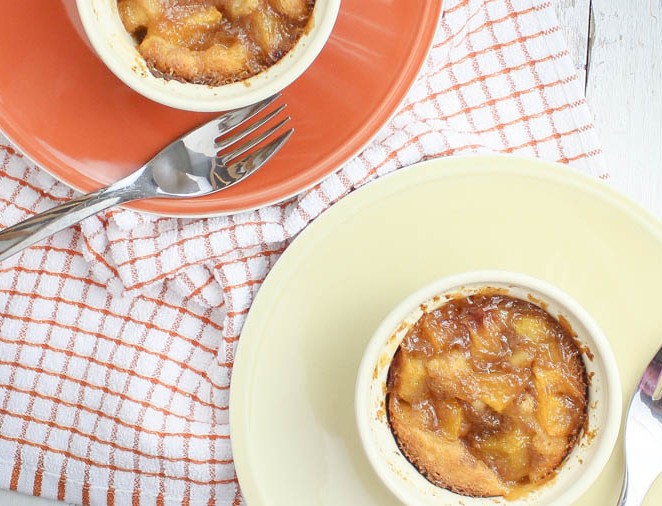 Serves:
4 individual cobblers
1-2 peaches (or frozen about 2 cups sliced), diced
¼ cup sugar
¼ cup water
2 tablespoons butter
¼ cup cream
¼ teaspoon salt, flaked
4 tablespoons butter, cold, diced or grated (frozen)
½ cup flour, AP
¾ teaspoon baking powder
¼ teaspoon salt
¼ cup sugar
¼ cup milk
½ teaspoon vanilla bean paste (or extract)
Cook caramel sauce sugar and ¼ cup water until golden and thick.
Immediately remove from heat and add butter and cream. Stir well.
Add peach pieces and fold in.
Sprinkle finishing salt over caramel mixture. Set mixture aside. to cool while making the dough.
Combine crust ingredients to form a dough/batter mixture. Don't over-mix.
Heat oven to 350 F.
Split dough/batter among ramekins in bottom.
Split the peach caramel sauce among 4 ramekins.
Top with remaining dough/batter mixture.
Optionally, brush tops with a bit of extra cream for a more golden finish.
Bake until golden, about 40 minutes.
Enjoy! -- SouthernFATTY.com for more recipes and photos.
Recipe by
Southern FATTY
at https://www.southernfatty.com/salted-caramel-peach-cobbler/