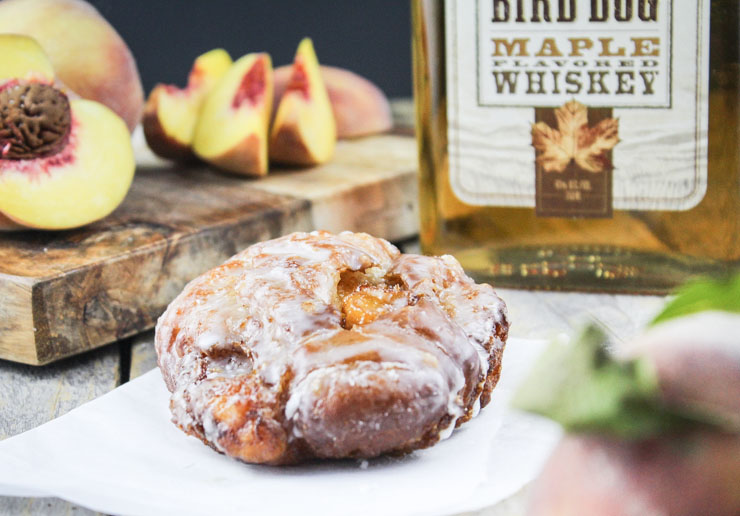 Millions of peaches, peaches for me! — It's nearing the end of peach season (womp, womp), but there is still a bit of time if you haven't taken the opportunity to go grab a basket of fresh ones for yourself. I recently went with the intention of coming home with like half of a peck. I ended up with over 30 pounds. 30 pounds is like… more than both of my cats together. Huge.
To start off using some of these fuzzy lovelies, I decided to give fritters a go. I had recently had some delicious glazed fritters (apple, as you usually find) from a small bakery in Kentucky. Why not make peach ones? Why not also add some booze to them? Maple Whiskey Peach Fritters were the final (absolutely delicious) product.
Speaking of my cats, I can't help but throw this out into the ol' interwebs. When I was setting up my little area to take photos for this post, Saffy decided that she wanted to see what was going on (as usual– she always sits and watches me cook). She jumped up and found a single, tiny peach that I had been using to set some of the camera functions with on top of the backdrop. She took it onto herself to basically destroy it like she would a tennis ball. Needless to say, that peach didn't make it into the mix.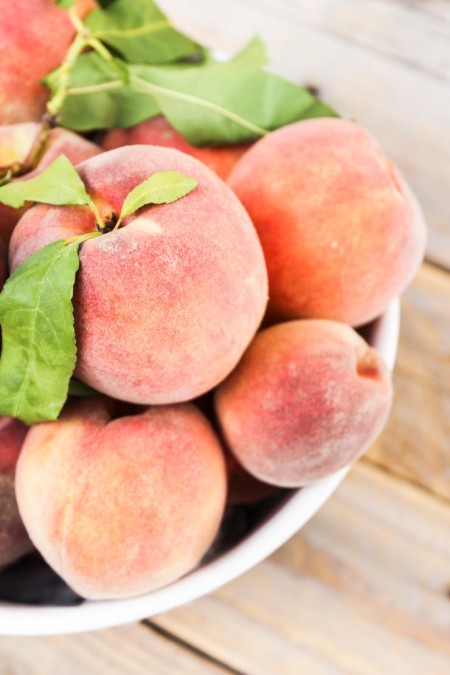 Back to those sweet fritters– This may upset some people, but I am a strong believer that you just can't have a perfect doughnut-style fritters unless it is yeast-risen. Sure, the quick flour and whatever recipes are ready faster, but the taste and more importantly the texture just isn't anywhere close to what it is with the yeast variety. These aren't the speediest, most simple things to make. They are, though, a labor of love. Sweet, sweet boozy love. (The best kind, right?)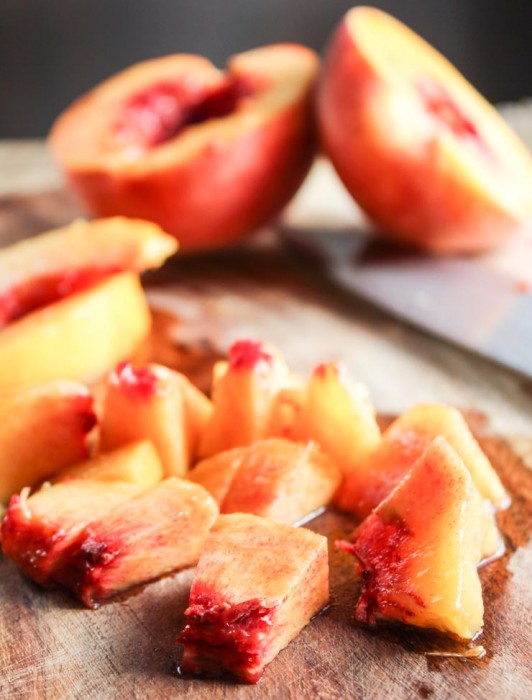 I decided to cook the peaches in a simple cinnamon syrup. I would think that you could achieve a pretty delicious fritter with just leaving them how you found them as you picked the peaches from the tree if you wanted. Cinnamon seemed to be in my mind for the day, as various spices generally are, so– why not?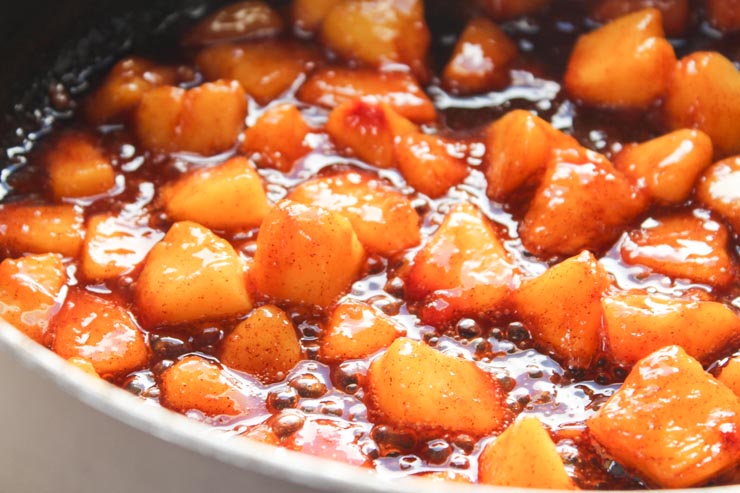 Since I [sadly] haven't yet invested in a commercial sized deep fryer, the wee little Fry Daddy made an appearance. You know, that type that you may have hidden in the corner of your dorm room for late night snacks. No? You didn't do that? Hmm.
You could cook these in a large Dutch or pot, but you really do need the oil to maintain its temperature as well as possible. This is sometimes pretty tough to do in a stovetop pot with thermometer. I don't have to worry about any of that when I use a standalone fryer. If you house is anything like mine, that prevents burning the first 1 or 5. Everyone will appreciate that.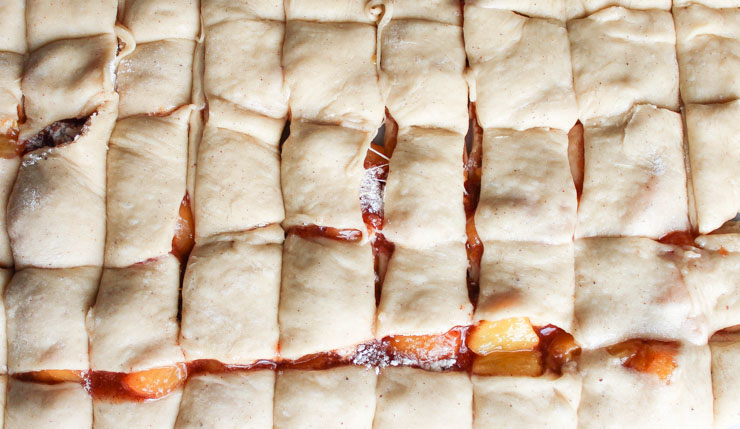 Some people make fritters pretty small. Like a little single bite or two thing. I just don't get that, really. If I get a glazed fritter, I want it to be sorta lumpy and the size of my entire hand. My hand stretched out as far as it will go. That size. These might be cute in smaller blobs, but that's for another day, perhaps. Today's fritter is brought to you by the letter.. gluttony.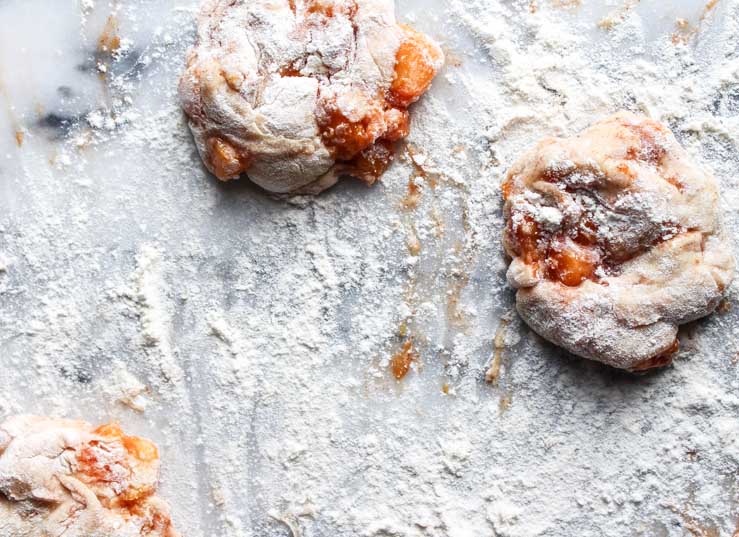 The lumpy part of the fritter makes a big difference in the texture. I found that chopping them into pieces and then gathering into the fritter shape gives it that almost swirled sort of appeal. Peaches on the outside, peaches on the inside. You get my drift.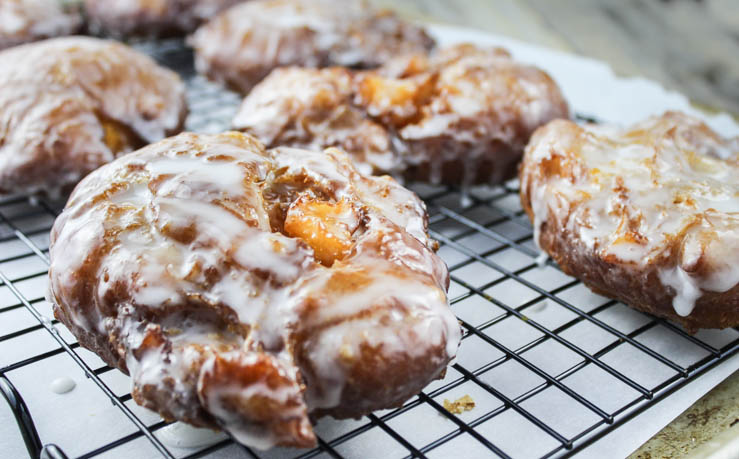 I can't believe it has taken me this long to mention the absolutely perfect glaze that blankets these sweet eats! Get ready for it… Maple. Whiskey. Icing. Glaze. The only way to truly appreciate those 4 words is to make it for yourself. We had this maple whiskey on the shelf for a while and hadn't used it yet. A breakfast pastry seemed to be as good as any reason. I can only think to describe it as a sweet maple syrup, like you would eat on pancakes, but ten times better. Because, well, whiskey.
The flavor is subtle, but does everything it can to accent the fresh peaches flavor. Maple syrup (whiskey!), peaches, and sugar. What else could you want? I used a Maple Whiskey from Bird Dog Whiskey.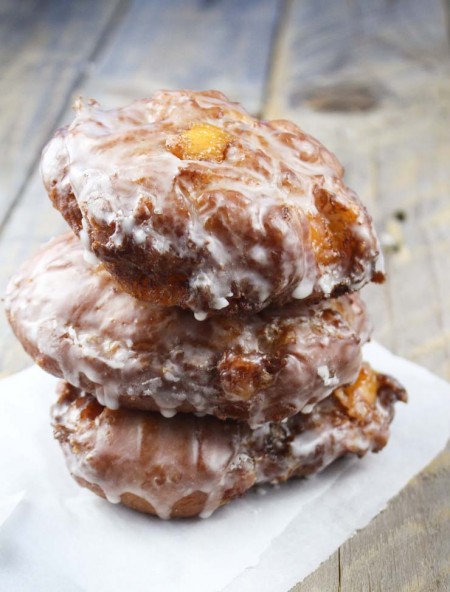 I can't help but think that these really are the perfect breakfast treat. You can make them ahead of time (freeze them, even!) and be able to grab it on your way out of the door. I can promise you that nothing will help your commute more than a sweet, peach-filled pastry. Peaches are fruit. So it's technically not even a treat, but merely just your own personal step towards a balanced diet!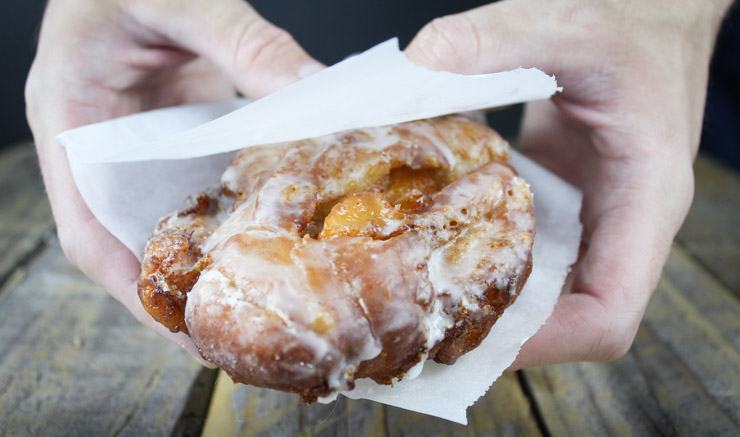 From this FATTY to yours, I hope that every single one of you tries this recipe out. It's seriously that delicious. Keep that fryer hot, because you aren't going to want to stop once you've tried them. Enjoy, y'all!
Maple Peach Whiskey Fritters
The most perfect, fluffy peach fritter recipe. Glazed with a delicious maple whiskey sweet glaze! From SouthernFATTY.com.
Serves:
8-10 large fritters
Ingredients
Fruit Filling
2 peaches, peeled and cut into bite-sized pieces (little over 2 cups)
⅓ cup (66 g) sugar
2 teaspoons (6 g) cinnamon, ground
1 teaspoon lemon juice
Fritter Dough
2 tablespoons (17 g) active yeast
⅓ cup (80 ml) hot water
2 cups (254 g) bread flour
¼ cup (50 g) sugar
1 teaspoon salt
¼ teaspoon baking powder
¼ teaspoon cinnamon, ground
⅛ teaspoon nutmeg
1 egg
3 tablespoons shortening
½ teaspoon vanilla paste, I prefer Nielsen-Massey (extract, alternatively)
oil, for frying
Maple Whiskey Glaze
2 tablespoons sugar, granulated white
¼ cup water
2 cups (200 g) powdered sugar
½ tablespoon corn syrup, light
½ teaspoon vanilla paste, I prefer Nielsen-Massey (extract, alternatively)
¼ teaspoon salt
1 tablespoon Maple Whiskey
Instructions
Start with the dough:
In a mixer, add yeast and warm water. Allow to sit and dissolve for about 5 minutes.
While dissolving, sift the dough dry ingredients into a bowl.
With a mixing blade (Beater Blade is the best!), add the remaining wet ingredients (egg, shortening, vanilla) to the yeast and mix well.
Add dry ingredient mix a bit at a time, mixing well at a low setting.
After all of the dry ingredients have been added, knead with a dough hook until smooth. This will take about 3-4 minutes at medium speed. Resist adding more flour unless dough is extremely sticky.
Remove bowl and cover with plastic wrap, dough ball in bottom.
Let dough double. This will take about an hour in a warm environment.
Make the filling while the dough is rising:
Place filling ingredients in saucepan over medium heat.
Bring to boil and reduce to simmer for about 6-8 minutes.
Remove to cool completely.
Back to the dough:
After the dough has doubled, roll out on a floured board to a 12"x12" square.
Place the cooled peach filling (not too much liquid works best) on half of the dough.
Fold over dough to cover peaches. Press sides together.
With a pizza or pastry cutter, cut dough into small squares (see picture).
The dough may be sticky and somewhat wet, but pick up the squares individually and form them into smaller balls.
Place dough balls together into small patties, each about the size of 2.5 inches wide.
Use a light amount of flour as needed to prevent sticking.
Place on a lined baking sheet.
Cover with greased plastic wrap and let rise for 45 minutes.
Heat oil to 350 F. Fry each fritter (don't crowd in oil!) until golden, about 4-5 minutes total.
Remove to drain and cool to handle.
Maple Whiskey Glaze
In small saucepan, heat sugar and water to boil. Dissolve all sugar.
Once boiling and dissolved, remove from heat and add remaining glaze ingredients and whisk to smooth texture.
Finishing the Fritters:
Dip the fritter in glaze. Remove to baking rack to cool. Repeat glaze dip as desired.
Enjoy! These are even better the next morning at room temperature.
SouthernFATTY.com for more delicious treats!
Notes
2014 - SouthernFATTY.com
What fresh fruit have you picked this summer? Leave a note below!