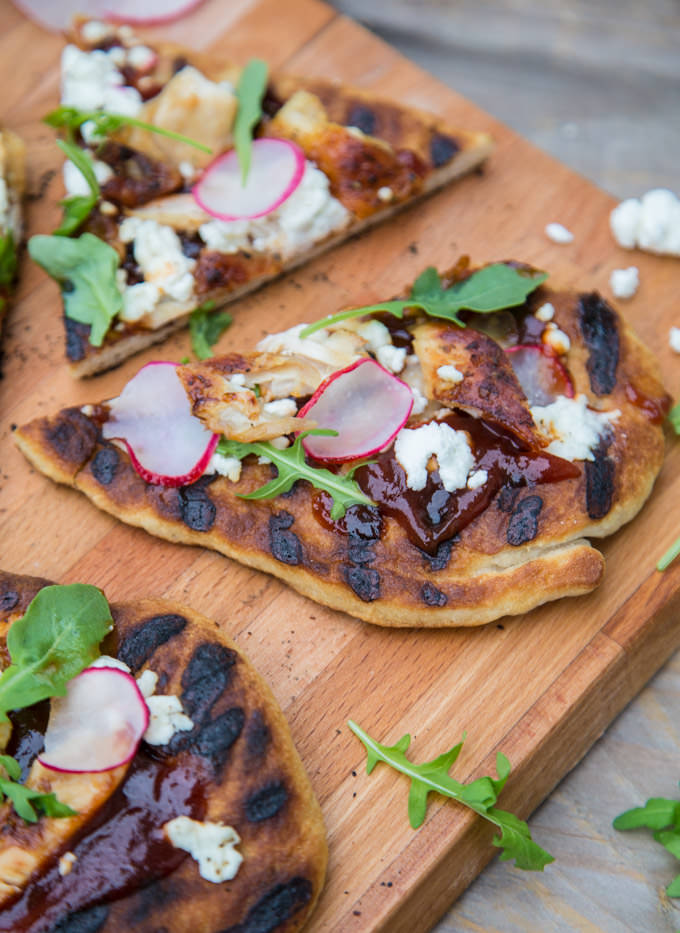 Spring has arrived. Y'all know what that means… It's grillin' time! I am totally one of those people that try to fire up the grill all year long. At some point, because Nashville has some crazy up and down weather stuff going on, I just have to give in and pull out the grill pan instead inside the warm kitchen. Slowly staring out of the window at the lonely grill… calling my name… whispering sweet charcoal nothings… What? That's not normal? Idk. Let's grill!
We're tossing a few things onto the flames for a super-quick bite. — Char-grilled flatbread with Sweet Vidalia Onion Barbecue Sauce, rotisserie chicken, goat cheese, thinly sliced radishes, and a bright, peppery arugula finish.
For my very first grill of the year, I teamed up with one of my favs, Sweet Baby Ray's, to create a hearty party flatbread that is sure to be the star of your first Spring fling cookout.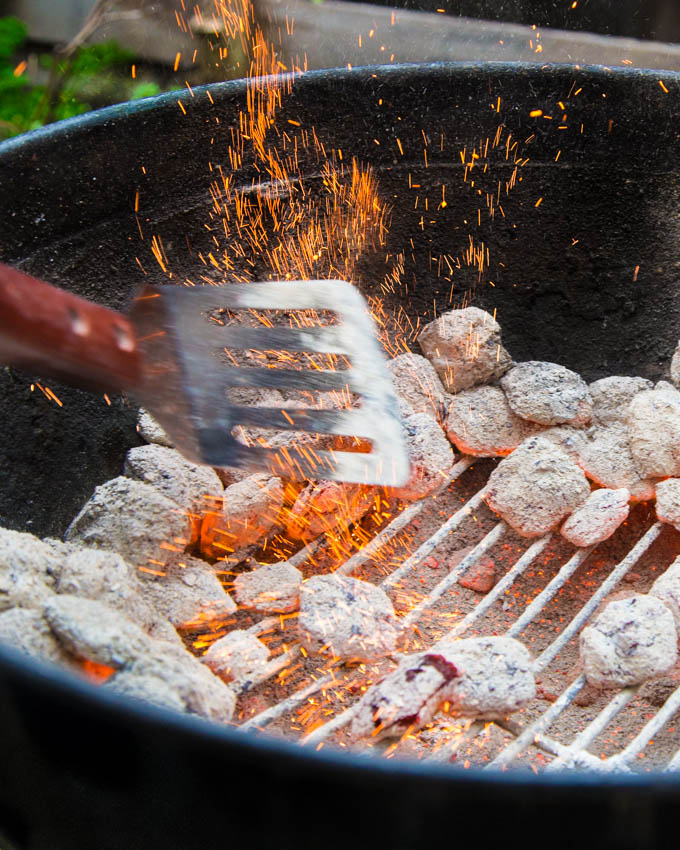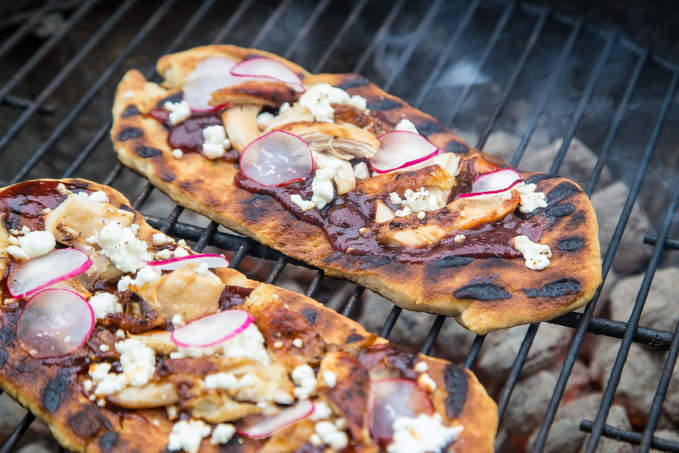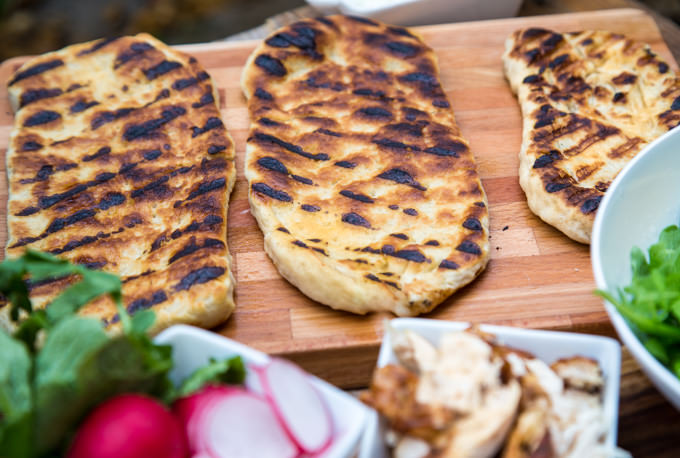 If you've been around the Fatty block before, you'll know that I am totally obsessed with BBQ. BBQ sauce, BBQ brisket, BBQ pork, BBQ chickens spinning above a fire pit, BBQ'd BBQ. I may sound like Forrest Gump, but I'm not a hater. I enjoy all types, from every region. I even enjoy the blasphemous mustard-based sauce. Enough so, that I made some balla grilled slaw with it a while back. Maybe it's because I was that kid that liked to burn every damn thing that I could get my hands on. Maybe because I have memories of grabbing delicious BBQ from different places while on family vacations. Could be because all Southerners are born with a gene that forces you to be addicted to it. (I'm a scientist, y'all. I know these thangs.)
It just seemed to make sense to combine my love for all things carbohydrate with ol' Backyard Bertha (that's my grill). I wanted to be able to prepare something fresh and unique for my friends that were coming over to celebrate the bit of warm weather moving in without just buying something from a store. I also wanted to not have to stand around for hours preparing it. The struggle is real, y'all.
Flatbread was a winner, winner, BBQ chicken dinner. In less than 30 minutes (including the time to warm the grill… seriously), dinner was ready. It doesn't get better than that. Time to chat and enjoy the company instead of sweating away in the kitchen.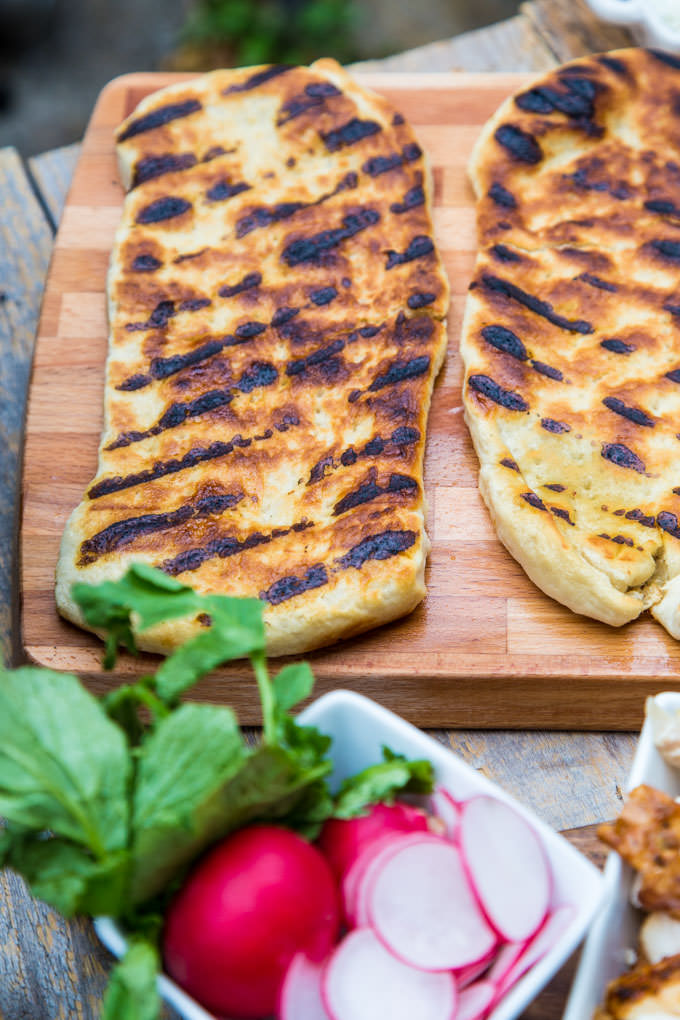 Since I already had a batch of my absolute favorite pizza dough recipe in the freezer, I just pulled it out to thaw a bit before people came over. If you really want to make things easy, just buy some pizza dough. Check in with your local small batch stores for some great stuff, or just buy one of those scary cans that look like biscuits (I still refuse to try and open those… not knowing when they'll pop and all.. Ugh!). Pick up one of those rotisserie chickens that you always walk past with gazing eyes. Yes. They are as absolutely delicious as you'd think they'd be. And SO so so easy. Slice up some radishes. I prefer them to be fairly thin, but if you want more of a crunch, give them a bit more space on the chopping block. Goat cheese, aka chèvre, because it's goat cheese. Duh. A bit of arugula for a peppery finish, and you are almost at home base.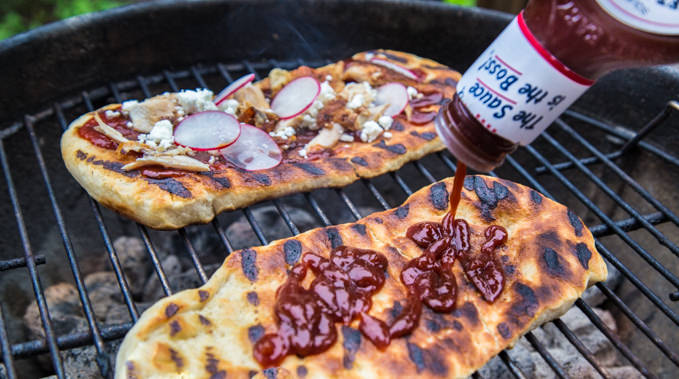 I was recently browsing the grocery, in the BBQ sauce aisle, as I do, when I spotted something that stopped me in my tracks. My BFF Sweet Baby Ray's had a Sweet Vidalia Onion Barbecue Sauce. HOLD UP. What?! Yes! Yes, yes, yes! A Vidalia onion is something of a legend around the South. When you grab a sweet onion from the shelf, it may very well be a Vidalia. With my family being from Georgia, I knew what these were before I know what all you could do with them. "Go to the Piggly Wiggly and grab some Vidalias." I've even heard rumors that some eat them raw, like apples. [Someone PLEASE give it a try and be sure to tag @SouthernFATTY in the Instagram video when you do….]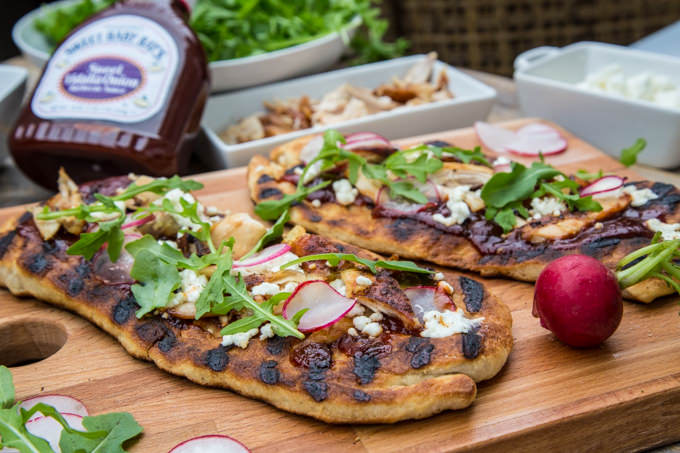 These sweet onions made for one of the best BBQ sauce bottles I've had. This sauce is definitely the boss. Sweet Baby Ray's makes everything absolutely delicious. It's a solid BBQ sauce with a sweet Vidalia flare. Soooo perfect for grilling recipes.
If you want another spot-on BBQ side using another of my SBR sauce picks, check out the Grilled Mustard BBQ Slaw recipe that I made using their Sweet Golden Mustard Sauce.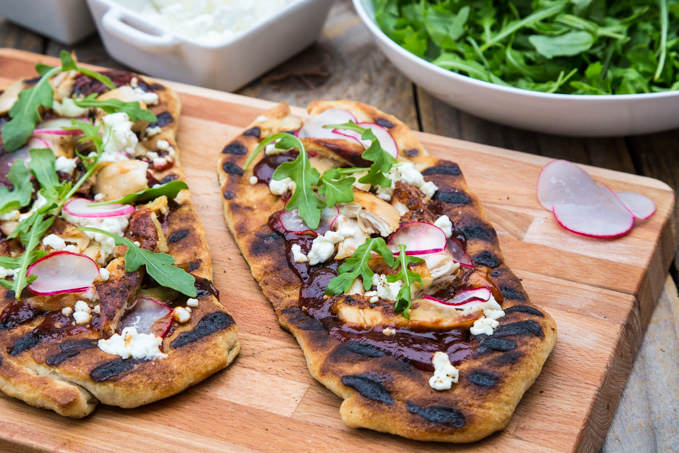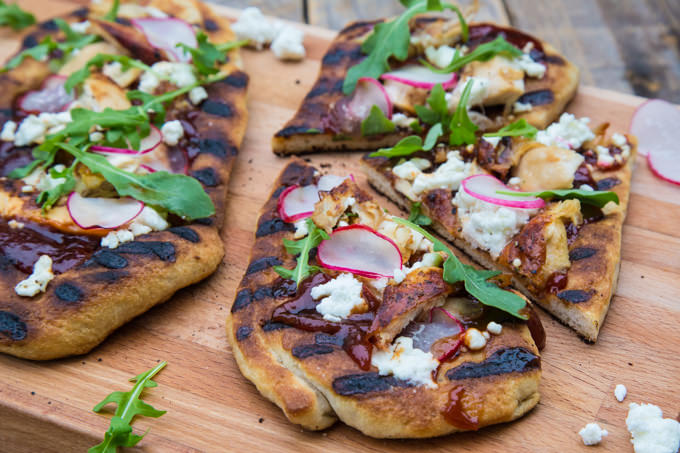 Rotisserie Chicken BBQ Flatbread
Grilled rotisserie chicken BBQ grilled flatbread recipe. Chicken, pizza dough, goat cheese, fresh radishes, BBQ sauce, peppery arugula and a balsamic drizzle. By SouthernFATTY.com.
Author:
Phillip Fryman | SouthernFATTY.com
Ingredients
1 small-medium rotisserie chicken, shredded
1 recipe of pizza dough or store-bought dough for one pizza (canned even works well)
2-3 oz goat cheese / chèvre, crumbled
3-4 radishes, sliced (thinly for less crispness, thicker for more crunch)
baby arugula, to finish
balsamic vinegar, optional, to finish
Instructions
Heat grill, preferably charcoal. If using gas, turn on one side to medium/high heat. If charcoal, heat coals and then spread all coals to one side, or to a ring, leaving the center without coals. You want to cook over indirect heat to prevent burning. See post photos.
Divide the pizza dough into 4 equal pieces.
Press each out into a still somewhat thick, flatbread shape.
Have all ingredients ready to apply. This happens quickly!
Lightly oil grill grates to prevent sticking. If using gas, lower to medium heat.
Grill dough over the indirect heat side or area of the grill until browned.
Flip and immediately apply sauce, chicken, goat cheese and radishes.
Cook until bottom is browned. If your temperature of the grill wasn't too high, the chess should be soft and thoroughly heated.
Top with fresh arugula, salt and pepper as desired, a drizzle of balsamic.
Enjoy with friends and family.
Find more recipes on Southern FATTY.
Disclosure: This post was sponsored by Sweet Baby Ray's. I partnered with this brand because I enjoy the product(s), and wanted to share my love of the brand's products with my audience. All thoughts are mine alone.