Rotisserie Chicken BBQ Flatbread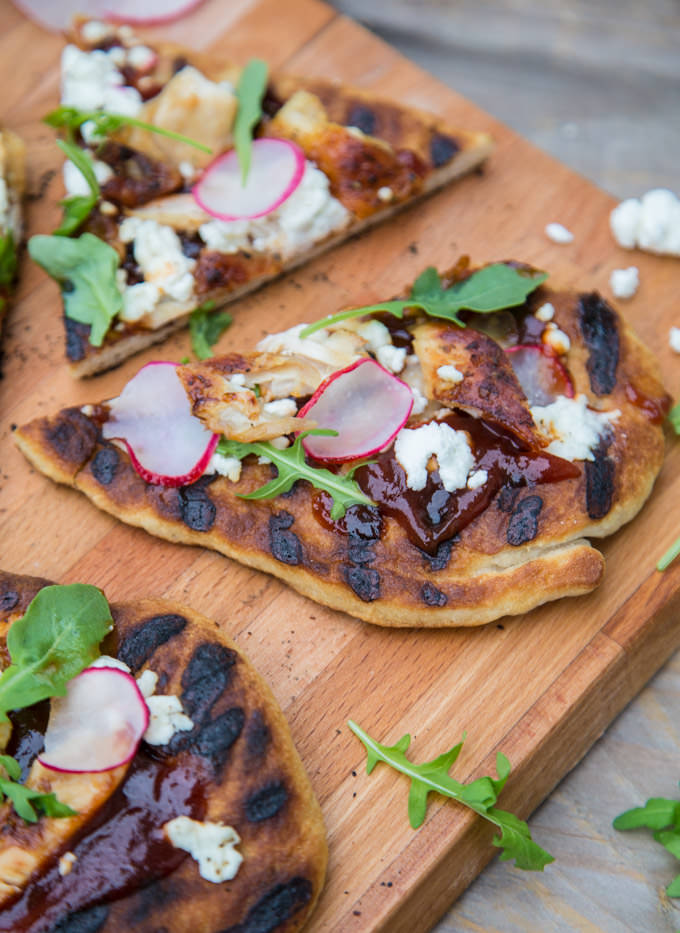 Author:
Phillip Fryman | SouthernFATTY.com
1 small-medium rotisserie chicken, shredded
1 recipe of pizza dough or store-bought dough for one pizza (canned even works well)
2-3 oz goat cheese / chèvre, crumbled
3-4 radishes, sliced (thinly for less crispness, thicker for more crunch)
baby arugula, to finish
balsamic vinegar, optional, to finish
Heat grill, preferably charcoal. If using gas, turn on one side to medium/high heat. If charcoal, heat coals and then spread all coals to one side, or to a ring, leaving the center without coals. You want to cook over indirect heat to prevent burning. See post photos.
Divide the pizza dough into 4 equal pieces.
Press each out into a still somewhat thick, flatbread shape.
Have all ingredients ready to apply. This happens quickly!
Lightly oil grill grates to prevent sticking. If using gas, lower to medium heat.
Grill dough over the indirect heat side or area of the grill until browned.
Flip and immediately apply sauce, chicken, goat cheese and radishes.
Cook until bottom is browned. If your temperature of the grill wasn't too high, the chess should be soft and thoroughly heated.
Top with fresh arugula, salt and pepper as desired, a drizzle of balsamic.
Enjoy with friends and family.
Find more recipes on Southern FATTY.
Recipe by
Southern FATTY
at https://www.southernfatty.com/rotisserie-chicken-bbq-flatbread/