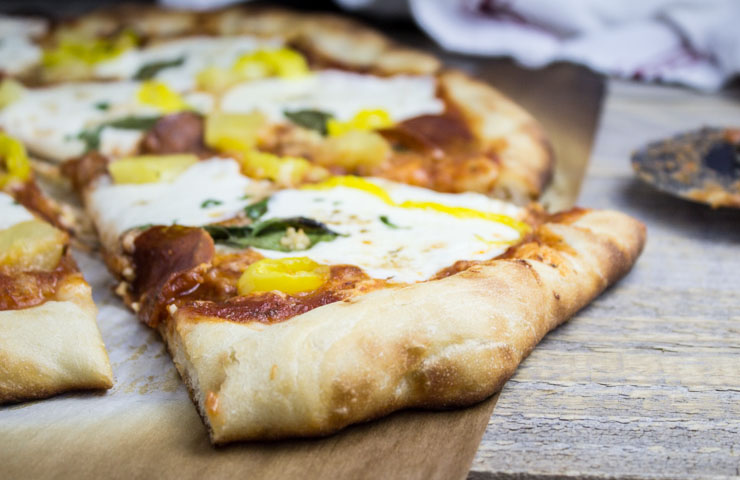 Homemade pizza is a go-to dinner at my place, making an appearance about once every week or so. I always have some sort of tomato-based sauce sitting around beside some leftover vegetables and cheese. The glorious thing about pizza is that you can throw just about anything you want on it and it will taste great. Trial after trial (after trials!), and finally– I have my favorite pizza recipe down. As a bonus, it happens to be incredibly simple!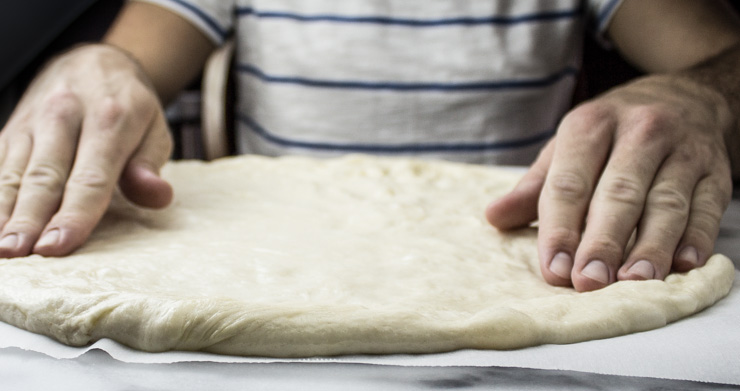 This is a dough packed full of yeast. It will give you a warm, fluffy pizza full of flavor. You literally dump all of the ingredients into the mixer and let it go to town for a few minutes. Toss it in some delicious olive oil and go pour yourself a glass of wine. By the time you are finished with it, the dough will be ready to go into the oven and onto your plate 10 minutes later!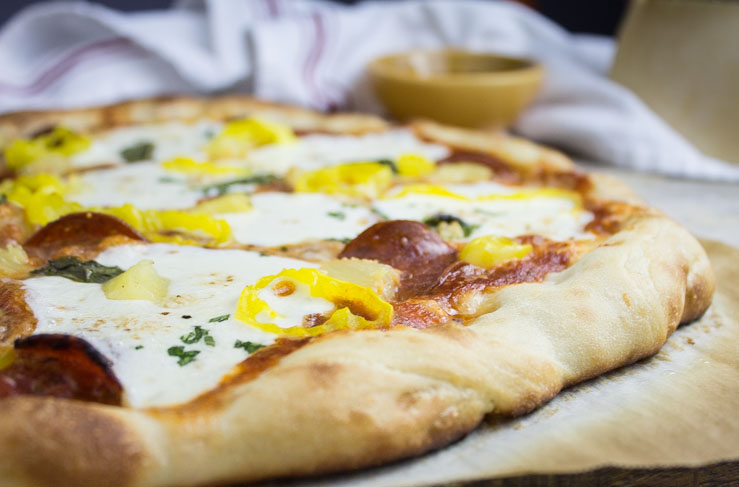 The big secret to this dough being so delicious and simple is not mixing the oil in with all of the other ingredients. When you mix flour and water for a dough with the addition of oil, you run the risk of not fully hydrating the flour to its potential. Holding off on the oil will give you a more consistent, fluffy dough. Once you have the dough made and mixed, it will be a nice sticky ball of love. Putting the dough into a bowl of oil to coat while allowing it to rise will give you a perfect texture.
The other benefit to adding the oil after mixing the other ingredients is obvious once you have finished letting it rise. You will dump the dough (oil and all) onto a sheet of parchment paper and start to work it into the pizza's shape. Be as light and careful as you can. Those tiny bubbles of air that have formed as a result of the yeast reactivating are what will make your pizza irresistible. Use a few fingers and simply work the dough out from the center. You'll be amazed at how easy it is to press it out since it has a coating of olive oil.
I loaded this pizza with pineapple, homemade mozzarella (keep an eye out for that post!), banana peppers, pepperoni and a simple tomato sauce that I had made for pasta. Top it with a bit of fresh basil and you've got a party. I cook my pizzas on a large pizza stone. It really makes the crust turn out juuuuust right. A bit of a crisp on the outside, with a cloud-like softness inside. Certainly something I would recommend investing in.
Using the pizza stone with the oven at a blazing 500 F, and the pizza was browned and ready in less than 10 minutes. Pre-heat the oven with the stone in it near the bottom for as long as you can stand the heat in the kitchen. I try to turn mine on when I finish the dough to let rise. You want the oven to be very hot and not still heating anything inside before you cook the pizza.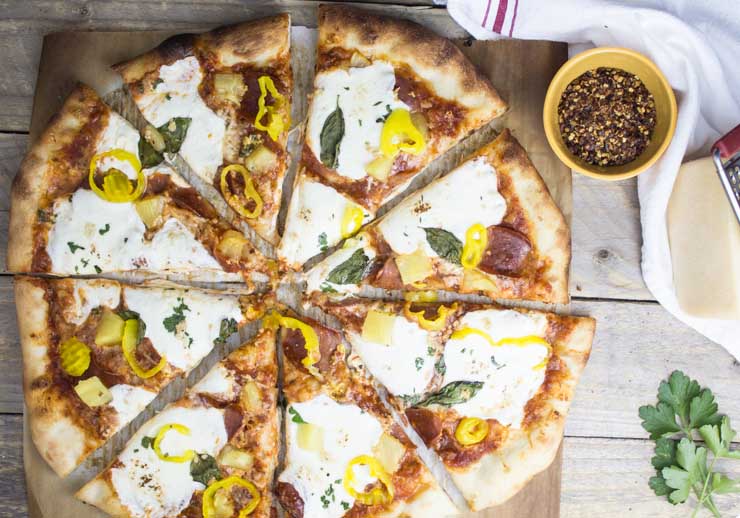 I can't tell you enough how much you will love this recipe. You just have to try it for yourself! It couldn't be any easier, and is certainly one of the most delicious recipe staples in my arsenal. I've made garlic bread, pizzas and even some desserts with this dough recipe. I'm sure you will all love it!
Simple, Quick Pizza Dough
Simple, quick homemade pizza dough. Toss everything in a mixer and you're done. - From SouthernFATTY.com
Ingredients
1 cup hot water
1 plus ½ teaspoons yeast, active dry
1 tablespoon honey
1 teaspoon sugar
2 plus ¼ cups flour
½ teaspoon garlic powder
¼ teaspoon garlic salt
3-4 tablespoons olive oil
¼ teaspoon onion powder
Instructions
Place hot water in mixer bowl with dough hook.
Add yeast, honey and sugar. Let sit for 4-5 minutes.
Add all other ingredients with the exception of the oil.
Mix slowly until combined. When combined mix on medium-high speed for 6 minutes. Dough will form a ball on hook.
With a wet hand, lift ball and pour in oil into bowl. Place dough ball back on top and rotate to cover ball well with oil.
Cover with plastic wrap and place in warm location to rise for about 40 minutes.
Pre-heat oven to 500 F (with pizza stone in oven, if using).
Tear parchment paper to the size of the pizza stone (or large sheet pan, whatever you are cooking the pizza on).
After the dough has risen, dump it onto the parchment paper.
Very lightly, using a few fingers, spread the dough into the shape of your pizza. Push lightly from center to the outside and shape.
Top with toppings. Cook for 8-10 minutes until crust is golden.
Enjoy! Visit SouthernFATTY.com for more.
Notes
2014 - SouthernFATTY.com
What are your favorite toppings for homemade pizza? Tell us by commenting below!