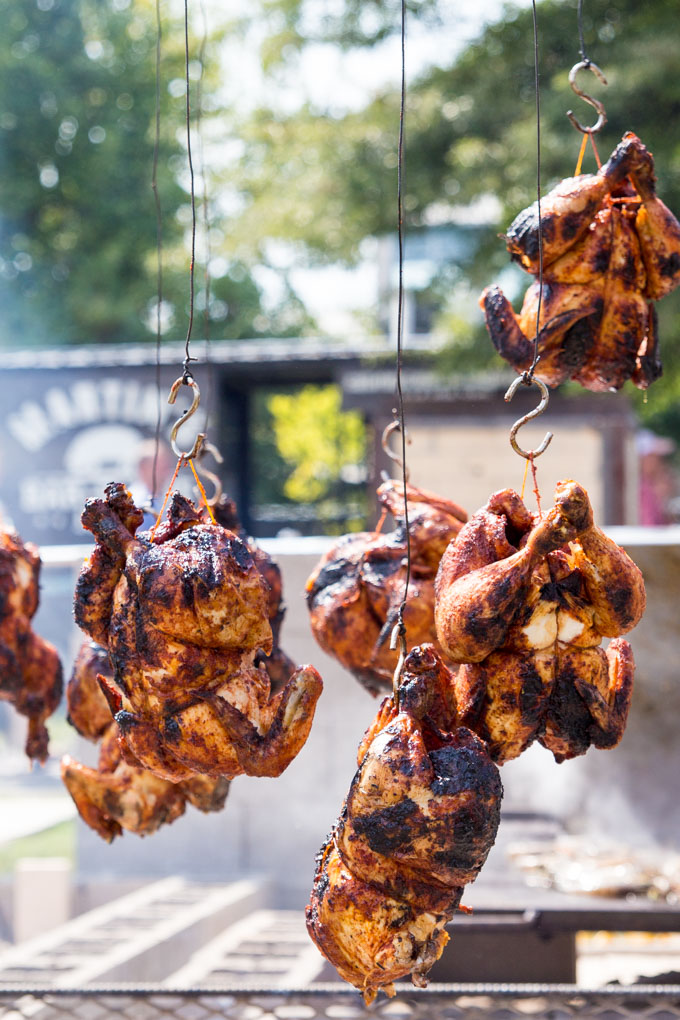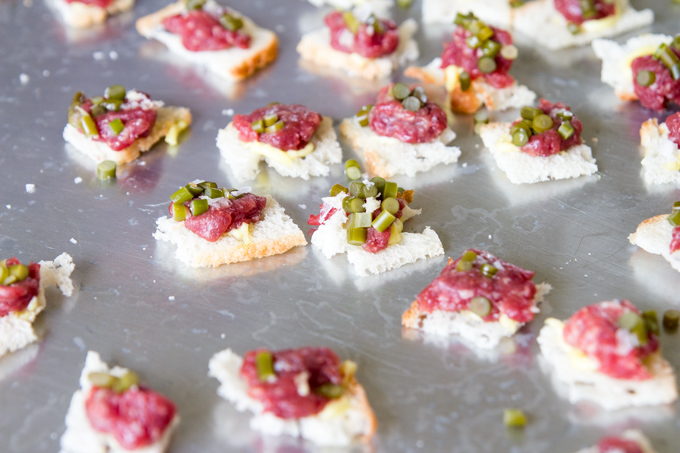 Food and Wine festivals across the nation are becoming more and more popular. Music City is no exception to that trend, and I'm thrilled about it. This year, Nashville was home to one of the tastiest, booziest, party-like festivals to top all festivals–
2015 Music City Food + Wine. If you are a Nashville local or planning a trip to see our Southern charms, this festival features some favorites that you definitely want to taste.
Continue reading for more eye-candy!
I'm not going to spend a bunch of time writing about everything here. I really think that this experience is best described through pictures. TONS and tons of pictures.
Seriously…
DAY 1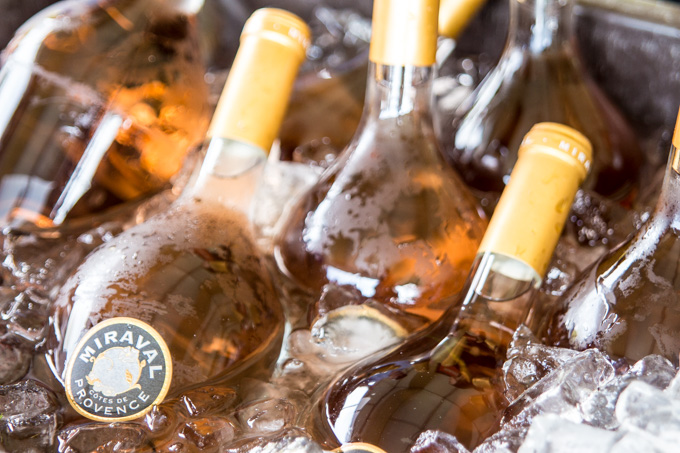 The first day of the 2-day MCFW festival had more drinks than you could imagine. By far more booze than food. No complaints here.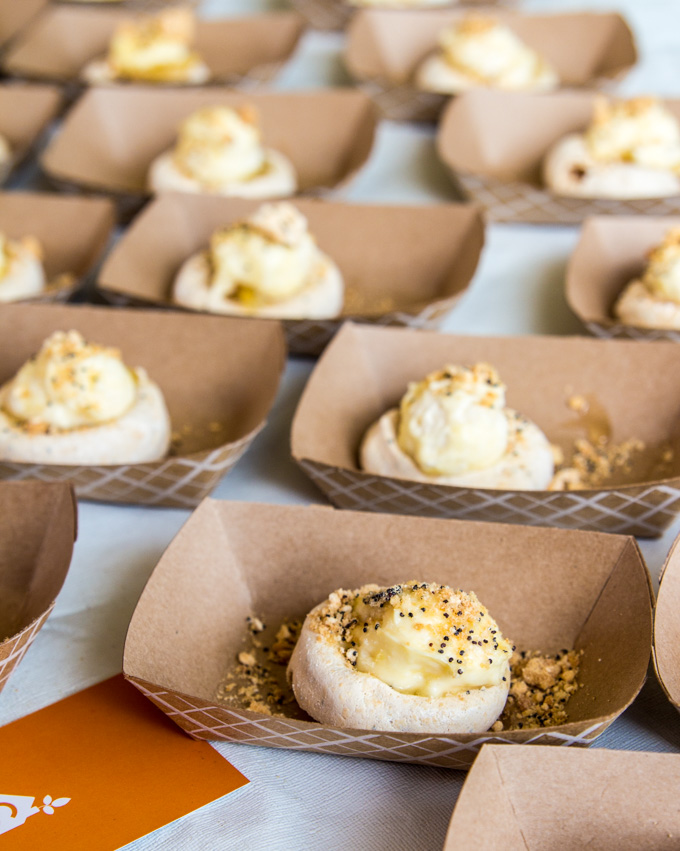 City House (Nashville) had these tiny toasted pavlovas topped with ricotta cream, lemon marmalade and poppyseed crumb.
The acrobatic chickens that you see at the beginning of the post were courtesy of Nashville-famous Martin's BBQ. They even had Chef's from other spots cooking up some octopus over the coals. It's basically one big family here, y'all.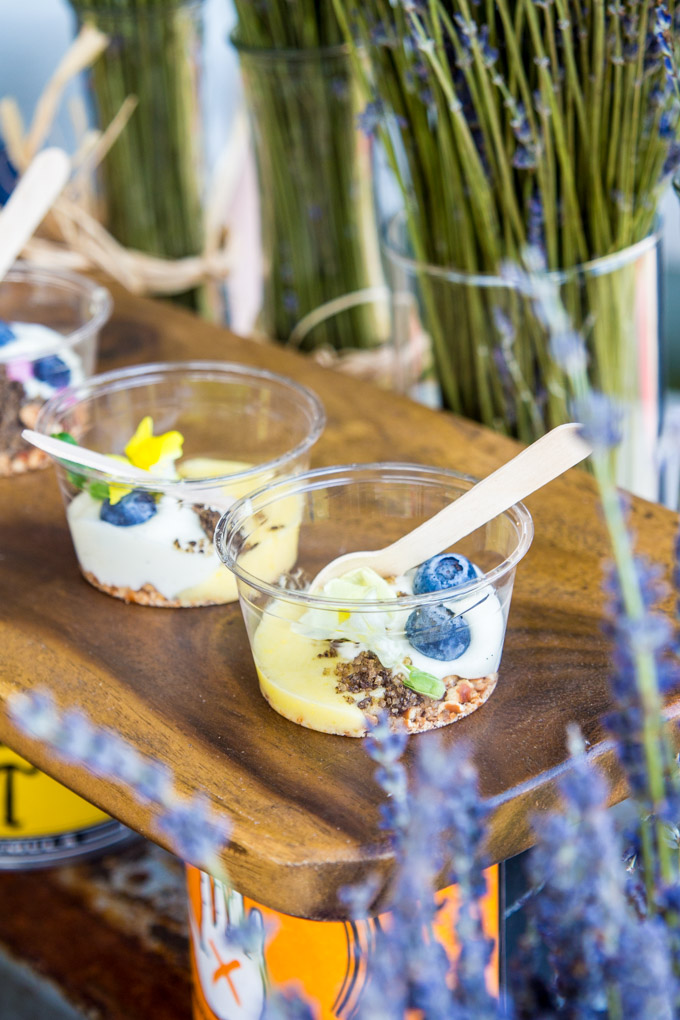 Pinewood Social (which is an amazingly fun spot to eat or drink at here in Music City) killed it with these lemon curd, pretzel crumb-topped, lavender gremolata and fresh blueberry treats. Seriously. I could eat this instead of breakfast every morning, right?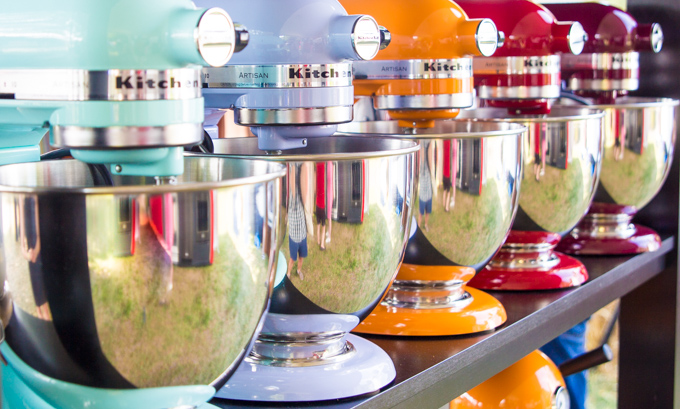 Kitchen-Aid didn't disappoint, stocking every single cooking demo tent on the grounds and providing plenty of eye candy for attendees. I mean… seriously. LOOK at those. I'd take every single one of those home with me if they would have fit in my bag. (PS- Thanks for the cute tote with the cookie inside, Christie Cookies!)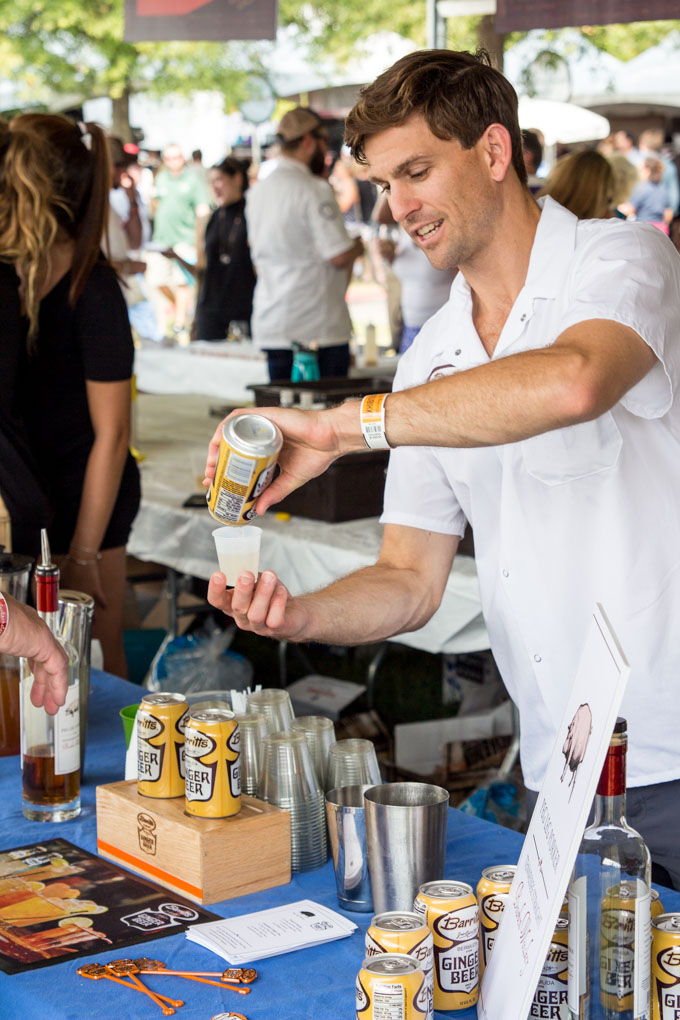 Y'all know how I feel about GINGER BEER. (Which if you remember our previous GB posts, isn't actually typical beer at all…)
Barritt's was on location to mix their GB with just about any additional booze that you could think of. Not a single one disappointed.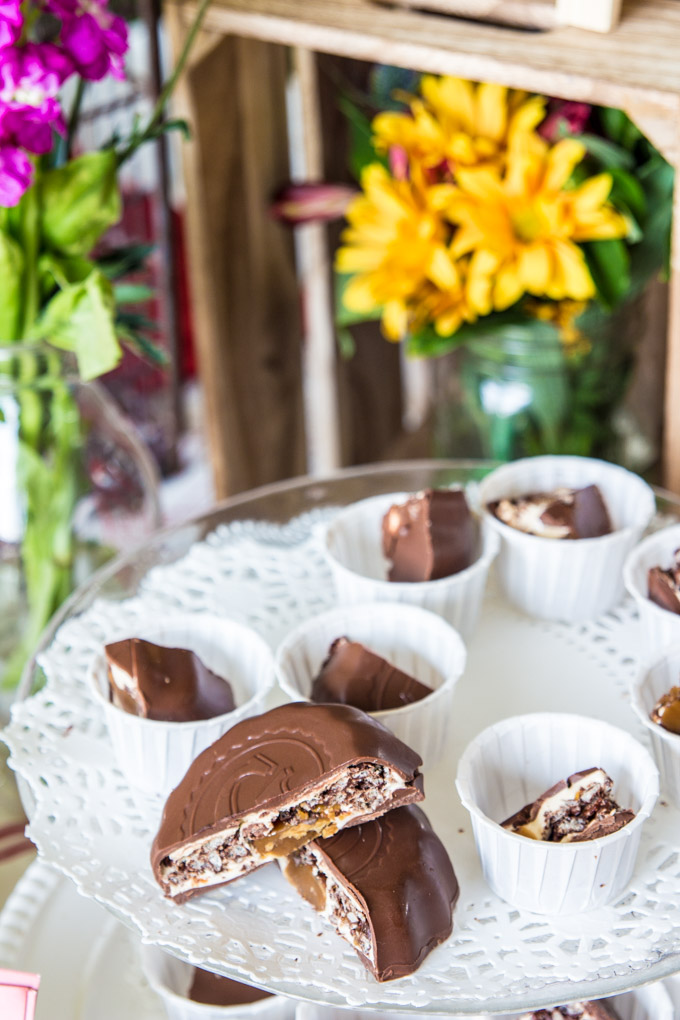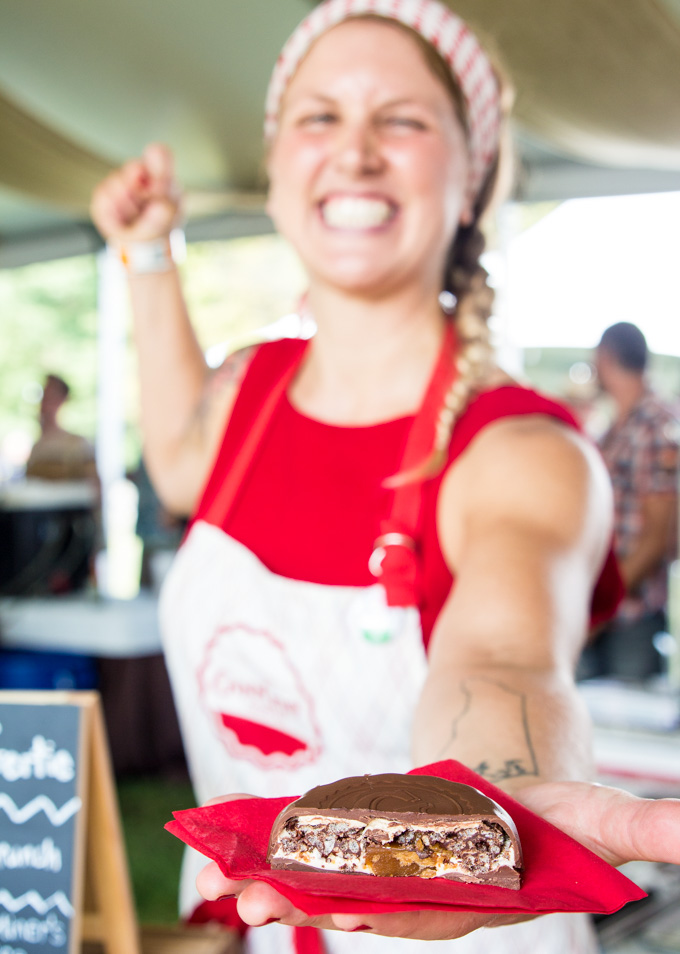 Anyone that knows Nashville, knows that it isn't really Nashville without Goo Goo Clusters. The lovely Chocolatier of Goo Goo's own downtown sweets shop, Lauren, was there to serve up the Goo Goo Premiums. These are special clusters that are made for the 3rd Avenue shop. Definitely a place to stop when you are browsing around the Broadway bars in town.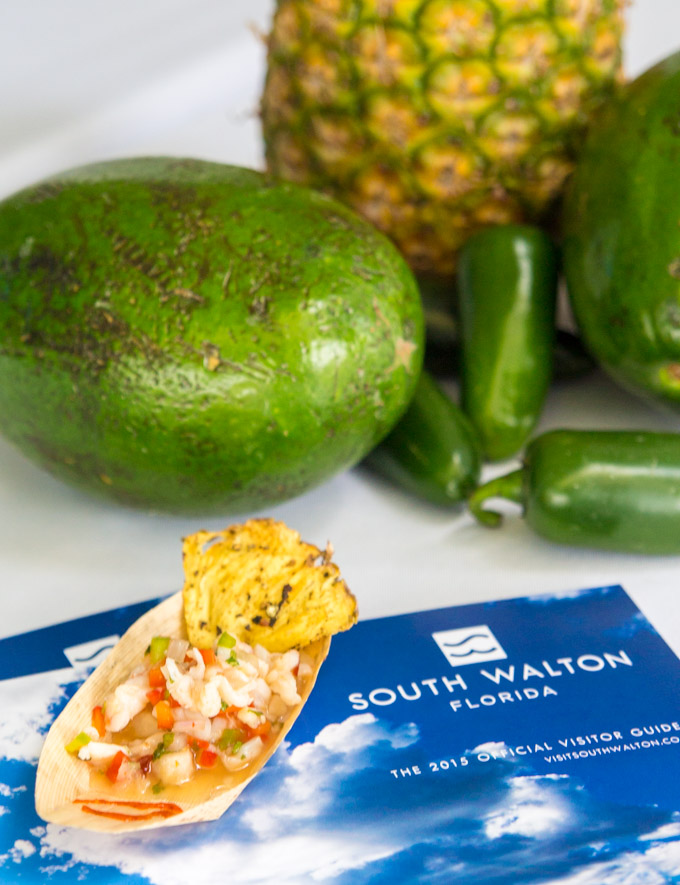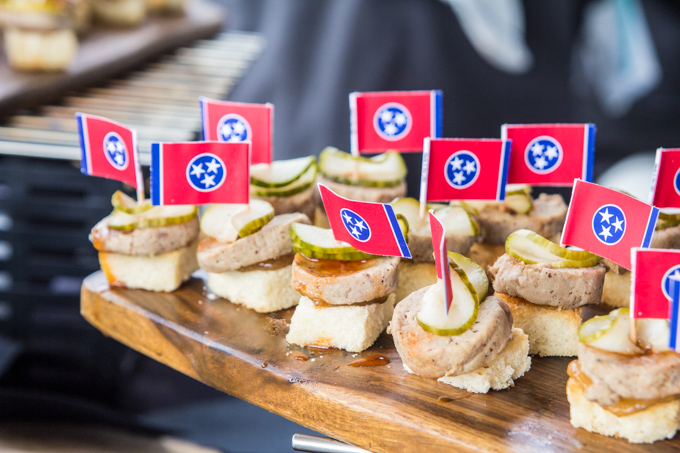 South Walton, Florida reps and Chefs were in the house to make everyone jealous that they weren't on the beach with a virtual simulator and delicious seafood bites. (PS- It worked.)
Also on site– Southern-repestented pork sliders. I may have had like…. 8 of these.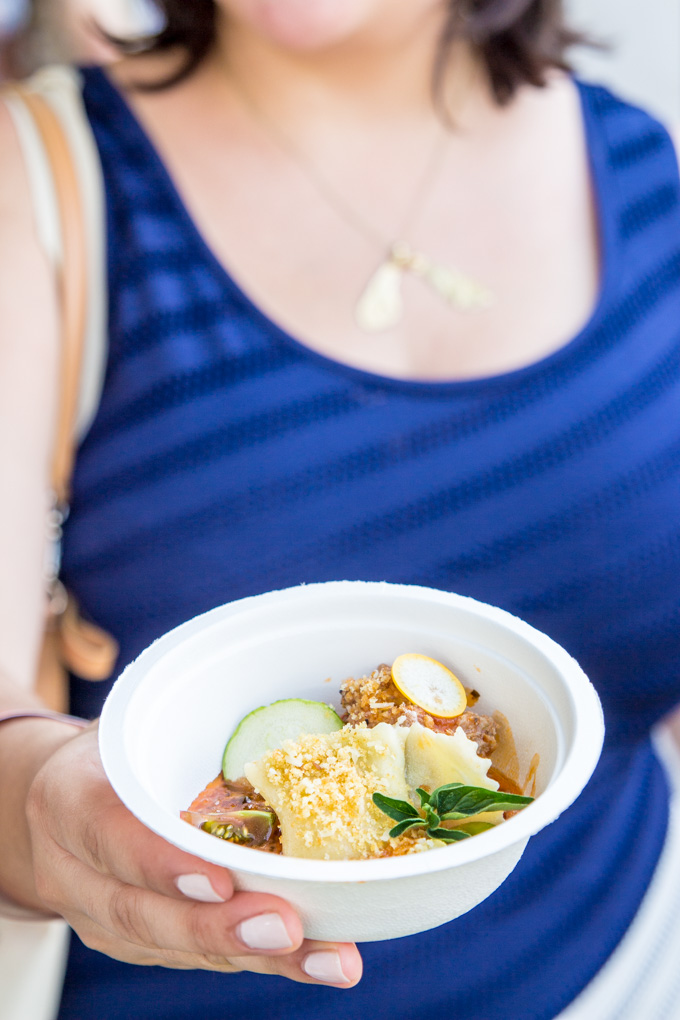 Melrose district's Sinema was sporting these insanely delicious lamb ricotta agnolotti bites. [Busty-background™ provided by Amanda.]
The tasting portion of the day ended with a massive dance party in the center of the park. It started as a simple social gathering and ended like a middle school dance gone wrong. Since this is mostly a family-friendly blog, I'll save those photos for our Instagram. You're gonna want to check those out….
Day 1 – Evening (Harvest Night)
I left feeling insanely full, sleepy, hyper, exhausted and did I say full? A quick nap before I was off to the evening festivities. Little did I know how. much. fun. I would have that night.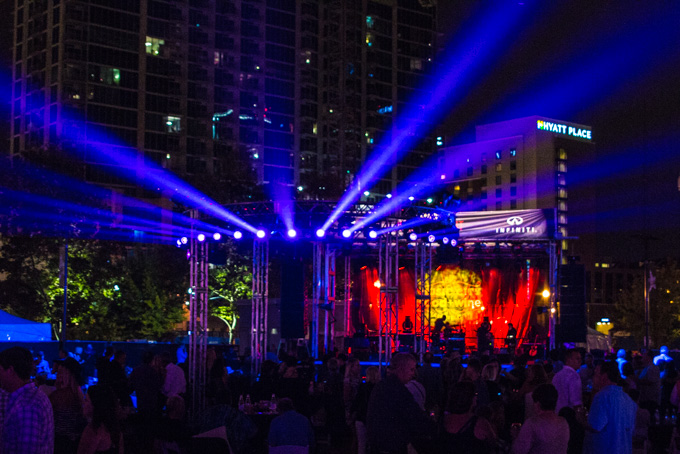 Harvest Night is the name of the Day 1 evening concert & Celebrity Chef tasting event during MCFW. All of the fancy Chefs come and cook for everyone, passing out and greeting people like one big ol' Southern-style family reunion. It's a great way to chat with some familiar faces while enjoying insanely good music.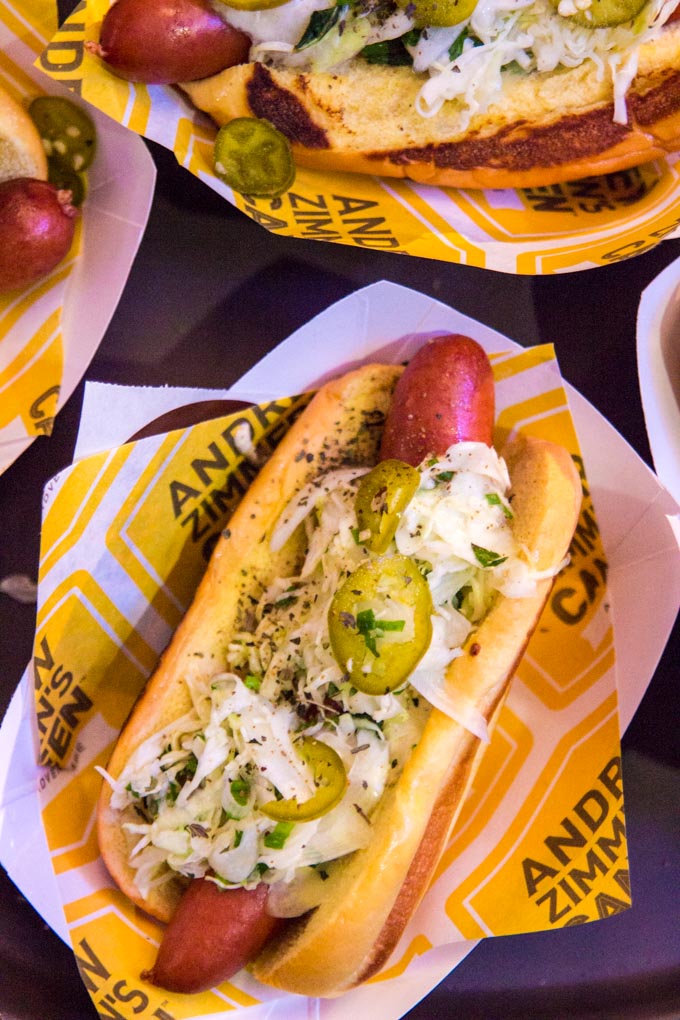 Andrew Zimmern was quite literally walking around with a tray of his…umm..  weiners. A hot dog may not sound like your idea of top-notch food, but this one was insanely good. Quite possibly my favorite dish of the night.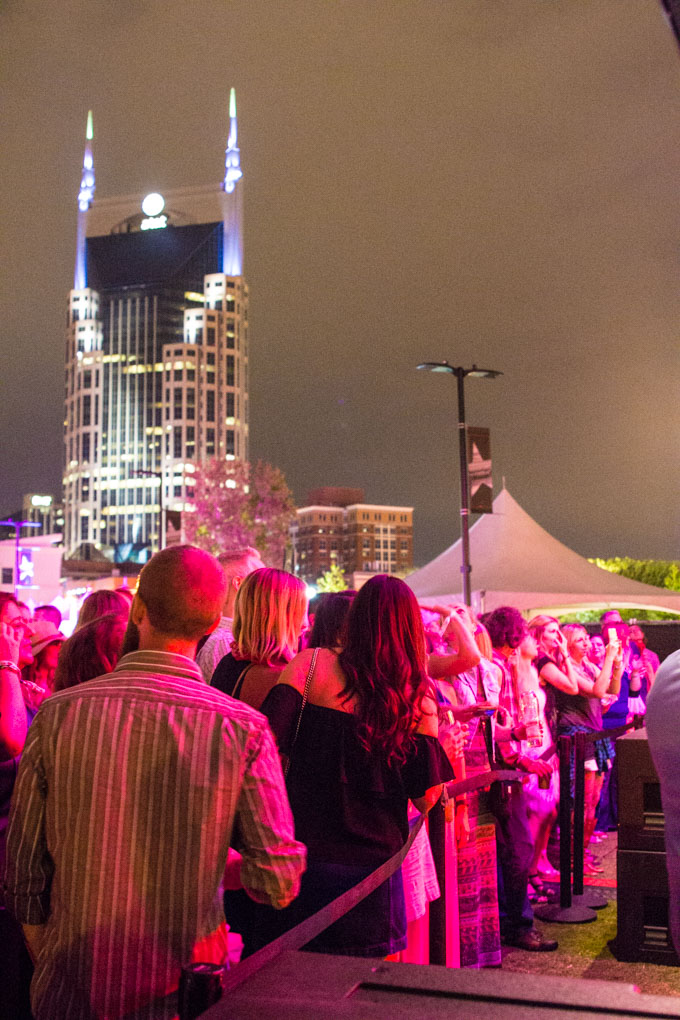 Once you have your plate full of food and drinks (yes, plural), you can head over to the concert stage. This was where I was just in my own little world. Honestly, I hadn't planned on enjoying this part of the evening as much as I did. I'm not much of a concert goer. I blame my Mom forcing me to go to Amy Grant concerts when I was young.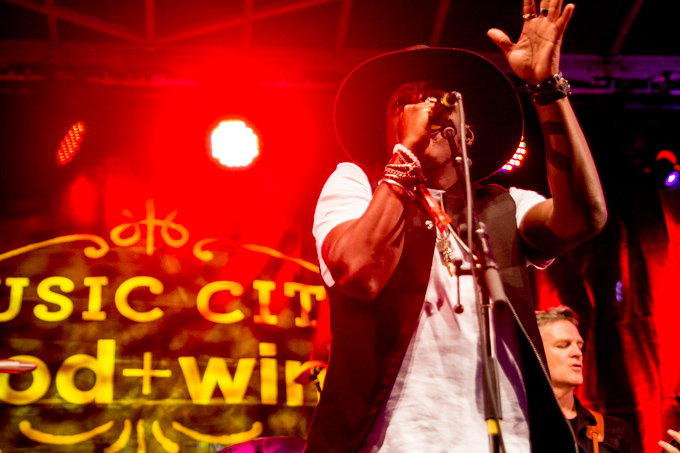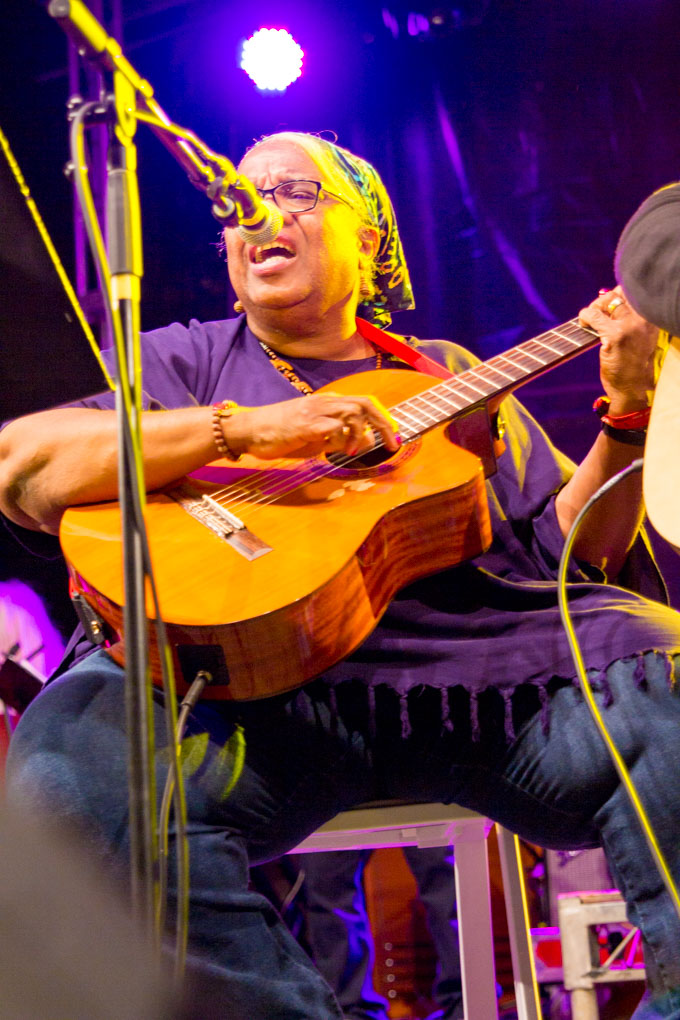 Food + Wine didn't disappoint with the lineup for this 3-hour long concert. You can find the entire lineup HERE. My favorite part of the evening was the selection of songs that the artists performed. This wasn't a night of pop and this and that. It was packed full of energy and souuuuuuul. Older, gut-tingling classic were reborn through new and old artists alike.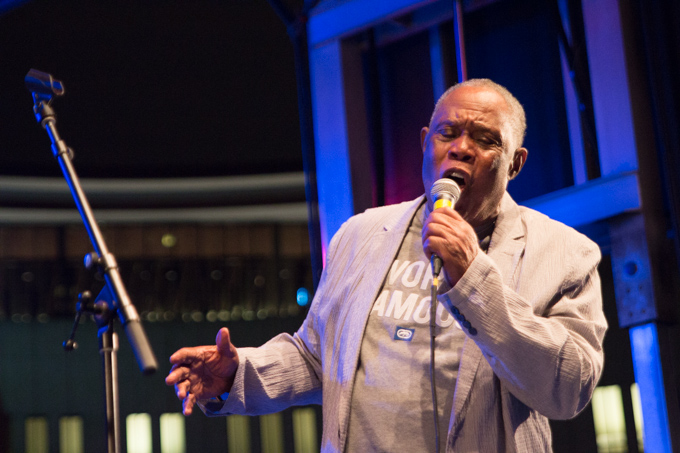 Just take a minute and look at this one. Do y'all know who this is?! The "World Famous" shirt is totally appropriate. This is Sam Moore himself. Soooooul Man! Phenomenal to see him up close. It didn't hurt that I had fantastic food (that wasn't your typical concession stand junk at a concert) and a homemade cocktail in hand at the same time.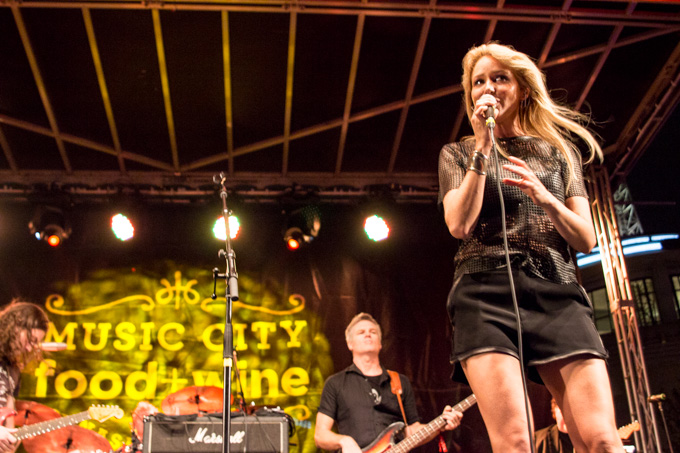 As if that wasn't enough, the one and only Jewel came out to sing a few tunes. Yes. THAT Jewel. Although I was pretty depressed that she didn't sing Intuition, it was still pretty great.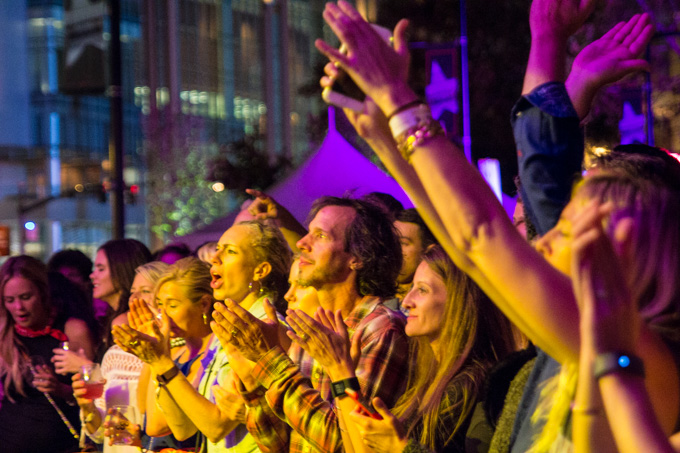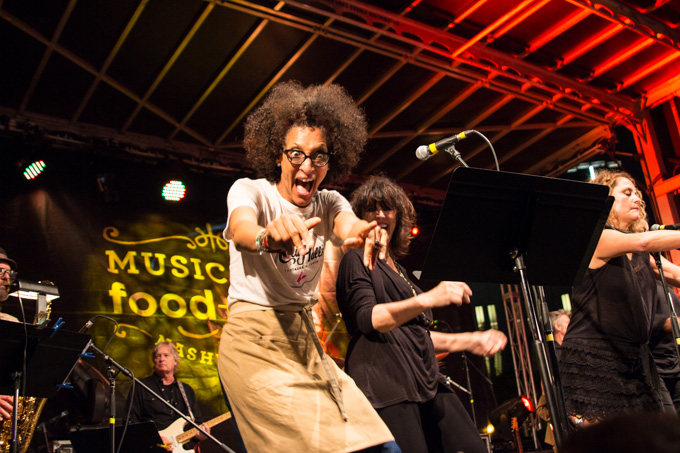 The night ended with all of the performs getting together on stage to sing the final number. You can even spot Nashville's own Carla Hall and Andrew Zimmer at the mics. Everyone left with tons of energy, full stomachs and most likely tons of new friends.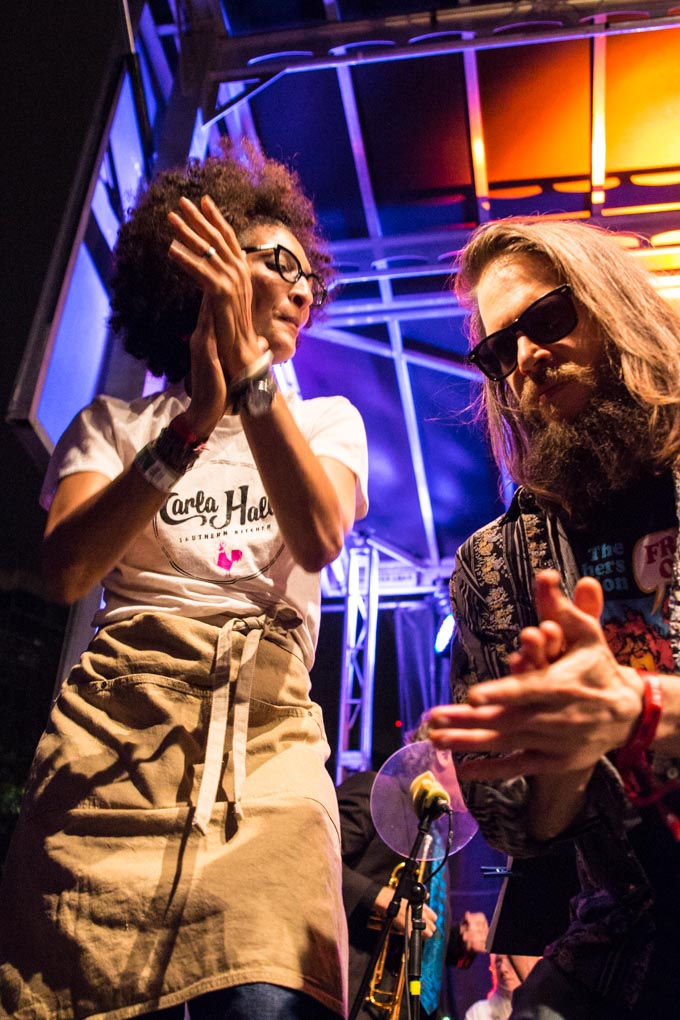 Day 1 of the Music City Food + Wine Festival was over (at 1am, needless to say…). I headed home for a much nap before the next day. If there is one thing you can be certain about, it's that Nashville doesn't disappoint. Ever. Something for everyone, and it just happened that this event pulls it all together into one amazing weekend.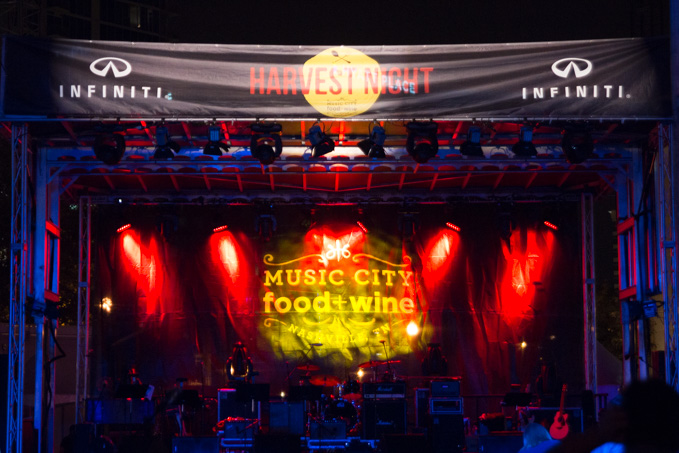 Be sure to subscribe to our e-mail updates to get notified when the Day 2 round-up is posted!