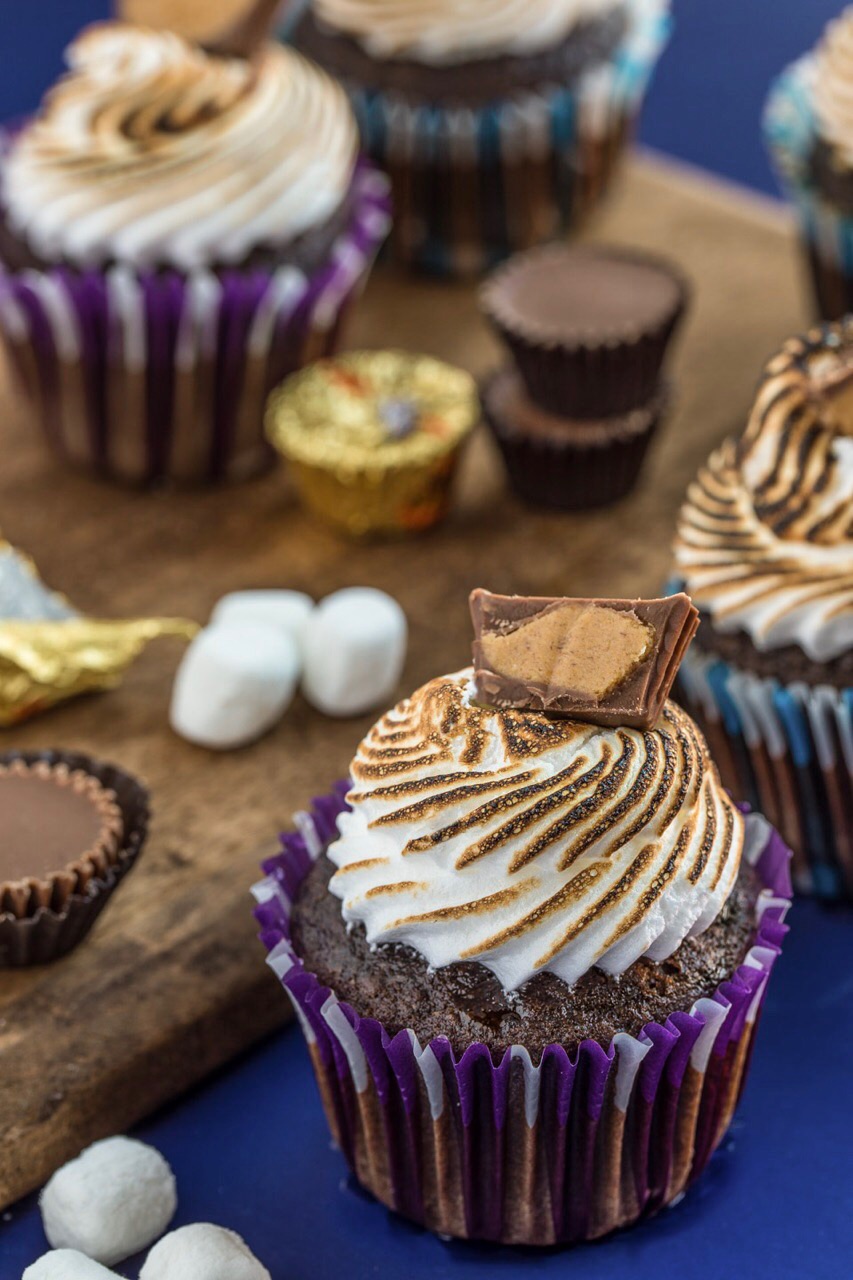 I know that I yap on a lot about "it's SUMMER and this is what you should be eating!", but…. IT'S SUMMER and this is PERFECT, y'all! — If there is a single iconic summer backyard treat that immediately sets the summer scene in my mind, it's a s'more.
I've made Fall S'mores with pumpkin spiced marshmallows, S'mores made with grilled naan, and now s'more stuffed into choc-o-holic dream cupcakes. Since obviously chocolate cupcakes with some marshmallow isn't gonna be enough for y'all, I'm adding some peanut butter into the mix. Peanut butter and chocolate pretty much works every single time. Mini peanut butter cups are plopped into the center of these cupcakes, giving you a surprise-inside extra gift for your efforts.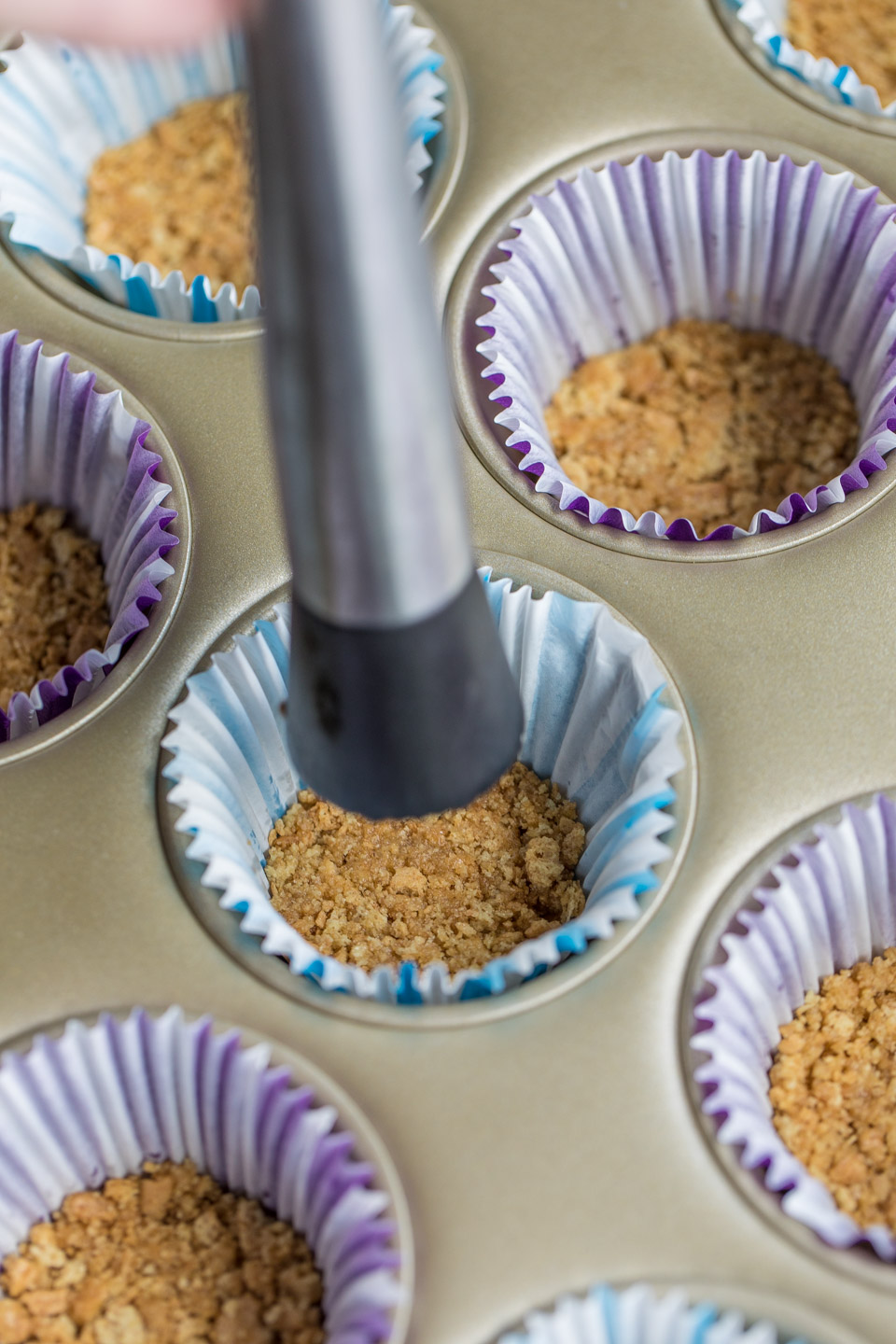 But, wait! There's more…. I've seen so many s'more recipes without any homage to the graham cracker. WHAT?! Come on, guys. That crunch is crucial to the completion of the s'more experience. I made a simple graham crust to go on the bottom of the cupcakes and it. is. glorious.
Graham crackers and butter, a bit of sugar; nothing can be bad about that, right? — A cocktail muddler works perfectly to smash it down to get an even layer. It also gives you an excuse to get out a cocktail muddler and make a little drink for the chef. If you're going to have it out anyway, ya know…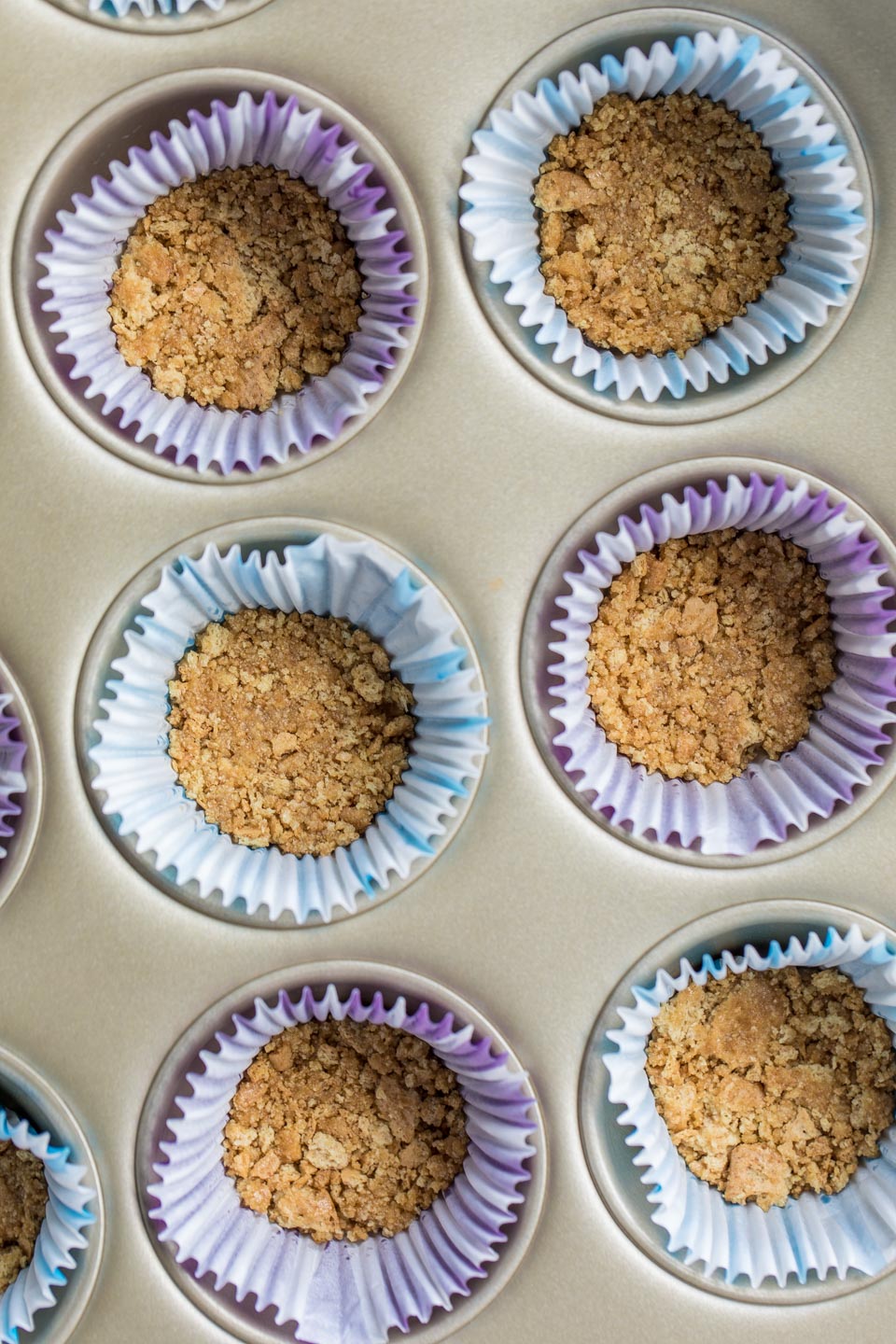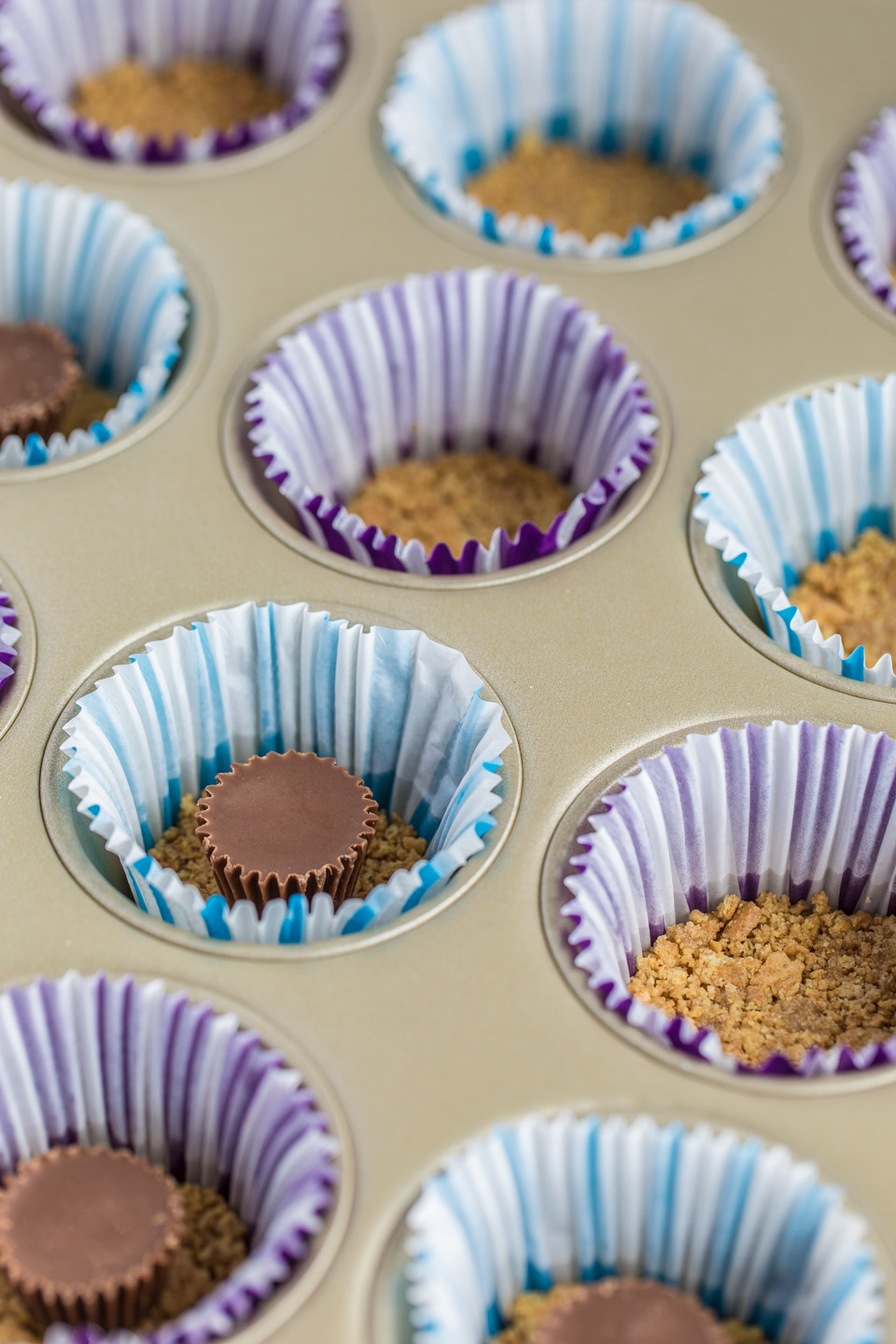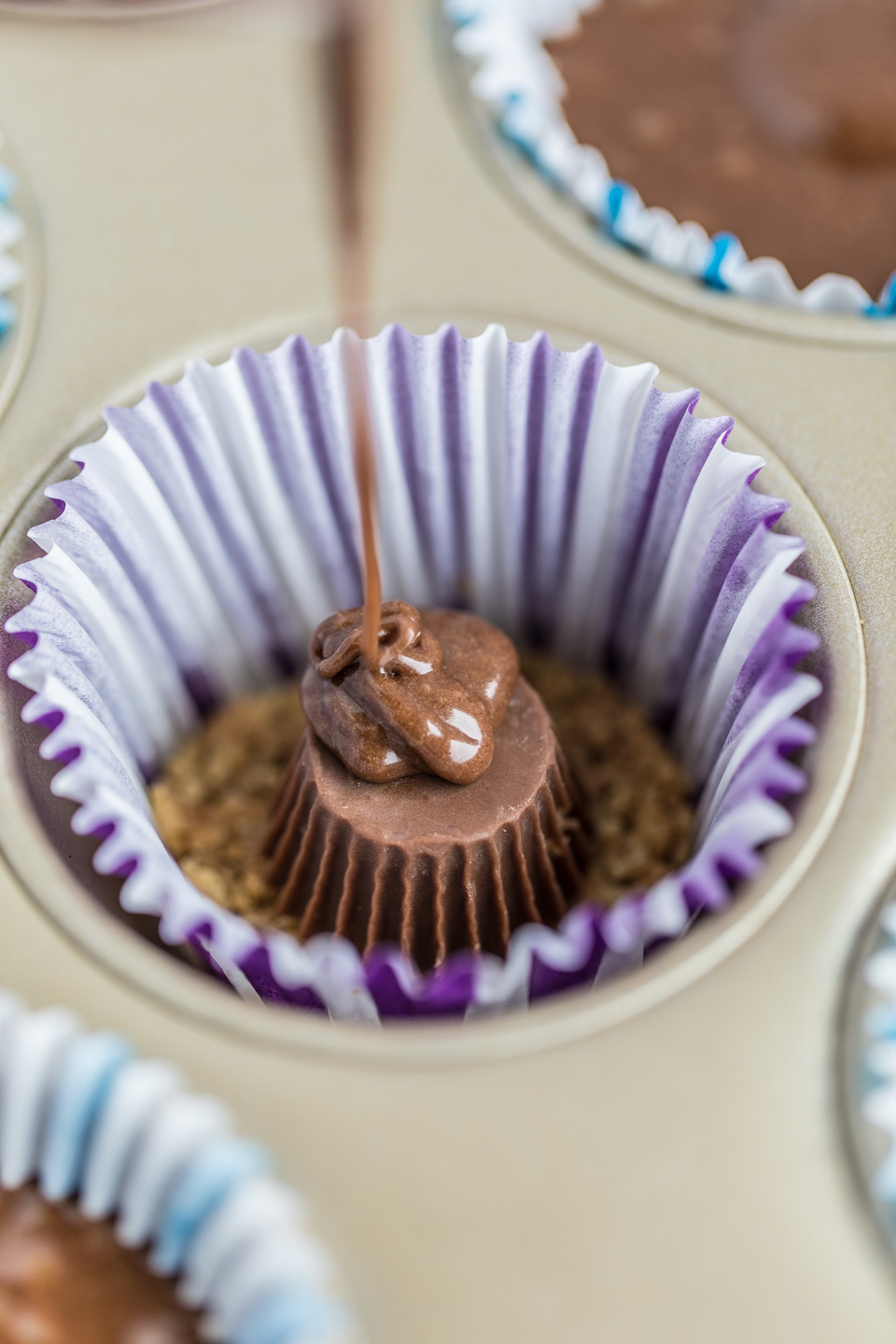 Here's the magic. Those little tiny cute mini peanut butter cups go right on top of the graham cracker base, covered by a waterfall of chocolate cake batter. It's basically Willie Wonka inside your own kitchen without turning into a blueberry or something.
Of equal importance is the marshmallow. Now… Don't freak out on me, but we are going to make meringue for this. Italian meringue. This is similar to how some people make the egg white part of macarons (PS- we have a killer guide on making those HERE).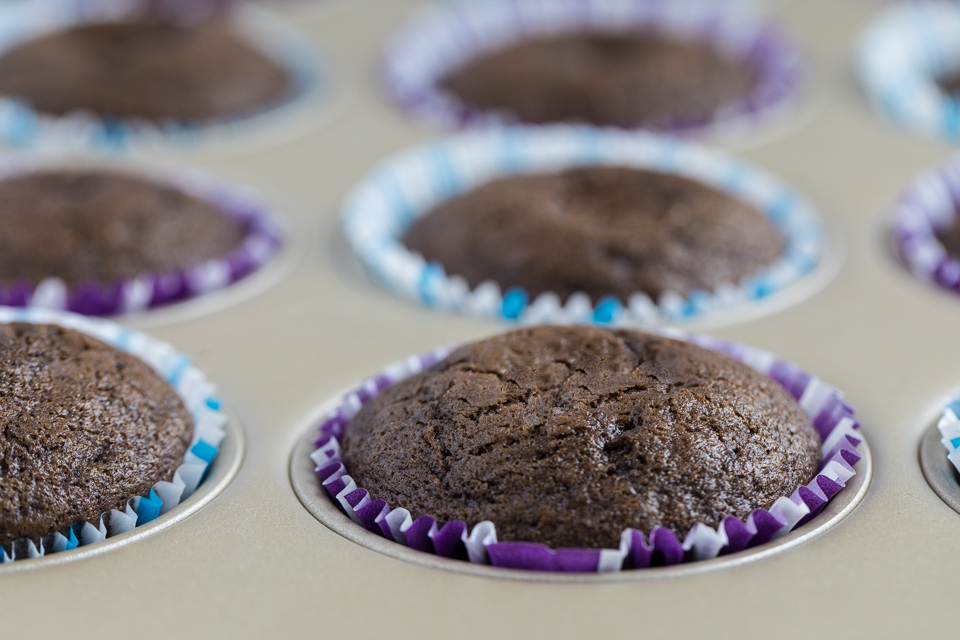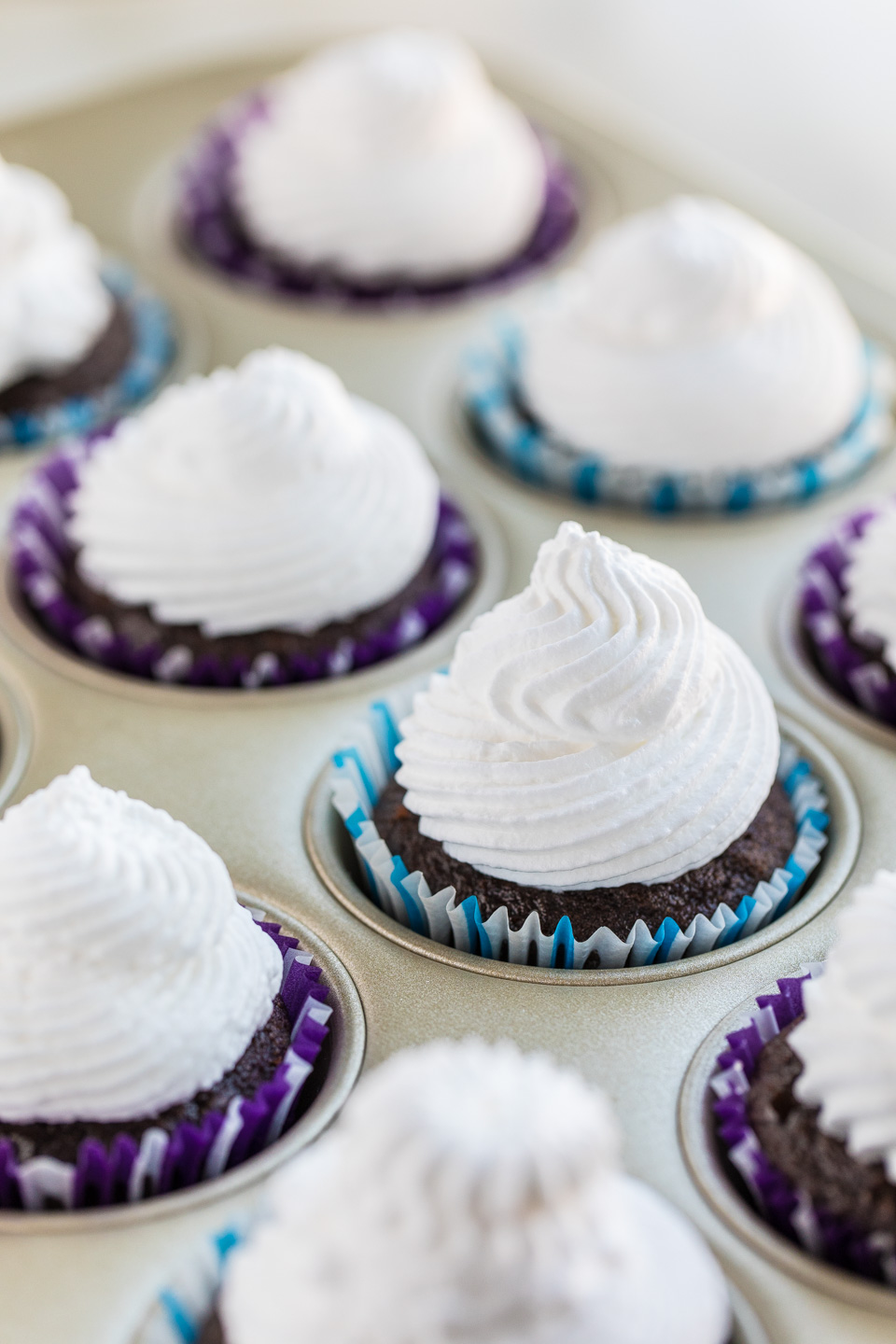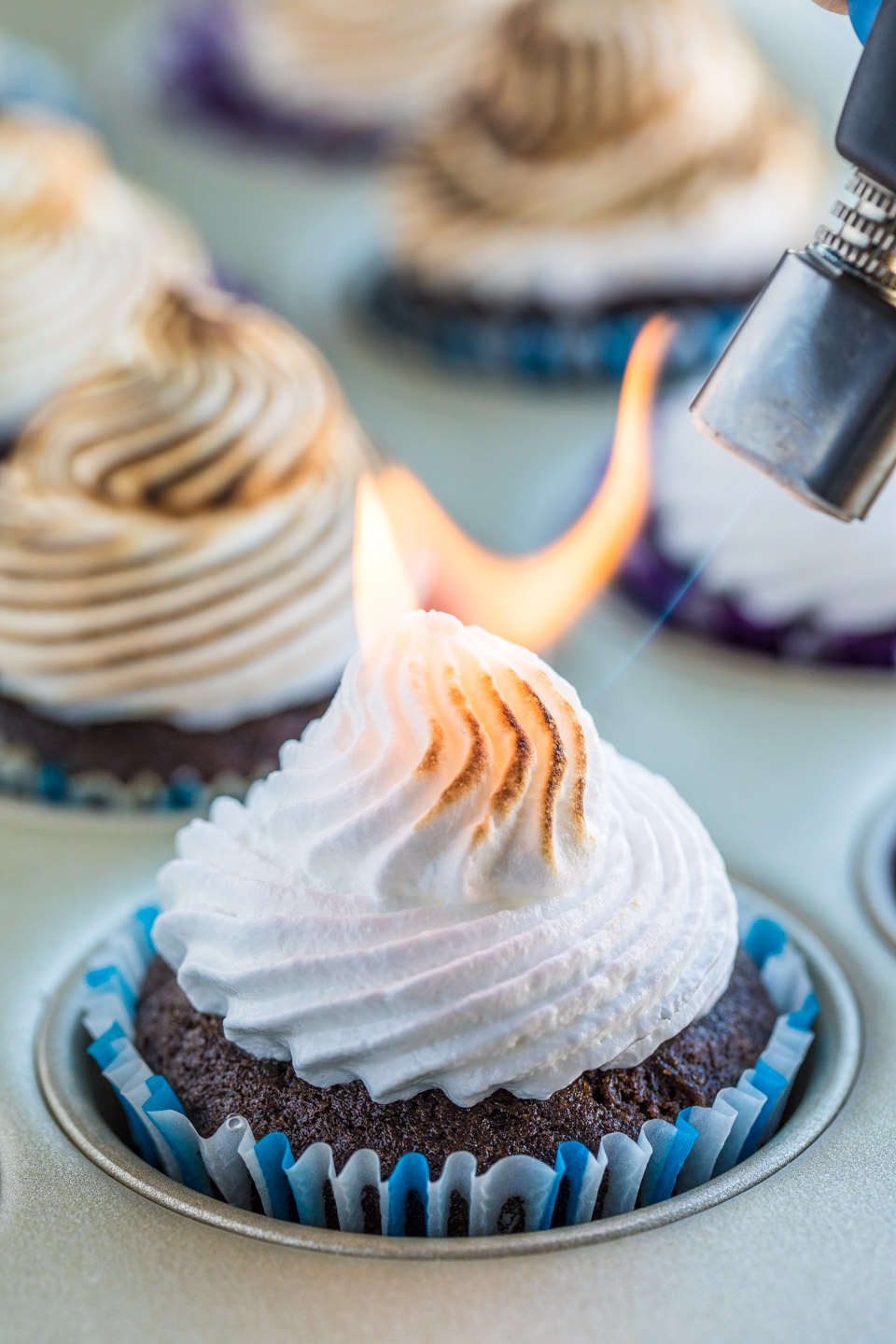 Italian meringue sounds super scary and stuff, but it's seriously just egg whites and some boiled sugar. Some sort of witchcraft (Ummm… is anyone else ready for Halloween / Hocus Pocus?! I am.) happens in the bowl, and fluffy Bob Ross-worthy clouds of sticky come out ready to pipe on top.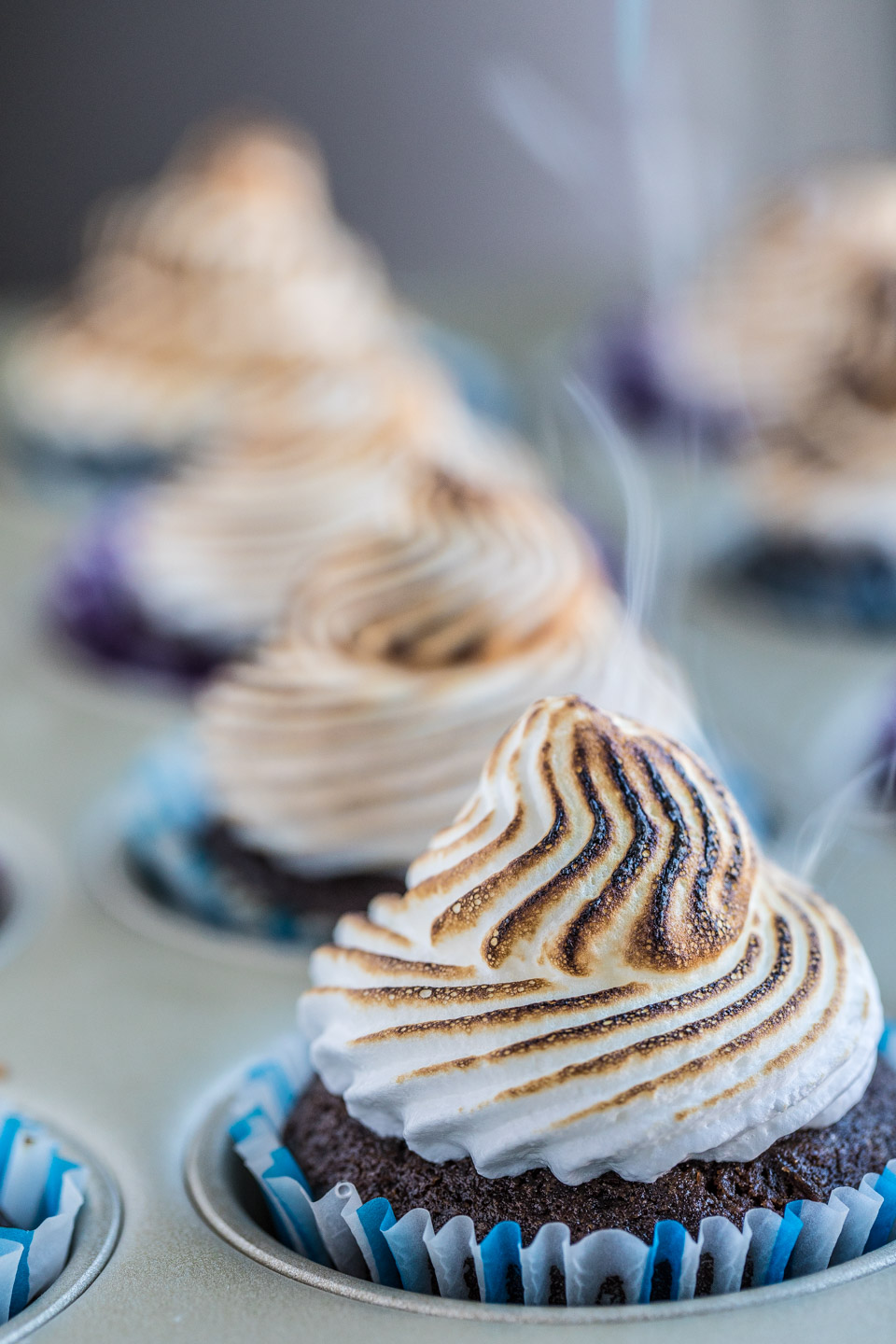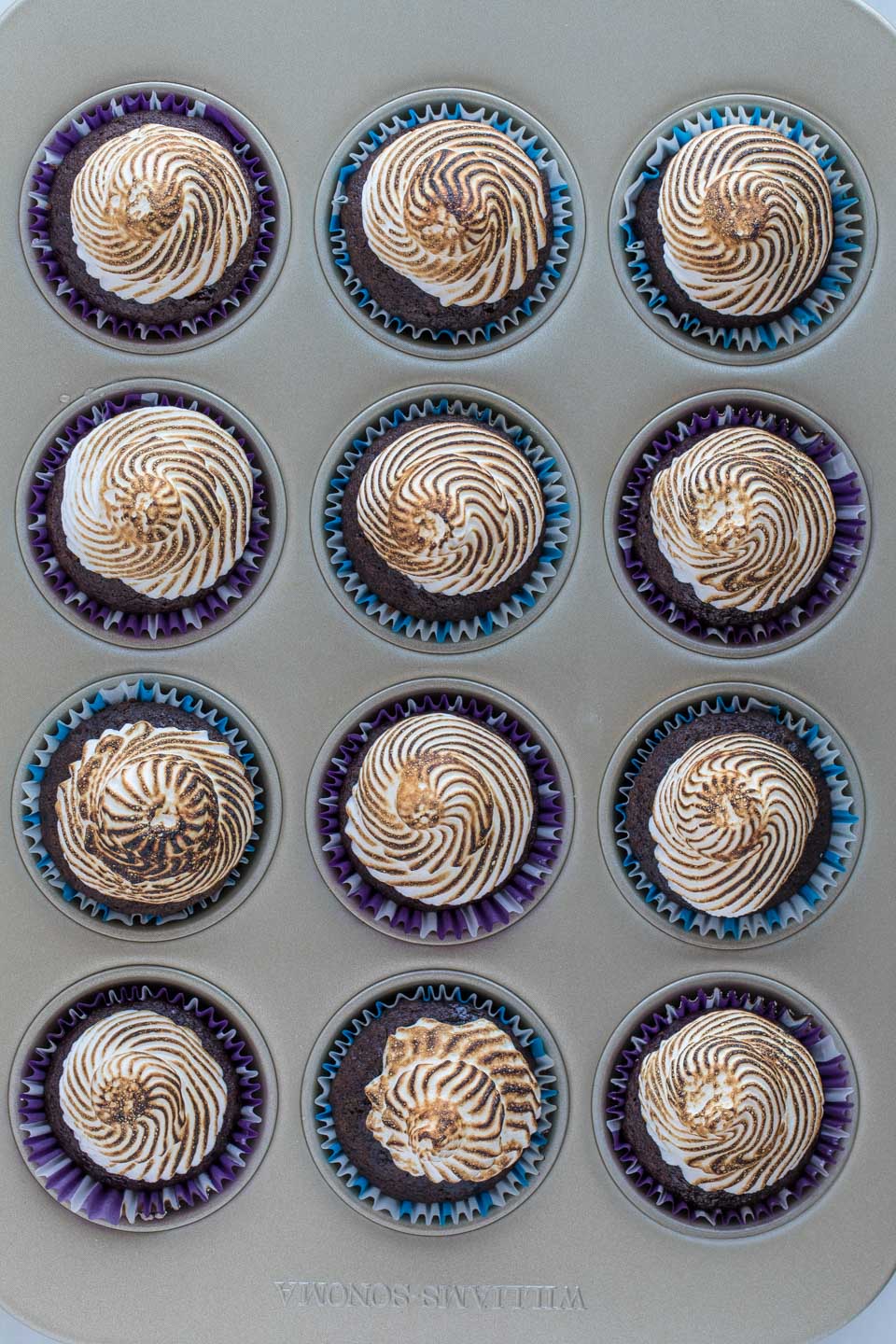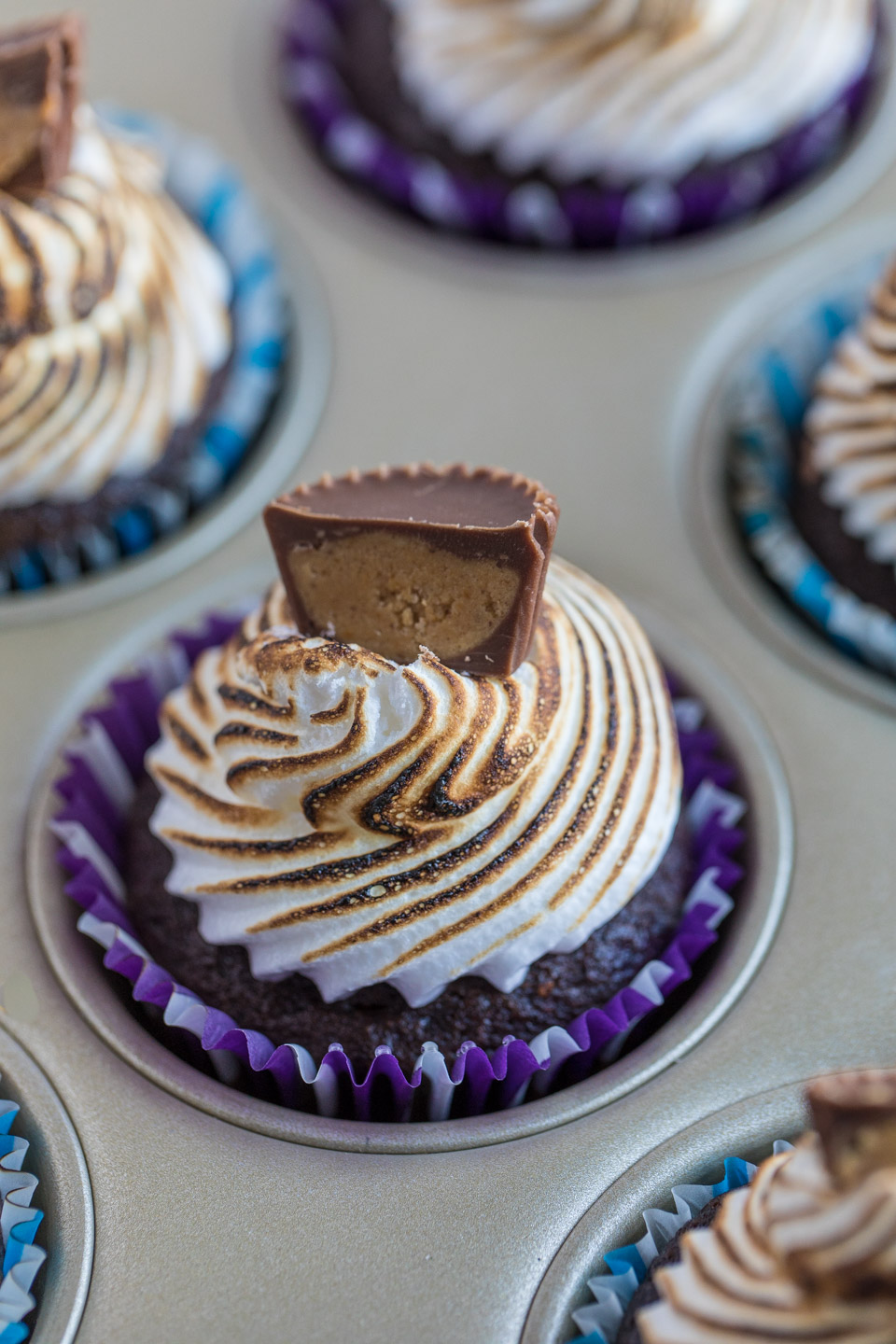 Torched (because we all love a good reason to burn shit in the kitchen) and topped with another PB cup, and you've basically thrown yourself a campfire party after dinner.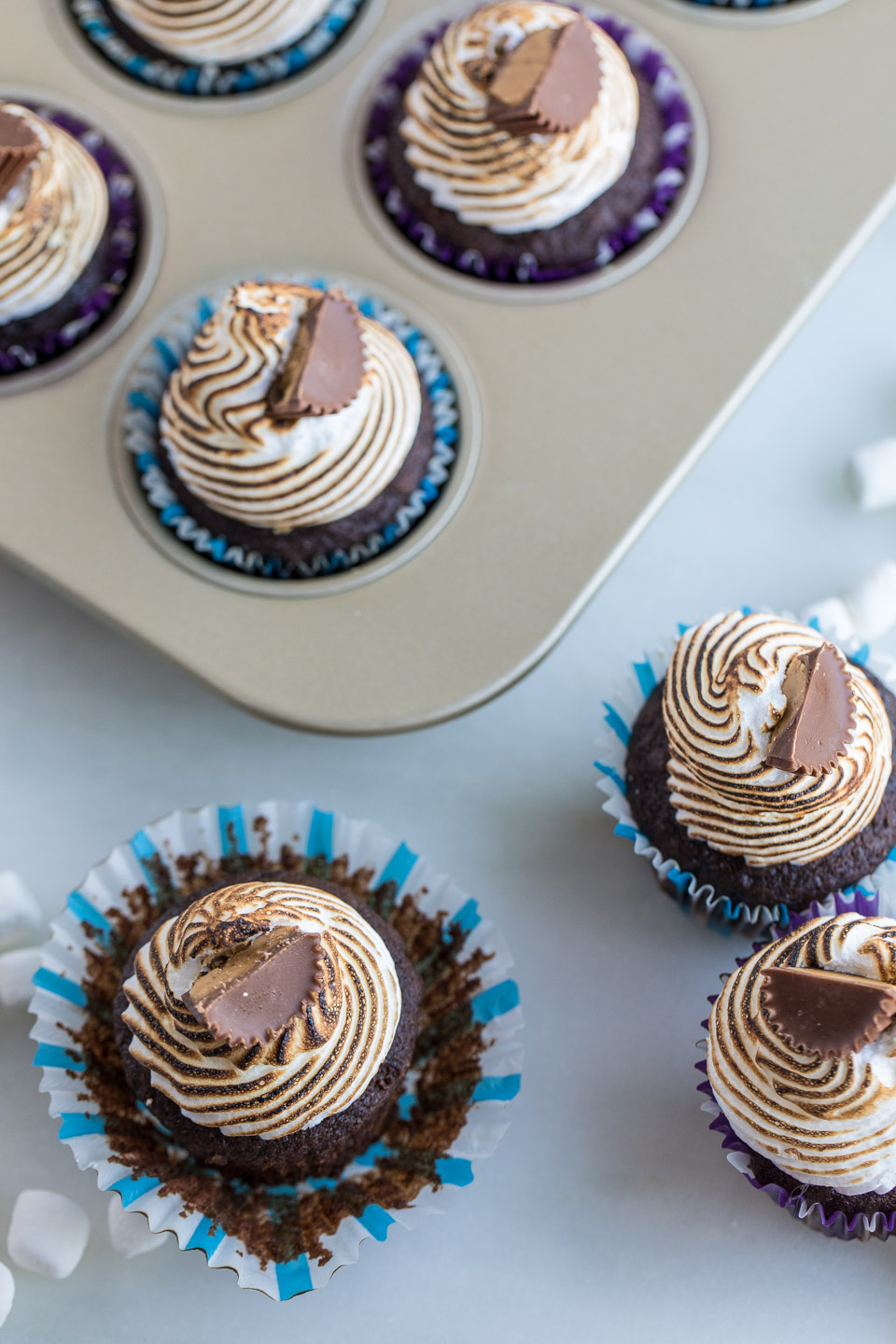 PS – I bet these would be absolutely amazing if you made the cupcakes and just added a campfire toasted marshmallow on top if you are the real outdoorsy type that gets out of the kitchen ever so often… 

Peanut Butter Cup S'more Cupcakes
Peanut Butter S'more Cupcakes - Rich chocolate cupcakes, graham cracker crust, stuffed wth peanut butter cups, topped with toasted meringue marshmallow and a mini peanut butter cup on top. From SouthernFatty.com.
Author:
Phillip Fryman | SouthernFATTY.com
Ingredients
Graham Cracker Crust
1 package (~100g or 9 cookies) graham crackers (I used honey)
2 tablespoons sugar
¼ cup butter, melted
Cupcake Base
1 cup flour, all-purpose
¾ cup sugar
⅓ cup cocoa powder, unsweetened (I used this kind.)
½ teaspoon baking powder
½ teaspoon baking soda
½ teaspoon salt
1 egg
¾ cup milk, whole milk preferably
¼ cup vegetable oil
½ teaspoonvanilla bean paste or extract
Marshmallow Meringue Topping
Other
1 package mini peanut butter cups (2 per cupcake)
Instructions
Graham Cracker Crust
Pre-heat oven to 365 F. Line cupcake pan with 12 liners.
Blitz graham cracker and sugar in food processor.
Add melted butter and combine well.
Split between 12 cupcake liners.
Press into mold using cocktail muddler for the best result. (see post images)
Bake for 5 minutes and remove to cool.
Cupcake Base
Sift dry ingredients together into large bowl.
In another bowl, combine egg and wet ingredients, whisking well.
Add wet to dry bowl and combine until smooth.
Place a single mini peanut butter cup on top of the cooled graham cracker.
Top each mold with batter until about ¾ full.
Bake for 15 minutes. Domes may not be perfect due to the peanut butter cup in the center. This is fine, as it will be covered with marshmallow.
Remove and cool completely.
Marshmallow Meringue
In a small saucepan, add sugar and water over medium to medium/high heat.
Have a candy thermometer (VERY important. I use this one, and LOVE it.) ready or attached to pan.
In a clean mixer bowl, add egg whites. With whisk attachment, start mixing on medium speed.
Tip: If you have issues with beating egg whites, you can wipe the bowl with a tiny bit of lemon juice or vinegar. This will help things out. #science
Meanwhile, check on sugar mixture. You are aiming for an exact 240 F / 116 C.
Check on the egg whites. You want soft peaks at the same time the sugar is ready. If the whites are peaking and the sugar is not yet ready, turn the mixer off to sit.
CAREFULLY pour sugar syrup into mixer (turned back on to medium) when both are ready. Aim to pour at the very edge of the egg whites. You don't want to pour directly hitting the spinning whisk, because this will throw hot syrup everywhere and also cause clumps in the meringue. You also don't want to pour directly to the bowl, because it will not incorporate well. Find the perfect spot and continue to pour in a steady stream while mixing until it is all incorporated.
Mix on medium high speed until stiff peaks form and mixer bowl isn't hot (a bit warm is ok). This should take a couple minutes.
Transfer to piping bag.
Finishing
Pipe on the marshmallow to the cupcakes.
Toast with flame just before enjoying for best results. Top with mini peanut butter cups.
Enjoy, y'all! -- Find more on SouthernFatty.com.
What is your favorite campfire treat?
Lemme know in the comments below!