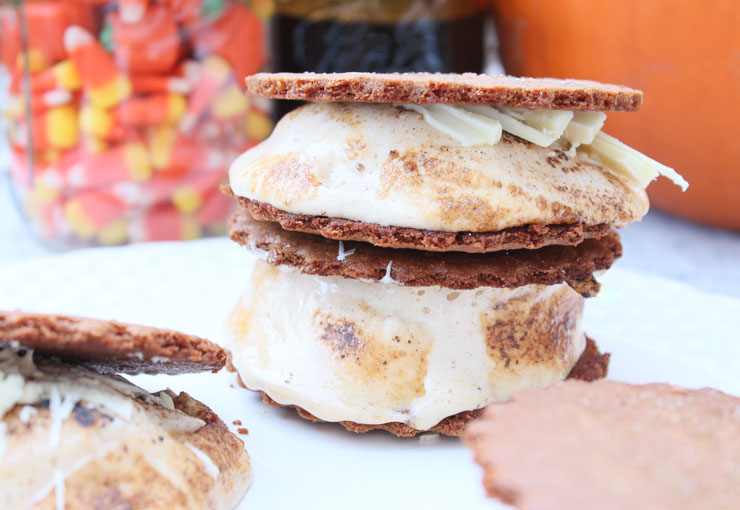 Fall is in the air, y'all! What better way to celebrate than campfire s'mores. Oh, wait. I know what's better….
Fall S'mores— Fluffy, homemade pumpkin spice marshmallows & white chocolate, all toasted between two homemade gingersnap cookies. I have to say, this has become my kumbaya campfire replacement during the fall season.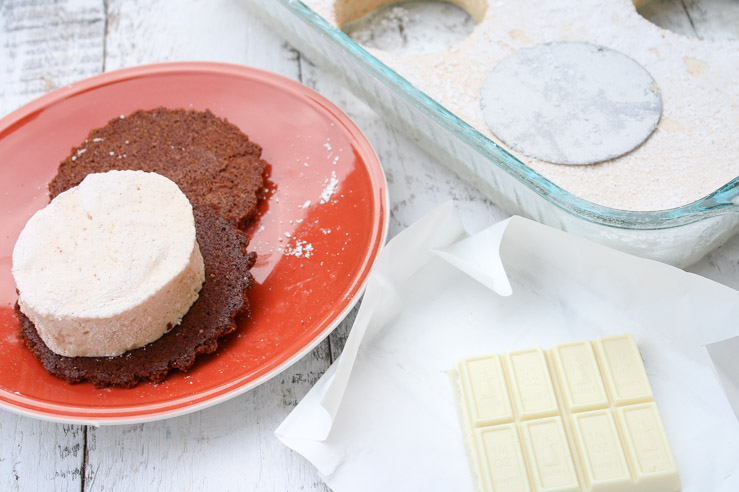 In my book, you can't go wrong with homemade marshmallows. They are substantially better than the bagged variety and soooo simple to make. You can whip in anything to customize them to whatever your final goal may be. This time, I just threw in a bit of pumpkin and some of my Homemade Pumpkin Spice Mix. Easy peasy. I really think that if you are one of the rebels (sorta like myself…) going against the flow for the PS revolution, these would be amazing with a simple vanilla bean marshmallow as well. Maybe maple… So many possibilities!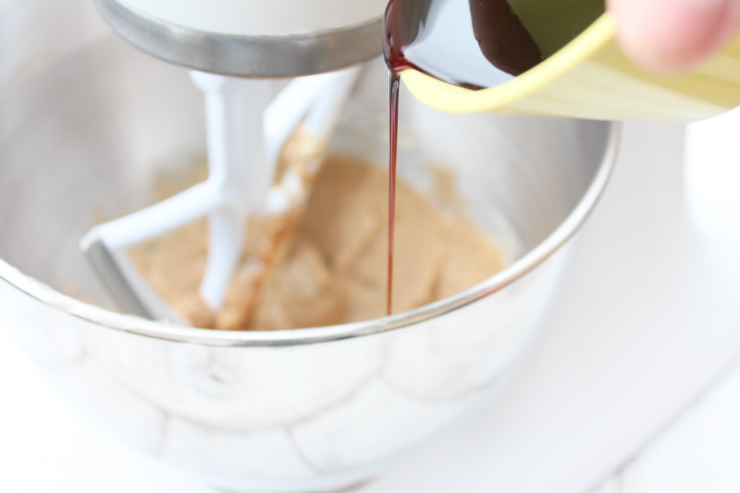 The dark, sweet cookies that hold this fire fav together are classic, thin gingersnap cookies. Gingersnaps just scream fall to me. To make a quality gingersnap (because I know you aren't going to buy them… RIGHT?), to have to incorporate molasses. I've seen versions of these without it that may use a blend of brown sugars or something crazy like that. No. That's like putting a plastic pumpkin on your front porch for Halloween that sorta flickers because the batteries are even disappointed. Nobody wants anything to do with that mess.
The molasses gives the gingersnaps the deep, rich flavor that you expect to have. It pairs perfectly with the creamy melted marshmallow and buttery white chocolate.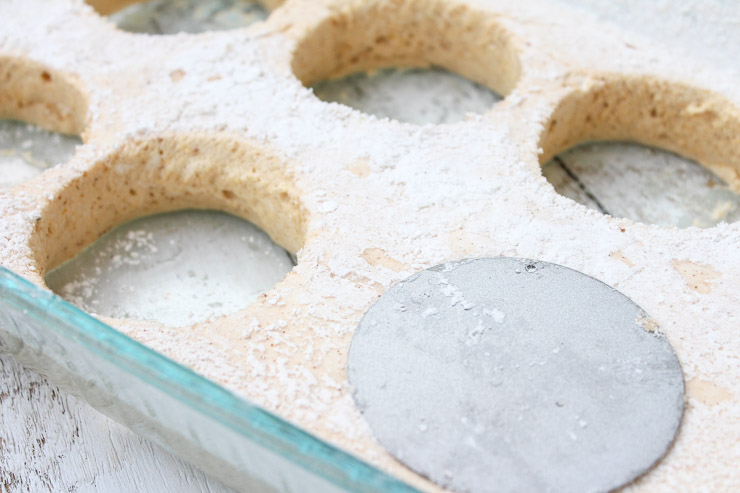 Speaking of fluffy marshmallows– If you haven't ever made them yourself before, you have to try it. It's incredibly simple. Just a few things in a mixer and you are left with a much superior product than what you would buy from the store. Like I said in the intro, these can be flavored any way that your little spooky heart desires. I'll probably try this recipe with maple bourbon flavoring next. Because, well, bourbon. I am using the recipe for the previously posted Pumpkin Marshmallows from the blog.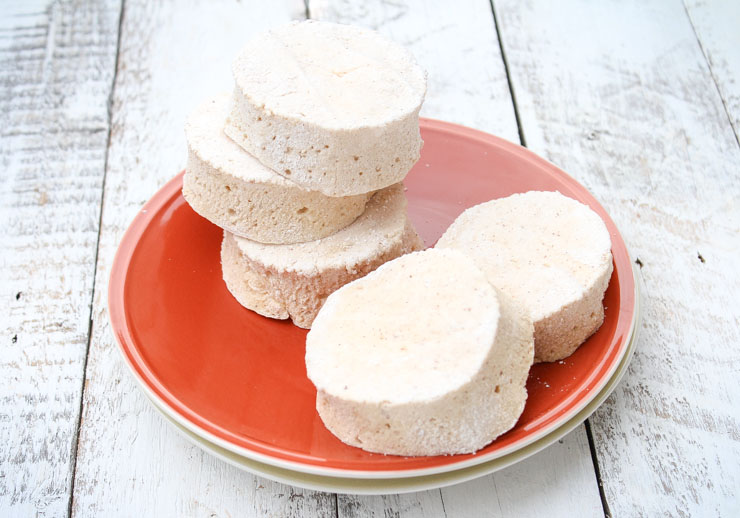 I cut these puppies out of the pan using the base of a tiny tart. Whatever you have that works, right? Cookie cutters to make ghosts, rip it into pieces for a rustic look (aka lazy). After you get your shapes punched, a quick dip in the powdered sugar and cornstarch pool is in order to keep them from sticking. Thats what gives those jet-puffed jewels the powdery feel when you put them on the stick to in turn burn them to a crisp on the fire. I mixed a bit more of the pumpkin spice blend into mine for these. Again, season it however you think might be best for your taste. Some cinnamon, clove, or just go with old faithful– more sugar.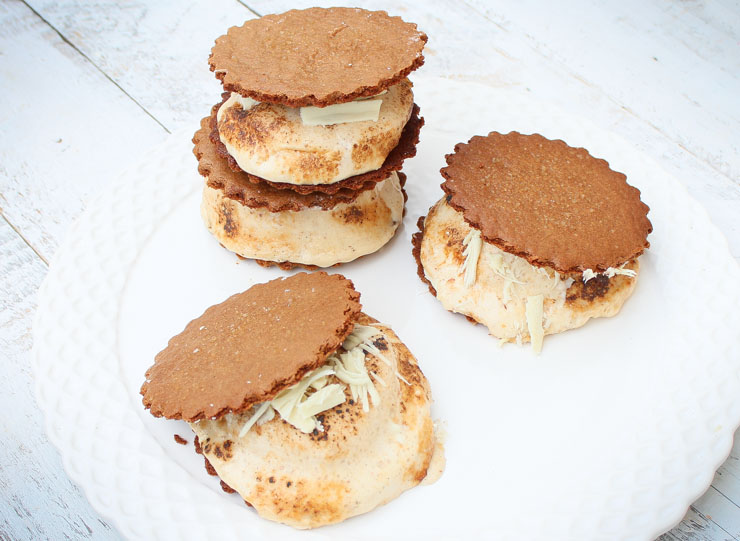 Now… The fun part! You can't have a legit s'more without toasting the marshmallows over a fire. These homemade marshmallows don't disappoint when it comes to the toasting department. They will bubble up perfectly, even allowing you to completely burn them if you are one of those people.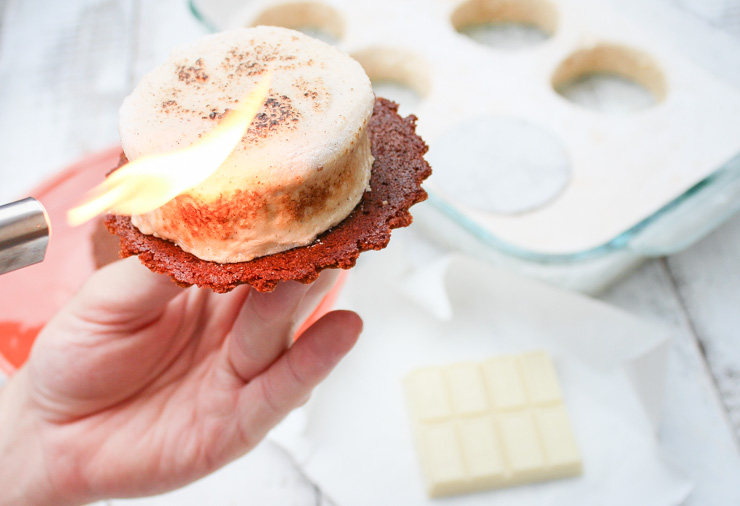 Since I made these on a Saturday morning, and sadly didn't have a perfect campfire handy in the back yard, I improvised. Think Julia Childs on Letterman. Blowtorch is always the answer for a kitchen crisis. I took a kitchen torch and (carefully – keep that flailing pinky safe!) melted the puffed sugar away. Voila!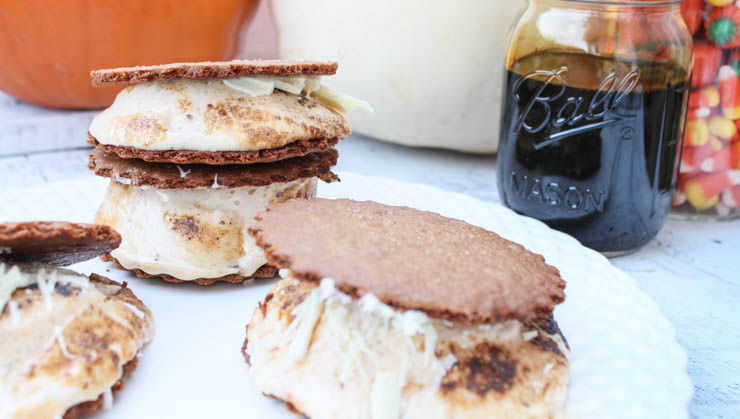 Form the assembly line of hungry friends and get to it. Cookie. Marshmallow. Toast. Chocolate (I used shaved white chocolate, thinking it would melt faster). Cookie. Eat!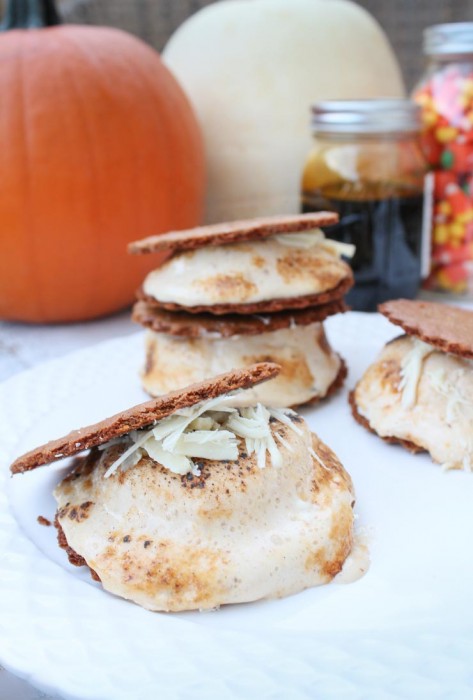 While I realize these may not be the prettiest of things to look at, they are absolutely delicious! You get the dark caramelized flavor of the gingersnap, followed by the creamy, spiced marshmallow and smooth chocolate. THIS is what fall should taste like!
Fall S'mores
Our twist on the classic favorite -- S'mores. Fall version with gingersnap cookies, homemade pumpkin spice marshmallows and white chocolate.
Serves:
1 dozen s'more sandwiches
Ingredients
Gingersnap Cookies
1 cup + 2 tablespoons flour (~ 4.5 oz), all purpose
¾ teaspoon (3.5 g) baking soda
½ tablespoon ginger
¼ teaspoon cinnamon
¼ teaspoon clove
¼ teaspoon salt
4 ounces (~ ½ cup) brown sugar, dark
6 tablespoons (3 ounces) butter, unsalted & room temp
2 tablespoons (1.5 ounces) molasses
1 egg (read recipe!)
turbinado or raw sugar to finish
Pumpkin Marshmallows
Finishing
Instructions
Gingersnap Cookies
Preheat oven 350 F.
In mixer bowl, combine softened butter and brown sugar. Beat until light in color for a couple minutes.
Add HALF of the egg (scramble and pour in half) and molasses. Mix to combine.
Mix together dry ingredients in bowl.
Slowly add dry flour mixture to wet in mixer bowl.
Mix until well-combined.
On making mat lined (or paper) baking sheet, drop tablespoon size dough balls 2 inches apart.
Sprinkle with a bit of raw or turbinado sugar.
Bake for 12-15 minutes. Lower time for chewier, longer for crispier (which I think works a bit better for this recipe).
Cool on baking sheet for a couple minutes before moving to rack to cool completely.
Pumpkin Marshmallows
Please see THIS separate post for marshmallow recipe.
Finishing
Place a cooled cookie (flipped), marshmallow on top. Toast before over fire or carefully with kitchen torch.
Top with shaved white chocolate and a second cookie.
Enjoy! - More recipes on SouthernFATTY.com
Notes
2014 - SouthernFATTY.com
Nutrition Information
Serving size:
1 cookie sandwich
Do you char your marshmallows or just toast a bit?
Leave a note below!