Peanut Butter Cup S'more Cupcakes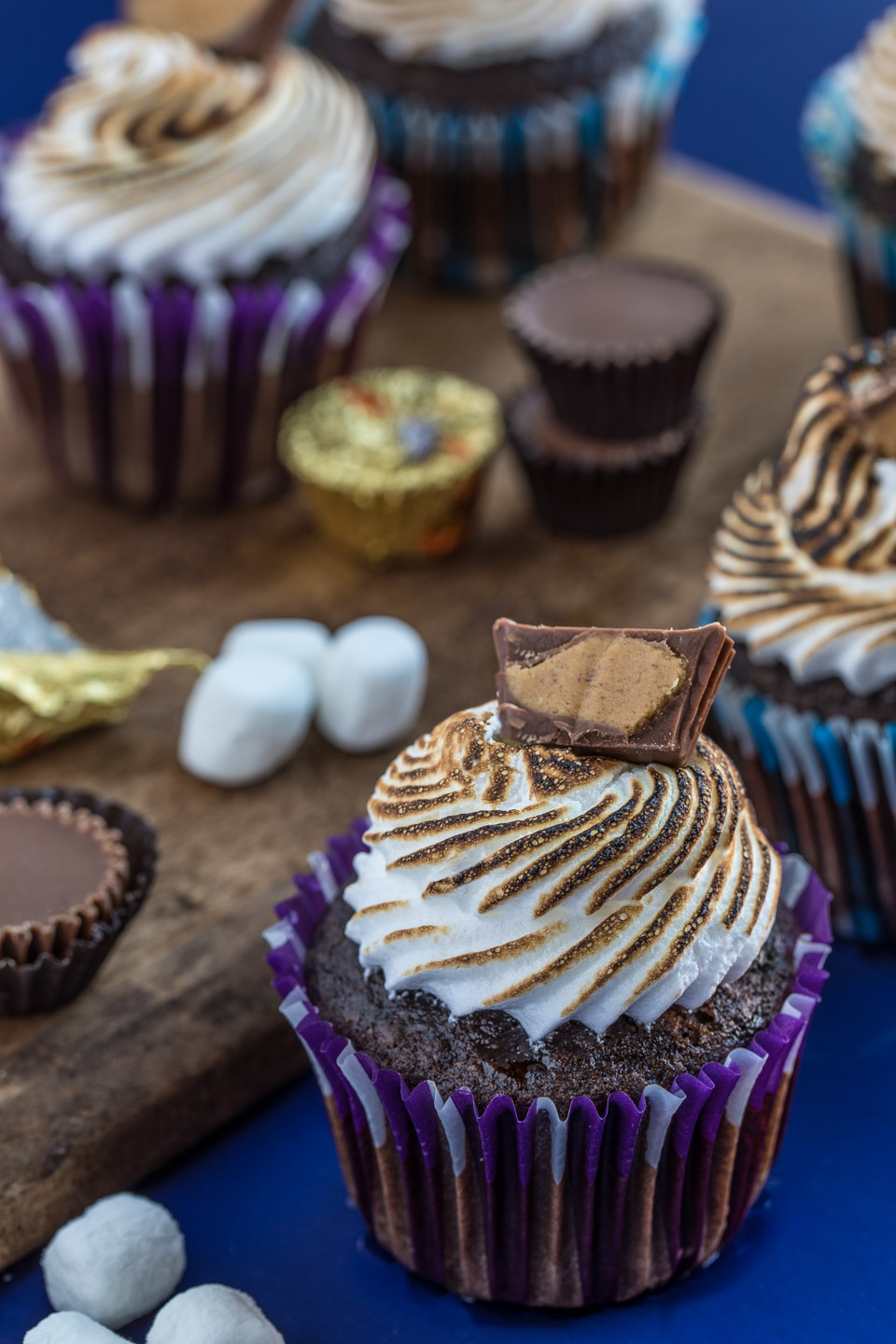 Author:
Phillip Fryman | SouthernFATTY.com
1 package (~100g or 9 cookies) graham crackers (I used honey)
2 tablespoons sugar
¼ cup butter, melted
1 cup flour, all-purpose
¾ cup sugar
⅓ cup cocoa powder, unsweetened (I used this kind.)
½ teaspoon baking powder
½ teaspoon baking soda
½ teaspoon salt
1 egg
¾ cup milk, whole milk preferably
¼ cup vegetable oil
½ teaspoonvanilla bean paste or extract
1 package mini peanut butter cups (2 per cupcake)
Pre-heat oven to 365 F. Line cupcake pan with 12 liners.
Blitz graham cracker and sugar in food processor.
Add melted butter and combine well.
Split between 12 cupcake liners.
Press into mold using cocktail muddler for the best result. (see post images)
Bake for 5 minutes and remove to cool.
Sift dry ingredients together into large bowl.
In another bowl, combine egg and wet ingredients, whisking well.
Add wet to dry bowl and combine until smooth.
Place a single mini peanut butter cup on top of the cooled graham cracker.
Top each mold with batter until about ¾ full.
Bake for 15 minutes. Domes may not be perfect due to the peanut butter cup in the center. This is fine, as it will be covered with marshmallow.
Remove and cool completely.
In a small saucepan, add sugar and water over medium to medium/high heat.
Have a candy thermometer (VERY important. I use this one, and LOVE it.) ready or attached to pan.
In a clean mixer bowl, add egg whites. With whisk attachment, start mixing on medium speed.
Tip: If you have issues with beating egg whites, you can wipe the bowl with a tiny bit of lemon juice or vinegar. This will help things out. #science
Meanwhile, check on sugar mixture. You are aiming for an exact 240 F / 116 C.
Check on the egg whites. You want soft peaks at the same time the sugar is ready. If the whites are peaking and the sugar is not yet ready, turn the mixer off to sit.
CAREFULLY pour sugar syrup into mixer (turned back on to medium) when both are ready. Aim to pour at the very edge of the egg whites. You don't want to pour directly hitting the spinning whisk, because this will throw hot syrup everywhere and also cause clumps in the meringue. You also don't want to pour directly to the bowl, because it will not incorporate well. Find the perfect spot and continue to pour in a steady stream while mixing until it is all incorporated.
Mix on medium high speed until stiff peaks form and mixer bowl isn't hot (a bit warm is ok). This should take a couple minutes.
Transfer to piping bag.
Pipe on the marshmallow to the cupcakes.
Toast with flame just before enjoying for best results. Top with mini peanut butter cups.
Enjoy, y'all! -- Find more on SouthernFatty.com.
Recipe by
Southern FATTY
at https://www.southernfatty.com/peanut-butter-cup-smores-cupcakes/