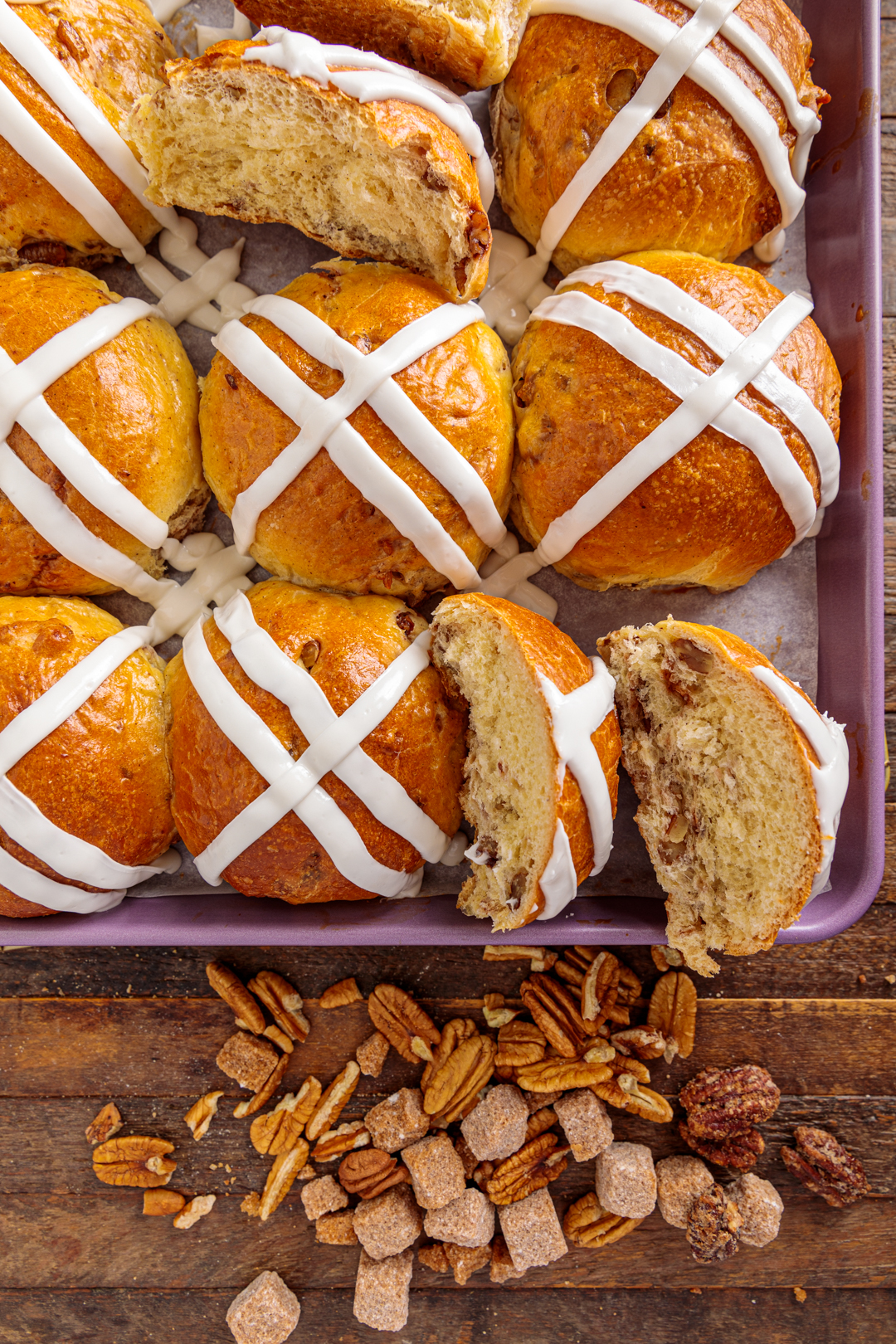 Hot cross buns… Hot cross buns… Da da da daa… Da da da daaaaa… Candied pecan maple glazed hot cross buns! — I didn't really grow up with these in my house in early Spring and Easter, but certainly have always enjoyed when I can get my hands on them now. Sweet, buttery rich bread with just enough icing. What's not to like? I'll take these over chocolate bunnies anytime, y'all.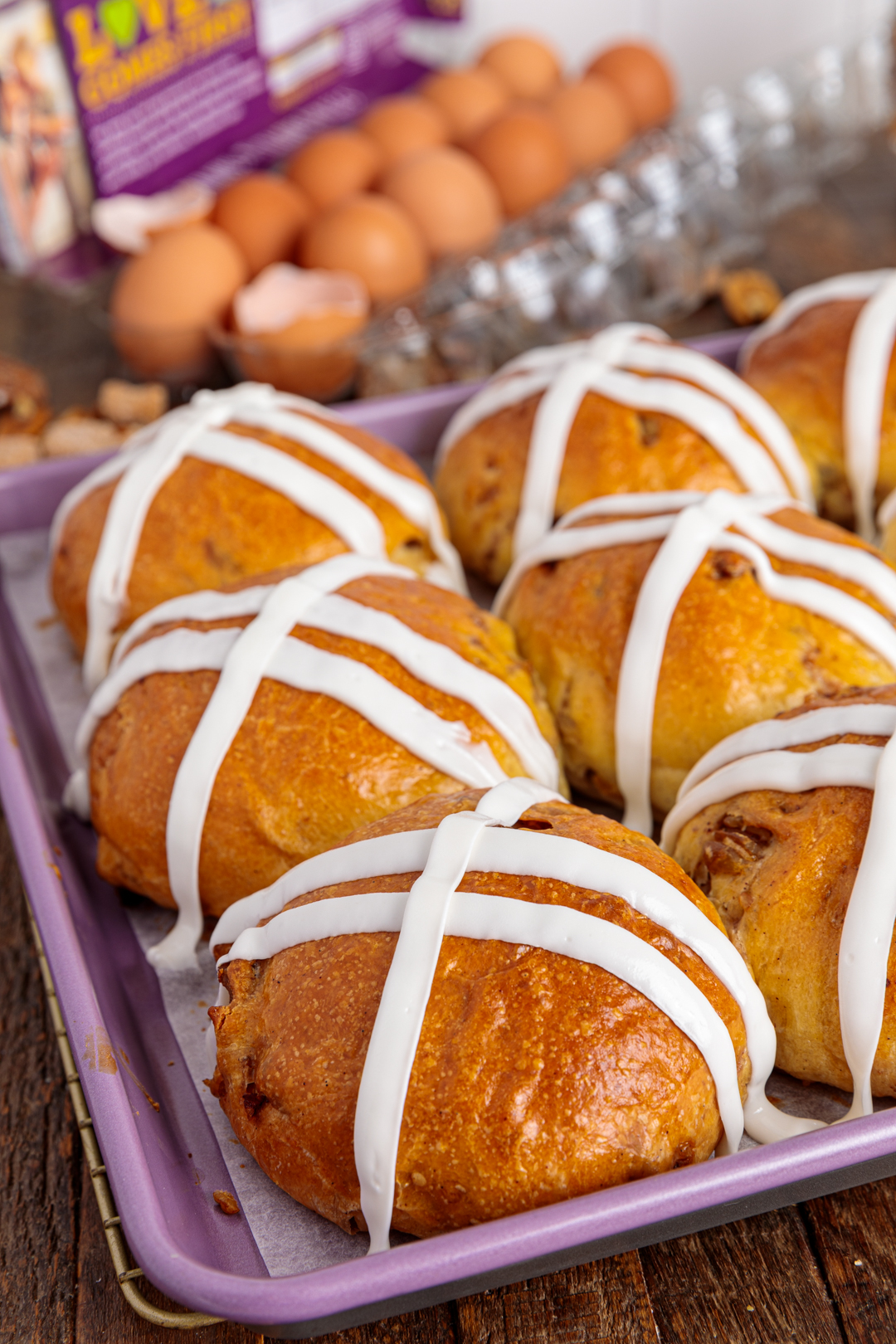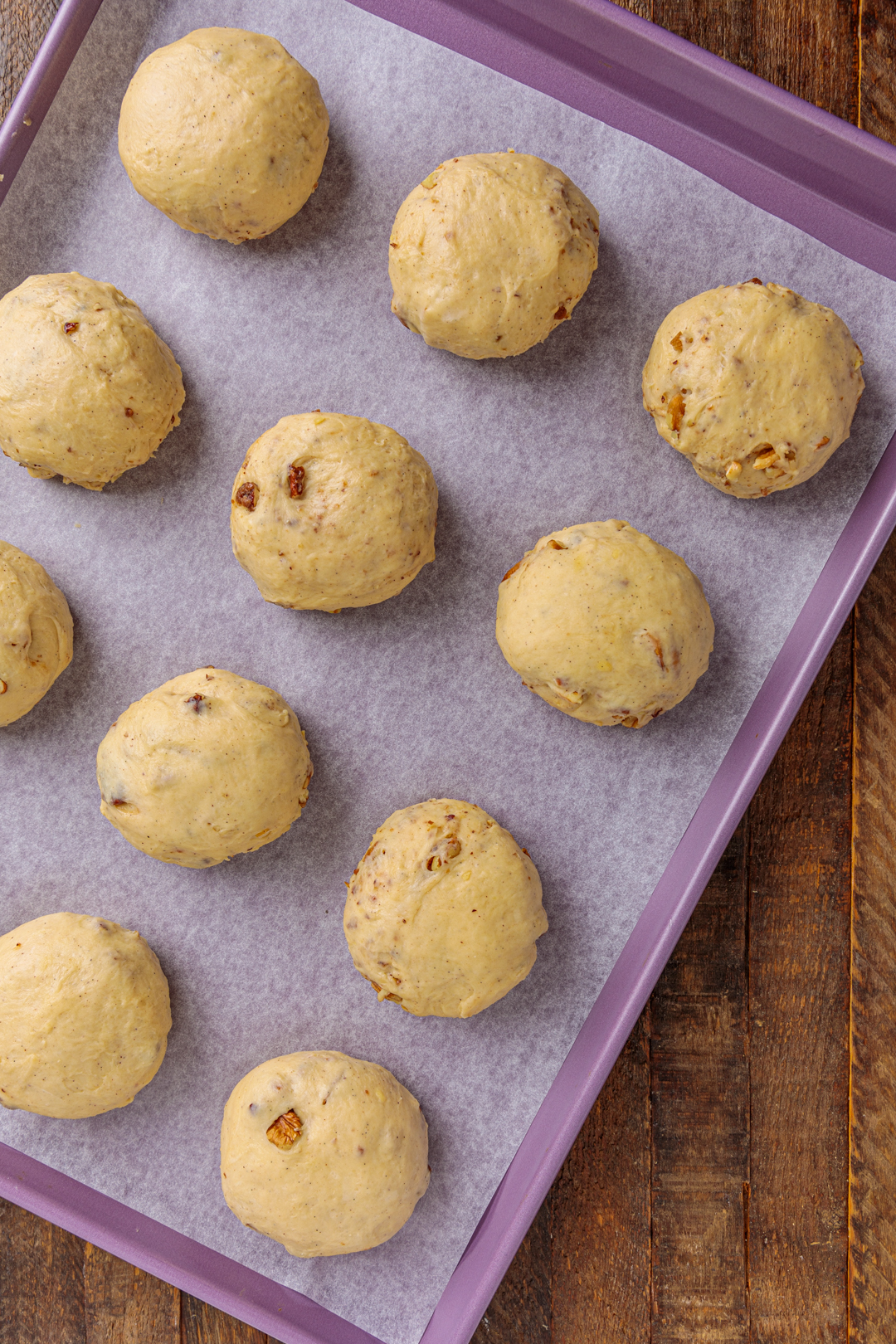 Hot cross buns have a pretty amazing history. It's pretty rare for a bake from the 12th-century to still be so popular. Originally said to have been introduced by an Anglican monk, marked with the cross on top in celebration of Good Friday, preceding Easter. Traditionally, these sweet breads were flavored with currants or raisins. A few other origins have been discussed, but this seems to be the most prevalent that I've always heard referenced.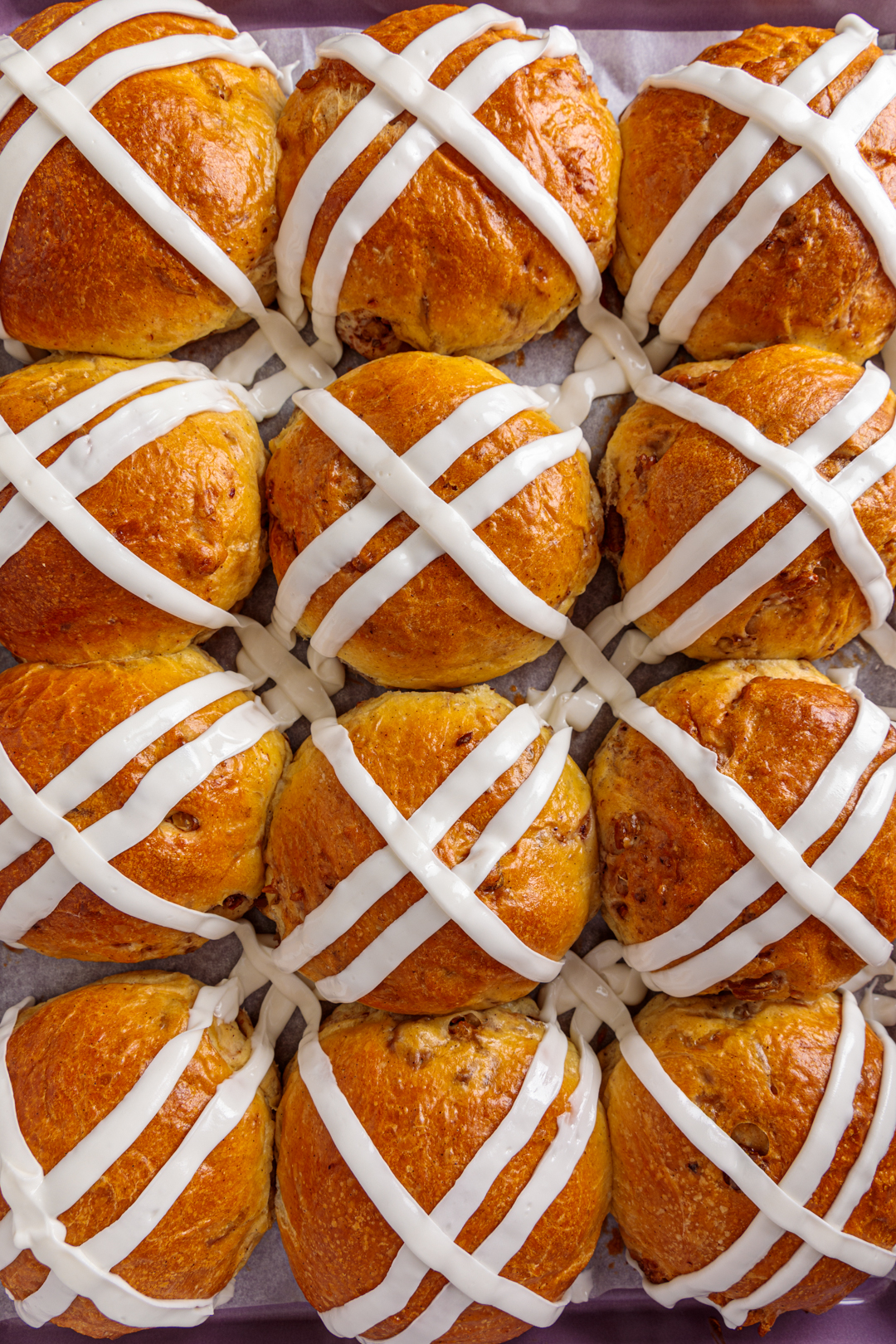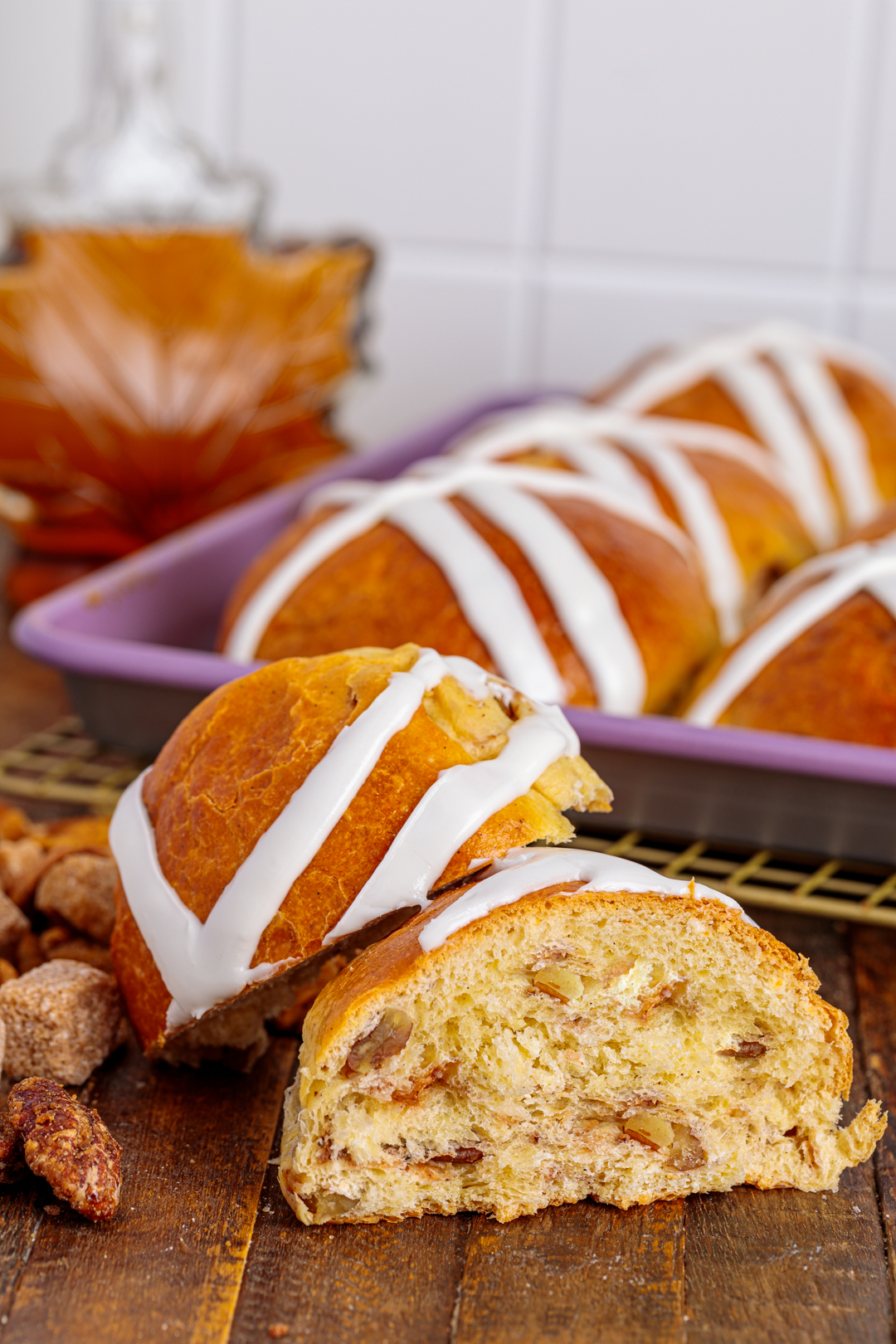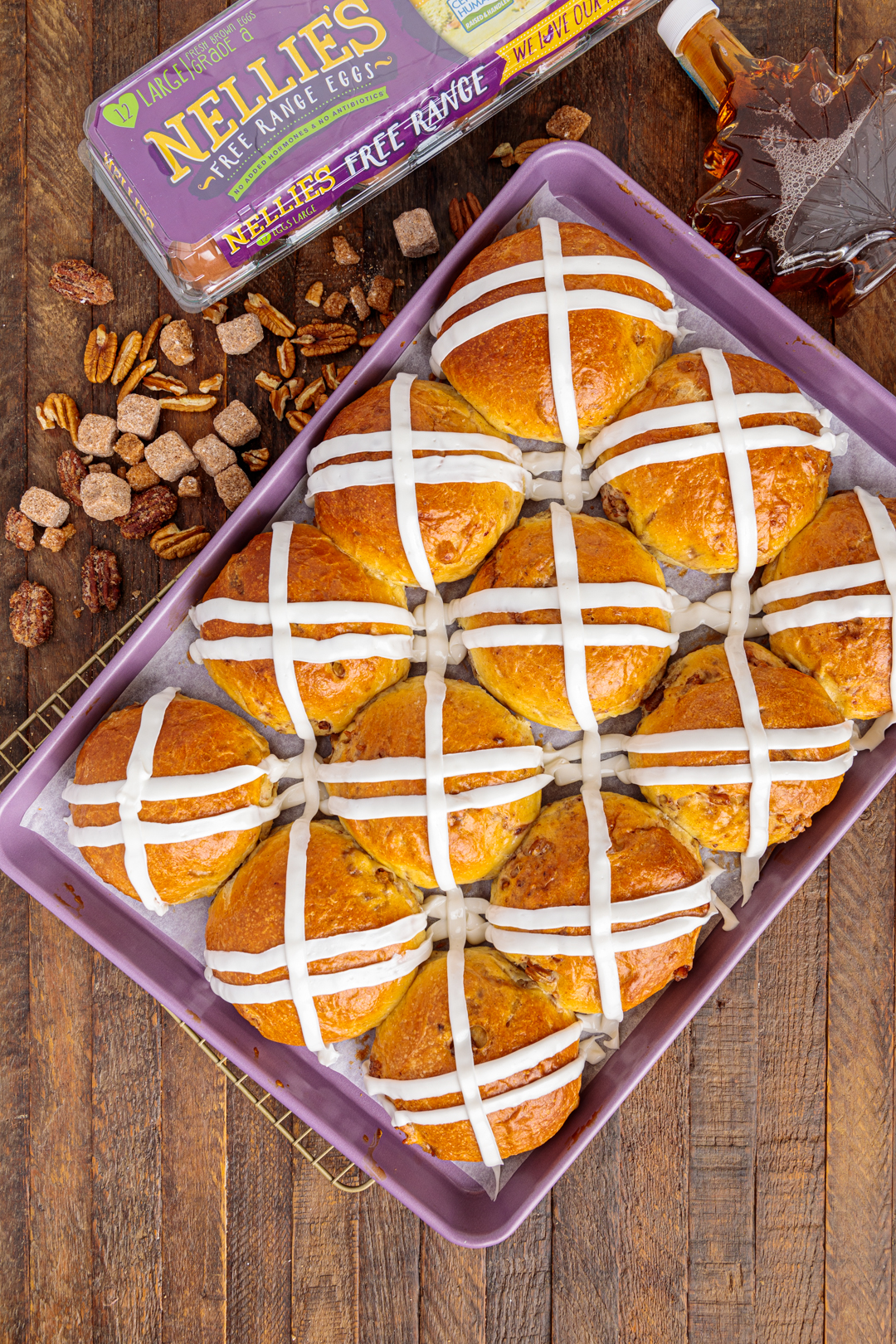 My bit of a southern twist on the traditional fav includes two of what I think are the best ways to add a blast of texture and flavor to your bakes. Pecans and maple syrup. They go hand-in-hand like that weird plastic grass and Cadbury eggs. You could simply toss in some Georgia pecans, but with a few more minutes into the prep, you can candy them with maple syrup and not only have a seriously stellar sweet bread, but one with added crunch and handfuls of snacks for the chef. I'll warn you now… maple candied pecans are ADDICTIVE.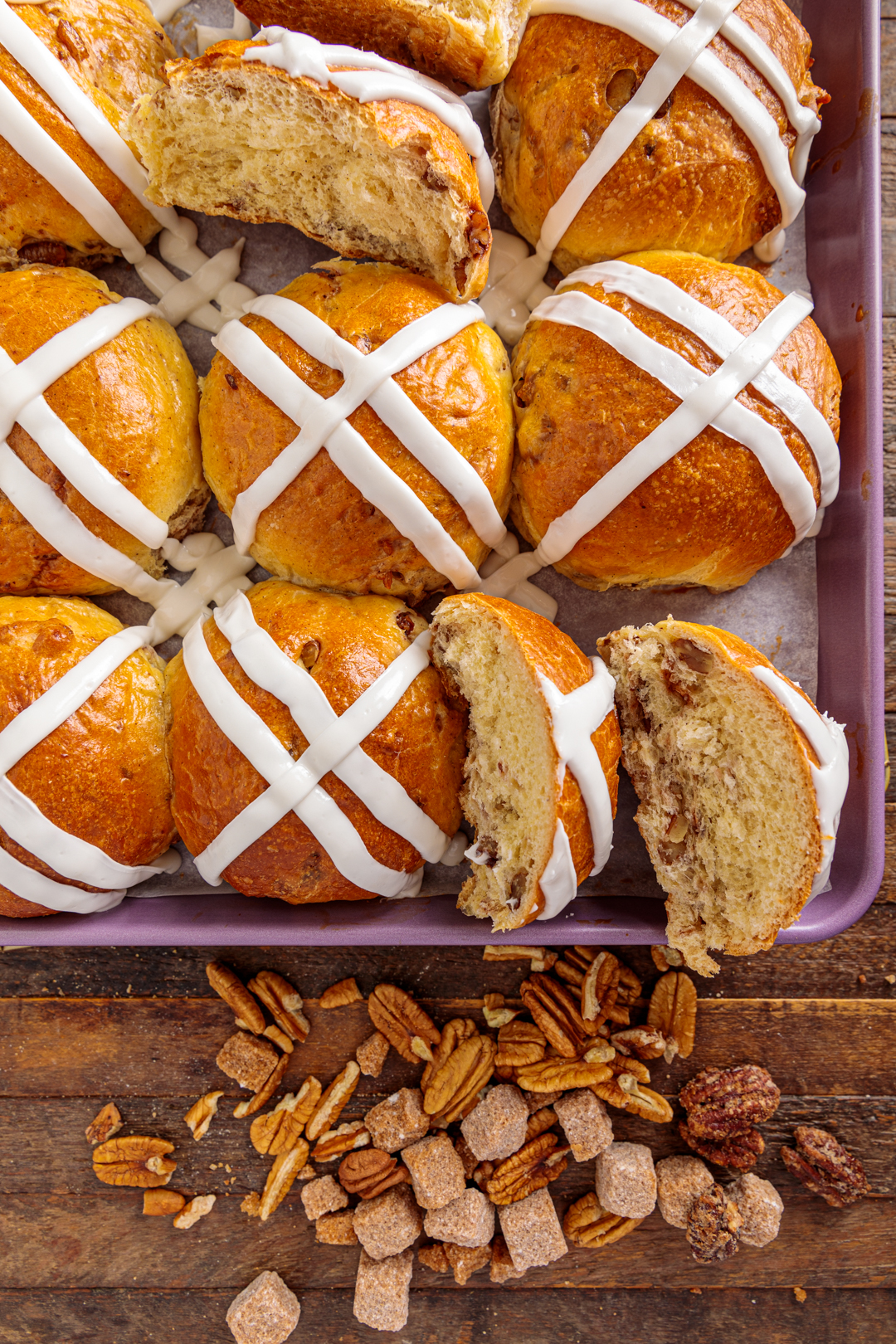 This is not a quick recipe, but most of the time is waiting. I prefer to shape the buns and toss them in the fridge overnight for their final proof. Brioche is a labor of love, and these are worth every single Spring second.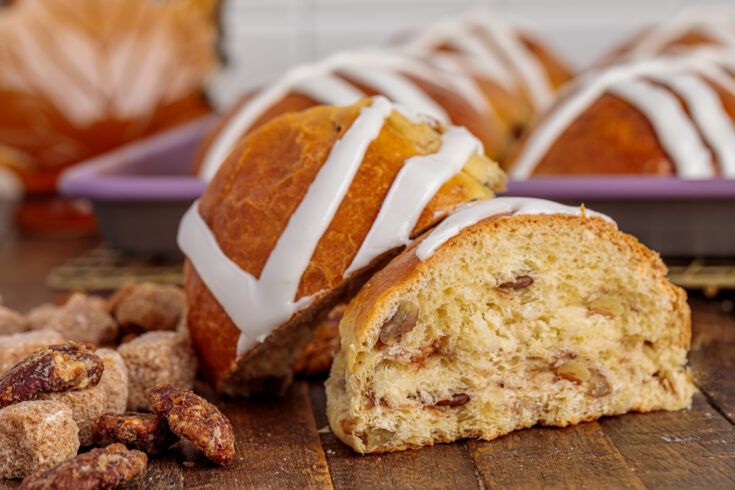 Yield:

12
Maple Glazed Pecan Hot Cross Buns
Buttery, sweet brioche buns, packed with maple syrup crunchy candied pecans and topped with maple icing. Perfect for swinging into the Spring season. From SouthernFatty.com.
Ingredients
1/2 cup (120 g) water
2 1/4 teaspoons (7 g) packet active dry yeast
4 whole (200 g) eggs
1/2 tablespoon vanilla bean paste or extract
1 teaspoon cinnamon, ground
2 cups (280 g) all-purpose flour
2 cups (280 g) bread flour
1/3 cup (85 g) sugar
2 teaspoons salt
1 cup (230 g) butter, unsalted, COLD, cubed
1 egg
2 tablespoons milk
pinch salt
Maple Candied Pecans
2 cups (280 g) pecans, chopped
1/2 cup (170 g) maple syrup
1/4 teaspoon salt
Maple Glaze
1 cup powdered sugar
2 tablespoons maple syrup
Instructions
To make candied pecans, combine pecans and syrup in saucepan over medium low heat. Stir constantly until syrup has evaoporated and a dry sugar appears on the pecans.
Remove pecans and cool completely.
In a medium mixer bowl, add water, yeast, eggs, vanilla. Whisk briefly to combine.
Whisk together both flours, cinnamon, sugar, salt.
Add the mixed dry ingredients to the egg and yeast mixture in the mixing bowl.
Stir to very roughly combine and place on mixer with dough hook attachment.
You can do this mixing by hand, but you may need to recruit some help, as it mixes and kneads for 20+ minutes.
Mix on mixer at medium speed for 10 minutes.
Reduce speed to medium-low and add the cubes of COLD butter one tablespoon at a time. Only add additional butter after each mixes for a minute or so.
After all butter has been incorporated, increase speed to medium (6 on KitchenAid) and allow to knead for another 15-20 minutes. This dough needs this addtiional kneading time to form the stable dough.
Scrape down throughout mixing as needed, but the dough should be a fairly solid ball when finished.
Remove the bowl and cover with plastic wrap or a damp kitchen towel.
Let rise at room temperature for 2 hours.
After this first rise, punch down the dough (literally punch it down).
Add the chopped candied pecans, folding and kneading lightly over itself until incporated, about 3-4 minutes.
Cover again and either let rise at room temperature for another two hours, or preferably place in the refrigerator overnight to slowly rise and develop.
After this second rise, punch down dough and portion into 12 equal pieces. I prefer to do this by weight.
On a parchment-lined standard baking sheet, organize the buns in a 3x4 grid.
Cover with plastic wrap or a clean bag (see below) to rise for 2 hours at room temperature.
After the final rise, pre-heat oven to 350 F.
Whisk the last egg, milk, and salt.
Brush evenly very gently the egg wash ont the buns.
Bake until deep golden, turning halfway through, about 30 minutes.
Cool completely.
Combine icing, whisking well, drizazle and enjoy!
Notes
Recipe base started from brioche recipe in Joanne Chang's amazing book, Pastry Love.
Recommended Products
As an Amazon Associate and member of other affiliate programs, I earn from qualifying purchases.
Nutrition Information:
Yield:
12
Serving Size:
1
Amount Per Serving:
Calories:

217
Total Fat:

1g
Saturated Fat:

0g
Trans Fat:

0g
Unsaturated Fat:

0g
Cholesterol:

16mg
Sodium:

419mg
Carbohydrates:

46g
Fiber:

1g
Sugar:

13g
Protein:

5g