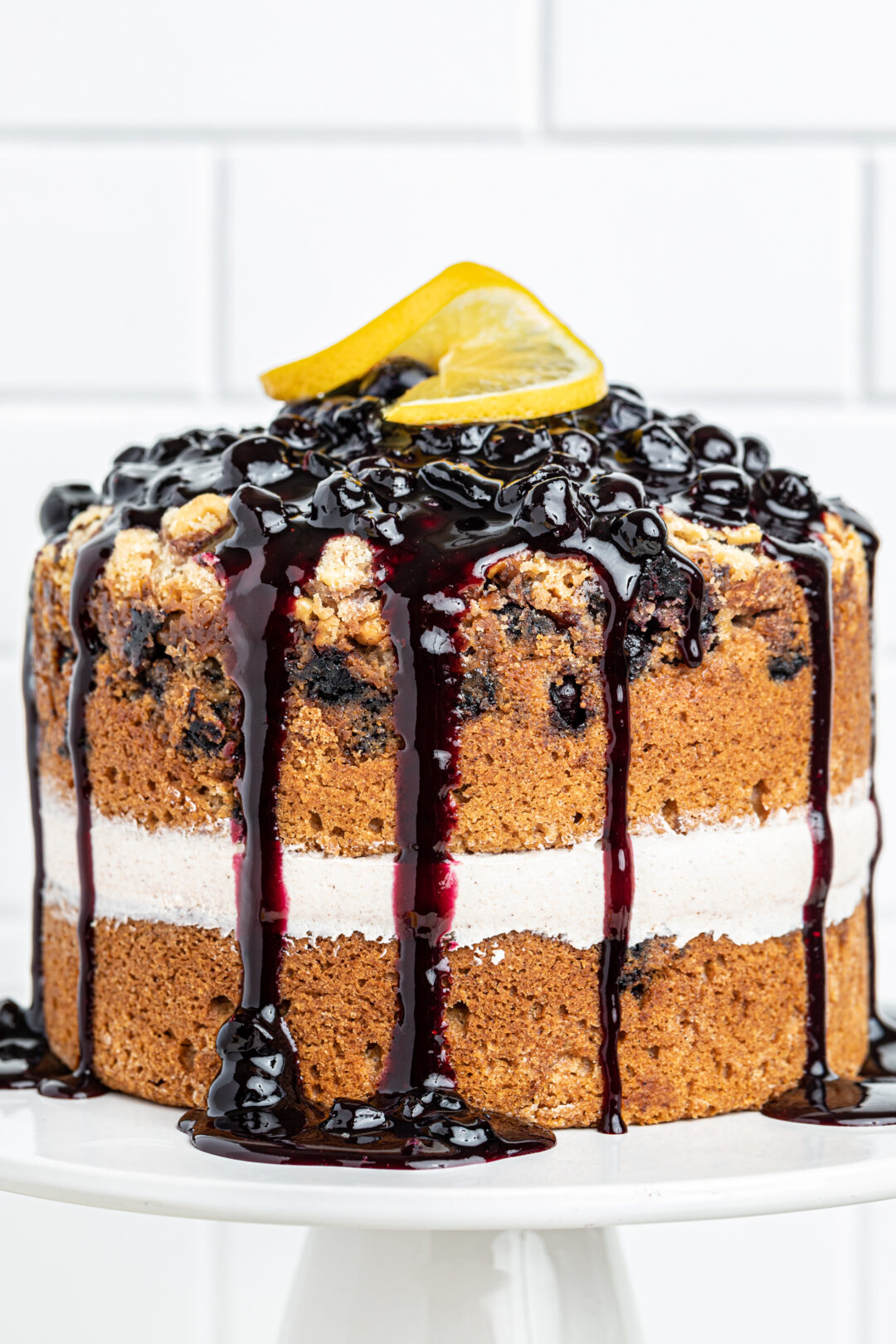 Coffee cake could possibly be my all-time favorite brunch bite. The crumble streusel topping, sweetness with a buttery cake. Nearly anything is elevated when served with coffee for me, but this cake, well… takes the cake. I've aired my frustration that coffee cake doesn't have actual coffee in it (and took care of that in my Coffee Coffee Cake recipe), but have to say that this time I didn't miss it. This vibrant blueberry-packed coffee cake recipe complete with crumble and some added cinnamon vanilla bean buttercream is certainly more on the dessert than brunch side of the menu.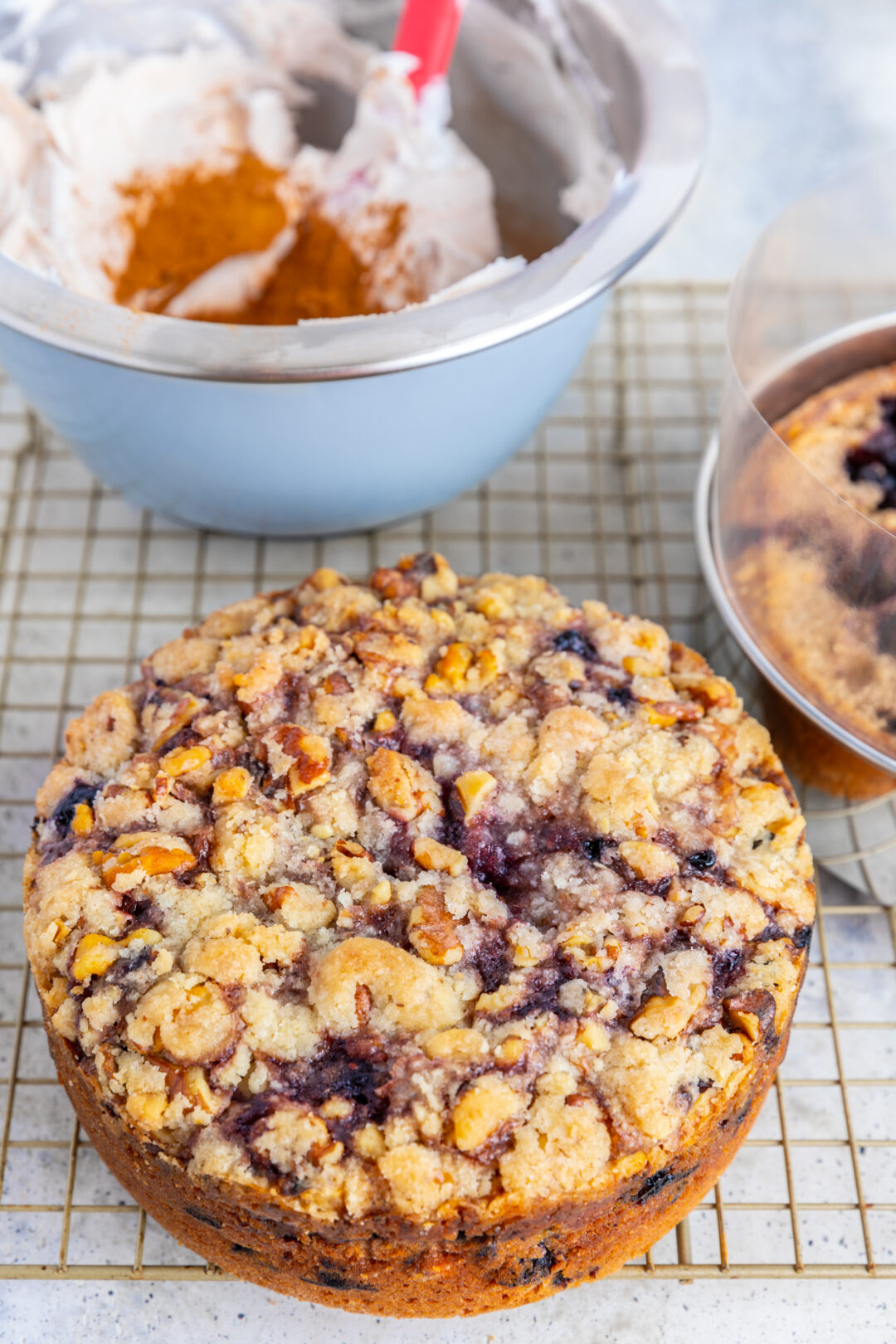 It's a beaut, Clark! A beaut. — That crumble on top is what makes you wanna smack your momma (Note to Mom — I'd never.). I used walnuts here, but pecans would also be delicious. When are pecans not the best nut, though?
If I've learned anything during the past year of being at home for far longer than I ever thought I would be home, it has been that you will never get tired of cake and carbs. Baking nearly every single day for a year sounds like it could get a bit old, but I have honestly enjoyed having the time to try so many bakes from my seemingly endless list of ideas that I've been keeping for the past 10 years. This cake was one that I have crossed off the list but will certainly be making again soon.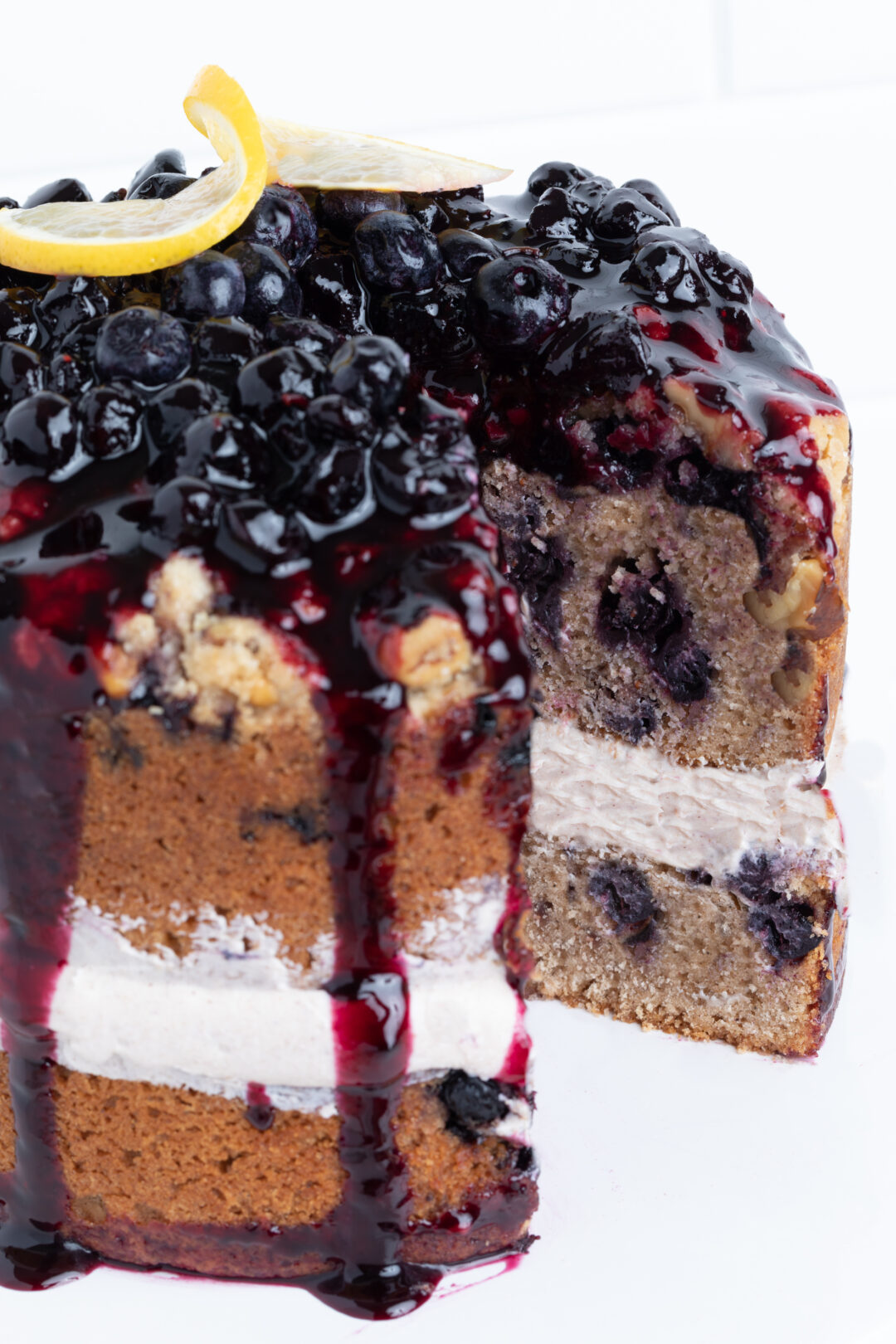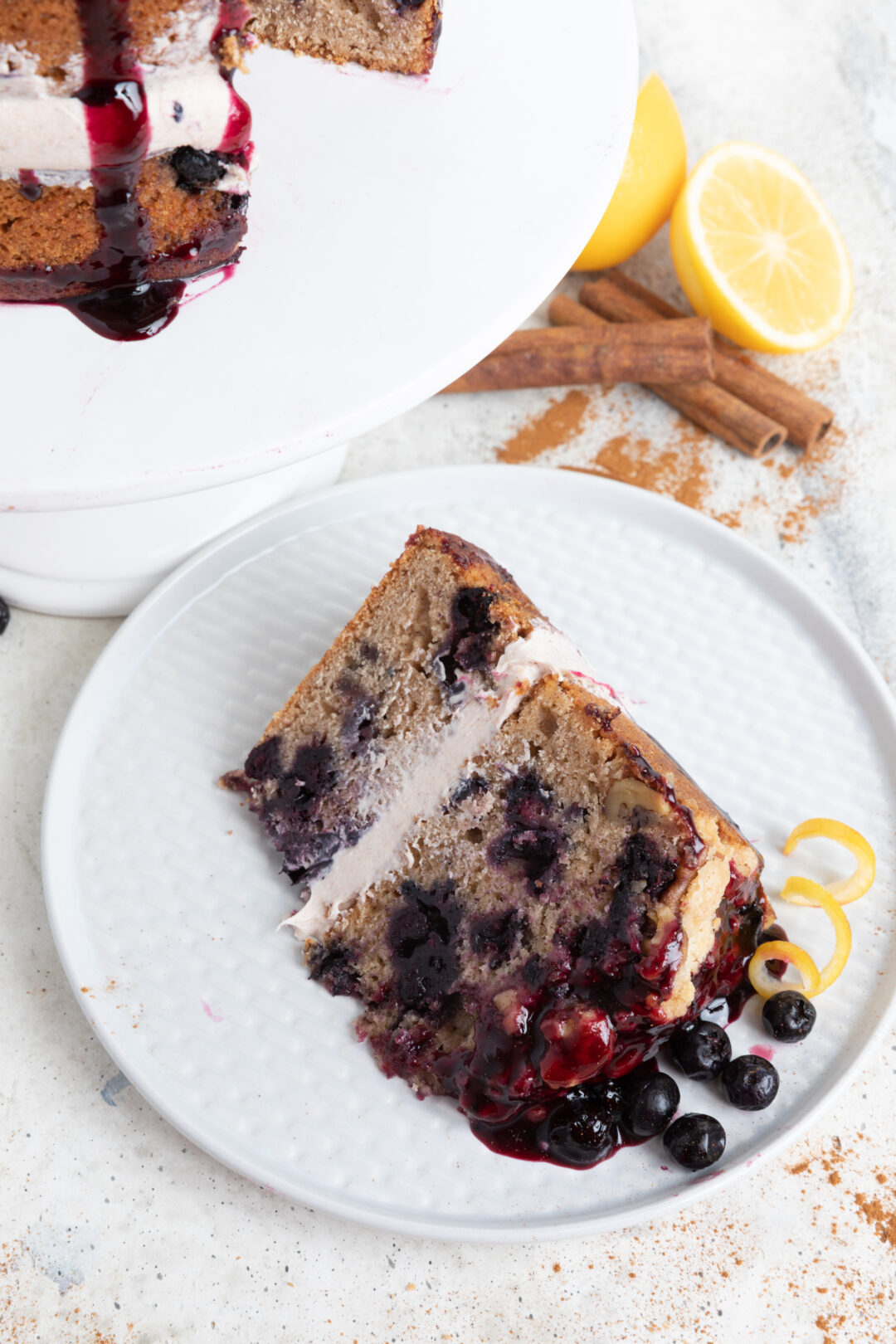 Something else that I will mention before y'all jump into this recipe. Along with baking absolutely everything that I can bake, I have been trying to clean out my garage freezer. I guess you know you are getting old when you have a garage freezer. Last summer, I had picked and frozen a bunch of delicious blueberries from a local farm. This kind of recipe is really perfect for using those frozen fresh fruits on. Since the berries have a tendency to get a bit softer when you freeze and thaw them, they lend when simmered wth sugar to become the perfect sauce topping. The berries in the cake itself will still deliver loads of flavor. Win, win!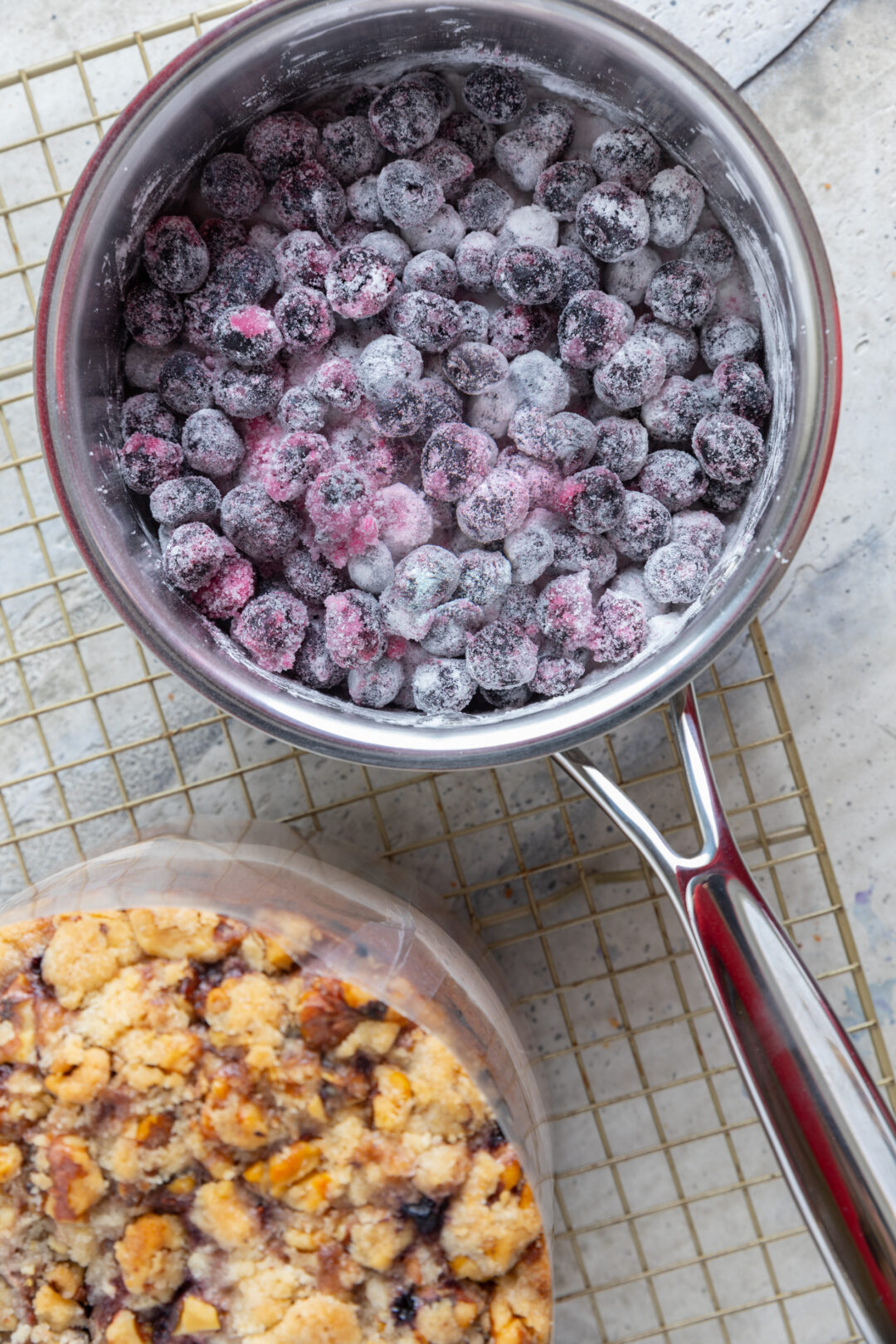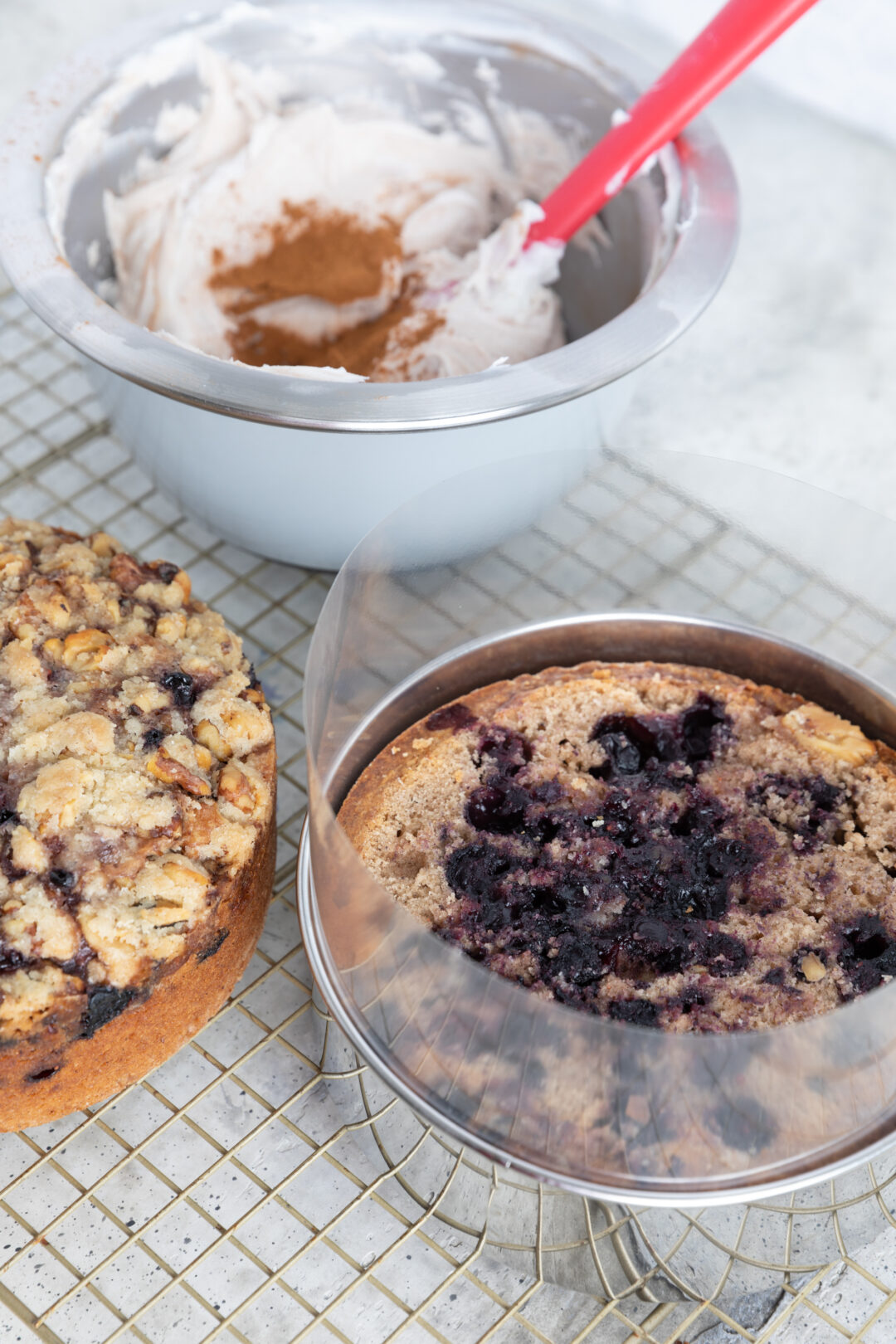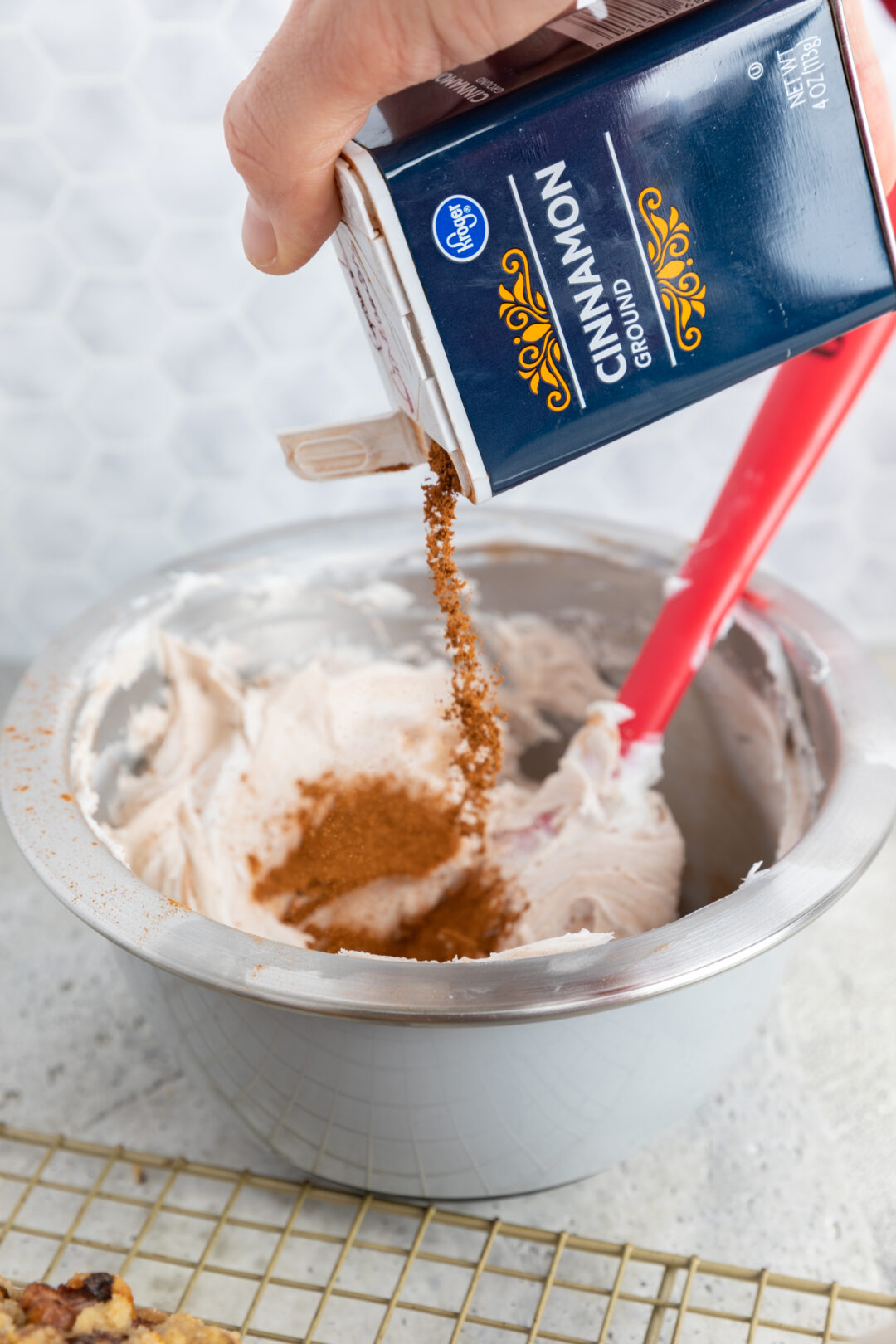 I think my next coffee cake adventure may be a mash up with a cheesecake. Coffee cake cheesecake sounds delicious. If it doesn't work out, I'll at least have both coffee cake and cheesecake to console my failure, right?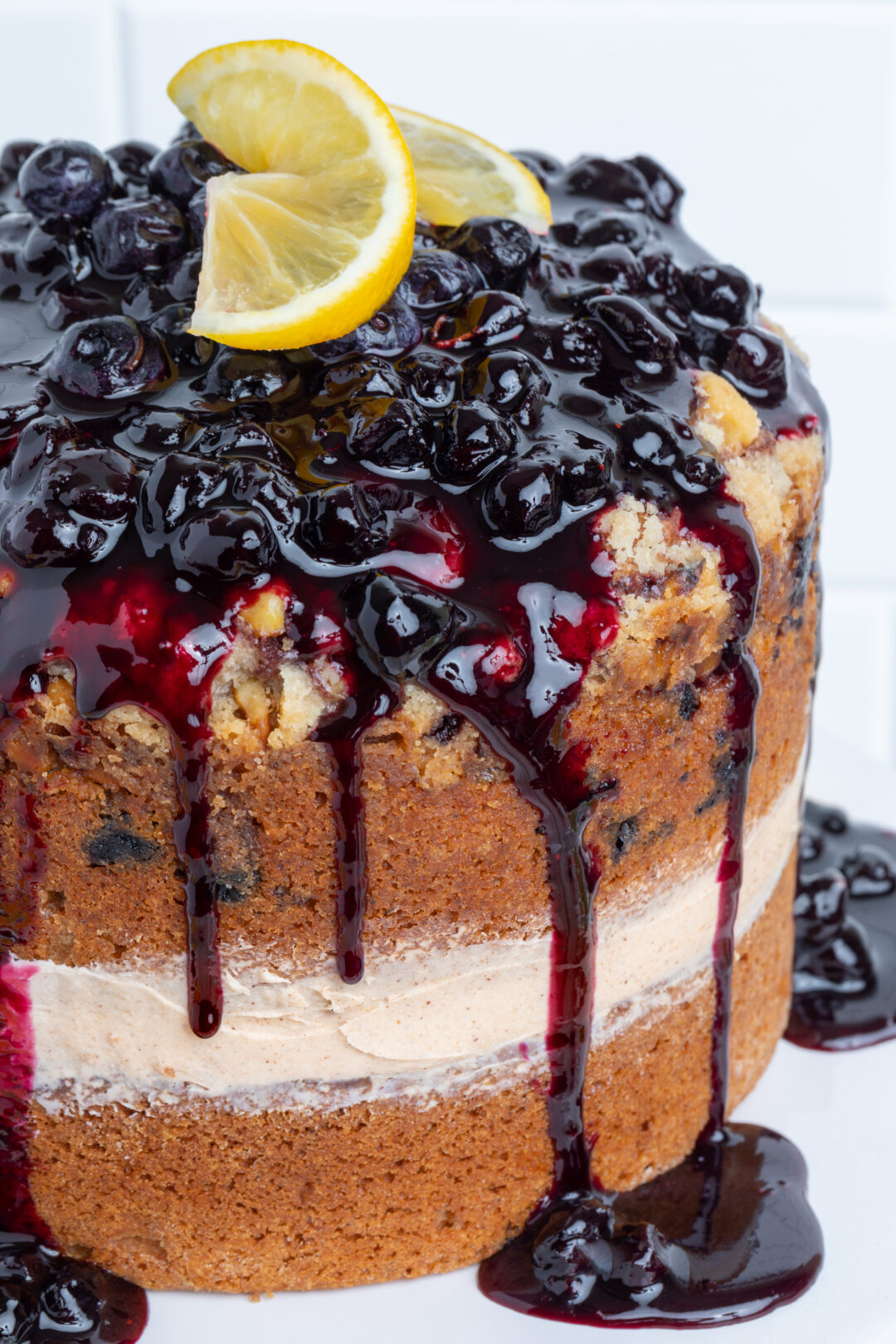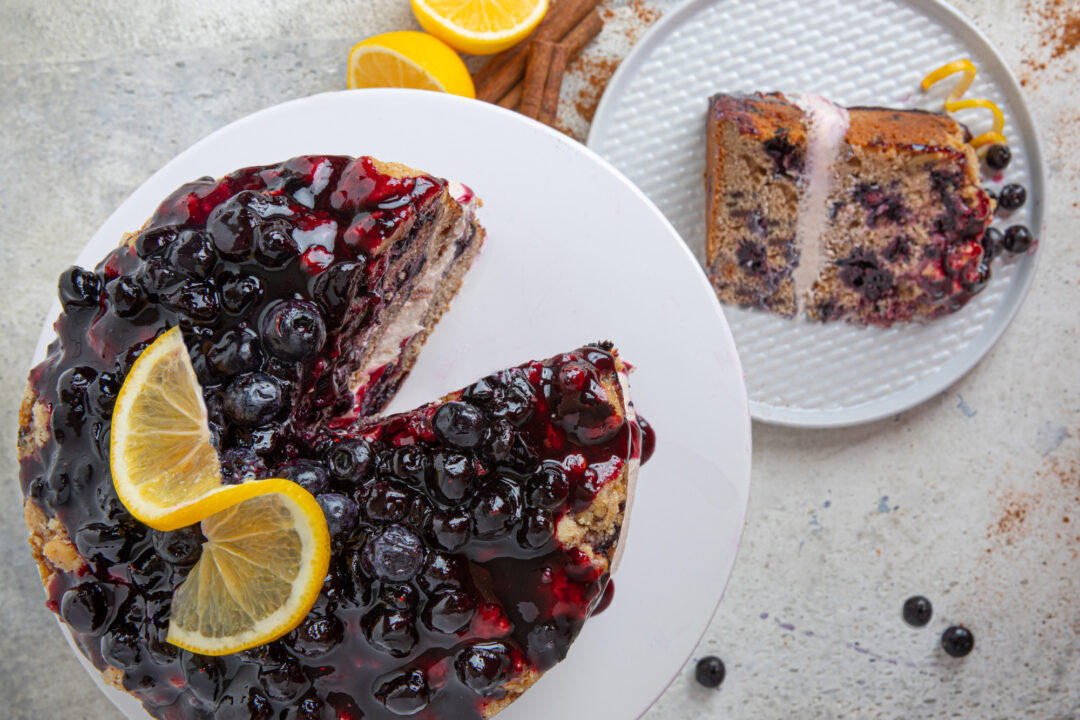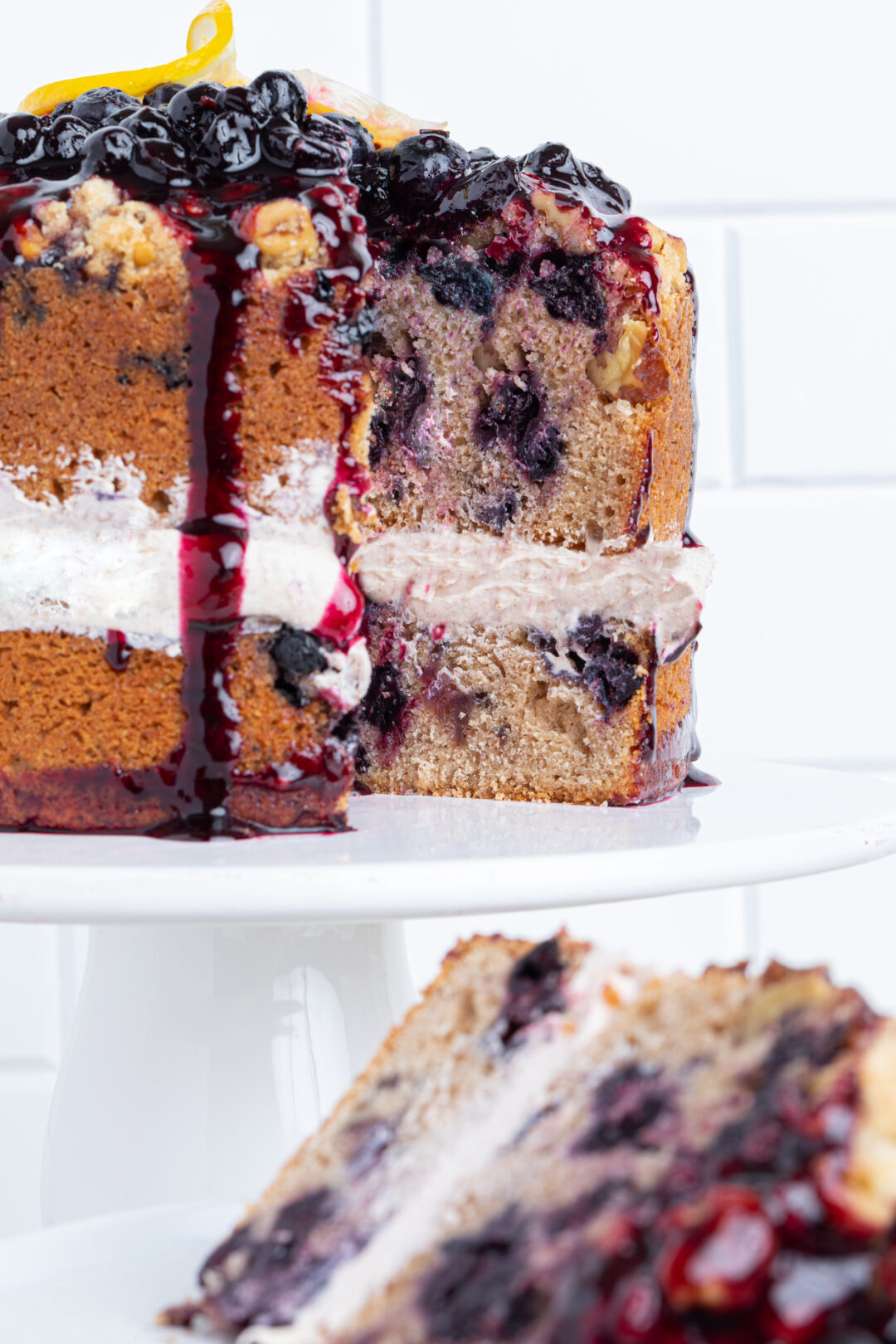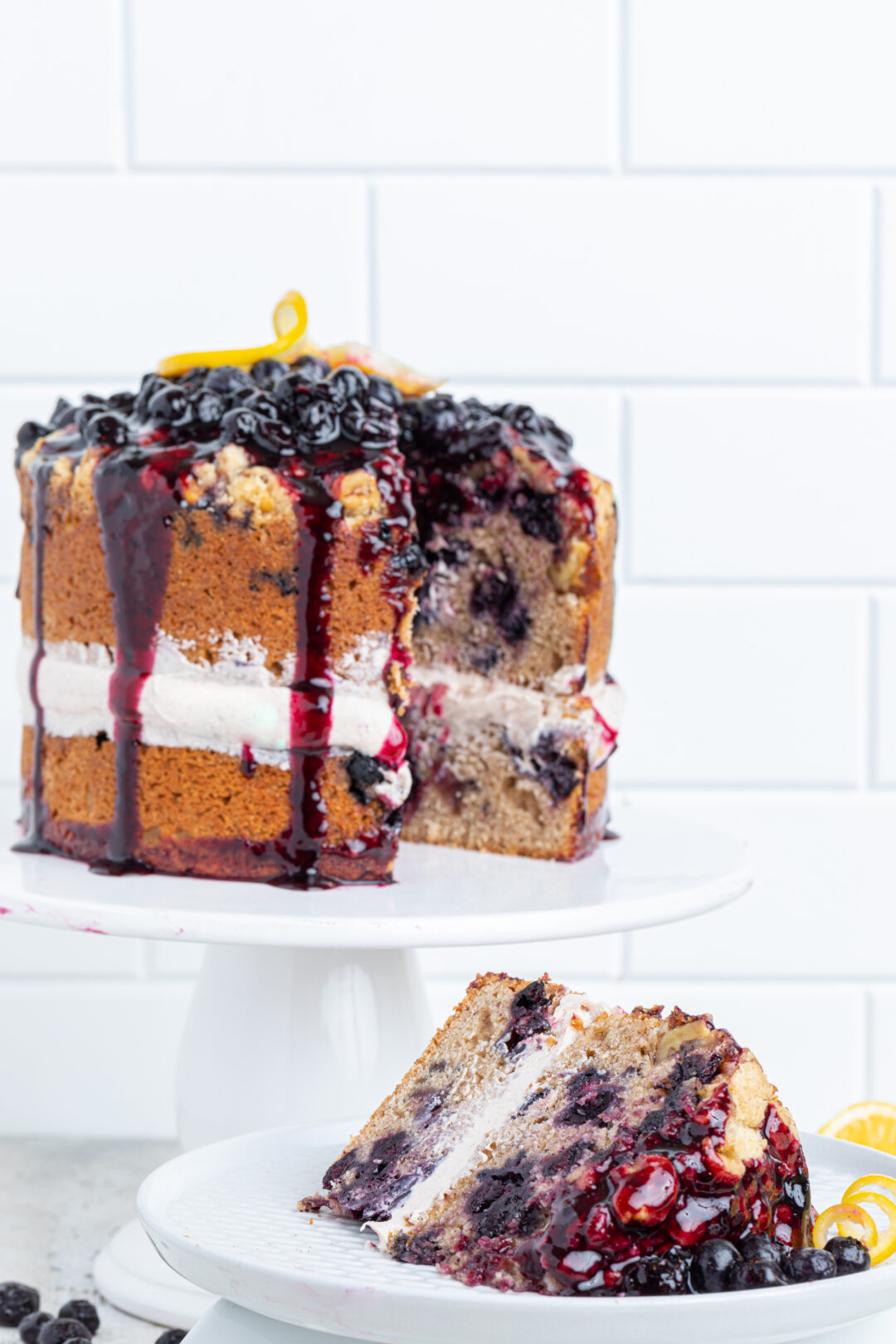 Brunch or dessert, this coffee cake is a win for either one. Myself? An excuse to have dessert as brunch. — Enjoy, y'all!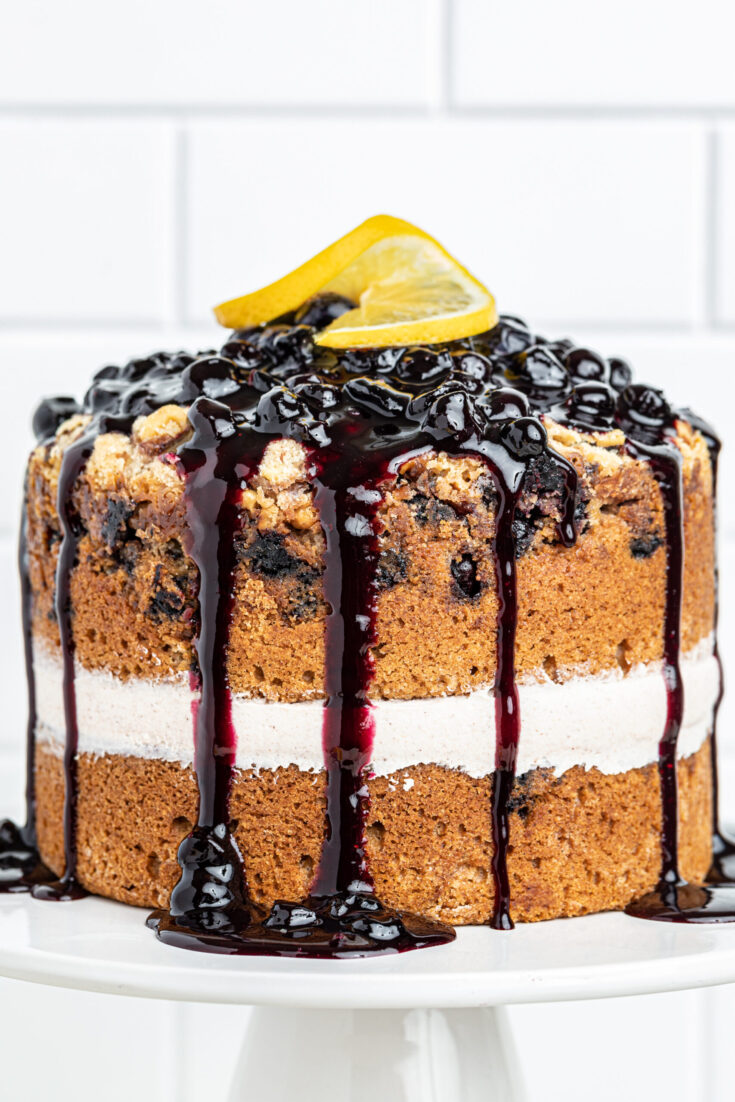 Yield:

12
Frosted Blueberry Coffee Cake
Vibrant, sweet blueberry-packed coffee cake recipe complete with brown sugar crumble and some added cinnamon vanilla bean buttercream. From SouthernFatty.com.
Ingredients
Blueberry Coffee Cake
12 ounces (1 pint) blueberries
1⁄2 cup water
1 Tbsp. lemon juice
1 1⁄4 cups sugar, divided
3 Tbsp. cornstarch
1 3⁄4 cups all-purpose flour, divided
1 1⁄2 tsp. baking powder
1⁄4 tsp. salt
1⁄2 tsp. ground cinnamon
1⁄8 tsp. ground nutmeg
1⁄2 cup butter, divided
1 large egg, lightly beaten
1⁄2 cup milk
1⁄2 tsp. vanilla paste or extract
1/2 cup chopped nuts (pecans or walnuts work well)
Cinnamon Buttercream Frosting
1/4 cup (75 g) eggs, whites only
3/4 cup (150 g) sugar, granulated
2 tablespoons (30 g) sugar, granulated
3 tablespoons (40 g) water
1/2 tablespoon (6 g) ground cinnamon
1 teaspoon (5 g) vanilla paste or extract
16 tablespoons (227 g / 2 sticks)) butter, unsalted, room temperature
1/2 teaspoon (3 g) salt
Blueberry Topping
1 cup blueberries
1/2 cup sugar
3 tablespoons cornstarch
1 teaspoon lemon juice
Instructions
Coffee Cake

Preheat oven to 350°F. Grease or butter and flour two 6-inch round cake pans. Set aside.
Combine the blueberries and water in a saucepan, bring to a simmer, cover, and simmer for 5 minutes, or until the berries are tender.
Stir in the lemon juice. Mix 1⁄2 cup sugar and the cornstarch in a small bowl and add to the berries.
Cook, stirring frequently, until thickened. Let cool.
In a bowl, combine 1 1⁄2 cups flour, baking powder, salt, cinnamon, mace, and 1⁄2 cup sugar.
Cut in 1⁄2 cup butter until the mixture resembles fine crumbs.
In another bowl, combine the egg, milk, and vanilla, mixing well.
Add the milk mixture to the flour mixture and again mix well.
Spread half of the batter in the prepared pan. Spoon the cooled berries evenly over the batter, swirl lightly. and top with the remaining batter.
Combine the remaining 1⁄4 cup each sugar and flour in a small bowl.
Add 2 tablespoons butter and cut in with a pastry blender or fork until crumbly.
Stir in the nuts. Sprinkle the nut mixture evenly over the batter to top the cake.
Bake for 40 to 45 minutes, or until a knife comes out clean. Let cool to room temperature.

Cinnamon Frosting

Place the egg whites and 2 T sugar in a mixer bowl with a whisk attachment and set aside.
Combine the 3/4 cup sugar and water together in a small saucepan over medium-high heat.
Heat until candy thermometer reaches 220 F. Keep heating the sugar syrup while starting the mixer wiith egg whites on medium speed.
The goal is to have just stiff peaks of the egg whites when the sugar syrup reaches 248 F. If the whites are stiff prior to sugar reaching this temperature, reduce to lowest speed and wait for sugar syrup to reach temperature.
When sugar syrup reaches 248 F, remove immediately from the heat and reduce the mixer to low speed.
Carefully pour the sugar syrup into the mixing egg whites. Aim for where the whites meet the bowl, avoiding the sides of the bowl and avoiding the whisk itself as to not splash hot sugar.
The whites will expand and fluff. Add the cinnamon and vanilla. Turn up the mixer speed to medium/medium-high and mix until the now meringue bowl is cooled to room temperature to touch, 15-20 minutes. (Too warm and the butter will melt and you will have to chill and re-whip, etc.).
Add butter in pieces while continuing to mix. Add salt.
Continue to whip vigourously until smooth.

Blueberry Topping

In a saucepan, toss blueberries with sugar and cornstarch
Over medium heat, heat until blueberries have broken down and sauce thickened.
Add lemon juice.
Remove from heat and cool completely.
Recommended Products
As an Amazon Associate and member of other affiliate programs, I earn from qualifying purchases.
Nutrition Information:
Yield:
12
Serving Size:
1
Amount Per Serving:
Calories:

452
Total Fat:

27g
Saturated Fat:

15g
Trans Fat:

0g
Unsaturated Fat:

10g
Cholesterol:

77mg
Sodium:

201mg
Carbohydrates:

51g
Fiber:

1g
Sugar:

31g
Protein:

4g